 BitDefender Antivirus 2017 vs Kaspersky
Antivirus 2017
Comaprison Review
Posted by
Paul Wilson
on 03.10.2016
40% Off Kaspersky Antivirus 2017 Coupon

65% Off Kaspersky 2017 Discount Coupons

$59.99 $39.99
25% Off BitDefender Antivirus 2017 Coupon

70% Off BitDefender 2017 Promotions and Deals

$39.99 $29.99


No code required




No code required


The basic duty of BitDefender Antivirus 2017 is to ensure that all malicious software, including Trojans, viruses, ransomware and malware , are removed from a device. This software seem to have moved beyond this basic functions by providing advance feature such as Password manager as well as secured browsers to safeguard all your financial transactions. The new revamped software also come with a File shredder that analyzes all file in order to discover any possible attack. This software is designed like a suite, and it I capable of performing all core anti-virus protection job very effectively.

Comparison chart for BitDefender Antivirus 2017 vs Kaspersky Antivirus 2017
| | | |
| --- | --- | --- |
| Features | BitDefender Antivirus 2017 | Kaspersky Antivirus 2017 |
| Prices and License | Prices for this software start from $59.99 for a single license that allows user to install the software into 3 maximum devices. The cost of a single license for a single device is $39.99 | This software can be install on up to 10 devices with the same license, though this will cost you 129.99$, however. The costs of installing it on a three devices is 59.99$, with a single license |
| Usability | You cannot use the antivirus and the security suite on the same device or system, you need to create two different accounts and install these two categories of software on different devices | This software may require some manual updates, especially on your Windows OS, but the software itself updates automatically |
| Availability | The software is available for all Windows, Mac, IOS and Android devices, but you need to turn on the automatic Windows update feature if you want such features to be updated automatically | The software is only available for Windows; these include Windows 7, 8, Vista, XP, and Windows 10 |
| Downsides | The software consume more data when updating than most other new antivirus software, however, it does not affect system performance | You may need to restart your device in order to achieve a full functionality and quarantine of the system. The Vulnerability scan here will impose the task of managing updates on you, unlike what obtains in BitDefender |
Kaspersky Antivirus 2017 is one of the top 3, most effective antivirus software around, and consumer research agencies give this software a maximum rating in terms of effectiveness. This software will cost you $59.99 to cover up to 3 devices on a single license, and up to $129.99 to cover up to 10 devices. The main window is characterized by a new green and white colour, while the layout has changed since last year. The top area banner of the Window will reveal the security status of your Window, and when there is a problem, the security banner will turn red and you can click on it for details before rectifying the error.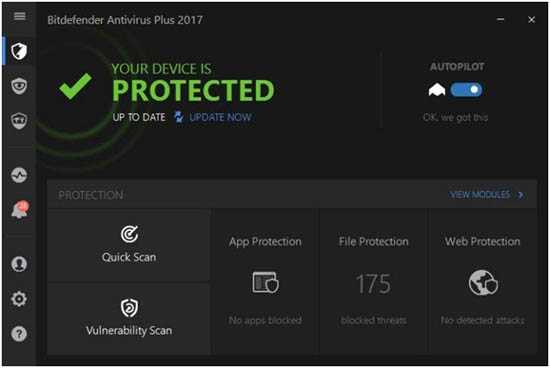 BitDefender software price starts from $39.99, to install the software on a single device, however, installing the license on 3 devices will cost $59.99. BitDefender Antivirus 2017 I very effective because it come with the latest virus definition files, that make it effective in predicting and suspecting the activities of potential viruses. Once installed, the installer included will automatically scan a device for any active malware, and it is possible to activate this software with a full license key, or you can go for a 30-day free trial. In order to activate the software , you need to create a logon account or if you have an account already, simply log in , but keep in mind that you can only associate a single level of protection with one account at a time. Your account give you access to the BitDefender online. In order to make use of the antivirus and Security Suite, you will need two different accounts, and that means you cannot use both the Suite and the straight antivirus on the same system.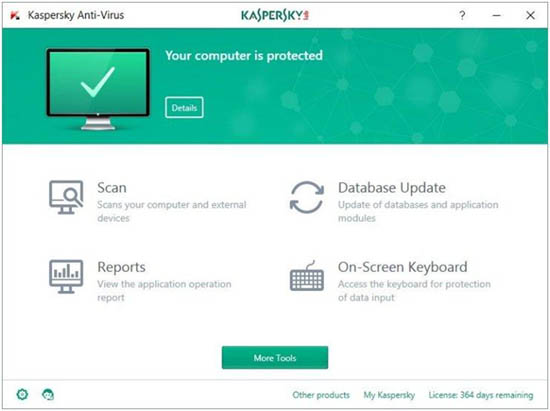 Though, Kaspersky software is an 100% effective antivirus software, its Malware blocking effectiveness still fall behind the likes of BitDefender 2017 antivirus, but that does not mean it is completely vulnerable to such. The fact that this software is only limited to Windows Operating systems, means it cannot be deployed on devices such as Mac OS, IOS, and Android. In addition to its limited usage, the software may also require some manual updates. It is effective in wiping out any hidden Malware included in your downloads, without leaving any traces.