AudiFab Spotify Music Converter Review – A Staple for Every Spotify User
AudiFab Spotify Music Converter for Windows and Mac enables users to convert music files from Spotify to AAC, AIFF, ALAC, FLAC, MP3, and WAV formats. The app allows users to save Spotify music tracks on their local drive without losing audio quality and retaining all ID3 tags, including lyrics. AudiFab also allows both free and premium Spotify users to save music locally.
Table of content
AudiFab Spotify Music Converter Pros & Cons
PROS:
Batch download at 10x speed
Retains original audio quality
Retains ID3 tags
Comprehensive format compatibility
Free updates and technical support
Dark and light UI skins
CONS:
Available for Windows and macOS only
The monthly fee could be cheaper
back to menu ↑
What's new?
AudiFab has received up to 8 version updates through 2023 and got updated to the latest version 2.2.1 on October 20, 2023. AudiFab limited the trial period to 1 minute and fixed a sound issue in the Spotify app with an update in April 2023. The various updates throughout 2023 have mostly fixed several bugs, improved performance, and optimized the interfaces.
With the August update, AudiFab optimized some program functions and introduced support for obtaining as well as saving lyrics (.lrc/.txt). The current version of the AudiFab Spotify Music Converter has fixed some bugs, including "failed 1005" and "12xx" in the app mode, and optimized select user interfaces to provide a more optimal and seamless experience for users.
It is worth noting that only AudiFab Spotify Music Converter for Windows has received the latest update and been upgraded to version 2.2.1, while AudiFab Spotify Music Converter for Mac is still in version 2.2.0 and yet to receive the latest upgrade, which, as I was informed by one of the company's support staff, will happen soon.

back to menu ↑
How can AudiFab Spotify Music Converter help you?
With the AudiFab Spotify Music Converter, you can download and export music in batches from Spotify at 10x speed. The app offers comprehensive control over output settings, export settings, and output destinations. You can even customize the output folder where you will save the downloaded music files. AudiFab not only retains the original audio quality and lyric files but also preserves ID3 tags with album, artist, artwork, disc number, title, track number, and year, among other metadata.
The Spotify Music Converter software from AudiFab comes with some useful built-in tools that enable you to convert to other formats, burn files to CD, and edit ID3 tags. At the time of writing this review, the app has only these 3 additional tools and will soon be adding other useful tools to its arsenal. AudiFab constantly improves its program and consistently releases new versions with important updates and necessary bug fixes.
The app UI is simple and direct with minimal sections that show ongoing conversions, converted files, and additional tools.
I also love the fact that AudiFab offers both dark and light skins for its Spotify Music Converter apps and both of them look smart.

When it comes to user support, the company provides several convenient options. There is a "Feedback" reporting feature in the bottom left corner of the app, and "Help" option in the upper right menu bar where users can click corresponding buttons for assistance.
back to menu ↑
How to use guide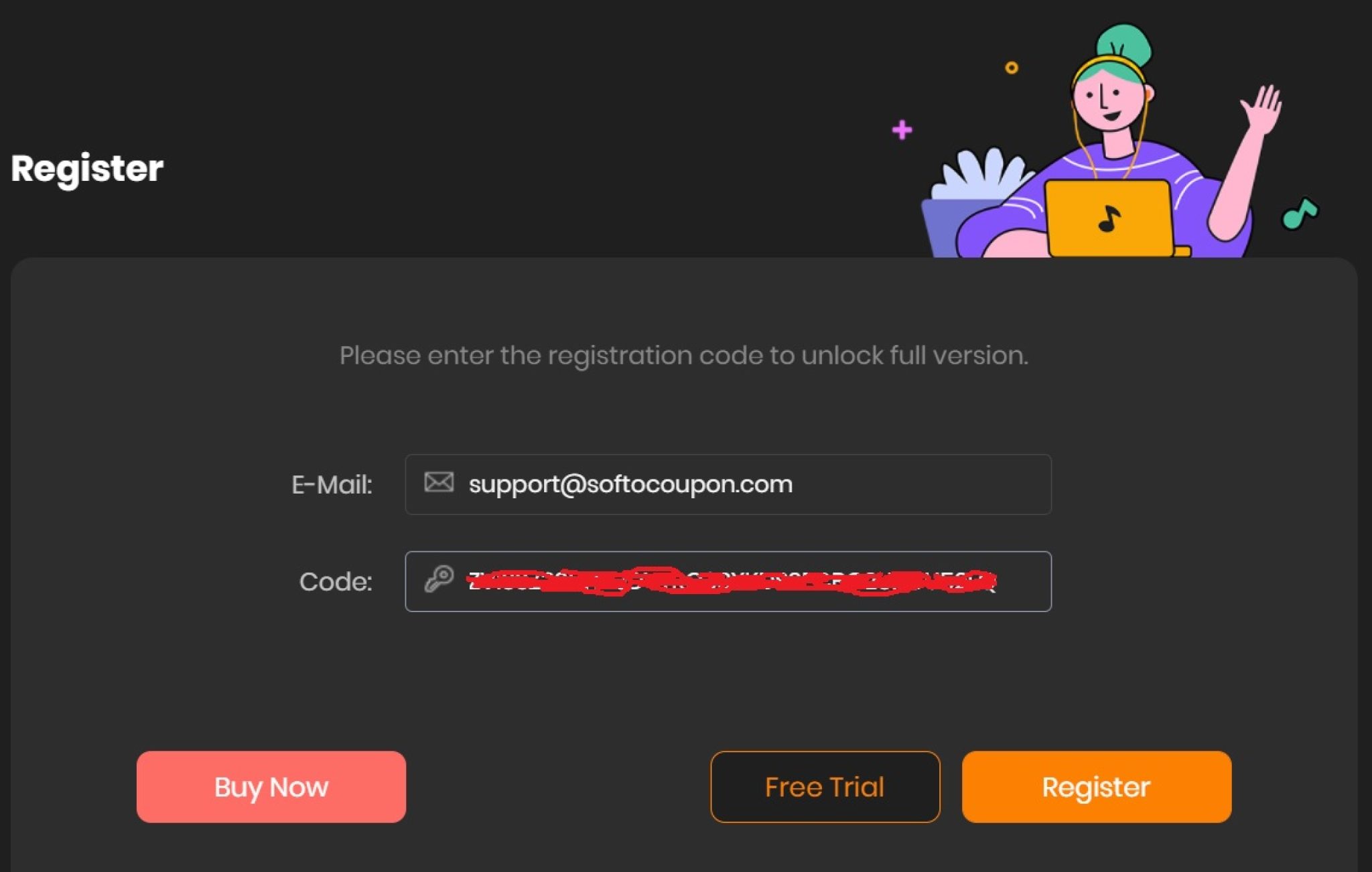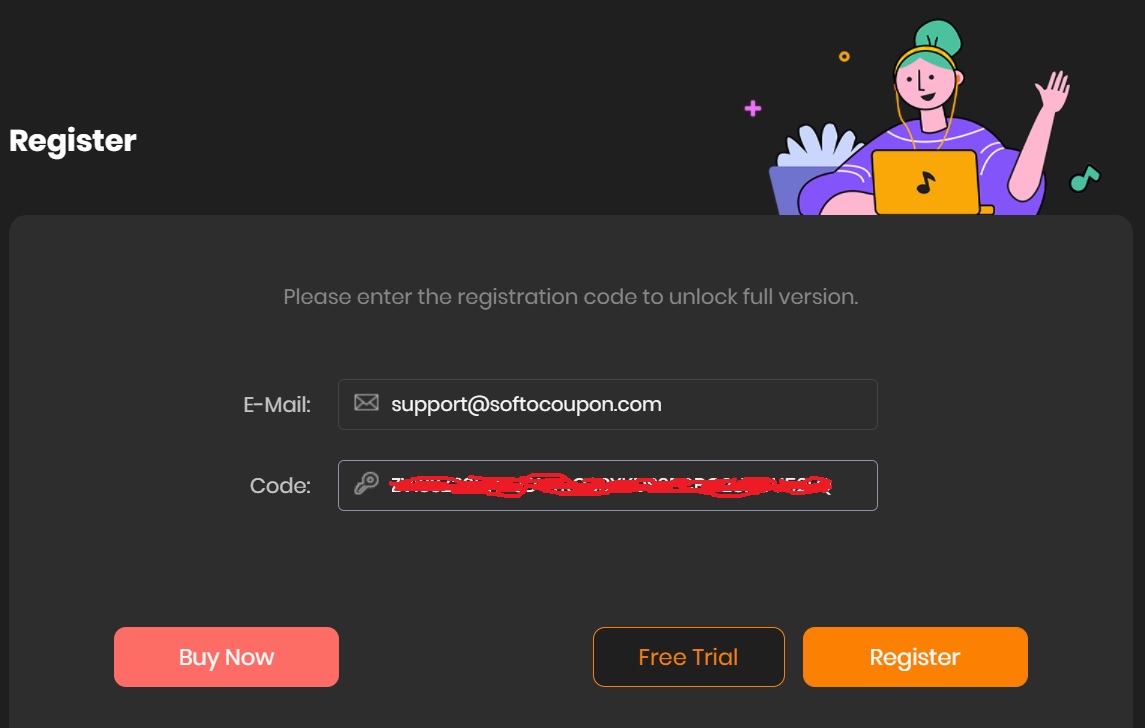 While AudiFab Spotify Music Converter is free to download and use on Windows and macOS devices, I urge you to purchase the license as the trial version only allows conversion of the first minute of each audio track for sample testing purposes. You can buy the licensed version from AudiFab's website or click on "Register" at the bottom of the AudiFab Spotify Music Converter app if you are already a free user to register yourself and purchase the license.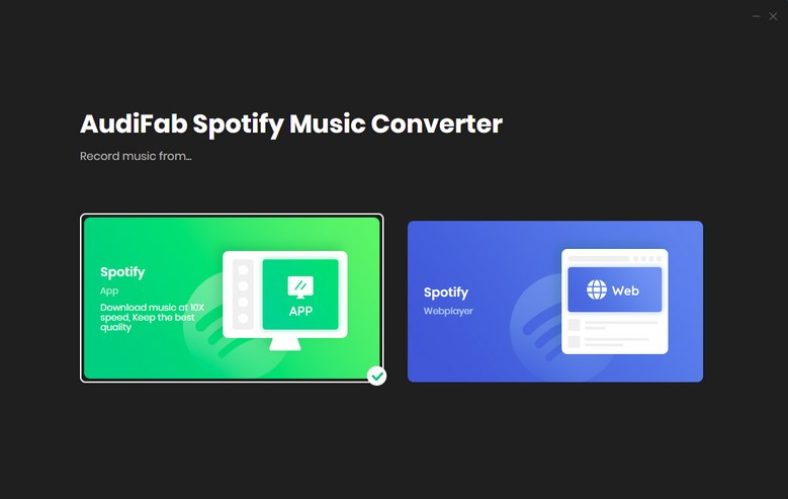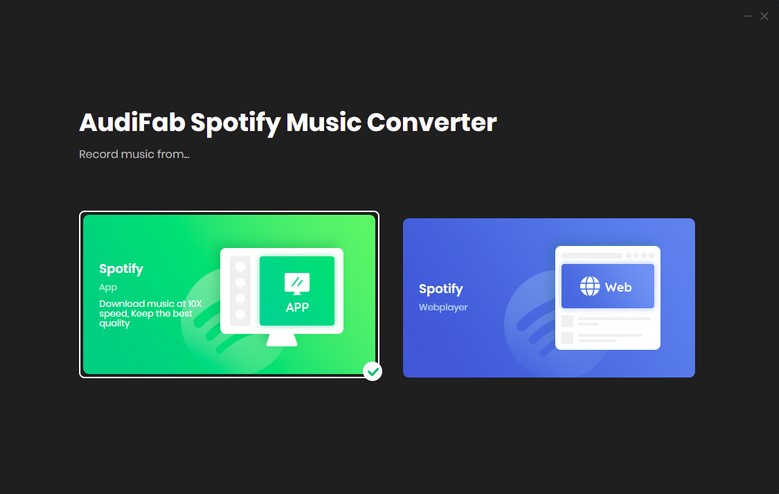 Once purchased, downloaded, and installed on your device, launch the music converter app to choose between the two modes – Spotify App or Spotify Webplayer. I and most users select the App mode for obvious reasons but you can choose the Webplayer mode if you want to download music files without installing the Spotify app. AudiFab recommends the Webplayer mode on Mac devices for faster speed conversion. The modes can be changed later by clicking the mode toggle button on the upper left side of the app window.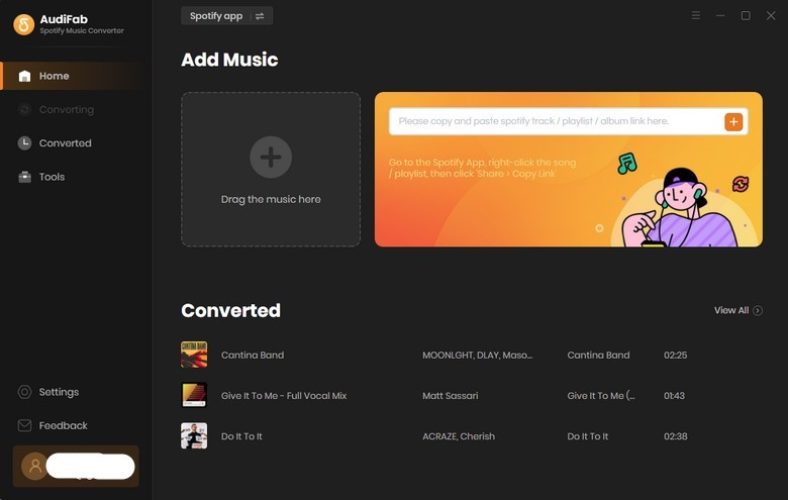 Once the app is up and running, you can add files for conversion simply by dragging and dropping songs, albums, or even playlists from the Spotify app to the AudiFab app. AudiFab automatically reads the URL and lists the songs to be downloaded. Check the songs from the list that you want to save on your local drive and click "Add" to begin the process.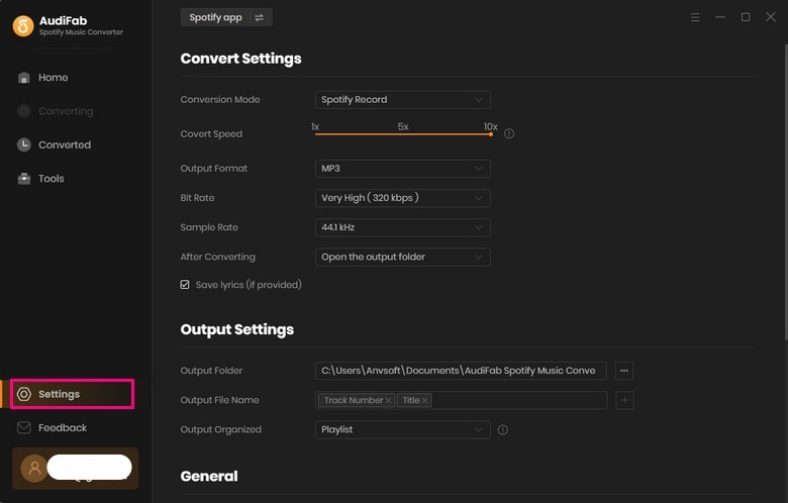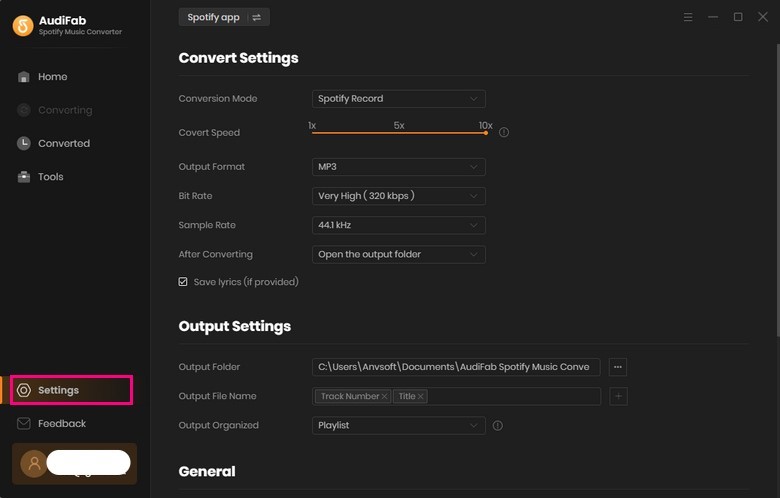 Visit the "Settings" tab to customize the output path and select or change output formats. From the settings tab, you can toggle conversion modes, set conversion speed, choose output format, select bit rate, set sample rate, and change the output folder. Once you click the "Convert" button, the app will immediately start exporting Spotify songs to your computer. You can find all the converted tracks in the "Converted" tab of the app.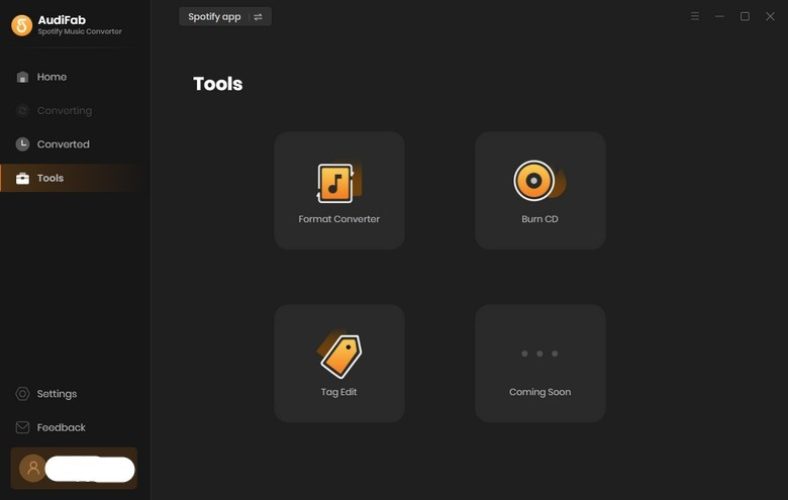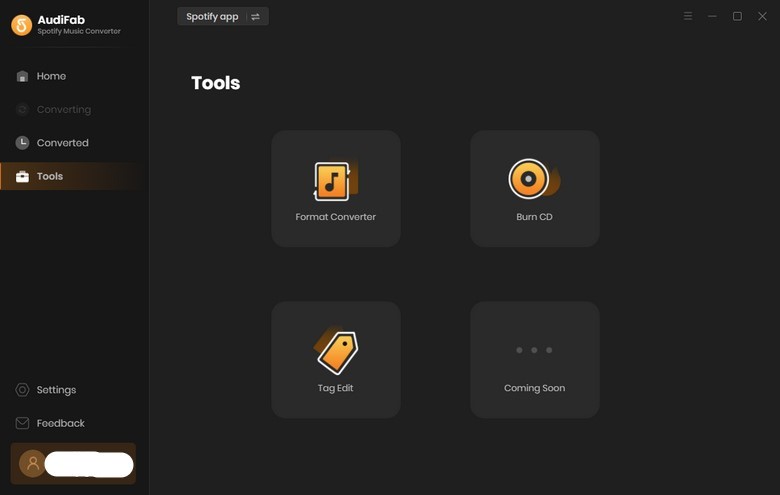 The "Tools" tab offers access to additional tools like Format Converter, Burn CD, and Tag Edit. All these are self-explanatory and the AudiFab claims that more such advanced tools will be coming soon. You can check the support center and the online tutorials if you need any further assistance with the product.
back to menu ↑
Social media users review
Social media is usually abuzz with various opinions about new software products from eager consumers and seasoned tech reviewers but such was not the case for AudiFab Spotify Music Converter. Barring a few passing mentions of the software and promotional posts, social media sites were rather quiet on this new and wonderful software product.
Going by past social media trends, I am guessing that we will see more social media buzz around AudiFab Spotify Music Converter as more people worldwide find out about this rather young product.
Reddit, on the other hand, didn't disappoint as it offered some interesting insights into the AudiFab music converter, including a comprehensive review of the software. The reviewer wrote comprehensively about the various features of the app and what they specifically liked about using the app. One thing that was evident from some of the Reddit posts was that the AudiFab Spotify Music Converter will appeal to a niche consumer base with the potential to be the best in that niche.
back to menu ↑
User reviews
Reviews from real users act as a litmus test for software products as they vie with each other to see who lands on top of the pile. I checked Trustpilot, Sitejabber, some tech forums, and a few other consumer review sites to learn more about the product and its performance directly from the consumers.
AudiFab scored a decent TrustScore of 3.8 out of 5 stars from only 4 user reviews on Trustpilot. Three out of the 4 reviewers on this site were satisfied with the app and its performance, while the other user merely wanted to know how to cancel the free trial. There was a sole review on Sitejabber and the reviewer wrote about the app's intuitive interface. The reviewer also was appreciative of "the software's ability to customize the output format and quality" to suit the user's needs.
back to menu ↑
Google Trends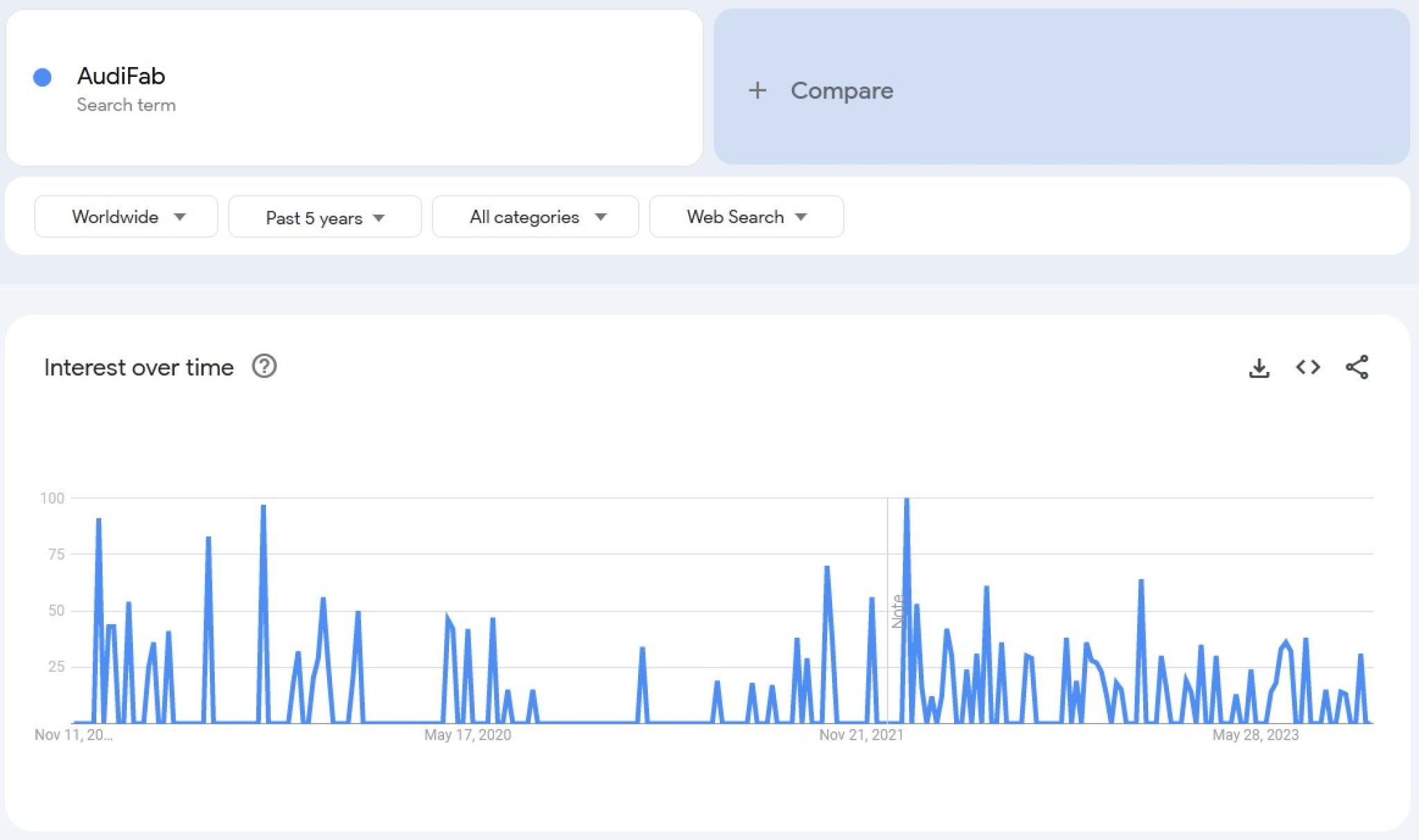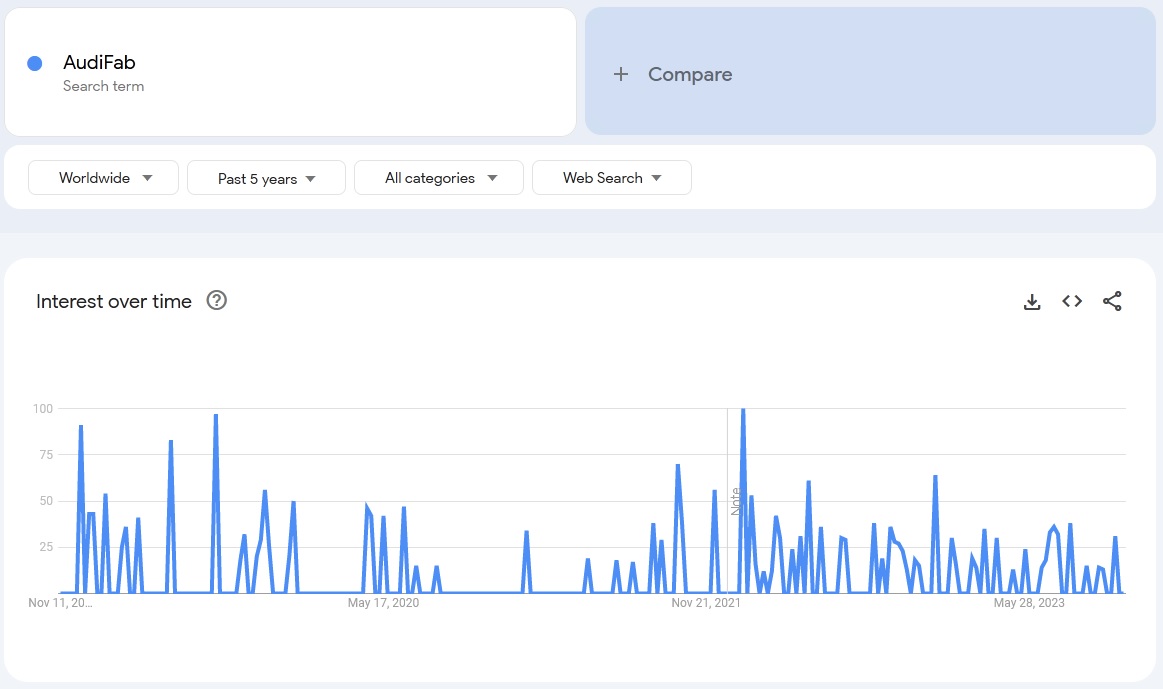 When it comes to the Google search trends, I have noticed a moderate rise in the query "AudiFab" especially for the last two years. A huge spike in searching for the company name happened on May 2023 and it looks like AudiFab products will keep gaining popularity in the coming years.
back to menu ↑
Comparison with competitors
Among the various alternatives to and competitors of AudiFab Spotify Music Converter, only a few manage to stand out let alone compete with the poster child of digital music conversion. Nonetheless, TuneCable Spotify Music Downloader and TuneFab Spotify Music Converter are a couple of close competitors of the subject of this review. While TuneCable Spotify Music Downloader is arguably the closest competitor to AudiFab Spotify Music Converter based on the available features and functionality, TuneFab Spotify Music Converter is perhaps the most popular commercial alternative to AudiFab's software.
Similar to AudiFab's music converter, TuneCable's app can also convert Spotify music files to AAC, AIFF, ALAC, FLAC, MP3, and WAV formats while retaining the original audio quality and ID3 tags. Both these apps come with additional advanced tools, offer batch conversion at 10x speed, and work on both Mac and Windows devices. However, AudiFab Spotify Music Converter boasts a cleaner UI, easier app navigation, faster conversion speeds, and better audio quality than its closest competitor.
AudiFab is also more regular than TuneCable at releasing new versions and updating its program. AudiFab's support team is also faster and more reliable at providing high-quality technical support than TuneCable's team.
After using both these tools to download music tracks from Spotify, I could not determine any functional difference between these two competitors other than one of them being slightly faster. I enjoyed using AudiFab's app more thanks to its delightfully dark and intuitive UI as well as the company's wonderful support team.
Now, TuneFab Spotify Music Converter is quite a capable media downloading tool in its own right that I had used quite recently to successfully download not just Spotify tracks but also media from Hulu, Netflix, and YouTube. However, TuneFab is not as efficient or fast at downloading music from Spotify as AudiFab Spotify Music Converter.
Not only does TuneFab's app lack the various features that can be found in AudiFab's app but also falls short of the latter's consistent performance levels. Quite simply put, go for the AudiFab Spotify Music Converter if you want an app that can do one thing very well, or opt for TuneFab if you need to perform multiple tasks with mediocre results.

back to menu ↑
News
During my review of the AudiFab Spotify Music Converter, I dug around various news portals in search of the proverbial dirt on either the company or the product but was unable to find any. Barring a few press releases regarding the product's launch, I did not find any worthwhile news regarding the AudiFab Spotify Music Converter. Maybe with more time, this still young product will certainly make headlines, hopefully for the right reasons.
back to menu ↑
Conclusion
After using the AudiFab Spotify Music Converter regularly for more than a month to download and save MP3 versions of my favorite tracks from Spotify, I can vouch for the product's efficiency and ease of use. With an incredibly intuitive and user-friendly interface, the AudiFab Spotify Music Converter app for Windows makes it easy even for beginners to use it seamlessly. AudiFab eliminates complicated processes, offers step-by-step instructions, and provides additional advanced tools to convert and download music files from Spotify without breaking a sweat. I would like AudiFab to add apps for other operating platforms like Android and iOS in the future as well as offer more affordable monthly plans.