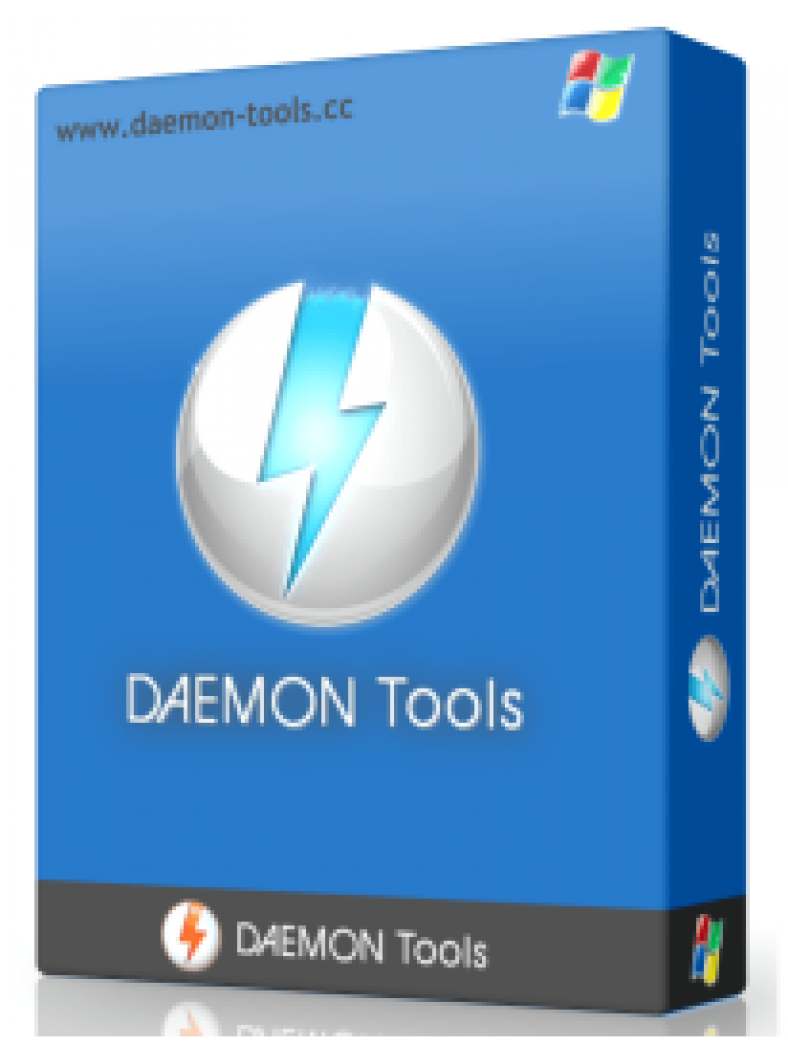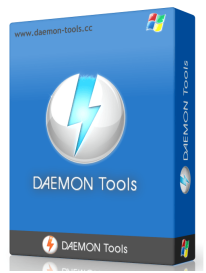 5 Best Free ISO Mounting Software for Windows 10 Review: Download The Best Absolutely Free
Virtual optical disc imaging is the real deal. It's a way of creating a virtual disk image composed of writable data from a real optical disc for ease of use and storing. The ISO image is an archive file of an optical disc whose contents can be stored as a virtual CD or DVD drive. It can also be stored on a USB flash drive or a hard drive. These image files have a file extension of .iso and are extremely handy to store your files and backup.
PROS:
Quick
Doesn't require installation
CONS:
Can't write files to CD/DVD
---
Microsoft's very own virtual disc emulator released way back in the early 2000 had a few glitches. Re-released in 2013, this is now the go to ISO mounting software for Windows users. The tool allows you to use disk image files as virtual CD-ROM drive to store files, create backup or even install other software and games. If you don't have a DVD-drive, don't worry. With this software you can freely create and mount ISO disk image files. This emulator supports the most common image formats and is compatible with 32-bit and 64-bit versions of Windows. However check for the latest version as some old versions do not work on 64-bit machines. It is extremely easy to use and arguably the most popular ISO mounting software.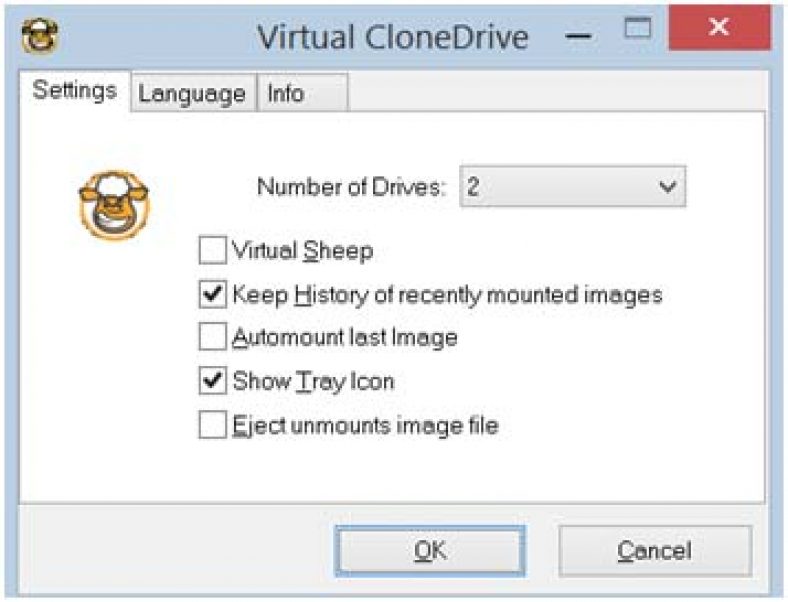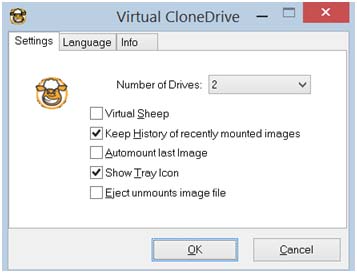 PROS:
Support for all common image format: ISO, BIN, IMG, UDF, DVD, and CCD
Esy to use
Upto 15 virtual drives at the same time
CONS:
Doesn't allow to create and burn images
---
As the name suggests it is a virtual drive which behaves and functions just as a physical CD or DVD drive would. Probably SlySoft's only free software packages this one is a gem of mounting software. It supports eight virtual drives simultaneously and ISO image files can be created or mounted with a simple double click. The virtual clone drive also supports common image formats such as ISO, CUE, BIN and CDD. The simple user interface is a bonus which lets the user create as well as mount disc image files at a glance. Even those who are not well acquainted with virtual drives too can use this tool with ease. It is compatible with Windows 98, Windows XP, Windows 7 and Windows 10 and both 32-bit and 64-bit versions.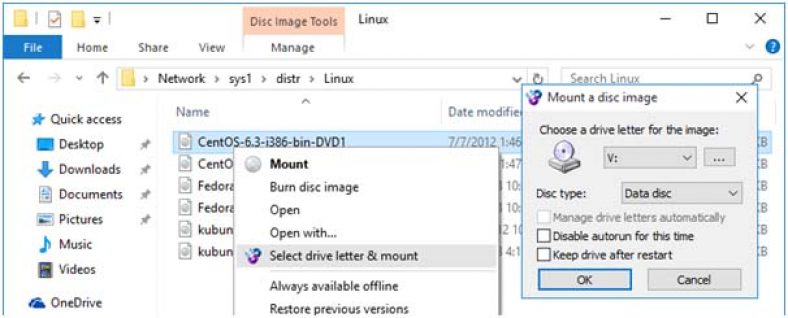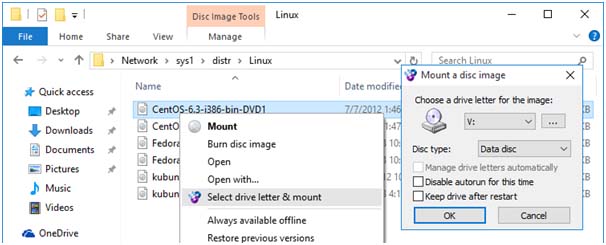 PROS:
Has both installer and portable version
One-click mount
Unlimited number of virtual drives
Supports more than 20 languages
Supports data, DVD-video and BD-video images
CONS:
Doesn't allow to create ISOs of DRM-protected discs
---
WinCDEmu is what many users are currently using as this handy software creates and mounts virtual optical drives with a simple click. The open-source emulator has a simpler interface than most imaging tools along with one of the simplest ISO creation ever. A versatile tool in every sense, it can handle an infinite number of virtual drives at the same time, a feature which no other optical tool provides. The emulator works on both 32-bit and 64-bit Windows versions and supports common image formats such as NRG, CUE, MDS, CCD and even IMG. You can use the tool in Windows XP, Windows 7 and Windows 10.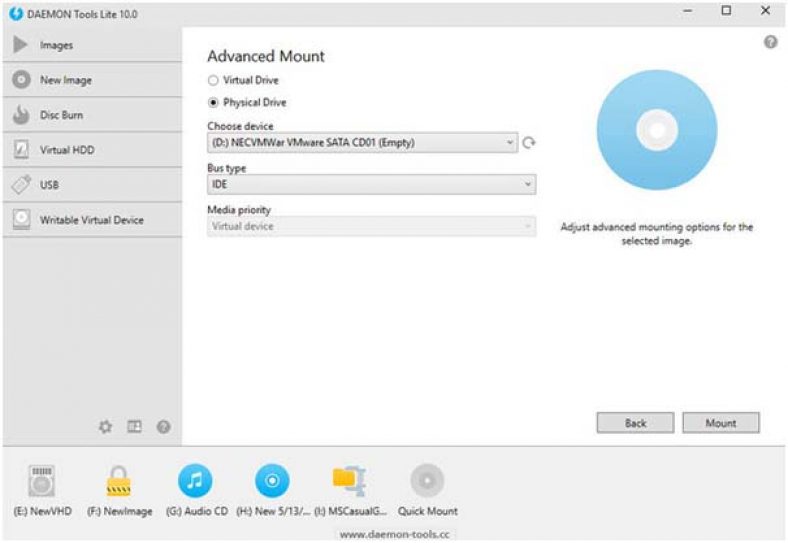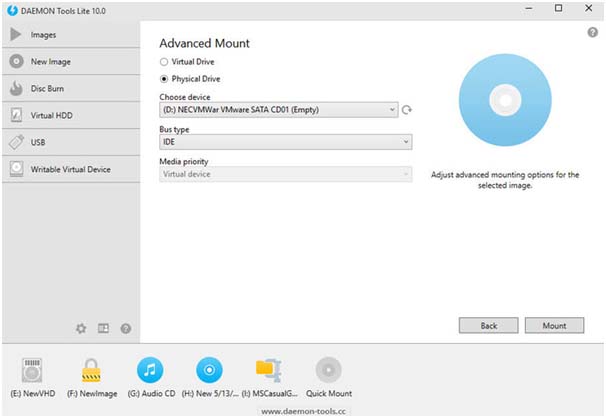 PROS:
Good customer support
Support for dynamic and fixed virtual disks
Upto 32 virtual drives
Command line interface
Ability to set memory limits for VM and drives
CONS:
Lack of task manager and scheduler
---
This one's quite popular and I don't think Daemon tools need any introduction to all the computer nerds out there. A household name when it comes to mounting virtual drives DAEMON tools had fallen in popularity due to the latest brand of free software readily available all over the internet. However the DAEMON Tools Lite is a new and improved version of its predecessor and is completely free for home and non-commercial use. It handles your basic mounting needs by creating a virtual image of your optical CD or DVD drive and allows you to store backup or install games on a virtual disc. The tool can create up to 32 drives and support both local and network mounting. Again it is works on most Windows versions and is compatible with both the 32-bit and 64-bit operating system.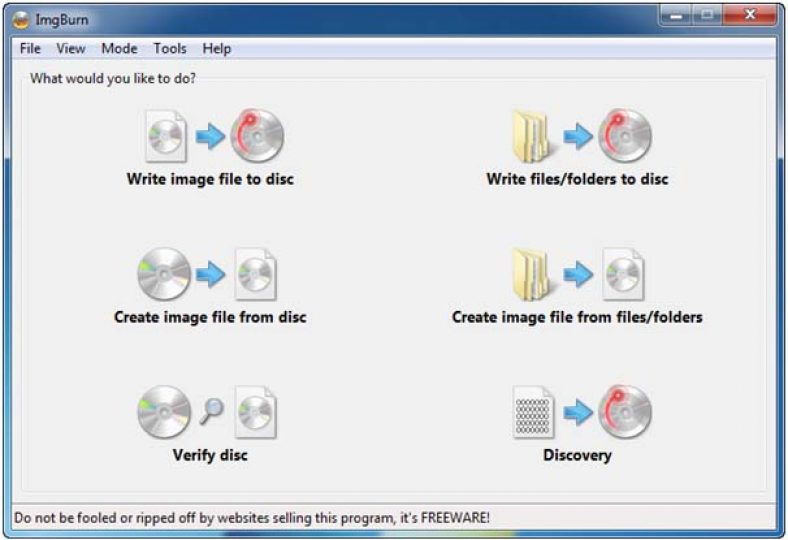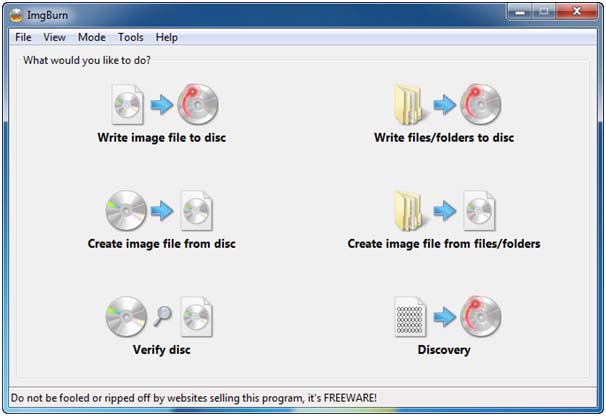 PROS:
Support burning image to re-writable discs
Support for advanced features not available in competitors
Support for more than 10 image formats
Blu-Ray and HD-DVD support
CONS:
A bit slower in comparison with some competitor ISO file burners
User interface may seem complex
Lack of burning images to external drives
---
Call it the little brother of WinCDEmu. If it weren't for WinCD Emulator, this is what I would have been using. This is yet another NOT easy-to-use ISO mounting tool which comes with a bevy of features. It supports a huge range of image formats such as BIN, ISO, NRG, CUE, CCD, MDS, DVD, CDI, IMG, GI, DI as well as PDI. It creates ISO image files of the optical discs like CDs, DVDs, HD-DVDs and even Blu-rays! It creates ISO images from scratch and is a great option for advanced users. ImgBurn can also burn discs and files into the virtual drive and you can run games or install an operating system easily from your virtual drive.