 Cyberlink PowerDVD 16 Review and Features Comparison with ver. 15
10% Off Cyberlink PowerDVD 16 Ultra Coupon
Upto 70% Off Cyberlink Promo Codes and Discounts


$99.95 $89.95




CyberLink PowerDVD is one of the most appreciated media player ever built, and it was widely accepted by both pros and multimedia fans. PowerDVD was always successful in hitting the sweet spot between high-end features, ultimate performance and improved ease of use. With more than 300 million copies sold, it is nearly impossible to find a perfect competitor to it.

Now, CyberLink has launched the PowerDVD 16, the most advanced iteration of this software that incorporates many new features. It can take the most immersive multimedia experience that you always enjoyed on your PC now to your big screen television also. The new features lets you create an amazing theatre like ambience with ultra HD visuals and multichannel surround sound, and enjoy the most immersive audio-visual entertainment at the comfort of your home.

Comparison between PowerDVD 16 Ultra and PowerDVD 15 Ultra
| | | |
| --- | --- | --- |
| Features | PowerDVD 16 | PowerDVD 15 |
| TV Mode for big screen televisions | Yes | No |
| PowerDVD Remote optimized for TV Mode | Yes | No |
| Media casting to Streaming sticks | Yes | No |
| Enhanced media casting with TrueTheater | Yes | No |
| Single and batch audio extraction from video | Yes | No |
| Support for DSD audio | Yes | No |
| CyberLink Cloud Storage | 30 GB for 1 year | 20 GB for 1 year |
Compared to PowerDVD 15, the new version incorporates many high-end features that make it the perfect tool for the modern day multimedia enthusiasts. The dedicated TV Mode, Media Casting, all new PowerDVD Remote, Single and batch extraction of audio from video are a few of them. In addition to all these, the new version offers additional 10 GB of Cloud storage compared to the 20 GB available with PowerDVD 15.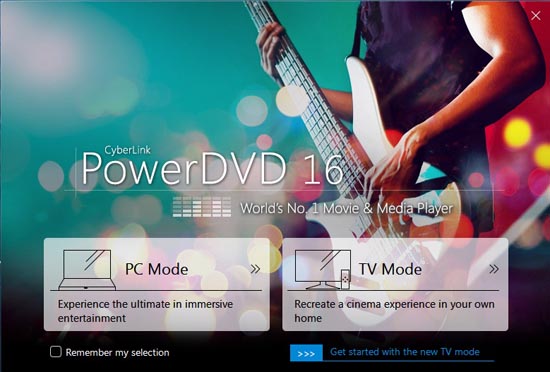 CyberLink PowerDVD 16 Review the new features

New TV Mode

The new PowerDVD comes with two modes, the classic mode that is familiar to every PowerDVD fans and a new TV mode. The TV mode is a beautifully designed and easy to use interface that is perfect for big-screen TVs. It lets you connect your PC to the TV through an HDMI or VGA port and recreate an atmosphere that you always enjoyed in theaters. In TV mode, the PowerDVD interface scrolls horizontally and you can control the entire menus through your smartphone installed with the redesigned PowerDVD Remote app. The TV mode offers optimized 4K media playback on all 4K TVs and supports DTS-HD and Dolby TrueHD audio formats.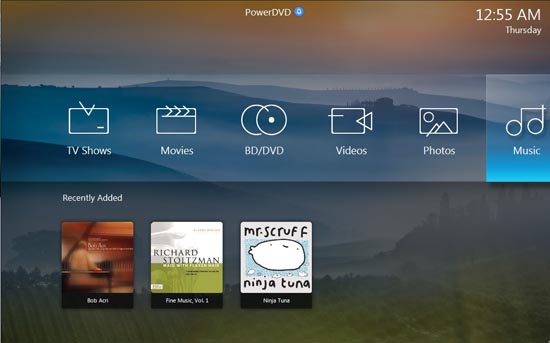 Media Casting

The PowerDVD 16 will never disappoint you If you want to go wireless, it is the first Windows 10 compatible multimedia player to support streaming sticks. The PowerDVD can stream media to Chromecast, Roku and AppleTV devices flawlessly. With the new version, you do not need to worry about the formats of your video, audio or image files. The PowerDVD 16 will convert them to format that is natively supported by these streaming sticks, in real time, so that you can enjoy them on big screens without any hitch. Moreover, with the PowerDVD's award winning TrueTheater technology, you can enhance the quality of the audio and video you stream.

Improved TrueTheater enhancements

The new version boasts an improved version of TrueTheater that will definitely make you amazed with the quality of the videos that you watch on your TV. The emphasized sharpness, color fidelity and most detailed image quality will make it a new experience to the viewer. The TrueTheater Sound offers you fuller and richer audio experience by bass boosting, vocal range amplification, reverb engagement and volume amplification.

Smart Rendering

Enjoy super smooth slow motion playback with PowerDVD 16. The Smart Rendering technology will automatically analyze your displays capabilities and fine-tune the playback so that you always get most fluidic slow-motion video without any settings tweaks or additional plug-ins.

Broadest format support

With CyberLink PowerDVD 16 the format compatibility issue is a thing of past. It comes with an extended range of supported audio and video formats, including the lossless audio formats like FLAC and DSD. Now, you can virtually play any media with it and you no longer need any converters for that.

Unparalleled 4K Playback

The intelligent rendering technology automatically detects the refresh rate and the playback performance of your TV, and optimizes the decoding and rendering so that you can play 4K media files on Ultra HD 4K TVs smoothly and lag free.

Improved online experience

Tailor your online experience with the new features of PowerDVD 16. It allows you to pin YouTube videos to watch them when you are offline. It also allows fast or slow playback of the pinned videos and watch them on HD by up scaling the resolution on the fly using TrueTheater HD. You can also convert 2D YouTube videos to 3D using TrueTheater 3D.