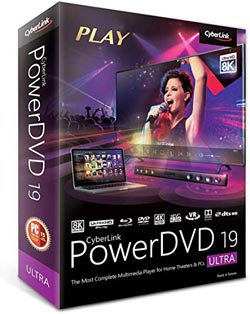 CyberLink PowerDVD 19 Ultra Review – The First In Class 8K Ultra HD Playback Software
---
PROS:
UHD 8K Support
Fully featured, and supports many audio and video formats including H.265
Nicely designed user interface
Many unmatched features, such as TrueTheater HD and TrueTheatre Surround for an escalated viewing experience
CONS:
Though CyberLink PowerDVD 19 is highly powerful, the performance depends highly on your system specs
1
What's New in CyberLink PowerDVD 19 Ultra?
In addition to UHD 8K video format support a brand new CyberLink PowerDVD 19 can now show HEIC images without a hassle. Among the new features I would also highlight the ability to playback 360˚ VR Video with outstanding dimensional sound and support for animated GIF files. Enhanced features include better GPU support for HDR video playback, external subtitle support for discs and the ability to watch YouTube videos offline.
2
CyberLink PowerDVD 19 Ultra Overview
PowerDVD is the most sophisticated media player available today, and is developed with the latest multimedia technologies to comply with all existing and emerging coding techniques. It features all the extra functionalities that are expected in a top-notch media player. You can watch high definition videos enriched with multichannel surround sound right from your computer and the CyberLink TrueTheater enhancements is sure to give you sharper images, smoother motion and enhanced lighting always.
3
CyberLink PowerDVD 19 Ultra Video Guide: Setting up Windows HDR Mode
4
All-in-One Media Solution
With CyberLink PowerDVD 19 you can play virtually any media. It can play Blue-ray and DVD discs, movies and videos in different formats and resolution including Ultra HD 8K and HEVC (H.265). You can enjoy audio in all popular formats and pictures in slideshows with pan and zoom facility. You can use PowerDVD to surf through the contents of popular websites such as YouTube, Vimeo, Facebook and Flicker. It can act as a central player for all media and play from your PC, connected devices, home network, or content in social network and cloud.
CyberLink PowerDVD is equipped with many powerful tools that can provide you with an unmatched listening experience. The WASAPI exclusive mode will configure all audio devices to match with the source format perfectly, so that you can enjoy HD audio without any quality degradation. It features lossless pass-through for DTS HD Master audio and Dolby True HD. The True Theatre Surround feature in PowerDVD lets you enjoy multi-channel surround sound from any stereo content. In addition with the Dolby Virtual speaker and CyberLink TrueTheater, you can experience exciting and engaging 5.1 surround sound in just about any listening environment or even on your headphones.
The new PowerDVD 19 comes with two modes, the classic mode that is familiar to every PowerDVD fans and a new TV mode. The TV mode is a beautifully designed and easy to use interface that is perfect for big-screen TVs. It lets you connect your PC to the TV through an HDMI or VGA port and recreate an atmosphere that you always enjoyed in theaters. In TV mode, the PowerDVD interface scrolls horizontally and you can control the entire menus through your smartphone installed with the redesigned PowerDVD Remote app. The TV mode offers optimized 8K media playback on all 8K TVs and supports DTS-HD and Dolby TrueHD audio formats.
CyberLink PowerDVD 19 will never disappoint you If you want to go wireless, it is the first Windows 10 compatible multimedia player to support streaming sticks. The PowerDVD can stream media to Chromecast, Roku and AppleTV devices flawlessly. With the new version, you do not need to worry about the formats of your video, audio or image files. The PowerDVD will convert them to format that is natively supported by these streaming sticks, in real time, so that you can enjoy them on big screens without any hitch. Moreover, with the PowerDVD's award winning TrueTheater technology, you can enhance the quality of the audio and video you stream.
8
Improved TrueTheater Enhancements
The new version boasts an improved version of TrueTheater that will definitely make you amazed with the quality of the videos that you watch on your TV. The emphasized sharpness, color fidelity and most detailed image quality will make it a new experience to the viewer. The TrueTheater Sound offers you fuller and richer audio experience by bass boosting, vocal range amplification, reverb engagement and volume amplification.
Enjoy super smooth slow motion playback with CyberLink PowerDVD 19. The Smart Rendering technology will automatically analyze your displays capabilities and fine-tune the playback so that you always get most fluidic slow-motion video without any settings tweaks or additional plug-ins.
10
Broadest Format Support
With CyberLink PowerDVD 19 the format compatibility issue is a thing of past. It comes with an extended range of supported audio and video formats, including the lossless audio formats like FLAC and DSD. Now, you can virtually play any media with it and you no longer need any converters for that.
11
Unparalleled UHD 8K Playback
The intelligent rendering technology automatically detects the refresh rate and the playback performance of your TV, and optimizes the decoding and rendering so that you can play 8K media files on Ultra HD 8K TVs smoothly and lag free.
12
Improved Online Experience
Tailor your online experience with the new features of PowerDVD 19. It allows you to pin YouTube videos to watch them when you are offline. It also allows fast or slow playback of the pinned videos and watch them on HD by up scaling the resolution on the fly using TrueTheater HD. You can also convert 2D YouTube videos to 3D using TrueTheater 3D.
13
Entertainment On The Go
CyberLink PowerDVD 19 Ultra comes with a free subscription to 30 GB of cloud storage for 1 year, which will help you to store and manage your media with PowerDVD. You can access and stream your favorite content stored in the cloud storage, anywhere, anytime with your PC or mobile device using Power Media Player application.
14
Powerful Companion Apps
PowerDVD 19 is bundled with many companion applications developed for your smart devices and these apps will enable you to share, sink and stream content across platforms. Moreover, these apps can turn your Android or iOS device into a remote control for PowerDVD.
CyberLink PowerDVD 19 provides seamless support for the UltraViolet standards. You can use this application to stream premium video content and download them in US and other available markets.
16
Comparison Table of Different CyberLink PowerDVD 19 Versions
Now the software is available in four different versions such as PowerDVD Live, PowerDVD 19 Ultra, PowerDVD 19 Pro and PowerDVD 19 Standard. The PowerDVD Live and Ultra versions include all premium features, and the other two versions lack some of them. However, it does not inhibit the user from enjoying ultimate multimedia experience that PowerDVD offers. The Live version comes with an annual subscription whereas other version are available to purchase with onetime payment. Let us compare these four versions so that you can choose the one that matches your needs perfectly.
Blu-ray disc/format support
Blu-ray ISO movie file playback
Blu-ray 2D to 3D conversion with TrueTheater 3D
CPRM Protected Disc Playback
DVD 2D to 3D conversion with TrueTheater 3D
8K Playback optimization for 8K TVs
MPEG HEVC (H.265) Support
MPEG-4 AVC (H.264) Support
XAVC-S support for 4K/HD movies
DTS 96/24, AAC Decoding, APE/FLAC/ALAC format support
17
CyberLink PowerDVD 19 Ultra Best Paid and Free Competitors
VLC Media Player is one of the most popular media players. It is a freeware and supports an extensive range of formats in use today. It is very flexible, easy to use and lightweight and have a good integration with web video streaming services. It is capable of playing Blu-Ray discs and HD videos but while considering the advanced features available in PowerDVD 19, we can see that VLC media player is not a strong opponent to it.
Windows Media Player 12 is a simple and nice standalone media player that comes pre-installed with Windows. It features many shortcuts, plug-ins and nifty features that will make your multimedia entertainment more enjoyable. It supports almost all types of media files but many advanced video formats such as Blu-Ray are not included in it. In addition, it lacks many features available in CyberLink Power DVD 19, making it fall far behind PowerDVD in terms of features and performance.
WinDVD is another wonderful 2D and 3D media player that can work in tandem with the latest audio and video formats. It supports Blu-Ray, DVD, AVCHD and offers many advanced features such as 2D to 3D conversion, HD Blu-Ray and Blu-Ray 3D playback, HD up scaling, impressive multi-channel surround sound etc. With WinDVD you can enjoy most of the features available in PowerDVD 19 except a few such as TV Mode and Media Casting.
PROS
Simulated 7.1 surround sound audio playback on headphones and stereo speakers using Dolby Virtual Speaker technology
Many companion applications to link all your devices to stream, share and sync contents so that you can enjoy them anywhere, anytime
Free 30 GB cloud storage for one year
CONS
A bit high price in comparison with competitor video editing software
Add your review