CyberLink PowerDVD 22 Ultra Review 2023 – The First In Class 8K Ultra HD Playback Software and A Staple For Home Entertainment
Founded 24 years ago in 1996, CyberLink Corp. has become aglobal leader in multimedia software and AI facial recognition technology. PowerDVD, one of CyberLink's flagship products, is the most functional and feature-filled video playback solution currently in the market. Well ahead of the curve by a fair distance, CyberLink is set to release the latest PowerDVD 22 Ultra and redefine HD video playback through the state of the art 8K HD video playback that was introduced in the previous version and taking it up a notch in the latest one.
---
PROS:
8K UHD Blu-ray videos supported
Supports an extensive range of image, audio and video formats
Sleek and intuitive UI
Roku, Chromecast, Apple TV, Fire TV supported
Immersive 360° VR experience
Ample advanced features such as TrueTheater
More than 10 languages supported
Free cloud storage up to 30GB for a year
CONS:
Slightly higher price than the nearest competitors
Robust hardware required for the best performance
Optimized interface for big-screen TVs
Ultra HD Blu-ray disc support
True full screen (21:9 aspect ratio) for Blu-ray
Windows mode for HDR video playback
360° video with spatial audio support
Oculus Rift and HTC Vive support
1
What's New in CyberLink PowerDVD 22 Ultra?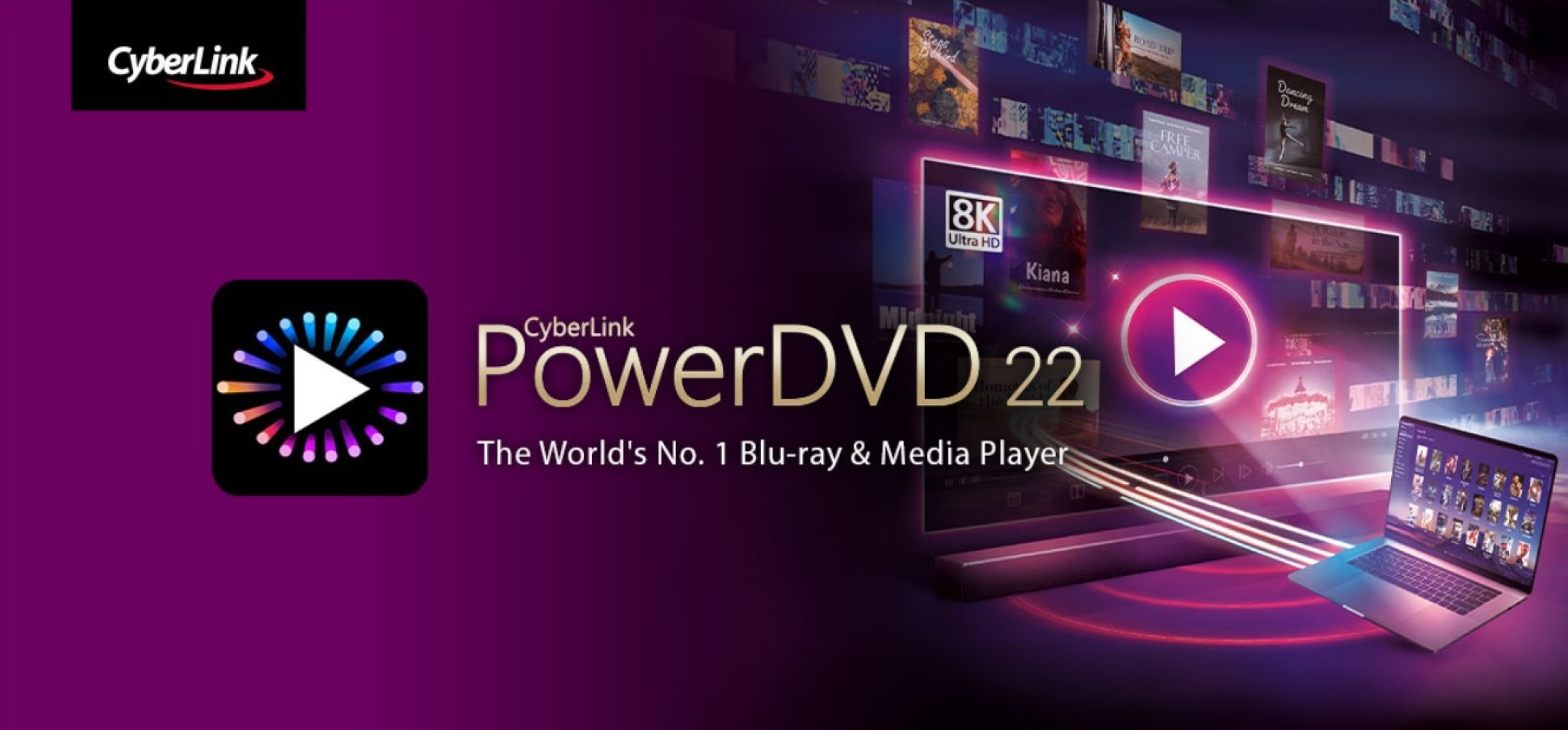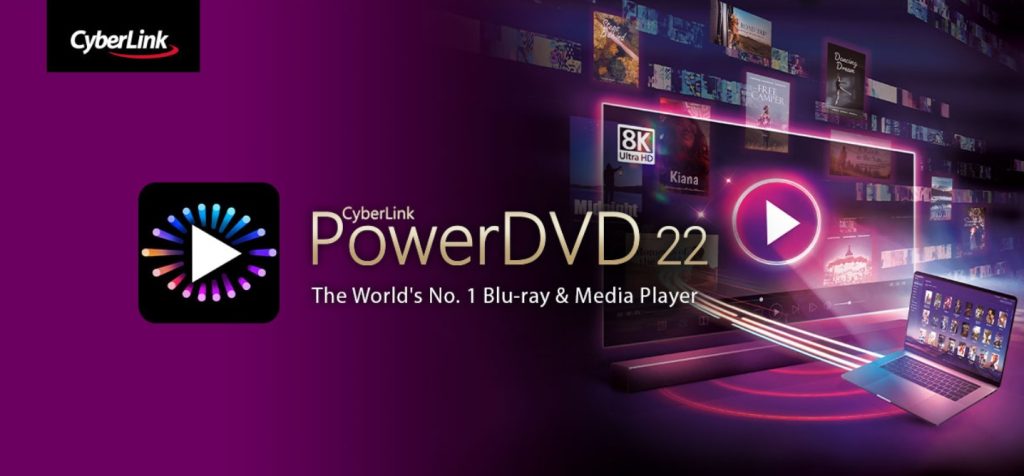 In addition to UHD 8K video format support a brand new CyberLink PowerDVD 22 can now show HEIC images without a hassle. Among the new features I would also highlight the ability to playback 360˚ VR Video with outstanding dimensional sound and support for animated GIF files. Enhanced features include better GPU support for HDR video playback, external subtitle support for discs and the ability to watch YouTube videos offline.
Unlike the 8K HD video playback, CyberLink's new and unique TrueTheater enhancements can be accessed and taken advantage of by consumers. The TrueTheater color, lightning, and HDR for 4K video support are worth every penny spent on the software as this unique feature not only enhances the video playback experience vastly but also builds a solid platform on which future advancements can be modeled. TrueTheater 3D for Blu-ray movies, HD videos, and even photos was introduced in the previous version and there are a few minor improvements that have gone in the new PowerDVD 22 Ultra.
Among the new features is the Window mode for HDR video file playback that goes hand in hand with a Windows Mixed Reality headset, if you have one, to offer the most immersive entertainment possible on a Windows PC. Other new features include 360° and VR mode that allows you to watch 360° videos and photos with spatial audio support and multi-angle view. The software also supports Oculus Rift headset and controllers as well as HTC Vive headset and controllers. Furthermore, spatial audio support for YouTube 360° videos is a great addition.
2
CyberLink PowerDVD 22 Ultra Overview
PowerDVD 22 brings the most advanced high-resolution video technology into your living room and with the help of ultra HD Blu-ray disc and true full-screen view for Blu-ray playback at 21:9 aspect ratios. However, the potential of the 8K playback functionality is yet to be fully realized because of the lack of 8K displays among the general populace. At this point, I should disclose that I do not have an 8K display and I had only one 8K UHD test file to check PowerDVD's capability. Nonetheless, the media software was successful in decoding the 8K test file and played it on a 4K display with incredible results.
An extensive range of video, audio, and photo formats are supported by the new version along with HEIC/HEIF and GIF image support and a native 64-bit engine for video, audio, and photo playback with more accurate processing. Additional improvements include the options to choose a background image, auto-change wallpaper, and to select the quality of YouTube videos before you pin (download for offline viewing) them. Now, you can apply TureTheater enhancements to video and audio in TV mode and casting, play animated GIF files, and access 30 GB of cloud storage for a year via the unique CyberLink Cloud services. PowerDVD syncs with portable devices to double up as a video, music, and image library and even allows video streaming from the cloud.
PowerDVD 22 improves the surround-sound system with Dolby Digital Plus (7.1 ch) and Dolby TrueHD (7.1 ch) that convinces your ears that the audio is indeed emanating from the area your eyes are telling you it is. However, you will require a VR headset or a surround-sound system to experience the phenomenon to its fullest. PowerDVD can also stream directly to your TV using Roku, Apple TV, Chromecast, and Fire TV and improve video and audio quality via TrueTheater enhancements.
Get CyberLink PowerDVD 22 Ultra
4
YouTube and Streaming Content
As we stay confined to our homes as a consequence of the global lockdown resulting from the coronavirus pandemic, we are forced to turn to the TV, YouTube and streaming platforms, such as Netflix and Amazon Prime among others, for our entertainment. CyberLink PowerDVD 22 Ultra could not have come at a more opportune moment. Play and pin support for YouTube HDR content, full HD & 4K content, 360° & 3D 360° content, and YouTube live with enhanced WebM support(VP9/9.2 + Opus & VP9 + Vorbis) are some of the brilliant aspects of PowerDVD 22 Ultra that can help us through this troubled time.
5
All-in-One Media Solution
With CyberLink PowerDVD 22 you can play virtually any media. It can play Blue-ray and DVD discs, movies and videos in different formats and resolution including Ultra HD 8K and HEVC (H.265). You can enjoy audio in all popular formats and pictures in slideshows with pan and zoom facility. You can use PowerDVD to surf through the contents of popular websites such as YouTube, Vimeo, Facebook and Flicker. It can act as a central player for all media and play from your PC, connected devices, home network, or content in social network and cloud.
CyberLink PowerDVD is equipped with many powerful tools that can provide you with an unmatched listening experience. The WASAPI exclusive mode will configure all audio devices to match with the source format perfectly, so that you can enjoy HD audio without any quality degradation. It features lossless pass-through for DTS HD Master audio and Dolby True HD. The True Theatre Surround feature in PowerDVD lets you enjoy multi-channel surround sound from any stereo content. In addition with the Dolby Virtual speaker and CyberLink TrueTheater, you can experience exciting and engaging 5.1 surround sound in just about any listening environment or even on your headphones.
The new PowerDVD 22 comes with two modes, the classic mode that is familiar to every PowerDVD fans and a new TV mode. The TV mode is a beautifully designed and easy to use interface that is perfect for big-screen TVs. It lets you connect your PC to the TV through an HDMI or VGA port and recreate an atmosphere that you always enjoyed in theaters. In TV mode, the PowerDVD interface scrolls horizontally and you can control the entire menus through your smartphone installed with the redesigned PowerDVD Remote app. The TV mode offers optimized 8K media playback on all 8K TVs and supports DTS-HD and Dolby TrueHD audio formats.
CyberLink PowerDVD 22 will never disappoint you If you want to go wireless, it is the first Windows 10 compatible multimedia player to support streaming sticks. The PowerDVD can stream media to Chromecast, Roku and AppleTV devices flawlessly. With the new version, you do not need to worry about the formats of your video, audio or image files. The PowerDVD will convert them to format that is natively supported by these streaming sticks, in real time, so that you can enjoy them on big screens without any hitch. Moreover, with the PowerDVD's award winning TrueTheater technology, you can enhance the quality of the audio and video you stream.
Enjoy super smooth slow motion playback with CyberLink PowerDVD 22. The Smart Rendering technology will automatically analyze your displays capabilities and fine-tune the playback so that you always get most fluidic slow-motion video without any settings tweaks or additional plug-ins.
10
Broadest Format Support
With CyberLink PowerDVD 22 the format compatibility issue is a thing of past. It comes with an extended range of supported audio and video formats, including the lossless audio formats like FLAC and DSD. Now, you can virtually play any media with it and you no longer need any converters for that.
11
Unparalleled UHD 8K Playback
The intelligent rendering technology automatically detects the refresh rate and the playback performance of your TV, and optimizes the decoding and rendering so that you can play 8K media files on Ultra HD 8K TVs smoothly and lag free.
12
Improved Online Experience
Tailor your online experience with the new features of PowerDVD 22. It allows you to pin YouTube videos to watch them when you are offline. It also allows fast or slow playback of the pinned videos and watch them on HD by up scaling the resolution on the fly using TrueTheater HD. You can also convert 2D YouTube videos to 3D using TrueTheater 3D.
13
Entertainment On The Go
CyberLink PowerDVD 22 Ultra comes with a free subscription to 30 GB of cloud storage for 1 year, which will help you to store and manage your media with PowerDVD. You can access and stream your favorite content stored in the cloud storage, anywhere, anytime with your PC or mobile device using Power Media Player application.
14
Powerful Companion Apps
PowerDVD 22 is bundled with many companion applications developed for your smart devices and these apps will enable you to share, sink and stream content across platforms. Moreover, these apps can turn your Android or iOS device into a remote control for PowerDVD.
CyberLink PowerDVD 22 provides seamless support for the UltraViolet standards. You can use this application to stream premium video content and download them in US and other available markets.
16
Comparison Table of Different CyberLink PowerDVD 22 Versions
Now the software is available in four different versions such as PowerDVD Live, PowerDVD 22 Ultra, PowerDVD 22 Pro and PowerDVD 22 Standard. The PowerDVD Live and Ultra versions include all premium features, and the other two versions lack some of them. However, it does not inhibit the user from enjoying ultimate multimedia experience that PowerDVD offers. The Live version comes with an annual subscription whereas other version are available to purchase with onetime payment. Let us compare these four versions so that you can choose the one that matches your needs perfectly.
Blu-ray disc/format support
Blu-ray ISO movie file playback
Blu-ray 2D to 3D conversion with TrueTheater 3D
CPRM Protected Disc Playback
DVD 2D to 3D conversion with TrueTheater 3D
8K Playback optimization for 8K TVs
MPEG HEVC (H.265) Support
MPEG-4 AVC (H.264) Support
XAVC-S support for 4K/HD movies
DTS 96/24, AAC Decoding, APE/FLAC/ALAC format support
17
CyberLink PowerDVD 22 Ultra Best Paid and Free Competitors
Keep in mind that playing 8K videos or 2D to 3D video conversions require a considerable amount of processor horsepower to tackle the sheer amount of raw data and data compression involved. There are plenty of free alternatives in the market that essentially offer the same services that PowerDVD does albeit with fewer perks.
Some of the alternatives worth considering include VLC Media Player and Windows Media Player to name a few but PowerDVD is the only Windows media software that can successfully play any format of video and audio files including, but not limited to, copyright-protected commercial Ultra HD Blu-ray discs, 3D videos, 360° videos and more.
VLC Media Player is one of the most popular media players. It is a freeware and supports an extensive range of formats in use today. It is very flexible, easy to use and lightweight and have a good integration with web video streaming services. It is capable of playing Blu-Ray discs and HD videos but while considering the advanced features available in PowerDVD 22, we can see that VLC media player is not a strong opponent to it.
The media player software category is a competitive niche and PowerDVD 22 Ultra faces stiff competition from the likes of VLC, Classic Media Player, Macgo Windows Blu-ray Player, WinDVD Pro  and DVDFab Player Ultra to name a few. Here, I will compare PowerDVD 22 Ultra with two of its closest competitors – Corel WinDVD Pro and DVDFab Player Ultra.
Both Corel WinDVD Pro and CyberLink PowerDVD 22 Ultra are Windows media player software and are only compatible with Windows PC and not on other operating systems such as macOS or Linux. When it comes to Blu-ray video playback and 4K UHD video capability, both these products are at the top of their game but PowerDVD 22 Ultra is one step ahead of WinDVD Pro as the former also supports 8K UHD video playback.
WinDVD supports all the most popular video formats, as does PowerDVD, with 2D to 3D video conversion. WinDVD also offers a far more customizable and functional playback interface than PowerDVD. The Corel media software is also not as taxing on the processors as PowerDVD is and does not require the high system requirements that the latter does. Corel WinDVD Pro offers a power manager that is very useful and sadly missing in PowerDVD Ultra.
The advantages of PowerDVD over WinDVD include remote control, greater online video (YouTube) capabilities, and TrueTheater enhancements. While WinDVD allows video enhancements and parental playback control, PowerDVD raises the bar with its proprietary TrueTheater features that are unique and exceptional.
The Corel WinDVD Pro 12 is priced at $63.99 while the PowerDVD Ultra comes for $59.99. Both the products come with a 30-day money-back guarantee but only PowerDVD offers a free download of its software. Payment methods include PayPal, credit cards, and wire transfers for both the products with CyberLink also accepting debit cards.
To sum it up, WinDVD contains fewer features than PowerDVD but uses less system and memory resources but PowerDVD's enriched catalog of features is by far the best in this niche and ideal for movie fans and media buffs.
DVDFab Player Ultra supports 4K UHD Blu-ray disc with ISO and folder playback support just like PowerDVD 22 Ultra.PowerDVD makes a prophetic and bold move by providing 8K UHD video playback support. While it seems redundant at the moment considering the unavailability of 8K capable devices among the general public, this feature will push PowerDVD to the top of the consumer's list once the public gets their hands on 8K capable devices in the near future.
Both DVDFab and PowerDVD support Dolby TrueHD and DTS-HD but the former also supports DTS:X (7.1 channel), something PowerDVD Ultra misses. Customizing playlists is smoother on DVDFab than on PowerDVD thanks to the intuitive and intelligent UI of the former. DVDFab also offers a GIF maker that may appeal to certain users. The concise and stylish UI of DVDFab is at par with that of PowerDVD but scores more in terms of customization ability and ease of navigation. While PowerDVD's UI is also easy to use, some users may find it complicated due to the sheer number of features and settings that PowerDVD packs into its interface.
When it comes to the number of features, PowerDVD is miles ahead of its nearest competitors but surely too much of any good thing can be unhealthy and so it is. PowerDVD features demand high system configurations and the numerous advanced features have their ill effects on the processors. On the other hand, DVDFab keeps it simple yet effective with only essential features that do not demand as high performance from the hardware as PowerDVD does.
At $99, the price of DVDFab Player Ultra is more than that of PowerDVD 22 Ultra but DVDFab also offers a free download version and is compatible with Mac devices, unlike PowerDVD which is only limited to Windows devices.
From the perspective of playback quality, there is not much to separate the two. Thus, unless you specifically need certain PowerDVD features that are not offered by its competitors, like 8K UHD support, then I suggest you give DVDFab Player 6 Ultra a try.
Google Trends is a search term analysis engine that compares search volumes of top keywords and represents via graphs the interest in a search term. I used Google Trends to gauge the interest in "CyberLink" and "PowerDVD" as well as its competitors like "WinDVD" and "DVDFab" and to find out how the interest in these search terms has changed over the past 12 months in the United States.
Interest in the software company "CyberLink" was quite high during this time last year and was steady throughout April to November with interest dropping mid-November to surge back up again. Interest increased again since March 2020 and since then has been on the rise. As of 11th April 2020, interest in "CyberLink" is the highest it has been in the last year.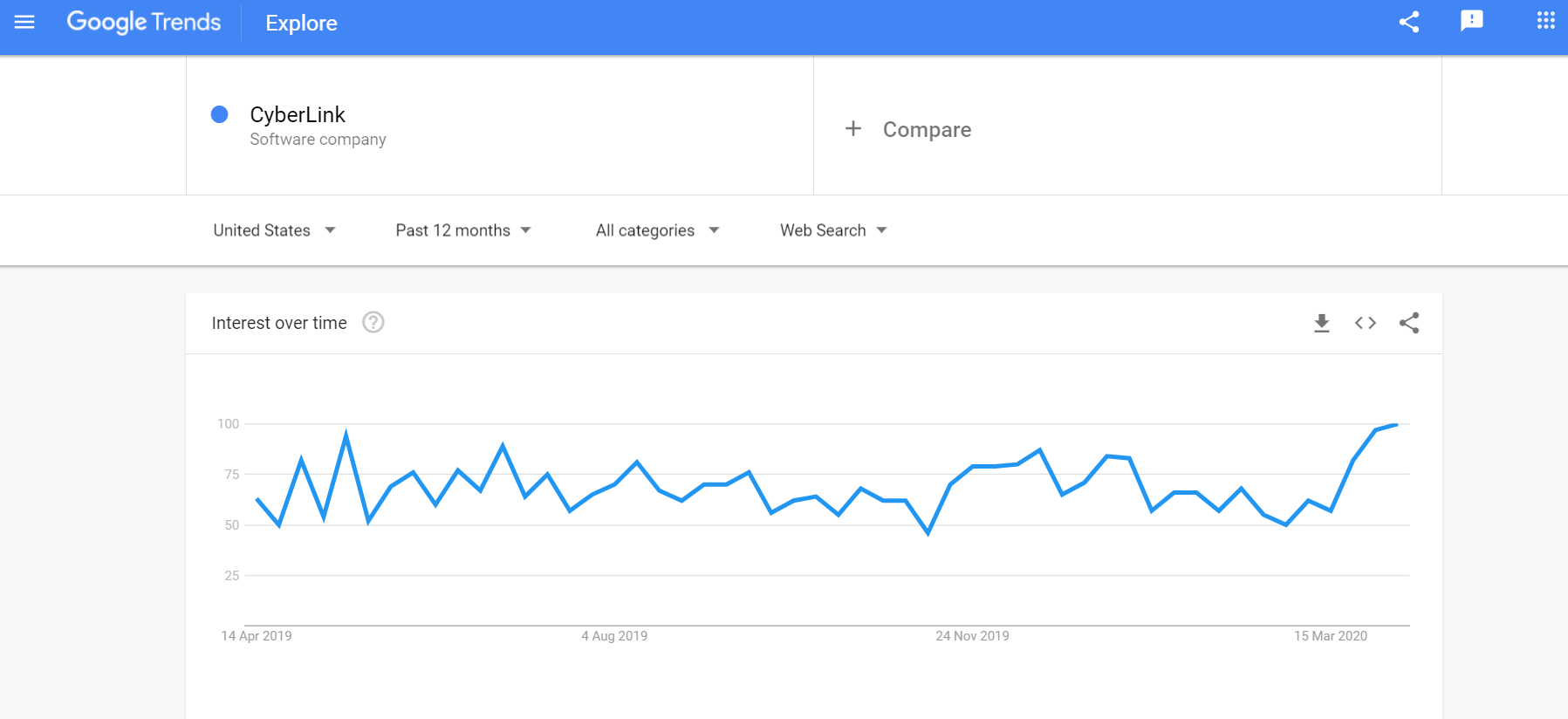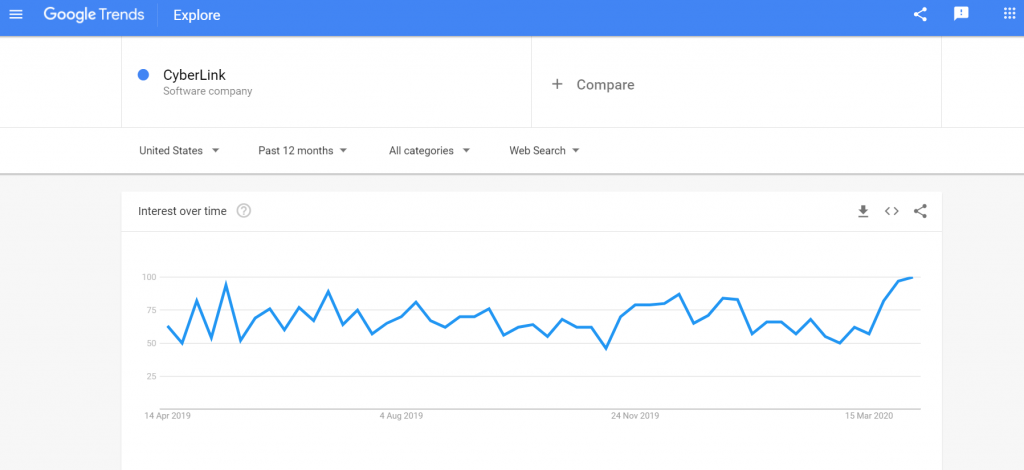 Popularity in the search term "PowerDVD" in the past 12 months has witnessed numerous sharp rises and falls with the highest point coming during mid-April 2019. There was a dip in interest between July and October 2019 but it started to rise again since November 2019 and has been steady till the middle of March 2020. The sustained period of interest through the end of last year and the beginning of this year is possibly due to software updates and the addition of new features.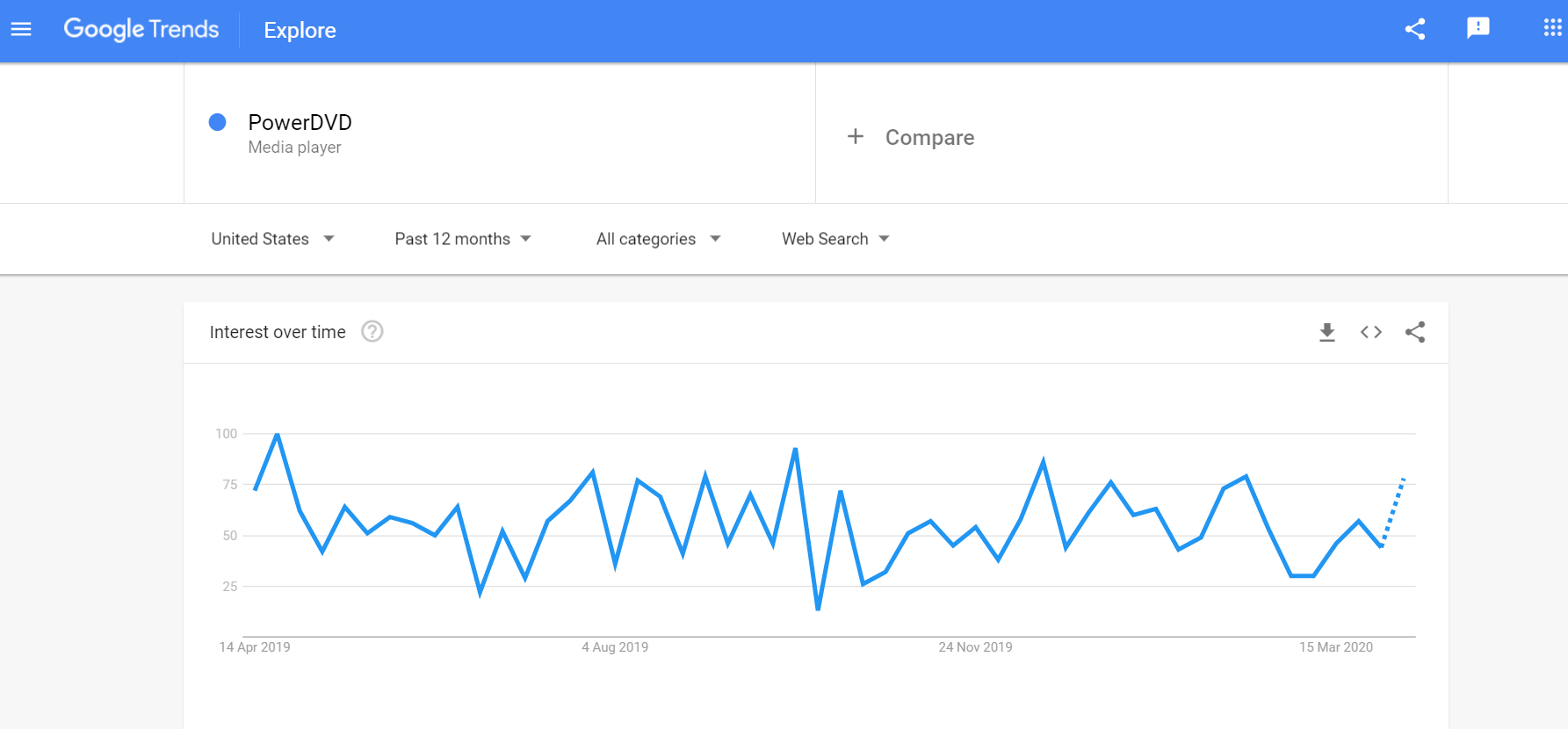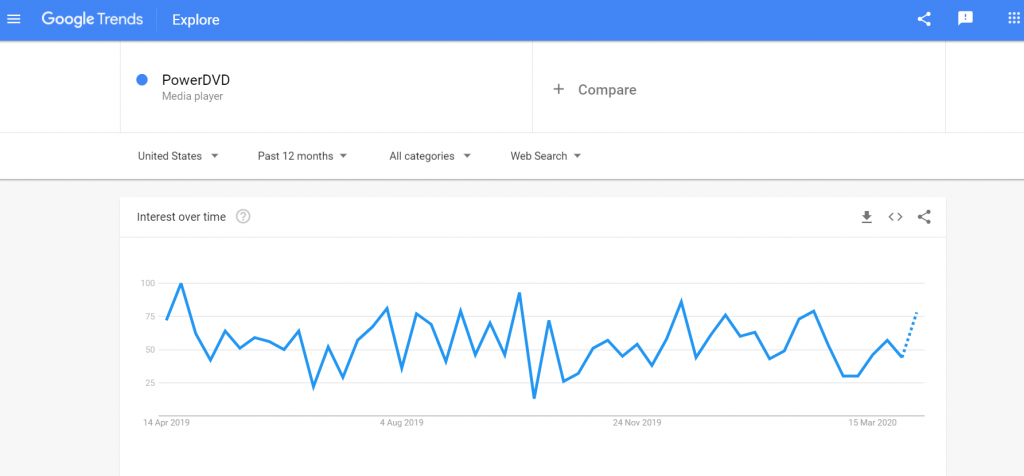 Since then interest in the media player has increased and is projected to sharply rise as a possible consequence of the coronavirus pandemic that has forced millions of people to stay indoors for weeks and turn to films and TV shows for entertainment.
I wanted to compare the interest in "PowerDVD" with its competitors such as "WinDVD" and "DVDFab". On comparing with "WinDVD", I found that the average interest in "PowerDVD" was much higher and there was very little competition in terms of popularity of search terms. However, the competition between "PowerDVD" and "DVDFab" was neck and neck with the later edging past the former by a margin thinner than the width of a hair.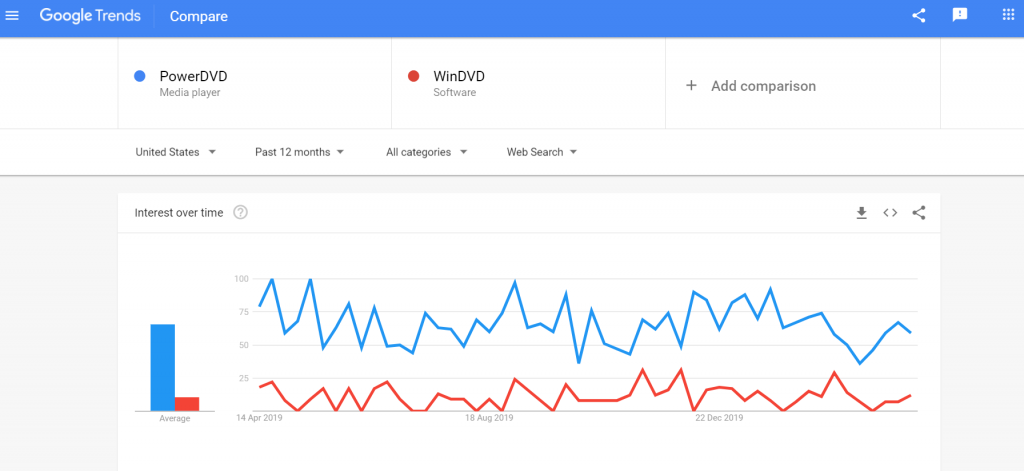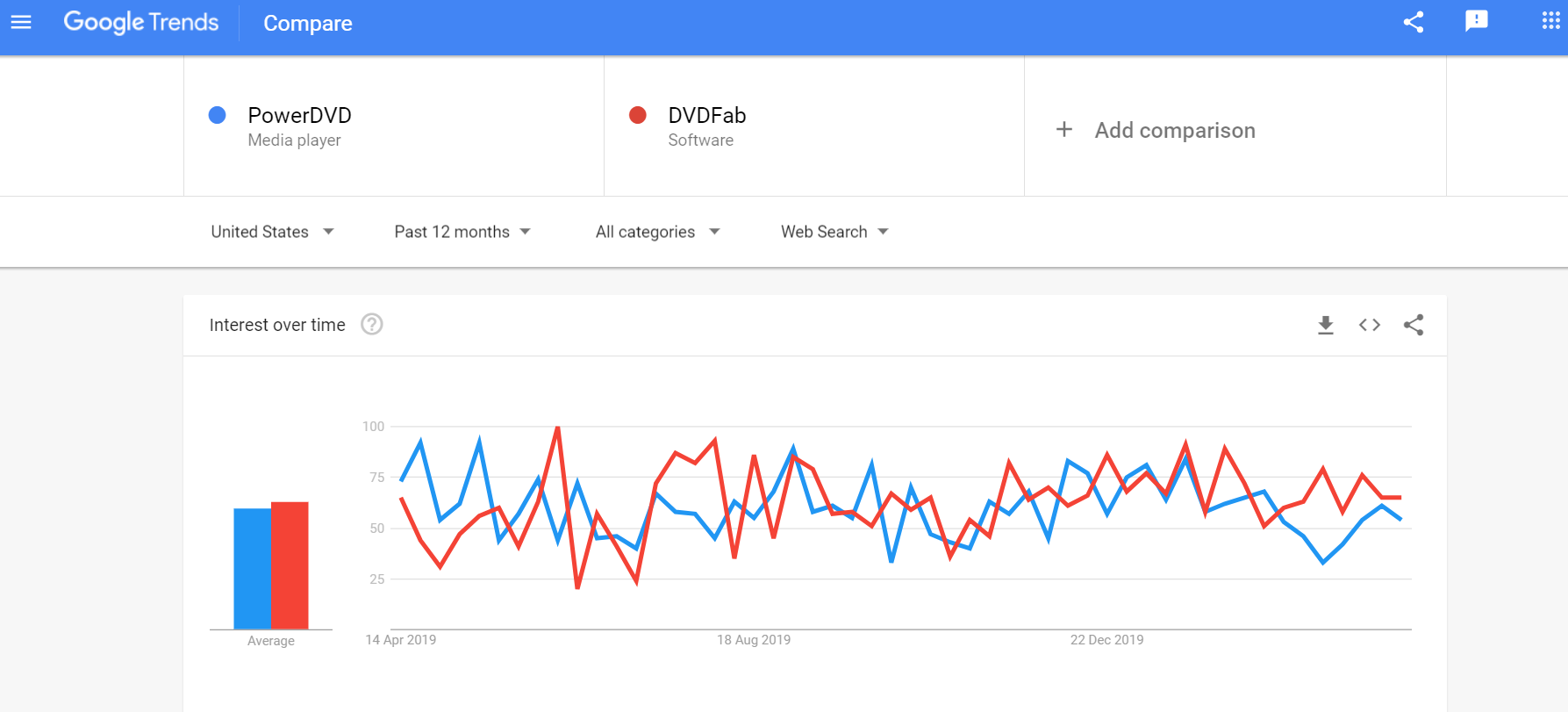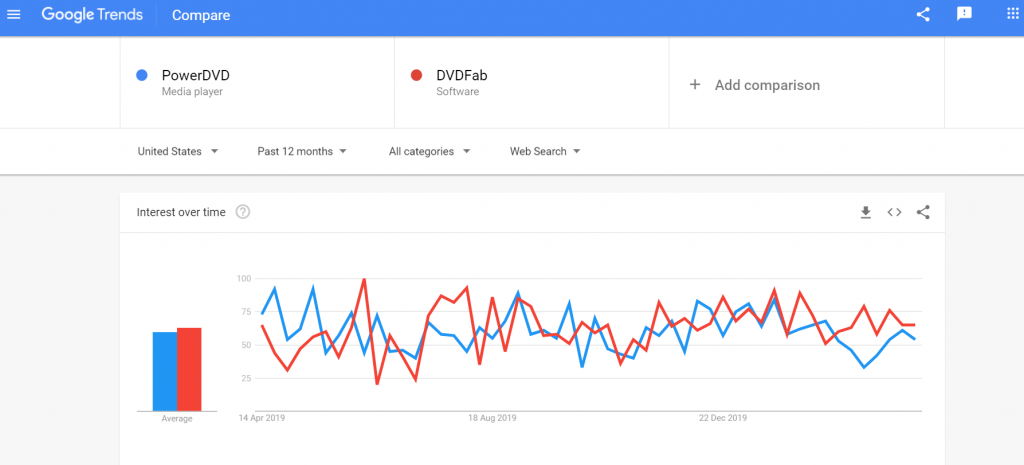 When it comes to CyberLink's customer support, there is no unanimous verdict as the positives and negatives balanced each other out. On the positive side, the company's support page is an extensive one with comprehensive guides, detailed FAQs, and the option to check order status.
There is also a search bar at the top of the support page which you can use to quickly find helpful articles to resolve any issues. The guides are well-written and can be easily followed by beginners. Most of the general queries I had surrounding the software were answered by the FAQ section. For further help, there is a support ticket system and email chat facility. This is where CyberLink lost my appreciation.
Firstly, live chat support would be much appreciated as it helps to talk to a customer support agent for resolving minimal issues and getting quick answers. Once I moved past that, I had to enter my email id and my query to chat with one of their customer service representatives. Though I find email support cumbersome, I went ahead to ask a few regular questions regarding topics such as OS support and system requirements.
Not only did the response come too late, by which time I had already found out the answers from the company's website, but also it was not as helpful as I had hoped for. All I received as a response to my queries is a polite greeting with links to the pages containing answers to my queries. While I was not satisfied with the email support, the support page itself is quite helpful and I was satisfied with it.
20
 Users' Feedback on Social Media
CyberLink has social media profiles on Facebook, Twitter, Instagram, YouTube and LinkedIn where the company interacts with its customers and announces the latest developments. User feedback on the company's social profiles is sparse and its Twitter feed is not as active as expected of a leading software company.
From the few user feedback that I have come across, the overall impression of the software is positive with an appreciation for the numerous unique features and their functionality. The customer service came under fire from a few users who claimed to be let down by it. That said, almost all users agreed that some of PowerDVD's many features, such as VR HMD support and 360° video support, are of value to consumers with a need for playback of such content on specific devices.
The TrueTheater enhancements are taxing on both the CPU and the GPU but once past the initial processor issues, PowerDVD's UHD Blu-ray playback and Dolby-audio features are exceptional features that offer the finest video and audio experience. All in all, videophiles on social media threw their full support behind the PowerDVD 22 Ultra despite a few of its high requirements.
21
Users' Reviews and CyberLink Ratings
Much like user feedback on social media, real user reviews on consumer review sites such as Trustpilot and SiteJabber offer insights into the functioning of a product and bring to light its shortcomings, if any, that are commonly avoided in software reviews.
According to the handful of reviews on Trustpilot, CyberLink's PowerDVD is the go-to Blu-ray media software in the PC space because of some of its advanced features that competing media software companies are yet to provide. CyberLink had a low TrustScore of 2 out of 5 from the less than 30 reviews on the review site. Negative reviews outnumbered positive ones on Trustpilot with the negative reviews mostly regarding inept customer service and the software's taxing effect on the processor.
SiteJabber had only a couple of reviews and they were on either end of the spectrum. The positive review mentioned that the software is useful for multitasking and great for HD and UHD video playback.
For more user reviews, I turned to Amazon's customer review page where I again came across a hung jury that was all praise for the new features in the PowerDVD 22 Ultra yet at the same time found it difficult to justify the price of the software considering the advanced features will appeal to and be used by a certain niche of consumers.
News sites not only offer information on the latest development surrounding a company or its product but also provide an in-depth look into the company's policies and its various ventures. So, I checked out several news sites and VPN blogs to find the latest on CyberLink PowerDVD and here is what I have come across.
In November 2019, Staple Street Capital, a private investment firm, acquired the CyberLink Company for an undisclosed sum. The acquisition of CyberLink was announced in an article on Business Wire and you can read about it here.
In other news, CyberLink's new AI facial recognition technology, FaceMe earned a high ranking and an impressive 99% accuracy rate on the NIST Facial Recognition Vendor Test results published in March 2020. FaceMe's highly accurate algorithm helped CyberLink to 8th place on the NIST leader board. FaceMe supports over 10 operating systems and offers stronger security than Cloud-based solutions. To read the full story check this review.
It seems that CyberLink's AI facial recognition technology has is making the right noises as Altek's edge AI box has integrated the FaceMe technology to develop intelligent edge computer vision for AI security solutions in various environments including home, office, and retail. Click the link provided below to read the full post on Biometric Update.
For over two decades, CyberLink has dominated the multimedia software industry and has not only developed but also owns more than 200 patented technologies. The company continues to build on its solid foundation and is still revolutionizing multimedia experience through consistent innovations and interoperable solutions. PowerDVD is one such innovation that has been a flagship product since its inception and the several awards it has won speak volumes about its performance. With the multimedia software industry witnessing an increase in healthy competition, PowerDVD continues to hold its ground as one of the finest in the business.
PROS
Simulated 7.1 surround sound audio playback on headphones and stereo speakers using Dolby Virtual Speaker technology
Many companion applications to link all your devices to stream, share and sync contents so that you can enjoy them anywhere, anytime
Free 30 GB cloud storage for one year
CONS
A bit high price in comparison with competitor video editing software
Add your review
|
Read reviews and comments