 Cyberlink PowerDVD 14 Review with Pros and Cons
In the past few years, home entertainment has changed much more than anything. The introduction of new high and ultra definition formats has brought in a phenomenal enhancement in the quality of home entertainment. And, in this era of ultra definition, and 4K, no media player other than the Cyberlink PowerDVD 14, can deliver you the ultimate entertainment in its full potential. You can experience the extraordinary with PowerDVD 14, the award winning media player from CyberLink Corporation. It is the first media player in the world, developed for H.265 High Efficiency Video Coding and 4K Ultra HD resolution.

Pros:

- Fully featured, and supports many audio and video formats including H.265
- Nicely designed user interface
- Very easy to configure and use
- Many unmatched features, such as TrueTheater HD and TrueTheatre Surround for an escalated viewing experience
- Simulated 5.1 surround sound audio playback on headphones and stereo speakers using Dolby Virtual Speaker technology
- Many companion applications to link all your devices to stream, share and sync contents so that you can enjoy them anywhere, anytime
- Free 10 GB cloud storage for one year

Cons:

- Though the PowerDVD 14 is highly powerful, the performance depends highly on your system specs.
- PowerDVD 14 is costly compared to similar applications available.

Comparison with TotalMedia Theatre 6:

Arcsoft's TotalMedia Theatre 6 is impressive Blue-ray player software that maintains superiority playback quality with all known media formats. It comes with many bonus features and quality enhancement tools. It supports 3D Blue-ray Discs and the Totalmedia Theatre 6 features a powerful HD up scaling tool, which can bring a re-mastered effect to your standard definition videos within no time. It is well suited for both casual viewers and movie buffs. However, when compared with PowerDVD 14, it lacks many advanced features, like karaoke function, video rotation, 4K playback etc.

Screenshots: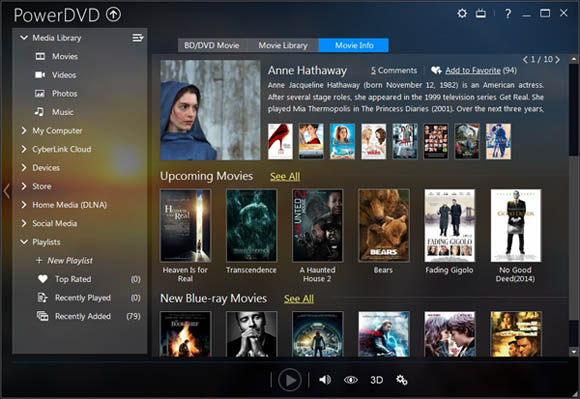 Movie Info Window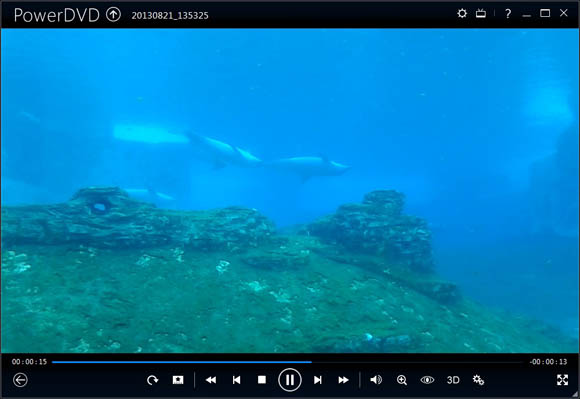 Video player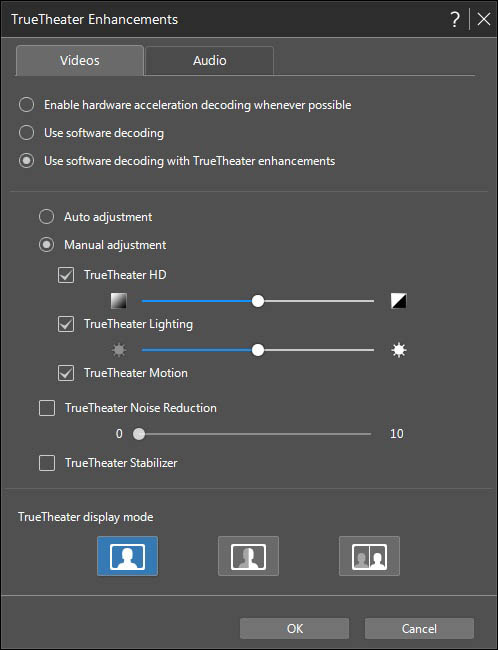 TrueTheater Enhancement Window makes it easy to improve the quality of the video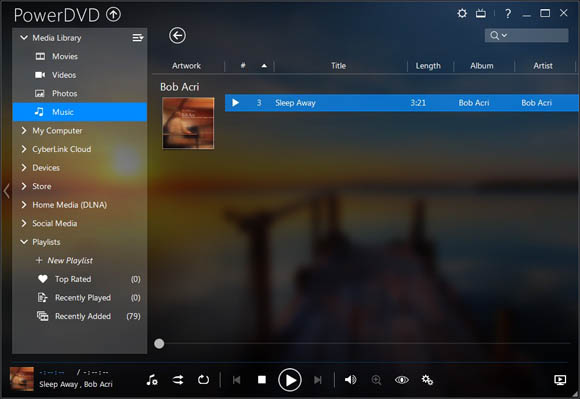 Music player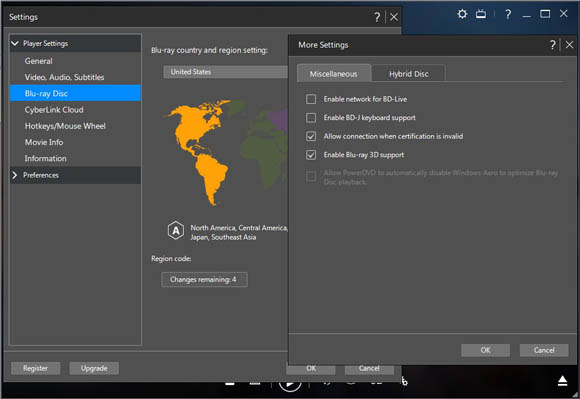 Blue-Ray Settings window is very easy to understand and configure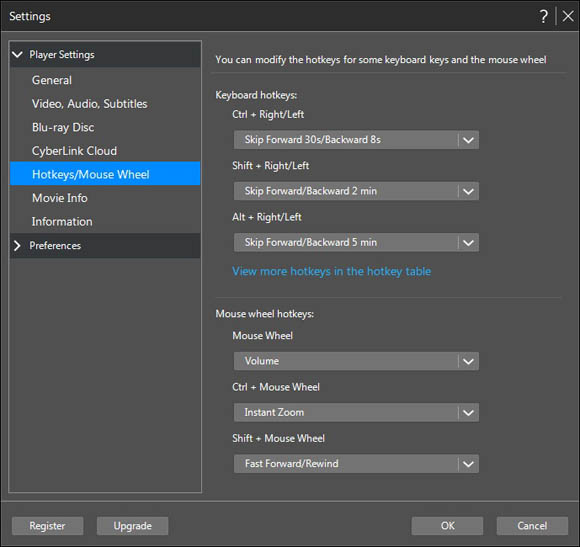 Hotkey Settings window provide you a great options for customization
CyberLink PowerDVD 14:

PowerDVD 14 is the most sophisticated media player available today, and is developed with the latest multimedia technologies to comply with all existing and emerging coding techniques. It features all the extra functionalities that are expected in a top-notch media player. You can watch high definition videos enriched with multichannel surround sound right from your computer and the CyberLink TrueTheater enhancements is sure to give you sharper images, smoother motion and enhanced lighting always.

Features of PowerDVD 14:

All-in-in-one media solution:

With PowerDVD 14, you can play virtually any media. It can play Blue-ray and DVD discs, movies and videos in different formats and resolution including Ultra HD 4K and HEVC (H.265). You can enjoy audio in all popular formats and pictures in slideshows with pan and zoom facility. You can use PowerDVD 14 to surf through the contents of popular websites such as YouTube, Vimeo, Facebook and Flicker. It can act as a central player for all media and play from your PC, connected devices, home network, or content in social network and cloud.

Exceptional quality:

The new version of PowerDVD 14 includes many wonderful tools that can greatly enhance the quality of the content you watch. Some of them are

- TrueTheater HD: This feature can upscale standard definition videos to HD video, so that you can always enjoy stunning videos with great details.
- True Theatre Motion: The frame rate plays an important role in the smooth playback of videos, and True Theatre Motion automatically upscale the frame rate of your content, enabling smooth and flicker-free video playback.
- True Theatre Stretch: You can expand the aspect ratio of your old 4:3 videos to fit widescreens intelligently, without geometrical distortion.

HD Surround Sound:

PowerDVD 14 is equipped with many powerful tools that can provide you with an unmatched listening experience. The WASAPI Exclusive mode will configure all audio devices to match with the source format perfectly, so that you can enjoy HD audio without any quality degradation. It features lossless pass-through for DTS HD Master audio and Dolby True HD. The True Theatre Surround feature in PowerDVD lets you Enjoy multi-channel surround sound from any stereo content. In addition, with the Dolby Virtual speaker and CyverLink TrueTheater, you can experience exciting and engaging 5.1 surround sound in just about any listening environment or even on your headphones.

Entertainment on the go:

PowerDVD 14 Ultra comes with a free subscription to 10 GB of cloud storage for 1 year, which will help you to store and manage your media with PowerDVD. You can access and stream your favorite content stored in the cloud storage, anywhere, anytime with your PC or mobile device using Power Media Player application.

Powerful Companion Apps:

PowerDVD 14 is bundled with many companion applications developed for your smart devices and these apps will enable you to share, sink and stream content across platforms. Moreover, these apps can turn your Android or iOS device into a remote control for PowerDVD.

UltraViolet support:

PowerDVD 14 provides seamless support for the UltraViolet standards. You can use this application to stream premium video content and download them in US and other available markets.

Verdict:

The excellent HD video quality, powerful tools, intuitive user interface, cloud and multi device support makes PowerDVD 14 the universal solution for all your entertainment needs. In terms of features and performance, it is far ahead of the rivals and can make your PC the centerpiece of your entertainment hub.
10% Off Cyberlink PowerDVD 16 Ultra Coupon
Upto 70% Off Cyberlink Coupon Codes


$99.95 $89.95