Sage 50cloud Review 2022: Desktop-Based Accounting Software Solution With Built-In Sophisticated Applications
Sage 50cloud is a sophisticated desktop accounting solution that offers an extensive set of advanced features and customizability options with cloud functionality. Apart from account management, Sage'ssoftware solutions are capable of managing payments, HR, payroll, assets, construction, real estate and enterprise systems. Compatible withWindows 7, 8.1, and 10, Sage 50cloud allows users to create and manage projects on its platform. Functionalities include, but not limited to, adding project descriptions, start dates, end dates, supervisors, status and much more. Creating job phases and tracking the progress of projects is made simple by Sage 50cloud.
---
PROS:
Numerous sophisticated features
Both accrual and cash-basis accounting
Secure cloud access and backup
Exceptional inventory management tools
CONS:
No mobile or web clients
Moderately complex software with a steep learning curve

July Deal! Accounting and Payroll free for 6 months
Accounting and Payroll free for 6 months
Sage 50cloud Features Overview
Sage 50cloud Users' Feedback and Ratings
While expert evaluation of accounting software helps customers decide whether to buy the software or not, it is equally important, if not more, to check out reviews by real users and companies that have purchased and used the software. Thus, to provide a comprehensive idea of the performance of Sage 50cloud software, I have gone through user comments on Sage's social media profiles and also checked out user reviews on consumer review websites.
Sage has profiles on such social platforms as Facebook, LinkedIn, Twitter and YouTube. With 831k and 46.7k followers on Facebook and Twitter respectively, Sage has an extensive following on social media and regularly shares posts, videos and the latest news on its profiles. However, there were very few user comments on Twitter to draw a conclusion but there was greater interaction between users and the company on Facebook. Many users raised technical issues and asked relevant questions to which representatives of the company promptly responded. While there were certainly no negative reviews on social media, there weren't sufficient praises either to write about but the company was quick to respond to any questions or issues raised by users on its profiles.
Sage achieved an impressive TrustScore of 4.8 out of 5 from over 11k user reviews on Trustpilot and was highly praised for its professional tech support. Customer service received the most adulation on this site with numerous users claiming to have received quick and efficient service from the support staff over the phone.
101 user reviews on TrustRadius gave Sage a score of 7.8 out of 10. The highest scores were reserved for Sage's impressive customer service, software scalability and the likelihood of renewal with countless users vowing to renew their subscriptions. In the features department, security and customizability received the most positive reviews. Order management and ease of use were the only aspects of Sage 50cloud that customers didn't warm up to.

July Deal! Accounting and Payroll free for 6 months
Accounting and Payroll free for 6 months
 Sage 50cloud: In the News
News websites not only offer insights into a company's business module but also provide information about the latest developments of the company, its profits or losses and interesting pieces of information. Thus, I visited several news sites to gather the most significant news about Sage.
In February 2020, Sage announced the launch of the new Sage Business Cloud Marketplace where selected app developers or Independent Software Developers (ISVs) will be able to exhibit their solutions and products to millions of customers. The marketplace will allow customers to compare solutions and customize their cloud business experience to the fullest. Read more about this at GlobeNewswire.
The following two news articles were published on Simply Wall St and deals with the growth as well as the valuation of the Sage Group. The first of these articles, dated 23rd March 2020, estimates the fair value of the Sage Group with the help of a two-stage Discounted Cash Flow (DCF) model. The article offers assumptions and suggests the next steps to be taken from calculations of the Present Value of Cash Flow and the Terminal Value. Read the full review.
The second article that piqued my interest was published on 15th May 2020. It comments on the Sage Group's recent performance and discusses whether recent earnings have betrayed long-term trends. To find out the answer check this article.
The final significant news tells us how the head of product engineering at Sage, Lindsay Philips, swiftly put together a software development team to develop a module for the Job Retention Scheme suggested by the UK government. Sage's payroll software is being used to pay about half of the privately employed workforce in the UK – approximately eight million employees. For more on this development, go to ComputerWeekly.
 Sage 50cloud: Google Trends
Google's search data analysis engine, Google Trends shows the interest in search terms over a particular period in a specified region. Displayed in the form of graphs, the data helps us to understand the search density and the popularity of particular keywords based on its average interest. I used Google Trends to check the interest over the past 12 months in such search terms as "Sage Group", "Sage 50cloud" and compare competing companies.
Interest in the software company "Sage Group" was consistently high and considerably higher than average throughout last year. Peak interest was reached during January 2020 and interest in the company never fell below the average mark. However, there was a lean patch through April 2020 when the interest dipped slightly but it has picked up since then and the graph is currently showing a rise.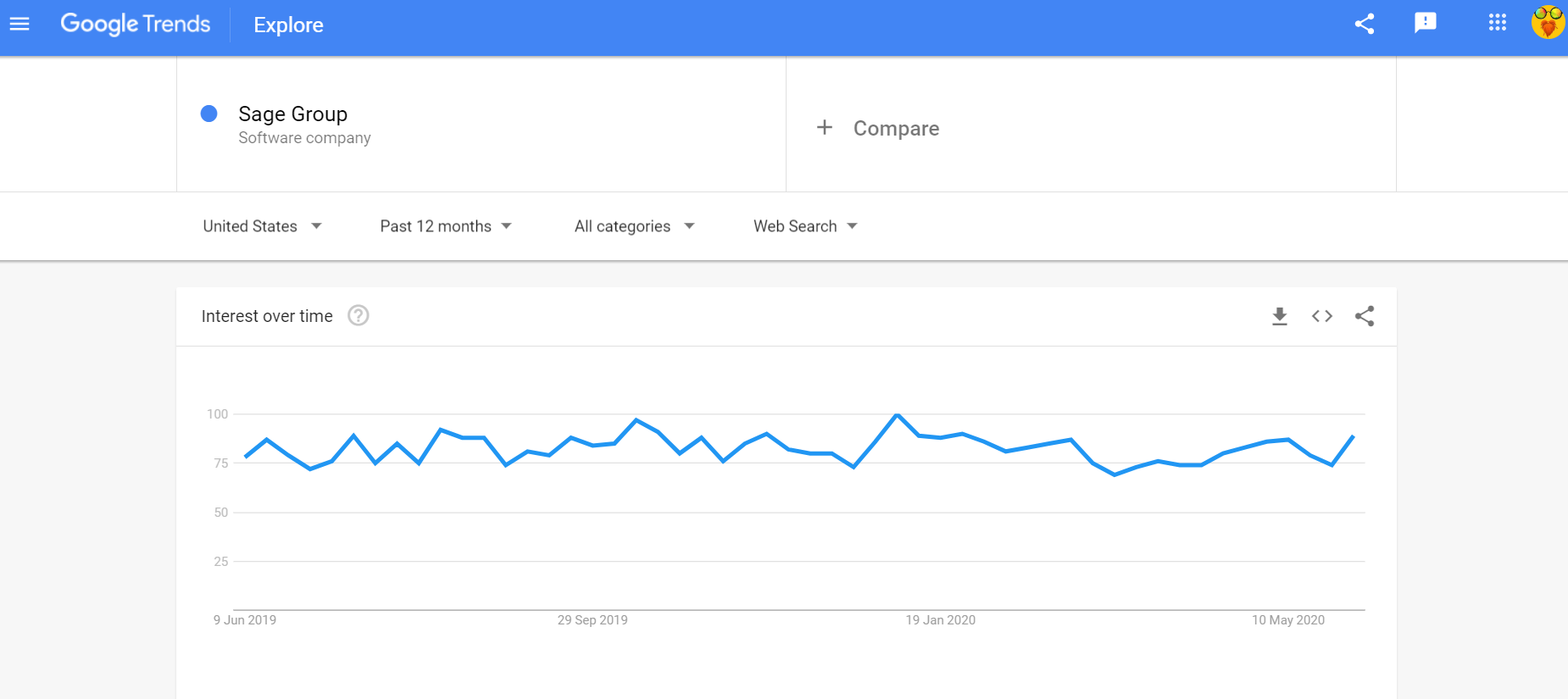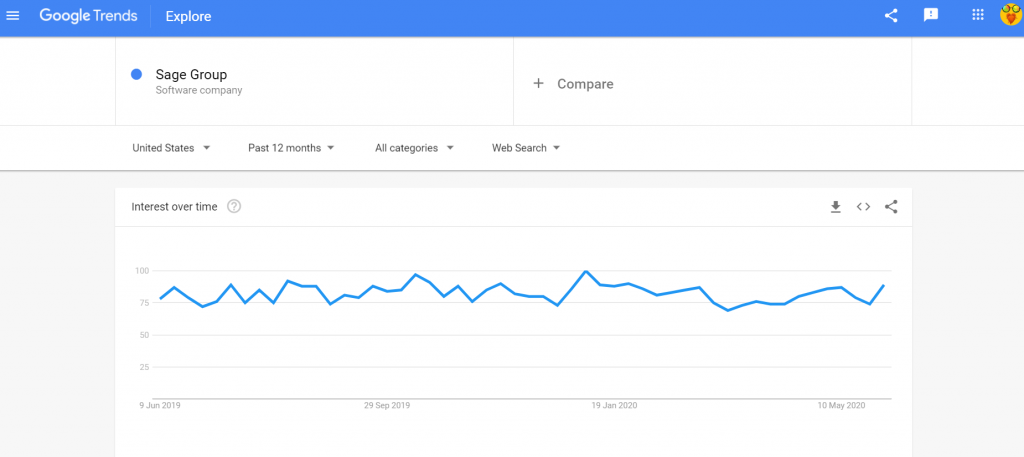 Interest in "Sage 50cloud", however, remained mostly average for the better part of 2019 but suddenly increased with the start of 2020. It even touched the peak in the middle of January 2020. Thereafter, interest dropped again and the slide continued till June 2020. According to the graph, interest is predicted to rise sharply in the coming weeks.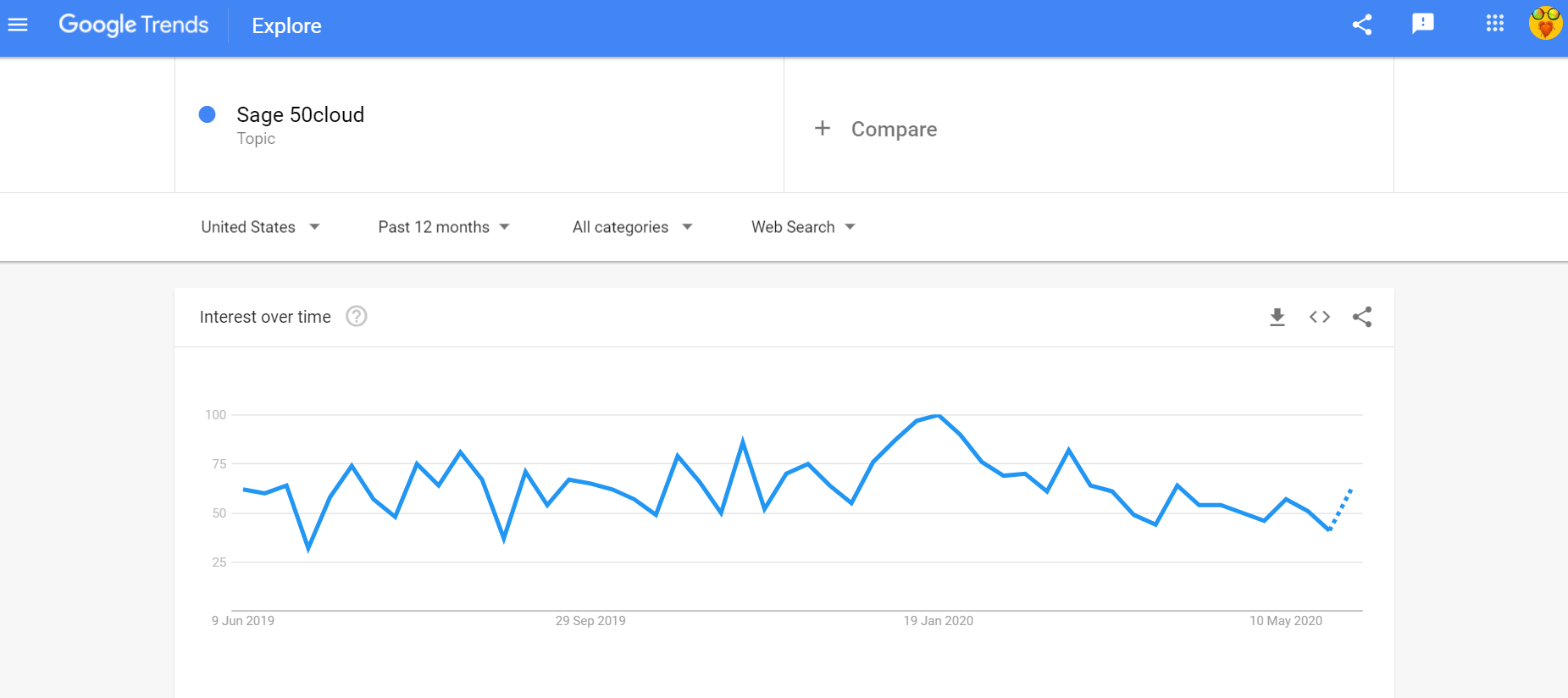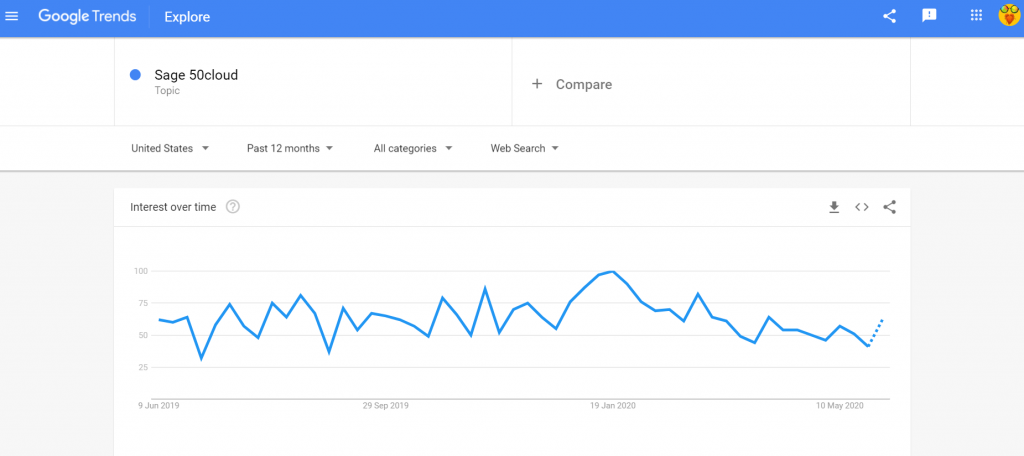 I decided to compare Sage with a competitor company as well as compare Sage 50cloud with a similar product. In the first comparison between "Sage Group" and "Wave Financial", the average interest favored the former. As pointed out earlier, interest in "Sage Group" was consistently higher than average through the past 12 months, while that in "Wave Financial" hovered around the average mark.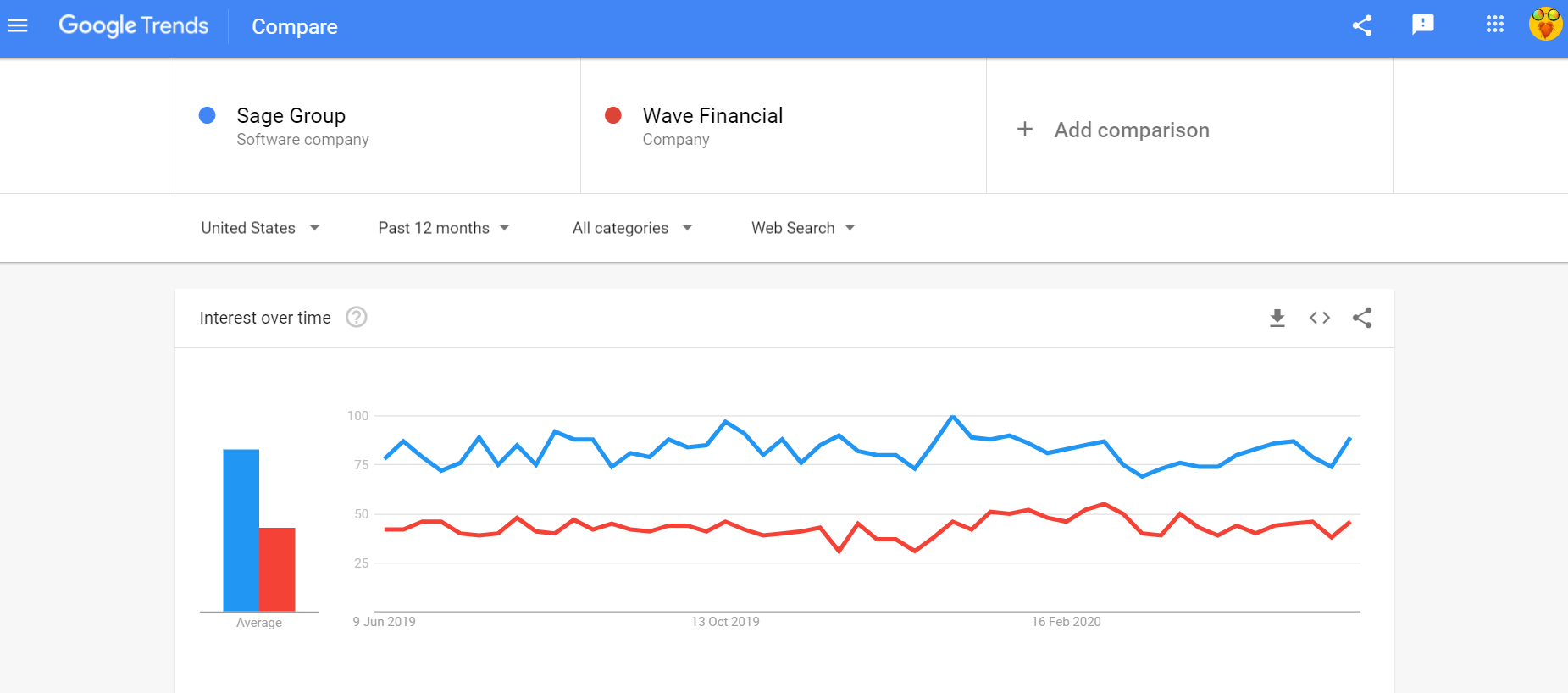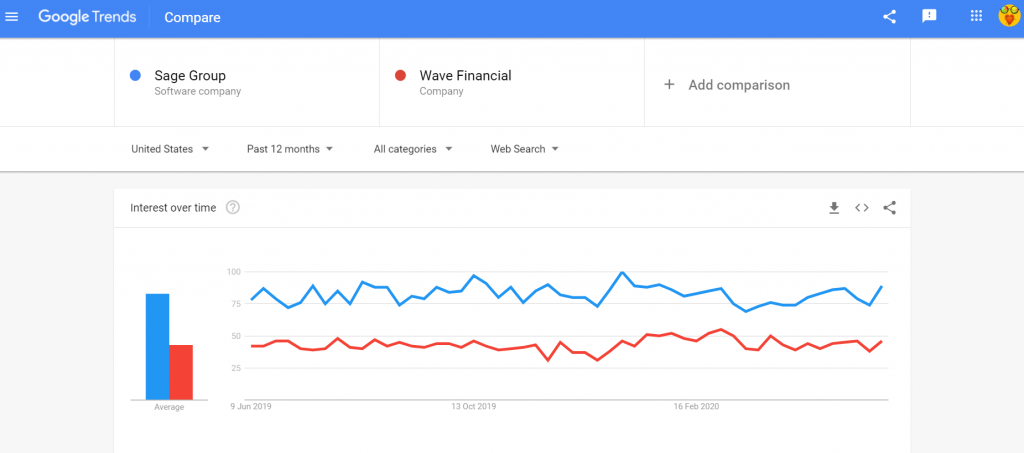 In the comparison between "Sage 50cloud" and "FreshBooks", the latter came out victorious, though the former offered stiff competition. Average interest in "FreshBooks" was visibly higher than that in "Sage 50cloud" and interest in both topics is currently increasing.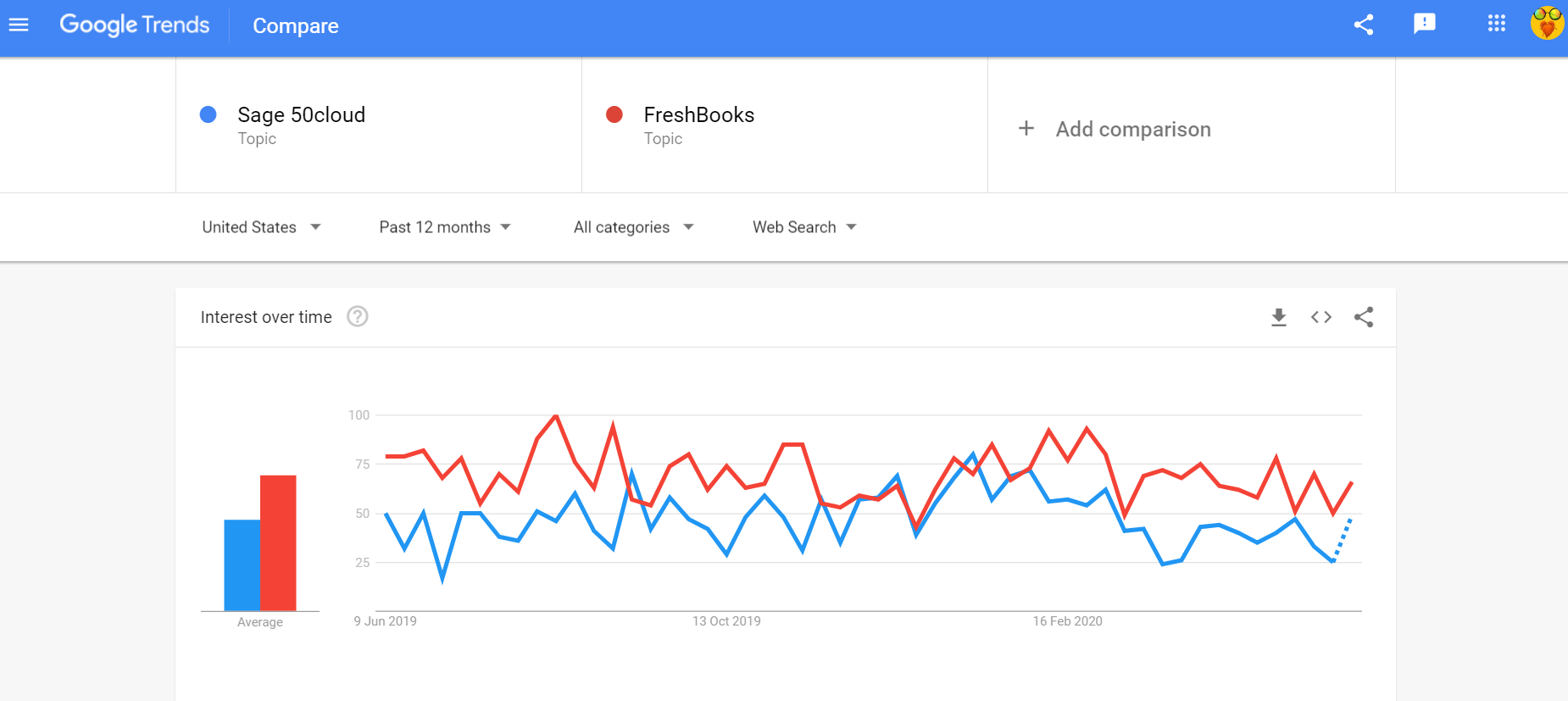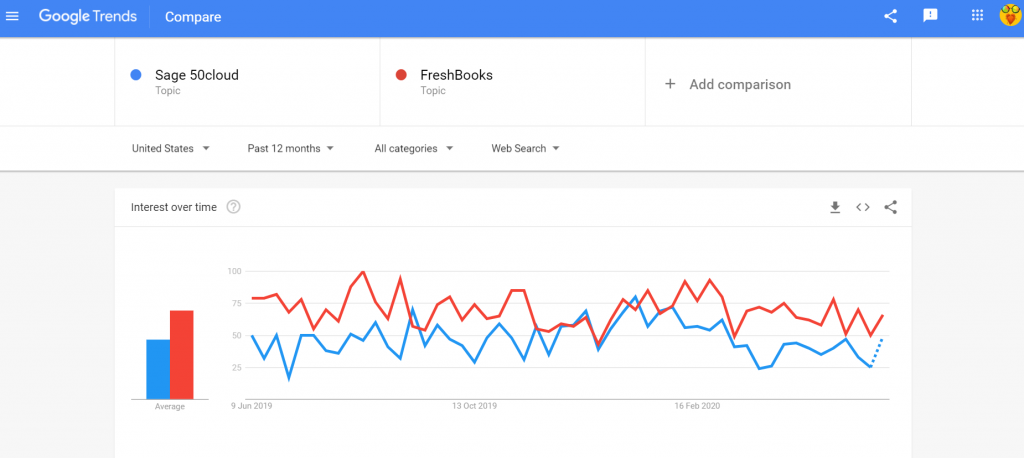 July Deal! Accounting and Payroll free for 6 months
Accounting and Payroll free for 6 months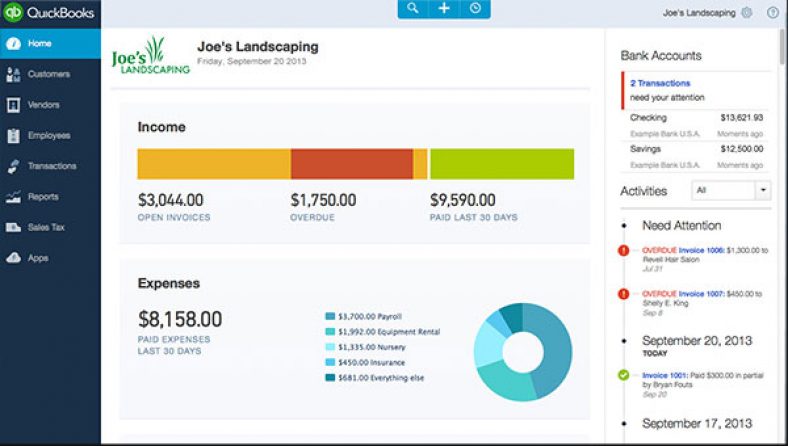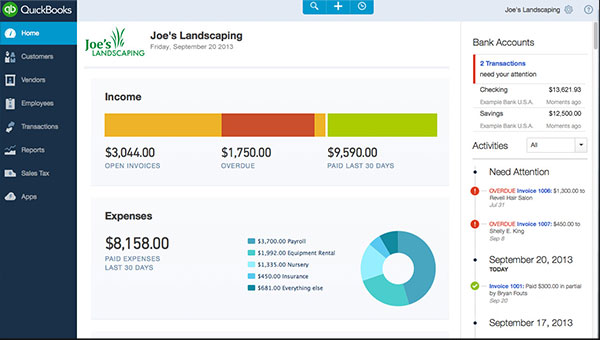 QuickBooks is an accounting and financial software for small and medium businesses by Intuit. Considered by many as an easier alternative to the advanced Sage 50cloud software, QuickBooks offers similar features and functionalities as the Sage 50cloud but is easier to use than Sage. Sage has a steep learning curve and an arguably outdated UI that needs to be modernized, whereas QuickBooks is very user-friendly and has a more intuitive UI according to several users. The two companies are equally matched in the customer service department with users both praising and criticizing the customer service offered by the companies.
While Sage 50cloud offers such features as Fund accounting, CPA firms and non-profits, QuickBooks does not offer any of those features. On the other hand, QuickBooks can manage payrolls, unlike Sage which has separate software for payroll management. Sage 50cloud offers cloud-based features like backups and secure storage that QuickBooks does not. Sage 50cloud's dashboard is better than that of QuickBooks and the former is also more customizable than the latter. In terms of value for money, QuickBooks is a step ahead of Sage 50cloud since it allows more core users and multi-companies for a cheaper price than Sage.
Feature-wise, the two solutions are more or less evenly matched with a few dissimilarities. Whether you choose Sage 50cloud or Quickbooks depends on the size of your business, your experience with accounting, and your requirements. While both Sage 50cloud and QuickBooks aregood for small businesses and freelancers, the former is best utilized by advanced users whereas the latter can be used by even beginners.
Get 80% Off Intuit Quickbooks Payroll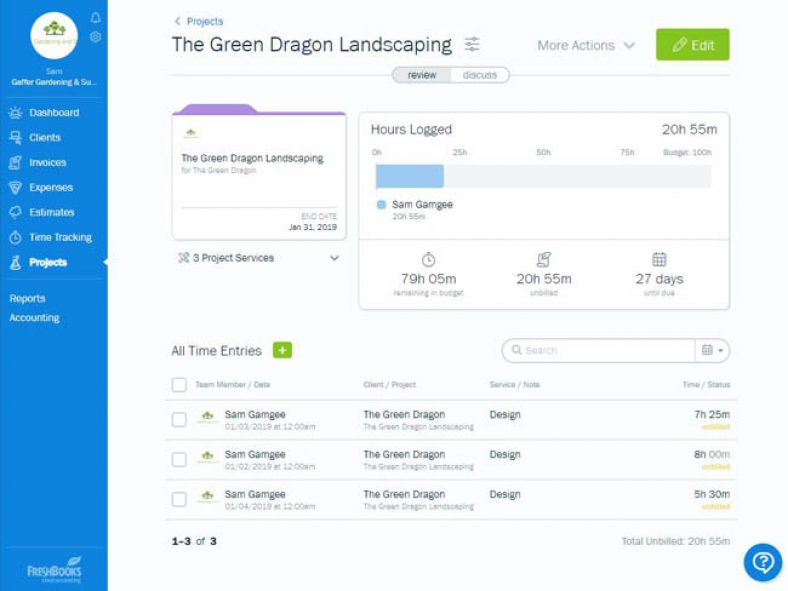 Just like Sage 50cloud, FreshBooks is a cloud-based accounting solution but it has been exclusively designed for self-employed users. Single entrepreneurs and small businesses will find FreshBooks a better choice compared to Sage 50cloud since the former is much easier to use than the latter. While Sage 50cloud offers a more sophisticated feature set than FreshBooks, its learning curve is quite steep and is the best left to those with considerable accounting experience. Furthermore, FreshBooks can even be used to train people with limited or zero knowledge of accounting software. While both Sage 50cloud and FreshBooks offer excellent customer support, the FreshBooks customer service is better according to numerous users on review websites. However, Sage 50cloud's priority expert support is much better than that of FreshBooks.
Sage 50cloud has an upper hand over FreshBooks in terms of features and functionalities, which is understandable since FreshBooks has been specifically created with beginners and small businesses in mind whereas Sage 50cloud is for more advanced users. The user interface of FreshBooks is easier to use than that of Sage 50cloud. Though Sage's UI is cramped with tons of useful features, it is still outdated and can do with a major uplift. Sage 50cloud does offer a few features that FreshBooks does not and those include tax management, nonprofits, and better cash flow management. An exceptional dashboard and extensive reporting are features that FreshBooks lacks but Sage 50cloud dutifully offers.
Thus, it is evident that Sage 50cloud is a better choice than Freshbooks for small or medium businesses and advanced users. If numerous advanced features are what you want then go for Sage 50cloud but choose FreshBooks if you are looking for a software that is easy to understand and use.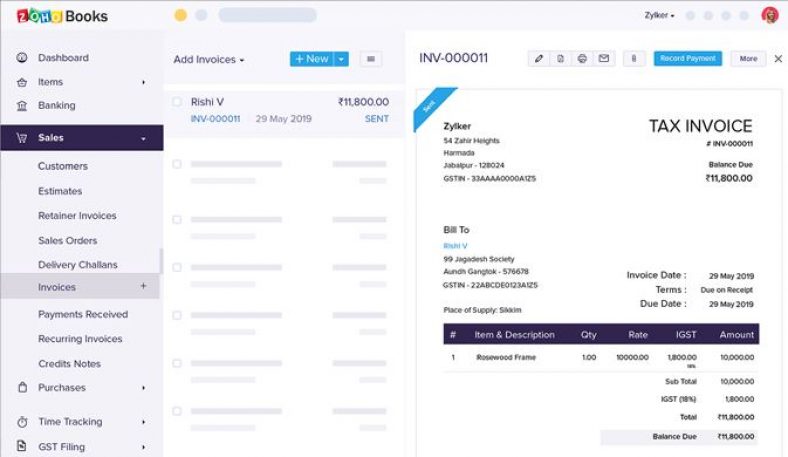 Zoho Books by Zoho is an online accounting solution for freelancers, small businesses and medium businesses. It is renowned for its exceptional invoicing and receipt features which are second to none. While Sage 50cloud is also excellent at invoice management, Zoho Books is a tad easier to operate giving it a slight edge over Sage. Both solutions offer similar accounting features such as bank reconciliation, billing, invoicing, receivable accounts and order purchasing. Sage 50cloud offers a few extra features that Zoho Books lacks like non-profits, expense tracking, payroll management  and tax management. Furthermore, Sage lets you turn quotes into orders, track A/R in the order screen and instantly create invoices with just a single click.
Sage is better than Zoho when it comes to customizability but the UI of Zoho Books is better than that of Sage 50cloud and Zoho scores more points than Sage in terms of usability. While Sage 50cloud offers an extensive range of features and functionalities, it has a fairly steep learning curve. Customer support services of both the companies are equally efficient but Sage's priority expert support is one of the best in the industry. Sage offers impressive import and export capabilities that Zoho is not so good at. On the other hand, Zoho Books enables users to run a mini CRM channel with clients within its platforms.
Zoho Books has a limited reach since it is only available in California and Texas, while Sage 50cloud is one of the most widely used accounting solutions. However, Sage 50cloud needs to include fixed assets management and improve its invoicing module as well as its outdated UI. Though Sage 50cloud is designed for small businesses, it can even be used by medium businesses because of the sheer amount of features it offers. If usability and affordability are important for you then you should choose Zoho Books.
Kashoo is a simple cloud accounting for small businesses that enables owners to easily manage books and run their business with complete control. While Kashoo is a cloud-based platform like Sage 50cloud, it also has an iPhone app that the latter lacks. Customer support is offered via chats, email and phone but Sage provides an extensive knowledge base on its website that Kashoo does not. Kashoo is extremely easy to use whereas Sage 50cloud can be difficult for beginners and the uninitiated. Many users have claimed that Sage's learning curve is one of the steepest they have encountered. However, Sage 50cloud's range of features and customizability makes toiling up the steep curve worth it.
While Sage 50cloud is intended for small businesses, it has enough features to even serve medium businesses with ease. Its Professional feature allows a maximum of 20 core users and unlimited companies. Kashoo, on the other hand, is also quite flexible and its multi-user capability is as good as Sage. Kashoo's customer service is better than Sage's which is not surprising considering Sage has received a lot of flak on review sites regarding its customer service. In addition to that Sage 50cloud's UI looks dated and needs an immediate upgrade to compete with the best in the business. Kashoo's UI is another story since it is not only easy to navigate but also is sleeker than Sage's.
Kashoo includes API, credit card processing and FreshBooks integration whereas Sage 50cloud includes activity tracking, automated billing, customizable branding, customizable templates, project accounting, project budgeting and recurring billing. Sage 50cloud offers a better reporting and statistics feature which Kashoo completely lacks. On the whole, Sage 50cloud is a better option if you are looking for more features, Office 365 integration and customizability but if affordability and ease of use matter more to you then choose Kashoo.
Developed by Wave Apps, Accounting by Wave is an accounting solution that targets freelancers, solo entrepreneurs and small businesses. While Sage claims that its 50cloud software is designed for small businesses and solo entrepreneursrequiring essential bookkeeping and accounting services, its steep learning curve makes it ideal forand advanced users with considerable experience in accounting. Not that Sage 50cloud should be avoided by freelancers but its advanced capabilities are best realized in the hands of experts. Wave easily scores more than Sage in ease of use which is inevitable considering Sage's outdated UI and complexity.
Sage 50cloud provides a plethora of features that most accounting software do not provide. Furthermore, Sage is highly customizable and its dashboard is unique to the point that even the best accounting solutions pale in comparison. On the other hand, Wave also offers uncountable features and it makes a tedious job such as bookkeeping, I dare say, enjoyable. Both companies offer reliable customer service via live chat, webinars and emails. Wave takes it up a notch by offering training in person; a feature looked over by Sage. Sage 50cloud offers a unique year-end wizard that aids users to close books at the end of a year.
Overall, Sage and Wave are more or less evenly matched when it comes to features. However, Wave, in my opinion, offers a greater value for money than Sage. While Sage 50cloud is full of advanced features and is highly customizable, Accounting by Wave is easier to navigate and boast of a cleaner UI. Take into account the size of your business, its requirements and your budget before you make a choice.
Sage 50cloud is an ideal solution for medium or even large businesses with moderate to high accounting needs and requiring complex accounting features with a high degree of customizability. While freelancers, small business owners and solo entrepreneurs can still use Sage 50cloud, its true potential is best realized in the hands of accountants or users with considerable knowledge of accounting.

July Deal! Accounting and Payroll free for 6 months
Accounting and Payroll free for 6 months
PROS
Excellent customizability
Free 30-day trial without credit card details
Reliable customer support
CONS
Outdated user interface
Extra charges for several add-on services
Add your review
|
Read reviews and comments