Sticky Password Premium Review 2023 –  An Award-Winning Password Manager With Multiple Sync Options
Designed and created by former executives of AVG Technologies, Sticky Password is a feature-rich password manager that enables users to generate, store, and share passwords securely over multiple platforms. The Sticky Password app is available for a wide range of platforms, including Windows, macOS, Android, iOS, and 17 browsers, among others. The software generates robust passwords for new accounts, manages passwords, stores data in secure vaults, syncs data across devices securely. Along with two-factor and biometric authentication, Sticky Password offers a variety of functional tools and security features that make it one of the foremost password managers in the market.

March 2023 Deal! 95% Off Sticky Password Premium (Lifetime / 2 PCs)
95% Off Sticky Password Premium (Lifetime / 2 PCs)
PROS:
Free trial version available
Two-factor and biometric authentication
Military-grade AES-256 bit encryption
Local WiFi sync and cloud syncing
CONS:
The free version has limited features
No digital inheritance
How to activate Sticky Password Premium Video Tutorial
How to use Sticky Password Guide
If you want to use Sticky Password, all you need to do is download the application, launch it, and explore the different features. The UI is well designed and beginners will find it easy to navigate. However, here is a comprehensive usage guide for your convenience.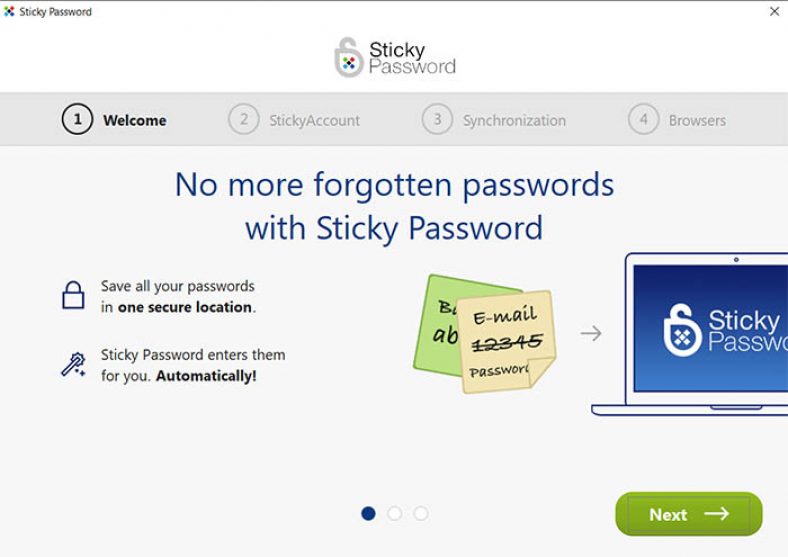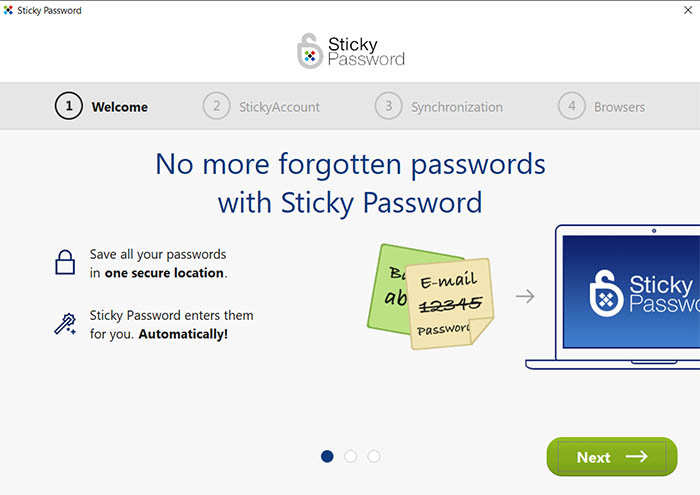 1
What is master password in Sticky Password?
When you launch the Sticky Password app, you will have to create a master password to start using the app. Your master password is not stored in your Sticky Password database and you are the only one who knows. In case you forget the password, there is no way to retrieve it. However, you can change the master password by navigating to "Settings" from the "Menu" option in the upper right corner of the app window. Under settings, click "Security" and then click "Change Password". Enter your current master password first and then the new password. Enter the new master password again to confirm it and click "Ok" to set the new password. You will see a confirmation message informing you that the password has been changed. Click "Save" to confirm the changes before exiting the settings menu.
The Quick Access tab includes two different tabs, namely Favorites and Warnings. The Favorite tab contains a list of your favorite or most-used accounts. Sticky Password automatically will add accounts based on the frequency of usage. The Warnings tab features all your accounts that have expired or weak passwords. You can edit all of the listed accounts on the Warnings tab and even turn the Warnings feature on the tab.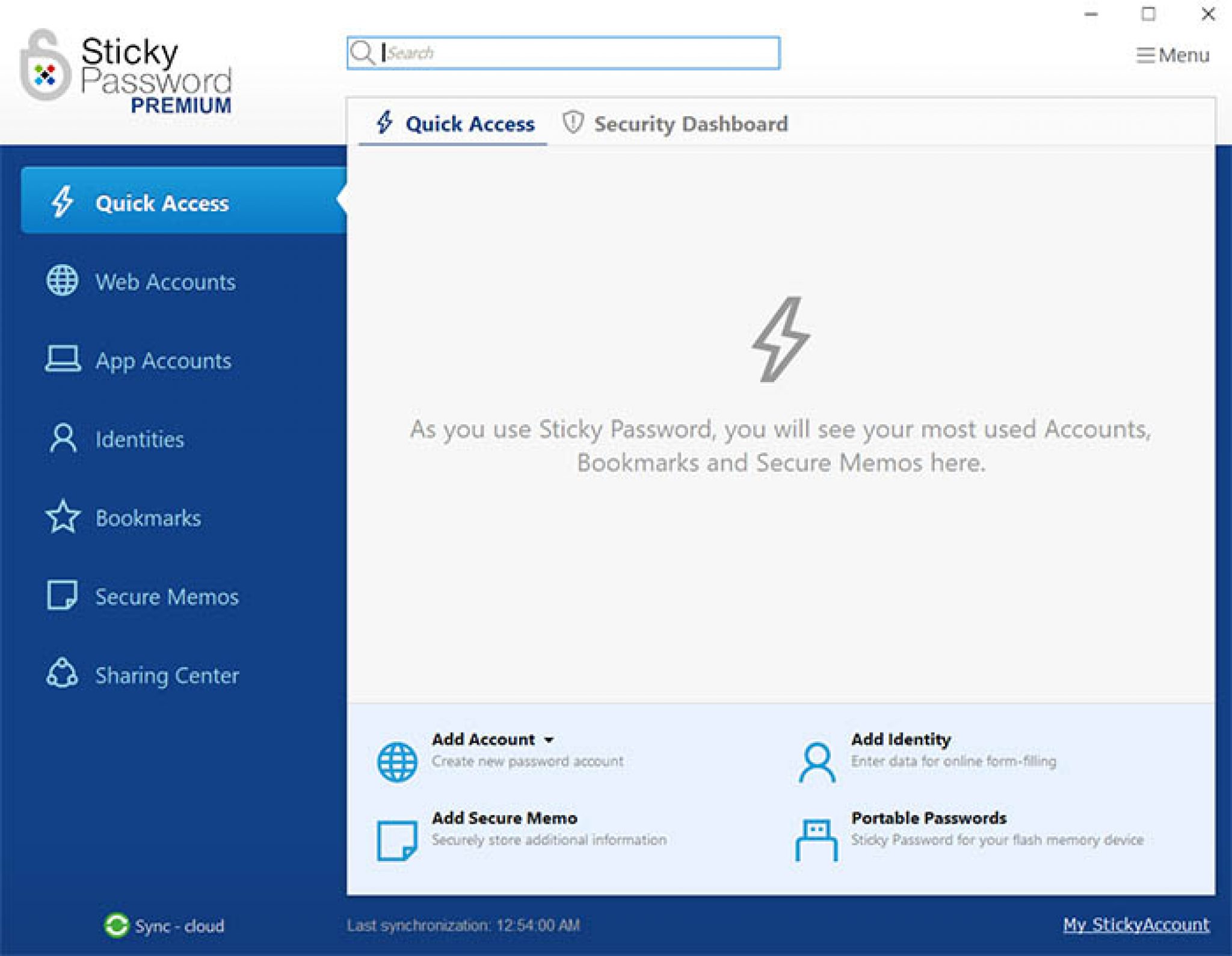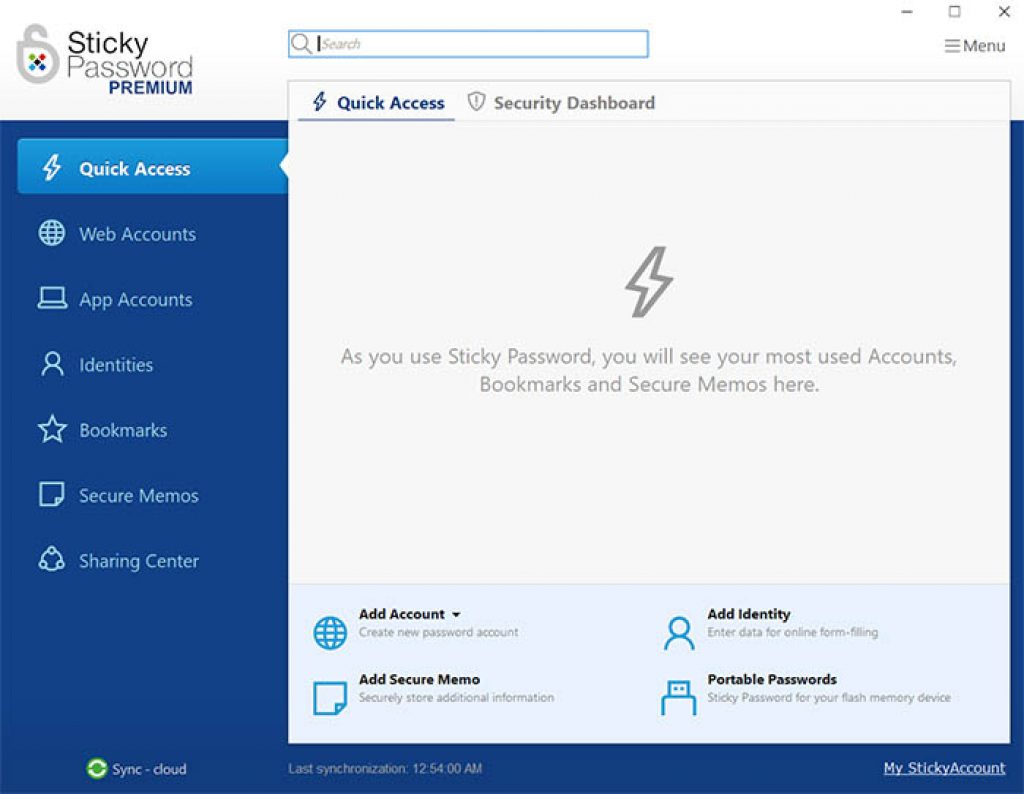 3
Filling web forms with Sticky Password
In addition to creating and managing passwords, Sticky Password also automatically fills web forms for you. If Sticky Password is running on your device, you will see the Sticky Password icon in the input fields of the forms waiting to fill up the form. Click anywhere in the input field of a form to view a list of your existing logins for that account. Click on an account to fill out the form automatically. If you click the Sticky Password icon, a context-sensitive menu will appear featuring all the available options for that type of form or field.
The first time you log in to a new account, Sticky Password detects the new log-in and prompts you to add a new account. Once you add the new account, your data will be securely stored in the app's encrypted database. The next time you visit that site, your credentials will be ready for use by the autofill engine.
4
What is so great about Synchronization option in Sticky Password?
Synchronization is another key feature of the Sticky Password app and the app offers various synchronization options. The synchronization options include cloud sync, local WiFi sync, and no sync. The no sync is self-explanatory and it allows you to disable sync so that your encrypted data never leaves your device. The local WiFi sync is a special feature that allows you to sync your different devices over your local WiFi network. This is also a secure option as syncing takes place over your WiFi and your encrypted data never goes to the cloud. Cloud sync is arguably the best option as it allows you to take advantage of the secure cloud solution to sync as well as backup your passwords and other private data. Your encrypted database will be securely backed up in the cloud. However, your database cannot be accessed on the cloud but only on your synced devices.
 Sticky Password Comparison with Competitors
When it comes to password management, there are countless software applications for different devices in the market. However, only a few password managers dominate this market and are used by millions of users all over the world. While Sticky Password has gradually become one of the foremost password managers, it still has some way to go before it can dethrone the top players in this segment. This is a concise comparison of Sticky Password with a couple of competitors, namely 1Password and LastPass.
While LastPass and 1Password have been on the market longer than Sticky Password, the subject of this review is more than capable of giving the two top password managers a run for their money. The three applications are quite similar when it comes to the basic features and functionalities with a few minor technical differences here and there. LastPass is the most usable among the three applications, whereas Sticky Password is the most affordable. On the other hand, 1Password is more versatile than the other two and offers the best customer support among the three we are comparing.
I found the Sticky Password better for syncing passwords and securely storing data. The UI of the app is easy to use and quick to navigate. Sticky Password is also the least expensive of the three and is ideal for a wide range of users, including individuals and businesses. However, if you want an advanced experience with a plethora of functionalities and budget is not a constraint, consider the 1Password.
 Sticky Password User Reviews and Feedback
For a deeper understanding of any product or service, especially digital ones, it is imperative to check social media sites and public forums to gauge the general public reception of the product or service in question. Therefore, I visited and explored numerous social media platforms, public tech forums, and user review sites to find out the general reaction of the public towards Sticky Password. I also wanted to learn about any prevalent issues that users may have faced while using the Sticky Password application.
The consensus about the Sticky Password application on social media was mostly positive except for a few scattered criticisms here and there. Users on Facebook and Twitter were effusive in their praise for Sticky Password and its plethora of features. The resolute efficiency of the software won over many sceptic users who were initially doubtful of the software's functionality. Several social media users praised Lamantine's dedication to internet security and its uncanny ability to offer sophisticated security solutions at affordable prices.
Is Sticky Password Worth It?
Sticky Password not only does everything you would expect a decent password manager to do but also offers much more through its plethora of advanced features. The password manager does an excellent job of creating, storing, managing, and sharing passwords or other important data securely. The smart user interface and its abundance of useful tools were easy to navigate and use. While Sticky Password may lack a few modern features like digital inheritance, the software application has gradually become one of the foremost choices among individuals as well as commercial organizations.

March 2023 Deal! 95% Off Sticky Password Premium (Lifetime / 2 PCs)
95% Off Sticky Password Premium (Lifetime / 2 PCs)