AdGuard VPN Review 2023 – A Basic Secure VPN That Offers Good Value for Money!
Adguard continues to develop, test, and distribute quality software products that enhance the privacy and security of users. Among its impressive arsenal of software applications are the AdGuard AdBlocker, AdGuard DNS, and AdGuard VPN. AdGuard has not only developed its proprietary VPN encryption protocol but is also upgrading its vast pool of global servers to keep them safe and secure. With a team of content creators, developers, engineers, and managers, AdGuard aims to create efficient and affordable software applications for users around the world. Let's take a closer look at one of the most VPN service on the market today – Adguard VPN.

November Deal! 83% Off Adguard VPN (2 Years Subscription)
83% Off Adguard VPN (2 Years Subscription)
Table of content
Pros & Cons
PROS:
Comprehensive device compatibility
Military-grade AES 256-bit encryption
Ad blocking and WebRTC protection
Proprietary AdGuard VPN protocol
CONS:
Lack of advanced features
back to menu ↑
Features table
Location
Cyprus
No-logs Policy
Hiding IP
Kill Switch
Maximum Connections
Up to 10
Total Servers
1000+
Total Countries
50
Compatible Devices
Windows, macOS, Android, iOS, and browsers
TOR Compatibility
Torrenting
Netflix
Works in China
Average Speed
Fast
Usability
Easy to use
Customer Support
Online support center, FAQs, knowledge base, and discussion forum
Price

$11.99 /month
$3.99/month for 1 year
$2.04/month for 2 years (exclusive discount)

Website
https://adguard-vpn.com/en/welcome.html
back to menu ↑
What is a VPN and how does it work?
back to menu ↑
Installation and my personal experience
Compatible with a wide range of operating systems, AdGuard VPN can be downloaded and installed on devices running Windows, Android, macOS, and iOS. Download the AdGuard VPN app for your device from the company's website. You can also download browser extensions for popular browsers.
Once downloaded, it is quite easy to install the program with the help of AdGuard VPN's simple installer. Log in with your credentials after the app finishes installing to start using the VPN service. The Windows UI is sleek and easy to navigate. On the left side of the app window, you will find a large button to toggle between "connect" and "disconnect". Click on the "connect" button to automatically connect to the fastest server based on your location. After connecting to a server, the app displays the server details along with its ping at the bottom of the window.
On the right side of the app window is an alphabetical list of AdGuard VPN servers with their respective latency listed beside them. You can use the search button at the top of this list to find your preferred server location. You can access the various settings and features from the top banner of the app. While the "Exclusions" tab offers access to the split-tunneling feature of the app, the "Settings" tab enables you to personalize different basic and advanced features of the app.
Overall, I have found the installation process very fast, and using the app daily is as easy as it can get.

back to menu ↑
AdGuard VPN features at a glance
AdGuard VPN offers a decent network of over 1000 servers across more than 65 locations in 50 countries. A paid subscription to AdGuard VPN comes with free access to AdGuard DNS, which blocks phishing advertisements and malicious websites. The company's proprietary AdGuard VPN protocol disguises your IP addresses to protect you from prying eyes on the internet. The sophisticated QUIC protocol offers higher speed and stronger encryption than other protocols.
A kill switch is essential for any decent VPN app and AdGuard VPN's kill switch will automatically disconnect all network access the moment connection to the VPN is lost. Split tunneling allows you to exclude certain applications and/or websites from going through the encrypted VPN tunnel. This allows you to use excluded sites and apps with your original IP address all the while protecting your internet traffic and private data with a VPN connection.
AdGuard VPN's inherent ad-blocking capabilities are second to none which should come as no surprise considering the company's name. Security features like "Auto-connect" and "Launch on Start-up" are some useful features that automatically protect your devices on unsecured networks like public Wi-Fi hotspots. The app was also able to protect my devices from IP and DNS leaks with ease.
back to menu ↑
AdGuard VPN logging policy
AdGuard VPN has a strict no-logs policy that prevents it from collecting, storing, and sharing user data with third parties, advertisers, and ISPs.
The company claims that it does not "share or sell any personal data" and is committed to "being as transparent as possible" with its customers. However, AdGuard VPN does collect certain data necessary to provide unrestricted service.

The company collects your email address, billing information, and certain cookies to personalize AdGuard VPN's contents for its users. Go through AdGuard VPN's privacy policy to learn more about what personal data it collects and how it uses the collected data.
back to menu ↑
AdGuard VPN speed tests
AdGuard VPN automatically offers you a list of the 3 fastest servers based on your location. The app even checks the latency of each server in real time and updates the fastest servers list as soon as the latency changes. Thus, the top 3 server locations displayed by the app may change frequently.
I used speedtest.net to test the speed of some AdGuard VPN servers in prime locations. The standard download and upload speeds of my internet connection without a VPN connection were 42.26 Mbps and 5.14 Mbps, respectively. At 43 ms, latency was higher than usual.


The first server I connected to in London recorded a download speed of 38.31 Mbps and an upload speed of 6.61 Mbps with 199 ms latency. The high latency can be attributed to the considerable physical distance between my actual location and the server in London. However, the speeds did not drop too drastically, and streaming videos on this server was smooth.


On connecting to the next server in the USA, the download speed dropped further to 31.10 Mbps and the upload speed increased to 5.96 Mbps.



I also checked a few distant AdGuard VPN servers in Brazil and Singapore. The download and upload speeds of the server in Singapore were 21.57 Mbps and 3.93 Mbps, respectively. The server in Brazil gave me a download speed of 14.85 Mbps and an upload speed of 5.82 Mbps.
As evident from the above speed test results, the upload speed remained consistently high, often higher than the upload speed without a VPN, leading me to believe that AdGuard VPN should work well for torrenting provided the company sets up dedicated servers for P2P file sharing. While the download speed did decrease, it did not decrease substantially and general browsing on the various servers I tested was without issues.
back to menu ↑
AdGuard VPN torrenting and Netflix
While AdGuard specifically does not mention anything about Torrent or dedicated P2P servers, AdGuard's decent server network and consistent speed can be good for torrenting. AdGuard VPN also offers robust security and a strict no-logs policy for further protection. On contacting AdGuard's support team, I was informed that AdGuard's torrenting servers are located in DMCA Free Zones.
When it comes to unblocking geo-restricted content on streaming sites and OTT platforms, AdGuard VPN puts in a mixed performance. While the VPN was able to unblock certain streaming sites like Netflix and Disney+, to name a few. Not only was I able to unblock different Netflix libraries, including the US, by connecting to the respective country's server but also successfully streamed a couple of videos without issues.
AdGuard VPN also successfully bypassed Disney's strict geo-blocks notorious for blocking VPN connections. However, my streaming adventures with AdGuard VPN came to an abrupt stop when I was blocked by Amazon Prime Video. No matter the server I connected to, I was unable to access Amazon Prime Video.
back to menu ↑
Google trends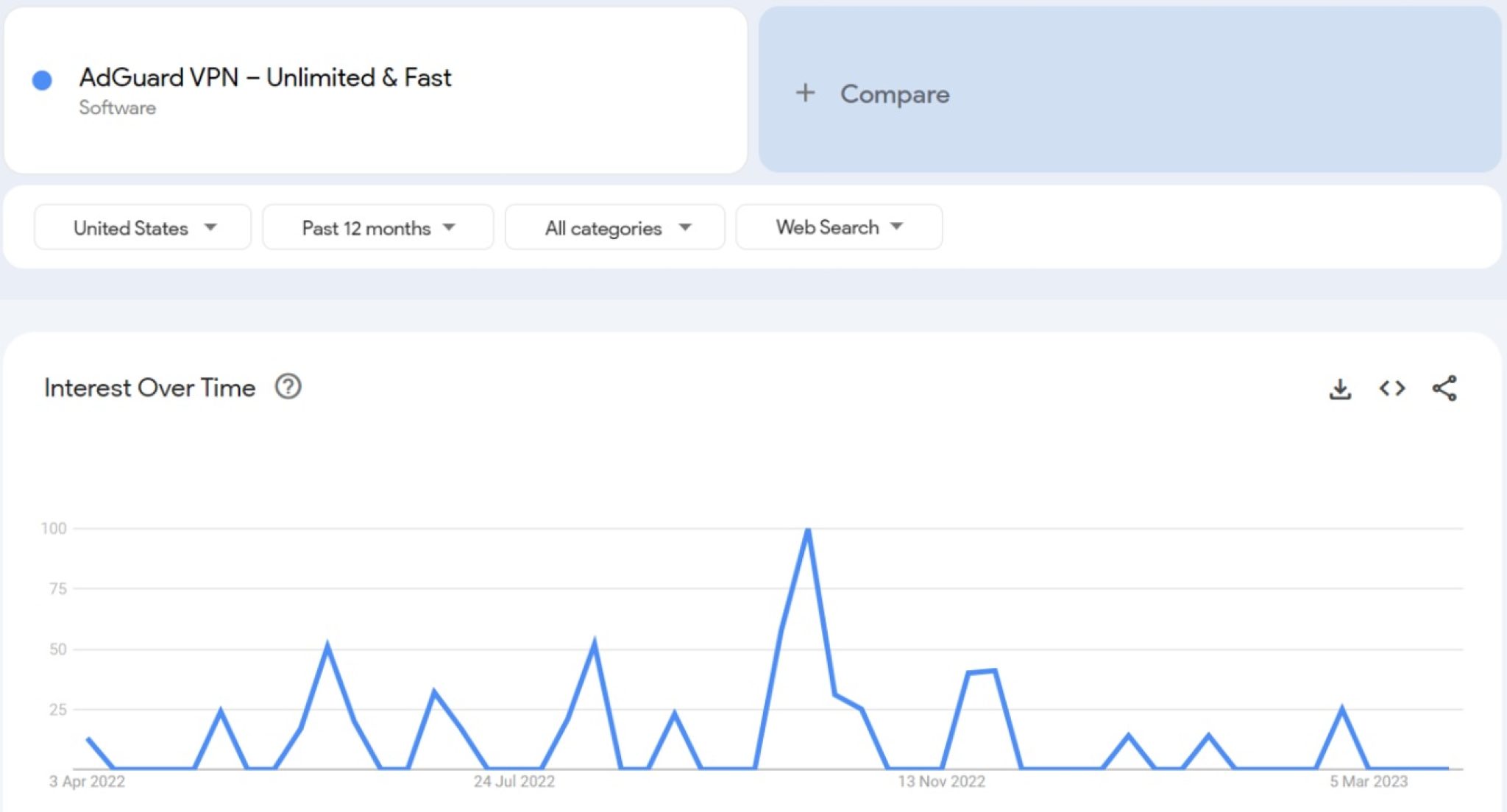 With the help of Google Trends, I studied the interest in "AdGuard VPN" and some of its competitors in the USA over the past 12 months. Interest in the topic of our review has not been substantial in the past year but it did peak in October 2022. Such sudden peaks in interest can be the result of new version releases, software updates, bug fixes, or promotional announcements from the company.
On comparing "AdGuard VPN" with similar open-source VPNs like "ZenGuard" and "OpenVPN", I found out that the Google search volume of these keywords is quite similar. While the average interest in "AdGuard VPN" is slightly higher than that in its competitors, the race was quite close. Google Trends also predicts a rise in search interest in the coming months, thereby showing a welcome increase in interest in open-source software products.
Interest in AdGuard VPN has seen a steady rise within the USA over the past 5 years as is evident from the Google Trends graph. Search for the VPN seems to have become more frequent since 2020 as a likely result of the global pandemic increasing online activities. However, these metrics are not sacrosanct as they are affected by different factors and must be taken with a grain of salt.
back to menu ↑
Social Media Platforms
The chatter on social media sites and tech forums surrounding AdGuard VPN is positive at best and apprehensive at worst. While some users are wary of this relatively young VPN service and its average network of servers, several users claimed they were able to maintain anonymity on social media sites with AdGuard VPN.
I have explored several social media sites while connected to AdGuard VPN and I did not face any issues. The kill switch further helps in protecting my privacy while switching servers or in cases of sudden connection loss.

back to menu ↑
Recommendations
As someone who spends the entire day on the internet browsing websites, researching for work, and streaming endless videos, I cannot get enough of AdGuard VPN and its impressive features that not only ensure I am secure online but also protects my privacy at all costs. Backed by a strict no-logs policy that prevents the company from recording and sharing user data, AdGuard VPN is one of those few VPN apps that are at once affordable yet efficient.
back to menu ↑
Conclusion
AdGuard VPN is an efficient and reliable VPN application for Windows, macOS, iOS, Android, and browser extensions. With fast speeds, unlimited bandwidth, robust security protocols, and a strict logging policy, AdGuard VPN is an ideal choice for users looking to browse the internet anonymously and affordably. Rated highly by both users and reviewers alike, AdGuard VPN is one of those few players that manage to bridge the gap between critics and consumers through its consistent performance.

November Deal! 83% Off Adguard VPN (2 Years Subscription)
83% Off Adguard VPN (2 Years Subscription)