Surfshark One Review 2023: A Complete Cybersecurity Package with a Host of Add-On Features
As the cybersecurity industry matures and wanders into the murkier depths of the internet, it has become increasingly common for top VPN service providers to offer comprehensive cybersecurity suites that are often bundled with their core VPN products.
Surfshark One is one such all-in-one subscription security suite that includes Surfshark Alert, Surfshark Antivirus, Surfshark Search, Alternative ID, and the very popular Surfshark VPN. Bundled into a single software suite for a variety of platforms, Surfshark One provides all-round protection for unlimited devices at an affordable price.

September Discount! 83% Off Surfshark ONE (2 Year Deal) + 3 Months FREE
83% Off Surfshark ONE Deal (2 Years Subscription)
Pros & Cons
Table of content
PROS:
Advanced VPN features
Extensive device compatibility
Unlimited connections
Real-time security protection
Private search engine
CONS:
No firewall
Lacks a password manager
Surfshark One: Installation Process
If you have used Surfshark VPN then you already know that the installation process is fast and simple. For those uninitiated, Surfshark makes sure that new users enjoy a smooth experience from the moment they log in to the app till the time they stop using it.
Go to the company's website and visit the pricing page from the top banner to view Surfshark One price plans. You can choose from terms of 1 month, 12 months, or 24 months. I went with the 2-year plan as it offered the most value for money. Surfshark even offers limited-time discounts on lengthier plans to help customers save money.
Once you have purchased the product and created your Surfshark account, it is time to log in to the app. Surfshark will send you a welcome email upon joining and you can follow the instructions in the email to download and install the app on your device.
Setting up the Surfshark app requires no special skills and you can do it in no time thanks to the one-click functionality and the app's friendly UI.
The installation process was quick and easy for me. I did not have any trouble figuring out what to do and the app installed as quickly as it downloaded and without creating any issues for my system.
Once installed, you can log in to the app with your credentials and click the "Quick Connect" button to connect to the best server based on your physical location. With apps for Windows, macOS, Linux, Android, iOS, and even browsers like Chrome and Firefox, Surfshark One offers extensive compatibility unmatched by most of its closest competitors.
The Surfshark One app has a deceptively simple design with a left navigation panel and a large display window. The left navigation panel houses Surfshark VPN, Surfshark Alert, Surfshark Antivirus, Surfshark Search, Alternative ID, and the settings menu.
Clicking on any one of these tabs will display its contents on the right display panel from where you can control how the app works. The UI looks clean and modern but I am hoping the company adds a dark mode soon.
The extensive functionality of Surfshark One coupled with the app's user-friendly design makes it an ideal choice for beginners and advanced users alike. You can refer to the Surfshark online support page for installation guides, setup tutorials, manual configurations, and troubleshooting.
Speaking of online support, I should also put in a word for the company's excellent support staff and the work they do behind the scenes to quickly troubleshoot issues and assist customers. Every time I had to contact customer support, the process was quick and the outcome efficient.
back to menu ↑
Surfshark One: VPN Settings
Surfshark VPN is one of the most efficient and user-friendly VPN apps that you can find in the market. As such, you will have almost no difficulty navigating the app and learning its various functions.
The company has a strict no-logs policy, which prevents the app and the company from logging your online activity.
Once you open the app, head over to the VPN settings to turn on "Auto-connect" so that the app can automatically secure your connection as soon as you connect to the internet on your device.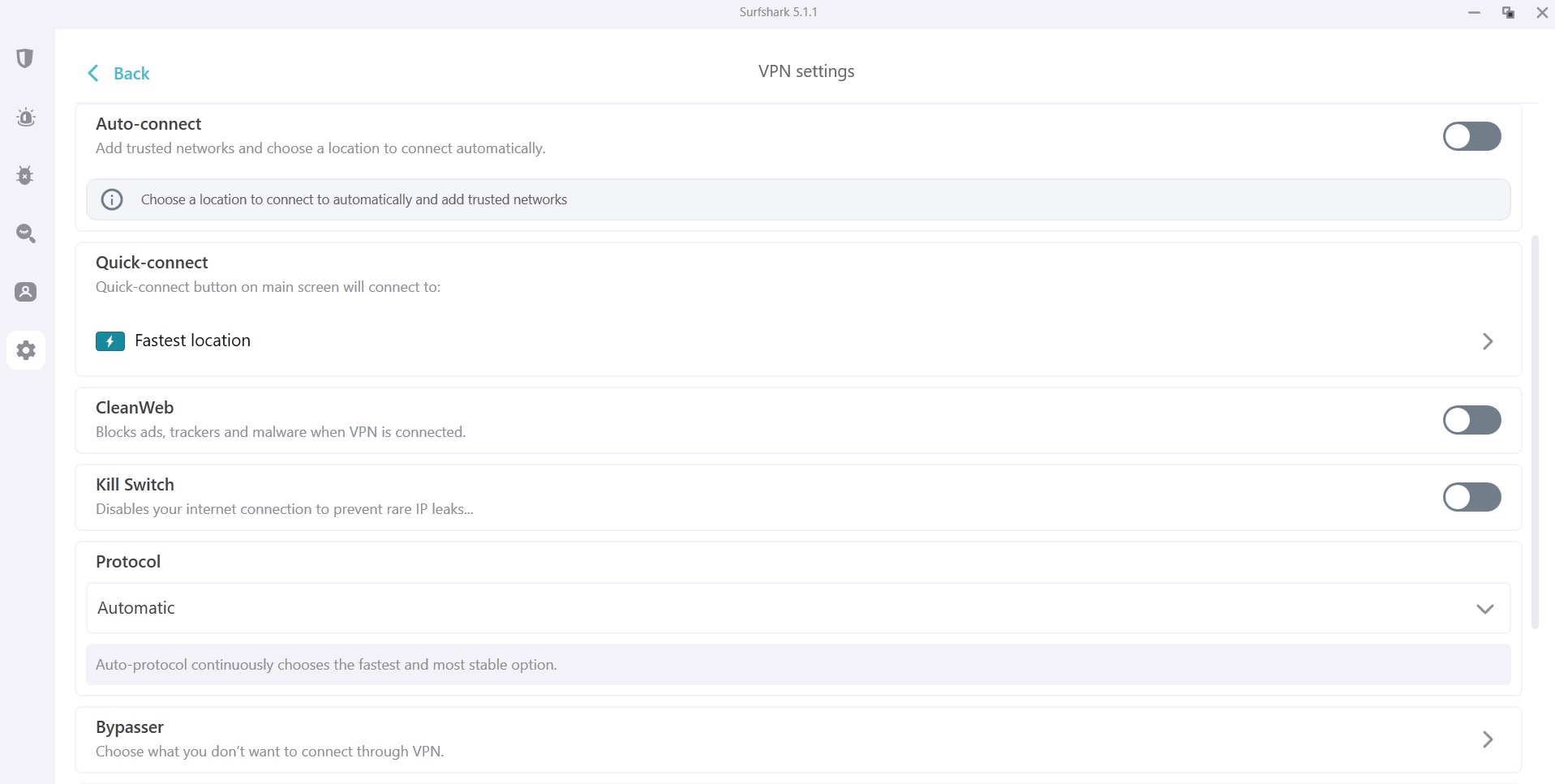 CleanWeb works like a blocker to block ads and malicious links while you are browsing the internet, whereas the Bypasser allows you to choose the sites or applications that you don't want to be routed through the VPN.
At the time of reviewing this product, this feature was available only for Android and Windows devices. The Reverse Bypasser lets you select apps and sites that you want to be routed through the VPN.
A kill switch is an absolute necessity for any decent VPN app and the Surfshark KillSwitch makes sure to immediately disconnect from the internet in case of sudden connection losses to prevent sensitive information from leaking.
Surfshark VPN offers manual configuration options for all its protocols, including IKEv2, OpenVPN, and WireGuard. You can change to your preferred protocol by visiting the "Protocol" option under the "Advanced" tab in the settings menu of the app.
The NoBorders mode is a much-needed feature to bypass network restrictions in countries like China, Russia, and the UAE. NoBorders will display a list of servers that you can connect to even under severe network restrictions.
6
Advanced security features
The Camouflage mode masks your VPN connection and makes it look like regular internet traffic to prevent your ISP from realizing you are using a VPN.
There is no way to turn on/off "camouflage" mode as this option is activated automatically whenever you set OpenVPN protocol and connect to any SurfShark VPN server.
You can also turn on the invisibility feature to become invisible to other devices on the same network. Rotating IP ensures that you connect to different servers in one location to prevent third parties or your ISP from tracking your IP address.
To improve performance and speed on mobile devices and routers, Surfshark has added a Small Packets feature. This feature is currently available only on Android devices and it divides your data into small packets to reduce the size of each transmitted packet and thereby improve the speed and stability of your connection.
back to menu ↑
Surfshark VPN servers' speed
I tested several Surfshark VPN servers to check the download and upload speeds on each of them. Being a long-time user of Surfshark VPN, I was not surprised to see excellent results from the speed tests. Most of the Surfshark VPN servers offer great download and upload speeds that ensure smooth and buffer-free browsing. I was also able to unblock geo-restricted content on Netflix, BBC iPlayer, and Disney Plus, to name a few streaming platforms, with the help of Surfshark VPN. Not only did Surfshark VPN grant me access to geo-restricted content but also enabled me to enjoy them without buffering or quality loss.
For real servers' speed tests and more in-depth features overview I would recommend you to check
Surfshark VPN review
.
back to menu ↑
Surfshark Alert
Surfshark Alert is an efficient monitoring tool that notifies you about online data breaches so that you can prevent personal data leaks or take necessary action in case of a breach. The tool thoroughly scours online databases for breached personal details such as email addresses, passwords, credit card details, and personal identification numbers.
I use this tool to regularly monitor my emails, scan credit cards, and scan IDs. The app not only displays compromised data but also suggests useful actions that you can take to ensure you are not affected again.


Not only can Surfshark Alert detect data breaches but can also inform the user when their data is being used for marketing purposes. You can even use Incogni, Surfshark's data–removal tool, to request the removal of personal data in such cases. Make sure to activate email monitoring as soon as you have set up the app.

back to menu ↑
Surfshark Antivirus
The Surfshark Antivirus in the Surfshark One package offers real-time protection from viruses, malware, and other malicious online threats. With customizable security, you can schedule scans of your devices aside from manual and real-time scans. You can run full scans or quick scans, exclude select items from scanning, and even check out virus databases from the Surfshark One app.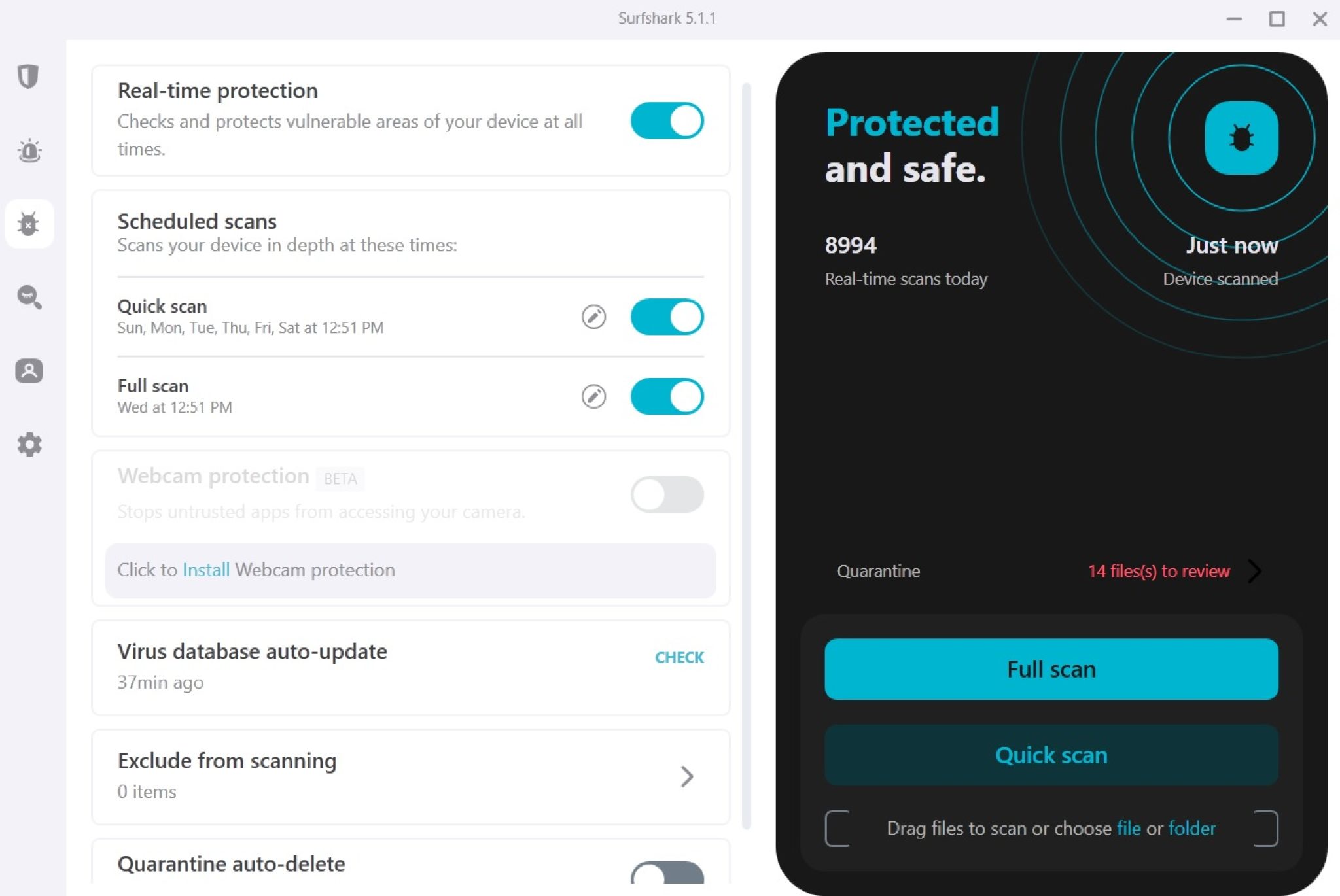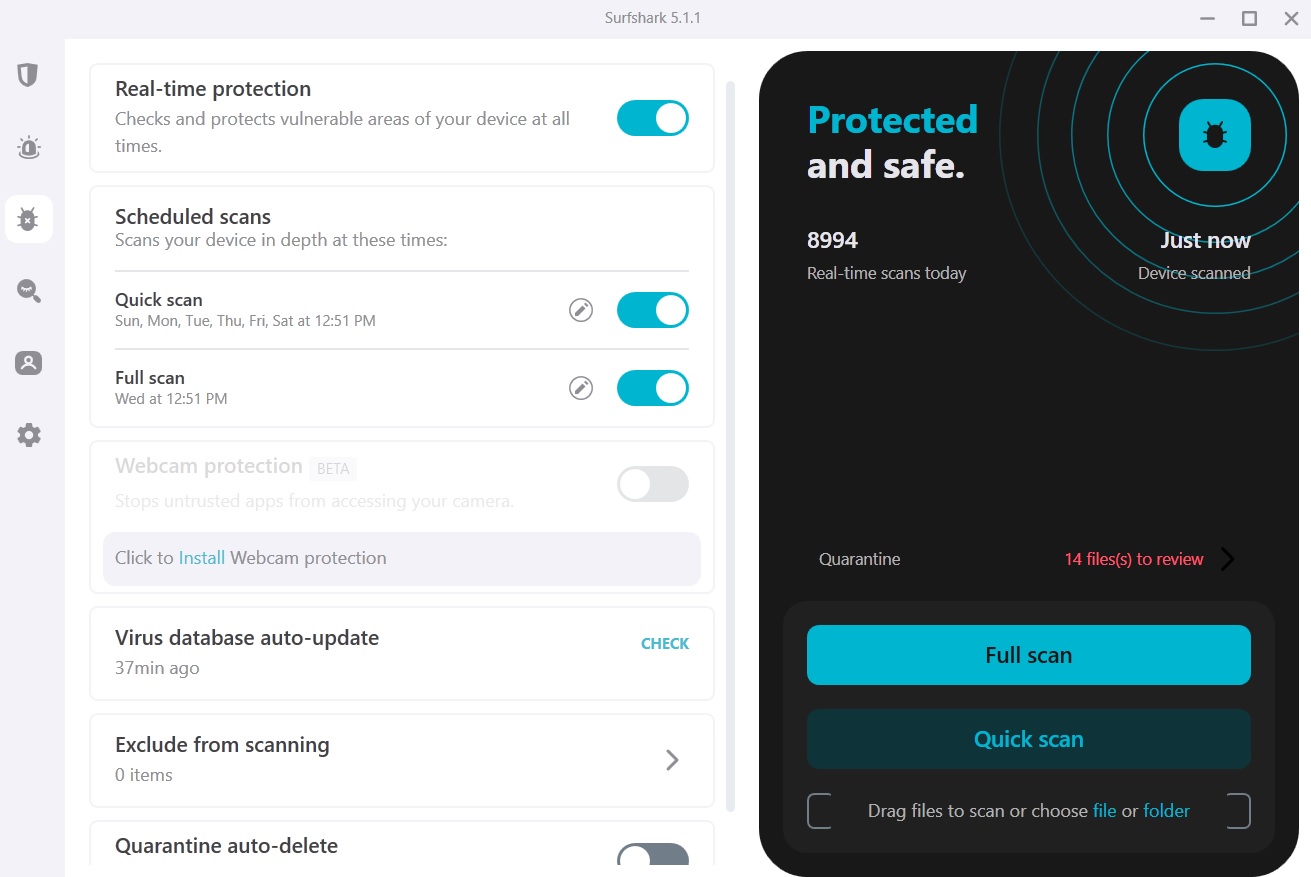 To offer real-time protection, the software runs the antivirus in the background so that it can monitor and detect threats in your device. However, the app itself is lightweight, runs smoothly in the background, and doesn't slow down my system or heat my device.
Despite its credible performance against viruses and malware during several rounds of testing, the antivirus in Surfshark One does lack some essential features like a firewall and parental controls. Hopefully these features will be added in the upcoming updates.
back to menu ↑
Surfshark Search
Internet search engines like Google will inevitably collect user data and adjust search results based on user location and search history. Some of your data, including browser activity and preferences, can be sold to third parties like marketing agencies and advertisers. They in turn can create profiles of you based on your online activities to target you with specific advertisements or incentives.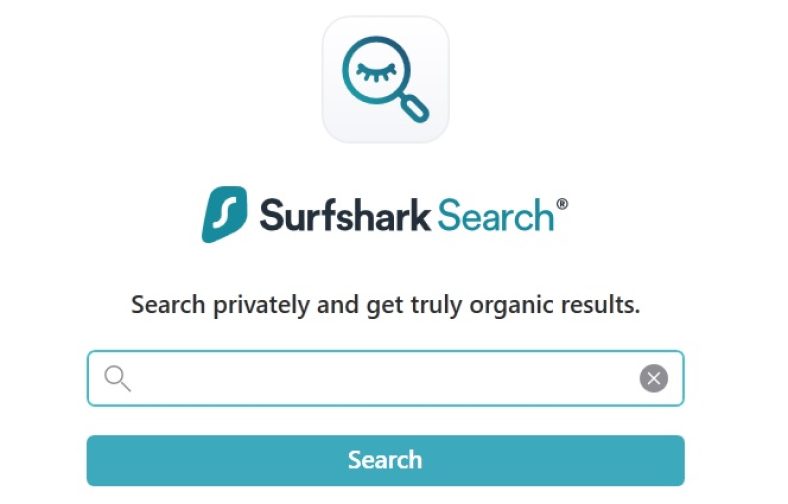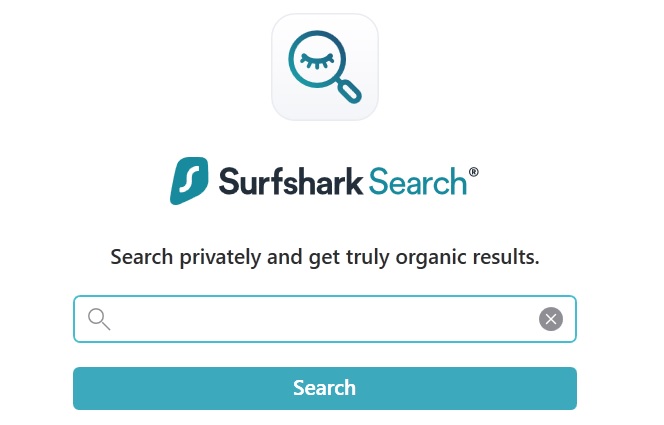 If, like me and almost every internet user, you too are concerned about personal data collection and targeted marketing, Surfshark Search is the solution you have been waiting for. With Surfshark Search, you can go incognito and browse the internet anonymously without annoying ads.
Surfshark's private search engine blocks advertisements, prevents activity tracking, and provides relevant and accurate search results. The search tool ensures users get only organic search results that are not influenced by user location or search history.
Surfshark VPN and Surfshark Search work in tandem to enable users to browse anonymously without compromising their privacy. Add Surfshark Antivirus to that mix and you are protected against cybersecurity threats as well.
I often use Surfshark Search for my research, during online shopping, and when I need unbiased data or information for my job.
back to menu ↑
Surfshark Alternative ID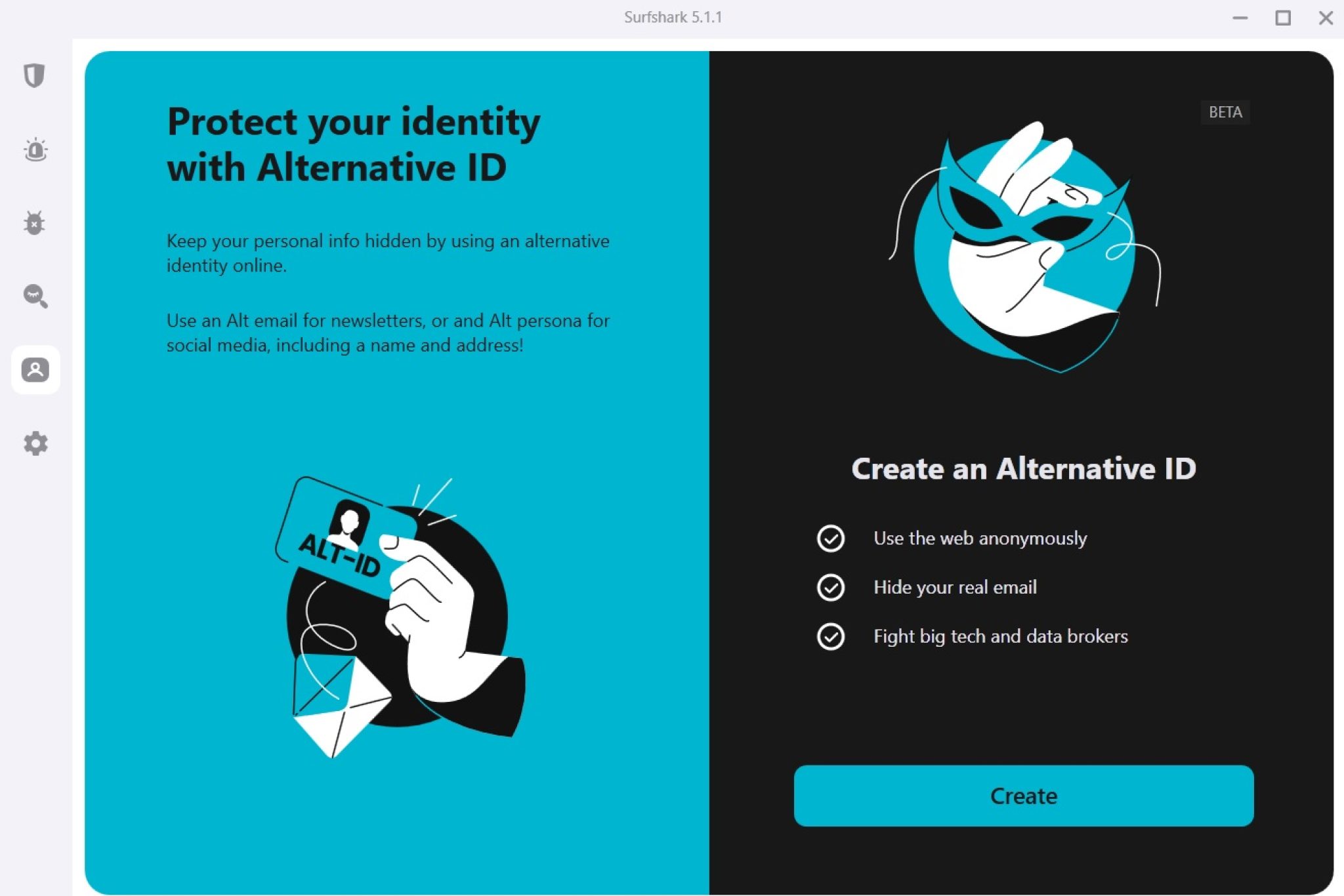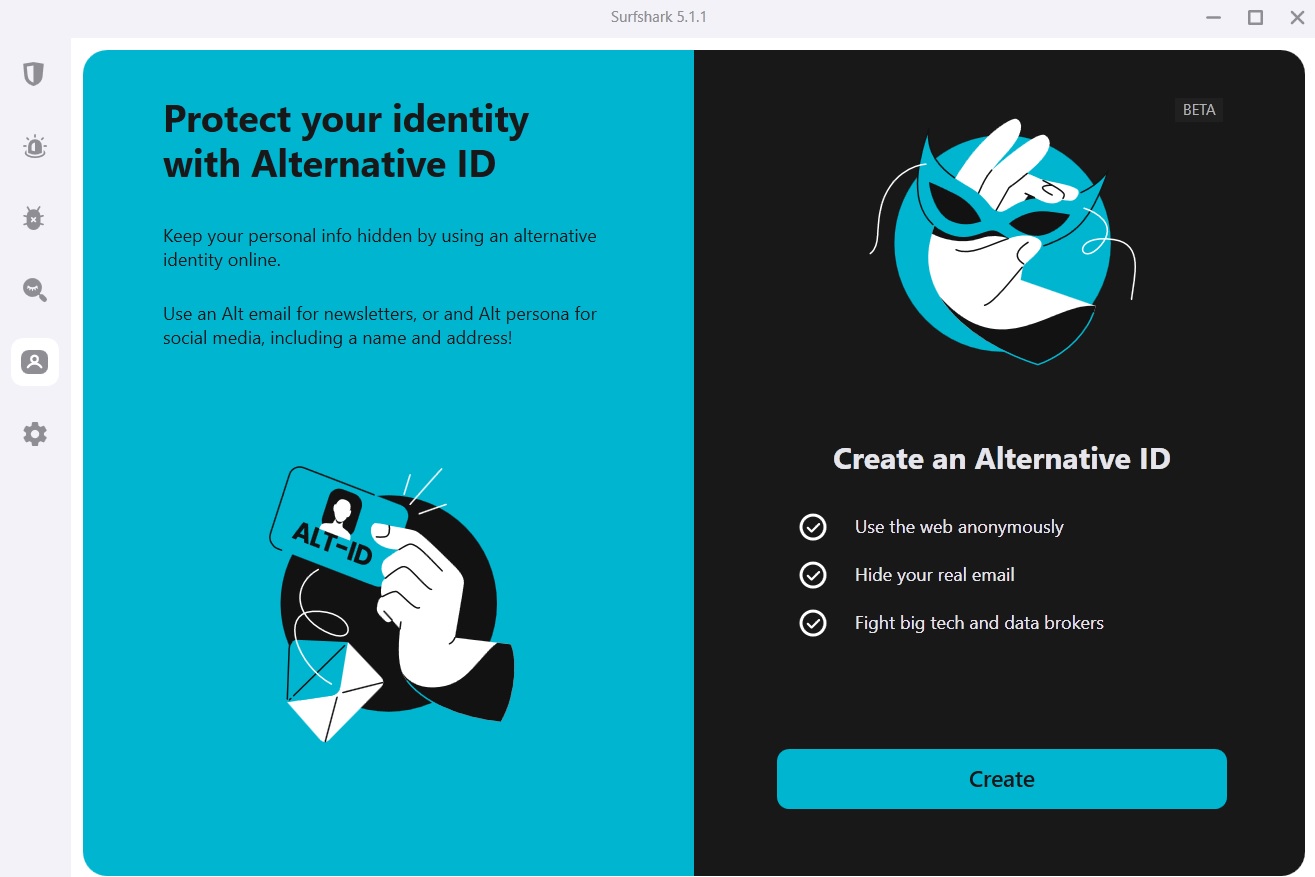 Alternative ID is an ingenious tool from Surfshark that allows users to create alternative digital identities that they can use online without exposing personal details like their actual email ID. This feature is very useful when you have to create an account on an unsecured or untrustworthy website but you do not want to reveal your email address.
Surfshark One not only enabled me to create an alternative profile with an alternative ID but also let me link my alternative ID with my real email. Thus, all the login emails, verification emails, and 2FA requests, among other emails are forwarded to my mail inbox.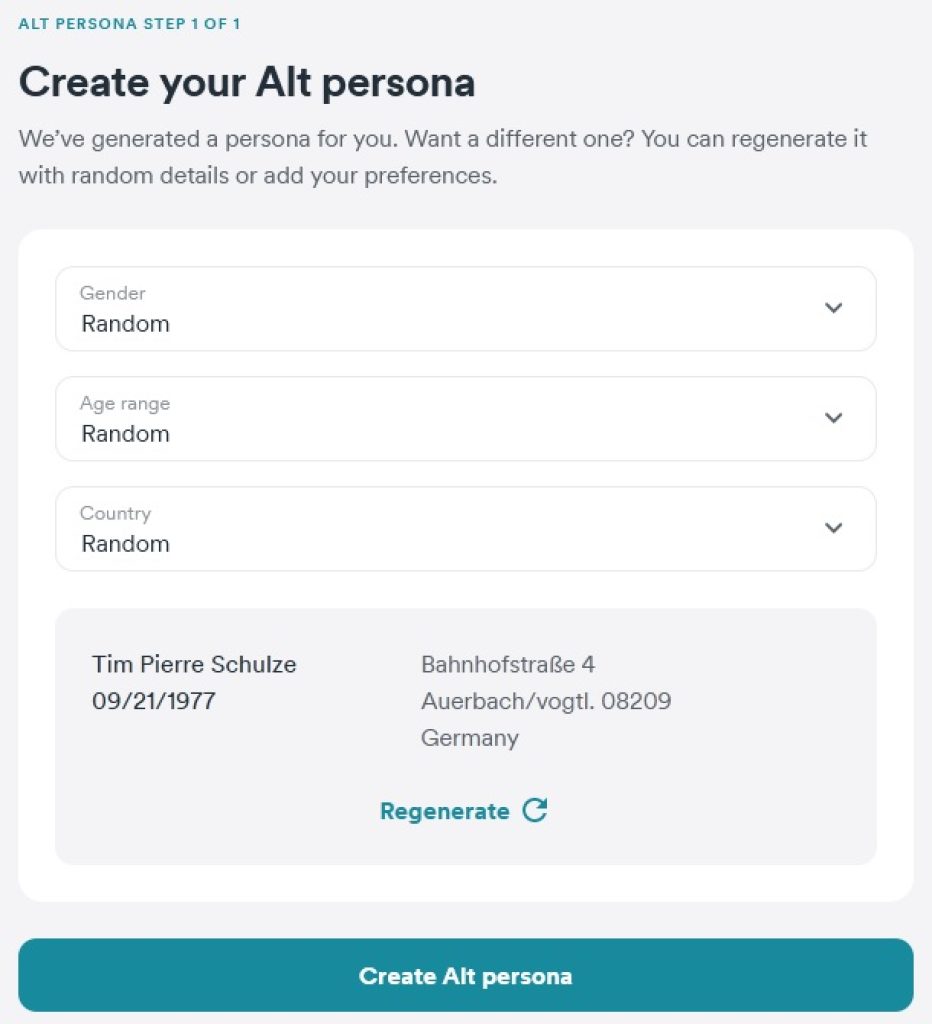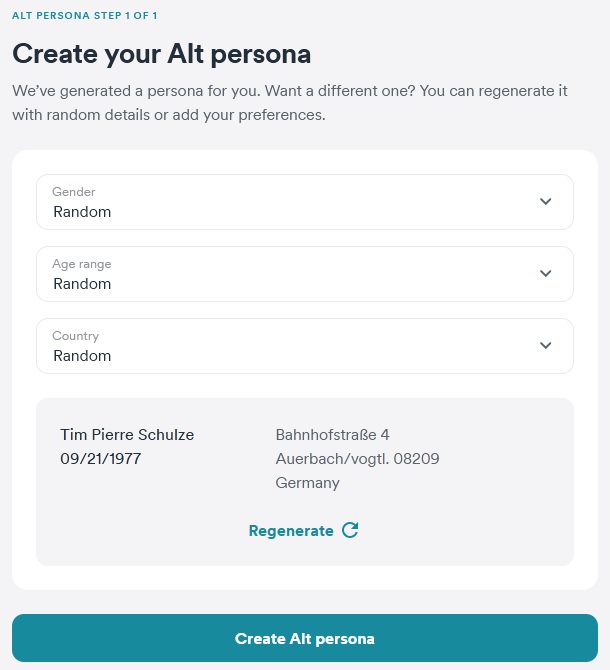 You can create your own Alternative ID by visiting the Alternative ID tab and following the step-by-step process. Once you have created your alternative ID, you will get an alternative email ID that you will have to link with your actual one. Enter the verification code that you will receive in your email inbox to confirm the linking process. Once linked, you will see a confirmation message and you can start using your Alternative ID. In a virtual world dominated by IDs and customer profiling, it has become ever so necessary to mask your real identity and you can now do so easily thanks to Surfshark Alternative ID.
back to menu ↑
Surfshark One: General Reputation
Wandering through popular social media platforms, I came across several posts about Surfshark VPN but not many about Surfshark One. If social media opinions are anything to go by then Surfshark VPN has surely earned a solid reputation among its user base. While there were several posts on Twitter about Surfshark and its VPN service, I only came across some bundle offers and discounts for Surfshark One. Thus, for a better understanding of the subscription product, I checked out some consumer review websites like Trustpilot and Sitejabber.
Although there were no reviews of Surfshark One on Trustpilot or Sitejabber, the parent earned an admirable TrustScore of 4.5 out of 5 from over 20,000 reviews. Such consistently high scores from numerous reviews bear testament to Surfshark's dependable products and excellent customer service. As for Surfshark One, it is still a new service that the company introduced fairly recently and it will take some time before we can see any useful online reviews of the service.
back to menu ↑
Surfshark One: Google Trends
I used Google Trends to study the recent search trends related to Surfshark One and I was not surprised to see that the product has garnered a lot of interest recently. Although interest in Surfshark One over the past 12 months has considerably varied between high and low, there were a lot more peaks than troughs.
As a new cybersecurity product in an already saturated market, it will take Surfshark One some time to dominate Google Search results but the interest in the product within the USA over the past year has been noticeable. Google Trends also predicts a sharp rise in interest in the search term over the next few weeks.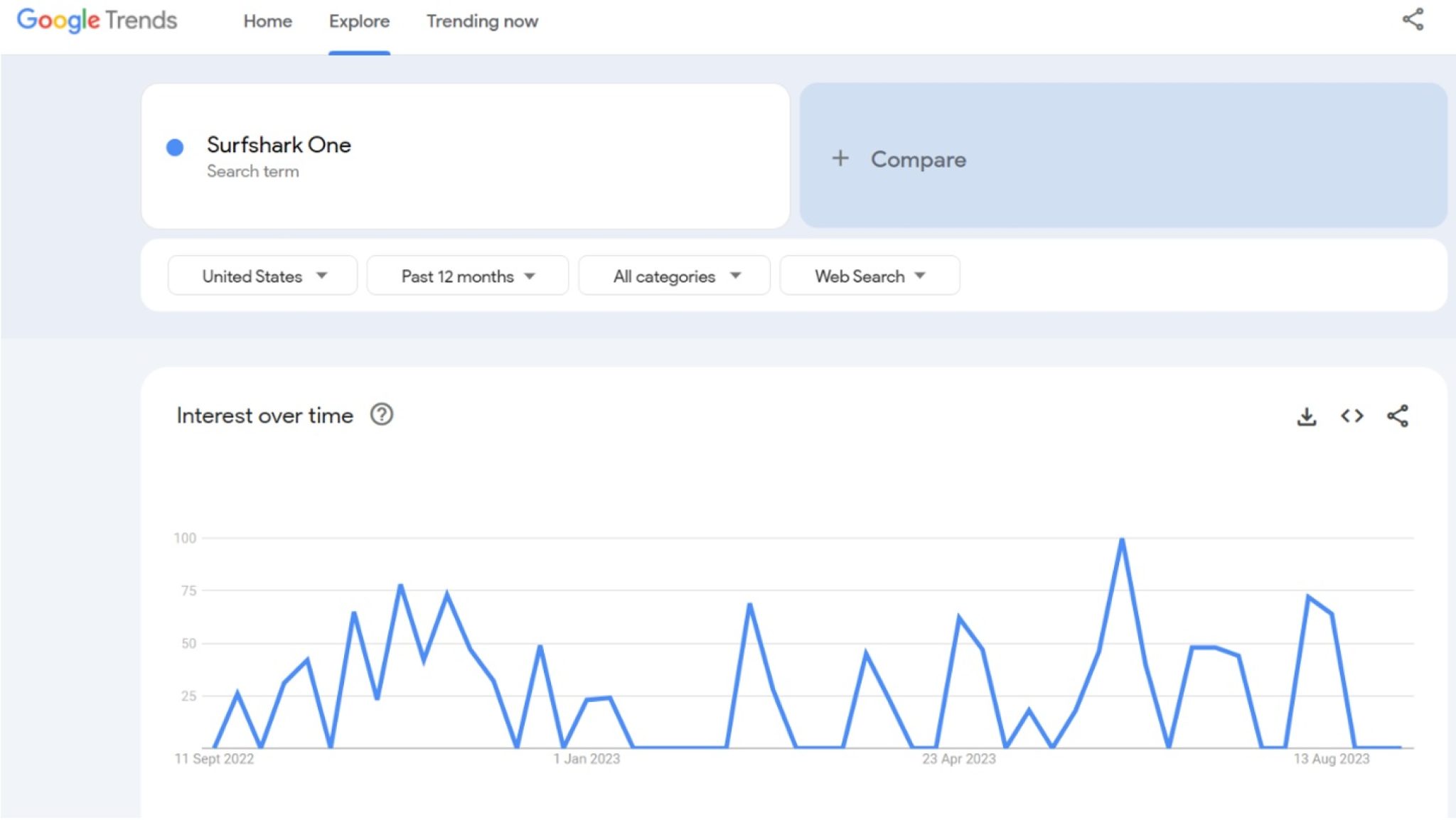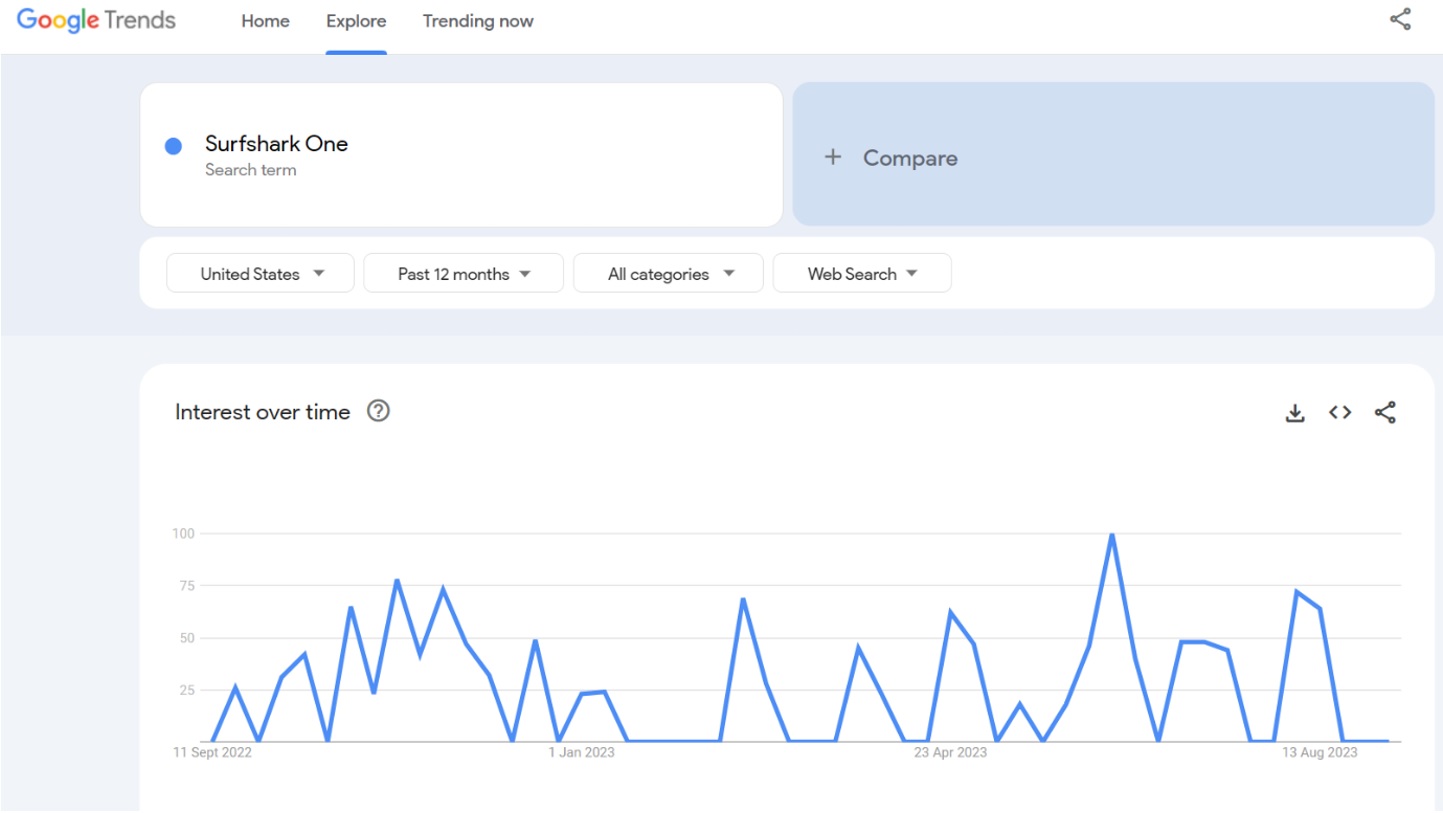 While Google Trends is a good metric to judge a product's popularity, I do not use it to judge the product's performance. These are merely search trends that offer a general overview and should as such be taken with a grain of salt. Despite underwhelming Google Trends results for "Surfshark One" at the time of my purchase of this product, I decided to go for it and am yet to regret the decision. I will argue that popular trends rarely offer accurate and comprehensive information about a product or service and we should take into account real-world performance before deciding based on current trends.
back to menu ↑
Conclusions
Surfshark One is an affordable and reliable cybersecurity package if you need a proven VPN app that can also protect you from malware or other online threats. Lacking certain essential features like a firewall and parental controls, the Surfshark One antivirus is not as feature-rich as most top antivirus software products but it can certainly keep pesky viruses and malware at bay. Not much remains to be said about Surfshark VPN other than I hope it keeps up the excellent performance.
An ideal VPN app for streaming and torrenting, Surfshark VPN servers are P2P compatible and offer unlimited bandwidth for smooth streaming and downloading. Not many VPN service providers can compete with Surfshark VPN when it comes to torrenting and unblocking geo-restricted content. Overall, Surfshark One is an innovative idea that the company is committed to further developing into a full cybersecurity suite.

September Discount! 83% Off Surfshark ONE (2 Year Deal) + 3 Months FREE
83% Off Surfshark ONE Deal (2 Years Subscription)