LifeLock Ultimate Plus Review 2023: The All-Round Identity Theft Protection Solution for All Your Devices
---
PROS:
Security for unlimited personal devices
Dark web monitoring
Reimbursement of up to $1 million
One-Bureau and Three-Bureau credit reports
CONS:
Annual credit reports only
1
LifeLock Ultimate Plus Features At A Glance
LifeLock Ultimate Plus has a lot of features to offer primary among which is $1 million insurance on stolen funds. The insurance covers costs to recover identity or stolen funds up to a million dollars including additional personal expenses such as child care costs, legal fees, and much more. LifeLock also provides lost wallet assistance by blocking credit cards, social security cards, and driver's license. They also help you to replace your stolen cards. Personal information stolen from users is often sold on the dark web. Dark web monitoring is a proactive feature that patrols the dark web and informs a user if their personal information is found on the dark web.
Financial fraudsters often try to get their hands on vital financial information by diverting mail. LifeLock Ultimate Plus can prevent such a thing from happening by notifying you of any changes in USPS address requests related to your identity. Court records are regularly scanned for any matches of your name and date of birth that may link you to criminal activities. This feature protects you from being falsely implicated in a crime you did not commit or know anything about. Another useful feature sends you alerts if your name or personal information appears in a sex offender registry. You also get priority live member support so that you can skip the waiting and speak directly to the available Protection Agent.
2
 LifeLock Ultimate Plus: How Can It Help?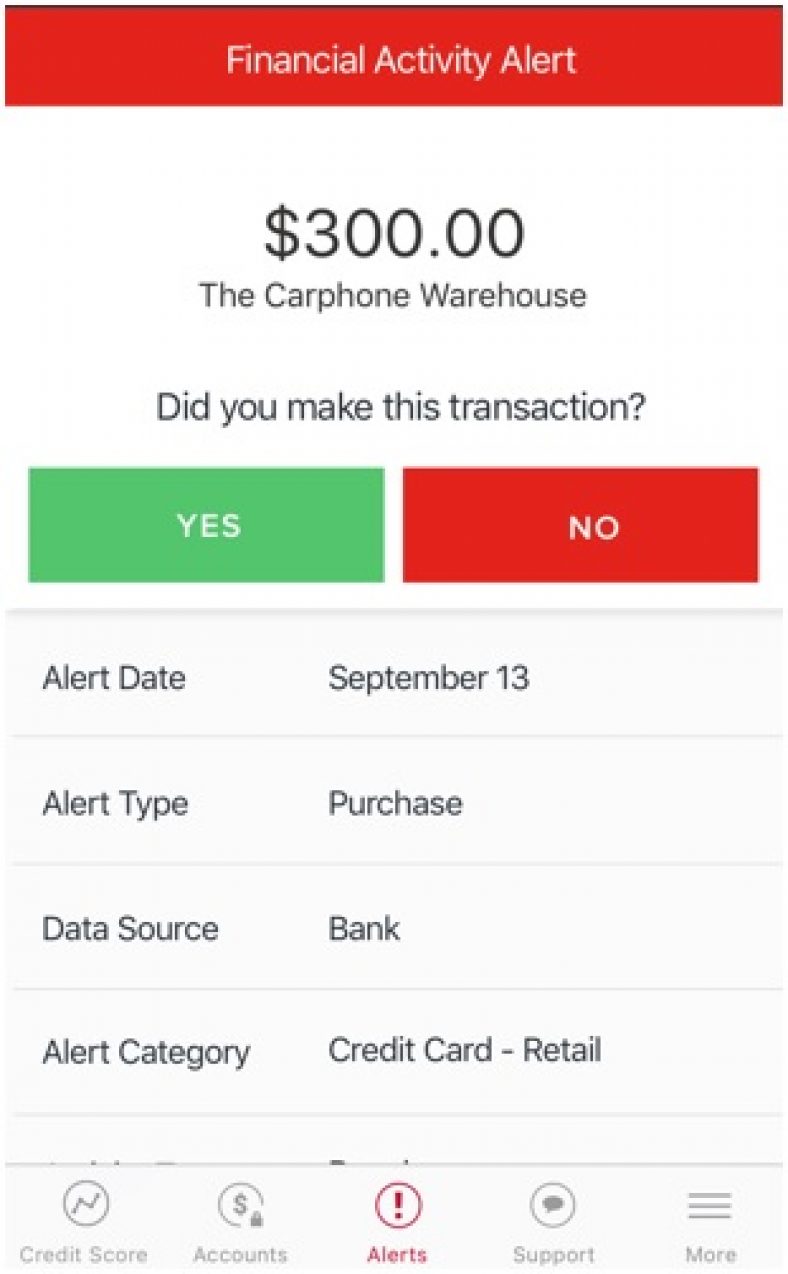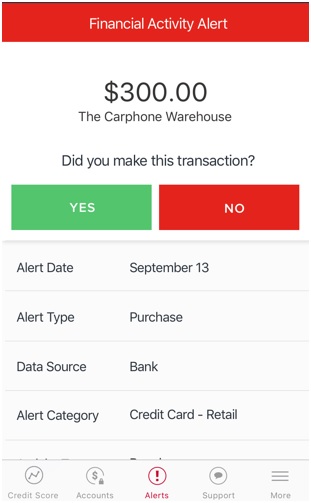 Cybercriminals are getting smarter every minute and technology is becoming more advanced every day. So to convincingly protect yourself from malicious cyber threats you must avail LifeLock's identity theft protection service. LifeLock Ultimate Plus helps by monitoring your online financial activities, keeping track of your credit score, or protecting your social security number and credit or debit cards against identity fraud. Monitoring tools ensure that your personal information is not exposed publicly and helps you keep private data private. LifeLock identity alert system sends critical alerts via text, email, or phone and restoration specialists are always available to help you if things go south. Identity restoration support helps you to recover your identity in case it is compromised. LifeLock also sends notifications in case of data breaches so that you may take protective actions to guard your private information.
3
LifeLock Ultimate Plus: Who Can It Help?
Identity theft can affect just about anyone who makes onlinepurchases or even has an online identity. From students to professors, from computer experts to internet novices, everyone is under the threat of identity theft. LifeLock Ultimate Plus provides exceptional coverage for lawyers as well as legal and financial experts among others. IT professionals, businessmen, and investigators are also prone to identity theft. High-value targets are the most prone to identity theft and cyber-attacks so LifeLock Ultimate Plus covers a wide range of working professionals who are at risk from cybercrime and identity fraud. Children under the age of 18 can also be protected by LifeLock Ultimate Plus since minors are equally prone to identity theft as adults. Thus anyone interested in keeping their privacy intact and finances protected will find the LifeLock Ultimate Plus beneficial.
4
Users Feedback from Forums and Social Media
To get an accurate idea of the impact of LifeLock Ultimate Plus on the consumer market, I visited a lot of forums and checked social media sites like Facebook and Twitter. The initial impression that I gathered from most of these sites was positive and most users were satisfied with the features offered by the company.
Users commented on the additional features such as an add-on anti-virus and an in-built VPN are notfeatures that are available in many identity theft software. The only bone of contention that some users seemed to have with LifeLock Ultimate Plus is the lack of a family package. Membership to LifeLock Ultimate Plus, however, allows connection to unlimited personal devices. Members on some forums also commented on the fact that this product is more expensive than its nearest competitors but other users pointed out that the advanced features and useful services that LifeLock Ultimate Plus provides are second to none and a high price is justified for the kind of protection it guarantees.
5
Users Experience and Reviews shared on SiteJabber And TrustPilot
SiteJabber is a web platform that helps users to find reliable online business and avoid scams. Customers can review any online or offline company on SiteJabber and companies can respond to criticism for free. Bad reviews are not deleted from SiteJabber but the company that earned a bad review is allowed to apologize or explain to the user. TrustPilot is another such site as SiteJabber that hosts consumer reviews and can be trusted to provide genuine feedback from actual users. SiteJabber and TrustPilot are two sites that can provide genuine reviews of products and companies. I had visited both these sites to understand the public response to LifeLock Ultimate Plus.
SiteJabber shares about 10 Lifelock reviews and most of them are negative, just a couple are favorable with positive comments for the professionalism of the support staff. There were around 40 reviews of LifeLock on TrustPilot, 87% of which were excellent. Most users writing the reviews were long term customers of LifeLock and they assured the quality of service provided by the company. Users were largely satisfied with the service offered by LifeLock and said they would recommend LifeLock Ultimate Plus to friends and family. However, there were a few reviews that were more critical than others but the overall impression is one of contentment and confidence. The overall TrustPilot rating was average 3 out of 5 stars.
Though some users responded critical about the service, in my opinion, the majority of users have greatly benefited from using LifeLock Ultimate Plus.
6
Comparison Table of Different LifeLock Plans
LifeLock offers its clients three different plans in the form of Standard, Advantage, and Ultimate Plus. Apart from varying in prices, the services being offered by each product also varies. So let's take a look at the table below comparing the three different plans that LifeLock has to offer.
Stolen funds reimbursement
Annual credit report and scores
Monthly credit score tracking
Bank account takeover and new account alert
Priority live member support
Sex offender registry report
Credit card activity alert
Coverage for lawyers and experts
7
 LifeLock Ultimate Plus: Identity Theft Insurance
Identity theft insurance is designed to cover losses incurred due to identity theft. Stolen identity often results in substantial loss and insurance is a must for those at risk of high financial loss due to identity theft. Insurance reimburses the money spent on reclaiming compromised identity and repairing credit reports. Identity theft insurance is as important as home or car insurance and can be bought as a standalone policy in case it is not already included in the homeowner's or renter's insurance policy.
The insurance plan covers lost wages, notary fees, legal fees, copies of your credit report, child care costs, and credit monitoring services among others. Lawyers, experts, businessmen, and investigators are all included under the LifeLock Ultimate Plus insurance plan that is a financial lifesaver. If your wallet or purse is stolen then LifeLock will help you to lock your credit cards, debit cards, social security cards, and even driver's license. They also recover stolen credit and credit identity.
According to the Insurance Information Institute, the average cost of identity theft insurance is roughly $25 to $50 per year. The majority of such policies contain a benefit limit ranging from $10,000 to $20,000. If it costs you $25,000 to recover your financial or online identity then you will have to pay the difference. In case your money is stolen due to identity fraud then LifeLock will reimburse you up to $25,000, or up to $100,000, or up to $1 million depending on the plan you have subscribed to.LifeLock Ultimate Plus offers the maximum insurance from identity theft with up to $1 million reimbursements for stolen funds.
8
LifeLock Ultimate Plus: Support
LifeLock provides 24 hours support, seven days a week via phone, fax or mail. Phone numbers are listed on their website under contact information. On the LifeLock website is a member support page that is easy to use and lists the answers to common queries. You can search for common topics or any questions you might have in the support center search box. If you need more help then you can submit a request or call a helpline number listed on the same page. To submit a request you must log in with your username and password. Users can also sign in with their Norton account if they have one.
I found the answers to most of my general doubts and queries on the member support page without much fuss. For additional queries, I called up the helpline number given on the page and I received a prompt response from the support staff. I got precise yet direct answers to my questions and the customer care representative was quite courteous as well as knowledgeable. I even submitted a support request just to check out their response to such requests. Support staff got back to me within a day or two with a comprehensive solution and additional advice on any future complications regarding the request I had submitted. In my opinion,LifeLock's support was prompt and helpful.
9
 LifeLock Ultimate Plus: Google Trends
Google Trends is a fantastic tool that helps search marketers understand the overall or geospecific interest in a particular keyword. Trends eliminiates repeat searches and graphically shows the search trends for a specific keyword. I started my search with the keyword 'LifeLock' (location: US, duration: past 12 months) and discovered that the interest over time has been pretty consistent, with a few noticeable spikes here and there. As you can see from the screenshot below the interest has grown a bit starting from mid 2019.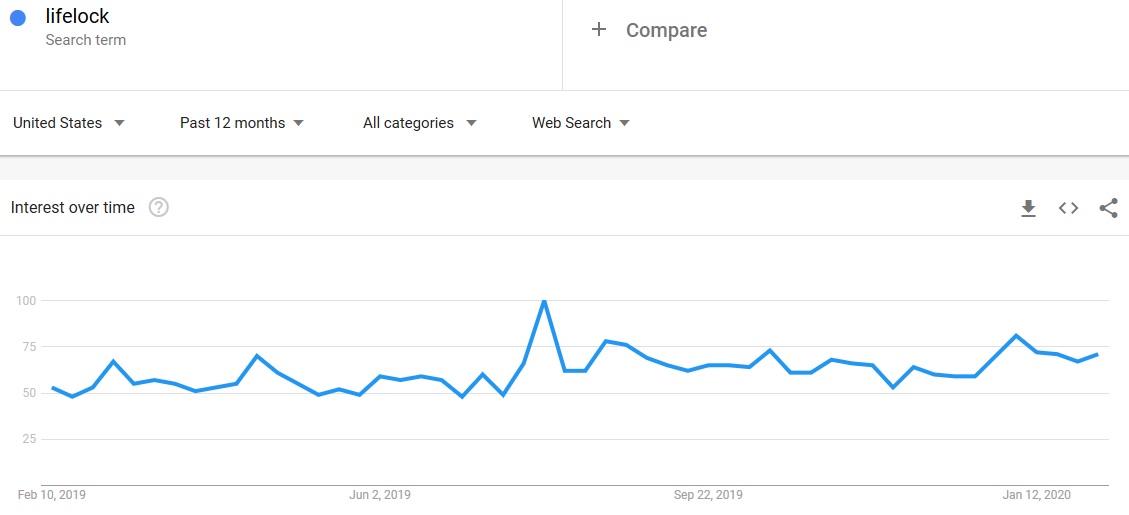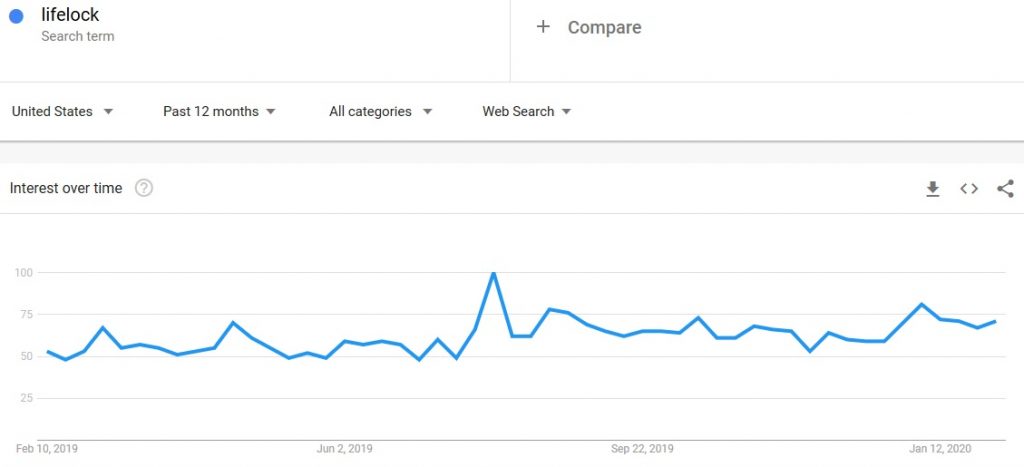 After that, I tried to be a little product specific and found that the interest for the "LifeLock Ultimate Plus" peaked and dropped quite successively, and almost in a definitive pattern. It's really interesting to see how the LifeLock product has garnered attention and lost it in quick succession over a period of twelve months.


10
Video Guide: What is LifeLock and How Does It Work?
11
 LifeLock Ultimate Plus: Mobile App
With the LifeLock Ultimate Plus mobile app you can now carry identity theft protection in your pocket. The app is capable of detecting a wide range of threats and fraudulent activities and will alert you on the go via push notifications to which you can instantly respond. I installed the mobile app from the Google Play Store and setting up my account was easy and fast. The interface is well laid out and is at once simple yet comprehensive. The app is interactive and most of the important features are only a few taps away. With just one or two taps I could access customer support. 24/7 live member services were very useful and prompt.
Ultimate Plus and Advantage members can access their annual one-bureau or three-bureau credit score easily on their mobile devices. Ultimate Plus members get the added benefit of tracking month-to-month changes to their Equifax credit information. With the mobile app installed I can easily keep a track of my credit score and also protect myself from identity theft anywhere I go without having to carry my laptop everywhere. The anti-theft and web protection features can be easily activated by logging in to your LifeLock or Norton account. If you do not have an account already then you can sign up too.
12
 LifeLock Ultimate Plus Alternatives
There are numerous companies invested in the identity theft protection business and LifeLock is widely regarded as the top player in that category albeit their arguably high price. A lot has changed since 2005 when LifeLock first rolled out its identity theft protection service. A plethora of other identity theft protection companies have come up since then and a handful of them are finally giving LifeLock some competition. Although LifeLock still maintains a dedicated client base and seems to be the popular choice even fourteen years on, it is worth looking at a few alternatives to LifeLock before you make your final decision.
I have used at least seven identity theft protection services before settling with LifeLock Ultimate Plus and our team of experts has tested six of them.
Here are four competitors to LifeLock Ultimate Plus that my team and I think are worth considering if budget is an issue for you.
Bearak Reports changed its name to IdentityForce in 2016 and since then has become one of the top players in the identity theft protection industry. IdentityForce offers Child Watch as a feature with any plan. Child Watch offers identity protection for children below eighteen.
The basic IdentityForceUltraSecure plan costs $17.95 per month which is about $8 more than what LifeLock Standard costs. However, IdentityForce'sUltraSecure + Credit plan costs $23.95 which is less than the price of LifeLock Ultimate Plus. If you subscribe to the IdentityForceUltraSecure + Credit plan then you can get credit scores and report from each credit bureau four times a year. LifeLock Ultimate Plus only provides three Bureau credit reports annually. IdentityForce comes with a credit score simulator that informs you how your actions affect your credit score.
Like LifeLock Ultimate Plus, IdentityForce's premium plan also provides up to $1 million reimbursements for stolen funds but LifeLock provides additional coverage for many personal expenses like child care costs. IdentityForce also searches sex offender registry just like LifeLock and even alerts you if a sex offender moves into your neighborhood.

20% Off IdentityForce UltraSecure+Credit
Exclusive 20% Off IdentityForce UltraSecure+Credit Deal
$23.95
Identity Guard is based out of Virginia and was founded four years prior to LifeLock. Identity Guard has partnered with IBM Watson Artificial Intelligence since 2016, so if the added benefit of AI monitoring is something you want then you can go for Identity Guard.
Identity Guard provides individual plans as well as family plans. The basic individual plan costs $6.67 a month while the premium plan comes for $16.67 a month. LifeLock Standard costs $9.99 and LifeLock Ultimate Plus costs $29.99 per month. LifeLock Ultimate Plus is at least $13 more than the Identity Guard Premier plan.
The family plans cost $10.00, $20.00, and $23.33 respectively. LifeLock does not include any family plan. You can add a member under 18 or a senior member for a little extra charge.
LifeLock does not provide social media monitoring but Identity Guard does via its Social Media Insights feature that comes with its Premier plan.
The advantages that you get with LifeLock are a few bonus features such as a sex offender registry report which Identity Guard lacks. LifeLock Ultimate Plus also provides much wider coverage for lawyers, experts and professionals.
LegalShield is a reputable company with over 1.7 million clients and 39 provider law firms. It is from the stable of LegalShield that we get our next competitor. IDShield provides unlimited consultations with fraud experts and unlimited identity restoration services. Apart from the usual individual packages, IDShield also offers two family plans that LifeLock does not provide. The individual plan starts at $12.95 per month for 1 Bureau rating. If you want 3 Bureau rating then you will have to pay $17.95 monthly. The basic plan is costlier than the LifeLock Standard plan which offers a few extra features. IDShield's premium plan is much cheaper than LifeLock's premium plan but again lacks few additional features that LifeLock offers.
The family plans cost $25.95 and $32.95 for 1 Bureau and 3 Bureau respectively and will cover you, your spouse, and up to 10 dependent children. IDShield is the only one on our list that offers a 30-day free trial to customers.
There is no sex offender registry report from IDShield, unlike LifeLock. LifeLock identity theft insurance covers much more than IDShield covers like additional personal expenses incurred while recovering identity.
Denver-based ID Watchdog was founded the same year as LifeLock. ID Watchdog stands apart from competitors thanks to its National Provider Identifier Alerts that is aimed at helping healthcare professionals by monitoring potential fraud involving an NPI ID provided to nurses, doctors, and other healthcare professionals.
ID Watchdog offers family plans along with individual plans. ID Watchdog Plus is the basic plan and costs $14.95 monthly. ID Watchdog Platinum costs $19.95 per month. The family plans come for $25.95 per month and $34.95 per month for the Plus and Platinum category respectively. Both the ID Watchdog plans offer identity theft insurance up to $1 million. Only LifeLock Ultimate Plus offers up to $1 million in insurance for identity theft.
The Platinum plan provides a daily 1 Bureau credit score tracker and credit report as well as 3 Bureau annual credit report. ID Watchdog also offers a multi-bureau credit report lock. LifeLock Ultimate Plus does not include any of the above.
LifeLock offers stronger security to lawyers, researchers, experts, and a wider range of professionals that ID Watchdog lacks somewhat. Sex offender report is another advantage that LifeLock has over ID Watchdog.
13
Should You Buy LifeLock Ultimate Plus?
LifeLock Ultimate Plus not only provides robust protection from identity fraud but also offers a gamut of additional perks and useful features that are missing in most of its nearest competitors. LifeLock Ultimate Plus is one of the costliest plans on the market but LifeLock's basic and mid-level plans are cheaper than those of its competitors. I have been using LifeLock Ultimate Plus for more than two months now and I have no complaints whatsoever. IdentityForce and IDShield are the two other identity theft protection services that I like as much as LifeLock but I find the additional features that LifeLock Ultimate Plus offers very useful. So your choice depends on your requirements and budget. If budget is not a concern then LifeLock Ultimate Plus is the best there currently is.
PROS
$1 million insurance
Useful anti-virus software add-on
VPN for unlimited personal devices
Brilliant user interface and useful critical alerts
CONS
A bit high price
Lacks a family plan
Add your review
|
Read reviews and comments