SurfShark VPN Review 2022: An Award-Winning VPN Service With A Host Proprietary Features
Surfshark operates under the jurisdiction of the British Virgin Islands which is not a part of the 5/9/14 Eyes Alliance and has relaxed data sharing laws if any. The privacy-friendly jurisdiction further fortifies the company's strict no-logs policy and ensures users' privacy is safe with Surfshark. As of 21th October 2020, Surfshark has received zero National Security letters, zero gag orders and zero government warrants.
PROS:
Jurisdiction in the British Virgin Islands and a no-logs policy
Unlimited simultaneous connections
Unblocks Netflix, BBC iPlayer, Hulu and Amazon Prime Video
Compatible with all platforms
CONS:
Free trials limited to mobile apps and Macs

November Deal! 95% Off SurfShark VPN (2 Years Subscription)
95% Off SurfShark VPN (2 Years Subscription)
The British Virgin Islands
24/7 live chat, email support, talk with an expert, guides, tutorials and FAQs
Windows, Linux, macOS, iOS, Android, browser extensions, routers, consoles and Smart TVs
Free trials only on iOS, macOS and Android apps
1
 SurfShark VPN: Installation and Usage Guide
As a paying customer, I do not want to struggle to setup and use the VPN client I have paid for. Surfshark ensures that customers have a smooth experience from the moment they sign up until the time they stop using the VPN app. To download Surfshark VPN, you need to choose a subscription plan first and then complete the payment process via your preferred mode of payment.
Once your account with Surfshark has been created, you will receive a welcome email. You can follow the instructions provided via the email or download the Surfshark VPN apps directly from the company's website. You can get mobile clients from the app store for your particular operating system. Surfshark offers one-click functionality and setting the VPN app up requires no more than basic computer skills.
Get 90% Off SurfShark VPN (2 Years Subscription)
Once downloaded, run and install the app on your device and you are good to go. Log in with your credentials and use the Quick Connect button to connect to the nearest and fastest server in just a moment. Surfshark has VPN apps for Mac, Windows, Linux, Android, and iOS devices with browser extensions for Chrome and Firefox. The Surfshark support page contains detailed installation guides that will help you setup its VPN app on the above devices as well as tutorials for manual configuration of Surfshark VPN on routers, consoles, and Smart TVs.
Surfshark VPN apps have a deceptively simple user interface with some important features being placed at the bottom of the app's main screen for quick access. Navigating the app is as simple as it gets because of the easy controls and sleek UI.
On the Windows client, the left navigation panel contains the controls to servers and additional settings. The app is aesthetically designed so that even beginners can customize their experience without any referring to VPN guides. Change the servers by clicking on the "locations" option. A search bar lets you quickly find a particular server of choice. For additional control over how the VPN app operates, go to the settings to customize. You can control the advance features from the "features" tab.
Surfshark has a strict no-logs policy that prevents the company from recording or storing any user logs or identifiable information. The company has a comprehensive privacy policy that explains in detail its data retention policy, what data it retains, and the purpose for retaining such data. Apart from the user's email address and payment information, Surfshark retains no other identifiable data unless it is necessary to do so to provide uninterrupted service and resolve issues.
For data encryption, Surfshark employs the military-grade AES-256 bit cipher along with a 2048-bit DHE-RSA key exchange and a SHA512 hash authentication for the strongest possible security. DNS and WebRTC leak protection is built into the software for further protection. I did not detect any DNS, WebRTC, IPv4, or IPv6 leaks when I rigorously tested Surfshark VPN for any leaks.
Surfshark supports all commonly used security protocols including both OpenVPN and IKEv2. OpenVPN is the de-facto choice of protocol for the highest security and decent speed. IKEv2 is preferred over OpenVPN on mobile networks for higher speeds. OpenVPN is much more versatile than IKEv2 and can be customized according to the user's requirements. You can switch between TCP and UDP when using OpenVPN on the Windows, iOS and Android apps. Surfshark further offers an encrypted proxy called Shadowsocks with China in mind.
5
 SurfShark VPN: Server Speed Tests
Surfshark promises fast speed as most VPN service providers generally do. SoI tested a few of Surfshark's servers including a remote one in Asia to find out how fast they were. For speed tests, I relied on speedtest.net. For the best results, look for higher download and upload speeds but lower latency.
Before I connected to a Surfshark server, my download and upload speed read 38.13 Mbps and 27.85 Mbps respectively with a ping time of 22 ms. When I clicked "connect" on the Surfshark Windows app, I was automatically connected to the fastest server based on my location.


The first server in Amsterdam, Netherlands clocked a download speed of 24.89 Mbps and a ping time of 33 ms. The upload speed decreased by almost half to 14.23 Mbps which was good enough for torrenting. The considerable 34% decrease in download speed did not affect browsing, downloading, or streaming high-quality content on Netflix or YouTube.


I changed servers to the UK and the ping time jumped to 160 ms but the download speed was a decent 24.55 Mbps which was as good as the Amsterdam server. The upload speed was 14.05 Mbps. Despite the high latency, it connected quickly and as with the previous server, there was no inconvenience while using the internet.


I had to test a few servers in the USA since streaming Netflix USA was one of the reasons I subscribed to the Surfshark VPN. I tested three different servers in the USA and recorded an average download and upload speed of 22.23 Mbps and 5.55 Mbps respectively. The average ping time came out to be 172 ms which was less than I expected. While the upload speeds dropped considerably, there was very little change in the download speed and I streamed Netflix USA without any buffering.


Finally, I connected to a remote server in Asia to find out how Surfshark fared over longer distances. The download speed was 15.16 Mbps and the upload speed dropped drastically to 1.67 Mbps. The drop in upload speed was expected but what surprised me was that latency stayed incredibly low at just 19 ms. This may be an anomaly but the download speed was still decent given my original speed and the distance between my physical location and the server location in Hong Kong.


Since its launch a few years back, Surfshark has added new features such as the option to allow small packets for improved speed and performance on mobile devices and routers. For as little as 0.99 per month, users can add two bonus features that other VPN providers do not offer. These bonus features are HackLock and BlindSearch. HackLock scans the web and alerts users if their email is leaked while BlindSearch offers unbiased and organic search results in less than a second. With BlindSearch, users can privately search the internet without ads or logs.
Surfshark offers a plethora of advanced features that are rarely offered by other VPN providers. The first of such useful features is the Clean Web that not only blocks intrusive ads and popups but also automatically detects malware and prevents phishing attempts. It even saves mobile data by preventing ads and trackers from using up precious MBs.
Split-tunneling is offered in the form of the Whitelister feature that allows users to exclude specific websites or apps from connecting via VPN tunnels. Instead, you can choose to route particular sites or apps through encrypted tunnels while the rest of your web traffic is routed through the regular unprotected channels.
Privacy-conscious users such as journalists and activists can add an extra layer of security to their connection with the help of MultiHop. This feature lets users route their web traffic through two different server locations to double the protection and maximize digital privacy.
For an uncensored internet experience that is not ruined by geo-restrictions and draconian cyber laws, Surfshark offers the NoBorders Mode that allows users to unblock restricted content on websites or streaming sites and use VoIP apps such as Whatsapp or Telegram without government censorships. This is a very useful feature in restrictive countries like China, Turkey and the UAE.
The Camouflage Mode is an obfuscation feature that disguises an encrypted connection as a regular connection so that governments cannot detect the use of a VPN service.

November Deal! 95% Off SurfShark VPN (2 Years Subscription)
95% Off SurfShark VPN (2 Years Subscription)
Surfshark is an ideal choice of VPN if streaming and torrenting are your priorities. All Surfshark servers are P2P compatible and with unlimited bandwidth support, there are not many VPN providers that can top Surfshark when it comes to torrenting. TorGuard is the only VPN provider that offers a better torrenting experience than Surfshark and that is because TorGuard was designed specifically for torrenting.
When it comes to streaming, however, few can hold a candle to Surfshark. Surfshark unblocks all the popular streaming platforms such as Netflix, BBC iPlayer, Hulu, Amazon Video and Kodi. Thanks to Surfshark's fast servers and efficient advanced features, streaming with Surfshark VPN is as smooth and secure as one can wish for. Add to that support for unlimited simultaneous connections and you have a VPN service that is a must-have for streaming and torrenting.
A kill switch is a standard feature that all VPNs offer nowadays and you can toggle Surfshark's kill switch on or off from the settings. I always set the kill switch to "automatic" and I advise you to do the same for the most secure experience. A kill switch disconnects your network from the internet in case of a drop in the encrypted VPN connection so that your private data like IP address is not leaked to third-parties, government agencies or your ISP.
10
SurfShark vs Competitors
Every VPN I have reviewed to date had claimed to unblock Netflix and other streaming platforms but almost all of them, barring top players like NordVPN and ExpressVPN, came up short when put to the test. Surfshark lets you stream high-quality content without buffering or connection issues and you do not have to worry about the much-dreaded 'PROXY DETECTED' message popping up on your screen.
SurfShark has over 1700 servers in 63 countries that do not offer as much coverage as ExpressVPN or CyberGhost VPN with 3000+ and 7100+ servers respectively. However, Surfshark is still a young company and has already crossed the 1000 servers mark something VyprVPN, one of the oldest VPN providers, is yet to reach with just over 700 servers. It is worth noting that what Surfshark lacks in numbers, it more than makes up for with fast speeds and impeccable performance.
All of Surfshark's premium features are available on the most commonly used operating systems such as Windows, Linux, macOS, iOS, Android, smart TVs, browser extensions, gaming consoles, and routers. Surfshark's nearest competitors like Private Internet Access VPN and CyberGhost offer a similar range of support with TorGuard also supporting Chromebook and Kindle.
GoogleTrends is an analytical engine that plots the popularity of the most searched keywords in Google search to give an idea of how the interest in a particular search term has changed over a certain period and in a specific region. I checked out the interest in "Surfshark VPN", "Surfshark VPN review", and Surfshark's competitors in the USA over the last 12 months.
"Surfshark VPN" had a low-level of popularity during this time last year and the curve only started to prominently rise since October 2019. Throughout November and December of 2019, the interest in Surfshark was consistently high but it dropped sharply during New Year only to rise again. Recent interest in the search term is quite high and is projected to rise as a possible result of the increased cyberthreat to the millions of users worldwide working from home due to the Coronavirus pandemic.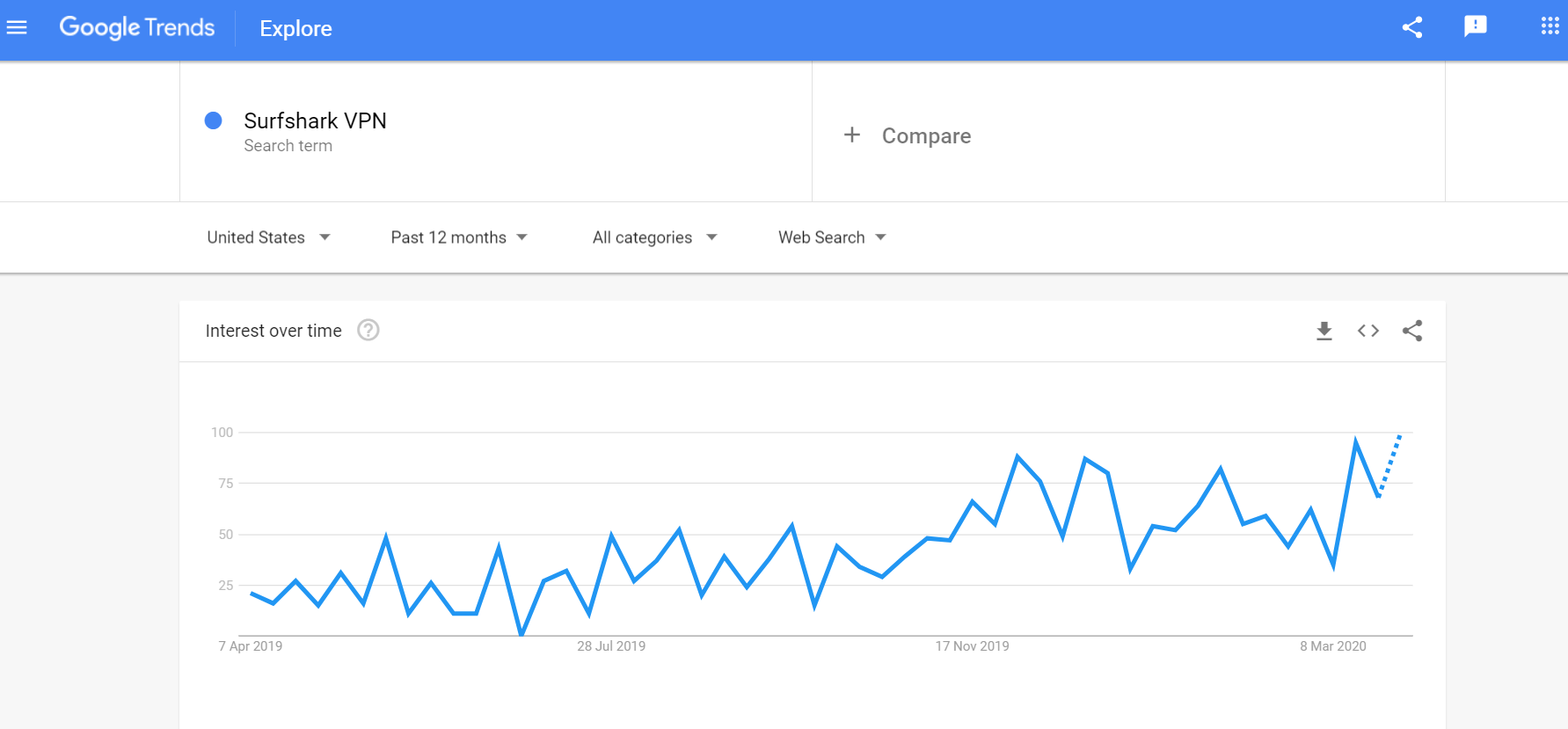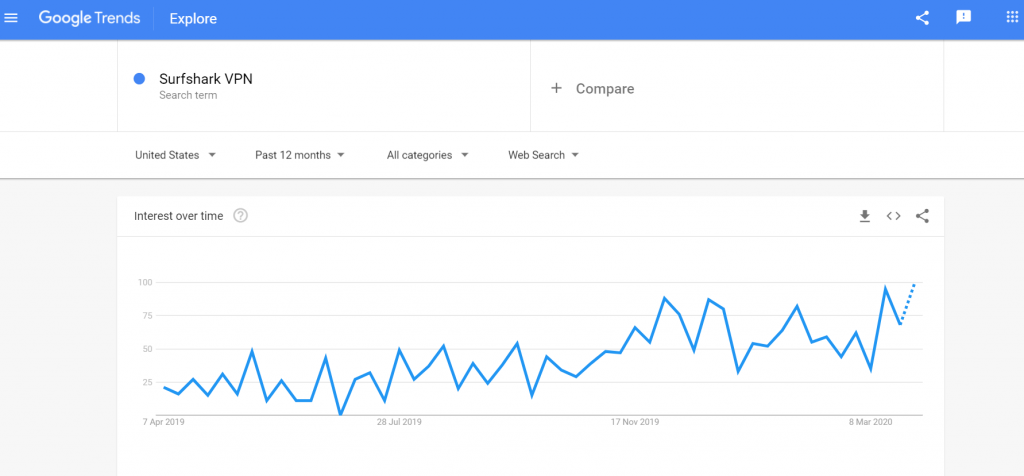 "Surfshark VPN review" has a similar story with low interest during the first half of 2019 but consistent peaks as the year came to an end. The current interest in the search term is moderate.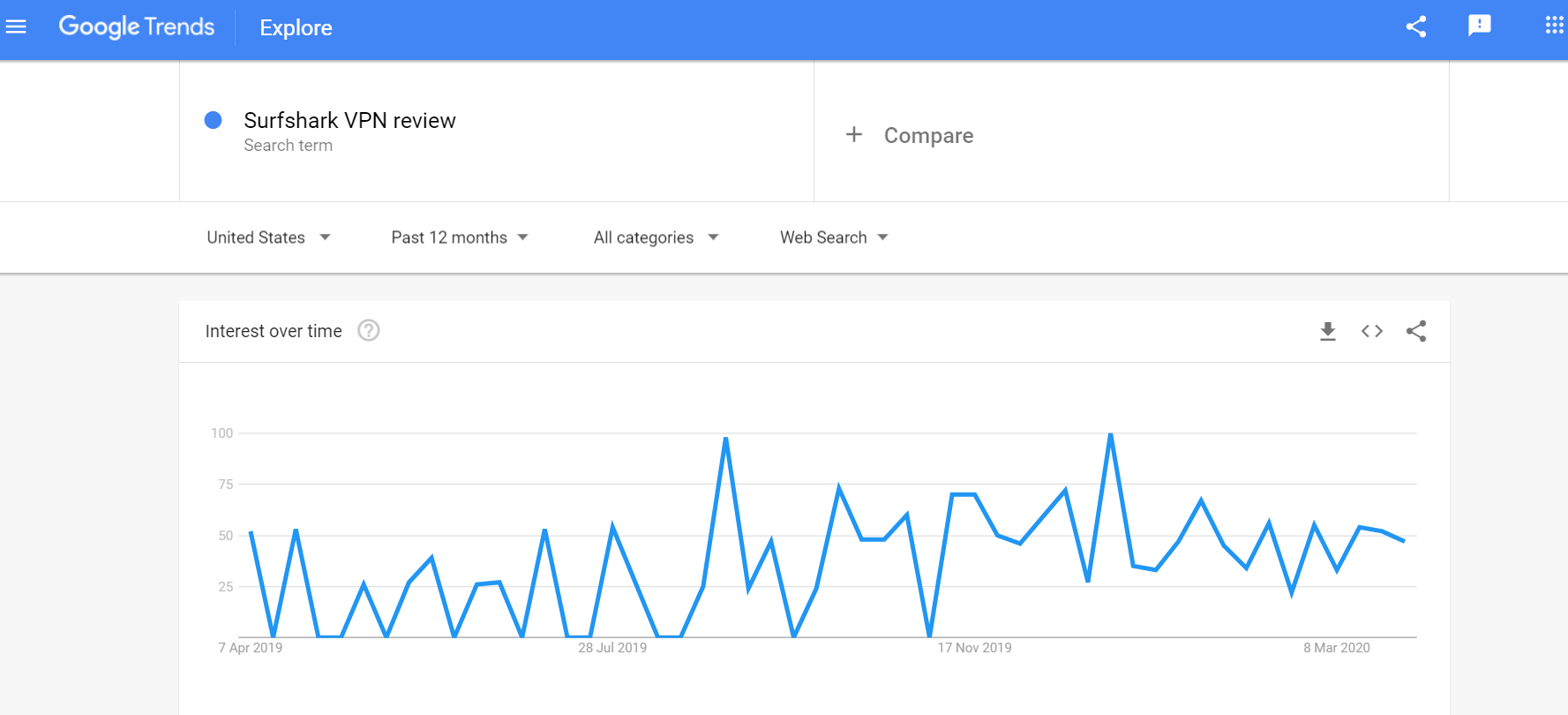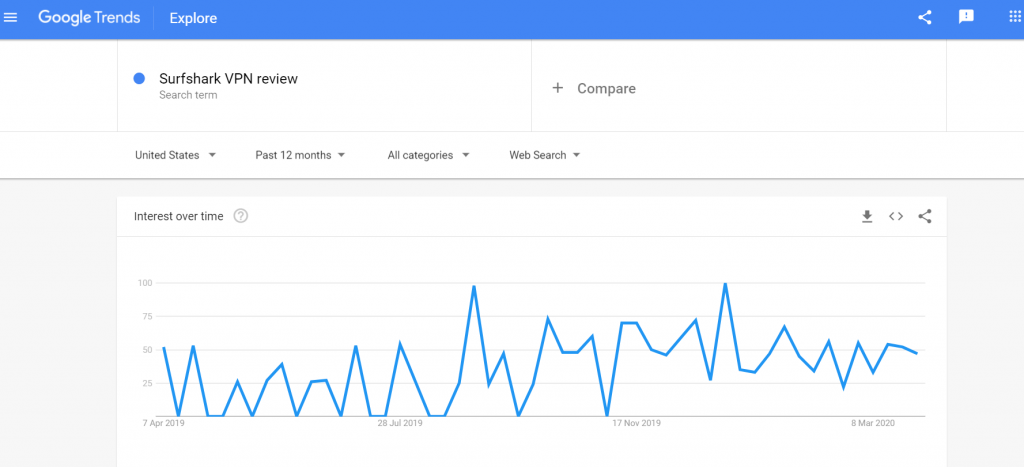 To compare the popularity of competing VPN services, I entered "TorGuard VPN" and "VyprVPN" as the second search terms. The average interest in "Surfshark VPN" was higher than that in "TorGuard VPN" and has been so since around October 2019. Interest in TorGuard is currently decreasing while that in Surfshark is increasing.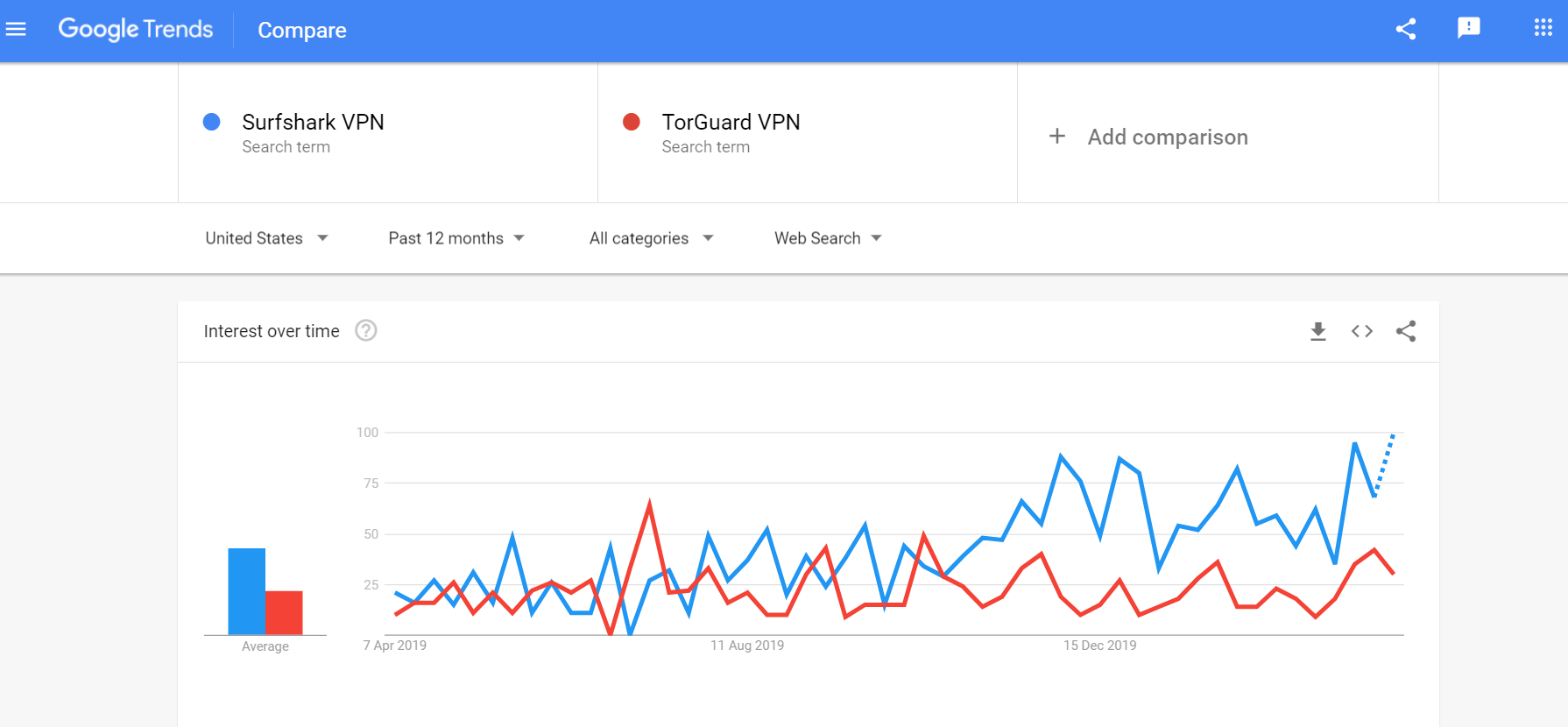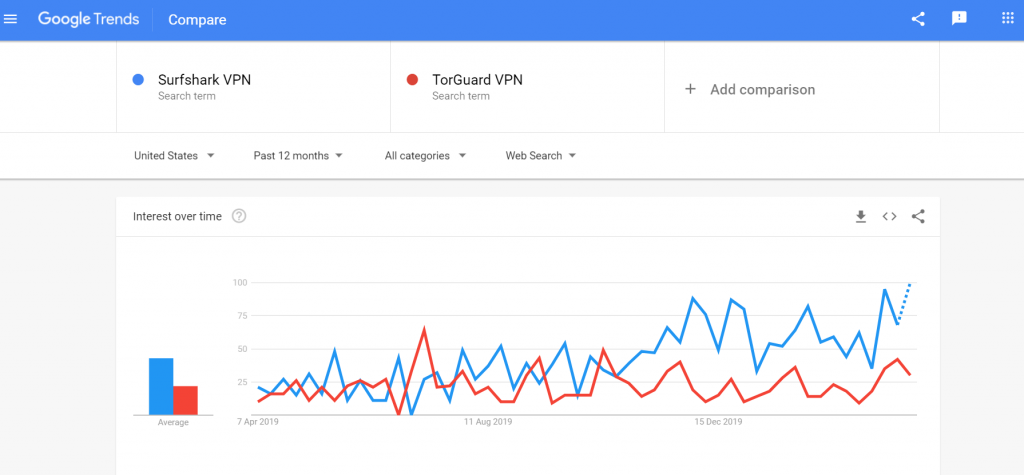 "Surfshark VPN" and "VyprVPN" had a much closer race with the former edging past the later by the width of a hair or two. Interest in the latter was higher than the former for the greater part of last year probably due to the release of VyprVPN version 5.0. Surfshark's popularity leaped passed VyprVPN's as 2019 came to a close and 2020 began.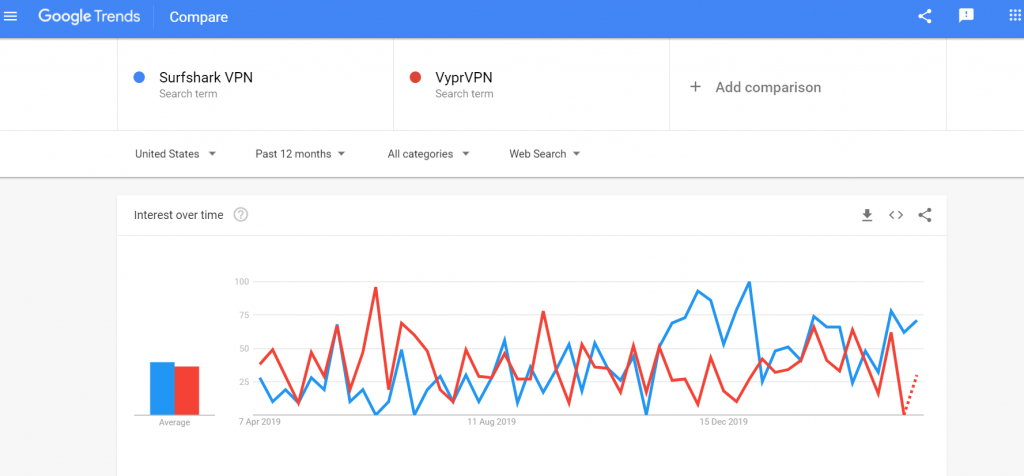 Surfshark's comprehensive customer support page is one of the most detailed and well-designed help pages I have come across in quite some time. There are detailed guides on how to install and use the Surfshark VPN apps on all compatible platforms. The guides are concise and easy to follow.
FAQs provide the answer to the most commonly asked questions regarding a VPN service and there is a search bar at the top of the support page to quickly find solutions to issues or questions that users may have. An extensive knowledge base of Surfshark tutorials, general info, and billing covers the gist of VPN queries.
After browsing through every nook and corner of the Surfshark support page, I found answers to every query I had regarding Surfshark and what it offers. The guides and tutorials are enough to get you started on your own and let you easily use the Surfshark VPN apps on any platform. Manual configuration guides for routers and gaming consoles are also provided.
If you require further assistance, you can submit a request, seek email support, or chat with a live support agent to quickly resolve your issues. The support button at the bottom right of the page leads you to the live chat support but you will have to enter your name and email id to talk to a live support agent, which I tend to find cumbersome.
However, user reviews on various VPN forums and blogs suggest that Surfshark's customer support is fast and responsive. I tried the email support and found the response helpful but it did not come as fast as would have been useful.
13
 General Public Attitude
The general public attitude surrounding Surfshark VPN on social media sites was an equal mix of praise and criticism. Though Surfshark has social media profiles on sites such as Facebook, Twitter, and Instagram, it has a limited presence with occasional posts on the latest developments and challenges to cybersecurity.
Surfhsark's Twitter feed is full of announcements or posts on security features and cyber privacy. There was only limited participation from followers or users with a few queries or issues popping up now and then in the comments section. However, I noticed that Surfshark promptly replied to any issues raised by its users and even answered some general questions asked by others.
Surfshark's Facebook profile had more activity than its Twitter profile with more questions being asked and issues being raised by users. While many users praised the VPN service for its excellent features, some users pointed out that few problems with their VPN apps after a particular update. Surfshark support agents were quick to allay fears and assured the users of corrective action.
The issues raised on Facebook have been duly addressed by Surfshark since then and all apps seem to be working without any glitches as of now.

November Deal! 95% Off SurfShark VPN (2 Years Subscription)
95% Off SurfShark VPN (2 Years Subscription)
Honest feedback from users who have used aVPN service for at least a month or more provides an in-depth understanding of the positives and negatives of the VPN service. Thus, to find out what real users make of the Surfshark VPN apps, I browsed through consumer review websites such as Trustpilot and SiteJabber.
There were no reviews of Surfshark VPN apps or the parent company on SiteJabber. However, Trustpilot had numerous reviews of Surfshark and the positives vastly outnumbered the negatives. Out of more than 6100 reviews, 85% voted the VPN service as excellent.
The extensive advance features and performance of the Surfshark VPN apps received the most praise followed by the affordable subscription plans. The service was also commended for its value for money by long-term users. The customer service was applauded by many though I found it to be somewhat lacking when I tested it.
There were only a few complaints of any importance and those include the apps of some platforms and occasional connection issues. The connection issues were promptly addressed by Surfshark on Trustpilot itself and the users were not only provided with assistance to fix the issue but were also assured of any future assistance. One user made some good recommendations to improve the Surfshark VPN apps for businesses.
Surfshark has an impressive Trust Score of 4.3/5 from over 6100 user reviews on Trustpilot (October 2020).
Amidst the gloom that has descended on the world due to coronavirus, Surfshark has some good news for internet users around the world.
The first of such several good news concerns users of Real Debrid which is an unrestricted multi-hoster used for unlimited downloading and streaming videos at fast speeds. Real Debrid users can now use a VPN for protection and privacy as Surfshark works with Real Debrid.
The global lockdown has forced millions to work from home and Surfshark is doing its bit to support small businesses transitioning to remote work from home by providing such businesses free access to its VPN plans for 6 months. Read more about the wonderful initiative in this article.
China was the epicenter of the Coronavirus outbreak and the world's most populous country has been in a nationwide lockdown for weeks forcing millions of professionals working from home in China to consider VPN services to bypass the Great Firewall of China. Surfshark has been named as one of the five best VPNs that work in China. Read this review for more details.
COVID-19 has plunged the world into an unprecedented crisis and continues to pose newer threats with each passing day. A new emerging threat from the pandemic is the slew of COVID-19 apps being developed and released around the world that threatens privacy on a global scale previously unimagined. To learn more about the extent of the threat, go to this article.
The simplicity of the Surfshark VPN apps and their ease of use make Surfshark a perfect choice for beginners and VPN novices. With no complicated jargons and easy to follow instructions, Surfshark ensures that no user feels burdened while using its VPN apps. Thanks to helpful features such as Camouflage Mode and No Borders Mode, Surfshark can bypass the Great Firewall of China without even breaking a sweat. Journalists, activists, gamers, streamers, professionals, and even beginners will find the Surfshark VPN apps just ideal for them.

November Deal! 95% Off SurfShark VPN (2 Years Subscription)
95% Off SurfShark VPN (2 Years Subscription)