TorGuard Review 2023: A VPN Complete With Industry-Standard Data Encryptions And Strong Security Protocols
TorGuard's VPN clients are packed with regular VPN features as well as advanced security features starting with the industry-standard data encryptions and strong security protocols. The VPN masks the user's real IP address and protects private data through a secure encryption protocol that can be customized as per the user's requirements.
PROS:
OpenVPN protocol and AES-256 bit encryption
Optimized for P2P file transfer and BitTorrent
8 multi-logins
Multi-functional kill switch
CONS:
A little complicated to use, especially for novices

January 2023 Deal! 70% Off TorGuard 2 Years Subscription (Anonymous VPN)
70% Off TorGuard 2 Years Subscription (Anonymous VPN)
24/7 support. Email, ticket, and call support
Windows, macOS, Linux, Android, iOS, Kindle, Xbox, PS3, Chromebook and routers
No, 7-day money-back guarantee
It cannot be verified. Probably no
1
 Why you need TorGuard VPN & Proxy
2
 TorGuard: Installation and Usage Guide
The first noticeable quality of TorGuard is its ease of installation and usage. Though there are detailed installation guides for all operating systems on TorGuard's website, the process is simple enough for even beginners to follow without guidance. To begin, select a plan, a preferred payment method and enter your credentials to create an account with TorGuard.
Download the TorGuard VPN client for your device and run the downloaded file to install it. However, setting up the installed VPN client is another story altogether. Once installed, there are a few additional steps that need to be followed before the VPN app can be used. The first step after successful installation requires you to select a server, the Tunnel Type, Protocol, Port/Auth and Cipher. You can choose the default configuration suggested by TorGuard for the optimal performance as well as customize according to your needs.
Click "connect" and the app will prompt you to enter your username and password. After entering your credentials, check the "remember credentials" box for future logins, and click "login" to get started. I am using the Windows client but the installation process on other platforms is similar if not completely the same and users should consult the guides on TorGuard's support page if and when they are confused.
3
TorGuard: Unique Stealth VPN Feature
Stealth VPN is a unique feature of TorGuard that lets users bypass deep packet inspection and the most stringent firewalls in countries that block VPN servers and ports. Stealth VPN makes blocking VPN use impossible since it masks the VPN traffic to make it look like regular unprotected traffic with the help of an SSL VPN.
Anonymous proxy service can also be purchased for $5.95 per month and it supports SOCKS5 as well as HTTP/SSL Proxy. TorGuard's proxy service provides 3000+ elite proxy IP's in more than 50 countries and allows 5 simultaneous connections to make users 100% anonymous on the internet.
Get 70% Off TorGuard Anonymous VPN 1 Year
4
TorGuard: No-Log Policy
On top of the strong protection, TorGuard has a strict no-logs policy that prevents the company from storing and sharing user data such as connection logs, identifying logs, or timestamp data. The company claims to earn only from customer subscriptions and not by selling data. The only concern I have with TorGuard privacy policy is the fact that its parent company VPNetworks LLC is based out of the United States, a country that is not just a member but also a founding member of the 5/9/14 Eyes Alliance. Go for ExpressVPN or CyberGhost VPN if you want to stay out of the jurisdiction of the 5/9/14 Eyes Alliance.
5
TorGuard: Encryption and Security Protocols
AES-256 is the strongest encryption currently available but if you are looking for speed then you can change the encryption to AES-128 bit or Blowfish 128-bit, both of which are faster than the AES-256 bit encryption. TorGuard supports several security protocols including OpenVPN, WireGuard, PPTP, L2TP/IPSec, SSTP, iKEV2 and OpenConnect VPN. Even TorGuard's nearest competitors like Private Internet Access and PureVPN does not support so many security protocols at once or offer limited customization. With TorGuard, users can set their encryption and protocols according to their priorities.
6
TorGuard Supported Devices
TorGuard VPN apps are compatible with Windows, Linux, macOS, iOS, Android, Kindle and Chromebook. Gaming consoles like Xbox and PS3 as well as routers including both DD-WRT and Tomato. For VPN protection on smart devices, like fridges, that cannot run VPN software, a router preconfigured with TorGuard software can be purchased to protect all devices connected through the router's network.
In addition to such advanced features, TorGuard offers more features as add-ons to appeal to Torrent users, gamers, streamers, and experienced VPN users. Add-on services include dedicated IP addresses for streaming in several countries for $7.99 per month, DDoS protected IP in Canada and France for $11.99 per month and anonymous Proxy service for $5.95 per month.
TorGuard further offers four Business VPN plans starting at $69 per month for 10 user packages, 10 email accounts and 3 dedicated IPs. The "Small" pack (15 user packages and 5 dedicated IPs) comes for $110 per month and the "Medium" pack (20 user packages and 10 dedicated IPs) costs $169 per month. Large businesses can custom order a plan under the "Enterprise" pack.
Get 60% Off TorGuard Streaming Bundle
9
TorGuard DNS Leak Protection
The built-in DNS and IPv6 leak protection offered by TorGuard is second to none and prevents unwanted data leaks or IP address leaks that can compromise privacy and security. I checked some TorGuard servers for DNS, IPv6 and WebRTC leaks but could not detect any leaks, not even minor ones. The STunnel obfuscation feature hides the fact that a user is connected to a VPN server and allows the user to bypass strict censorships in countries like China and the UAE.
A kill switch is a must-have feature for any respectable VPN service and TorGuard provides users with a flexible kill switch that offers greater control over the termination process. Essential in preserving your privacy and browsing details a kill switch disconnects the user from the internet in case the VPN connection drops without warning.
TorGuard not only has an automatic kill switch but also lets users choose particular programs to terminate in case the VPN connection is compromised. As a result, you can set the kill switch to terminate the internet connection to specific apps like a web browser or a torrent client instead of disconnecting every app connected to the VPN. Not many VPN providers can boast of such a versatile kill switch.
11
TorGuard: Servers' Speed Tests
I tested the speed of several TorGuard servers using speedtest.net and I was surprised by the fact that a VPN company as young as TorGuard could provide the speeds it did on most of its 3000 servers. The download and upload speeds of my internet connection without connecting to any VPN were 47.53 Mbps and 11.01 Mbps respectively. Ping time was just 12 ms.

On clicking "connect" on TorGuard's VPN app I was automatically connected to a server in London, UK and the download speed dropped to 41.35 Mbps while the upload speed jumped to 12.77 Mbps. Ping time increased to 124 ms. The 13% drop in download speed was negligible and it did not affect my online activities, from torrenting to streaming, in any way.


Next, I changed servers to Amsterdam, Netherlands as I always seem to get good speeds on the Amsterdam servers of any VPN I review. As always, Amsterdam did not disappoint with an impressive download speed of 40.79 Mbps and a ping time of just 43 ms. The upload speed skyrocketed by 70% to 18.74 Mbps. Thanks to the high upload speeds and low ping times of servers in Europe, torrenting is a dream with TorGuard.


The server in New York, USA gave me 36.01 Mbps download speed and 12.84 Mbps upload speed with a ping time of 264 ms. While the ping time increasedsignificantly, the download and upload speeds were still good enough for lag-free video streaming.


As expected, remote servers were much slower than the nearer ones. General browsing and watching YouTube videos were smooth on the distant servers even though speeds dropped considerably. One server in Honk Kong, Asia gave me a download speed of 14.85 Mbps and just 2.93 Mbps upload speed. Ping time dramatically increased to 315 ms.


Despite a considerable drop in speed on distant servers, the ones near me were reasonable fast if not as fast as
NordVPN's servers
.
12
What About The Great Firewall of China?
TorGuard is a great choice of VPN in China as its apps have several native security features that allow users to elude the Great Firewall of China. TorGuard's STunnel feature is essentially a stealth VPN that is configured to bypass Deep Packet Inspections. Coupled with OpenConnect protocol, Stunnel can pass off the user's VPN encrypted traffic as regular SSL traffic to bypass VPN bans.
TorGuard is more committed to providing cross-platform support rather than stylish VPN apps and nowhere is it more evident than TorGuard's security features dedicated to torrenting. TorGuard not only supports P2P file-sharing but also is also compatible with leading Torrent clients. Stealth VPN, SOCKS5 proxy, unlimited bandwidth, port forwarding and fast servers optimized for P2P file-sharing make TorGuard the ideal VPN for torrenting. Using both SOCKS5 and VPN together can be tricky as it tends to slow down the connection speed and cause minor issues. In such cases use TCP protocol to connect to the VPN to resolve speed or other issues.
14
TorGuard and Netflix Support
Netflix support is a little more complicated with TorGuard servers not being able to unblock Netflix in any country at all. However a dedicated IP can be added on for $7.99 only. A list of dedicated IPs in various countries is shown on the checkout page and you can choose a dedicated IP in the country you wish to unblock Netflix. There is also a dedicated IP in the UK for live streaming sports like the Premier League. The dedicated IPs not only unblock Netflix but also Hulu, BBC iPlayer and Amazon Prime Video.
15
TorGuard Comparison With Competitors
The Windows client installed within a minute or two but the app was not as easy to navigate as I would have preferred. Despite a minimal look and feel, TorGuard's UI, in my opinion, is not as smoothly designed as IPVanish or Private Internet Access and feels outdated. The numerous security features offered by TorGuard are beneficial but the layout of the VPN app can overwhelm new users as well as some seasoned users. A cleaner interface with clever planning could have worked wonders for the TorGuard VPN apps.
TorGuard offers more than 3000 servers across at least 50 countries. Only a few VPN providers like CyberGhost and NordVPN offer more servers than TorGuard, 7100+ and 5000+ respectively. Only Private Internet Access VPN offers an incredible  13658 servers. ExpressVPN servers are spread over 90 countries while PIA VPN is spread over 74 countries already. TorGuard's 3000+ servers are fairly distributed across Europe, the Americas, Asia Pacific, and the Middle East. There are two servers in Israel and one each in UAE and India.
Users can connect up to 8 devices simultaneously with one TorGuard subscription which is much more than the average 5 devices that most VPN providers offer. PureVPN and ExpressVPN both offer simultaneous connection of up to 5 devices while CyberGhost allows up to 7 connections. Private Internet Access allows 10 multi-logins and SurfShark offers unlimited connections but SurfShark's monthly subscription is more than TorGuard's.
16
TorGuard: Customer Support
TorGuard's customer support has earned high praise from both expert reviewers and general users on social media or VPN forums. I have not come across any negative comment on TorGuard's support service as of yet but I am not too pleased with the support options provided by TorGuard. However, users who have sought support via email claimed they were pleased with the quick and meaningful response provided by the support agent.
Let me be clear, that I have no qualms whatsoever with TorGuard's support page and I found it well designed and detailed.
The support page consists of a comprehensive knowledge base, precise installation and usage guides for all platforms, and commonly asked questions. The detailed and simply written guides are enough for beginners to follow as were the numerous helpful articles found on TorGuard's support page.
The only issue I have with TorGuard's customer service is the absence of live chat support, 24/7 technical support is available for existing clients. Support via email is not as prompt as that via live chat and I found TorGuard's ticketing system quite cumbersome. However, as TorGuard's support page contains several articles that cover almost every nook and corner of a VPN, I did not need to access TorGuard's email or phone support. Nonetheless, live chat support would have been most welcome.
If you want to find out how a particular company or product is faring in the current market then Google Trends is the ideal place to start. The analytical website by Google provides an idea of the current demand for top search terms in a particular region by plotting a graph of interest in the search term over time.
On searching with the keyword "TorGuard VPN" I found out interest in the search term in the USA over the past 12 months has been steady.The interest peaked at the end of 2019 to decline mid-January and rise again in February. It dropped again at the beginning of March but the graph shows interest is currently rising. This recent rise in interest can be attributed to the global lockdown due to the coronavirus pandemic that has restricted countless people in their homes.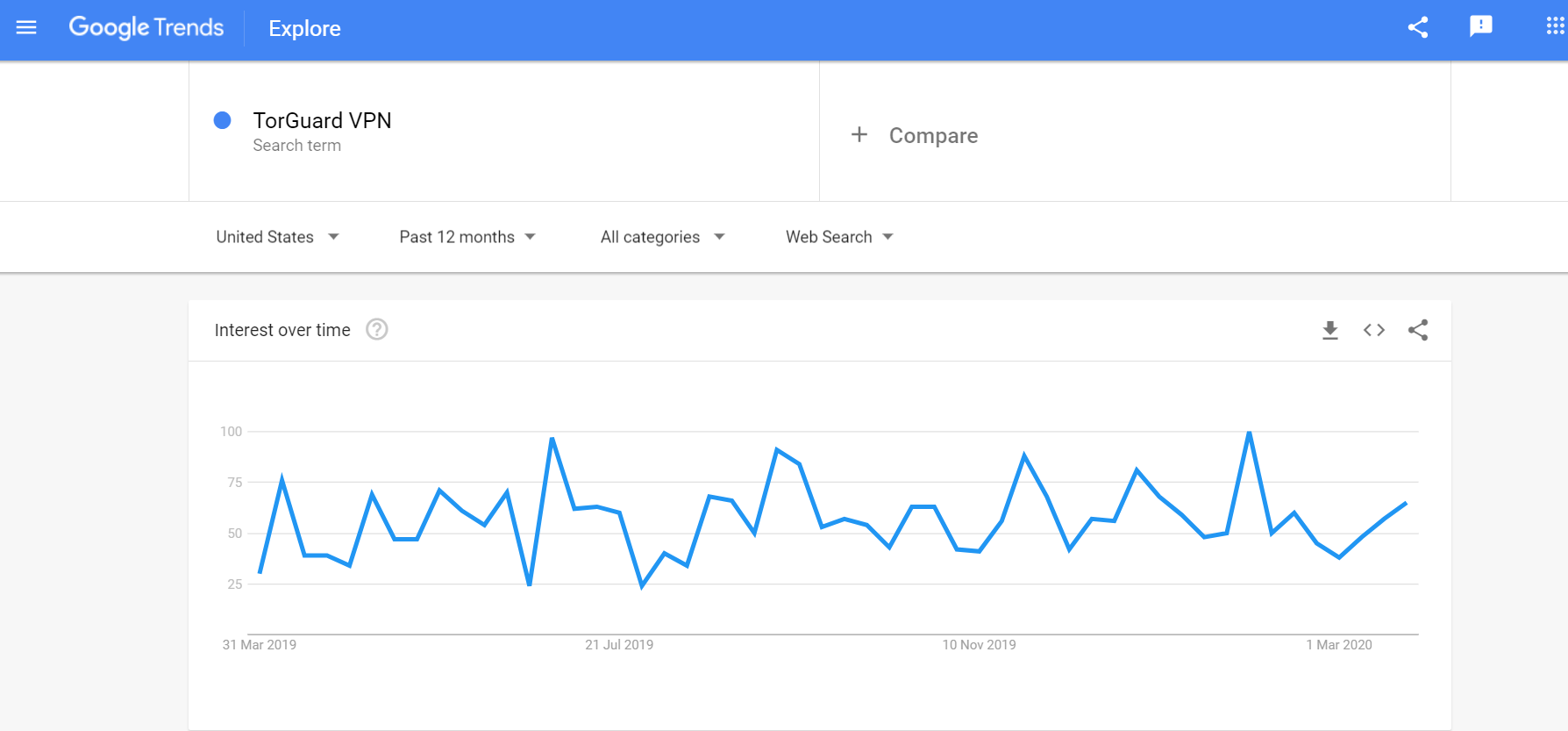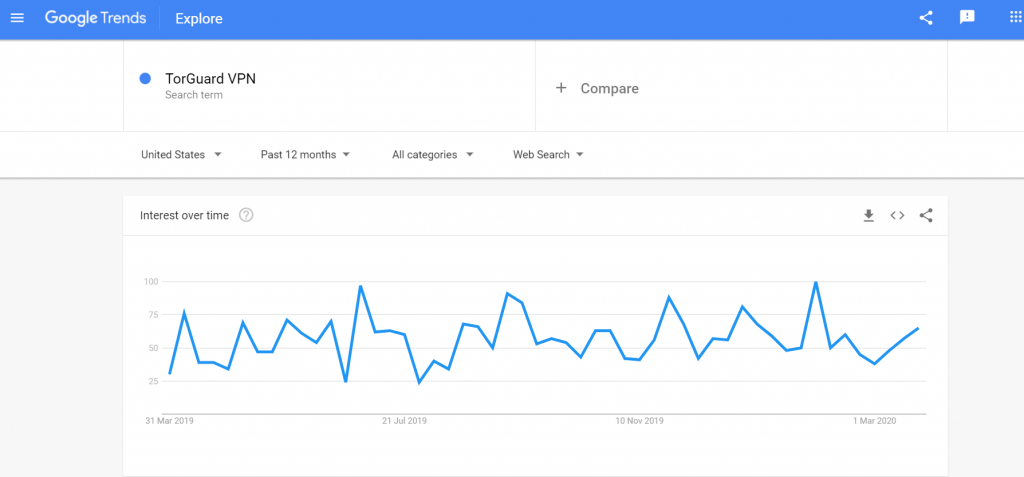 Interest in "TorGuard VPN review" was highest in March 2019 but since then the graph has been quite inconsistent leading upto March 2020 when it peaked again only to fall flat in just a few days.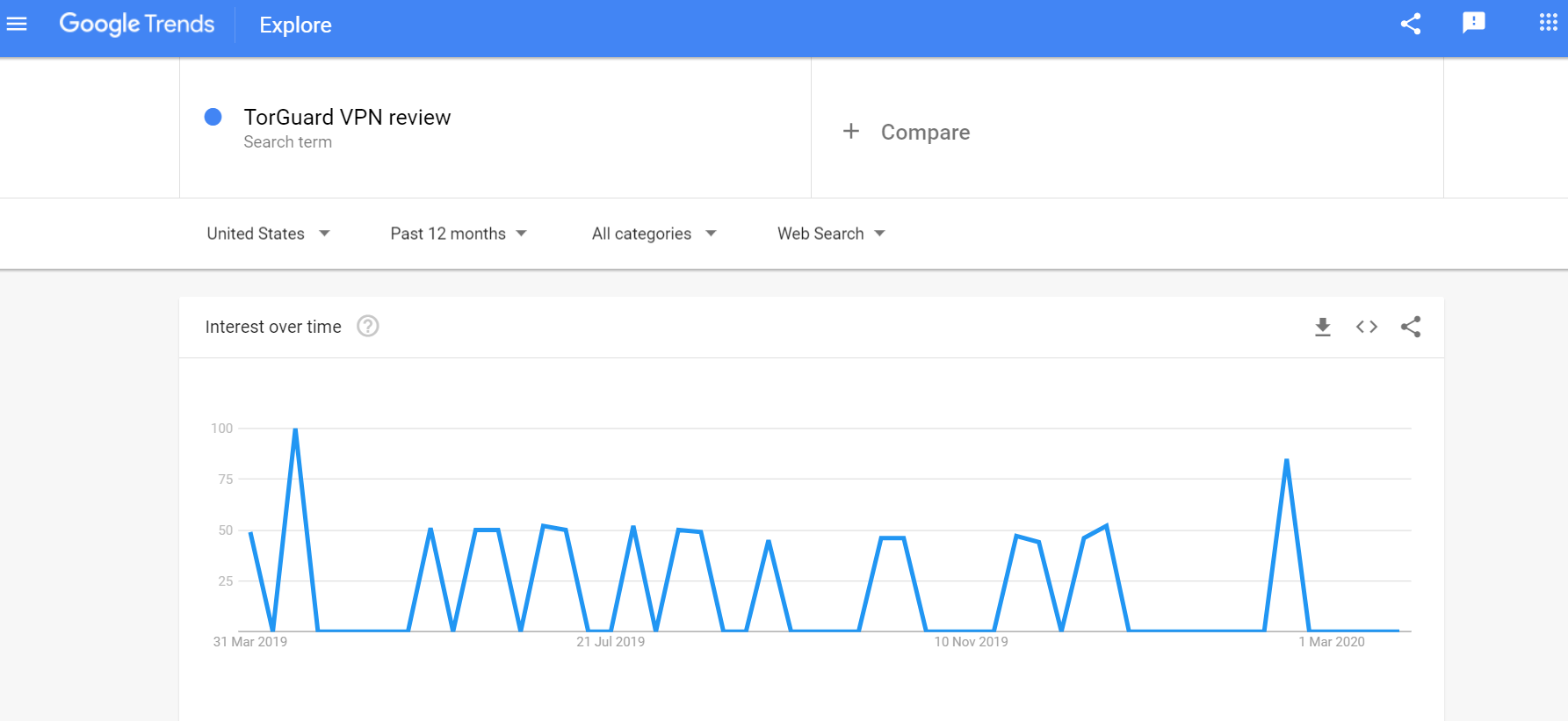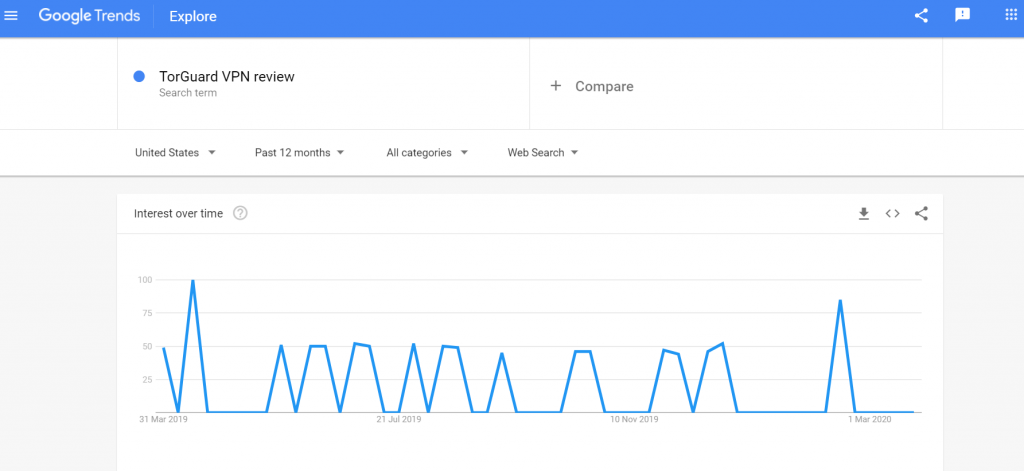 To compare interest in competing VPN services I entered "CyberGhost VPN" and "PrivateVPN" as the second search terms alongside "TorGuard VPN". Interest in CyberGhost VPN saw recent slumps but is on its way up even as I type. Compared to CyberGhost VPN, average interest in TorGuard VPN was much less but TorGuard's graph was more consistent than that of CyberGhost VPN signifying a constant interest.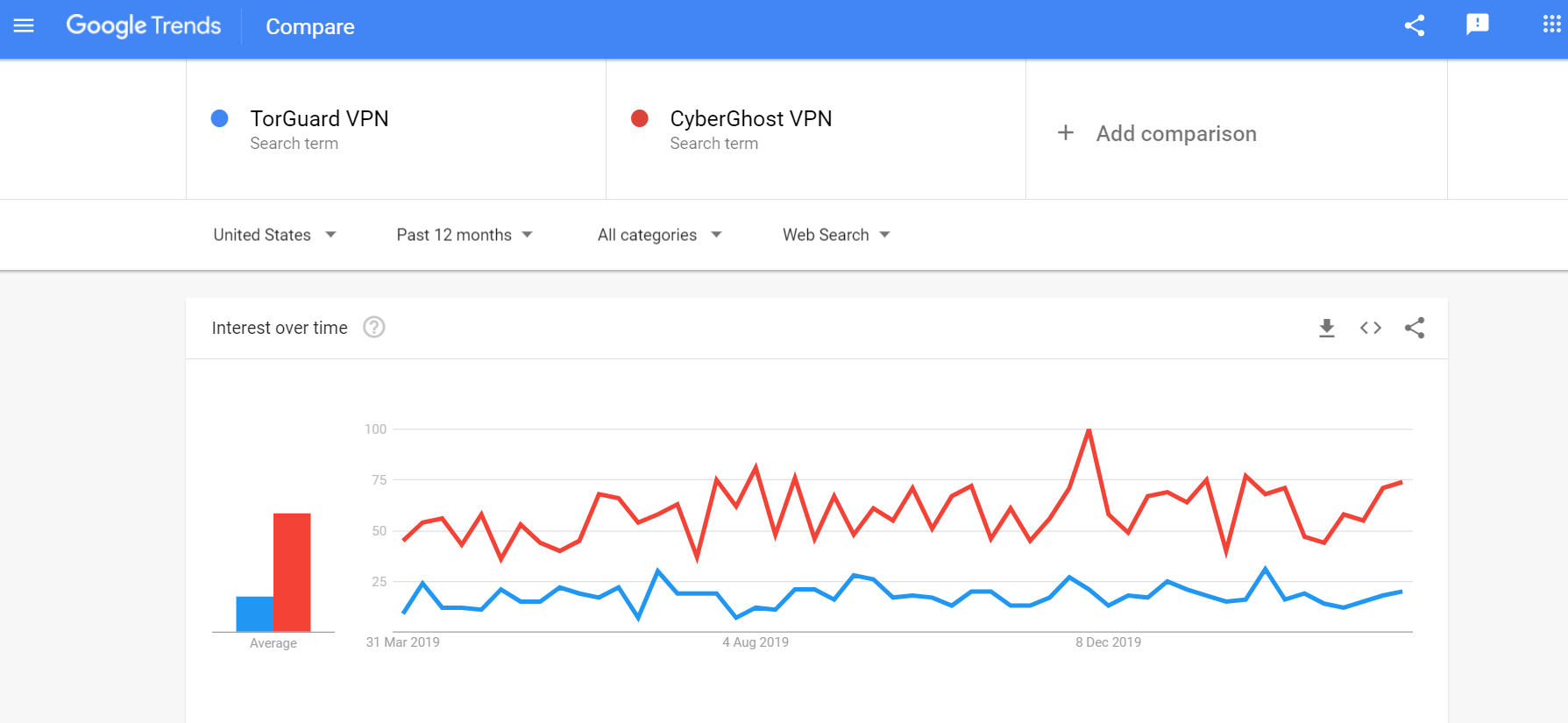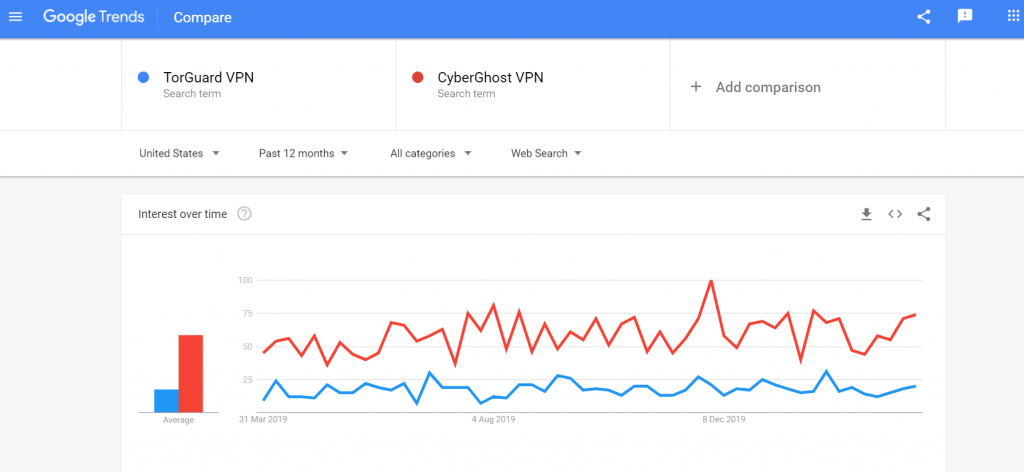 Competition between "TorGuard VPN" and "PrivateVPN" was neck and neck with TorGuard edging past PrivateVPN by just a fingernail. Recent interest in TorGuard is more than that in PrivateVPN but interest in the later is projected to sharply rise in the coming days possibly due to the recent upsurge in internet traffic as a consequence of the coronavirus lockdown.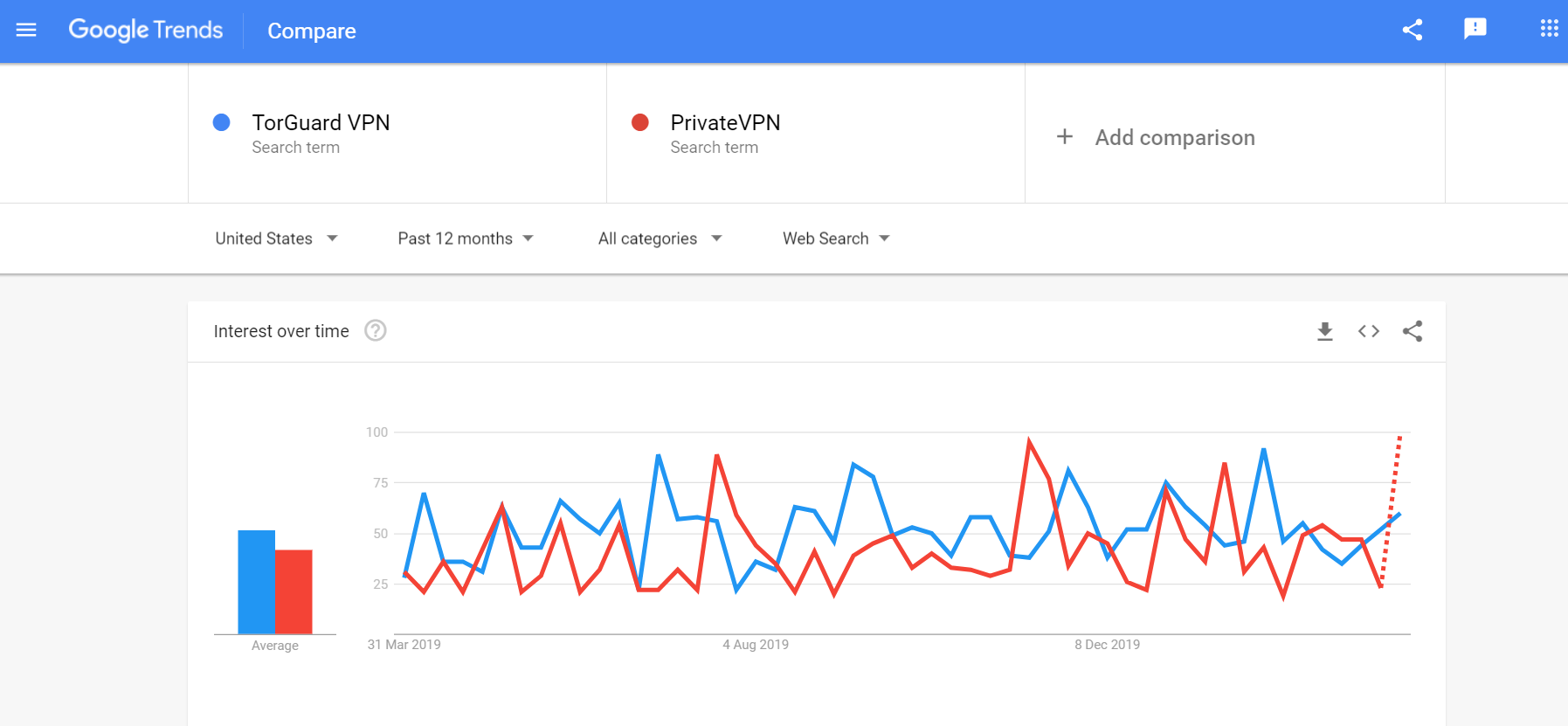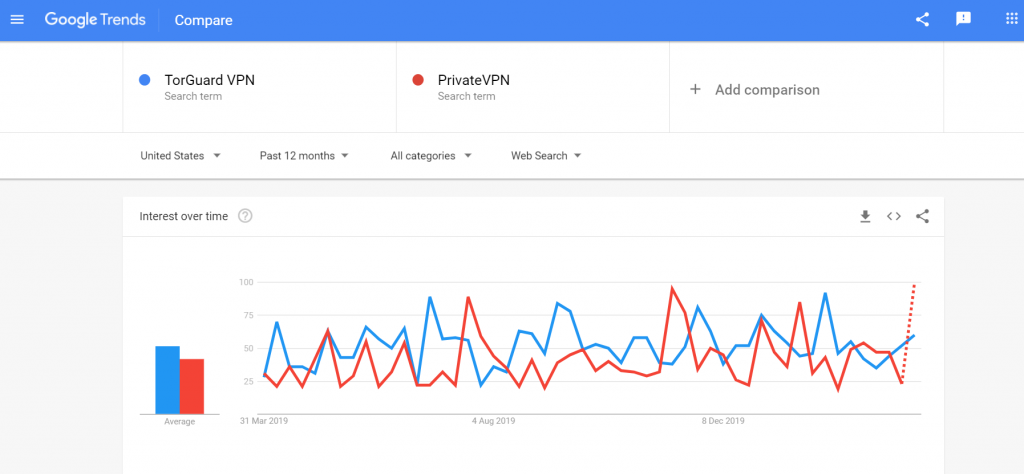 18
TorGuard: General Public Attitude
The general public reaction to any VPN service reveals a great deal regarding the efficiency of the VPN service and its real-world functionality. User reactions on social media sites like Facebook, Twitter and Reddit as well as on e-commerce sites like Amazon give us a fair idea of a VPN app's effectiveness in real-time.
Social media users gave a hung verdict in the case of TorGuard with some users praising the service for its service and reliability while others blamed it criticized it for not being streaming friendly. Facebook users were most satisfied with the security features offered by TorGuard but opined that the price plans were impractical and needed clever structuring.
On Reddit I came acrossa lot of debates on TorGuard. Many VPN experts were happy with the advanced features provided by TorGuard but agreed with amateur users that the UI could have been better designed. The reviews on Amazon were mostly positive with users claiming that TorGuard offers fantastic security and speed at affordable prices.
Users unanimously agreed that TorGuard's advanced features and customer support service were its strong suite while its VPN apps and cluttered UI left much to be desired.
19
TorGuard: Users' Feedback
User reviews on consumer review websites such as Trustpilot and SiteJabber provide unadulterated insights into the flaws and strengths of a particular VPN service. Such honest reviews from users who have used the VPN service reveal the advantages and disadvantages of that VPN making it easier for new users to decide whether to buy it or not.
TorGuard's TrustScore on Trustpilot was an impressive 4.5/5. Out of the 169 users who have used and reviewed TorGuard on Trustpilot, more than 80% rated it as excellent based on its reliable service, prompt customer support, and value for money. The exceptional customer service dominated most of the reviews as numerous users bore testimony to TorGuard's "friendly and knowledgeable" customer support.
Unlike the large number of reviews Trustpilot, there were only a couple of them on SiteJabber. While one review profusely praised TorGuard's security features and fantastic support, the other one lambasted the same app for its default security configurations and unhelpful support.
TorGuard seems to have polarised users as the majority of user reviews were a mixed bag of both praise and criticism. The division in opinions was probably the only consistent aspect of TorGuard user reviews.
I checked several news sites to find out more information regarding TorGuard and its parent company VPNetwork LLC. There was some interesting news about TorGuard and I am sharing a few of the relevant ones here.
In March 2019, TorGuard wiped clean all their servers in Saint Petersburg and Moscow as well as removed all physical servers in Russia after receiving an official request from Russia's Federal Service for Supervision in Sphere of Communications Information Technology and Mass Media requesting cooperation with Russian authorities in blocking of websites on demand for Russian users. TorGuard did not disclose any information to Russian authorities and claimed its decision to be voluntary. Read the full report on TorGuard Blog.
In 2019, VPN.com selected TorGuard as the number 1 VPN service for file-sharing and torrenting after reviewing more than 900 different VPN services. If you want to learn more about the history of file-sharing and why TorGuard is the best choice for torrenting then visit GlobeNewswire.
As recently as January 2020, TorGuard called on its users to fish for bugs in their servers, website and VPN apps through the 2020 Bug Bounty Program. The bug bounty program aims to open TorGuard up to intense scrutiny by researchers and experts to identify major flaws or vulnerabilities. Read more about it at their Blog.
TorGuard's ease of installation and robust protection makes it a suitable choice for any regular VPN user but the dated design of its UI and complicated navigation can deter amateur VPN users. Professionals and expert users will find both the security features and customization options a treat to work with. Torrent users should look no further than TorGuard but users whose primary goal is unrestricted access to streaming sites should look elsewhere.

January 2023 Deal! 70% Off TorGuard 2 Years Subscription (Anonymous VPN)
70% Off TorGuard 2 Years Subscription (Anonymous VPN)
PROS
Works on all major operating systems
Exceptional advanced features and add-ons
CONS
Dedicated TorGuard streaming IP needs to be purchased to unblock streaming sites
Add your review
|
Read reviews and comments