PureVPN Review 2023: A Fast And Reliable VPN Service

With unlimited bandwidth, fast servers, and no ISP throttling, PureVPN is one of the best VPN apps for streaming, torrenting, general browser and watching geo-restricted content on YouTube. Even though PureVPN claims to have a certified no-logs policy along with an updated privacy policy, there are still concerns regarding its transparency. Users overly keen on protecting their anonymity and private data may want to look elsewhere. Apart from that PureVPN is suitable for any general user looking to bypass internet restrictions and ISP censorship.
PROS:
Impressive security features as add on
Strong leak protection
Dedicated servers for torrenting and streamin
Attractive prices and 31-day money-back guarantee

January 2023 Deal! 91% Off PureVPN 2 Years Deal
91% Off PureVPN 2 Years (0.99 per month deal)
Live chat, 24/7 technical support, tickets, and guides
Windows, macOS, Linux, Android, iOS, Chrome, Firefox, smart TVs, routers and gaming consoles
No, 3-day paid trial. 31-day money-back guarantee
1
 PureVPN: A Guide on Installation and Usage
Once you have selected a plan and a payment method, your PureVPN account will be created with a username and password. Download the PureVPN app and install it on your device. Agree to the terms and conditions by clicking on "I Agree" and then on "Install". It hardly takes a couple of minutes to install and then you can log in with your username and password.
I am using the Windows app and so the above steps are applicable for Windows devices. The installation process, until login, is different for different platforms and users should refer to the comprehensive setup guides provided on PureVPN's support page. To log in, enter the number part of your username, select your desired subscription, and password.
Once you have logged in, you have to select your preferred mode from internet freedom, stream, security/privacy, file-sharing, and dedicated IP. A list of countries will be shown to you with the option of marking favorites. Double click on any country to connect to a PureVPN server. Click on "change mode" on the left panel to switch modes. To change locations simply click the drop-down arrow on the locations search bar or type in your desired location. Security protocols can be changed from settings.
Beginners will find the PureVPN app easy to use since servers are arranged into several modes according to the purpose of use. Therefore, new users can easily find the right servers for specific tasks by selecting the ideal mode of connection. I found the settings page to be a bit cluttered and beginners may find it overwhelming at first. However, PureVPN's extensive support page is very useful at such times. Professionals, on the other hand, will find PureVPN's numerous security features and its detailed settings page quite the treat.
4
PureVPN: Different Modes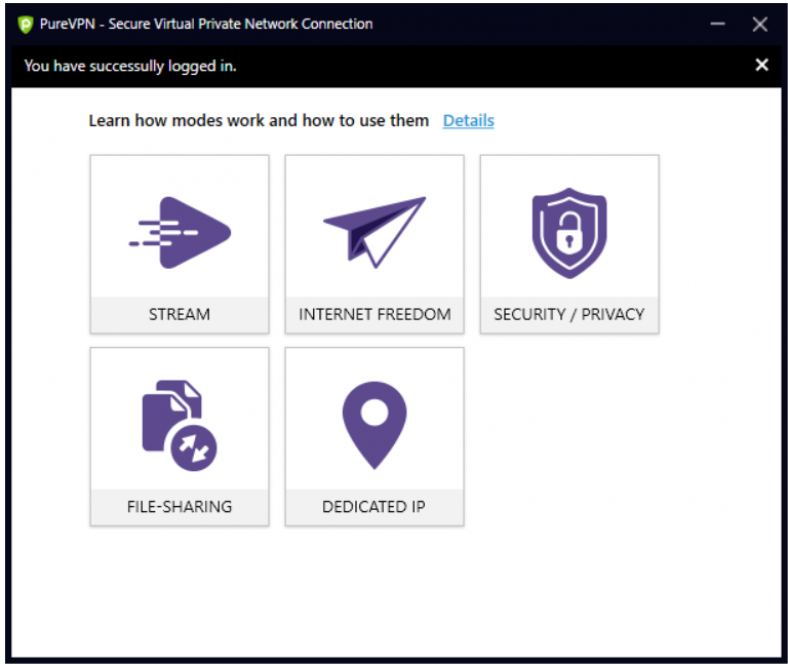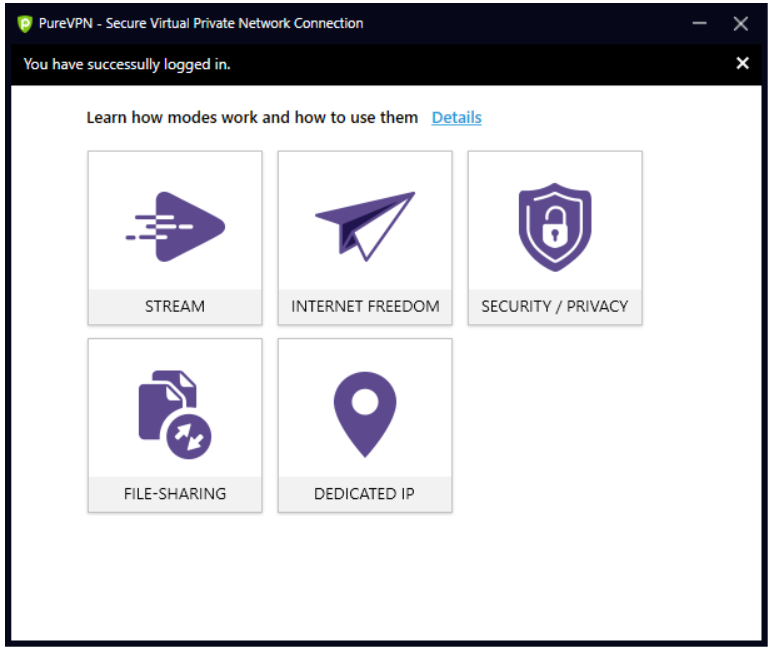 The various modes are optimized for various activities. Stream mode should be used to stream Netflix, BBC iPlayer server, Hulu or YouTube. For general unrestricted browsing, internet freedom mode is ideal. The file-sharing mode is perfect for torrenting and online gaming. For online shopping or banking and users whose primary requirement is privacy, there is the security/privacy mode. Dedicated IP is useful for businesses and professionals working in groups.
Get 80% Off PureVPN 2 Years Deal
5
PureVPN No-log Policy (Certified)
PureVPN is based in Honk Kong and hence is not a part of the 5/9/14 Eyes Alliance. It has a certified no-logs policy and claims to be strictly against recording traffic or connection logs. Since PureVPN has been in the news in the past because of its disputed data policies, readers should go through PureVPN's updated privacy policy and terms of use before making a decision.
6
 PureVPN: Servers' Speed Tests
Server speed can make or break a VPN company and most VPN providers claim to provide lightning-fast servers. So does PureVPN. Thus I tested some PureVPN servers on speedtest.net to find out exactly how fast its servers were. The servers optimized for streaming and torrenting turned out to be the fastest while a few remote ones were not as fast as can be expected from a top VPN app like ExpressVPN or NordVPN.
The base download and upload speeds of my connection without a VPN connection were 53.18 Mbps and 10.26 Mbps respectively. On connecting to the PureVPN I was automatically directed to the optimal server nearest to me based on my network settings. The first server was located in Amsterdam, Netherlands and it decreased the download speed by just 11% to 47.01 Mbps but dramatically increased the upload speed to 59.63 Mbps. Ping increased from 35ms to 64ms.
Next I connected to the server in London, UK and recorded an impressive download speed of 45.93 Mbps and an upload speed of 50.34 Mbps. Pings sharply fell to only 5ms. Again the drop in download speed was hardly noticeable while the upload speed increased sharply but not as much as on the Amsterdam server.

On connecting to the New York, USA server the download speed fell by 28% to stand at 38.18 Mbps while the upload speed increased to 21.57 Mbps and pings increased to 66ms. The drop in speed while connecting to US servers may be more than while connecting to those in Europe. However the speed was still good enough for lag-free streaming and fast browsing.


There were some slow servers especially remote ones such as a few in Asia and the ones in Australia to name a few that fell well short of PureVPN's lofty claims. The server in Seoul, South Korea was one of the slowest ones that I tested with 19ms ping, a download speed of 15.16 Mbps, and an upload speed of 1.67 Mbps. While browsing and playing YouTube videos were not affected greatly such low upload speed is not ideal for torrenting.


Overall, I found that the majority of PureVPN servers were fast enough for unrestricted streaming, torrenting or browsing but it is certainly not the fastest VPN in the market. Moreover, some servers recorded below-average speed and connecting to distant servers took a while.
To prevent unwarranted leaks of protected data, PureVPN employs stringent leak protection. IP and DNS leaks are quite common and result in private data being leaked to hackers, the ISP, or third parties.WebRTC leak protection prevents the user's real IP from leaking on websites while DNS leak protection provides impenetrable security. IPV6 leak protection is also offered but it is only limited to the PureVPN Windows app as of now.
Unforeseen loss of server connection due to various reasons results in your real IP being revealed and leaves your traffic unprotected. A kill switch ensures that such untoward incidents do not happen by immediately terminating the internet connection in case the connection to the VPN server is lost. The PureVPN kill switch is under the "Advanced Options" in settings and it even provides an option to disconnect the internet even if the user manually disconnects the VPN.


PureVPN has dedicated servers for video streaming and it is a delight to stream Netflix on those servers. PureVPN's servers are optimized for high-quality fast streaming. I was able to unblock Netflix US by connecting to the US servers. A couple of PureVPN users on VPN review sites have claimed that they were able to unblock Netflix even from China. BBC iPlayer can also be accessed and considering the speeds I recorded on the UK servers, watching shows on BBC iPlayer is going to be hassle-free.
PureVPN supports P2P file-sharing and its servers are configured for fast and secure P2P file-sharing. There is also a P2P protection feature that secures P2P file transfers and users can get it as an add on while selecting a plan and payment method. Thus, torrenting on PureVPN's customized servers is not only safe but also fast.
11
PureVPN Encryption and Security Protocols
PureVPN abounds with an extensive variety of features that accomplishes a lot more than encrypting traffic and rerouting through secure servers. The company stays true to its promise of providing internet security and privacy by encrypting all of its servers via the Advanced Encryption Standard (AES). PureVPN uses the 256-bit AES algorithm to encrypt and decrypt the user's data. The 256-bit AES is the safest encryption algorithm and coupled with secure tunneling protocols it offers robust security as well as fast servers. The authentication protocols used by PureVPN to route traffic through encrypted tunnels include PPTP, L2TP/IPSec, SSTP, IKEv2, OpenVPN (UDP/TCP) and SSL.
One of the most common ways hackers access a user's private data is through "Man-in-the-middle" (MiTM) attacks. PureVPN automatically selects the best encryption and security protocol for a user based on the user's location and network settings. Secure Wi-Fi can be turned on to automatically connect to the VPN app as soon the user connects to any unsecured Wi-Fi. PureVPN masks a user's real IP and provides an anonymous IP so that the user can browse the internet privately without risking personal information.
12
PureVPN Advanced Features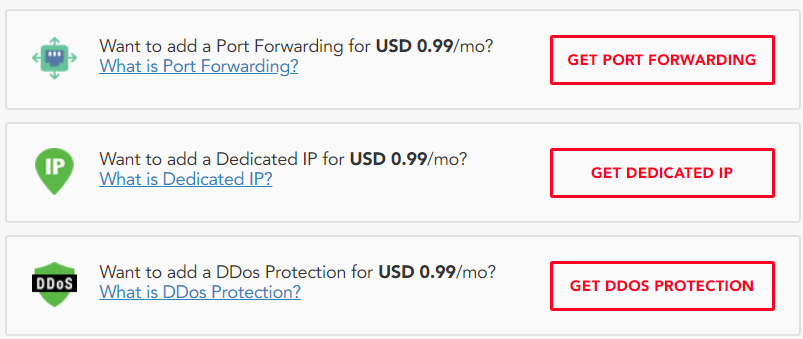 PureVPN offers three advanced security features as add on service for just $0.99 per month. Port Forwarding can be added on for an added layer of security to prevent hackers from exploiting loopholes. This unique feature lets the user open or forward any UDP/TCP Ports from any device and unlock games such as Dota 2, PUBG, and Fortnite from anywhere in the world. Port forwarding also speeds up P2P downloads and is greatly beneficial for torrenting.
For the strongest security, DDoS protection is necessary to counter the most complex DDoS attacks. The user's traffic is passed through PureVPN's optimized anti-DDoS VPN servers that can withstand the strongest DDoS attack. It activates automatically and provides a safe connection for gamers. For complete control over your IP or if you require a static IP to access certain databases, PureVPN offers secure FTP access via Dedicated IP VPN.
13
PureVPN Comparison With Competitors
PureVPN has over 6500 servers across 78 countries with dedicated servers for streaming, browsing, torrenting, and much more. CyberGhost VPN has more than 9700 servers in 91 countries so it does have as wide a reach as PureVPN. IPVanish, on the other hand, has just over 2000 servers in 75 countries. ExpressVPN offers 3000 servers across 94 countries.
With one PureVPN license, you can connect up to 10 devices. ExpressVPN allows five multi-logins, NordVPN allows a simultaneous connection to six devices. Most of the VPN services in the market offer five multi-login. The VPNs that offer connection to more than five or ten devices are costlier than PureVPN. Thus, considering PureVPN's price range, 10 multi-login and 6500+ servers are a bargain that not many reliable VPN companies can provide.


If we compare prices for a usual 1 year subscription then we will see that 49% ExpressVPN discount allows you to get the subscription for $6.67 with extra 3 months free.  Discount of 58% with NordVPN discount coupon will reduce 1 year subscription to $4.92. As for 79% Off CyberGhost coupon which adds extra 6 months free it will cost you just $2.75 a month. PureVPN offers a total of 73% off deal and the price with exclusive coupon for 1 year subscription will be $3.06.
Google Trends is a search query analysis site that compares search volumes of various keywords and represents the interest in a search query over a specified period in a particular region. In this case, I checked for interest in "PureVPN" and related search terms like "PureVPN review" as well as its competitors like "TunnelBear" to gauge how the interest in such search terms has changed over 12 months in the United States.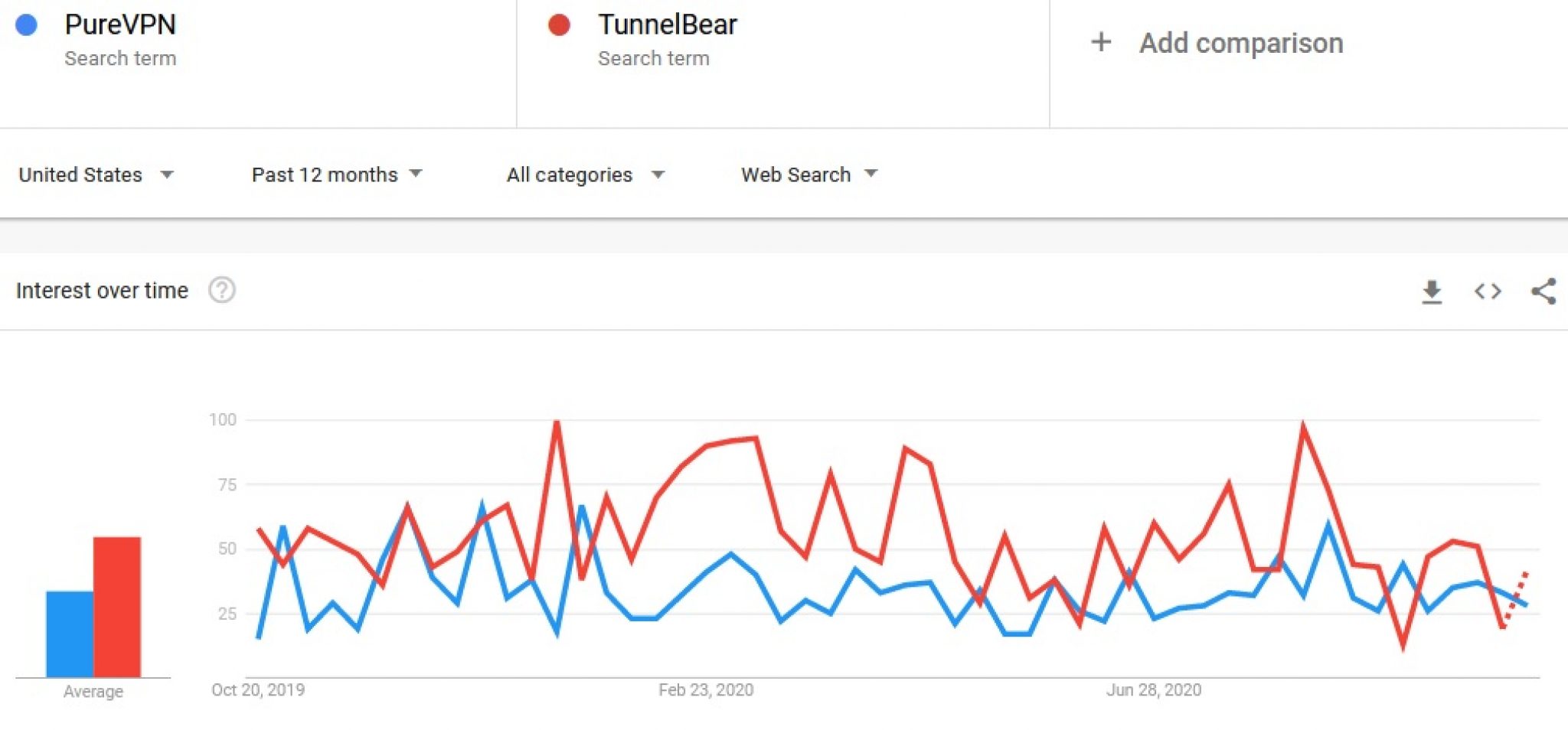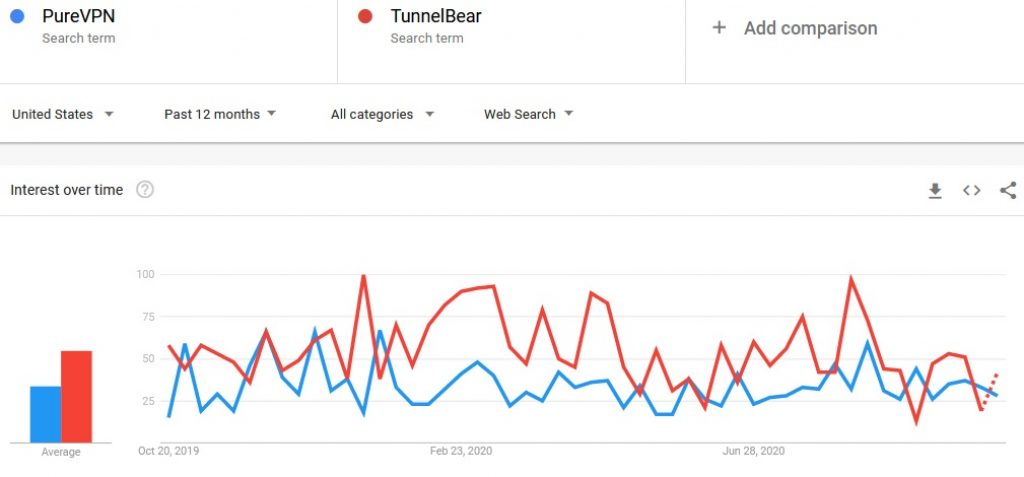 Interest in "PureVPN" was steady during the past year with interest in the product peaking twice between November 2019 and January 2020 only to fall sharply at the end of January. Interest increased again as March 2020 started and since then has been oscillating both ways. As of October 2020, interest in "PureVPN" is projected to increase.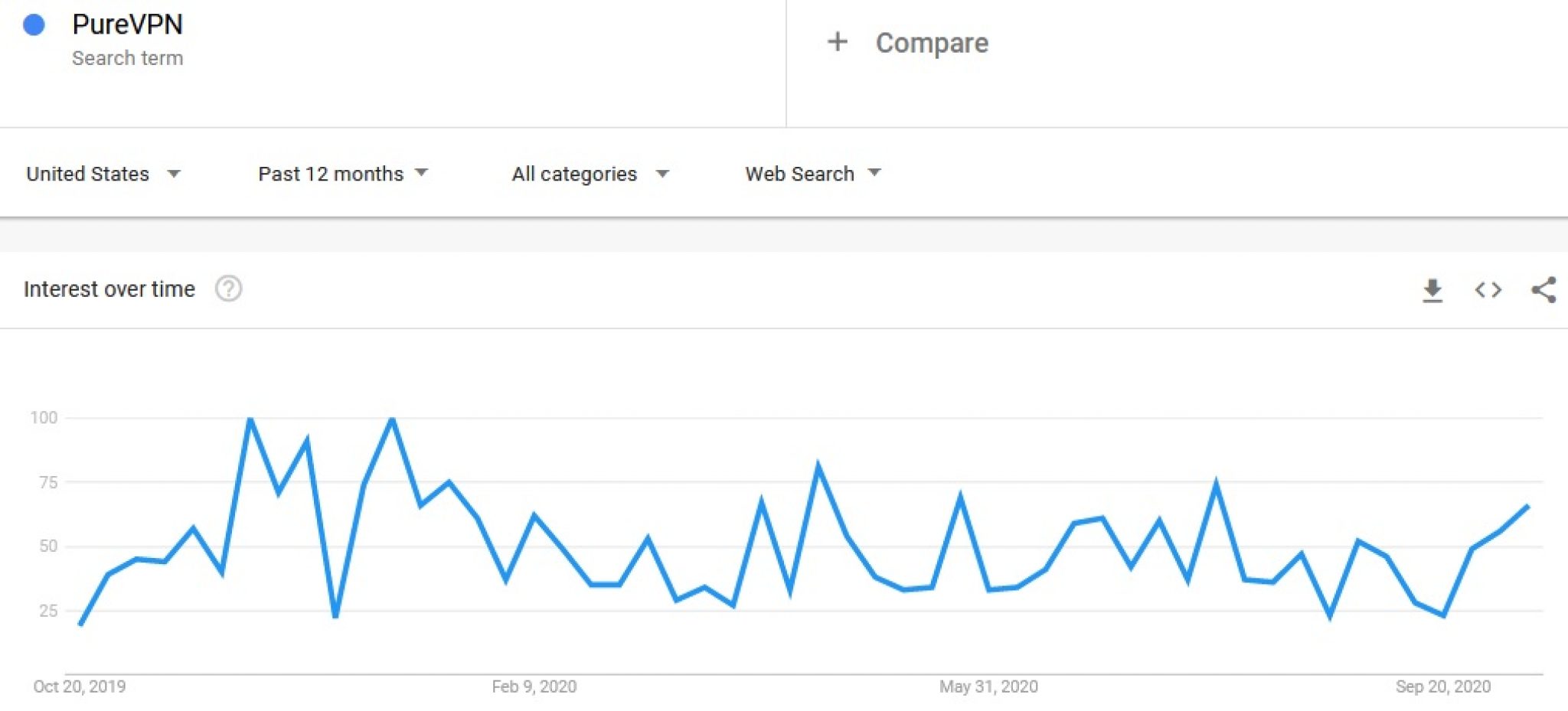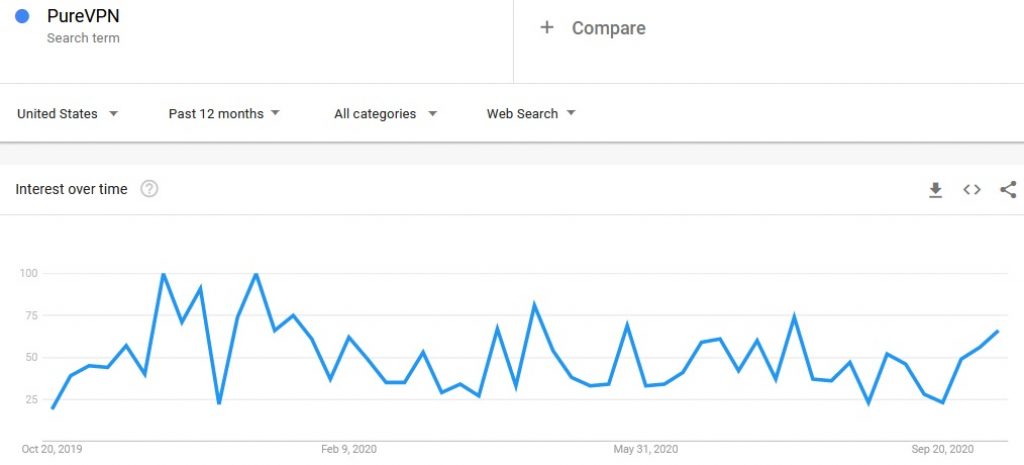 Interest in "PureVPN review" in the past 12 months has witnessed numerous sharp rises and falls at the end of 2019. Interest was high at the start of 2020 but took a tumble mid-February. It rose again at the start of March but is estimated to decline again. The glaring irregularity in interest seems to stem from the fact that we are amid a global pandemic that is not only affecting regular life but also slowing down the economy and affecting interest in consumer products.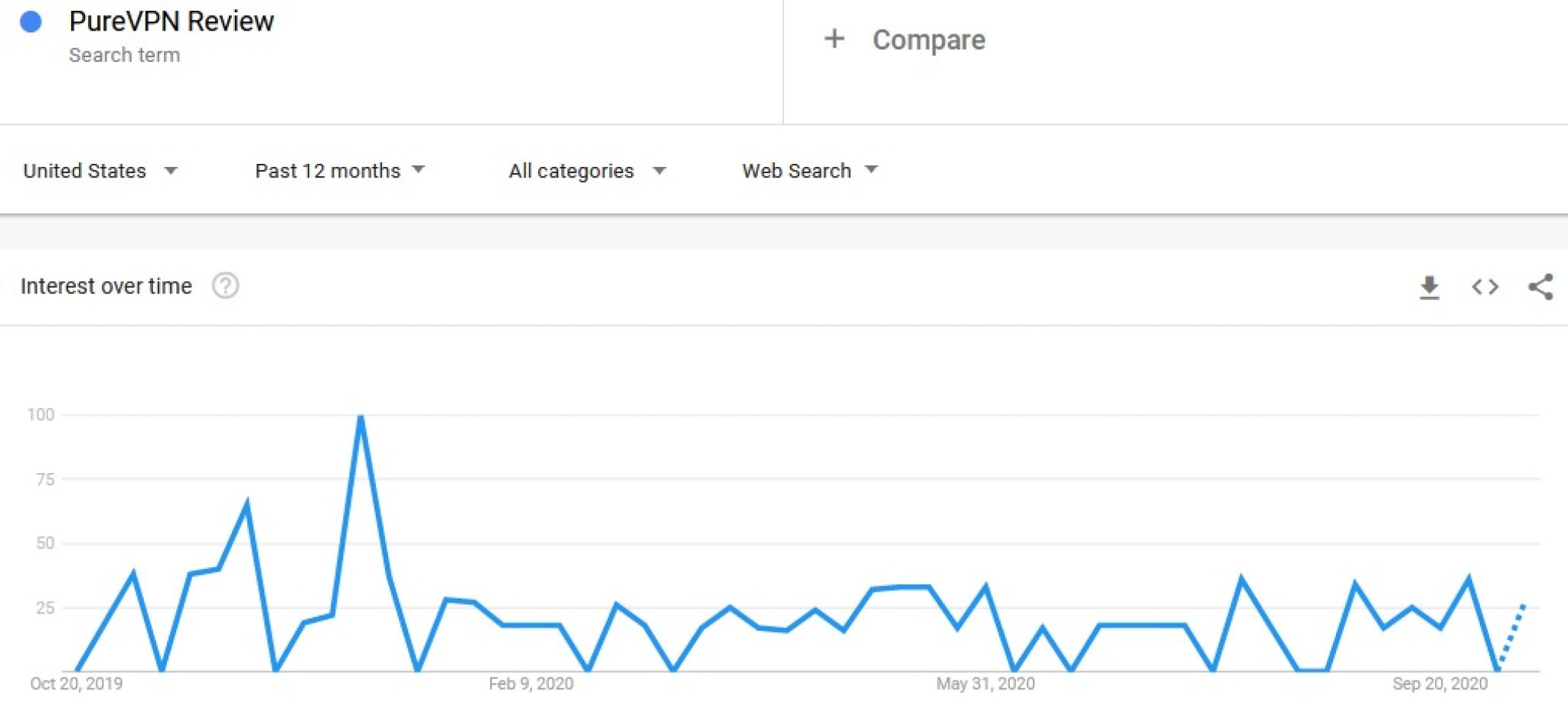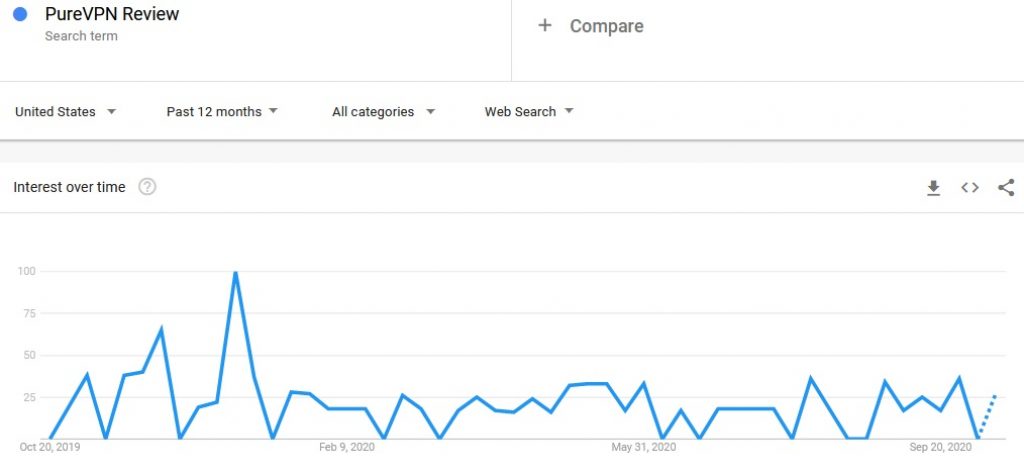 As countries around the world start to go into lockdown to combat the rapidly spreading coronavirus and more people start to work from home, it will not be long before interest in VPN services and reviews peaks again.
15
PureVPN Customer Support Experience
PureVPN boasts of 24/7/365 support and its support page is loaded with detailed guides for a variety of platforms, informative FAQs, and helpful troubleshooting. The support page itself was good enough to answer most of the doubts and questions that I had in mind regarding PureVPN.
The guides are comprehensive and well laid out. Troubleshooting is straightforward and quick. The FAQs page does not have a lot of questions but each of the few questions listed there is answered extensively and users are likely to find most of the help they need on PureVPN's support page.
However, there is also a 24/7 live chat available as well as a ticket booking system. There is even an option that lets users post ideas or suggestions to PureVPN, which I think is unique.
To talk to a support agent I had to enter my email id and specify if I am an existing user or a visitor. I was warmly greeted by a support agent named Angelo but the message seemed to be auto-generated. I asked him about the trial version whether any payment details are required for the trial version, and if PureVPN supported TOR.
The agent asked for a moment, which I was happy to provide until it seemed like an eternity for such a simple question when Angelo got back to me after 8 to 10 minutes only to deeply apologize for not being able to offer a trial version. However he informed me about the paid trial and provided a link to it. I asked a few follow up questions regarding Tor, Netflix and BBC iPlayer. I got prompt and helpful responses this time.
While PureVPN's live chat is certainly not the best I have used the support agent was polite and quite responsive. The only issue I had with the live chat is that the responses felt automated and the software may be buggy.
 Here is my correspondence with LiveChat member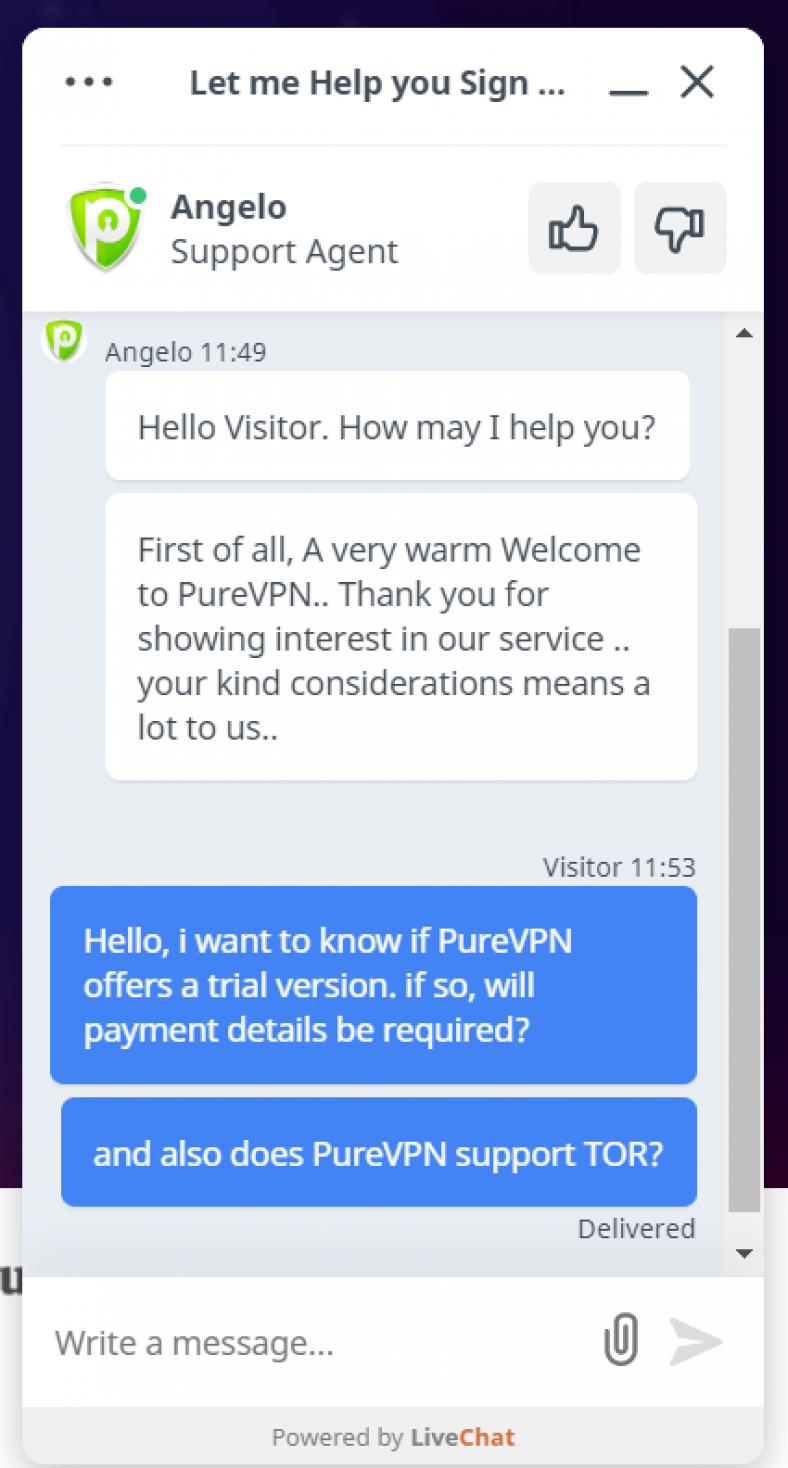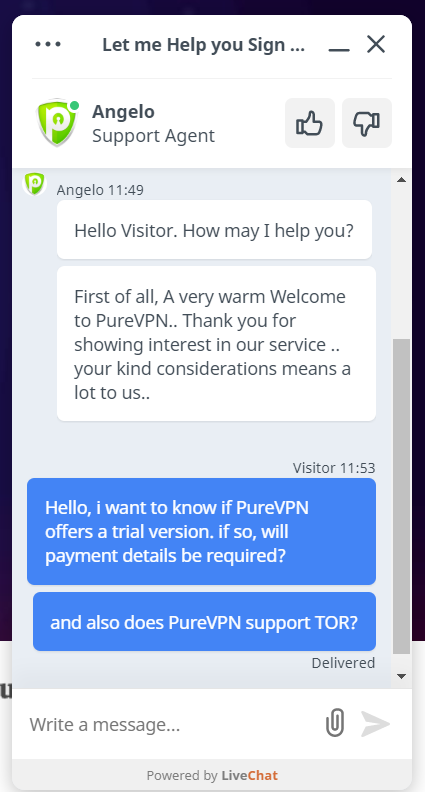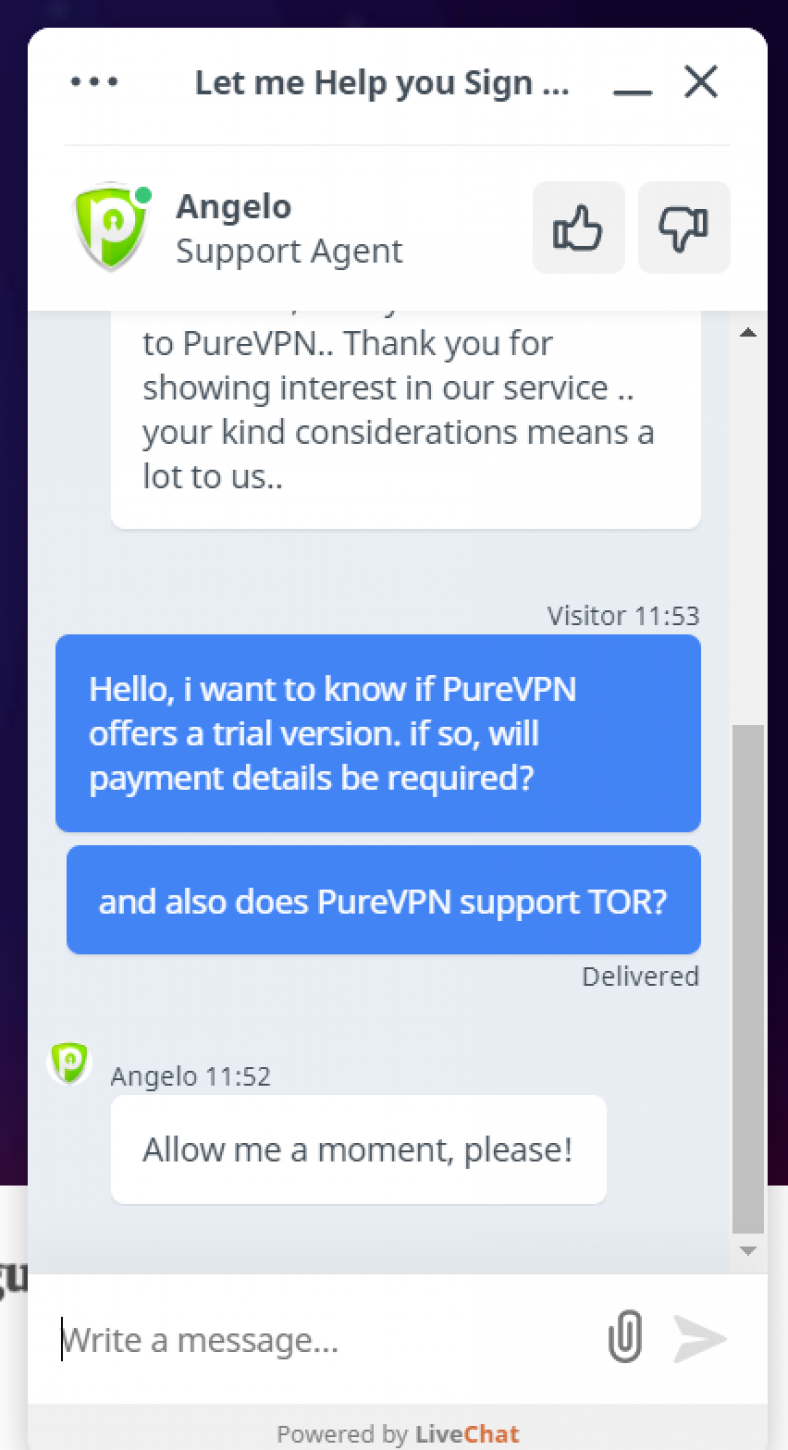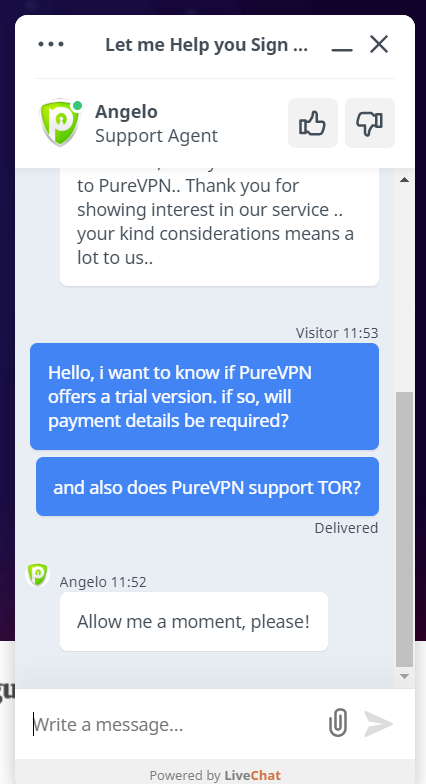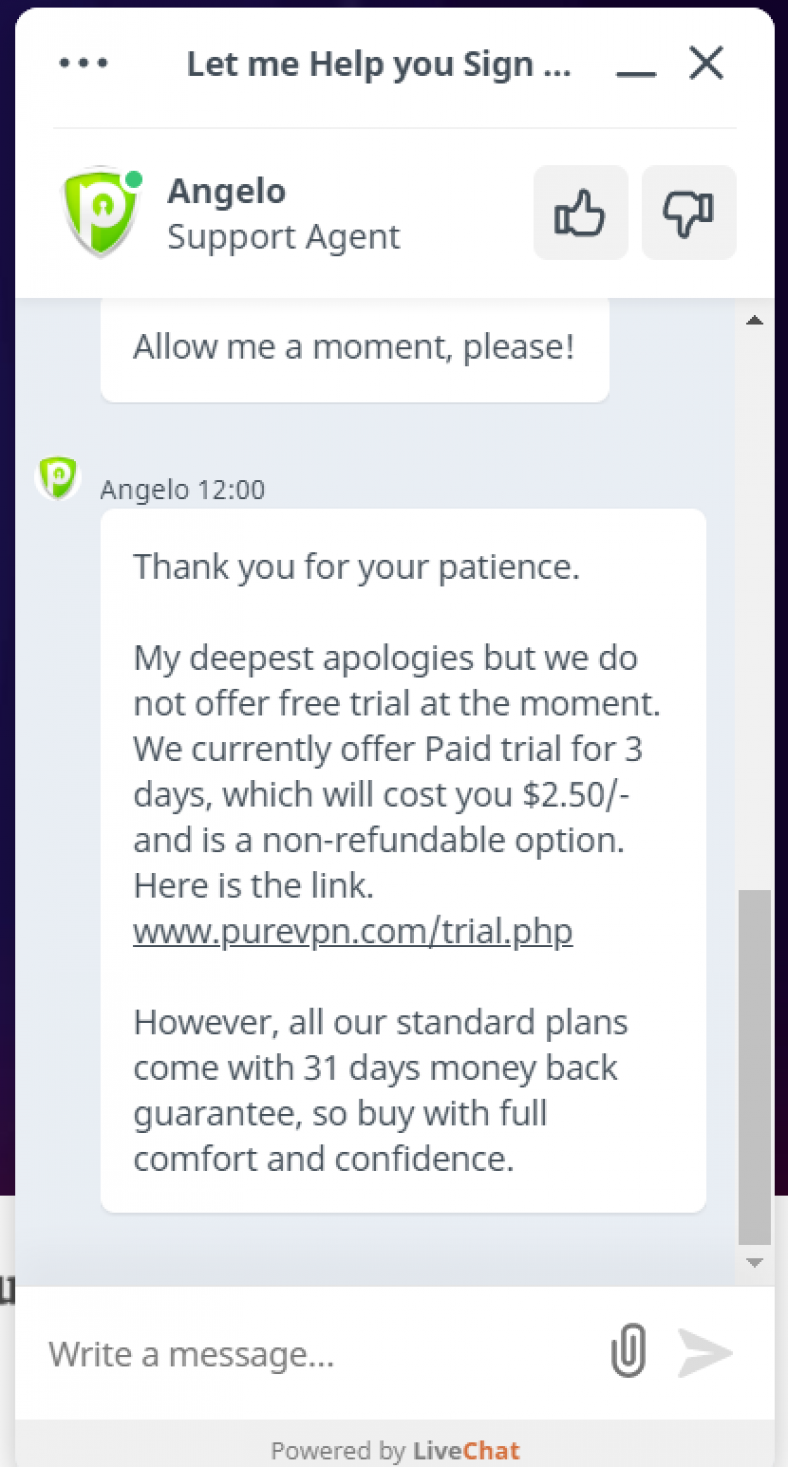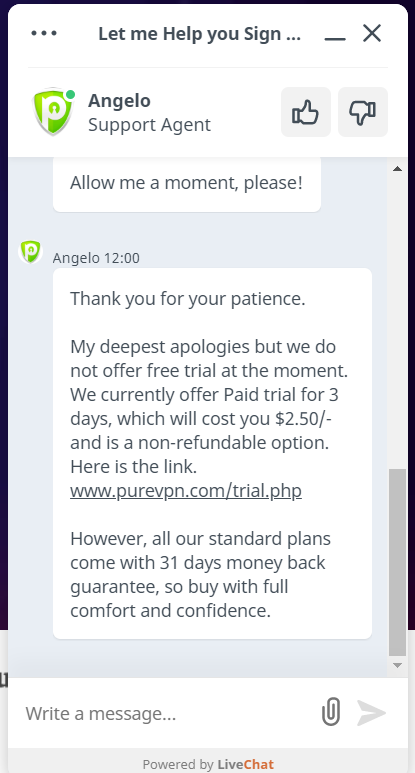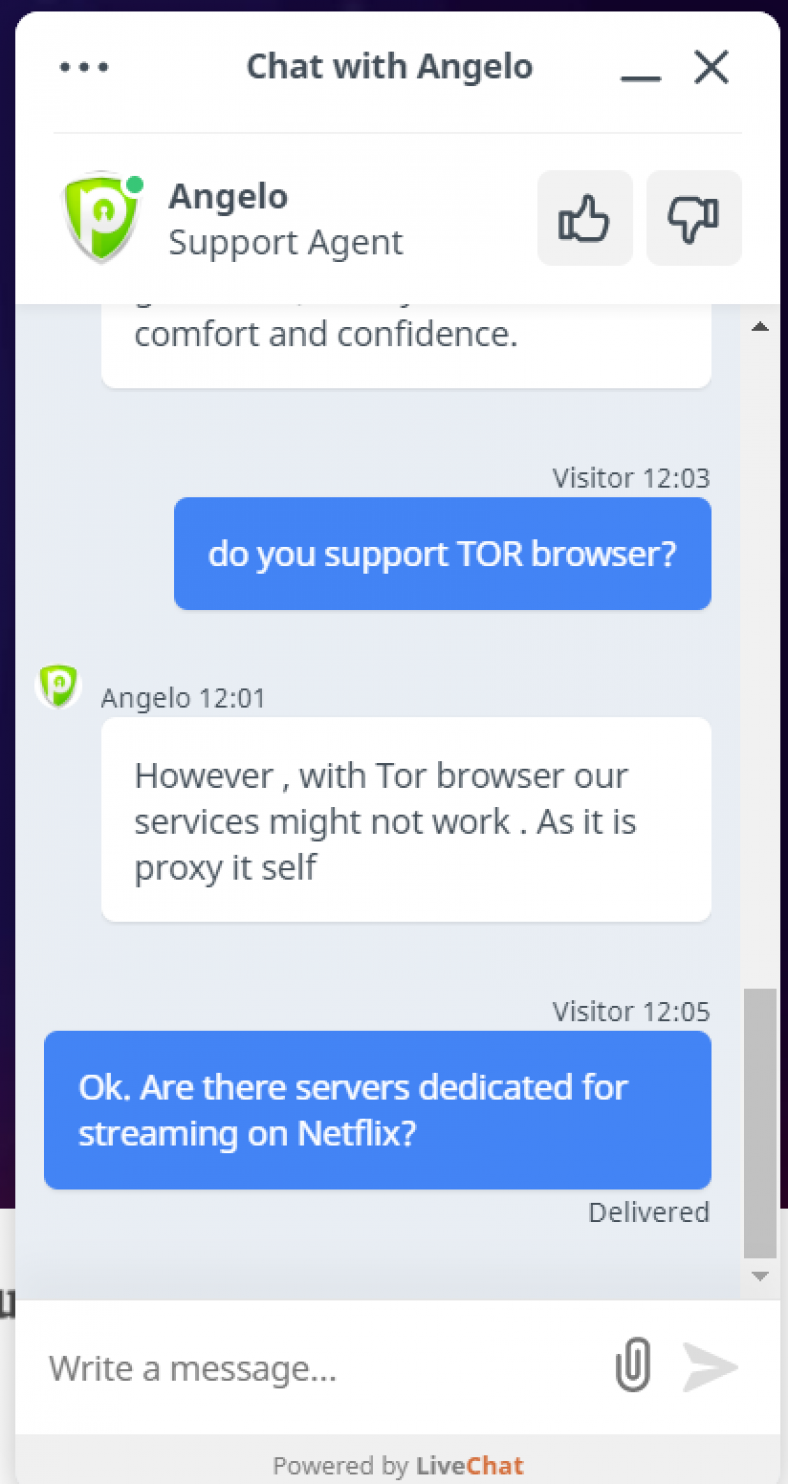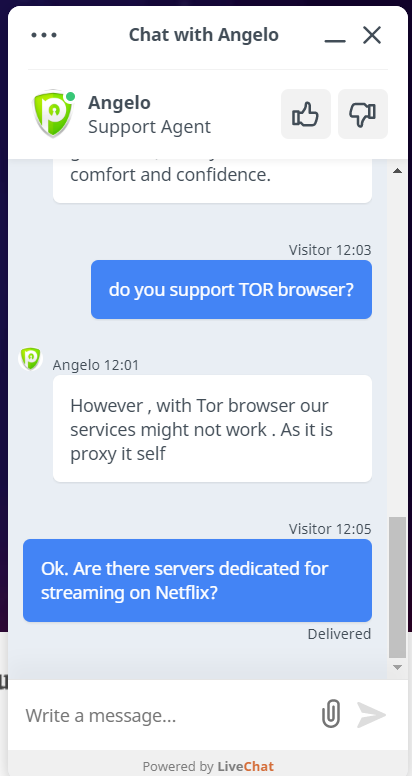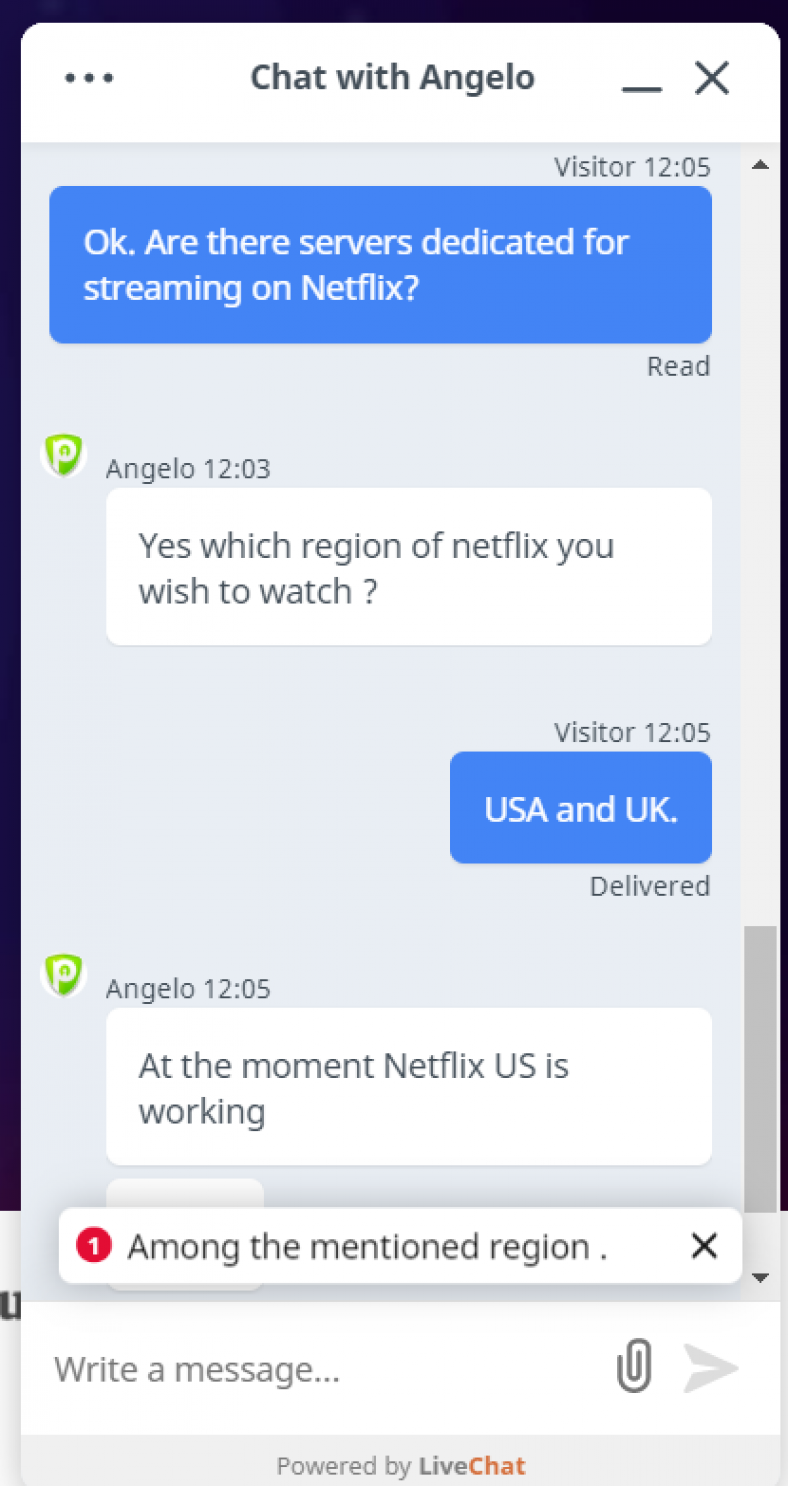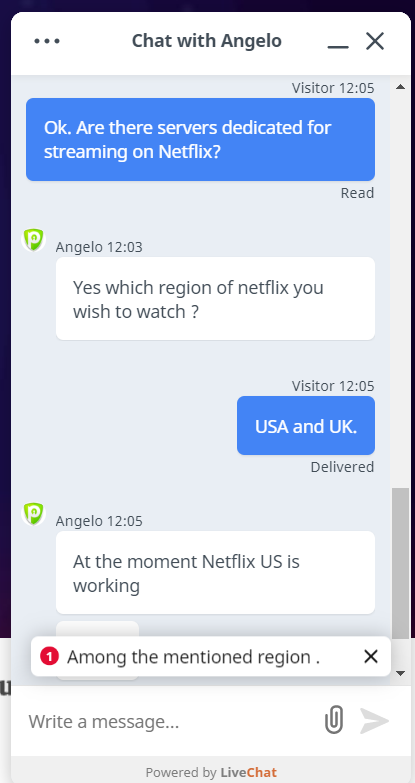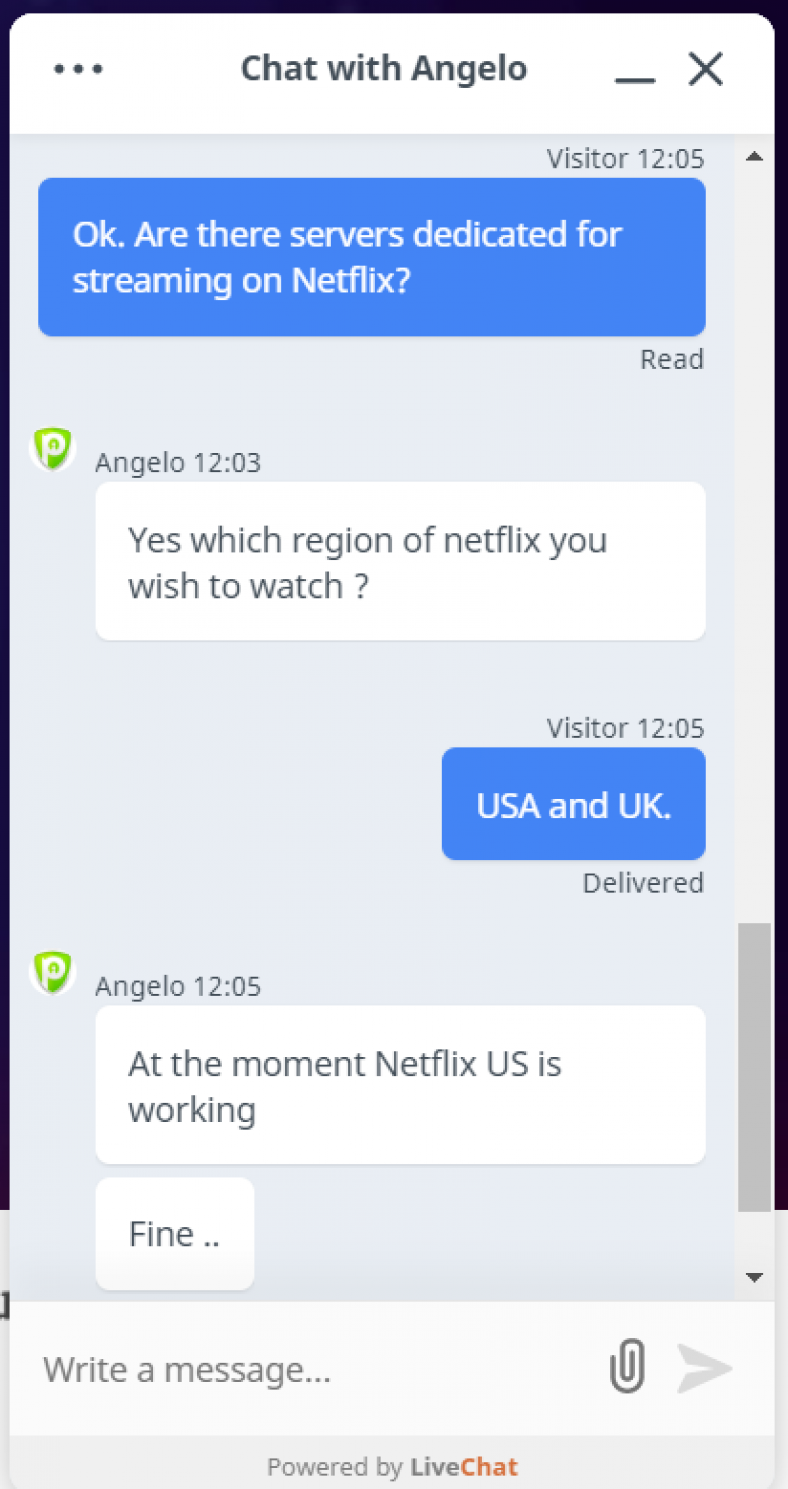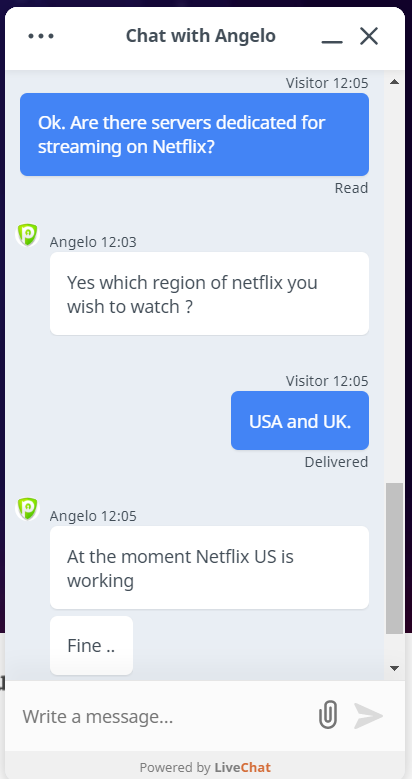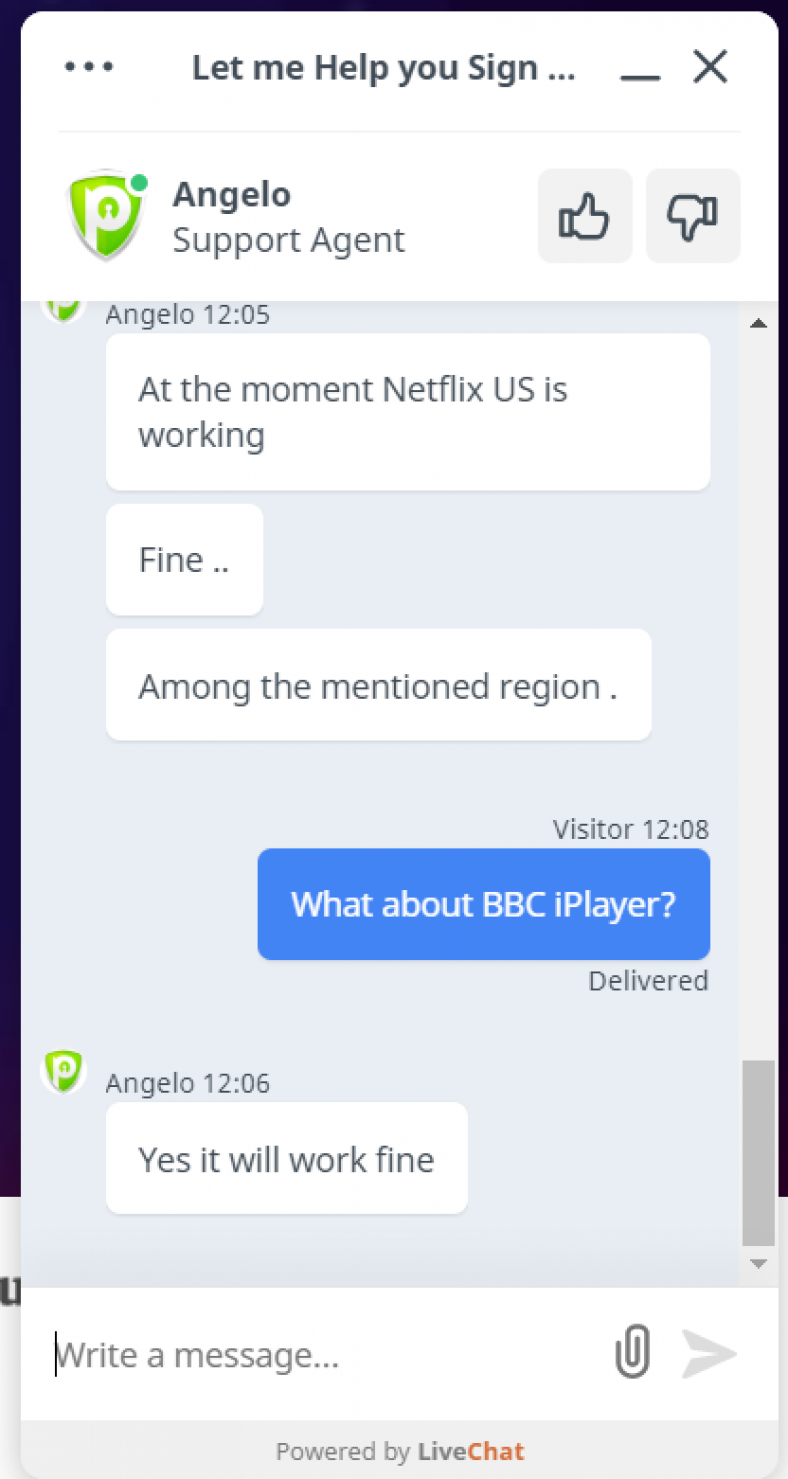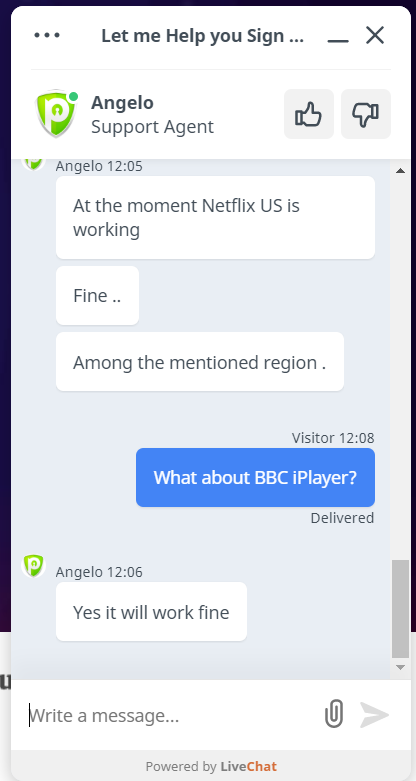 16
 PureVPN: General Public Attitude
Social media plays an active role in our daily lives and much of the consumer goods purchased worldwide are often dictated by the trends and opinions on social media. Thus, to form an idea of the reputation of PureVPN amongst the public, I visited such social media platforms as Facebook, Twitter, Reddit and other VPN forums.
Reviews on Facebook and Reddit favored PureVPN heavily with nary a negative comment on either site. Most users were highly satisfied with the features offered by PureVPN within its affordable price range. Its performance was praised by some users as "one of the best in the business" but a few claimed to have had certain issues with the Android and Windows app. Those issues have been addressed by PureVPN since the comment was posted.
Twitter was abuzz with high praise for PureVPN's thoughtful prices, its reliable service, and above all the generous deals it offers on its website. While the usual positive comments regarding performance and security features were there, the highlight was user reactions to the lifetime deal offered by PureVPN. A handful of users raised serious doubts over PureVPN's privacy policy and its commitment to a strict no-logs policy.
Overall, reception of the new version of PureVPN has been accepted with open arms and great enthusiasm by users but the company's dubious logging policy coupled with its troubled past with law enforcement seems to have turned into a perpetual thorn in its side despite several reassurances from the company that its privacy policy has been updated.
Get 80% Off PureVPN 2 Years Deal
17
 PureVPN: Users' Feedback
Feedback from real users who have used a VPN app is very useful in understanding the common advantages and disadvantages of using that app. Thus, it is advisable to go through user reviews on such consumer review sites as Trustpilot and SiteJabber. So, I went through some of the reviews on these two sites. Overall PureVPN seemed to be a popular choice among a large number of users who are not only satisfied with the product but also recommend it to friends and other users.
On SiteJabber there were just four reviews of PureVPN and all of them, barring one, held the opinion that PureVPN is one of the best VPN software and it offers great value for money. The only user who gave a less favorable review claimed that the Windows app had a few technical issues but also added that it was appropriately priced and "ahead of competitors". However, PureVPN has been updated since the review was written and issues cited by the users no longer plague the app.
There were a lot more user reviews on Trustpilot than on SiteJabber and the verdict was unanimous. Users felt that PureVPN offers excellent service at reasonable prices and its app was very easy to use. Ease of use, pricing, and reliability were on top of the list on most of the reviews. Some users pointed out that PureVPN offers a whole lot of features that are hard to get at this price range.
PureVPN has been in the news recently for various reasons including as one of the most popular VPN apps among general users and business teams. So to find out more about PureVPN, I scoured several news sites to find important news and related information on PureVPN.
The first news I came across was a press release on Newswire dated January 23, 2020, reporting that PureVPN warned users about cybersecurity threats that were targeting the online donation campaigns for the devastating Australia bushfire. PureVPN claimed that cybercriminals were using malicious JavaScript to hack into donation websites and thanks to their early warnings many websites took appropriate actions. Here is the full press release.
On Women's day, PureVPN pledged to take concrete steps to combat the menace of cyberstalking and raise awareness on such prevalent and pressing issues that they feel strongly about. PureVPN also published an eBook titled "Please Leave Me Alone – How to Get Cyberstalkers off Your Back". You can read the full story here.
We are currently in the grip of a raging pandemic that has forced us to stay home. At such a critical time, PureVPN has committed to providing clients with 24/7 remote service in the wake of the coronavirus pandemic. PureVPN's global staff will also work from home but will always be at hand in case clients encounter any issue.
Having used PureVPN for quite some time, I think it to be a consistent performer and ideal for streamers, gamers and businesses. Add on features such as DDoS Protection and Port Forwarding makes PureVPN a perfect choice for gaming, torrenting and streaming. It met all my needs and more that too at quite an affordable price. Since I timed my purchase with PureVPN's New Year deal, I got a handsome deal as well.
PureVPN offers a business VPN that encrypts business data, masks the IP address, bypasses geo-restrictions, provides competitor analysis, tests products, and secures Wi-Fi connections. Dedicated IPs, secure remote access, IP whitelisting, two-factor authentication and secure online accounts are some of the other benefits that PureVPN for business offers.

January 2023 Deal! 91% Off PureVPN 2 Years Deal
91% Off PureVPN 2 Years (0.99 per month deal)
PROS
Loaded with advanced security features
Great for streaming and torrenting
Fast servers' speed
Works in China
CONS
Few functionality issues on certain apps
No trials
Add your review
|
Read reviews and comments