NordVPN Review 2023 – Why This Feature Rich VPN Is Still The Best?
---
PROS:
Huge number of servers
Good user's reviews
Double VPN
Great server's speed
Zero no-log policy
Ad-blocking
CONS:
Overpriced 1-month subscription
No trial version
A long time ago in a galaxy far far away…
NordVPN is one of the most popular VPN services in the world today but has it ever been so, let's figure it out. When I wrote my first review of NordVPN in 2017 I wasn't sure about the company's reliability or server's performance and many VPN review experts shared my opinion. The company was established in 2012 but frankly speaking I think before 2017-2018 the company scored average level of popularity among users. Based on Google trends search quires for the past 5 years (2015-2020) I have made the conclusion that the company started to gain recognition only in mid 2016.
Here is the result for the keyword "NordVPN"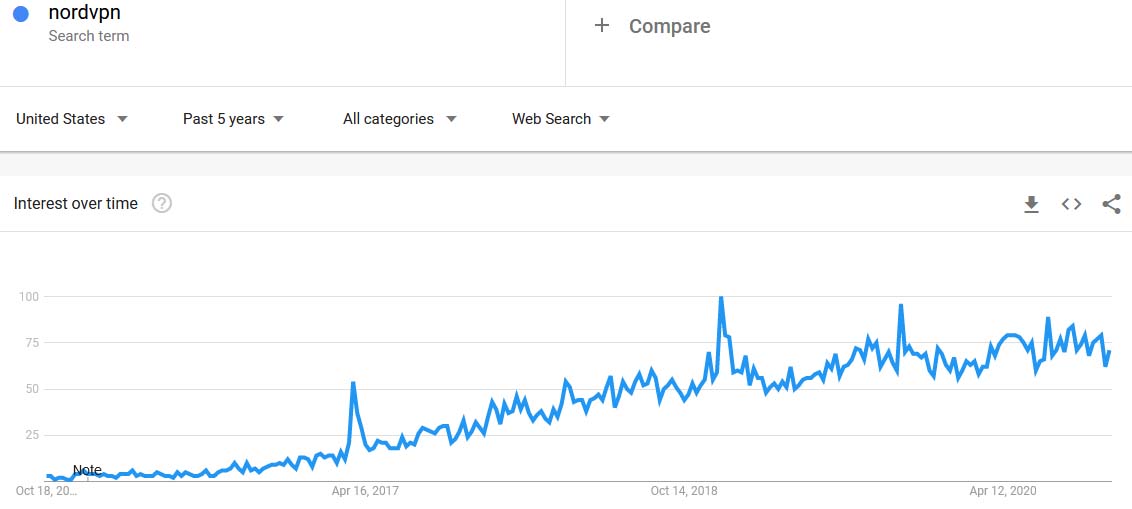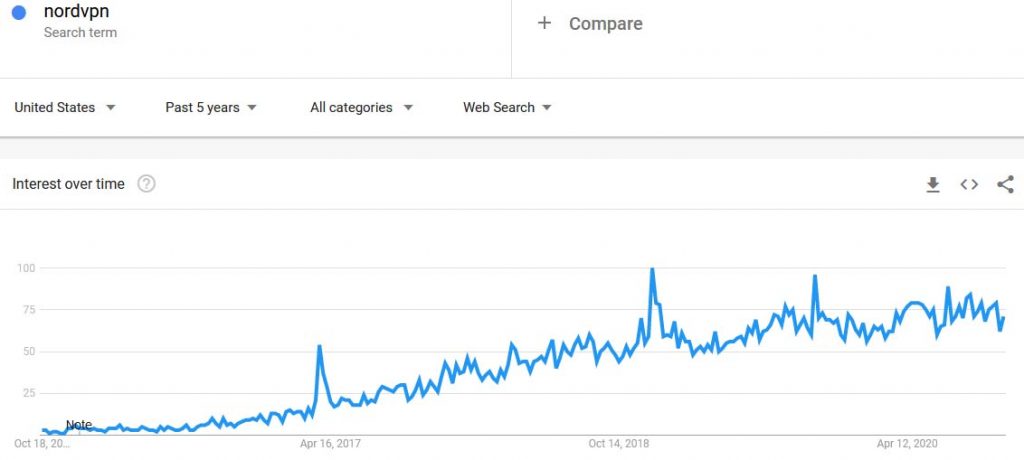 And below is for "Buy NordVPN" I took in 2019.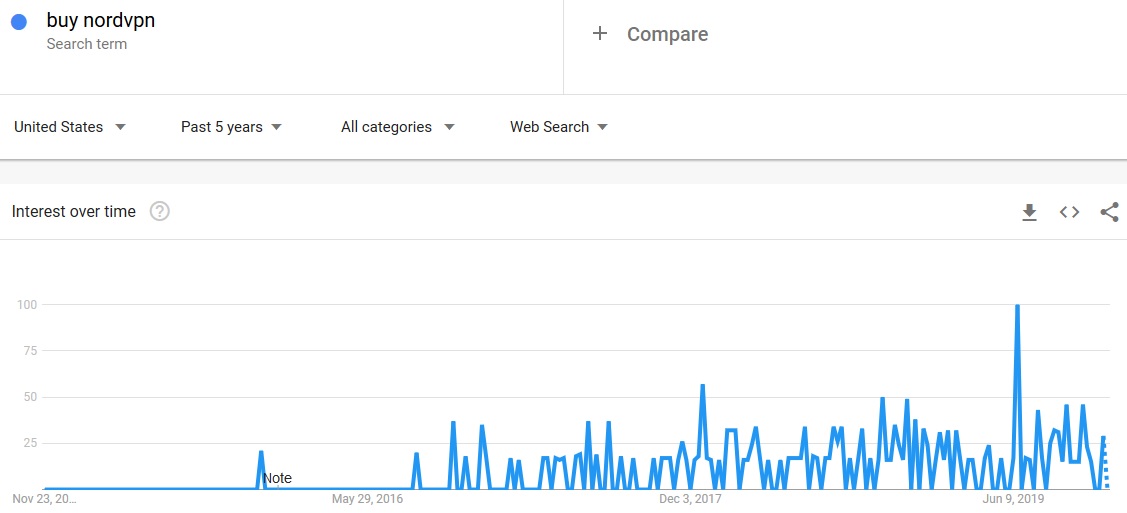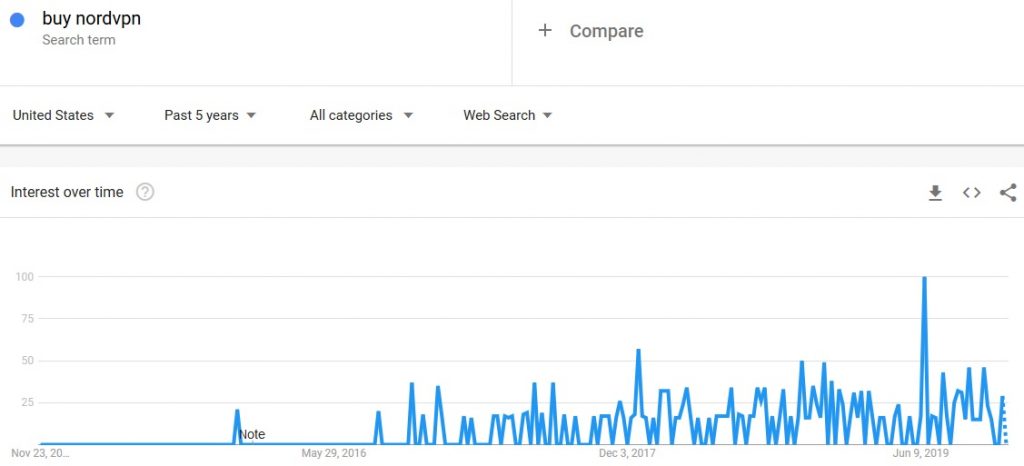 Compare the above with one I took in October 2020.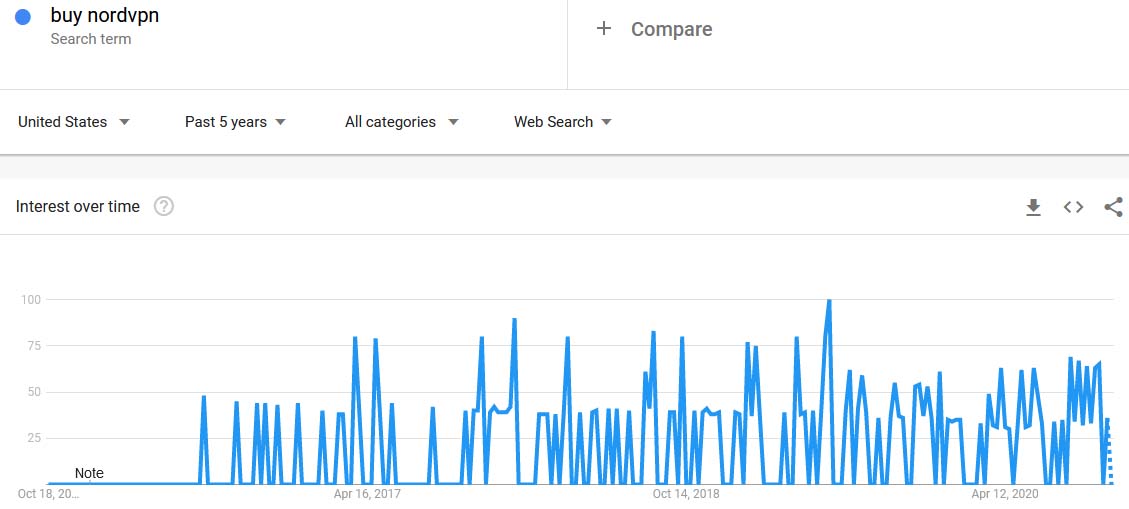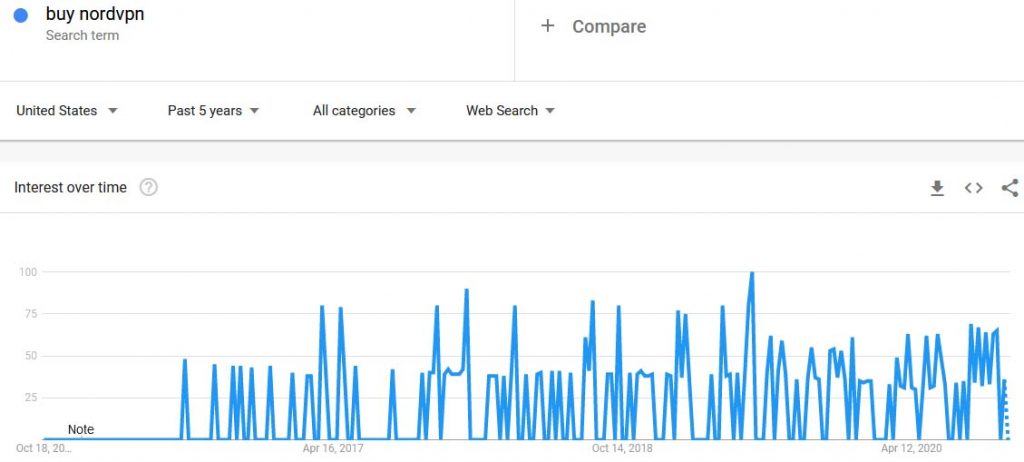 There is certainly a sort of discrepancy in results made in 2019 in comparison with 2020 for the same search query "buy nordvpn". As you can see requests in 2017-2018 on both pictures don't coincide. I think it's rather weird.
Before 2016-2017 the market was full of other popular VPN services such as StrongVPN, HMA VPN (formerly HideMyAss), TunnelBear, etc. Of course these companies still exists but they are gradually being replaced by such mastadons as NordVPN and ExpressVPN. Just check the screenshot below and you will understand what I'm talking about.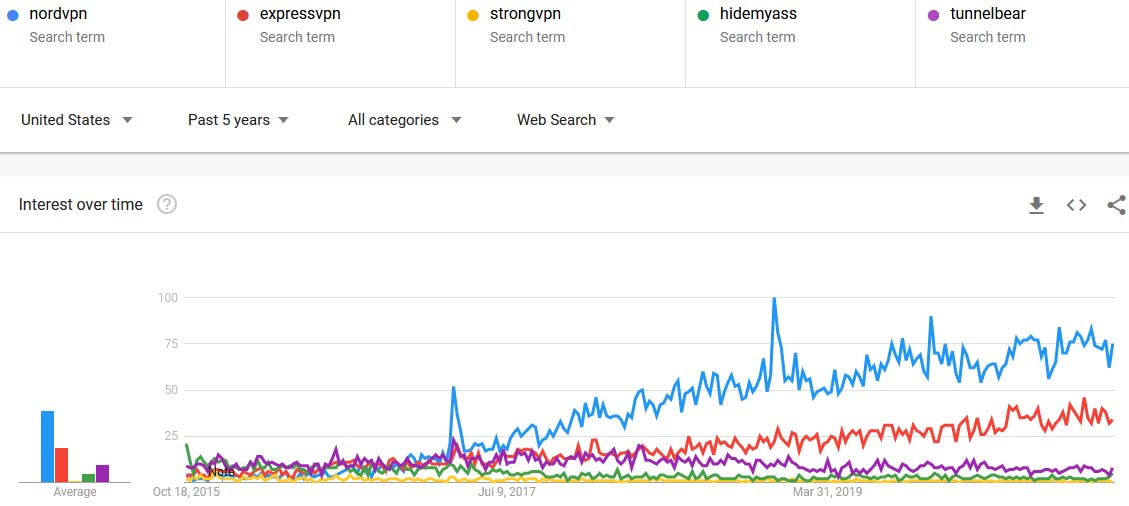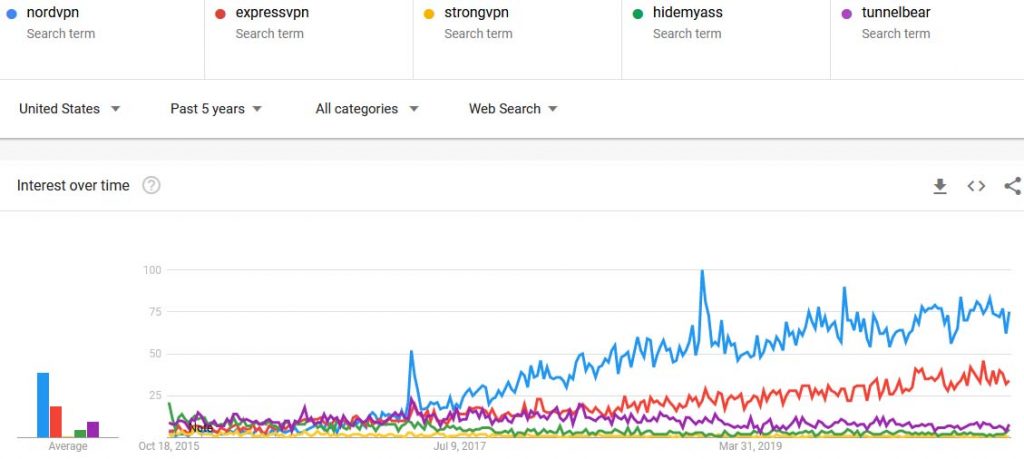 It's hard to say what caused such a jump in increasing popularity, I personally believe that advertising played a significant role here. The company spends millions on advertising and as a prove you can come across dozens of positive NordVPN reviews on such reputable sources as PC Magazine, TechRadar, Tom's Guide and so on. Maybe this is a really cool VPN service or maybe the company just doesn't skimp and pay large sums for the promotion of its brand.

November 2023 Deal! 90% Off NordVPN 3 Years Subscription Plan
90% Off NordVPN 3 Year Deal
2
What makes it an attractive VPN service?
After analyzing dozens of VPNs I can state that NordVPN has a good competitive price for subscription plans, good discount coupons and deals throughout the year. A 3-year subscription plan costs less than $3 during such holidays and special days like Black Friday/Cyber Monday, New Year, Independence Day, Halloween, etc.
The indicator of the highest company's popularity is also the recent hacking of NordVPN's servers. The story began in 2018 when NordVPN servers from Finnish data center were accessed by hackers. According to some sources more than 2000 NordVPN accounts were hacked and their credentials became public. Forget about the numbers and the solution to this issue just ask yourself a question, who and why can do this. If you ask me I would answer, who – the nearest competitors, why – to compromise.
3
What features set NordVPN apart from the crowd?
NordVPN is one of the feature-rich VPN service on the market today. The company paid special attention not only to the privacy and security with military-grade encryption, but also to malware protection. CyberSec is a great feature that eliminates annoying ads and blocks dangerous websites that can infect your computer with malware.
Double VPN is another unique feature which is exclusive only for NordVPN. There is nothing special but your traffic is encrypted twice as it passes two secure servers. I think this is a sort of marketing as the principle is simple – 2 is better than 1. Other great features include:
Military-grade encryption
Huge number of servers
Strict no logs policy
Automatic Kill Switch
DNS leak protection
Onion Over VPN
Streaming
SmartPlay
P2P welcome here
Lightning speed
VPN apps
Browser proxy extension
Multiple devices
Dedicated IP address
I will not dwell on these features as they are described in detail on the NordVPN official website.
NordVPN owns a large number of servers, more than 5500 in 60 countries. Really impressive result, compare it with the nearest competitor ExpressVPN which has around 3000 servers in 94 countries. NordVPN server's speed is a very controversial question, I believe that the closer you are located to the connected server, the better will be the speed. Let me know in the comments if you agree with this statement and what are your real speed numbers. So I did some tests using speedtest.net and was pleased with the results. Here is the speed results with the server located in North America, my current location Europe.


There are many factors that can influence your network speed, such as your ISP limit speed, quality of encryption, the distance to the connected server, security protocol used and some others. So depending on the above you will probably see other numbers and I would suggest you download a free trial version and test yourself. NordVPN used to provide a full 3-day trial version but for some reasons the company refused to continue this practice. From the other hand the company offers 30-day money back guarantee without any explanations.
5
 NordVPN Netflix support
NordVPN fully supports Netflix and other streaming services such as Hulu, Amazon Prime, BBC and Sky Go. There is nothing special here, I have made tests and didn't face any issues. I also contacted support regarding this question and Porter, from live chat support, confirmed this fact. He also shared a link to the article "How to securely watch Netflix with NordVPN?" with the list of all supported NordVPN Netflix servers.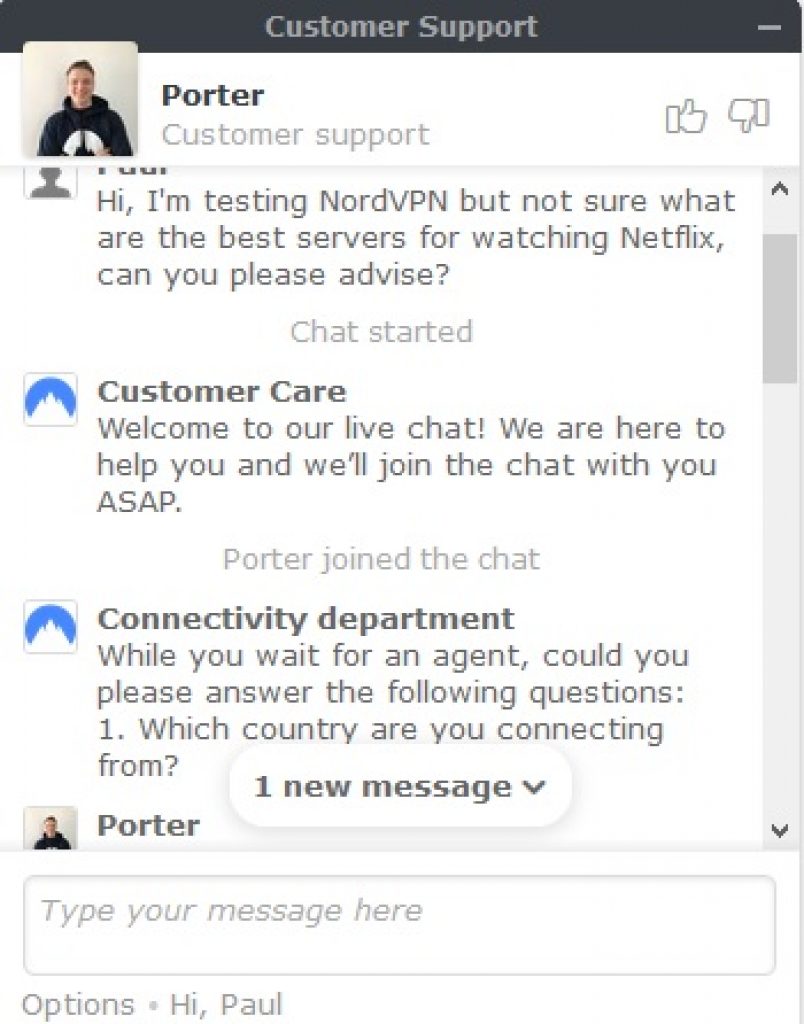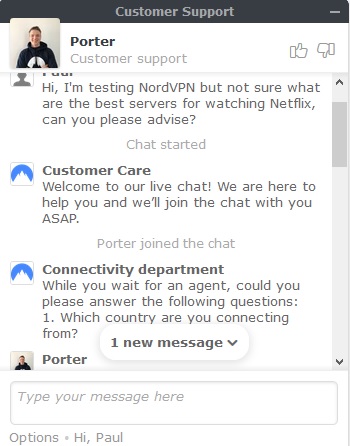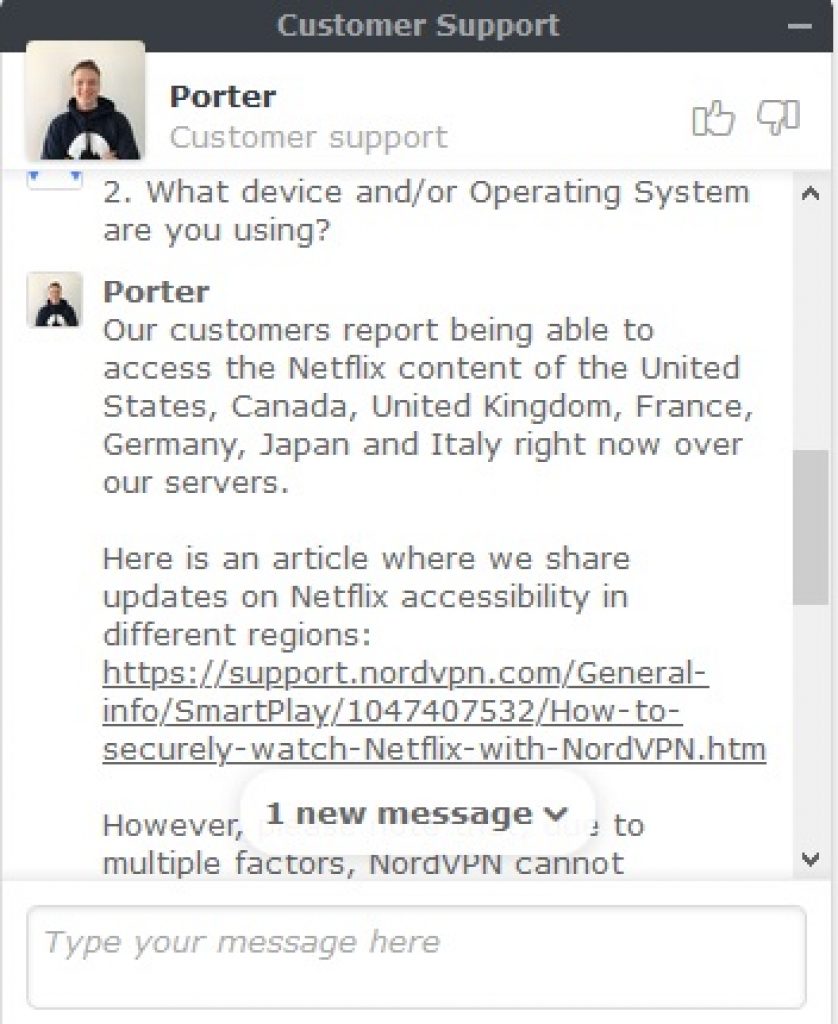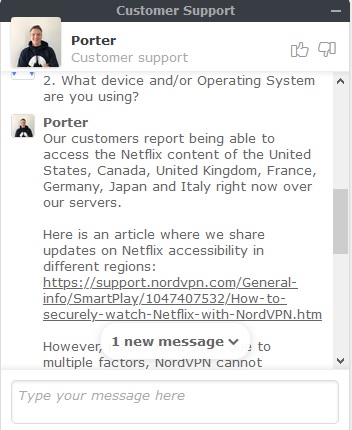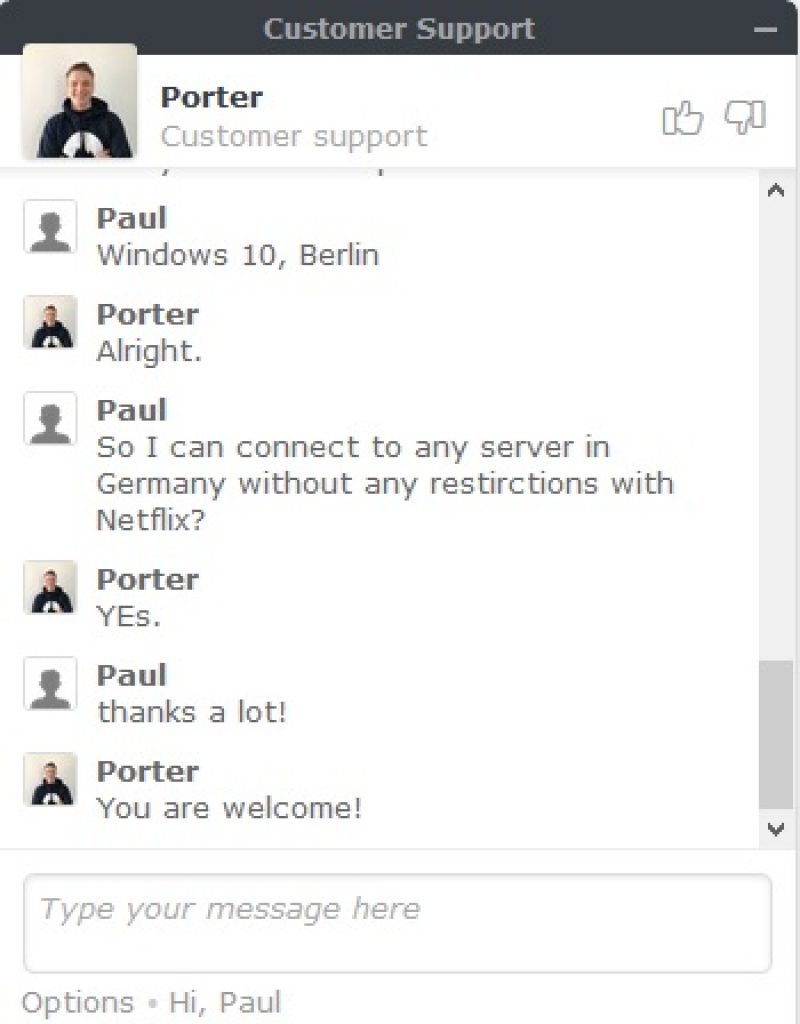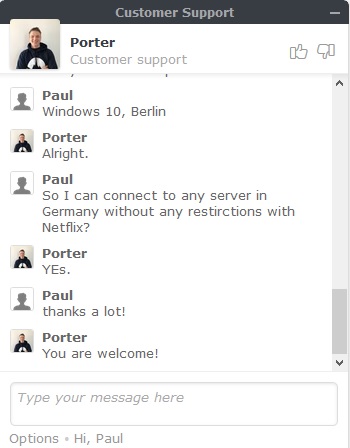 6
NordVPN vs. ExpressVPN side-by-side comparison
Windows, Android, MAC, iOS, Linux, smart TV, Wi-Fi routers etc.
Encryption is performed twice as traffic is routed through second VPN server. Though this may slow down the traffic speed

Comes with CyberSec feature that blocks out malicious websites alongside ads

$11.95/month (1 month license)
$4.92/month (1 year license)
$3.54/month (2 years license)
Windows, Android, MAC, iOS, Linux- all,
routers
Encryption is done once, hence the VPN's fast speed does not slow down. It makes use of "Network lock" feature that temporary stop all internet traffic when the VPN connection drops. This feature can prevent DNS leaks hence working as the "kill switch"
Comes with a 256-Bit encryption security to help secure data transfer
$12.95/month (1 month license)
$9.99/month (6 month license)
$6.67/month (12 months + 3 months FREE)
After testing NordVPN for about 3 years I completely changed my attitude towards it. I found the server's speed, encryption, customer support, exclusive features and the price at the highest level. Don't forget to check NordVPN coupon codes and always use special deals to save a lot. The company faced serious security problems after their servers were hacked but it figured out the way to admit it and solve the issue ASAP. It really deserves your attention because not every company will be able to behave with dignity in this situation as NordVPN did.

November 2023 Deal! 90% Off NordVPN 3 Years Subscription Plan
90% Off NordVPN 3 Year Deal