HMA VPN Review 2023: A VPN With Military-Grade AES 256-Bit Data Encryption And A Vast Server Network
HMA VPN was founded in London, the UK and continues to operate from there despite being acquired by Czech company Avast in 2015. The UK is one of the founding members of the 5/9/14-Eyes Alliance and is notorious for violating internet privacy. If privacy is your priority then look elsewhere as British authorities are not only capable of spying on its citizens but also can share intelligence with the other member countries of the Alliance.
PROS:
Strong encryption and OpenVPN protocol
Reasonable prices
Excellent server speed
User-friendly app and intuitive UI
CONS:
Stores some connection logs for 30 days
Under the jurisdiction of the 5/9/14 Eyes Alliance
24/7 technical support,email ticket system, guides, FAQs, and knowledgebase
Windows, Linux, macOS, iOS, Android, Apple TV and routers
1
HMA Pro VPN: Installation and Usage Guide 
It is incredibly easy to download and install HMA VPN apps on your device and the whole process barely takes a few minutes. First, select a subscription plan, complete the payment process, and create an account with HMA to download its VPN clients. Once your account has been created, you will receive a welcome email with a license key and the download link for your device.
You can follow the instructions given in the email or do it yourself by downloading the VPN client from HMA's website. Run the application once downloaded and follow the steps to install the software on your device of choice. To use the app either provide your login credentials or enter the license key sent to your via email.
The HMA VPN apps are easy to navigate through due to the effortlessly designed user interface. You can start right away via the Lightning Connect feature or adjust the settings from app preferences. HMA apps are designed in a way to let users seamlessly use the app without having to manually adjust the settings. However, remember to turn on the kill switch as it is not turned on by default.
Customizing your experience on HMA's apps is simple as navigating the settings is straightforward enough for even beginners to do it without any help. It takes a single click to enable most features and it is also easy to understand what each feature does as no cryptic or fancy monikers are used to describe them. The sidebar is an intelligent touch as it allows the user to toggle the kill switch and auto-connect on or off.
HMA claims to have a no-logs policy and to verify the statement, I thoroughly went through the terms and conditions as well as the privacy policy of HMA. While the company does not log user activities or any identifiable information, it does keep some logs like connection logs and timestamps but deletes such logs every 30 days.
HMA also collects the IP address to "help troubleshoot issues with a specific IP" but anonymizes the final octet of the IP address to prevent the user from being identified. However, it escapes me how the company identifies the user to troubleshoot specific issues if the IP address is anonymized to prevent identification.
DNS leak protection is incorporated into all HMA VPN clients by default and when I tested the Windows and Android app for leaks, they came out squeaky clean. I did not record any WebRTC, IPv4, IPv6, or DNS leaks during testing. Unlike in the previous versions, neither the Mac client nor the Windows client recorded any WebRTC leaks.
Moving on, HMA protects your data and masks your IP address by employing the military-grade AES 256-bit data encryption along with a wide variety of security protocols such as OpenVPN (UDP and TCP), L2TP/IPSec, IKEv2, and PPTP. The data channels employ AES-256-GCM along with 4096-bit RSA keys for secure handshakes and SHA256 for data authentication. The control channel uses AES-256 cipher, RSA-2048 handshake, and SHA-1 hash authentication. DH key exchange provides the perfect forward secrecy.
The default security protocol on all platforms except iOS devices is OpenVPN with a UDP port. iOS devices use the IPSec protocol which is faster than OpenVPN but less secure. OpenVPN should be preferred over other protocols for its security and versatility but the IPSec protocol can offer better performance than OpenVPN depending on the platform.
HMA VPN apps are compatible with Windows, Linux, macOS, iOS, Android, Apple TV, and routers. Routers supported by HMA include Asus, tomato, and DD-WRT. You can use an HMA VPN on your router to protect the whole network and all the devices connected to the router. With one HMA license, you can connect upto 10 devices at once. With HMA Family Plans you can connect upto 10 devices at once.
7
HMA VPN Servers' Speed Tests
The speed of servers may make or break a VPN service and HMA promises fast servers on its website. I put HMA's claim to test by checking the speed of some HMA servers on speedtest.net. While the ping times did vary from one server to another without much rhyme or reason, the download speed was consistently decent on all the servers I tested, even the remote ones.
The download and upload speeds of my internet before connecting to HMA's servers were 28.37 Mbps and 32.47 Mbps respectively with a ping time of just 3 ms. It was one of those rare occasions when the upload speed was considerably higher than the download speed.


On using HMA's Lightning Connect feature I was connected to a server in Amsterdam, Netherlands. In my reviews of other VPN services, the Amsterdam servers always returned great results and it was no different this time. The download marginally decreased by 3.6% and at 27.33 Mbps it was more than I could have hoped for. The upload speed decreased to 19.85 Mbps, which was still quite high, and the ping time was 2 ms.


Next, I connected to a server in London, the UK and the ping time jumped to 137 ms. The download speed was 18.9 Mbps and the upload speed was 14.54 Mbps. The 33% drop in download speed barely made any difference and the upload speed was still quite high. I streamed BBC iPlayer in high-quality without any buffering.


The server in California, USA also offered decent download and upload speeds of 16.54 Mbps and 11.92 Mbps respectively. The ping time read 143 ms, a slight increase from the UK server. Again, there is nothing to complain about as browsing and playing videos on YouTube was a pleasant experience at such speeds.


I wanted to check how a distant server would fare in the speed test and I was surprised when the results came out in favor of the server in Mumbai, India I connected to. The Mumbai server gave me a decent download speed of 15.16 Mbps, just a slight decrease from the USA server, and an upload speed of just 1.67 Mbps. Upload speeds in India are known to be low and I have no complaints. However, the ping time surprisingly dropped to 19 ms.


HMA offers five special servers optimized for streaming and is spread across Germany, the UK and the US. Three of the streaming-optimized servers are in the USA and one each in Germany and the UK. I connected to one of the streaming servers in the USA and was able to access geo-blocked content on YouTube.
The latest update, HMA Version 5, incorporates new design elements, feature upgrades, and an auto diagnostics mode that is very useful. The Lightning-mode feature is arguably the most impressive addition to the HMA apps and it automatically connects to the fastest and nearest server with just one click. Servers can be quickly changed with a couple of clicks.
Get 70% Off HMA Pro VPN 12 Months + 3 Months FREE
IP shuffle is an excellent feature offered by HMA on all operating systems except iOS. When turned on, the IP shuffle can automatically switch to a new IP address after a specified period to avoid IP tracking and digital surveillance. Make sure the kill switch is turned on if you want to use the IP shuffle feature so that your connection or private data is not compromised while switching IP addresses.
The only bone of contention I had with HMA's VPN clients is that important security features like the kill switch and IP shuffle are available on Windows, macOS, and Android but missing on iOS apps. Though I am not an iOS user, it seems like a glaring omission considering the large volume of iOS users worldwide.
Accessing the US library of Netflix was another story altogether. While Netflix blocked my connection the first two times, I was third time lucky when I sneaked into Netflix USA through one of HMA's servers only to be unceremoniously kicked out once I started to settle down. The other US servers did not fare any better. It is fair to say that unblocking Netflix was not even a hit-and-miss, it was a complete miss.
While I was still reeling from the earlier experience, the streaming server in the UK gave me a pleasant and much-needed surprise as it allowed me to access, and stream without any interruption, content on BBC iPlayer. However, if streaming Netflix is a priority then I suggest you look elsewhere such as PrivateVPN, CyberGhost VPN or PIA VPN to name a few.
HMA Pro VPN also offers eight P2P-optimized servers located across the Czech Republic, France, Germany, Netherlands, the UK, and the US. HMA allows torrenting on these designated servers customized for safe and high-speed P2P file transfer. The P2P servers are marked on the HMA apps and users can select preferred servers with a single click.
The HMA apps are designed for ease of use with no complicated jargon, a clean UI and excellent support making them just ideal for beginners or amateur VPN users. If you are looking for servers in rare locations that other VPNs do not cover yet, the wide coverage of HMA's servers will offer you plenty of choices. Gaming and torrenting on HMA's fast servers are a treat and HMA's strong security features protect the users at all times. HMA is also a great VPN to protect your privacy and data on public Wi-Fi systems.
13
HMA VPN vs Competitors
HMA has more than 1100 servers across 190 countries. Express VPN offers over 3000 servers but its reach is limited to just over 90 countries. CyberGhost has as many as 7100 servers but like ExpressVPN does not have as wide a reach as HMA and covers only 90 countries. HMA, despite a lesser number of servers, covers remote and rare locations such as Papua New Guinea, Malawi, Falkland Islands, Aland Islands, Faroe Islands, Jamaica, and Brunei just to name a few.
CyberGhost allows 7 simultaneous connections and is supported on platforms that HMA is not compatible with like gaming consoles. TorGuard VPN offers 8 multi-logins and supports such platforms as Kindle, Chromebook, Xbox, and PS3.
To test the popularity of certain keywords related to this VPN service, such as "Hidemyass VPN" and "Hidemyass review", I used the service of Google Trends – a popular search-term analysis engine that measures the popularity of search terms in a specific region over a specified period.
On entering the keyword "Hidemyass VPN", the site returned a graph that displayed a sustained period of interest from July 2019 to February 2020 albeit with a minor dip in mid-November last year. Currently, the slope is on the rise and interest is expected to sharply increase after a recent decline in February.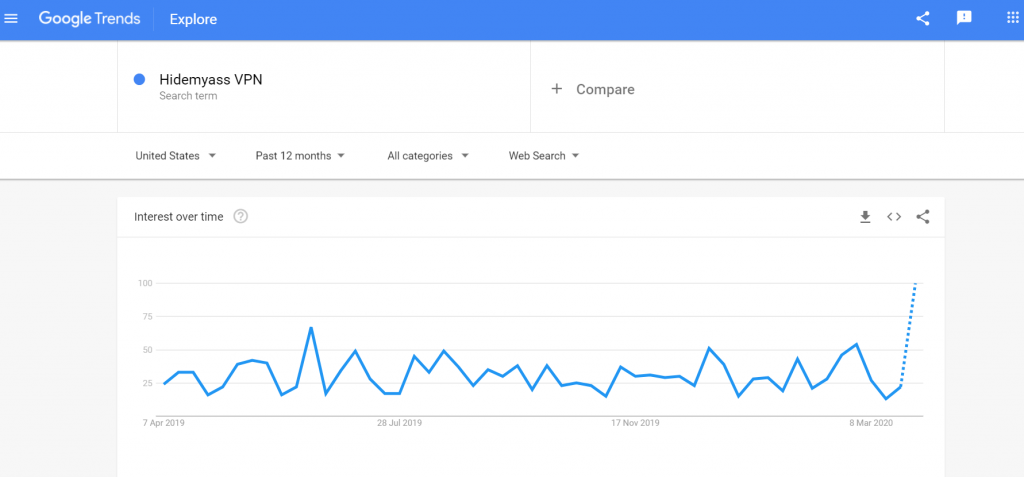 The occasional dips in interest last year can be attributed to the revelations that came to light regarding HMA's encounters with the British authorities. The predicted rise in interest is a possible result of HMA's clarification on that matter and their updated logging and privacy policies.
Interest in "Hidemyass review" was not as consistent as that in the VPN service itself. The graph shows a period of steady interest during the first two months of 2020 but it soon fell, rose and fell again. Current projections have the interest declining after a surge in end-March.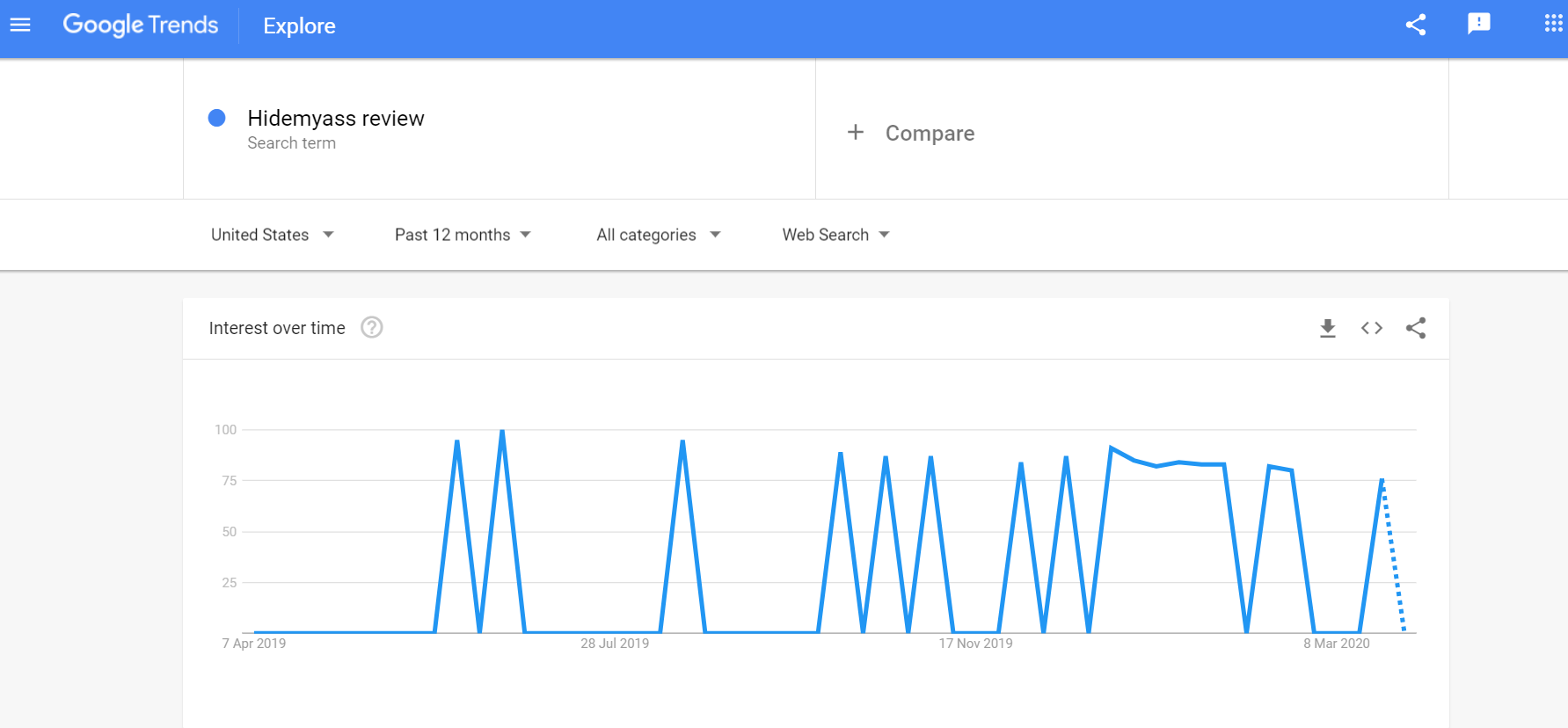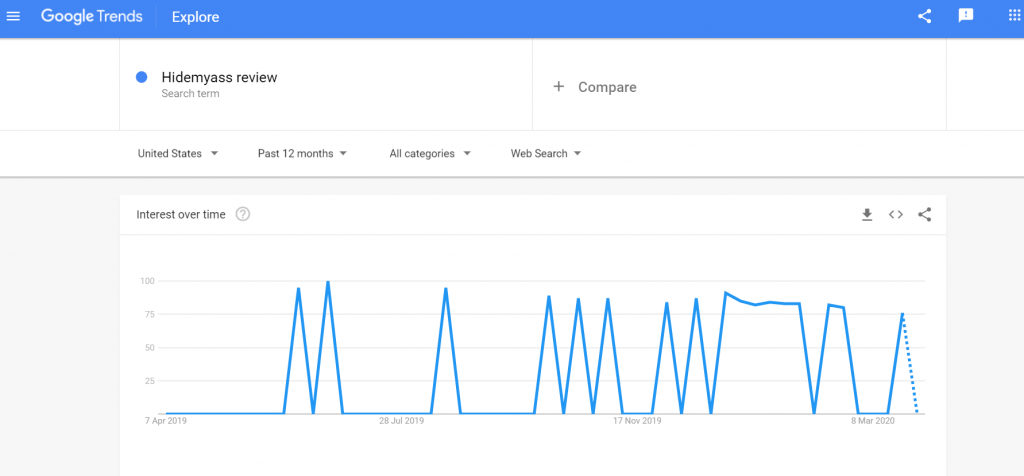 I wanted to compare the popularity of competing VPN services so I entered "TorGuard VPN" as the second search term. There was not much to select a clear winner as interest in both the search terms were neck and neck till March 2020 when both VPNs saw a dip in popularity. However, interest in TorGuard recovered quicker than that in Hidemyass but the popularity of both are predicted to surge in the coming weeks.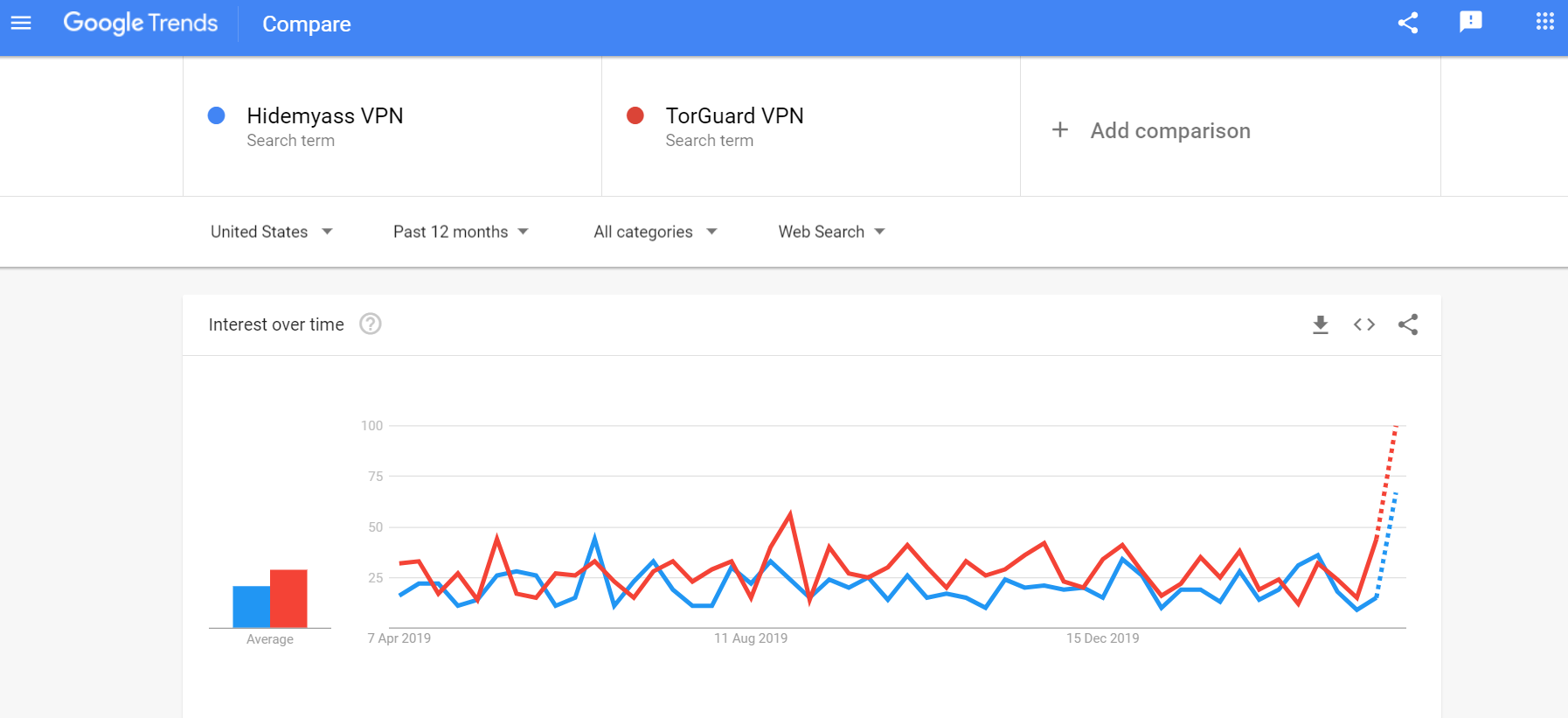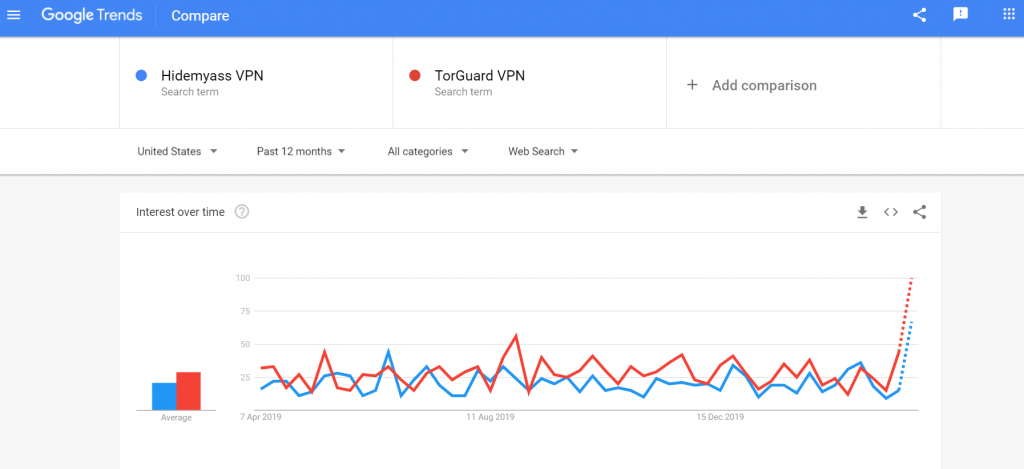 HMA's website is home to an extensive selection of support articles categorized into installation guides, helpful FAQs, a detailed knowledge base, and a community forum for the latest news and advice. A search box is provided on the support page for quick search. The community forum includes announcements and posts on VPN support for all platforms.
Casual yet informative guides on important topics like cyber security, online privacy, and geo-spoofing among others hold the answers to most of the common queries related to a VPN service and its usage. Though the support page was comprehensive, it was not as informative as that of ExpressVPN or as well designed as TunnelBear's help page.
If you still have unanswered questions, HMA's support agents are quite helpful and promptly respond to queries via email. Submitting a request ticket via HMA's website requires you to feel up a few details some of which seemed unnecessary in my opinion. HMA has social media profiles on Twitter, Facebook and YouTube and you can get in touch with the company on these sites too.
However, I felt live chat support was sorely missing. I mistook the help button provided at the bottom right of HMA's site for live chat support but it merely suggests help articles on entering a query. You can leave a message for HMA's support agents by filling in a form similar to the ticket support.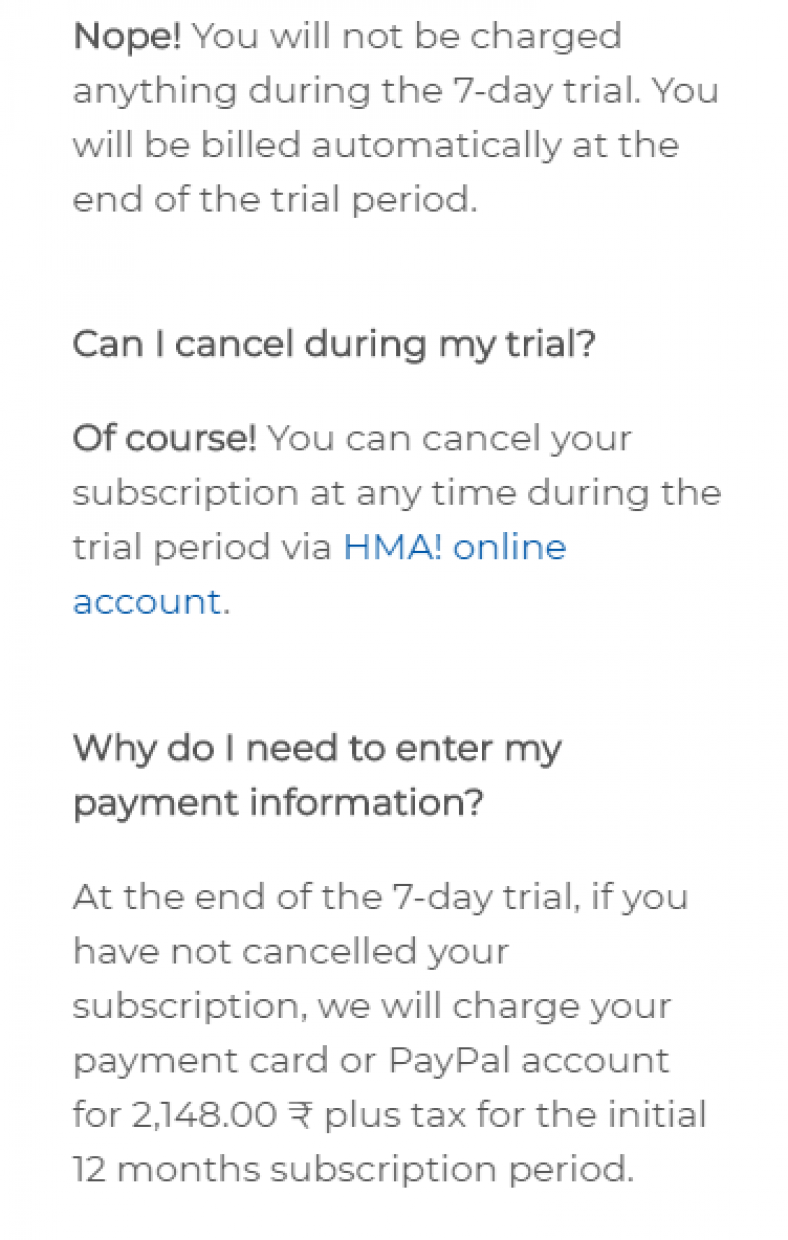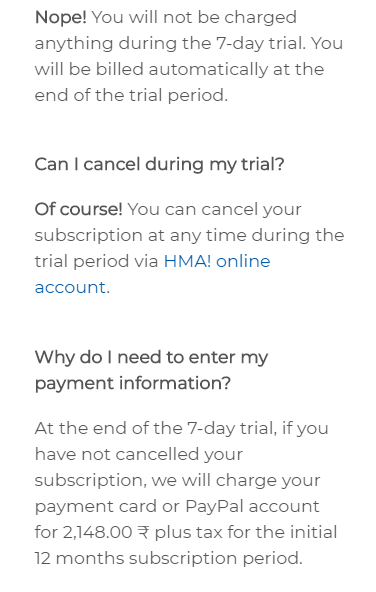 If you run into issues, the community forum is a good place to start looking for answers. You can even write about the issues you are facing in the forum to get help from HMA's community members.
16
 General Public Attitude
The public reception of VPN products provides an in-depth understanding of the advantages and disadvantages of such services. As HMA has profiles on social media sites such as Facebook and Twitter, it was easy to come across several comments from users who have been using or had used HMA VPN apps.
Comments on HMA's Facebook profile ranged from all-out praise to no-holds-barred criticism. Positive comments were on the fast and knowledgeable support of HMA as well as HMA's user-friendly apps. Many users praised HMA's ease of use and the robust security features that it offers at affordable prices. Negative comments were mostly restricted to HMA's inability to consistently unblock streaming services like Netflix.
On Twitter, apprehensions were raised by many users regarding the dubious privacy policy of the company and its involvement in the infamous hack of Sony Pictures by one Cody Kretsinger. HMA quickly addressed the issue to allay fears among its followers and cited the company's policy against illegal activities via its apps to justify its action of sharing user information with the authorities.
However, much has changed since the incident and HMA claims to have updated its privacy policy and vows to religiously protect its client's privacy. To summarize, the overall public reaction seemed to be split between satisfaction and genuine concern.
Get 80% Off HMA Pro VPN 36 Months Family Plan (10 connections)
The feedback from real users via reviews on consumer review websites, such as SiteJabber and Trustpilot, offers us a deeper understanding of the impact, positive or negative, a VPN service has on its users. So I browsed through these two sites to find out what users of HMA think about its service.
HMA received a TrustScore of 4.2/5 from 2582 reviews and was considered an excellent VPN service by about 80% of the users who used its apps and reviewed it on Trustpilot. The majority of the positive reviewers commended the company for its professional service, reliable performance, and exceptional customer service. HMA's customer service seemed to be on the top of the list of most users for its quick and resourceful responses.
There were a few dissenting views and the majority of which, if not all, were regarding the 30-day money-back guarantee. Aggrieved users claimed that they were deceived by HMA and were unable to claim the refund. In HMA's defense, I would like to state that the company specifically mentions the terms and conditions of its refund policy on its website and the onus is on users to read all the terms and conditions of any service before purchase.
HMA even responded separately to each negative review and explained clearly their position on the issues raised by such users.
I came across only nine reviews of HMA on SiteJabber and opinions fluctuated between two extremes. While some users were satisfied with HMA's performance and server speeds, others were not so kind in their reviews and lambasted the company for its privacy policy and handling of the Sony Pictures debacle.
HMA VPN is no stranger to headlines as it had been in the news quite frequently in the past decade albeit for the wrong reasons. Notwithstanding past troubles, HMA has bounced back with a slew of corrective actions that have revived its reputation as a reliable VPN service provider.
In 2019, Hidemyass decided to cease all operations in Russia with the view that offering truncated services were not worthwhile. Russia's communication agency Roskomnadzor asked VPN providers to connect their networks with the national FGIS database which HMA refused to comply with. Here is the full article from June 6, 2019.
In September 2019, the company released its HMA VPN 5.0 version with improved privacy features and new server locations. It was welcome news to dedicated clients of HMA and you can read all about it at here.
Since the primary role of any VPN service is to protect the user's privacy, it is of the utmost importance to keep track of any incidents that might compromise the very thing a VPN has vowed to uphold – user privacy. As we all know by now, HMA handed over identifiable information of one of its users to British authorities in 2011.