Private Internet Access Review 2022: A VPN Service Recommended For Both Basic And Advanced Users
Update - 2021.02.27
According to the company statement PIA VPN owns more than 30000 servers in 76 countries worldwide. It makes this VPN service #1 by the number of servers in the world. What does it mean? Well theoretically the more number of servers the faster should be your connection, namely download/upload speed. In practice there are some other factors which can influence the servers' speed. Read below for more details. 
Private Internet Access has features that are useful for beginners and experienced users alike. Users who are not interested in PIA's advanced security features can stillprotect their identity and data with the help of IP masking, complex data encryption, IPv6 leak protection, DNS leak protection, encrypted Wi-Fi and a secure VPN account. For seasoned VPN users, PIA offers advanced security features including an automatic kill switch, PIA MACE, SOCKS5 proxy, port forwarding and customizable security protocols.
PROS:
Advanced security features
Strong leak protection
Strict no-logs policy
10 simultaneous connections
CONS:
No trial versions available
Based in Colorado, USA (inside five eyes alliance)

November Deal! 90% Off Private Internet Access 2 Years Subscription
90% Off Private Internet Access 2 Years Subscription + 2 Months FREE
AES-128 to AES-256 and GCM to CBC
Live chat, Guides, FAQs, and email support
Windows, macOS, Linux, iOS, Android, Chrome, Firefox and Opera
No. 30-day money-back guarantee
1
PIA VPN: A Guide on Installation
To start using Private Internet Access, you will need to create an account with PIA by selecting a plan and payment method. Once you have purchased the license, the activation code and link will be emailed to you. Open the mail and follow the steps. Installing the PIA app is simple and hardly takes a few minutes. I am using the Windows app so the following guide is for the Windows app but the steps for installation on other platforms are more or less similar and detailed guides provided on PIA's support page can be consulted for any assistance regarding installation or usage.
First, you are required to download the Private Internet Access app installer if you have not already. You can download it here. Once downloaded, open the .exe file and extract the PIA installer. Provide the security confirmation by clicking "yes" when prompted by the User Account Control. The app is installed in a matter of minutes and you can log in with the username (provided via email) and password. In case you have installed the app using the customized installer provided after signing up for the account, the login credentials will be automatically filled in.
Once you have successfully logged in, your credentials will be saved by the app. The primary display window shows a large power button along with other information and functions. The power button is yellow when the VPN is not connected. Click the button to connect to the VPN server and the button turns green signifying successful connection. PIA automatically connect s you to the fastest server near your location.
2
Private Internet Access VPN: How to Use
Servers can be manually selected and changed numerous times. To do so, click on your current location and a list of available server locations will be displayed from which you can select any server to connect as well as mark your favorites. To make it easier for the user to choose the best server, the servers are arranged according to ping times, lowest being best.
To access the settings page, click on the three vertical dots on the top right corner of the window. The settings page is well laid out making it easy to customize the VPN settings. The user interface is clutter-free and well designed. It is easy to navigate the app quickly and effectively. The UI of PIA's apps is one of the best among VPN apps that I have used or reviewed.
Get 80% Off Private Internet Access VPN 1 Year
3
Private Internet Access VPN: User Interface
Private Internet Access apps are smartly designed to make navigation simple and fast. Beginners will find it comfortable to use PIA VPN apps because of the simple instructions and functional design. Connecting and changing servers is also fairly simple and requires only a couple of clicks. Professionals and seasoned VPN users should not feel left out as there is enough juice in PIA's security features to satisfy advanced users. Advanced features are a bonus for users who want greater control over their VPN connection and its settings.
4
Private Internet Access No-Log Policy
Private Internet Access is one of the few VPN service providers who can boast of a tested and verified no-logs policy. In two separate court cases, PIA was subpoenaed to produce data logs of users but they could not provide any since they did not log user data. PureVPN, on the other hand, claims to have a certified no-logs policy but was in the news for divulging user data to authorities.
Private Internet Access uses AES-128 bit and AES-256 bit encryption coupled with 160-bit SHA1 and SHA256 data authentication to provide clients with an ideal balance of speed and protection that can be controlled by the user. PIA also provides several variants of both RSA and ECC handshake encryptions including, but not limited to, RSA-2048, RSA-4096, ECC-256r1 and ECC-256k1.
Though PIA's default configuration employs AES-128 encryption, SHA1 authentication and RSA-2048 handshake, expert users can tweak the configurations to suit personal requirements. Private Internet Access grants its users the ability to choose their preferred encryption, authentication and handshake protocols. PIA even suggests some encryption configurations on its website for less informed users.
Strong security protocols round-up PIA's protection features. PIA usesthe OpenVPN protocol that lets users choose between UDP and TCP connections on its VPN apps except the iOS app, which uses the IPSec protocol. Here too, PIA allows manual customization of security protocols including OpenVPN, L2TP/IPSec, PPTP, and SOCKS5 Proxy. The OpenVPN protocol is available both on the desktop and mobile apps.
The benefits of PIA's SOCKS5 proxy service can be understood when torrenting since software like BitTorrent and uTorrent support SOCKS5 proxies. If any user accesses their account using SOCKS5 proxy then their traffic remains encrypted and secured since SOCKS5 proxies require additional authentication ensuring nobody other than the user can access the server the user is proxying through.
I tested for leaks several times on different PIA servers but could not find any leaks whatsoever. IPS leak protection along with DNS leak protection and WebRTC leak protection ensure users' privacy is not compromised under any circumstances. PIA reduces the chance of DNS leaks by providing its private DNS. The Windows app lets the user set their custom DNS or use the default one.
A kill switch is a must for any decent VPN app and PIA offers an active kill switch that ensures users' IP address and private data does not leak out in case of unforeseen VPN connection drops. A kill switch immediately terminates the internet connection in such a scenario to prevent unwanted leaks. PIA's kill switch can be turned off, always turned on, or set to auto. I recommend keeping it always on.
9
PIA Exclusive MACE Feature
PIA's MACE feature serves as an effective malware, tracker and adblocker all at once. This feature is available on the Windows, Mac, Linux and Android clients but unfortunately not on the iOS app. I put MACE to test on numerous websites that are commonly full of advertisements and it effectively blocked all advertisements, trackers and malware by tricking the advertisement domains to prevent the user's browser from responding to tracking requests from ad servers.
PIA MAC feature can be compared to standalone software
MalwareBytes Premium
. I haven't tested the both but you can try as the last provides fully functional free trial version.
10
 Private Internet Access: Servers' Speed Tests
Private Internet Access claims its servers are among the fastest VPN servers available. To put its assertion to the test I went to speedtest.net and tested internet speeds first without a VPN connection and then with a VPN connection to some of PIA's servers. While the tests did not back PIA's claims of very fast servers and competitors like ExpressVPN or CyberGhost offer faster speeds, I had no trouble browsing the internet, playing geo-restricted content on YouTube without buffering or torrenting.
Without a VPN the download and upload speeds of my connection were 17.14 Mbps and 12.59 Mbps respectively with 130 ms ping. Though the ping was surprisingly high, streaming and browsing were as smooth as usual.
The first server that I was automatically connected to by Private Internet Access was in Amsterdam, Netherlands. VPN servers in Amsterdam tend to be fast and this was no exception. The download speed dropped by merely 8% to 15.73 Mbps and the upload speed jumped to 18.34 Mbps – 45% increase. Ping dropped to 52 ms. Torrenting on PIA's Amsterdam server proved to be a fulfilling experience.


The next server I tested was in London, United Kingdom and it did not disappoint either. The download speed was 15.13 Mbps, down by 11% and the upload speed was 8.85 Mbps. Ping jumped to 244 ms. Again the drop in download speed was practically insignificant as there was no visible loss of speed during streaming, browsing, or downloading.


The server in California, USA gave me unexpectedly good speeds and Netflix ran smoothly as did YouTube. Even though download speed dropped by 14% to 14.69 Mbps, it was still fast enough for browsing and streaming without any lag. The upload speed was 9.69 Mbps, pretty good, and ping again dropped to 54 ms.


I also checked a few servers in distant locations such as Australia and Asia but was not impressed with the results. While some of PIA's servers (mostly thosenear my location) were fast as promised, the distant ones were not up to the mark and speeds fluctuated drastically while changing servers. The ping time also changed abruptly. Other than that, there were no such issues with browsing, streaming, gaming or torrenting while connected to the faster servers.
11
Private Internet Access: Netflix, Hulu and BBC iPlayer Unblock
Using PIA's US servers, I was able to unblock Netflix USA without any trouble or error messages. Streaming was lag-free and of high quality. I also accessed UK Netflix from the London and Manchester servers in the UK. Netflix libraries of Canada, India, and Australia were also accessible after connecting to the servers in the respective countries. The only issue I had with unblocking Netflix was that I was unable to successfully do so in locations like Germany, Russia, and Japan.
I was unable to access Hulu and BBC iPlayer using Private Internet Access. Bypassing the "Great Firewall of China" is nigh impossible and most VPN services do not work in the country. Unfortunately, PIA also does not seem to work from China. However, few users claimed to have had success with PIA by using the L2TP protocol which is less secure but harder to detect.
Torrenting is allowed on all servers of Private Internet Access. Full support for P2P file sharing, unlimited bandwidth, and no data throttling ensures hassle-free torrenting. For further security, the company has a strict no-logs policy, an active kill switch, and port forwarding.


13
Private Internet Access: Customer Service
Private Internet Access has a resourceful support page that provides all the assistance users may require including a knowledgebase, guides, news and announcements, and email support. Unfortunately, there is no live chat support and I had to fill out a long-form to contact PIA's customer support agent via email. I found the process cumbersome and since the support page answered most of the general queries I had in mind, I did not need to contact a support agent.
User reviews on some VPN forums and social media suggest that the email support is not as prompt as other VPN providers like ExpressVPN. Private Internet Access has social media profiles on Facebook, Twitter, YouTube, Reddit, and LinkedIn. Users can get in touch with Private Internet Access on all their social media profiles.
The extensive knowledgebase on the support page of Private Internet Access contains helpful articles on account, billing, technical and security issues. There are numerous articles on some of the most common queries regarding VPN and much more. Detailed installation and usage guides for all the devices supported by PureVPN makes it easy for new users and amateurs to install and use the PureVPN app. Troubleshooting and frequently asked questions provide further assistance to users.
For the latest updates on PureVPN, users can visit the news and announcements section. Announcements of new deals or upgrades can be found here. The support page is easy to navigate and users can directly search for a topic using the search bar making the process not only easy but also fast.
14
Private Internet Access vs Competitors Comparisons
While Private Internet Access enabled me to unblock Netflix in the USA, the UK, and several other countries, it came surprisingly short in a few countries. I would suggest other VPNs like NordVPN or IPVanish for an ideal streaming experience. PIA excels in providing strong security for anonymous and unrestricted web browsing. Thus, PIA is a good choice for anonymous browsing, secure torrenting, and watching geo-restricted content on YouTube without buffering.
When it comes to performance, PIA's MACE fared better than the ad blockers used in PureVPN or ExpressVPN. MACE does not need you to install separate extensions, provides faster response time, and saves battery if using the mobile apps.
PIA allows users to connect up to 10 devices with one license, which is twice the average five multi-logins offered by the likes of ExpressVPN and PureVPN. However, Surfshark and Windscribe offer unlimited connections with one license.
15
Private Internet Access Google Trends
Google Trends is a data analytics engine that studies the popularity of top search keywords and represents the interest over time in such keywords via graphical diagrams. I checked the interest in search terms like "Private Internet Access" and "Private Internet Access review" and also compared PIA with its nearest competitors such as TunnelBear and CyberGhost VPN. All the graphs show interest in the search term in the USA over the last 12 months.
I compared the interest in "Private Internet Access" with interest in "TunnelBear" and "CyberGhost" to find out how PIA fared against its nearest competitors. Surprisingly interest in PIA was on average greater than TunnelBear as is evident from the graph but shoulder to shoulder with CyberGhost as of March 2021.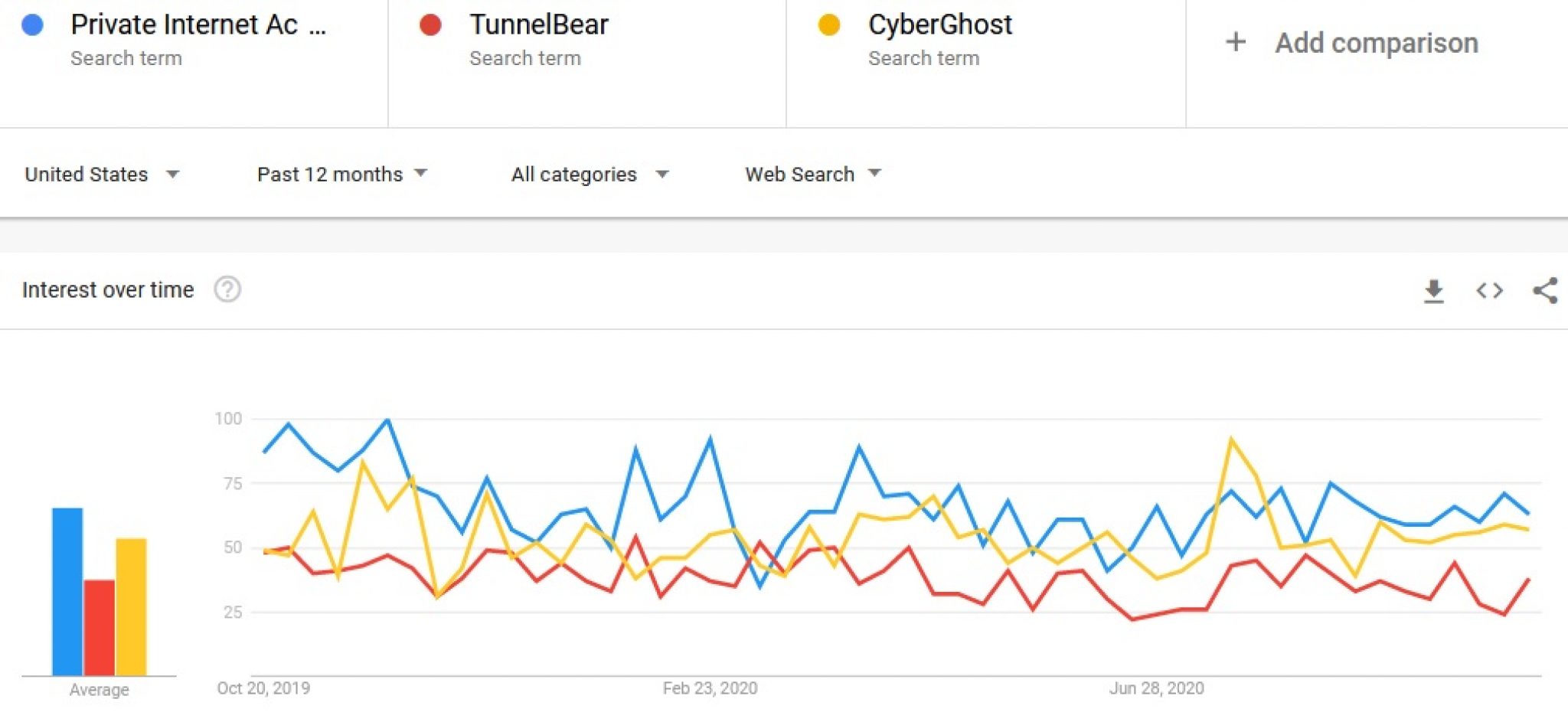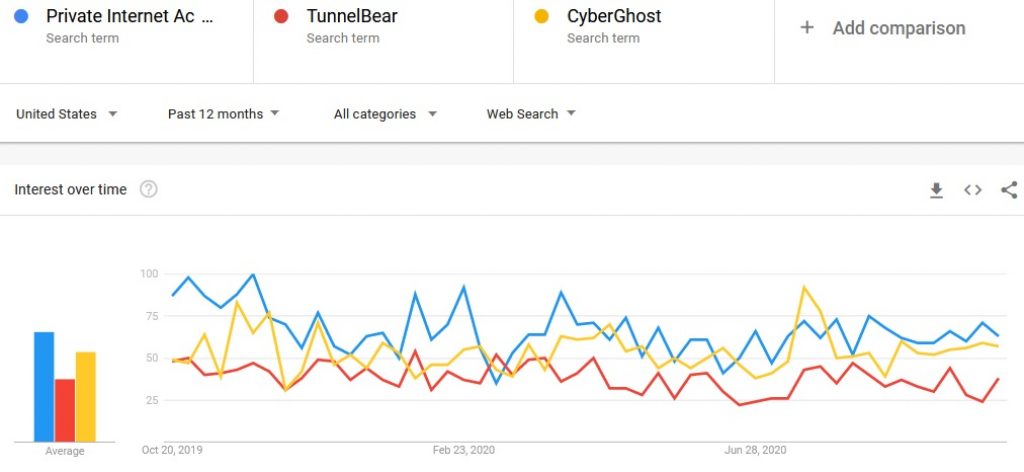 Interest in "Private Internet Access" was higher than average consistently during the last year. However, it started to decline at the start of the New Year and the decline continued till March. The interest has been stable since the start of March and is predicted to keep rising, probably as a result of recent internet shutdowns around the world.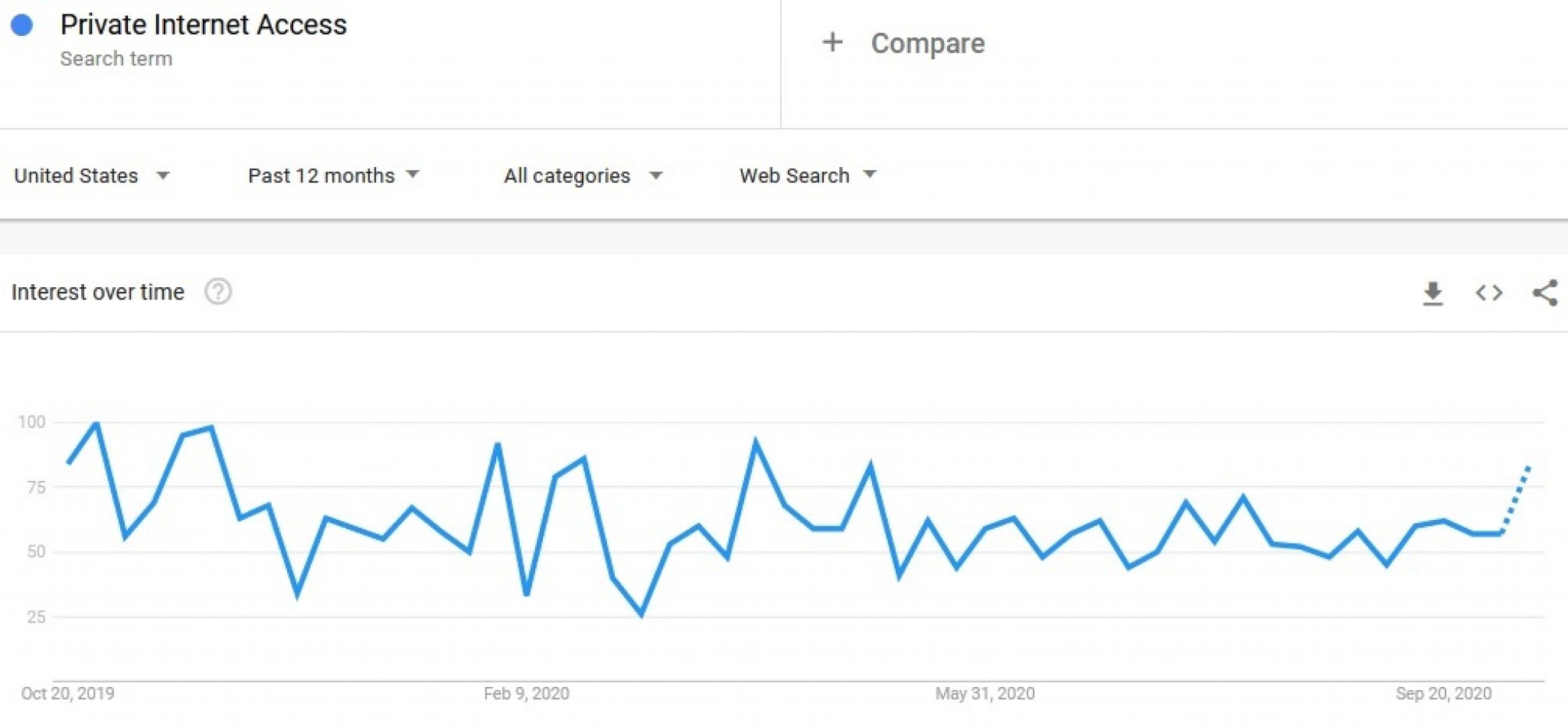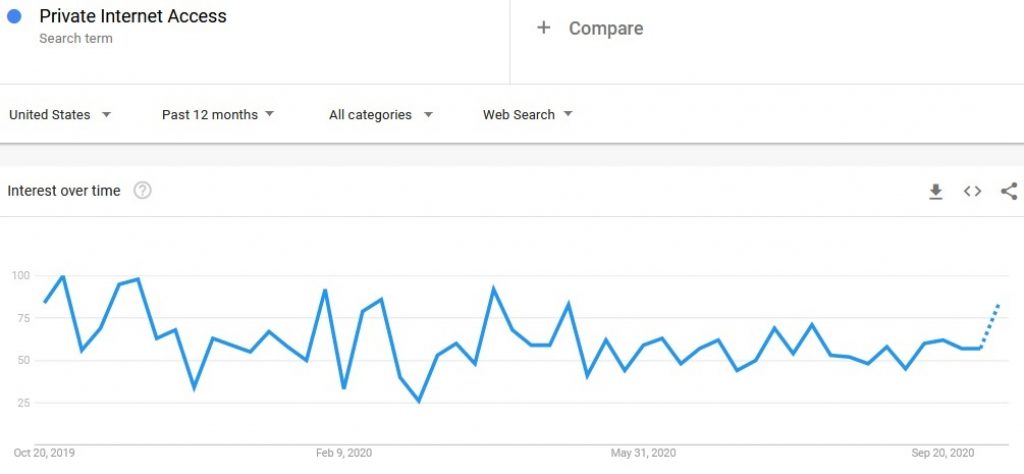 The graph representing the interest in "Private Internet Access review" was not as consistent as the above one and there were sharp peaks, representing increased interest, as well as deep troughs, signifying a decline in interest. Nonetheless, interest in this topic has been projected to rise quite sharply in the coming days and weeks.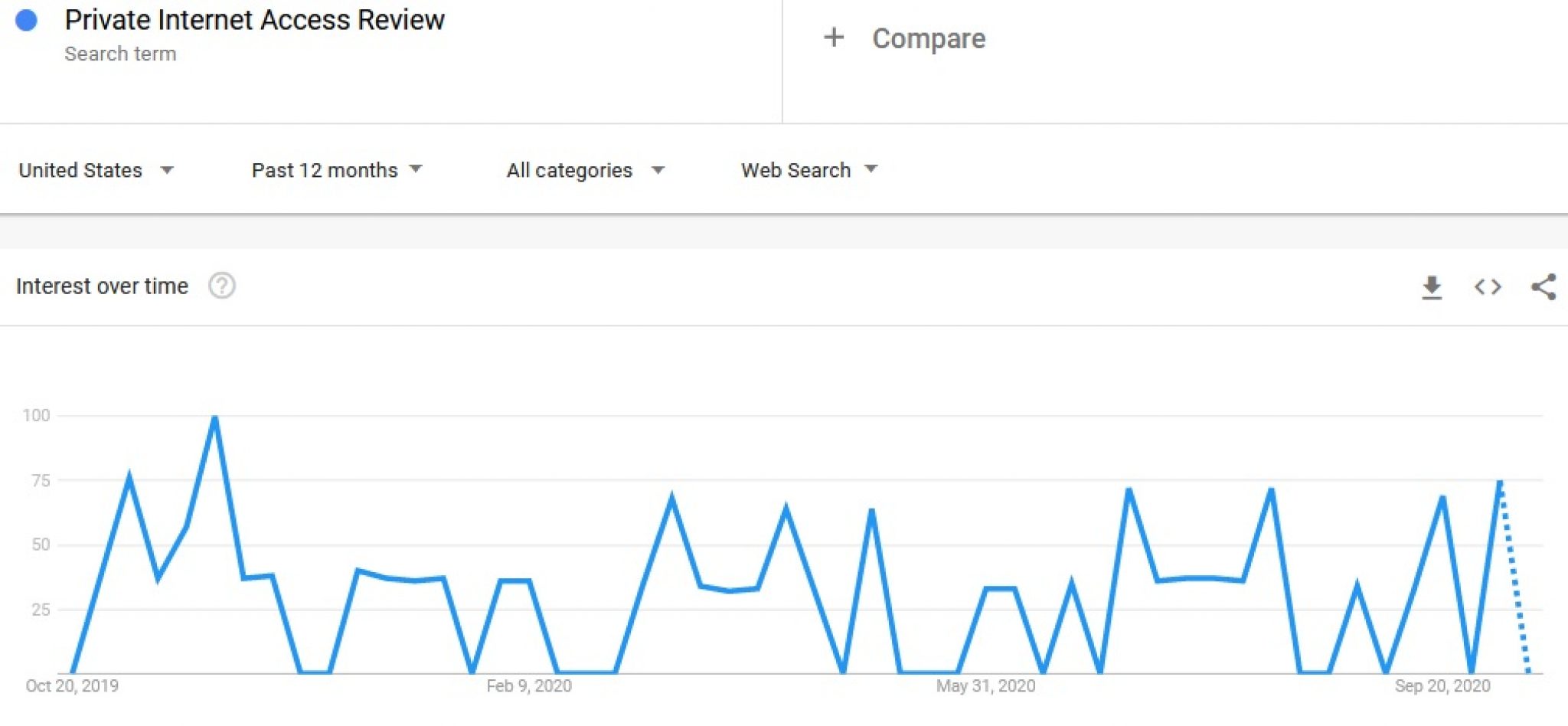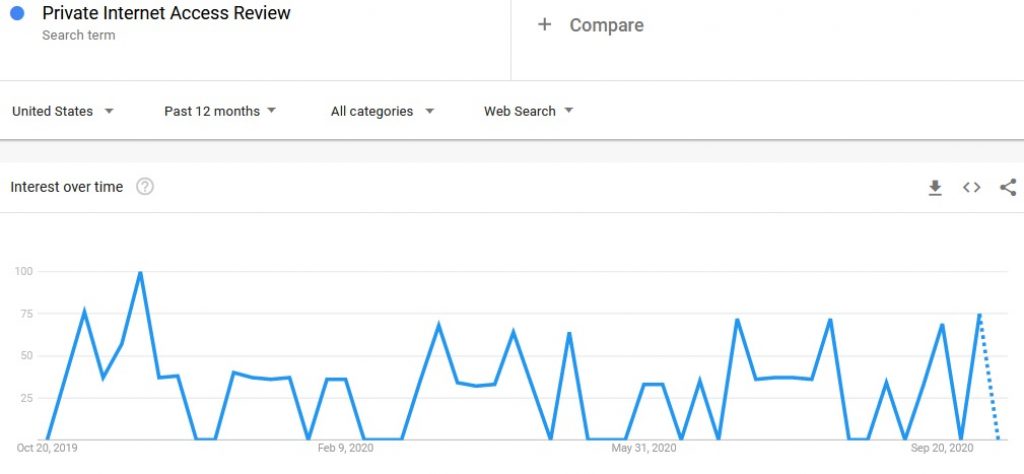 16
 Private Internet Access: General Public Attitude
Social media plays an active role in shaping consumer's opinions on products especially electronic hardware and software. VPN users are generally very active on social media and new users tend to form their opinions based on reviews on VPN forums and social media sites like Facebook, Twitter and Reddit.
I visited these social media sites to read user reviews on Private Internet Access and also to check out the comments on PIA's social media profiles. The majority of users were satisfied with the security and privacy offered by PIA and said that its apps were ideal for fast and unrestricted browsing. Gamers also said they benefitted from the advanced security features and multi-platform compatibility.
On PIA's social media profiles there were both positive and negative comments. Complaints ranged from server speed and streaming difficulties to privacy concerns and connectivity issues. However, PIA's approach is praiseworthy as the company was not only prompt to respond to such criticisms and complaints but also decisive in resolving the issues.
Two things that united users across the various social media sites and VPN forums were the affordable costs of Private Internet Access plans and the ability to connect 10 devices simultaneously. Many users on Twitter and Facebook commended PIA for allowing 10 multi-logging, something its rivals are lacking.
Get 80% Off Private Internet Access VPN 1 Year Subscription
17
 Private Internet Access VPN: Users' Reviews
Trustpilot and SiteJabber are two consumer review sites that I visited to find out the opinions of real users on Private Internet Access VPN. Real user reviews offer a deeper insight into any VPN app and help us to understand the practicality of the app.
Private Internet Access had a TrustScore on Trustpilot was 4.1 out of 5 and users rated it as a decent VPN software with great value for money. There were a sizeable number of users who had used the Private Internet Access app for two years or more and most of them claimed that they were greatly satisfied with its features and excellent service.
There were a few complaints on Trustpilot regarding the speed of servers and some connection issues. One user claimed to be having problems with setting up DNS on both LG TV and Apple TV. However, Private Internet Access expressed regret regarding the issue and provided a detailed guide on how to set up the DNS. A link to PIA's Helpdesk was also provided for further assistance. I noticed that PIA's support staff responded to each of the few complaints that were there and resolved the issues promptly.
On SiteJabber there were hardly a handful of user reviews on Private Internet Access. Among the few that were there, one user used Private Internet Access because they saw it on PCMag's editor's choice of VPNs. The reviews were positive with praise for its reasonable pricing, advanced security features, and its customer service.
18
 Private Internet Access: In the News
Technological advancements and new software inventions seem to dominate the news headlines these days and VPNs are becoming massively popular as internet users around the world battle growing cyber restrictions. I visited several news sites and blogs to find out if and why Private Internet Access has been in the news recently.
The first news of interest was from November 2019 when Kape Technologies, the parent company of CyberGhost VPN, acquired LTMI Holdings, the parent company of Private Internet Access, for $95.5 million. Kape Technologies is currently the owner of CyberGhost (acquired in 2017), ZenMate (acquired in 2018) and Private Internet Access. To read the finer details of the $95.5 million deal, check TechRadar article.
In a candid interview given to TechRadar Pro by Daniel Sagi, the Chief Operating Officer of Private Internet Access, Daniel spilled the beans on the $95 million deal and discussed the future of privacy as well as VPN services. Daniel revealed the reasons for buying PIA, how Kape manages three VPN companies at once, and their views on Open Source. He also announced the launch of three new software products in 2020.
As recently as March 18, 2020, Private Internet Access announced support for WireGuard on its beta clients and apps. As of now, the WireGuard beta will only be made available to beta testers and will be rolled out to the general public as soon as possible. Read more on the official PIA website.

November Deal! 90% Off Private Internet Access 2 Years Subscription
90% Off Private Internet Access 2 Years Subscription + 2 Months FREE