Avast Ultimate Review 2023: The Ultimate Protection For All Your Devices
Avast is one of the oldest Antivirus software companies with more than 30 years of experience. Their award-winning cyber protection software such as Avast Ultimate, Avast Premium Security and Avast Business Antivirus helps 435 million users worldwide since 1988. Avast Ultimate is a bundle of products which combines Avast Premium, SecureLine VPN, Password Premium and Clean Premium – everything you need to stay protected with the top rated antivirus, stay anonymous and private online, manage your passwords and tune up your devices.
PROS:
Antimalware
Tuneup and password manager
Include SecureLine VPN
Upto 10 devices
Webcam protection
Firewall
CONS:
Lack of Parental control
A bit high price
1
Avast Ultimate Introduction
2
Avast Ultimate Features Review
Intelligent Antivirus with Dynagen Technology
A new version of this software is powered by DynaGen technology, which streams hundreds of small updates to the virus database of computer in real-time to detect new malwares much faster. The algorithm that analyzes the suspicious files powered by artificial intelligence will help the antivirus engine to take perfect decisions.
Its unique SafeZone protects your financial information and online transactions from hackers. You can set your banking and favorite online shopping sites to launch the SafeZone automatically, thereby ensuring a foolproof security to all sensitive transactions. In addition, the SecureLine VPN offers maximum security to the user by encrypting and anonymizing the web activity.
Firewall in the Avast Ultimate is completely rebuilt for enhanced performance and improved security. It can make faster decisions, work better with new versions of Windows and seamlessly support IPv6.
Avast Ultimate enables you to run suspicious downloaded files safely. You can run the infected files in the sandbox and the FileRep technology will execute a file reputation scanning to determine whether the files are safe to run or not.
This feature will enhance the programs ability to make better decisions about unknown files and the extended cloud scanning facility also assist in the detection of malicious programs. In the event of any detection, the improved cleaning facility will ensure reliable deletion of the threat.
With Avast Ultimate the system scanning is much faster apparently, making it easy for you to complete a full system scan in comparatively less time.
The software quickly and easily finds and eliminate junk files, fix registry issues and delete bloatware programs giving your device a breath of fresh air. Tuning up your device has never been so easy as the software runs in automatic mode. As an update of 2020 Avast Cleanup can update all your programs downloading the latest builds from the vendor sites.
3
Avast Ultimate Additional Features
This internet security suite comes with additional security features, which makes it possible to scan removable media such as flash drives, optical discs, and other external drives automatically. This eliminates any chance for your system to be infected from other people's drives. Avast features rescue and safe reboot feature, password manager and browser cleanup tool. The browser cleanup tool enables us to detect and remove those tools that block us from removing unwanted plug-in and annoying toolbars. Avast is backed by avast! CommunityIQ, which is considered as the fastest signature based malware data source in the world. The millions of users in this community anonymously share any new malware they encounter so that Avast can update their virus database quickly. Moreover, it is very easy to install in your system and have an intuitive user interface.
4
Avast Ultimate Users' Feedback and Ratings
To check the software popularity among real users I checked some tech forums, social media and review sites such as TrustPilot and SiteJabber and ConsumerAffairs. The overall users feedback on forums and social media accounts is positive people doesn't face any issues using Avast Ultimate and they are mostly satisfied with what the software claims to do – protect from viruses. A bad situation with poor users experience can be seen if you check TrustPilot reviews. The rating is 2 out 5 trust score. Mostly people are not satisfied with the price and automatic payment after using free Avast antivirus. Some can't get support for their tech issues and spend days and even weeks waiting for reply. SiteJabber users' feedback is better than TrustPilot and score 4.5 out 5 rating of trust. The negative reviews mostly concern the quality of the software, inability to detect and remove viruses and paid tech support. ConsumerAffairs rating also leaves much to be desired with total 2.5 out 5 trust score and as a result many negative reviews.
One more tool I usually use to check the users search queries trends is called Google Trends. So checked search request "Avast Ultimate" for the period of the last 12 months and haven't found any big changes in fluctuations just some peaks on certain moths.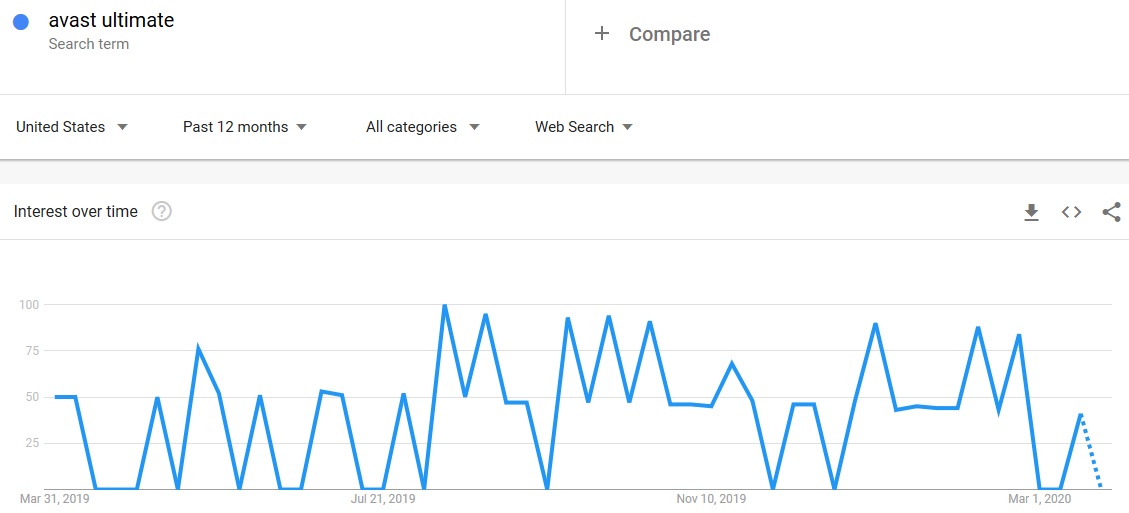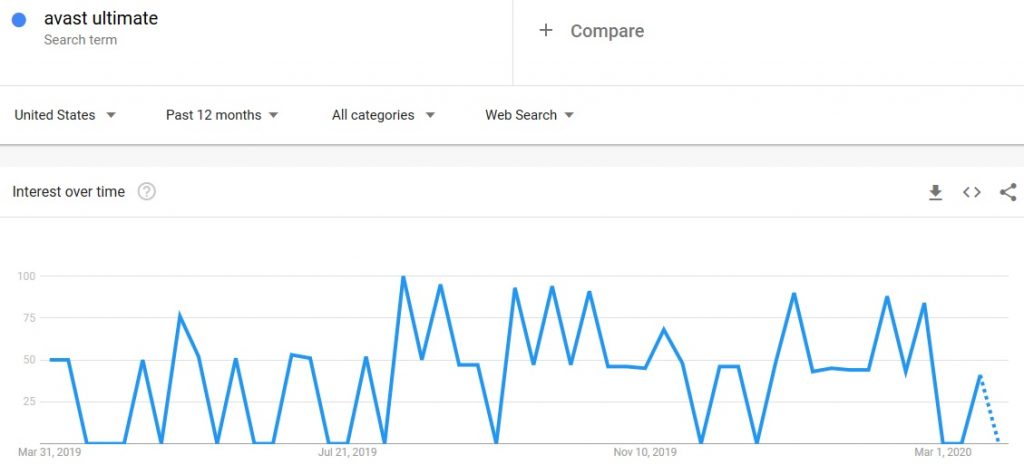 I was really surprised when I compared Avast with its main competitors such as BitDefender and Kaspersky. So the users search term for "Avast" is a cut above and it baffled me especially after many negative reviews. The only explanation I could find is that people type "Avast" just to download a fully functional free version which has no time limits. Kaspersky and BitDefender offers only limited time trial versions.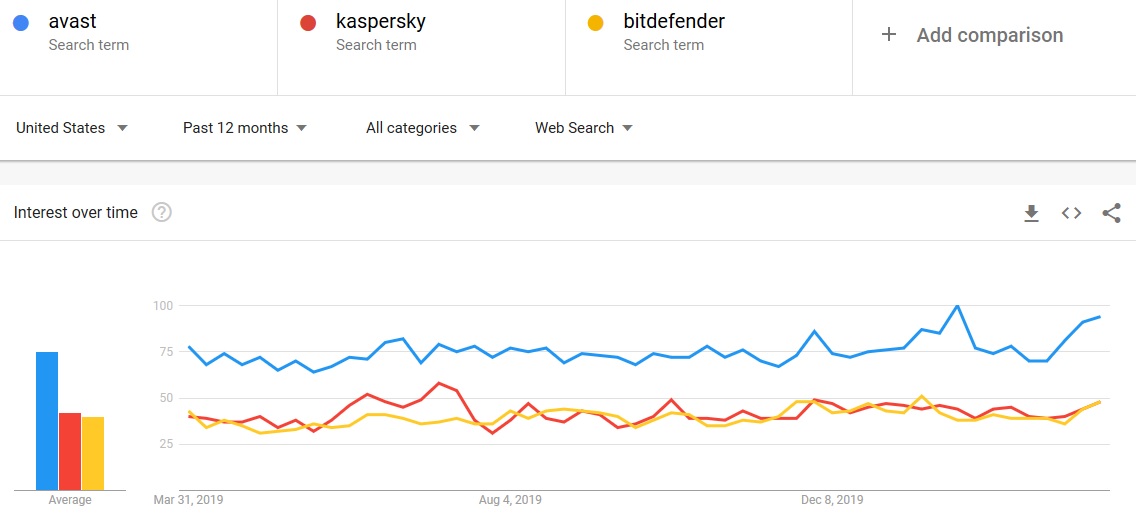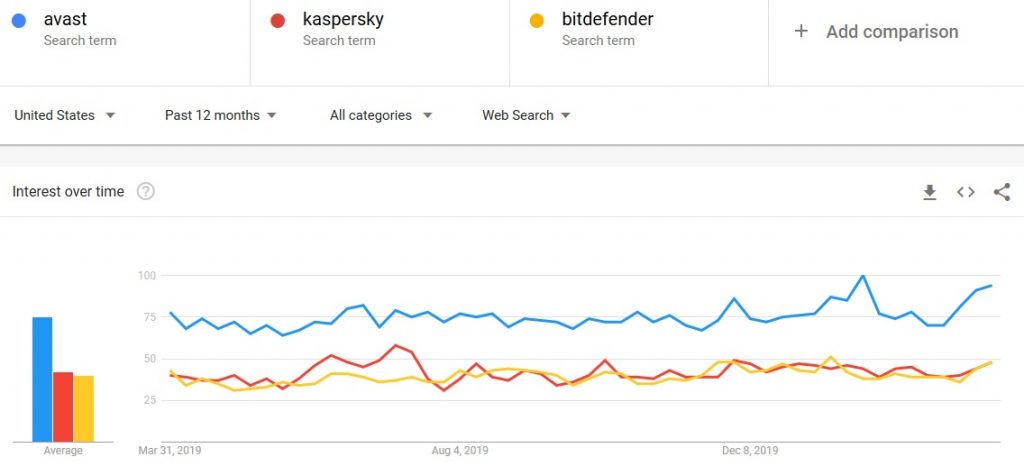 6
Avast Ultimate vs Kaspersky Total Security
Kaspersky Total Security is yet another internet security suit that delivers ultimate protection from all known internet threats. It can ensure that you are always safe when you use the web to surf, shop, bank, social network and many more. It offers user unique features like Safe Money, Automatic Exploit Prevention, ZETA shield etc., which are very effective in preventing attacks through the vulnerabilities in the operating system and applications. In the detection and blocking of malwares, both these software shows equal performance, however Kaspersky Total Security offers more facilities such as secure keyboard and advanced parental control utilities.
Avast Ultimate is one of the best internet security suite available today that has all the tools and utilities to create a totally protected environment for your transactions. It is very easy to install and use. Despite the nice interface it offers many premium features that you would not find in other security suits, making it a true value for your investment.