Avira Prime 2023 Review: The Next Level Of Antivirus Protection And Password Management
As a pioneer of the free software model of business, Avira has perfected the art of offering high-quality, industry-leading security and privacy solutions at highly affordable prices. Avira's success in the IT security industry can be attributed to the value for money its products offer and its ideology of 'thinking without borders'. Its extensive range of products for both home and businesses cover a substantial consumer base. The Avira Prime 2023, the latest addition to its family, is aiming to carry on the company's legacy of providing forward-thinking solutions at reasonable prices.
PROS:
Integrated unlimited VPN
Excellent results in antivirus lab tests
Password management
Affordable price plans
Intuitive UI
CONS:
Free applications have limits
Avira Prime 2023 Overview and How To Manage Guide 
What's New in Avira Prime 2023? 
Avira Prime 2023 has undergone a few changes from its previous version. While the changes have been limited to subtle technical changes to improve performance and efficiency rather than drastic changes that are visible upfront, the impact of the changes can be felt while using the software.
Improved Password Management and Cleanup
One of the most noticeable changes is the addition of important features such as password management and system cleanup to the Mac and iOS clients. Though software updates are still limited to Windows devices, the above features are a welcome addition and will be much appreciated by Mac and iOS users.
Improved Browser Extensions
The browser extensions now come with a secure price comparison tool that is more accurate and offers better results. There has also been a marked improvement in the overall performance and speed of the software. The UI is now more intuitive and the improved interface makes it easier to use the software optimally.
Improved Security Blocker
Blocking of phishing websites and unwanted callers have been amped up. The security blocker is now able to identify and aggressively block a wider range of harmful websites and threats. You can now optimize more than 200 privacy settings with the Avira Prime 2023.
The previous version had issues with the Smart Scan that held the feature back from showing its true potential. However, Avira has likely addressed the issue and the Smart Scan has been improved to provide a more extensive scan in less time. Full system scans have become faster and the UI has been improved to offer a comprehensive diagnosis as well as helpful solutions without confusing users.
Improved Unblocking GEO-Restricted Content
Avira has also focussed on unblocking geo-restricted content and platforms more effectively. While the earlier version was capable of accessing geo-restricted content on the internet, the new version does so with more ease and less drama. The company has put in the effort to ensure that its technology is not detected and blocked by streaming platforms and sites with geo-restricted content.
While the new version may not have any drastic changes, the subtle changes and improvements that the company has made in the new version have made a bigger overall impact than a couple of eye-catching changes or additions could have.

Avira Prime 2023 Features Overview 
Avira Prime offers several useful and advanced features in one software application. Let's have a detailed look at some of the important and most useful features of the Avira Prime 2023.
Quite obviously the first feature on this list is antivirus protection. As a company that gained global recognition for its antivirus software, Avira is the one to beat when it comes to powerful and efficient antivirus protection. Thus, it should come as no surprise that the antivirus protection in Avira Prime is its top feature. The antivirus offers real-time protection against online threats, malware, and viruses.
Avira Prime users can enjoy unlimited VPN courtesy of Avira's Phantom VPN that does not cap bandwidth. You can connect to 40 global server locations, kill your internet connection if the VPN disconnects, block malicious content and sites, and even launch at start up. While its server coverage is limited compared to those of independent VPN service providers, its privacy policy is strict and it allows P2P file-sharing on its servers. On our tests, the Phantom VPN performed admirably by unblocking geo-restricted content, masking our IP address, and turning us into figurative phantoms.
A feature as important as an antivirus application or a VPN, the password manager included in the Avira Prime is available on all devices. The password manager can create and memorize strong unique passwords for each of your accounts. It is easy to use and can generate unique passwords that are difficult to predict or hack. Avira's strong encryption and security protocols ensure that your passwords are stored safely, away from prying eyes and malicious intents.
The system cleaner is another useful feature that you get with the Avira Prime. The PC cleaner, Android cleaner, and Mac cleaner can optimize device performance and turn it into a smooth and fast machine by cleaning junk files, caches, cookies, and temporary files. The system cleaner can reduce performance lags, decrease app launch times, and improve boot time to provide a smoother experience for users. However, the feature is not available for iOS devices.
With the greater part of our waking hours spent surfing the internet, our vulnerability has increased exponentially with the rapid rise in cybercrime. As a result, cybercrime has not only given birth to but also propelled the rise of secure browsing. As indispensable as a decent VPN or a strong antivirus, secure browsing allows you to safely surf the internet without worrying about malicious sites or virus attacks. Avira Prime's secure browsing feature is included in the browser extensions of the software and it can block infected sites, malicious content, browser trackers, and intrusive advertisements.
Though limited to Windows devices, this feature lets you customize more than 200 privacy settings to your liking with only a few clicks. The extensive customizability of the settings will be much appreciated by privacy-minded and advanced users. You can tweak the settings to meet your needs and best address your security concerns.
Much like the previous feature, this too is limited to Windows devices. As is evident from the name, Avira's software updates ensure that your security is not compromised by automatically keeping your drivers and software applications up to date. Avira Prime users will automatically receive all future updates and new products as soon as they are launched by the company.
With a single click you can scan your entire system for security issues, malware, outdated apps, weak passwords, and vulnerable networks, among others. The UI is minimalistic and easy to use even for beginners.
Though limited to Android and iOS devices, the QR code scanner is a clever addition that will help users to find better deals online by securely scanning barcodes and QR codes.
Exclusive to Android devices, network protection does exactly as its name suggests. It protects your network by scanning for vulnerabilities and helping you to fix them.
Available only with the browser extensions, the secure price comparison tool will find secure and valid coupons, promo codes, and deals for you when you shop online.
Users of Avira Prime will get premium VIP support, including the help of seasoned privacy experts and trained customer support staff of the company.
Google Trends is a service that analyzes the interest in popular keywords over a specified period and displays the data as a graph of interest over time. Using Google Trends, I studied the public interest in Avira and its product in the USA over the past 12 months.
On searching with 'Avira', the graph showed average to above-average interest throughout the past 12 months with occasional peaks in interest. Interest was highest during April 2020 but has risen and fallen several times since then. Currently, interest is above average but the graph predicts it to decline in the coming weeks.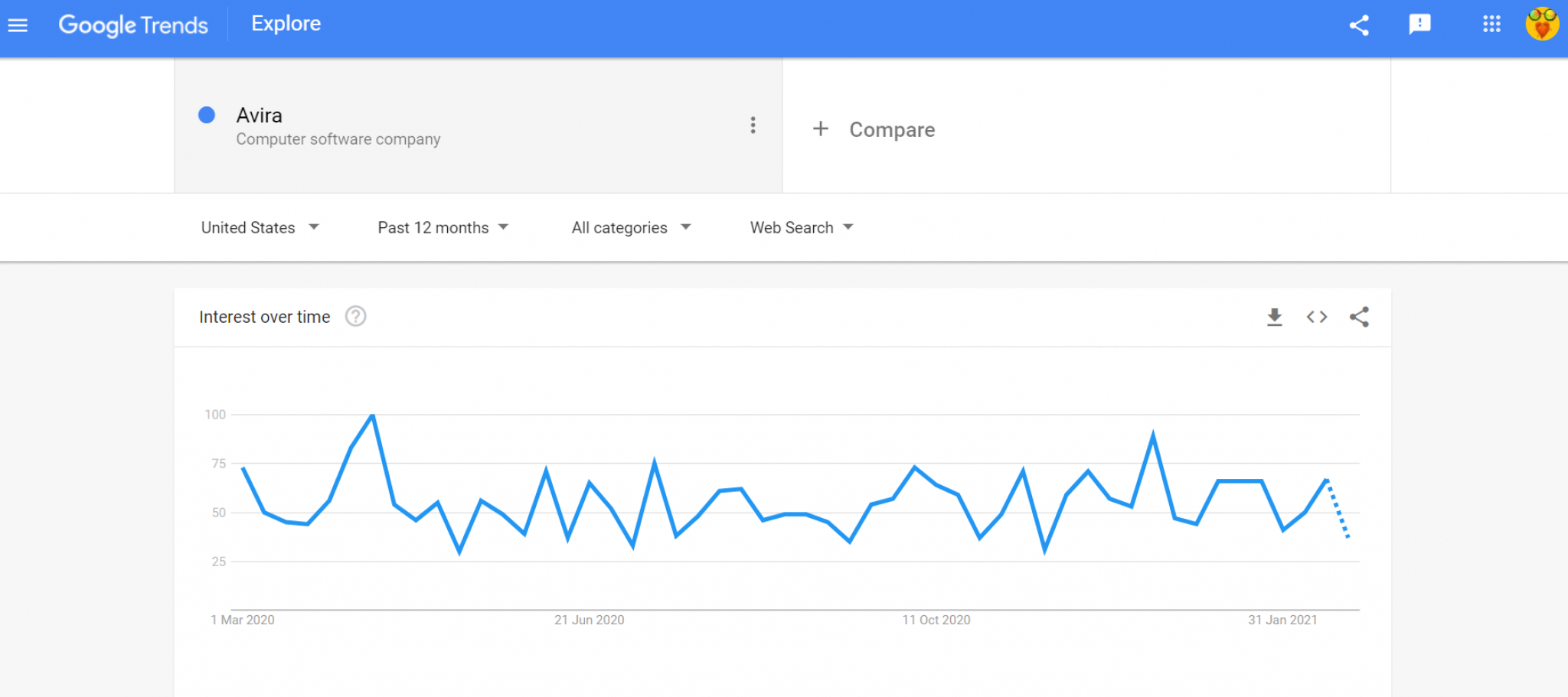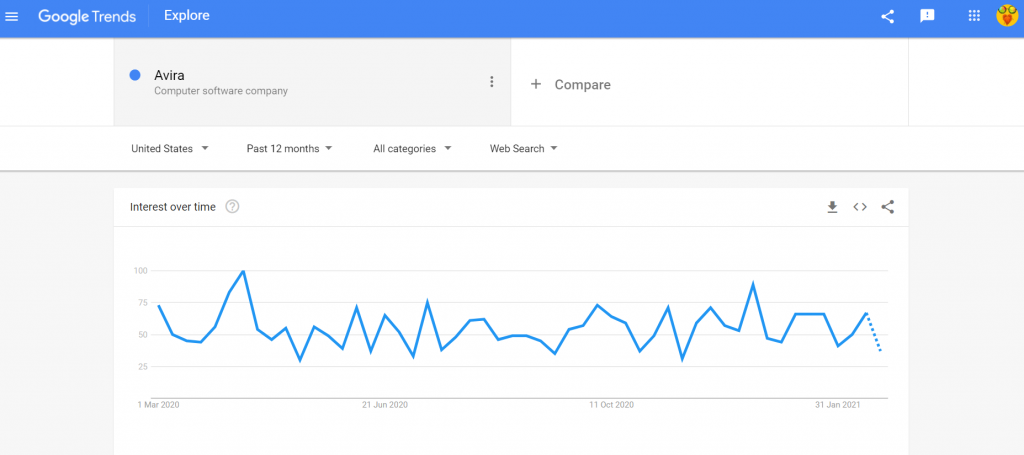 The graph that Google Trends displayed on searching with 'Avira Prime' indicates that the search term did not come up on Google Search as much as its parent company 'Avira' did. Other than a few irregular spikes in interest, the graph was mostly a flat line hugging the lower axis. However, the interest in the product peaked during September-October 2020 and even stayed at the peak for a couple of weeks.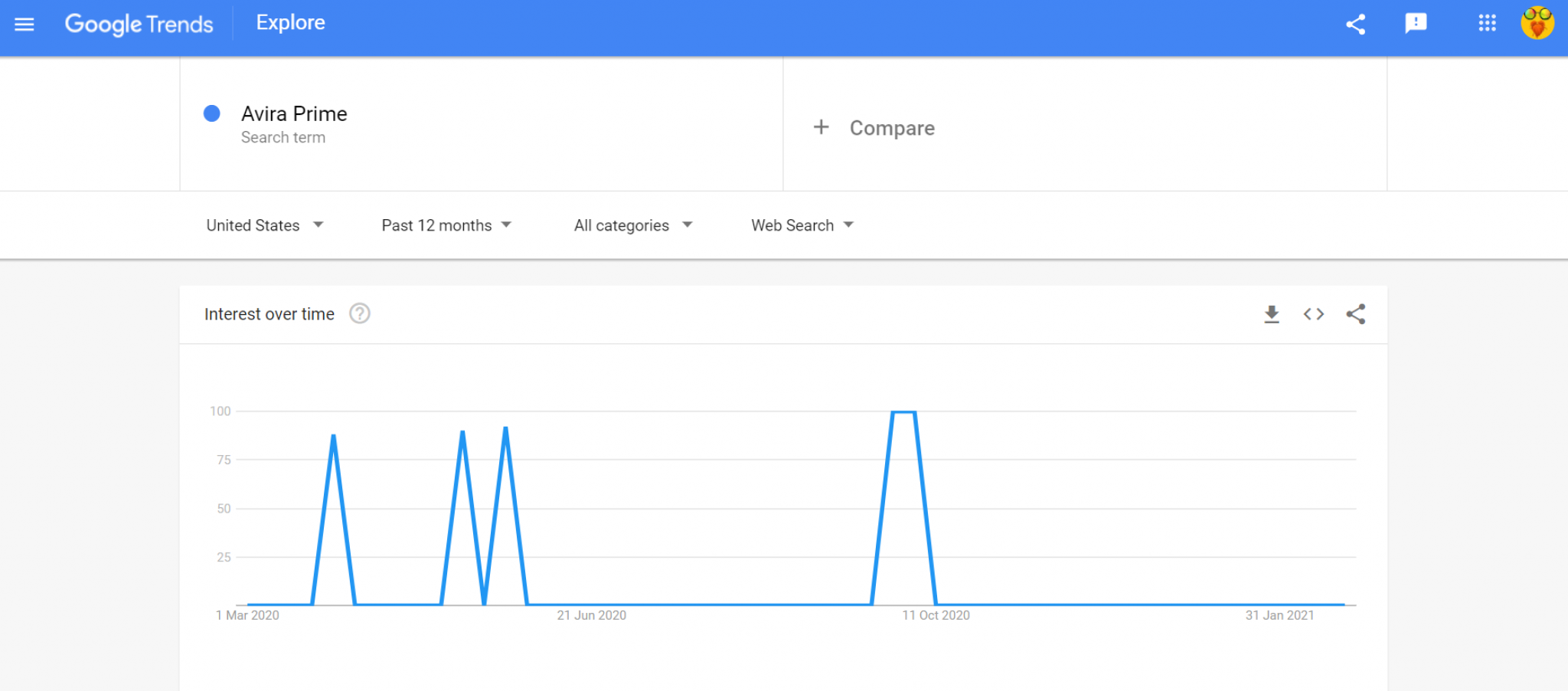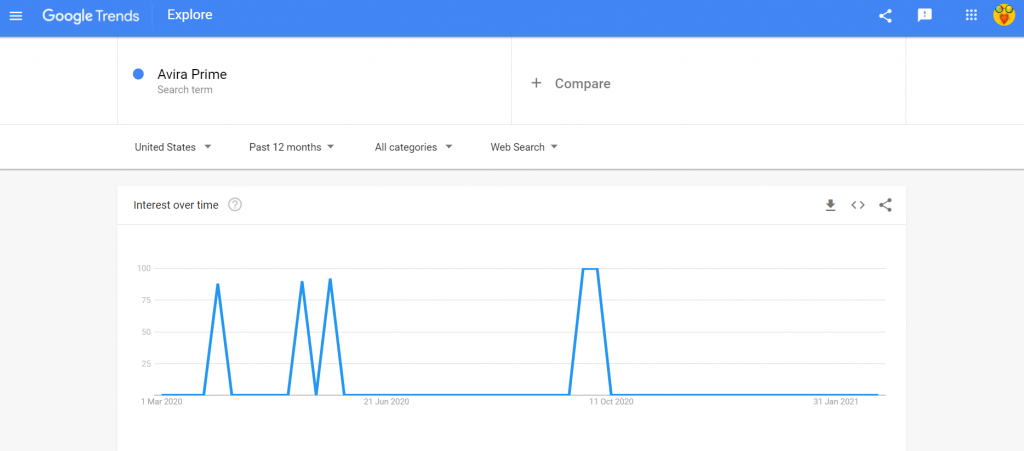 While the interest in "Avira" was quite standard and not surprising, the muffled interest in "Avira Prime" stems most likely from the fact that the users are not yet fully aware of the launch of its latest version.
 Social Media Feedback on Avira Prime 2023
Social media has opinions on everything under the sun and is the ideal place to start if you are looking for the latest updates and news about any company or product, including even some possible dirt. With active profiles on social media sites such as Facebook, Instagram, Twitter, and YouTube, it goes without saying that Avira has a considerable social media following. Thus, I went through Avira's Facebook page and Twitter profile to find out its popularity on social media and the attitude of users toward the company as well its products.
With over a million followers on Facebook and 22.4K followers on Twitter, Avira's social media popularity is soaring at the moment. Avira regularly posts on its social media pages, and its posts include helpful tips, technological advice, articles, and much more. User interaction on social media was limited to occasional likes and retweets or comments. I went through a few user comments and found out that Avira is quite popular with its users and boasts of a dedicated customer base that swears by Avira.
Avira's range of free as well as premium products and its superior customer service has contributed to the company's social media popularity but whether it can stay in the good books of its patrons and for how long it can do so will be the real parameters by which Avira will be judged in the future.
 User Reviews Of Avira Prime 2023
User review websites such as Trustpilot and SiteJabber offer reliable insights into a company and its products courtesy of the user reviews they host on their sites. I browsed through the real user reviews of Avira on Trustpilot and SiteJabber to find out what users of Avira and Avira Prime think about the company as well as the product.
There are more than 23,000 reviews of Avira on Trustpilot and the company has an impressive TrustScore of 4.6 out of 5 signifying its reliability and consistency. Over 60% of the reviews were excellent and numerous users claimed to be satisfied with the money they spent on Avira products. Other users praised the efficiency of the company's products and wrote highly of the security provided by Avira's apps. During my time on Trustpilot, I did not come across any scathing criticisms or negative reviews worth any concern.
On SiteJabber, there were only 5 user reviews and Avira scored 4.2 out of 5 in consumers rating. Barring one reviewer, all reviewers were pleased with the respective Avira products they had used.
I could not find a specific user review of the Avira Prime but going by the user reviews of Avira's other products, especially its security apps, and Avira itself, it is safe to say that the company does not disappoint when it comes to the performance of its products and the same can be assumed will hold true for Avira Prime 2023.
 Should You Go For Avira Prime 2023?
After using Avira Prime 2023 for several months now, I can say without a doubt that it is one of the best security suites currently available. Avira Prime is compatible across all devices, offers a plethora of advanced features and tools, and can be used on up to 25 devices simultaneously. Avira Prime is also reasonably priced and the several features that it offers in one software suite are worth the price Avira is asking for. When it comes to value for money, I could not find a better product than Avira Prime. However, unless you need to protect more than 10 devices, own a business, or need all the features available in Avira Prime, I would suggest looking into individual software products for each of your security needs.
PROS
Compatible with Windows, macOS, Android, and iOS devices
VIP customer support
CONS
Mac and iOS users will miss out on some features exclusive to Windows devices
Add your review
|
Read reviews and comments