iTop VPN Review 2023: A Free VPN Designed For Faster and Safer Gaming and Browsing
PROS:
Modern and easy user interface
Military-grade encryption
Good for streaming and gaming
Excellent speeds

November 2023 Deal! 90% Off iTop VPN (1 Year + 1 Year FREE)
November 2023 Deal! 90% Off iTop VPN (1 Year + 1 Year FREE)
Salsa20 (ChaCha20) 256-bit
Email support, web form, user manuals

Windows, macOS, Android, and iOS
My Personal Experience with Installing and Using iTop VPN
Installing and using a VPN, especially iTop VPN, is as easy as it gets. The process does not require users to navigate complicated instructions and takes only a few minutes. To install iTop VPN, you must first select a suitable plan, choose a payment method, and provide your email address. You can even download iTop VPN for free and use it on your Windows, Android, macOS, or iOS device.
If you choose the free version, an application will download on your device and you will simply have to run the application to install it. For paid versions, you will receive an email link with an activation code once you complete the purchase. The link will take you to the installation process for your device. Follow the installation guide to install and start using iTop VPN on your device.
Once you run the application, you can install it as is or choose custom install to have more control over how the application installs on your device. The installation process on my device hardly took a couple of minutes. After successful installation, you will see the home screen of the app with a connect button. Toggle the connect button to connect to a server of iTop VPN's choice. iTop VPN's advanced software automatically selects the optimum server based on your current location.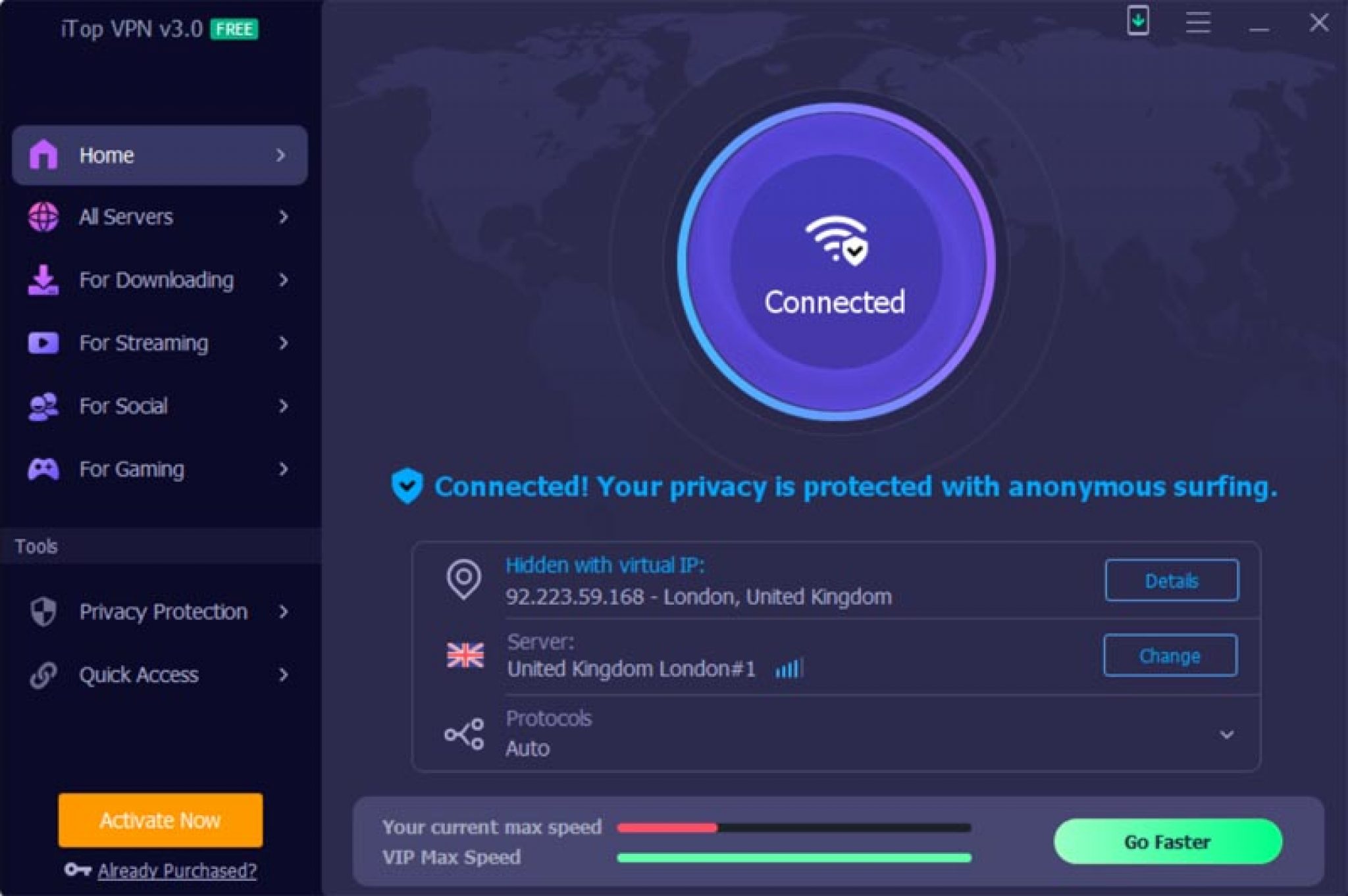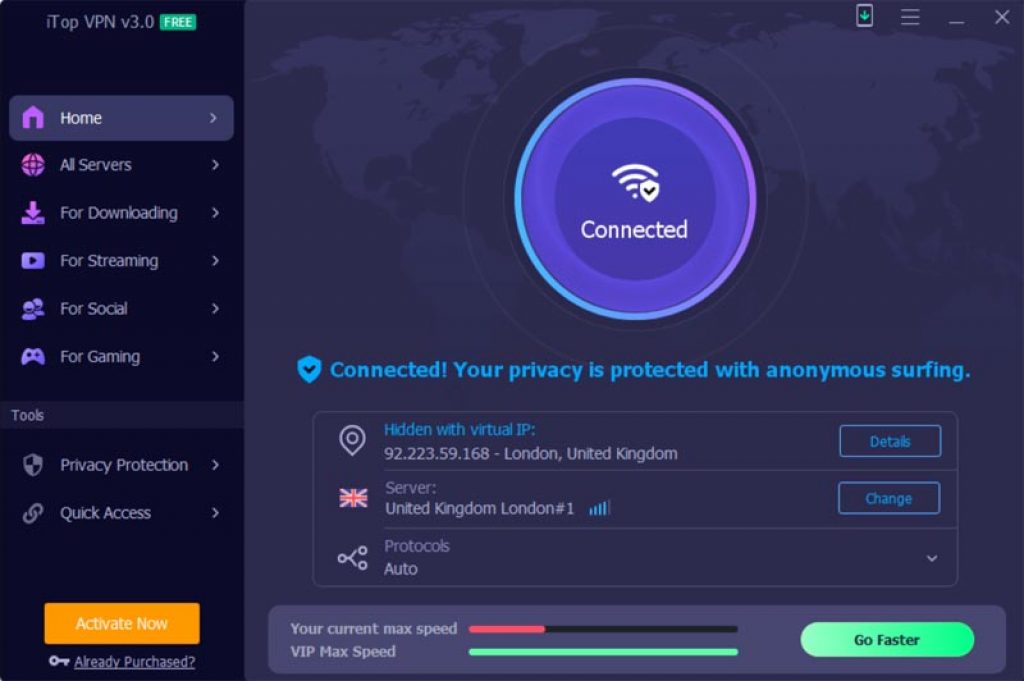 You can manually change the server if you wish from the home screen. However, you cannot use VIP servers if you have the free version. VIP servers are reserved for users who have bought and installed a paid version of iTop VPN. iTop VPN even allows you to change the security protocols and view your current speed on the home screen of the app.
Most major streaming services, including Amazon Prime Video, Disney+, HBO, Hulu, and Netflix are accessible through iTop VPN. ITop VPN has specialized servers for streaming, downloading, social media, and gaming. Not even some of the top VPN service providers offer specialized servers. iTop VPN not only has specialized servers but also categorized them separately so that users can easily access them as per their needs.

With iTop VPN connected to a server in the USA, I managed to access Netflix US quite comfortably. While the speed on the USA server was not up to the mark, there was no noticeable lagging or buffering when streaming Netflix. I even tried connecting to a different US server and I was still able to unblock Netflix US. As for Disney+, the process was smooth once again and I did not face any issue accessing the streaming platform on the USA server. I even used the Amazon Prime Video United Kingdom server to check its speed and I must say I was pleasantly surprised.
iTop VPN Feature Overview
When we judge the standard of a VPN's privacy policy, we must take into account the location of the VPN company's headquarters. In the case of iTop VPN, the company is headquartered in Hong Kong. This should ease the nerves of advocates of internet privacy since Hong Kong is not part of the five, nine, or fourteen Eyes Alliance. The Hong Kong-based VPN company is not obligated to store or share customers' private online data and identity with intelligence-sharing members of the alliance. Thus, iTop VPN is free from the draconian cyber laws that pose serious threats to user privacy.
The second most important aspect of a VPN that determines its ranking is its encryptions strength. Though iTop VPN uses military-grade 256-bit encryption, there is no mention of common security protocols like IKEv2, L2TP, or PPTP. On the contrary, iTop VPN features HTTPS, TCP, and UDP protocols, of which TCP and UDP are two different types of the OpenVPN protocol. However, iTop VPN does use the reliably strong Salsa20 (ChaCha20) 256-bit encryption putting to rest any misgivings users might have about the VPN's security.
Robust security protocols are essential to any VPN's strength and while iTop VPN may not offer the commonly used IKEv2, L2TP, and PPTP protocols, it is no slouch in the security department with HTTPS for double encryption, UDP for fast speed, and TCP as the automatic protocol. While the security protocol is automatically set to TCP by iTop VPN, users can easily change it to either HTTPS or UDP from the home screen based on their requirements.
Another major feature of any decent VPN app is leak protection. I always make it a point to check for IP and DNS leaks before I trust a VPN application. DNS and IP leaks are notorious for revealing the private information of users to third parties, internet service providers, or even cybercriminals. Such leaks can happen even if a user's internet traffic is passing through the VPN's encrypted tunnel. To strengthen users' privacy protection, iTop VPN offers DNS protection. Users can choose to use either the current DNS settings of their systems or select from a list of DNS providers, including OpenDNS, Google Public, DNS Advantage Public DNS servers, among others.
When I ran IP and DNS leak tests while connected to iTop VPN's Windows app, I did not detect any IP or DNS leaks. Additionally, iTop VPN ensures that my ISP is unable to detect my IP address by using the IPv6 connection for more enhanced security.

Even with all these strong security protocols and leak protection features, a sudden drop in VPN connection will leave your device and private data vulnerable. This is where a kill switch becomes an indispensable feature of any VPN application. A kill switch will terminate all internet traffic from your device if and when the VPN connection is lost. While iTop VPN's kill switch is not enabled by default, it does its job well. As soon as you connect to iTop VPN, remember to enable the kill switch from the privacy protection tab or settings depending on your device.
iTop VPN claims to have a strict no-logs policy that prevents the company from storing confidential user data such as online activity, connection logs, traffic data, DNS queries, or even session durations. However, I could neither personally verify this claim nor could I find any independent audit of the company's no-logs policy. Unless you are too concerned about your data being stored, you will have to take iTop VPN's word for it.
The number of servers a VPN has determines its usability and performance. iTop VPN has over 1800 servers located across more than 100 locations in different countries, including the USA, Canada, Mexico, Brazil, Australia, India, Japan, the UK, and various European countries, to name a few. One of iTop VPN's nearest competitors, PureVPN has 2000 servers spread over at least 140 locations. Some of the top VPNs like NordVPN and CyberGhost have as many as 5600 servers and 7100 servers, respectively. However, NordVPN's servers are located in only 90 countries. With 1800 servers, iTop VPN may have fewer servers than NordVPN or CyberGhost VPN but since iTop offers a global network of over 100 locations, the chances of finding an optimal server close to you are considerably higher than its competitors.
With an iTop VPN license, you can connect up to five devices simultaneously. Even if you use the free version, you can connect up to five devices at once. Almost all major VPNs like TunnelBear and ExpressVPN allow up to five simultaneous connections. However, NordVPN offers six simultaneous connections and CyberGhost allows up to seven simultaneous connections. Then again, iTop VPN costs much less than either CyberGhost or NordVPN does, and even has a free version.
iTop VPN free version is limited to 16 servers and 700 Mb of daily traffic.

Torrenting with iTop VPN is surprisingly pleasant experience, although I do not know whether it is a surprise anymore that this VPN manages to offer so much for so little. iTop VPN not only offers unlimited bandwidth that is necessary for Torrenting but also allows P2P dedicated servers. There are three P2P servers for VIP users and you can connect to any of them to download files from Torrent. The company does not keep logs and has a kill switch to keep you safe anonymous while online.
 iTop VPN: Server Speed Tests
iTop VPN promises and indeed delivers fast speed on its servers. To put its lofty claims to test, I checked the download and upload speeds on three different servers with the help of Speedtest by Ookla. First I checked the speed without connecting to the VPN. The download and upload speeds of my internet without connecting to iTop VPN were 29.42 Mbps and 2.23 Mbps, respectively.


I then manually changed to a USA server in New York. When connected to the New York server, I recorded a download speed of 26.06 Mbps and an upload speed of just 1.42 Mbps. The ping shot up to 194 ms, which is understandable considering the distance between my location and the server. Though the upload speed decreased dramatically, the download speed was still quite high and close to the download speed without the VPN. I even streamed Netflix USA on this server for quite some time without any buffering.

The next server I tested was in France. The server in France recorded a decent download speed of 20.74 Mbps and a surprisingly high upload speed of 6.62 Mbps. However, the ping quite drastically jumped to 285 ms but I did not make much of it as such things are prone to happen when connected to a VPN server. Considering the download speed did not drop below 20 Mbps, I considered it acceptable.


The last server that I wanted to test was in Asia. I choose a server in Tokyo, Japan. At 20.74 Mbps, the download speed still did not fall below 20 Mbps and browsing was fluent while connected to this server. The upload speed was 5.81 Mbps and the ping was 328 ms, which again is nothing to worry about.


It is worth noting that iTop VPN performs very well in the speed tests. The decrease in download speed is minimal compared to the speed of my connection without the VPN and the upload speed increased when connected to certain servers. Suffice to say that I was happy with the speeds iTop VPN had to offer and could not find much to complain about.
Google Trends is an analytical engine that charts the popularity of top Google search queries and displays the results as a graph. The graphical representation of search volumes of specific keywords over a specified period and within a specified region shows the interest in a particular keyword over time.
I turned to Google Trends to gauge the public interest in iTop VPN by checking related keywords like "ITop VPN", "CyberGhost VPN" and "PrivateVPN". Over the past 12 months, interest in "ITop VPN" has been steadily increasing in the USA. Though the graph shows several ups and downs in interest since November 2020, interest in the VPN increased in mid-2021 and even peaked around October 2021.
I searched with "CyberGhost VPN" and "PrivateVPN" alongside "iTop VPN" to find out how iTop VPN fared with other top VPN service providers. Though the subsequent results did not favor iTop VPN, it should be kept in mind that iTop has entered the VPN market quite recently while both CyberGhost and PrivateVPN have been in this market for years.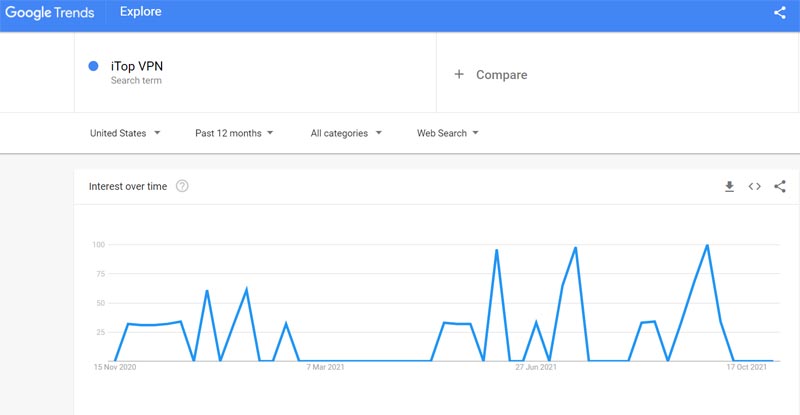 Interest in "CyberGhost VPN" was justifiably higher than in "iTop VPN". CyberGhost has been around for a  long time and has consolidated its place in the overtly competitive VPN market. However, iTop VPN is catching up as the graph shows sharp rises in interest since June 2021.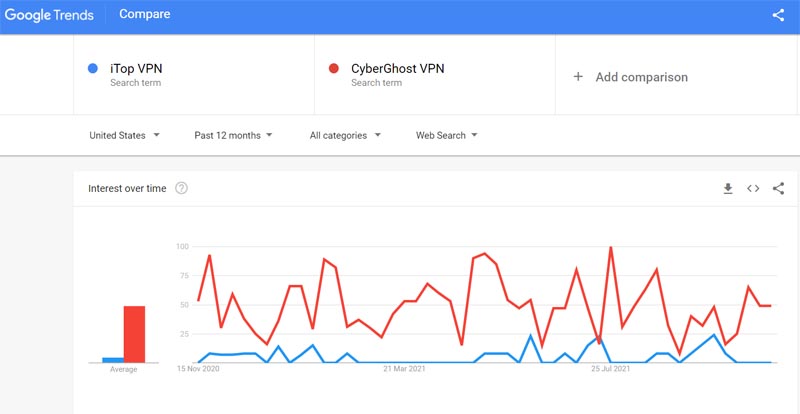 Interest in "PrivateVPN" was also expectedly higher than in "iTop VPN", though not as high as our previous competitor. The average interest over the past 12 months in iTop VPN and PrivateVPN is neck and neck with iTop VPN showing clear signs of improvement in the coming months.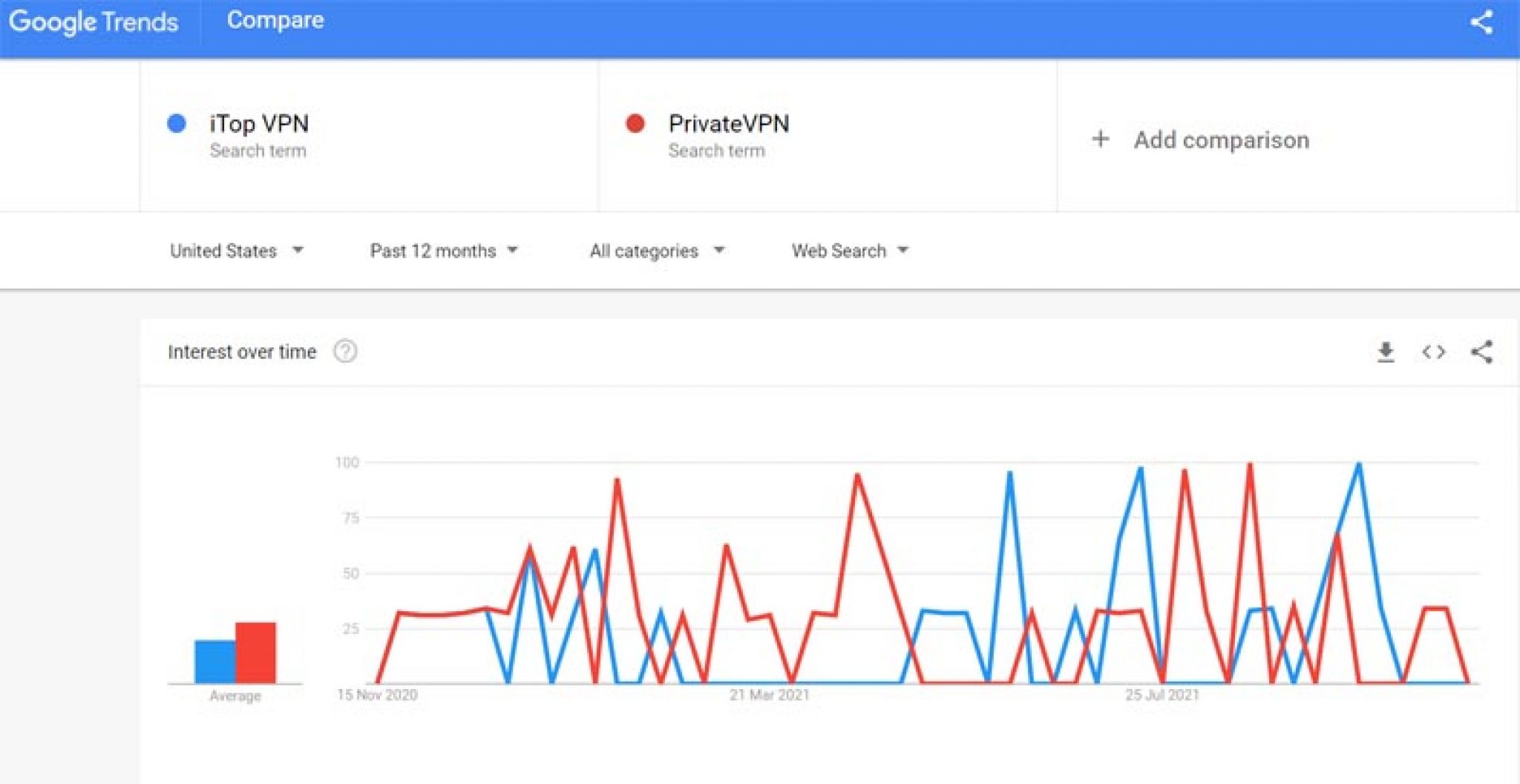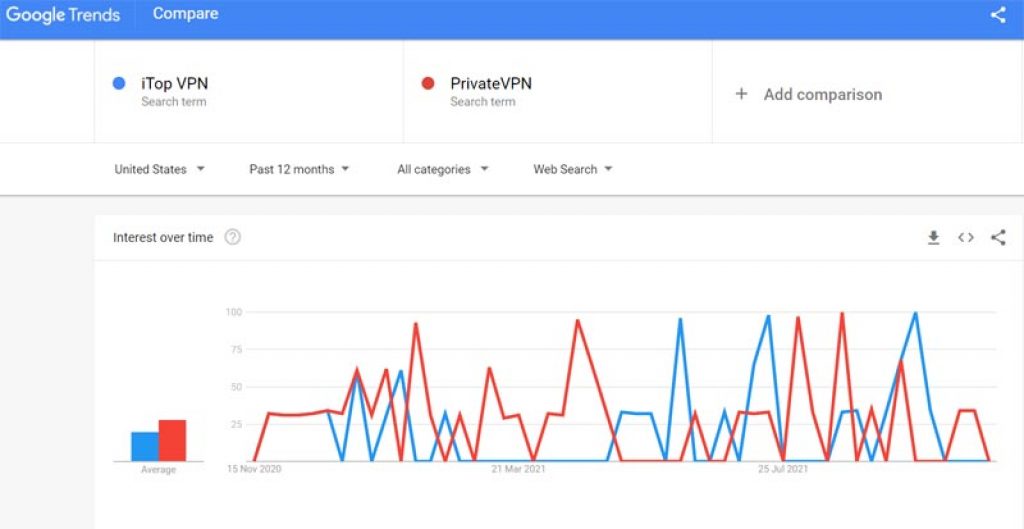 When deciphering the Google Trends graphs, it must be kept in mind that iTop VPN is still a newbie in the VPN market and interest in the keyword will increase gradually as more users learn about it. Considering the favorable reviews by users and VPN reviewers alike, iTop VPN has the potential to overtake its nearest competitors.
 iTop VPN: General Public Attitude
To accurately understand the general public perception of iTop VPN, I browsed through social media platforms such as Facebook, Twitter, and some VPN forums. While browsing through several social media sites, I found out that the public opinion of the iTop VPN is majorly a positive one aside from a few scattered issues regarding its customer support and device compatibility.
General users are chiefly concerned about the strength of the encryption protocols and the security features that iTop VPN has. The fact that the VPN application is capable of unblocking geo-restricted content on several OTT platforms makes it an instant hit with users who rely on such content for entertainment. Additionally, iTop VPN's ability to unblock popular games such as PUBG and COD: Warzone also makes it popular among the younger users of this VPN.
There were a couple of concerns that many users cited on social media sites and public forums. The first of these concerns is iTop VPN's incompatibility with Torrent. However, that concern has been addressed by iTop since then and the VPN now offers P2P servers that allow users to use Torrent. The second concern, which is of more importance, is regarding the VPN's limited support. As of now, iTop VPN can be used only on devices running Windows, Android, macOS, or iOS.
General public opinion of a product may not always provide the complete picture. Thus, I wanted to check a few user review websites to understand how real users of the iTop VPN felt about its features and performance. According to numerous user reviews on Trustpilot, iTop VPN is a surprisingly fast and capable VPN service that justifies its pricing.
On Trustpilot, iTop VPN earned an excellent TrustScore of 4.6 out of a maximum possible 5 from 183 user reviews. Most users unanimously praised the speed of the VPN and ease of use of its interface. Many users also claimed that iTop VPN is one of the best VPNs for gaming and streaming. Most users opined that there was not much to complain about considering the speed and consistent performance of the VPN application.
However, there were a few complaints regarding obtrusive advertisements and involuntary installation. The customer support agents from iTop VPN were quick to address every such negative review, and either resolved the issues or apologized for any inconvenience from the same.
To summarize, I will say that iTop VPN has been received quite favorably by users despite its few flaws that the company has worked on since then. As per the user reviews on Trustpilot, the praise for the VPN's speed, usability, and overall performance has been undivided. I rarely came across any overtly negative review barring the occasional complaints about the obtrusive advertisements that the company uses to promote its products.
ITop VPN is a relatively new VPN application compared to the other big players in this industry but it has been grabbing headlines since its release. Before I dive into the in-depth review of iTop VPN, I wanted to find out more about this VPN service that has been making all the right noises in the news circle. To do so, I explored numerous news sites and VPN blogs for interesting information and talking points about iTop VPN.
In this September 2021 article on Programming Insider, the author Marc Berman discusses iTop VPN and the edge it holds over other VPN service providers. The article argues that iTop VPN provides strong security, apodictic anonymity, and satisfying speed.
In its iTop VPN review, NewsDio unravels how and why iTop VPN is quickly attracting the attention of users worldwide with its several incredible features. The article recommends iTop VPN for its advanced encryption, user-friendly interface, and streaming capabilities.
In August 2021, Editorialge came out with an article that lists all the unique features of iTop VPN and explains why users need to start using this VPN service.
I personally found iTop VPN a reliable and promising VPN. The company does not overwhelm users with a plethora of advanced features that most users do not use or even know how to use them. Beginners and amateur VPN users will find iTop VPN to be an ideal choice considering the ease with which one can navigate the VPN's UI. Most of the features are easily accessible and self-explanatory.

November 2023 Deal! 90% Off iTop VPN (1 Year + 1 Year FREE)
November 2023 Deal! 90% Off iTop VPN (1 Year + 1 Year FREE)