Atlas VPN Review 2023: A Cheap And Feature-Rich VPN With Cost-Saving Upgrading Options
PROS:
Unlimited simultaneous connection
Military-grade AES-256 encryption
Good for streaming and torrenting
Free version available
CONS:
Limited number of server locations

November 2023 Deal! 86% Off Atlas VPN 2 Years + 3 Months FREE
86% Off Atlas VPN 2 Years + 3 Months FREE
AES-256 and ChaCha20-Poly1305 encryption
Email support, web form, user guides

Windows, macOS, Android, and iOS
My Personal Experience with Installing and Using Atlas VPN
The following is an easy guide on the installation and use of Atlas VPN. Before you install Atlas VPN, you must first choose a suitable plan or download the free version from the website. To purchase the app, you will have to enter your email address, choose a payment method, and enter the payment details. You can download and install the free version for your Windows, macOS, Android, or iOS device.
Once you have downloaded and installed the Atlas VPN application for your device, you will simply need to follow a handful of system prompts from the app to complete the setup process. The software experience is so intuitive that even beginners will not have much trouble getting the app up and working. The free version can be easily run on your device after installation. To activate the paid version, you will have to use the activation code that you will receive with the order confirmation email.
Run the application on your computer or open it on your mobile. You can choose from free and premium servers on the home screen of the application. The free version offers access to only 3 servers. While one of the three free servers is in Amsterdam, Netherlands, the other two servers are in Los Angeles and New York, the USA. The installation process is fast and partially automatic. It took my device hardly a minute to install and run Atlas VPN. Toggle the connect button on the right side of the app's home screen to connect to an optimal server.
You can manually change your server location any time you want by clicking on a server location listed on the app. Atlas VPN offers a unique feature in the form of SafeSwap. SafeSwap servers have a pool of different IP addresses that constantly changes when you establish a VPN connection to such servers. This unique feature enables the VPN connection to change IP addresses without disconnecting. You can access the home screen, assistant, and settings from the left navigation panel of the app.
I have tested many VPN services and I can say for sure that this is a really cool feature. The company states that they are the only VPN company which offers such functionality for their users. Read more about SafeSwap in the company's
blog article
.
From the "Assistant" tab, you can enable the Tracker Blocker feature and add your email to the Data Breach Monitor. Use the "Settings" tab to sign in to your account and toggle app settings like the kill switch, launch at start-up, push notifications, and in-app analytics. You can also visit the online help center, read the terms and conditions, and view the privacy policy by clicking on the support button.
Atlas VPN Feature Overview
1
 Headquarters and Privacy Policy
Atlas VPN is located in the USA, a country known to share intelligence with an international alliance of other intelligence-sharing countries. However, Atlas VPN claims to have a strict no-logs policy that prohibits the app from tracking or recording users' activities, including private information. The company's terms of service fall under the state laws of Delaware, USA.
In a recent press release, the team behind Atlas VPN stated that the company strives for "transparent ownership, a clear privacy policy, and adherence to the highest privacy standards." If these words will ring true remain to be seen but there is no denying that a founding Five Eyes member country is not an advantageous place for the headquarters of a privacy-minded VPN company.
2
 Encryption and Protocols
Atlas VPN more than makes up for the concerns its location raises by offering military-grade AES-256 and ChaCha20-Poly1305 encryption with WireGuard security protocols. The VPN app further boosts its security suite with advanced leak protection that protects both IPv4 and IPv6 connections from unwanted IP leaks. Robust security features and protocols are essential for the performance and eventual survival of a VPN app. I always look for IP and DNS leaks while reviewing a VPN service and Atlas VPN passed the leak tests without any hiccups.
Even with strong encryptions and robust protocols in place, IP and DNS leaks are quite common thanks to sudden connection drops. A sudden loss of the VPN connection will leave a device and the private data in it vulnerable to cyber threats. This is why a kill switch has become an indispensable feature of any VPN service. Atlas VPN offers a network kill switch that will halt all internet traffic from users' devices when the VPN connection is weak or lost. However, Atlas VPN's kill switch is not enabled by default and must be turned on by the user after installation.
Atlas VPN offers more than 750 servers across over 37 locations in 45 countries. The company has servers in Asia, Australia, Europe, and North America. The number of servers that Atlas VPN is much less compared to the more than 9700 servers that CyberGhost offers or even the 1800 or more servers that iTop VPN has. Nonetheless, Atlas VPN outranks its closest competitors when it comes to connectivity even if it may not have as many servers.
Atlas VPN allows users to connect an unlimited number of devices simultaneously with a single license. Not many VPN companies offer unlimited device connectivity but Atlas VPN outshines its opponents in this category. TunnelBear and ExpressVPN allow up to five simultaneous connections, while CyberGhost allows up to seven simultaneous connections. Then again, Atlas VPN is cheaper than most of the VPN apps it competes with.
Atlas VPN allows safe and secure P2P file sharing on its premium servers. Torrenting with Atlas VPN is a smooth experience held back only by the limited number of Atlas VPN servers and the lack of port forwarding or SOCKS5 proxy features. While I did not find any P2P-optimized server, Atlas VPN has enough tricks up its sleeve to pull off this audacious stunt successfully. The presence of a network kill switch also ensures that your online anonymity stays intact even when the VPN connection does not.
Atlas VPN was able to unblock geo-restricted content on almost all the major video streaming services, including BBC iPlayer, Disney+, HBO, Netflix, and YouTube. Just like iTop VPN, Atlas VPN has dedicated servers for streaming. You will have to connect to a server in the country whose content you want to access to get the best results. Atlas VPN allowed me to access and stream Netflix US without interruption. I was able to access not only Netflix USA but also the notoriously inaccessible BBC iPlayer by connecting to a server in the UK.
While the premium version unblocks geo-restricted content without fuss, you should not expect the same from the free version. Not only does the free version lack dedicated servers but also offers only a limited choice of 3 server locations. Atlas VPN's dedicated servers and fast speeds make it an excellent and reliable option for streaming enthusiasts. Atlas VPN is also an ideal choice for social media influencers who value internet privacy very highly.
Atlas VPN: Server Speed Tests
Atlas VPN not only promises but also offers consistently fast speed on most of its servers as long as the distance between your physical location and the server location is not substantial. To test Atlas VPN's lofty claims of blazing speeds, I connected to three different servers and tested the download and upload speeds with Speedtest by Ookla. The upload and download speeds of my internet connection without connecting to Atlas VPN were 6 Mbps and 181.71 Mbps, respectively.
The first Atlas VPN server that I connected to was in the UK. While the download speed dropped, it was still reasonably high at 101 Mbps. The upload speed surprisingly shot up to 33.42 Mbps when I connected to the UK server. The upload speeds increased on connecting to the three servers listed in the table above.


While the download speed on the USA server was not as high as that on the UK server, videos and games ran as smoothly as possible when connected to a server in another continent. I streamed Netflix on the US server without any lags or buffering.


On changing the server location to Hong Kong, the download speed dropped even further. However, at 68 Mbps, the download speed on the Hong Kong server was still good enough for uninterrupted streaming or browsing.
Google Trends is Google's analytical site that charts the periodical interest in top Google search keywords on a graph. The graph represents the average search volumes of specified keywords over a select period and within a specific region.
I used Google Trends to understand the average public interest in Atlas VPN and related keywords such as "Atlas VPN", "iTop VPN" and "PrivateVPN". Interest in "Atlas VPN" among US customers over the last 12 months has been low at the start of the select period but has been steadily rising since then. Interest in the keyword peaked thrice between May 2021 and August 2021. Though the interest in "Atlas VPN" rose and fell several times since December 2020, the graph not only shows sudden bursts of high interest but also predicts current interest to rise over the next few weeks.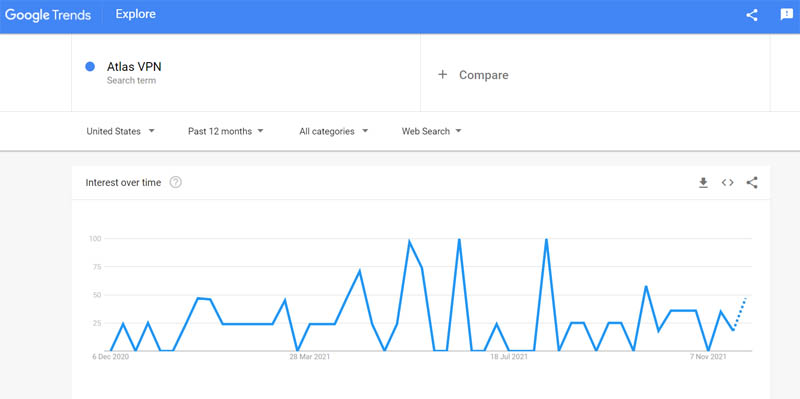 To see how Atlas VPN fared against some of its closest competitors, I compared with "iTop VPN" and "PrivateVPN" using Google Trends. Though Atlas VPN is much younger than its competitors, the subsequent results came out in favor of it. While the results may seem surprising at first, the higher average interest in Atlas VPN is understandable upon a deeper inspection.
The interest in "iTop VPN" was substantially lower than that in "Atlas VPN" despite being higher at the start of the examination period. While iTop VPN may also be a newcomer to the VPN market, it has been around longer than Atlas VPN but has been unable to garner as much interest as Atlas VPN has managed to in a shorter period.
On the other hand, interest in "PrivateVPN" between December 2020 and November 2021 has been quite substantial but not enough to go past "Atlas VPN". The average interest in Atlas VPN over the past 12 months was much higher than that in either "iTop VPN" or "Private VPN".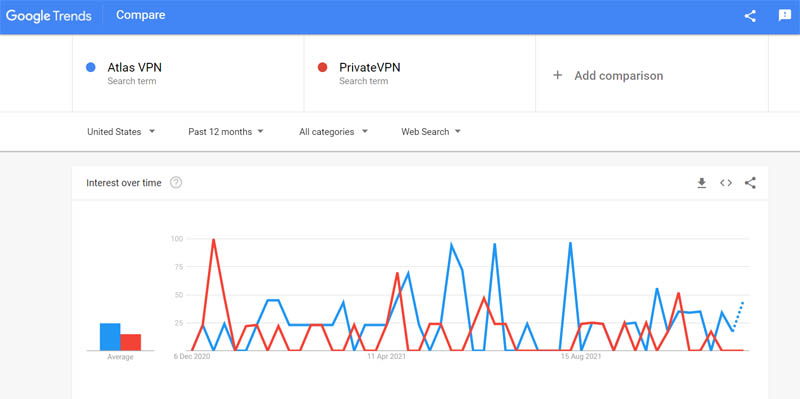 Atlas VPN: General Public Attitude
I explored several social media platforms and VPN forums, including Facebook and Twitter, to accurately gauge the general public attitude towards Atlas VPN. While browsing through the different sites and forums, I discovered that the general public had mostly positive opinions and remarks about Atlas VPN.
Most social media users on Facebook and Twitter were mostly pleased with the VPN app's features and overall performance. As usual, the major concern with a VPN is its encryption and security protocols. According to many users on social media and VPN forums, Atlas VPN offers strong and reliable encryption protocols backed by advanced security features.
Many users were also delighted that Atlas VPN has a free version, albeit with limited servers. The fact that the premium version of Atlas VPN was able to unblock and smoothly stream geo-restricted content on different OTT platforms made it popular with the public. The affordability of Atlas VPN was also a major draw among the public suggesting that users are now leaning more towards cheaper VPN services, including free VPNs.
However, there were a few concerns raised on VPN forums and social media platforms regarding the strictness of the company's no-logs policy. While Atlas VPN claims to have a strict no-logs policy in place, the company is headquartered in the USA, which is a part of the international intelligence alliance. Some users expressed concerns about privacy and the company's location.
Atlas VPN: Users Reviews and Feedback
While the public's feeling towards a VPN is of importance, product reviews from real users hold even greater sway over future users. Hence, I browsed through Trustpilot for a deeper understanding of the impact of Atlas VPN on real users. Trustpilot user review site is an ideal place where you can find real user reviews of companies, products, and services.
On Trustpilot, Atlas VPN scored an average TrustScore of 3.2 out of 5 from 84 user reviews. More than half of the reviews praised the VPN service for its speed, smooth UI, and customer support. Several users mentioned that they were surprisingly pleased with the company's quality tech support and promptness of the customer support.
However, not every review was positive and I did run into a couple of recurring complaints from users. In the first such review that I ran into, the user complained about the difficulty and overdrawn process of canceling an Atlas VPN plan. A few other users also complained about the refund and cancellation policies of the company. Interestingly, customer support representatives of the company were quick to respond to the reviews.
Based on the several user reviews of Atlas VPN, I have come to a conclusion that users of Atlas VPN have favorably received the app despite some of its obvious but fixable flaws. Atlas VPN's tech support and customer service were praised in many user reviews and rightly so. Not only did the company quickly respond to negative reviews or complaints on Trustpilot but also apologized for any inconvenience caused to the customer and offered further assistance.
Although Atlas VPN is a much younger VPN service than most of the established VPN service providers, it has not shied away from headlining tech news. Before diving into the full-depth review of Atlas VPN, I scoured through several news websites and VPN blogs in search of current and relevant news about Atlas VPN.
In an October 2021 article that TechRadar posted on its website, Nord Security (NordVPN is developed by this company) added Atlas VPN to its expanding portfolio of cybersecurity products. Atlas and TechRadar had reached a deal earlier in the year to incorporate Atlas VPN and its service to Nord's security brands.
In an August 2021 article on cybersecurity by The Fintech Times, journalist Polly Harrison reveals that Atlas VPN has reportedly detected an overwhelming surge by more than 150% in ransomware attacks in the USA in 2021. The article reflects on the monetary damages of such cyber-attacks and lists the countries that are most rattled by such attacks.
Earlier in 2021, Atlas VPN launched a new privacy feature called "Tracker Blocker" to block advertisements and third-party trackers.
This mobile-focused Atlas VPN is an ideal choice for VPN novices and beginners thanks to its free version and user-friendly UI. Atlas VPN not only unblocks geo-restricted content on Netflix and BBC iPlayer but also keeps your streaming experience free from annoying advertisements by using its effective ad-blocker feature. Armed with sophisticated ChaCha20-Poly1305 and AES-256 bit encryption alongside IPSec/IKEv2 and WireGuard security protocols, Atlas VPN offers uncompromising security for a fraction of the cost some of its nearest competitors charge. If you are searching for an affordable, easy-to-use, and reliable VPN app, then you may want to consider Atlas VPN.

November 2023 Deal! 86% Off Atlas VPN 2 Years + 3 Months FREE
86% Off Atlas VPN 2 Years + 3 Months FREE