TunnelBear Review 2023: A No-Logs VPN Service With A Crystal Clear Privacy Policy
TunnelBear has one of the clearest privacy policies of any VPN provider I have reviewed to date. The privacy policy clearly states what information the company collects and what it does not as well as what the company does with the data it collects. While TunnelBear employs third-parties for payment processing, it does not sell or share information with such third-parties and earns its revenues solely from customer subscriptions and not through ads or data mining.
PROS:
Independent security audits
Free version available (limited)
Strong encryption and security features
User-friendly apps with a clean UI
CONS:
No support for routers, consoles, or smart TVs
Less than average number of servers

September 2023 Deal! 60% Off TunnelBear (2 Years Subscription)
60% Off TunnelBear (2 Years Subscription)
Guides, FAQs, help articles and support tickets via email
Windows, macOS, Android, iOS, and extensions for Chrome, Firefox, and Opera
1
 TunnelBear: Installation and Usage Guide 
Get the TunnelBear VPN apps for any operating system for free or choose a paid plan for unlimited data. Create your account with TunnelBear after choosing the plan and payment option. You will receive a welcome email from TunnelBear. Open the email and follow the instructions or just go to TunnelBear's website and download the VPN client for your device with one click. Once downloaded, run the application, give the required permissions, and the app installs within minutes.
Log in with your credentials and a grey world map, positioned on your current location, greets you. As always, the map interface looks appealing but lacks the practicality necessary for such maps to be useful. You can click and drag the map to move around but the map does not warp around the Pacific from the Americas to Asia forcing you to go back across the Atlantic and Europe to view Asia.
All the server locations are highlighted on the map and you can click on any location to connect instantly. You will see a bear digging into a tunnel in your chosen location and going to rest in the tunnel signaling that your connection is protected by the VPN. You can also connect by toggling the on/off button.
Though TunnelBear has just over 23 server locations to choose from, a location search box would be a functional addition to the app's near-faultless UI and so would a list of locations categorized as per load or ping time with the option to mark favorite servers.
Get 60% Off TunnelBear 1 Year Subscription
TunnelBear has a strict no-logs policy that is backed up by its clear and conclusive privacy policy. It does not store users' identifiable data or connection logs. The company is based out of Toronto, Canada and is subject to intelligence sharing regulations under the 5/9/14 Eyes Alliance.
However, TunnelBear can not share information it does not log or store even as part of the intelligence-sharing Alliance.
If privacy is your priority then steer clear of VPNs operating from countries that are a part of the Alliance as such countries are the worst violators of online privacy. Other than that, TunnelBear is the only VPN in my knowledge to have completed as many as three independent code audits in consecutive years. The results of the audit were publicly published despite reporting a few vulnerabilities. Though the issues were not critical and TunnelBear addressed the issues raised by the audit, the company must be applauded for being forthright about its flaws with the public.
TunnelBear even voluntarily explained the company's modus operandi when it took part in a project under the Center for Democracy and Technology. Despite TunnelBear's playful image the company has proven to its customers through the above actions that it is serious about online privacy and data security.
Military-standard encryption protocols and a user-friendly interface make the TunnelBear VPN apps a great choice for amateur users and professional teams alike. Leak-protection, a strict no-logs policy, and independent audits are just some of several reasons this VPN is also perfect for advanced users. TunnelBear is also an ideal VPN service for families as it lets you connect up to 5 devices and its apps are extremely easy to install and use.
TunnelBear puts user experience above everything else by focusing on light-hearted simplicity, a quality I sorely miss in the serious (and often unnecessarily complex) world of VPNs and data privacy.
AES-256 data encryption is used by TunnelBear on all of its VPN apps with support for both CBC and GCM ciphers. The Windows, Android, and iOS apps all use AES-256-CBC while the macOS apps use AES-256-GCM with a 3072 bit DH group. Windows and iOS both use a 2048 bit DH while Android uses a 4096 bit DH. Data authentication is done via SHA256 and OpenVPN is the preferred security protocol on all devices. IKEv2 is supported on the Windows and iOS apps.
4
 The Fastest Tunnel Feature
TunnelBear's Fastest Tunnel feature automatically connects you to the best server by selecting locations with the lowest latency or ping times to ensure that your traffic travels the least distance possible. To use this feature on Windows, macOS, Android, and iOS apps, simply click "Fastest" from the drop-down list of server locations.To manually select the server location, click on the current location and choose a different location from the drop-down list.
To change servers, click on the globe icon on the left navigation panel of the Windows app. The map view will come up in the main window and you can change servers either from the drop-down list on the top of the window or from the map interface itself. For advanced settings and customization, click the settings icon.
TunnelBear uses Windows desktop notifications to inform the user when the VPN connects and disconnects. Thus, you can tell if your connection is protected or not even if the VPN app is minimized or blocked from view by another open application screen.
The TunnelBear browser extensions are functional and let you connect, disconnect, and change locations from inside the browser. Browser extensions act as proxies to reroute only your browser traffic through secured TunnelBear servers.
5
 Why Would You Need A GhostBear?
To use a VPN service in restrictive countries like China and the UAE, users must hide the fact that a VPN service is being used to avoid getting blocked by the draconian cyber laws of such countries. GhostBear disguises VPN encrypted traffic as regular HTTPS traffic to bypass VPN blocking in countries like the UAE, Turkey, and China. Jean-Luc Bearcard, a support bear, advises users to turn on GhostBear only when necessary to avoid loss in speed.
SplitBear, TunnelBear's split-tunneling feature, lets you divert selected traffic through VPN servers and the rest as regular traffic.
A large chunk of internet users prefers to use the TOR browser in conjunction with a VPN service to maximize their privacy and security. While some VPNs are not compatible with TOR, Tunnelbear lets you use its VPN service over TOR but with a slight catch. The TunnelBear support staff I contacted via email warned me that connection speeds might severely decrease while using TOR.
TunnelBear is available for download on Windows, macOS, iOS, Android, Opera, Chrome and Firefox. Routers, gaming consoles, and smart TVs are not supported by TunnelBear. PrivateVPN is a good choice for routers while ExpressVPN works on all commonly used platforms.
8
 TunnelBear: Server Speed Tests
To test TunnelBear's speed claims, I connected to several servers and tested the download and the upload speeds via speedtest.net. I also checked for latency issues by running ping tests and verified the location of the servers using a geo-location test. I was able to connect to each TunnelBear server without any uncomfortable delays or retries.

The download and upload speeds of my internet connection without a VPN were 35.56 Mbps and 5.06 Mbps while ping time was recorded at 44 ms. On connecting to the TunnelBear my traffic was automatically routed through the fastest server near my physical location at the time of testing. The first server in Amsterdam, Netherlands recorded a download speed of 27.33 Mbps and an impressive upload speed of 19.85 Mbps. The 23% drop in download speed was barely noticeable thanks to the dramatic increase in upload speed and an incredible ping time of just 2 ms.


I changed server location to the UK and got a decent download speed of 23.89 Mbps and a ping time of 21 ms but the upload speed fell to 1.99 Mbps. General browsing and video streaming on YouTube were hardly affected at all and the experience was pleasant.

Next was a server in the USA where the download speed dropped further to 17.96 Mbps while the upload speed rose to 5.53 Mbps with 23 ms ping time. Again there were no visible lags in playing videos and browsing the internet. Downloading large video files took more time than on servers in Europe but that is something that I can deal with.
Speed on distant servers took a hit as expected but surprisingly not as much as I had dreaded. TunnelBear's Hong Kong server offered a download speed of 15.16 Mbps, an upload speed of 1.67Mbps and a ping time of 19 ms.


TunnelBear's servers may not be as fast as those of
NordVPN
or
CyberGhost
but the download speeds were consistent and fast enough for a comfortable experience. Ping times were impressive on all servers, even on remote ones, but the upload speeds varied greatly. The fluctuation in upload speeds did not bother me as I do not use Torrent clients.
9
 TunnelBear for Streaming Services
I tried to access BBC iPlayer by connecting to TunelBear servers in the UK but to no avail, as the streaming site detected my VPN use and flashed the much-dreaded warning message.
Unblocking Netflix is a litmus test for a VPN service provider but unfortunately, TunnelBear failed to pass the test as Netflix promptly displayed the error message no one wants to see everytime I tried to access the streaming site in countries like France, the USA, and the UK. If Netflix is your priority then go for PrivateVPN.
Streaming geo-restricted videos on YouTube proved to be a greater success than the streaming sites and I was able to stream not only blocked content but that too at high speed and without buffering. However, as almost any VPN worth its salt can unblock US-only YouTube content without breaking a sweat, I will not count this as a positive for TunnelBear.

September 2023 Deal! 60% Off TunnelBear (2 Years Subscription)
60% Off TunnelBear (2 Years Subscription)
TunnelBear can sometimes take minimalism to the extreme as is evident from its website where I just about stumbled upon the only reference to P2P file-sharing and torrenting on the entire site and even that barely scratched the surface. With TunnelBear you can torrent as much as you want but be careful not to breach laws such as copyrights since illegal activities while using TunnelBear are forbidden by the company in its terms and conditions and violating the same will invite strict actions against the user.
As a certain Obi-Wan KenoBear (excuse the pun) recommended via email, try servers in specific regions like Canada, USA, UK, Netherlands, Romania, Sweden, and Germany for the best torrenting experience.
 However, if you want a more comprehensive torrenting experience then
TorGuard
, with dedicated P2P servers, is a better choice than TunnelBear.
VigilantBear, the kill switch, keeps an eye out for unexpected drops in VPN connection and blocks all internet traffic in such cases to prevent data leaks. The feature is however available only on Windows, macOS, and Android (5.0 and above). I forcibly disconnected the VPN service to test the efficiency of VigilantBear and it passed with flying colors by instantly disconnecting the internet. It even sent a Windows notification to inform me of the issue.
TunnelBear has secure DNS servers that prevent DNS leaks and IP leaks. However, WebRTC leak protection is unavailable. A PrivateDNS feature is offered on devices running Android 9.0 and above that encrypts DNS queries to protect users from untrustworthy third-parties.
13
TunnelBear vs Competitors
One TunnelBear license allows up to 5 simultaneous connections. 5 connections are the average number of connections that most VPNs, like ExpressVPN and PureVPN, offer but there are a few companies that offer more. CyberGhost allows up to 7 multi-logins while IPVanish allows 10. To connect an unlimited number of devices you can go for SurfShark VPN.
14
 TunnelBear: Google Trends
Google Trends is a website that analyzes the popularity of the most searched keywords on Google search and plots a graph representing interest over time across a particular region. I put to test the popularity of search terms, such as "TunnelBear" and "TunnelBear review", across the United States in the past 12 months. I also compared the popularity of competing VPNs such as "TunnelBear" and "PureVPN".
Interest in the search term "TunnelBear" was fell several times from March to June 2019 but saw steady growth during the end of the year and the start of 2020. The popularity decreased again but is currently on the rise and is estimated to keep increasing as a possible result of the global lockdown that has forced millions into working from home.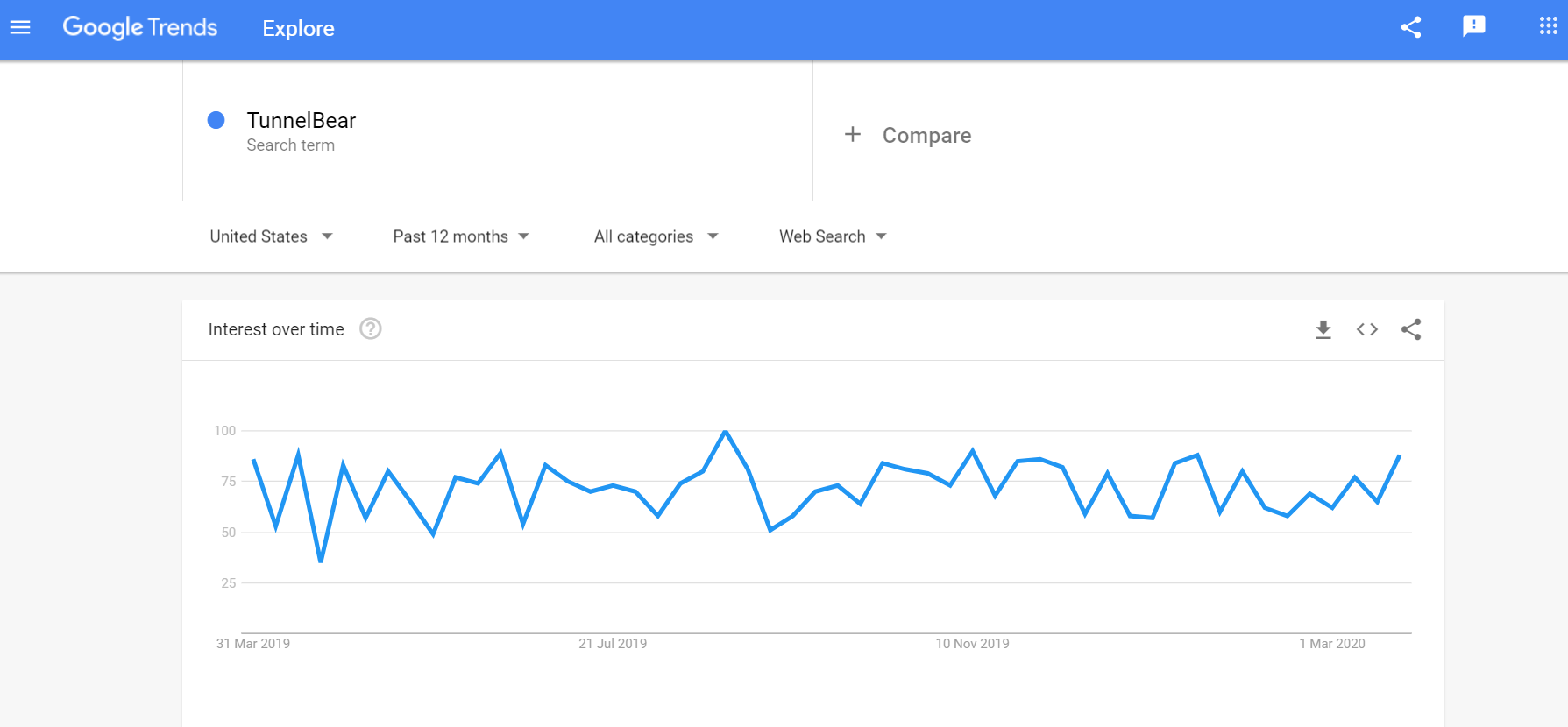 On entering the keyword "TunnelBear review", the graph showed a steady period of increased interest from August 2019 to February 2020 but fell to an all-time low as March neared. However, as with the previous search term, interest in "TunnelBear review" is also expected to rise sharply though it is currently at its lowest.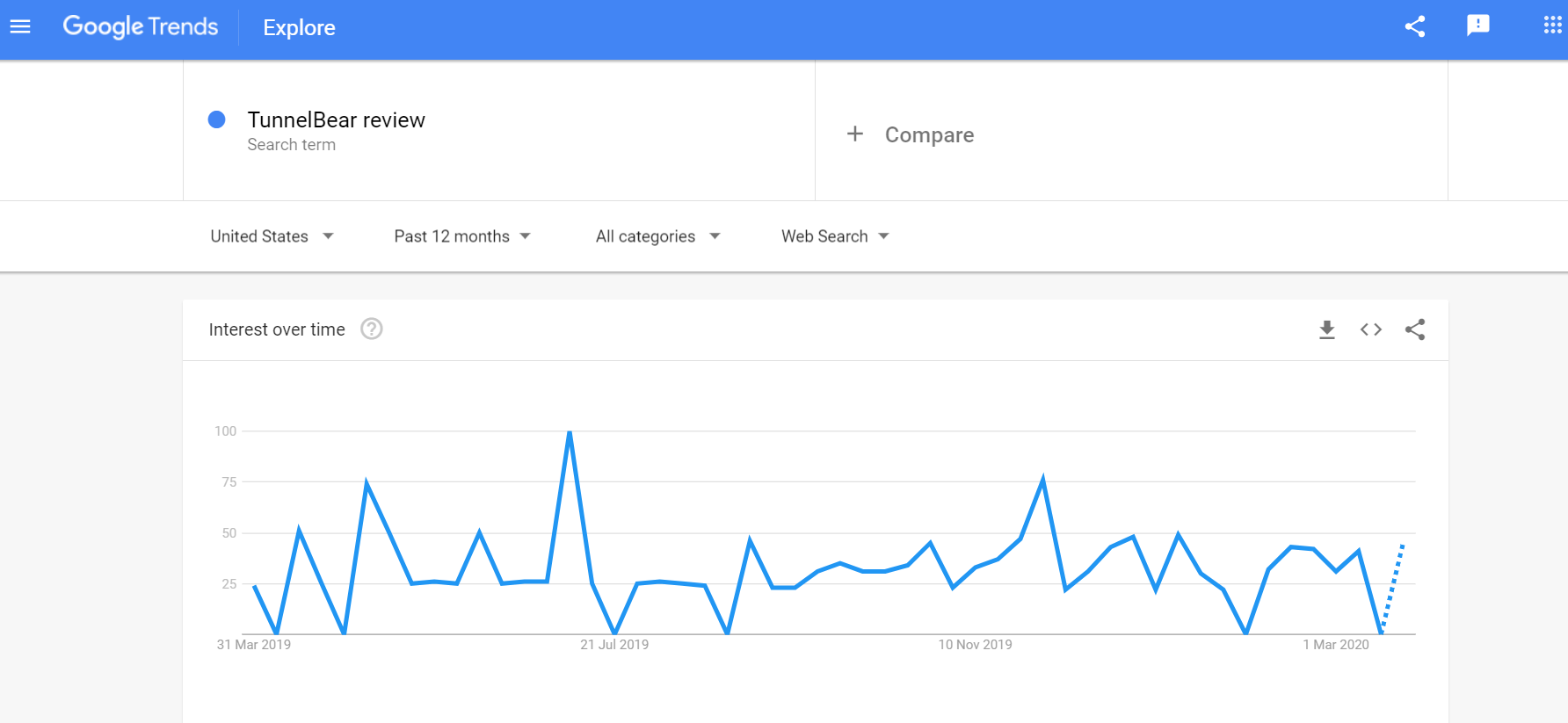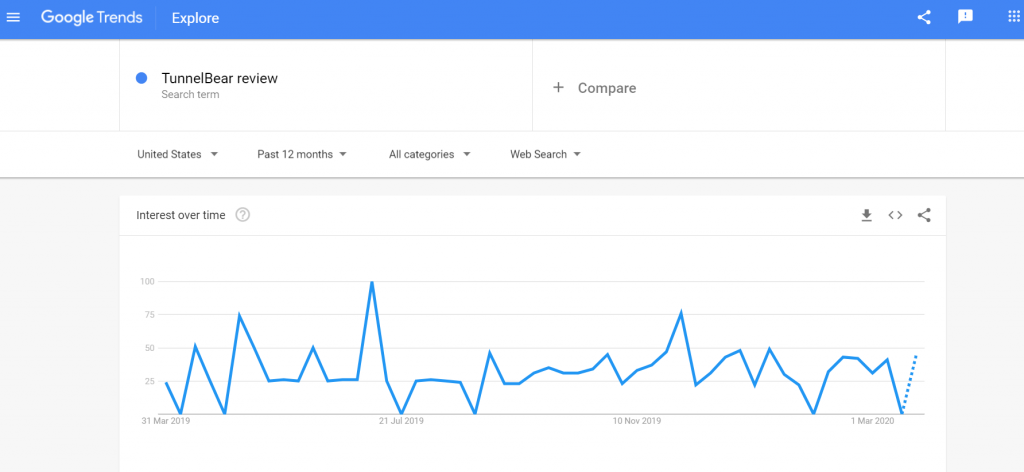 When I compared the search terms "TunnelBear" and "PureVPN" the results came out in favor of the former by a fair margin but the latter gave stiff competition to the former. The popularity of both the search terms saw some ups and downs over the last 12 months but after a recent decline in interest is on its way up as I write.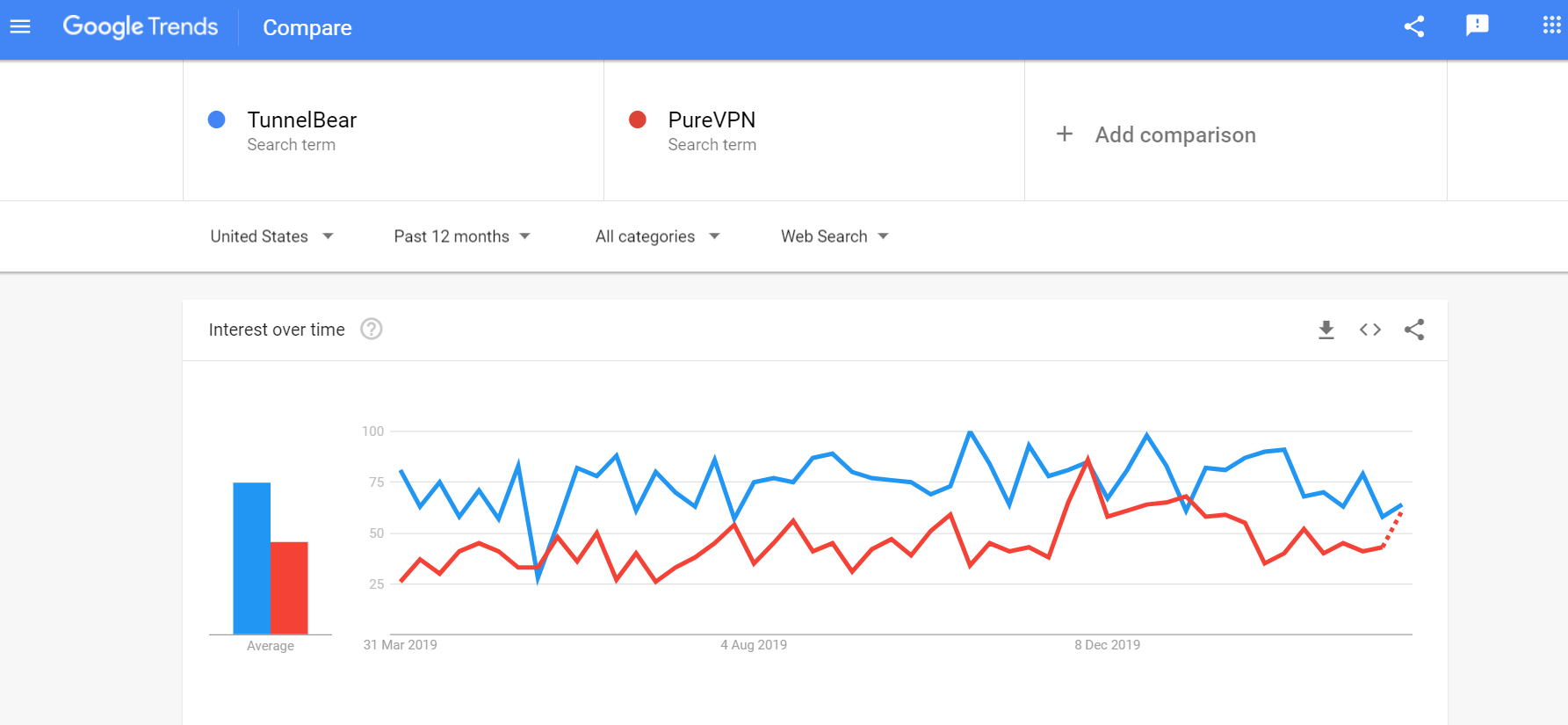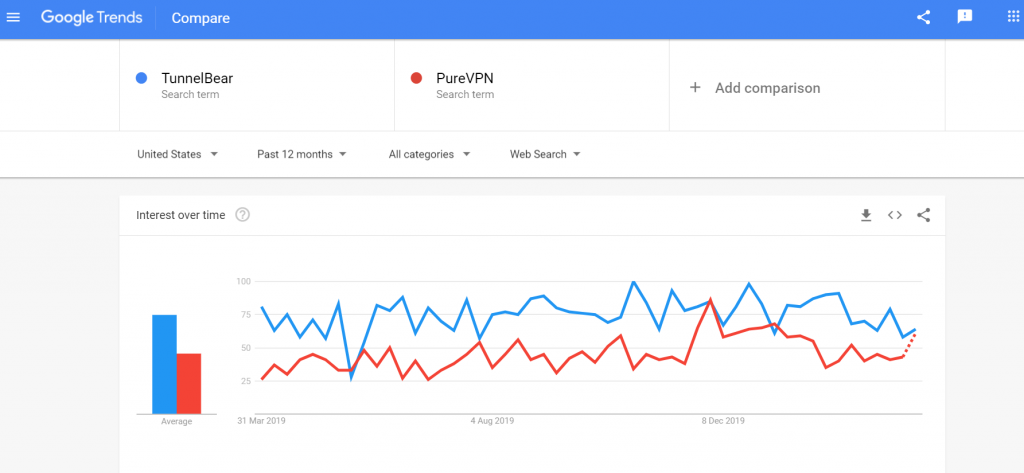 TunnelBear's help page may not be as extensive as PrivateVPN's or CyberGhost's support pages but it contains a decent range of useful articles that are presented in a simple yet effective manner. Navigating the TunnelBear help page is very easy as it is conveniently categorized into announcements, getting started, billing & payments, troubleshooting, TunnelBear for teams and contact support.
Troubleshooting resolves issues related to installation, connection, speed, accessing websites, and common error messages. The "getting started" category is further subdivided into guides, FAQs, privacy & security and features. TunnelBear for teams provides helpful articles on "creating your team" and "billing & payments" for teams.
I found TunnelBear's support page to be quite resourceful barring a couple of issues that the company seemed to have skipped entirely such as the number of servers and support for Netflix and P2P file-sharing. Thus, I turned to TunnelBear's customer support for answers to the above queries and also to test their speed of response. I clicked the green "support" button at the bottom right-hand corner of TunnelBear's site under the impression that it was live chat support. Unfortunately, it turned out to be a chatbot. I asked a few questions to which the bot responded by sending me several links none of which even closely related to my queries.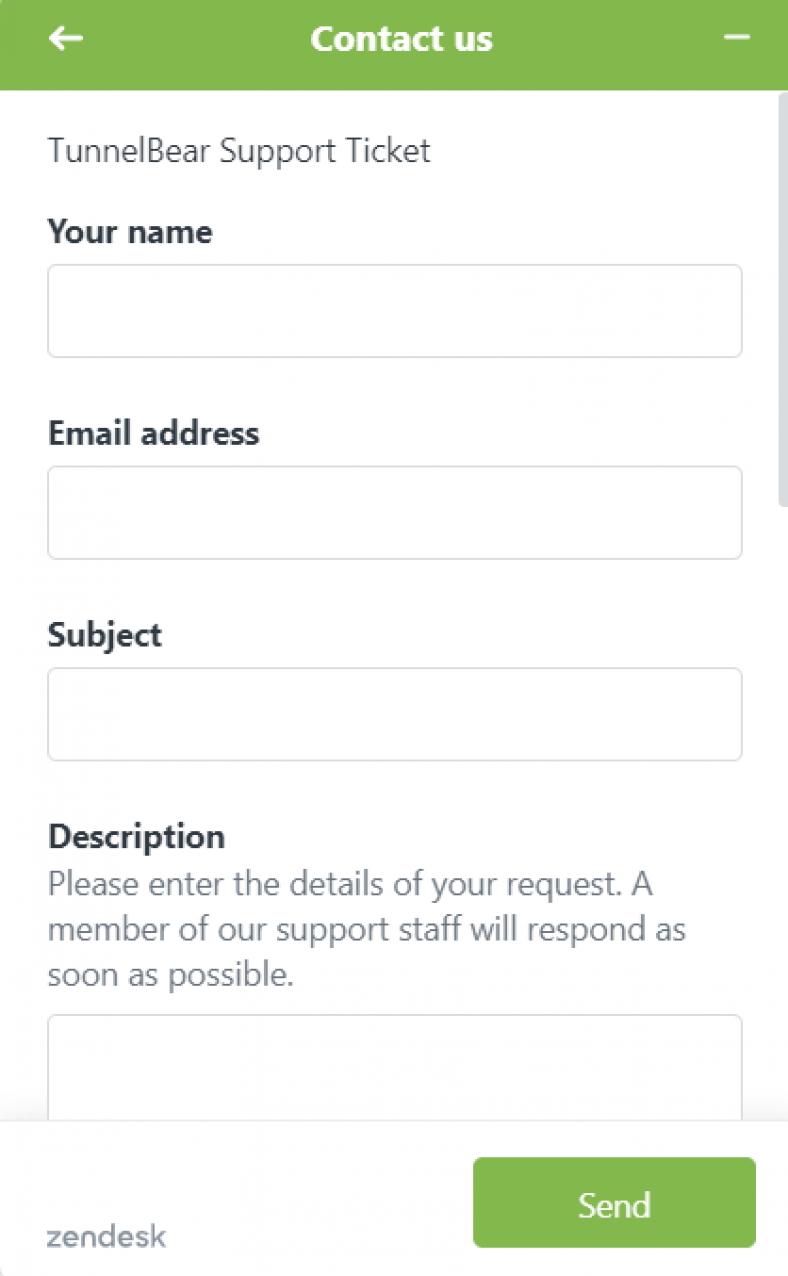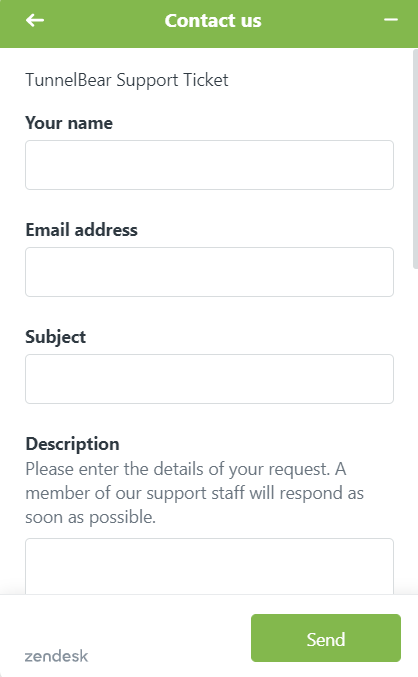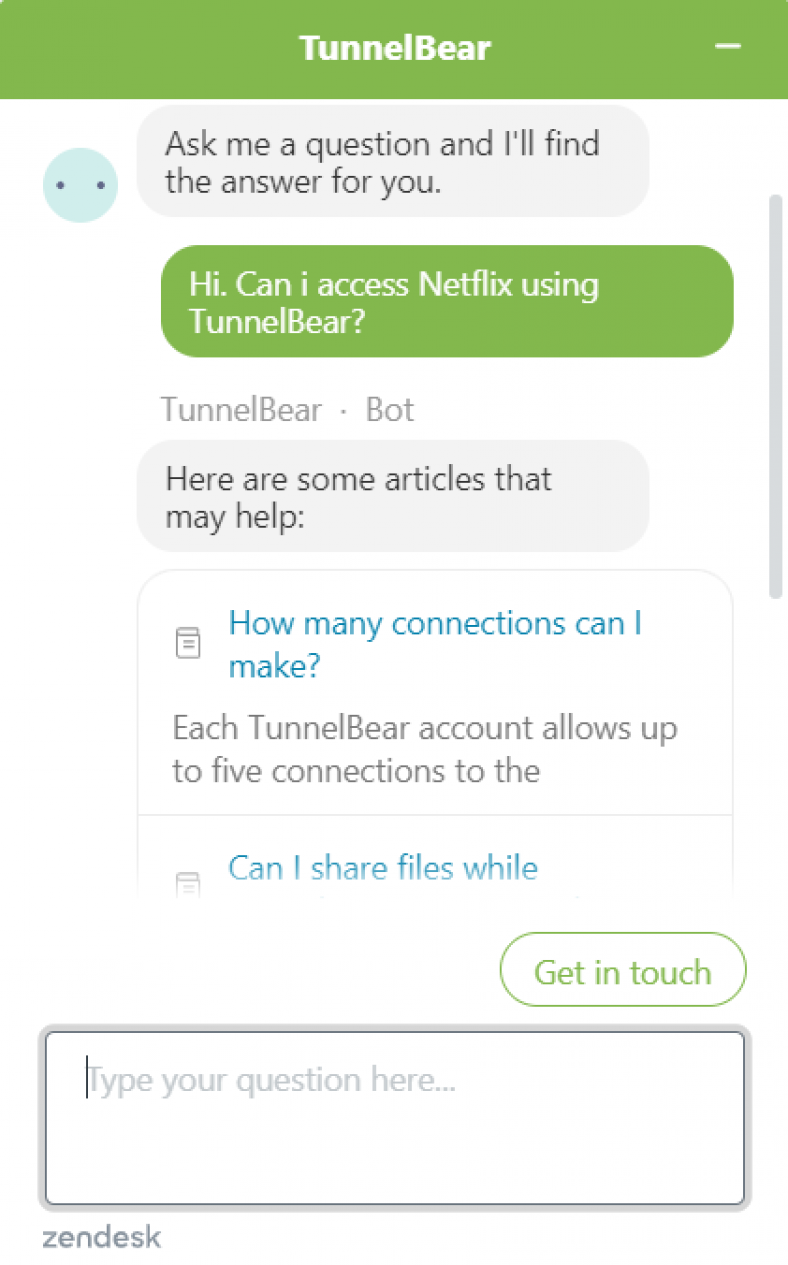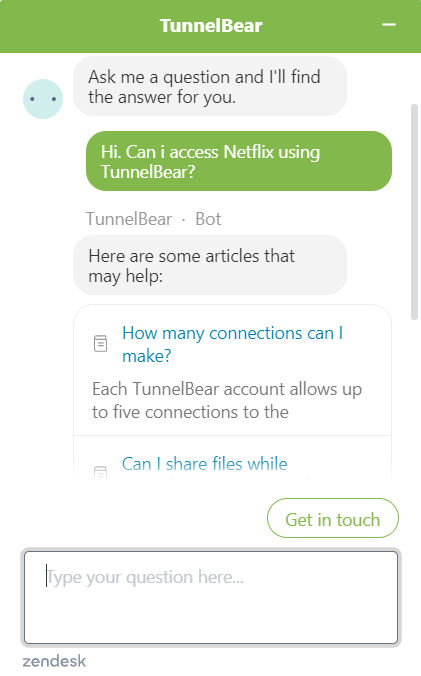 Disappointed, I turned to the email support which TunnelBear claimed will respond within 48 hours. I asked the same questions about Netflix, TOR and Torrent support. My disappointment soon turned to delight when I received an email within 3 hours from one of the company's Support Bears. The Support Bear was friendly, provided useful answers, and seemed to be passionate about bear puns as is the TunnelBear team if their "About Us" section is to be taken seriously.
Get 60% Off TunnelBear 1 Year Subscription
16
 General Public Attitude
Public comments on the social media profiles of VPN companies are a great indication of how well the VPN services of those companies are faring. TunnelBear has profiles on Facebook, Instagram and Twitter. I browsed through the comments on TunnelBear's social media profiles and also went through discussions on Reddit related to TunnelBear.
Many Facebook users were highly satisfied with TunnelBear's service and its affordability. The majority of satisfied users were either amateur VPN users or teams who benefited from TunnelBear's VPN for teams. There were a few negative comments on Facebook regarding the speed and bandwidth limit offered by TunnelBear's VPN app but all such users complaining about speed were using the free version and had, in my opinion, little right to complain.
Twitter users seemed to love the TunnelBear VPN apps for desktops and mobiles with almost every user praising the simplicity and entertainment that TunnelBear's apps provided. The comments section abounds with requests for the 1GB per month free data that TunnelBear offers as a part of its 1 GB tweet promo. There were not many criticisms of consequence to write about as user reactions on Twitter were mostly positive to a fault.
On Reddit, I found numerous posts on TunnelBear that discussed both the positives and negatives of the VPN services at such great length that summarizing the detailed discussions would be an injustice to the ideas being shared on the forum. I suggest you go through some of the threads on Reddit if you are serious about VPNs.
Trustpilot and SiteJabber are consumer review websites that host reviews of businesses and products by real users across the world. Honest feedback from real users of a VPN service is not only beneficial for the growth of a VPN company but also influence the decisions of potential customers. So I checked the above sites to find out what users of TunnelBear think of the company and their service.
On Trustpilot, TunnelBear had a TrustScore of 2.7/5 which is relatively lower than its competitors like TorGuard or PrivateVPN, both of which had TrustScores of above 4. TunnelBear's low TrustScore can be attributed to the fact that not many users have reviewed the VPN service. There were only 44 reviews on Trustpilot at the time of writing with praises and criticisms sharing equal space.
There were complaints from some users regarding the slow speed of TunnelBear's servers and its inability to unblock Netflix. A fair few of the negative reviews were from users who have tried the free version which is unlikely to be as fast or as good as the paid version.
Users who have used the paid version commended TunnelBear for its efficient service and excellent usability. One user from Cedar Park, US claimed to have used TunnelBear for two years without regrets and that a fair number of the user's friends in the IT sector also rely on TunnelBear for its ease of use.
VPN news is a great source of additional information and less known facts about a VPN company and its services. Thus, I checked several news sites and VPN blogs for the latest updates on TunnelBear.
One of the first news articles that I came across was from March 2018 when cybersecurity giant McAfee acquired VPN service provider TunnelBear. To find out what it means for users of TunnelBear and how it might affect the company's privacy policy and consequently the users, visit the review.
As recently as January 2020, TunnelBear completed its third independent audit in a row and is among just a handful of VPN service providers, including ExpressVPN and NordVPN, to have publicly published the results of its independent audit. Read in detail the full article.
In the same month, Wirecutter, a New York Times Company, chose TunnelBear as the best VPN service for 2020 after reviewing as many as 53 VPN services in 65 hours or more. The website bestowed the prestigious honor of "the most transparent and trustworthy" VPN provider upon TunnelBear. To know more, go to WireCutter best VPN service review.
As uncertainty looms over the coronavirus pandemic the ensuing lockdown has forced millions of people worldwide to work from home. The situation has not only increased the burden on ISPs but has also raised the risks of cybercrimes like hacking and extortion. Fortune has come up with a helpful post on how to choose the best work-from-home VPN and TunnelBear features on the list. Read the full article.

September 2023 Deal! 60% Off TunnelBear (2 Years Subscription)
60% Off TunnelBear (2 Years Subscription)