PrivateVPN Review 2023: A VPN Loaded With Advanced And Customizable Security Features
PrivateVPN bypasses geo-restrictions to unblock websites and offer unrestricted access to online content of all sites irrespective of the user's physical location. PrivateVPN masks users' IP addresses by encrypting their data through secure tunnels to enable them to bypass censorship and browse with complete freedom and anonymity. To access geo-restricted content of a particular country, simply connect to one of PrivateVPN's servers in that particular country.
PROS:
Military-encryption via 2048-bit with AES-256
Unblocks Netflix US and other streaming sites
7-day free trial plus 30-day money-back guarantee

September 2023 Deal! 90% Off PrivateVPN Discount (3 Years Deal)
90% Off PrivateVPN Discount for 12 Months + 24 Months FREE (3 Years Deal)
Live chat, FAQs, guides, and email support
Windows, macOS, Linux, iOS, Android, and routers
1
Windows 10 PrivateVPN Client – How to Install?  
2
 PrivateVPN: Installation and Usage Guide
Creating an account with PrivateVPN and installing its apps is as easy as it can get. PrivateVPN's website lets the user select a subscription plan, choose a payment method, enter payment details, and create a new account all on one single page. Once you have successfully created your account, download the VPN client for your device and run the program to install the app. Installation takes less than a couple of minutes and no assistance is required to download and install PrivateVPN apps.
In case you still need assistance, PrivateVPN's support page offers detailed step-by-step installation guides for all platforms supported by the VPN. The comprehensive guides are easy to follow and require hardly a few minutes to complete the process. Once installed, you will see the PrivateVPN simple mode that lets you connect to an optimal server with one click. The simple mode window is clutter-free with minimal actions that allow a user to get started without wasting time.
For additional customization, there is the advanced mode that can be accessed by clicking the "advanced" button on the Windows app, the settings icon on the iOS app and the horizontal bars on the Android app. The advanced menu on the Windows app consists of four options, namely dashboard, settings, billing and connection guard. Leak protection and kill switch can be turned on or off from the connection guard option. To view the IP address and change server locations, go to the dashboard. The settings page contains advanced features that can be customized as per the client's requirement.
Get 83% Off PrivateVPN 24 Months Subscription
The minimalist and intelligently designed UI not only gives PrivateVPN a sleek appearance but also makes it much easier to use than other VPN apps like Private Internet Access or TorGuard. The app has a simple mode for casual users or beginners and an advanced mode for expert users. The PrivateVPN Windows app has one of the best user interfaces of all the VPN apps I have reviewed to date.
Whether you are a gamer, a streamer, a student, a professional, a traveler or an ordinary citizen looking to secure your data and protect your identity from prying eyes, PrivateVPN has got you covered. Beginners will benefit from the simple user interface and the ease of use of the VPN app while advanced users will be pleased with the sophisticated security features offered by PrivateVPN.
When it comes to features, PrivateVPN is loaded with an abundance of advanced security features that can be customized by users as per their requirements. The primary function of PrivateVPN is to secure a user's connection by using layers of security over tunneled connections. This not only prevents cybercriminals and third parties from accessing the user's data for unscrupulous activities but also prevents the user's ISP from imposing unnecessary data restrictions on the user.
4
PrivateVPN: No-log Policy
Data protection is nothing without a strict no-logs policy and PrivateVPN does not disappoint. One of the few VPN service providers with a tested and proven no-logs policy, PrivateVPN claims that it does not store or share any identifiable user information. The company's succinctly worded privacy policy should be read thoroughly to clear any persisting doubts in the user's mind. PrivateVPN is based out of Sweden, which is not a part of the 5/9/14 Eyes Alliance and hence do not have to share data with government agencies under any circumstances.
Devices compatible with the PrivateVPN app include Windows (XP to 10), Android (Amazon Fire TV, Galaxy Tab, and Chromebook), Routers (ASUS RT models, Synology, DD-WRT, Tomato, Linksys, QNAP, and pfSense), iOS, macOS (till Catalina), Linux, Blackberry, Kodi, and gaming consoles (Xbox and PS).
Even if a user's data is compromised on a public network, the robust encryption protocol used by PrivateVPN prevents the user's encrypted data from being deciphered. All of PrivateVPN's servers are protected via the military-grade AES (Advanced Encryption Standard) 256-bit code with 2048-bit DH key to keep users' data protected from ISPs, surveillance systems, cybercriminals and other intruding third parties.
PrivateVPN employs the OpenVPN cipher Blowfish with 128 bit CBC encryption for TAP as a default configuration to provide fast speeds along with strong security. If security, and not speed, is your priority then consider the AES-256 bit instead of Blowfish-128 bit as the latter is optimized for speed while the former is used by the US government and military for data encryption purposes. For HMAC authentication, the company uses AES-256 and SHA256 with TUN. Furthermore, PrivateVPN provides the perfect forward secrecy with the help of TLSv1.2; cipher TLSv1/SSLv3 DHE-RSA-AES256-GCM-SHA384, 2048 bit RSA.
Security protocols include the default OpenVPN with UDP/TCP, L2TP, IPSec, PPTP, and IKEv2.To use the additional privacy offered by shared IPs, set the protocol as OpenVPN – TUN+TCP+443 in the encryption settings. One of the PrivateVPN features that stand out is its ability to switch between dynamic IPs (OpenVPN TUN+UDP+1194) and shared IPs.
OpenVPN is the default choice of the protocol as it allows several kinds of authentication methods and employs the secure SSL/TLS protocol for key exchange. For faster access speeds and the ideal gaming experience, use OpenVPN over L2TP or UDP. L2TP/IPSec provides stronger security than PPTP but is slower than OpenVPN and is prone to blocking by firewalls. L2TP is ideal for mobile devices that are incompatible with OpenVPN.
A more secure version of the IPSec protocol is the Internet Key Exchange protocol aka IKEV2. IKEV2 allows the user's devices to seamlessly switch between cellular and Wi-Fi networks without any loss in connection. SSL VPN, popularly known as Stealth VPN, is a great feature that hides the use of VPN software by disguising encrypted traffic as regular unprotected traffic. HTTP and SOCKS5 proxy support are a boon to torrent users and gamers.
Torrenting, gaming and high-quality streaming are PrivateVPN's best qualities apart from its strong security features and excellent customer support. Stream the latest shows from around the world in HD without worrying about buffering or account flagging with the help of PrivateVPN's dedicated VPN for streaming services such as Netflix, Amazon Video, Hulu, and BBC iPlayer. I easily unblocked Netflix USA on three different servers in the US and accessed BBC iPlayer from the UK servers without any error messages or service disruptions.

September 2023 Deal! 90% Off PrivateVPN Discount (3 Years Deal)
90% Off PrivateVPN Discount for 12 Months + 24 Months FREE (3 Years Deal)
PrivateVPN not only bypasses geo-restrictions but also prevents bandwidth throttling by your ISP to provide you unlimited access to restricted content. The company's streaming dedicated VPN servers in London and Manchester let users enjoy the complete UK catalog in HD-quality from anywhere in the world. Never miss your favorite shows, live sporting events, news channels and much more with PrivateVPN's dedicated IP addresses.
VPN for Kodi is an amazing product by PrivateVPN that allows users to access several add-on features and unblock their favorite shows, movies and more. The popular VPN for Kodi offers unrestricted access to geo-blocked services such as BBC iPlayer, ESPN, HBO and more. Unlimited bandwidth, no ISP speed throttling, and complete privacy make PrivateVPN one of the best, if not the best, VPN services for online streaming, torrenting and gaming.
11
PrivateVPN: Servers' Speed Tests
While PrivateVPN is not one of the fastest VPN services I have tested by far, the speed on most of its servers is good enough for fast downloads and buffer-free streaming if you take into consideration its limited server network. I was able to connect to several fast servers, all near my physical location, that gave me ample speed to stream, download, or play online games without any noticeable lags or difficulties.
According to speedtest.net, the download and upload speeds of my internet connection without a VPN were 24.89 Mbps and 14.23 Mbps respectively with a ping time of 33 ms. On connecting to PrivateVPN, my connection was diverted through its server in Amsterdam, Netherlands, the optimal server based on my location and network settings.


Download and upload speeds on the Amsterdam server were 20.11 Mbps and 12 Mbps respectively with a latency of 132 ms. While the latency increased by a great deal, the download speed on the Amsterdam server dropped by only 20%. A 20% drop in speed may sound like a big deal but I can assure it is not as the change is hardly noticeable.


On connecting to a server in London, UK my download speed decreased to 18.52 Mbps and ping time increased to 192 ms. The upload speed was 8.36 Mbps. Again, the drop in speed barely affected my online activities, if at all, and streaming BBC iPlayer on the UK server was as smooth as one could have hoped for.


The download speed and upload speed further decreased to 16.09 Mbps and 5.34 Mbps respectively after I connected to a PrivateVPN server in Miami, USA. However, the ping time dropped dramatically to just 23 ms.


To check how remote servers fared in the speed test, I connected to a server in Melbourne, Australia to find the download speed dropping by as much as 60% to 9.69 Mbps whereas the upload speed (8.70 Mbps) did not change by much. Ping time was the lowest at a mere 8 ms. Such a drop in speed is not unexpected when connected to a server across half the world.
Although download and upload speeds varied greatly across servers in different locations, I found that each server's speed remained consistent over time.
12
PrivateVPN vs Competitors Comparison
Unlike its nearest competitors, PrivateVPN offers the best network quality by purchasing its internet capacity directly from the IP transit provider thereby cutting off the intermediaries like hosting companies. PrivateVPN ensures its users do not experience speed cuts by coupling its internet capacity with its High-quality network (HQN) servers.
With one PrivateVPN license, users can connect up to 10 devices at once. ExpressVPN and PureVPN offer only 5 multi-logins while CyberGhost VPN allows 7. Surfshark VPN is the only VPN I have used till now that offers unlimited simultaneous connections.

September 2023 Deal! 90% Off PrivateVPN Discount (3 Years Deal)
90% Off PrivateVPN Discount for 12 Months + 24 Months FREE (3 Years Deal)
With just over 200+ servers across 63 countries, PrivateVPN's server count is still minuscule considering its nearest rivals like IPVanish VPN (1300), ExpressVPN (3000+) and CyberGhost VPN (7100+) have crossed the 1000 servers threshold and have wider coverage than PrivateVPN. However, PrivateVPN's server speeds are much more consistent than those of PureVPN or TorGuard VPN.
13
Private VPN Google Trends 
Google Trends is an analytical engine that graphically represents the interest across over time in top search queries and lets us compare the search volume of various keywords. The graphs provide an idea of the popularity of specific search terms like "PrivateVPN" and "PrivateVPN review". I also compared "PrivateVPN" with "TorGuard VPN" to see how it fared against one of its nearest competitors.
Interest in "PrivateVPN" was fairly high throughout last year with the highest search volume recorded in mid-November 2019. At the start of 2020, there was still a high amount of interest but it dipped a few days into March. It is on the rise again probably due to the increase in web traffic as a result of the coronavirus lockdown.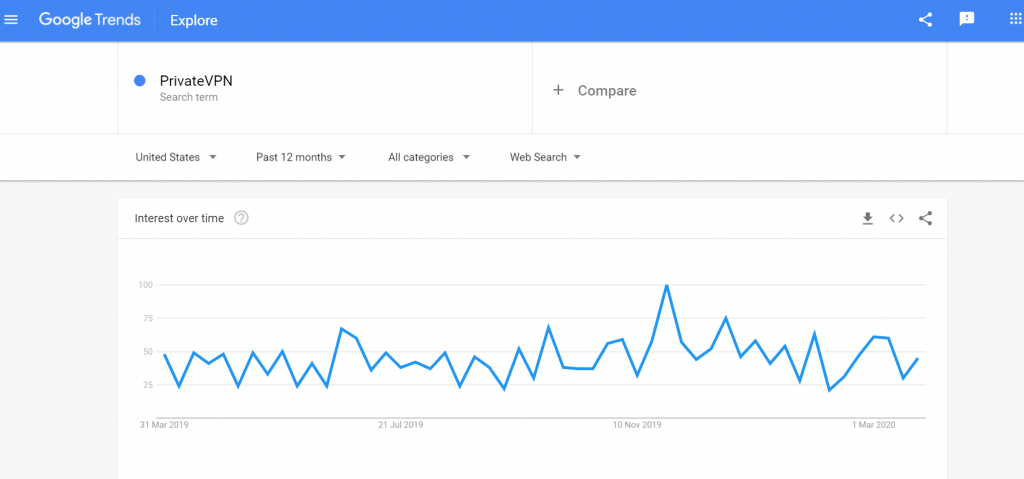 As for "PrivateVPN review", interest was relatively low with more flat lines than peaks. Interest soared at the start of the year but declined again. There were increased search queries for the particular term again during March but is currently low.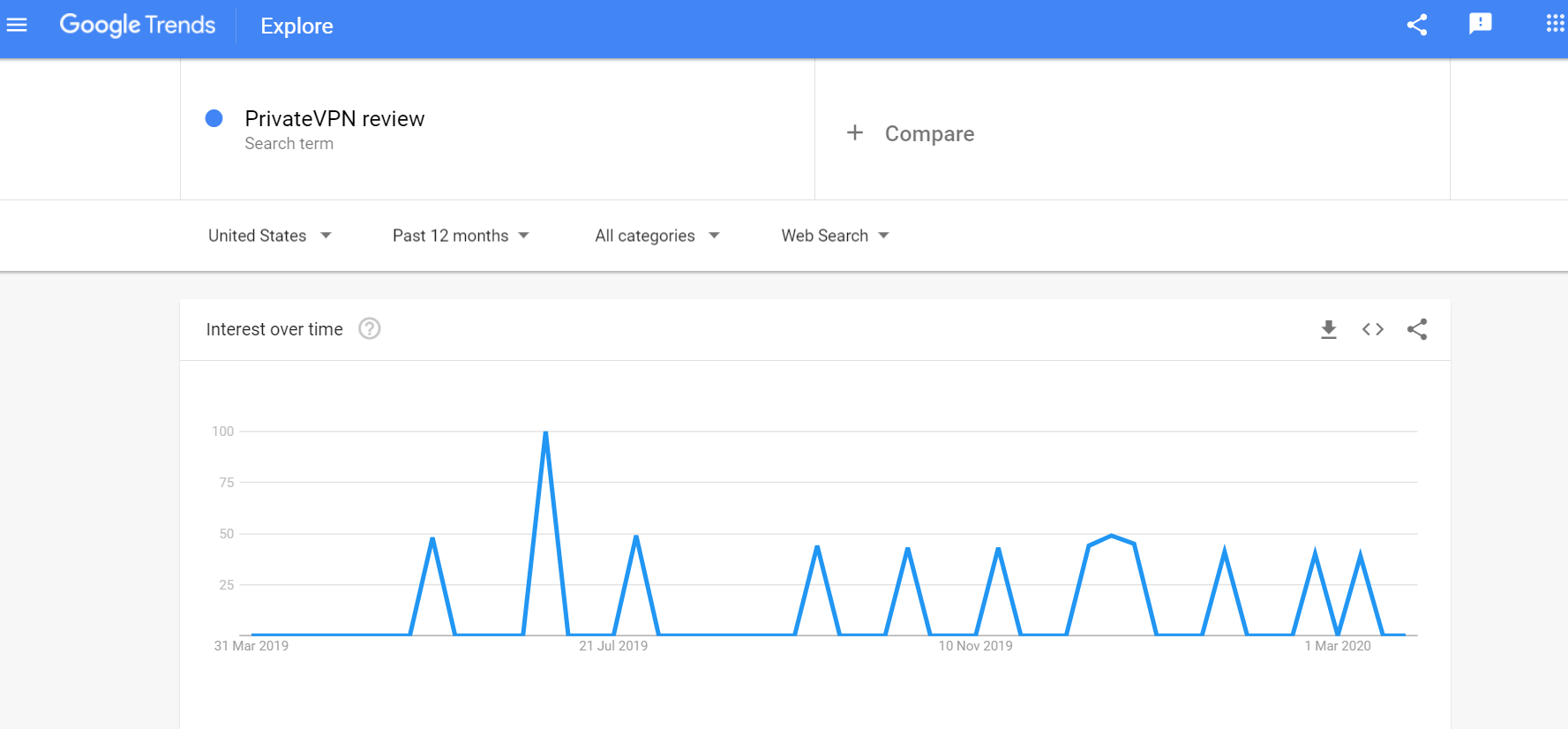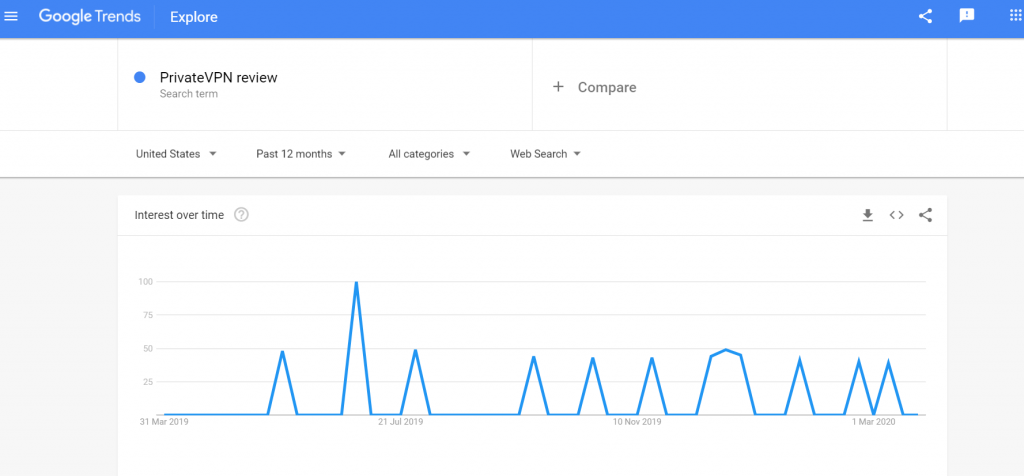 On comparing "PrivateVPN" with "TorGuard VPN", I found that the average search interest in the latter was slightly higher than the former but recent interest in PrivateVPN is more than that in TorGuardVPN. Interest in both the services was consistently high from December 2019 to late February. Since a large number of people are confined to their homes as a result of global lockdown, the volume of search queries regarding VPN services is soaring at the moment and the interest in both the keywords is expected to rise in the coming weeks.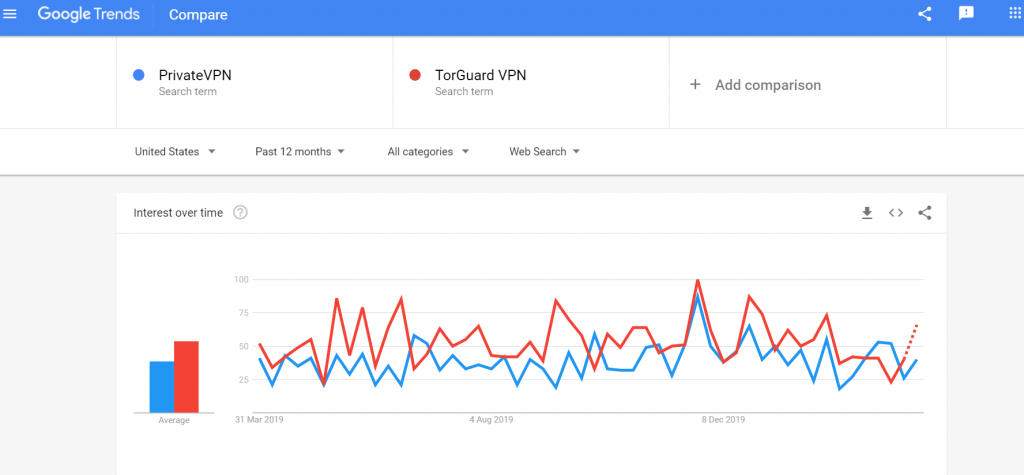 All of the above results reflect trends only in the United States over the last 12 months.
14
Private VPN: General Public Attitude
Social media is a hub of opinions, be it critical or approval, and where better to start for honest reviews of VPN services than on social media sites such as Facebook, Twitter, YouTube and Reddit. PrivateVPN has profiles on all of the above sites except Reddit. The company keeps users and followers well informed with updates on the latest developments and new software or feature release.
Users on Facebook and Twitter seem to love the usability and security features of PrivateVPN apps. Many users commended PrivateVPN for the dependable service provided by its apps for various platforms. The customer service also received heavy praise on Facebook, Twitter and Reddit. Long-time users claimed they were highly satisfied by the overall performance of PrivateVPN and its affordable prices.
On Twitter, gamers and regular streamers were all praise for PrivateVPN's dedication towards providing uncensored streaming service and optimal gaming experience. Torrent users also showered praise on PrivateVPN and even suggested that other users try its app.
One satisfied user suggested that a few extra details, such as ping time and server speed, be added to the default window of the PrivateVPN app. A few users also pointed out that the server locations should be listed according to ping time and an option should be provided to mark favorite servers.
Get 83% Off PrivateVPN 24 Months Subscription
15
PrivateVPN: Users' Reviews
Consumer review sites like SiteJabber and Trustpilot provide an authentic perspective of a particular product or business. So I checked out user reviews of PrivateVPN on both these sites to get an idea of the VPN's impact on real users' online experience.
SiteJabber only had one review on PrivateVPN and it was critical of the company's service. I tested the PrivateVPN Windows app for the issues mentioned by the aggrieved user and the app passed the test with flying colors. I could not independently verify any of the issues raised by the user.
Moving on to Trustpilot, the site had more than 1167 user reviews (November 2021) of PrivateVPN and nearly 92% of the reviews rated the service as excellent. PrivateVPN earned an impressive TrustScore of 4.9/5 on the site thanks to the reliable security and the professional support service provided by the company. Almost all the users applauded the customer support of PrivateVPN of prompt and resourceful response.
One user claimed to have had considerable trouble with their ASUS routers that were solved after the user subscribed to PrivateVPN. Another user complained of the server speed and claimed that they could not get a refund because of a clause they failed to notice. However, PrivateVPN responded immediately to the grievance and explained to the user that traffic less than 100 GB within the 30 days is required for a refund. The company even provided a link to their refund policy where the clause in question is specifically mentioned.
16
PrivateVPN: In the News
For the last five years or so, PrivateVPN has consistently been in the news as one of the most reliable all-round VPN service providers. Thus, I checked out some news sites and VPN blogs to find out some more information on PrivateVPN and there were a few interesting news regarding the company.
In January 2020, ProPrivacy named PrivateVPN as one of the top five VPNs for 2020 with a proven no-logs policy. The article mentions the affordable pricing and top-quality customer service offered by PrivateVPN as well as the zero-logs policy of the Swedish VPN company. Read about it here.
On 14th March 2020, APN NEWS published an article on its website on how to install top Kodi 17 builds and listed the best VPN services for the dark web. PrivateVPN was among the four VPN service providers named by the news website as the best VPNs to browse the dark web. Here is the full review.
Writing for ABC 11, Diane Wilson recently reported a sharp increase in the number of hackers targeting employees working from home as a result of the coronavirus lockdown. As most of the world's population work from home or is confined to their houses, internet traffic has drastically increased and cybercriminals are having a gala time in this moment of crisis. With no immediate end to this dilemma in sight, the demand for VPN services has increased and PrivateVPN is an ideal choice to stay protected and browse securely. To know more, check the article.
PrivateVPN's customer support is one of the best among the various VPN services I have reviewed to date. The support page on the company's website is resourceful and contains comprehensive installation guides and extensive FAQs. There are even guides on how to setup certain security protocols on all your devices which I did not find on the websites of other VPN providers.
Between the comprehensive FAQs and detailed guides, you will find the answers to almost every query regarding a VPN service. For further assistance, you contact PrivateVPN's customer support via email and live chat support. The email support is very convenient to use unlike other VPNs like NordVPN. You are only required to fill in your name, email address and your message.
The live chat support is unfortunately not available 24/7 as I found out the first time I tried to contact a live support agent. When I clicked on the chat button, a new window popped up prompting me to submit my query via email. I guessed that live support is available only during Swedish working hours. When I tried again the next day, the chat was online and I received quick and helpful responses to my queries from PrivateVPN's support agent.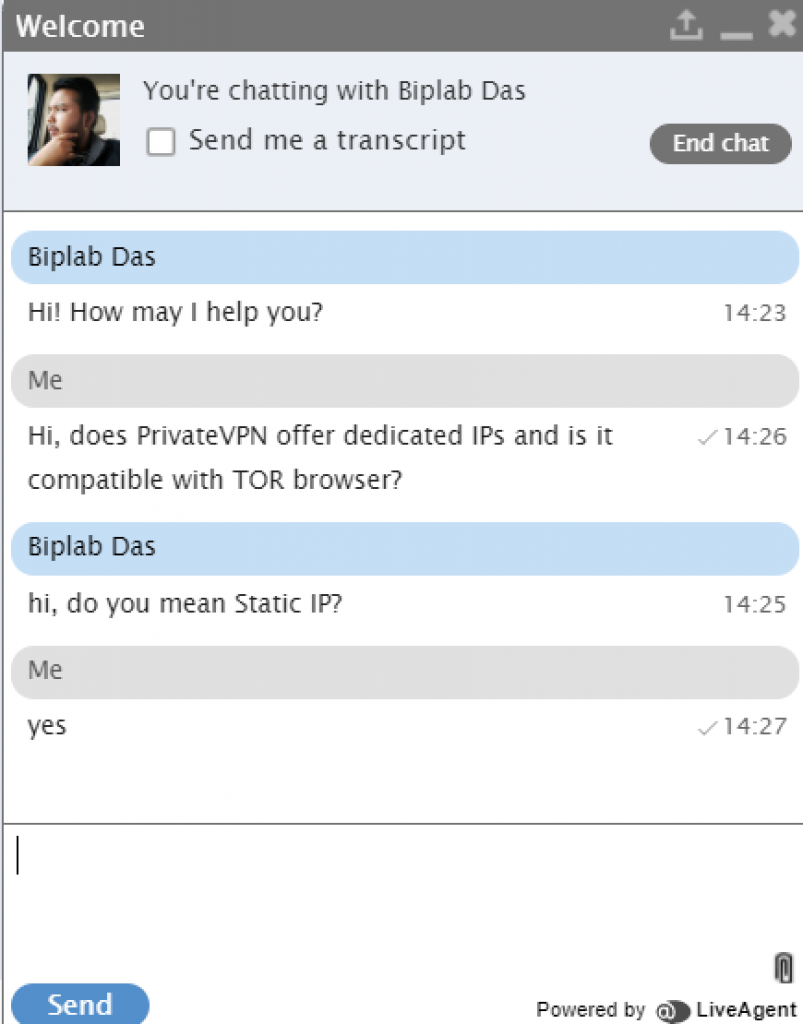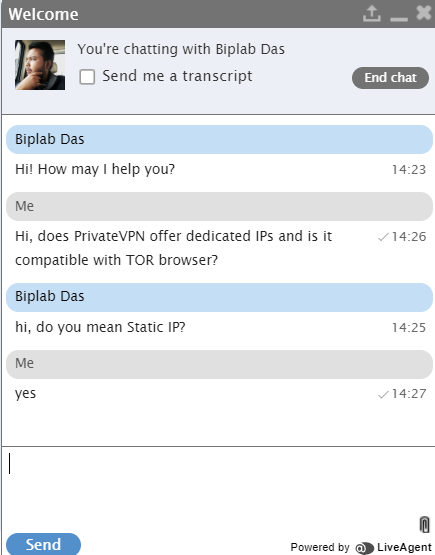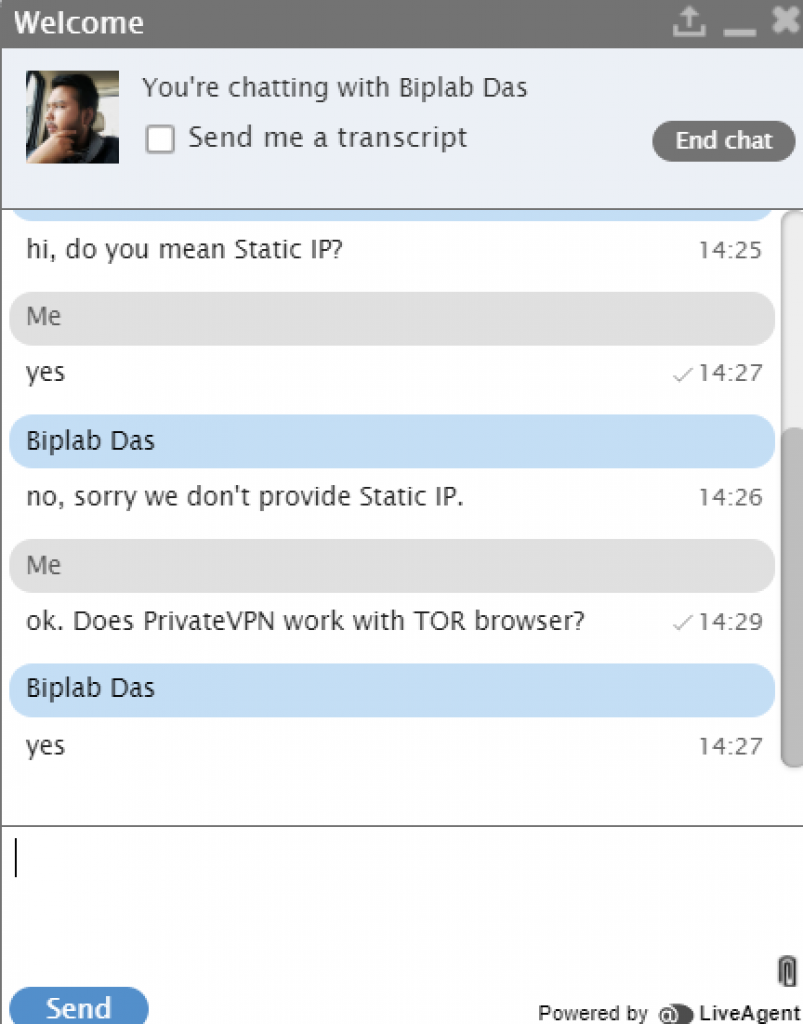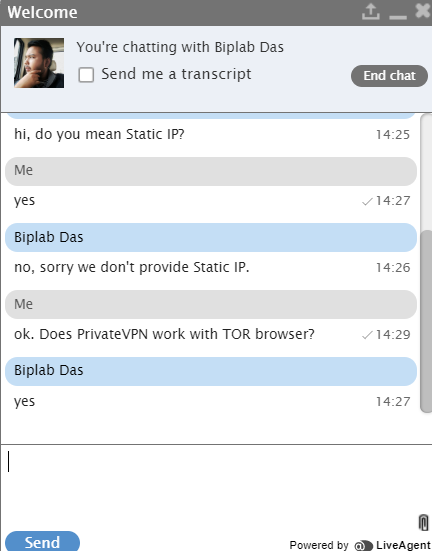 PrivateVPN even offers remote installation help for free by allowing a technical support representative to remotely access and control the user's device and install the VPN on the device without any effort on the user's part. The company even lets users talk directly to its developers instead of recruiting private customer support representatives.
PrivateVPN is a great choice of VPN for beginners and professionals alike as well as for gamers, torrent users and streamers. Affordable rates and a generous 30-day money-back guarantee make PrivateVPN the most dependable and functional VPN services for the above-mentioned activities.

September 2023 Deal! 90% Off PrivateVPN Discount (3 Years Deal)
90% Off PrivateVPN Discount for 12 Months + 24 Months FREE (3 Years Deal)