CyberGhost VPN Review 2023: The First Ever VPN Service Provider To Come Up With A Transparency Report
CyberGhost VPN is based out of Bucharest, Romania and it should come as a relief to users concerned about the company's data policy. Romania is not a part of the five, nine, or fourteen Eyes Alliance and hence has sole authority over its user's private data. However, CyberGhost's software development wing is based out of Germany but the CEO of the company claims that it will not influence how the company handles user's private data, which is laid out in detail in their privacy policy available on their website.
PROS:
Over 7100 servers
Automatic kill switch
Ad-blocker and malicious website blocker
45-day money-back guarantee
CONS:
Only one day of free trial on desktop apps
Get 80% Off CyberGhost 18 Months Deal
24/7 live chat, email support and submit a request
Windows, macOS, Linux, iOS, Android, Chrome and Firefox extensions, smart TV apps, gaming consoles, and routers
1
CyberGhost VPN: A Guide on Installation and Usage
CyberGhost VPN is an absolute pleasure to use because of its intelligently designed UI which is clean and effective. Beginners will find this app easy to understand and use since there is no complicated jargon and navigating the settings does not take a brainiac. Though there are not many advanced settings to tinker with even professionals and long-time VPN users will also find CyberGhost VPN's security features useful and enough for their daily use.
Setting up CyberGhost on any platform is easy even for beginners. To download the app, head over to the CyberGhost website and click on "Get CyberGhost VPN". You will be directed to the pricing page where all the CyberGhost VPN plans are listed. Select an appropriate plan and proceed to select the payment option. Once you have created an account with CyberGhost a welcome email containing a link and activation code will be sent to your mail inbox. Download the app and install it. Once installed you can connect to CyberGhost VPN with a single click.
Setting up the VPN is very simple and does not require any prior experience in VPN apps. It takes two to three minutes at the most to set up the app and once it has been set up, operating the app is as easy as it gets. The intuitive UI is slick and can be easily navigated. The app automatically chooses the best server based on the user's network settings and current location. Users can change servers to their favorite servers with a few clicks. However, occasionally it takes some time to connect to some servers, especially distant ones.


2
CyberGhost VPN Exclusive Features
"Smart Rules" is an interesting and highly beneficial feature that lets the user control startup settings like auto start, auto connect and auto app launch. Users can set the app to always connect known Wi-Fi networks as well as new open networks and new encrypted networks. Users can also select specific apps to automatically protect them on launch. "Exceptions" allow users to add URLs of website that they do not want to be encrypted by CyberGhost VPN.
An optional "NoSpy Servers" package is offered to clients who seek dedicated uplinks, premium hardware, and greater bandwidths for faster speeds. This special package is also great for torrenting since it provides an added layer of security.
3
CyberGhostVPN No-Log Policy
CyberGhost follows a strict no-logs policy, wherein the company does not track any user's online activity or store user's private data. No activity logs or connection logs of a user's session is stored or shared by the company. Since the company operates from Romanian jurisdiction, it is exempt from the draconian cyber laws prevalent in the countries that are part of either the five, nine, or fourteen Eyes Alliance.
CyberGhost uses strong encryption protocols in the form of 256-bit AES, the current industry-standard encryption that is even used by the military, 2048-bit RSA keys, and SHA256 authentication to protect user's data. Users can hide their IP addresses from not only third party apps but also their ISP by rerouting their traffic through an AES 256-bit encrypted tunnel. By doing so, the company makes it virtually impossible to decipher a single encryption key used to guard user's data.
5
CyberGhost VPN Security Protocols
Aside from the military-grade encryption, CyberGhost also relies on strong yet flexible security protocols to offer users the best security possible. The usual protocols like the versatile OpenVPN, L2TP/IPSec, and IKEv2 are available along with the relatively new kid on the VPN block, WireGuard. WireGuard couples IKEv2's fast speeds with OpenVPN's robust security to provide users the best of both worlds. With its fast speeds and top-notch encryption capabilities, WireGuard should be the perfect choice for Linux users.
Any form of leaks, be it IP or DNS, is a serious threat to any VPN software's reputation and it is necessary that a reputable VPN records as fewer leaks a possible if not none. To test CyberGhost's encryption strength and security protocols I ran a few leak tests on a few of CyberGhost's servers. I checked extensively for any DNS, WebRTC, and IPv6 leaks no matter how insufficient but was relieved to find none. By default, CyberGhost uses its private DNS servers and automatically blocks any leaks that can compromise the user's private data.
To further prevent any untoward situation, CyberGhost offers a kill switch that is activated by default and ensures no private data is leaked in case of an unforeseen loss of connection or power outage. In case the connection to CyberGhost's secure server is lost, the kill switch immediately disconnects the internet until a secure connection is re-established so that the IP address of the user and other private data are not leaked to the user's IPS.


7
CyberGhost Servers for Streaming and Torrenting
CyberGhost provides users with dedicated servers for streaming and torrenting with a wide range of options for users to choose from. I wanted to unblock Netflix US and I found it very easy to find the ideal servers to stream Netflix US without interruption. The app itself has provided separate tabs for streaming servers and Torrent servers. On clicking the "For streaming" option on the left panel, a list of servers suitable for streaming is shown and the user can mark any server as favorite. The app lists dedicated servers for not only Netflix US but also Netflix France, BBC iPlayer, Hulu, and YouTube apart from others.
There are also several servers optimized for torrenting and users can access the servers dedicated to torrenting by clicking on the "For torrenting" option. CyberGhost allows P2P file sharing and with its active kill switch ensures that the user's private data is not leaked to other Torrent users or third parties while downloading from Torrent. Using the Torrent specific servers is necessary while torrenting for P2P file-sharing, fast speed, and strong encryption. Furthermore, CyberGhost does not cap bandwidth and unlimited bandwidth is essential for ideal torrenting.
8
 CyberGhost VPN: Servers Speed Tests
In the last decade, CyberGhost was rarely in the news as a fast VPN service but much seems to have changed in the past couple of years as CyberGhost is well and truly one of the fastest VPN providers currently. When it comes to server speeds, CyberGhost has improved by leaps and bounds as was evident from the several speed tests that I conducted via Speedtest by Ookla.
First I tested the speed of my ISP without connecting to any VPN server. The download speed read 12.24 Mbps; upload speed was 4.52 Mbps and 25 ms pings. Then I connected to CyberGhost VPN and the app automatically selected the optimal server based on my current location and network settings. The first server I got connected to was in Mumbai, India and it gave me a download speed of 8.45 Mbps, an increased upload speed of 5.27 Mbps, and a ping of 78 ms, which was fast enough.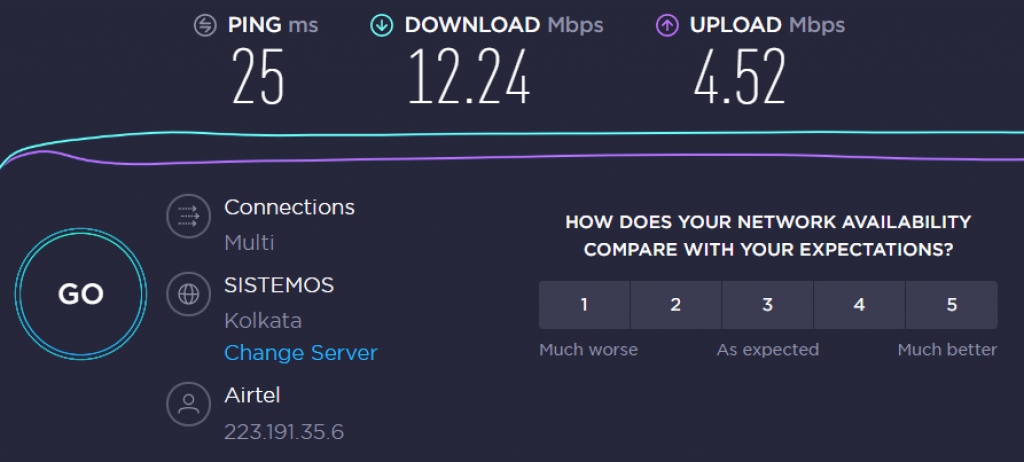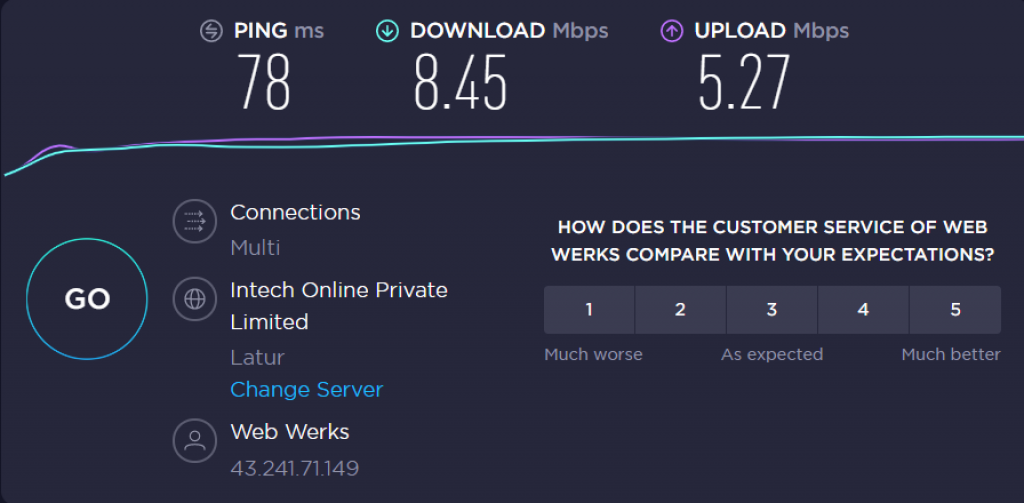 Next, I connected to a server in Tokyo, Japan since it was closer. Even though a download speed of 7.27 Mbps meant a drop by 40%, it was good enough to work with. Again my upload speed rose to 5.33 Mbps and ping was 179 ms.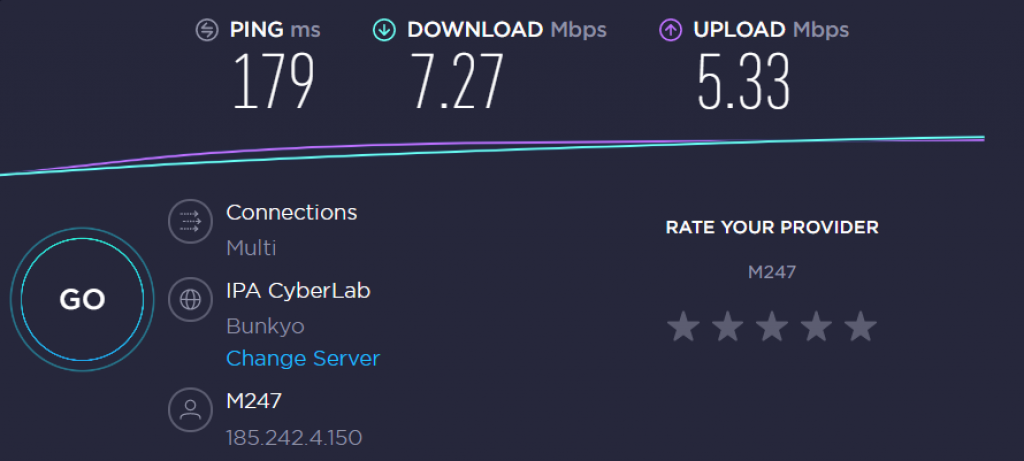 Then I connected to a server in New York, USA and the download speed dropped by 19% to 9.83 Mbps, upload speed and ping were 4.82 Mbps and 279 ms respectively. However, the servers in Europe were faster than I expected which was a major upgrade from CyberGhost's earlier versions.

The server in Paris, France recorded a download speed of 8.21 Mbps, an upload speed of 6.21 Mbps, and 219 ms ping. The fastest server I tested was in Amsterdam with an abnormally high ping of 418 ms. However, the download speed dropped by only 11% to 10.84 Mbps and an upload speed of 5.28 Mbps.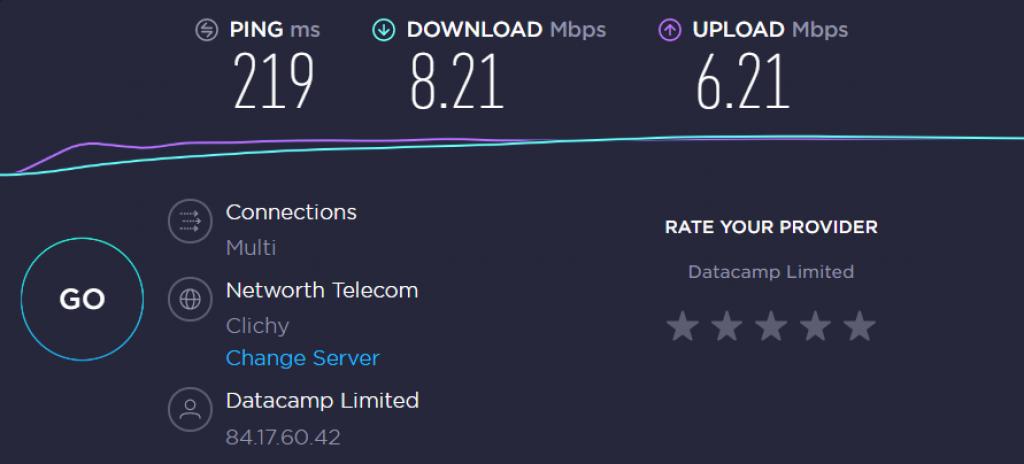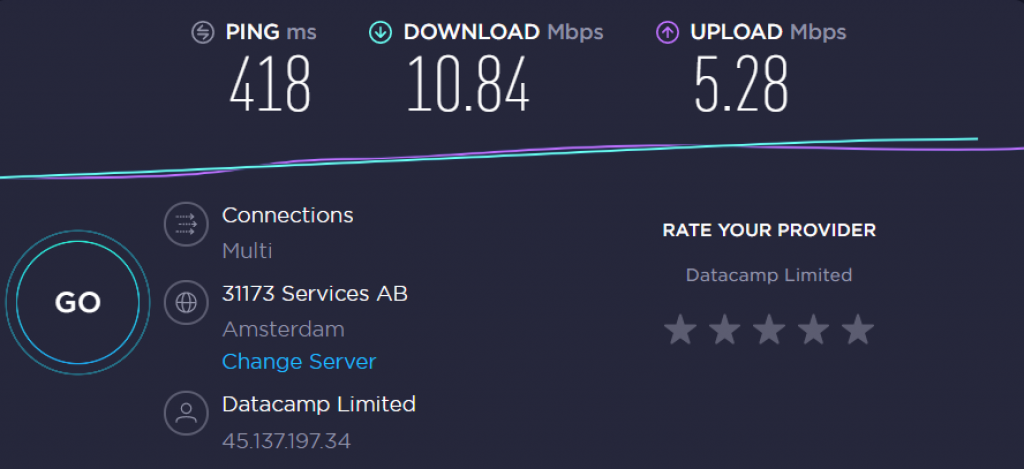 The high upload speeds that I got from the Europe servers were perfect for torrenting and video streaming. The drop in download speeds after connecting to the Europe servers was negligible and I did not face any problems while downloading or streaming videos.
9
CyberGhost Comparison With Competitors
CyberGhost has more than 7100 servers distributed across 112 locations in 90 countries. Its nearest competitors like ExpressVPN and NordVPN have only 3000 and 5500 servers respectively. With at least 2000 servers more than its close competition, CyberGhost provides fast speeds to users worldwide and enjoys a broad client base. The Windows app that I use even has specific servers for Netflix, BBC iPlayer, and torrenting. CyberGhost lists its servers as per distance and load making it easy to select a favorable server. Users can also mark their favorite servers so that servers can be changed with a couple of clicks from the minimized app window.
With one license, CyberGhost users can simultaneously connect as many as 7 devices, which is at least two more than its nearest competitors. ExpressVPN allows five simultaneous connections, NordVPN allows six devices and IPVanish allows 10 devices. Most users need to connect three to five devices at a time but for those who need to secure more than five devices at once, CyberGhost VPN will be a good choice.

10
CyberGhost VPN Device Compatibility
CyberGhost supports a wide range of operating systems and has apps for the most commonly used platforms. Desktop apps include Windows VPN, macOS VPN and Linux VPN while there are iOS and Android apps for the mobile version. Chrome and Firefox browser extensions, as well as routers, are supported by CyberGhost. There are smart TV apps for Amazon FireTV, Apple TV, and Android TV as well. Gaming consoles like Xbox 360, Xbox One, Playstation 3 and Playstation 4 can also be protected by CyberGhost's strong encryptions.
11
CyberGhost: Google Trends
I checked out Google Trends, an analytical website that shows the popularity of search terms via graphs, to understand the change in interest in CyberGhost VPN and search queries related to it like "CyberGhost VPN Review" over a specified period.
On searching with the term "CyberGhost VPN", I found out that interest in the software peaked during November, February and April 2020 and showed a steady position for the past 12 month with some declines on summer months. Interest recently dropped in the latter half of September but the graph shows interest to be rising again.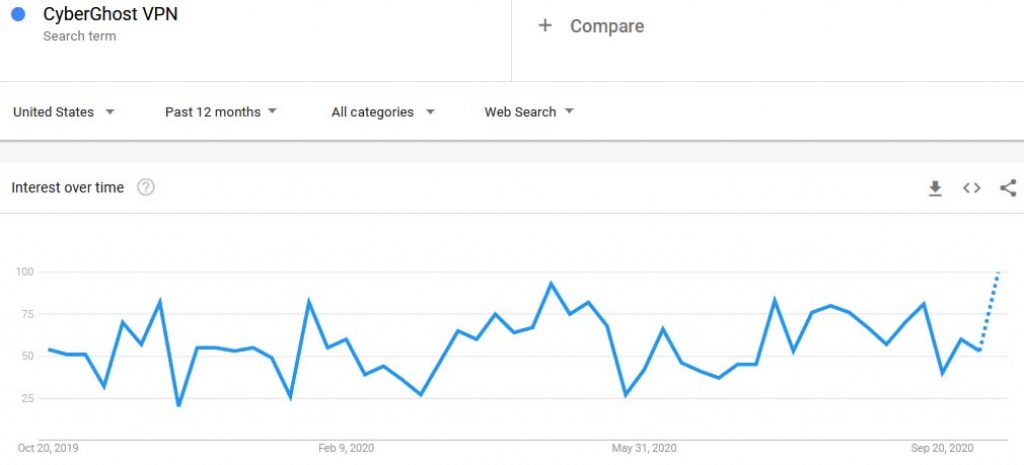 Interest in "CyberGhost VPN Review" varied wildly in the past 12 months and the graph showed numerous sharp peaks interspersed with sudden drops in interest. An interest on this topic was at its peak during July-August 2020 but overall popularity is declining, hopefully it will rise quite sharply in the coming months.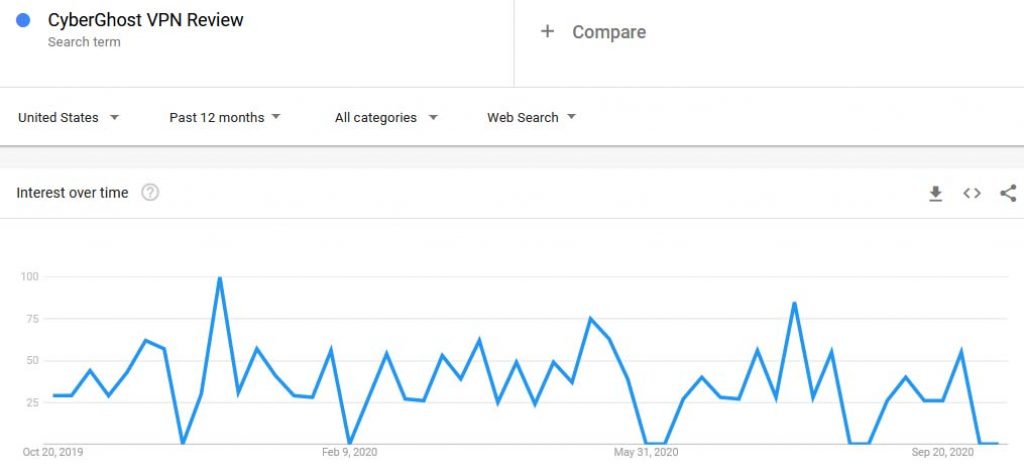 I also wanted to compare the interest in CyberGhost VPN as well as some of its nearest competitors such as TunnelBear. So I entered "TunnelBear" into the second comparison box and the results were neck and neck until March 2020. Interest in "CyberGhost" seems to prevail as of October 2020 in comparison with "TunnelBear" and is expected to steadily rise in the next few months.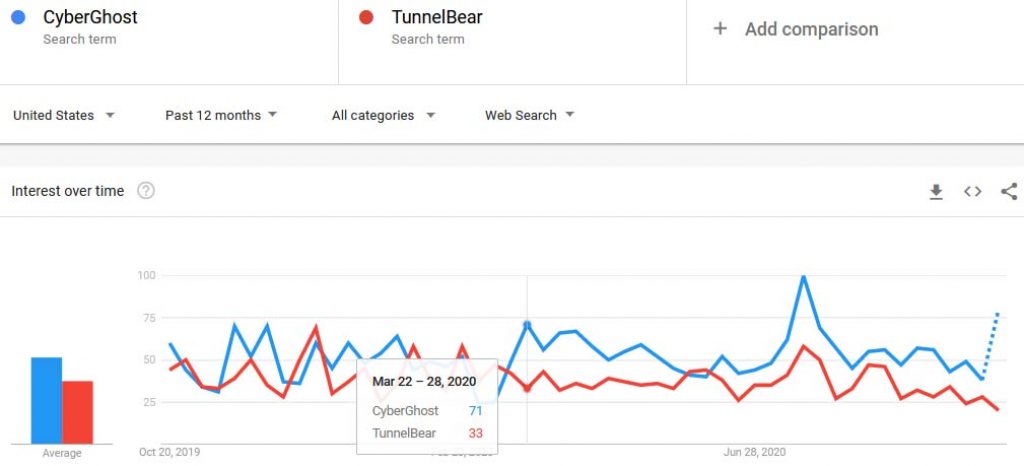 12
CyberGhost Customer Support
CyberGhost has a very detailed support page with numerous guides and frequently asked questions to help users. The intelligently laid out interface of the help page is a massive boon to beginners and professionals alike since it contains all necessary help that any user may need while installing or using CyberGhost VPN.
For further queries, there is also 24/7 live chat support,email support, and request support apart from the guides and FAQs. Customer support is available in multiple languages including English, French, and German.
My initial experience with the live support was frustrating, to say the least since after entering my query in the search box I was suggested some top help articles that did not fully clear my doubts. Furthermore, the chat application has some technical issues and can be buggy at times. I had to input my name and email id along with my query to chat with a live agent which I found cumbersome.
However, the live chat saved my ticket so I did not have to type in my query all over again and once I got through to the support staff the experience was surprisingly pleasant. A member of the support staff got back to me within a couple of minutes and the response was prompt as well as helpful.
I found CyberGhost's detailed guides, FAQs, and troubleshooters to be quite helpful and I hardly required any assistance from the support team for the period that I have been using CyberGhost VPN.

November 2023 Deal! 85% Off CyberGhost 18 Months Deal (12 + FREE 6 Months)
85% Off CyberGhost 18 Months Deal (12 + Free 6 Months)
13
 CyberGhost VPN: General Public Attitude
I visited a lot of social media sites such as Facebook, Twitter and Quora as well as VPN forums and went through user comments on CyberGhost VPN to get a clearer understanding of how the product has affected the public and what their initial impression of the product is.
The overall public mood was one of excitement mostly because of the more than 7100 servers that CyberGhost provides. Many gamers were full of praise for the exceptional server speed and device supported they got from using the app. The fact that CyberGhost lets a user connect seven devices at once with one license was the talking point amongst seasoned users on most VPN forums.
Few users on Twitter were peeved with the one-day trial period and claimed at least seven days should have been given. However, other users retorted by saying that 24 hours was enough for any user to decide if a VPN app is suitable for them. Other concerns include slow speed on a few distant servers and unreliable service in the UAE.
14
CyberGhost VPN: User's Feedback
For a deeper understanding of the functionality of the product, I read numerous user reviews on such review sites as TrustPilot, Reddit and SiteJabber. According to users of CyberGhost, it is one of the best VPN service providers currently considering its relatively low price, wide compatibility and fast servers. Some users claimed that CyberGhost's servers were among the fastest they ever used and that the sheer number of global servers clinched the deal for most of them.
Concerns were raised by some users regarding the reliability of the VPN company considering its troubled past with its parent company and its slightly hazy privacy policy. A couple of experienced users opined that the company's ownership issues do not come in the way of it providing reliable and strong security. They further added that unless one is an advanced VPN user the nitty-gritty of the privacy policy should not matter as much as the reliable security services provided by CyberGhost VPN.
However a few users were skeptical of the idea that CyberGhost can provide reliable service for as low a price as it sells for.
 In my opinion, price should not be the guiding light while choosing a VPN and judgments regarding the usability of any VPN app should be solely made based on its performance.
15
CyberGhost VPN: In the News
I decided to check numerous news sites and VPN blogs to gather more information on how CyberGhost is faring in the market as well as to know more about what is going on behind the scenes. I came across many generous reviews of CyberGhost and it was selected among the best VPN providers in 2020 by a lot of tech websites and VPN review sites like PCMag and CNET among others.
IGN named CyberGhost as one of the five best VPN apps in 2020 and you can read more about it here.
CyberGhost dominated VPN news lately since it bought ZenMate last year as well as bought Private Internet Access. In November 2019 Kape Technologies, CyberGhost's parent company, acquired London Trust Media Holdings, the parent company of Private Internet Access, for $95.5 million. More details on the deal can be found here.
CyberGhost CEO Robert Knapp in a recent interview to Douglas Crawford of ProPrivacy assured users that the company's primary goal remains the same and they are still operating out of Romania, allaying widespread concerns regarding the CyberGhost's privacy policy since its acquirement by Crossrider PLC, a company headquartered in Tel Aviv and registered in the Isle of Man.
18 Months

79% Discount
Extra 6 Months FREE
Billed $49.50 every 18 months
45-day money-back guarantee

3 Years

Exclusive 80% Discount
Includes 2 Free Months
Billed $99.99 every 3 years
45-day money-back guarantee

2 Years

70% Discount
Billed $88.56 every 2 years
45-day money-back guarante
After having used CyberGhost VPN for quite some time, I have concluded that CyberGhost is a decent performer overall but it best serves users keen on streaming and torrenting. Watching videos online, be it Netflix or YouTube, has rarely been smoother than on CyberGhost's servers. Not many VPN can unblock Netflix, BBC iPlayer, Hulu, and YouTube at once but CyberGhost manages to do so under one roof that too with dedicated servers for each streaming platform and for torrenting.
In my opinion, the clutter-free UI and the ease of usability make CyberGhost VPN a fantastic choice for novices and new users. However, the fact that it is one of the most affordable VPNs in the market at the moment and the performance the app puts up despite the lower than average price is quite commendable and makes it a prime VPN choice for beginners and professionals alike. Fast servers, 7 simultaneous connections, multiple OS compatibility, leak protection and over 7100 servers are just too good to miss out on. The only bone of contention that I have with CyberGhost is that it does not work in China and the UAE.

November 2023 Deal! 85% Off CyberGhost 18 Months Deal (12 + FREE 6 Months)
85% Off CyberGhost 18 Months Deal (12 + Free 6 Months)
PROS
Great for torrenting and streaming
Simultaneous connection of up to 7 devices
Strict no-logs policy, headquartered in Romania
CONS
Average speed on some remote servers
Add your review
|
Read reviews and comments