Norton 360 Deluxe Review 2023: Pros&Cons, Features Overview, Comparison With Competitors
The boom in the use of internet has also caused a steep rise in the number of cybercrimes. For many, cybercrime has become a profitable business and is calculated that they could extort as much as a trillion dollar from individuals and businesses worldwide in the next year. Studies show that the attack of the cybercriminals is so intense that any unprotected computer connected to internet can become infected within a few minutes and almost one in three internet users have lost sensitive data on their PC to hackers. Therefore, we need a reliable and dynamic internet security system that can safeguard us from the attack of the cyber criminals.
PROS:
Insures safety when bank and shop online
Can detect social media scams and suspicious content
Can defend existing and emerging threats
Free 50 Gb cloud storage
VPN included
Dark Web monitoring powered by LifeLock
CONS:
Difficult to install in highly infected systems

September 2023 Deal! 55% Off Norton 360 Deluxe (5 Devices/1 Year)
55% Off Norton 360 Deluxe (5 Devices/1 Year)
1
 How to Download & Install Your Norton Product
Today the market place is overcrowded with a number of different anti-virus products, but the Symantec's Norton 360 Deluxe stands apart with its industry's best protection rates for Web-based attacks. It is designed with latest security technology to provide the customers reliable and proactive antivirus protection as well as secure remote access to their backed up data.
It is the most sophisticated product in the Symantec's anti-virus products lineup and it provides real-time protection to your computer system from all existing and emerging threats. It is an excellent security suite, which includes patented five layer anti-virus, antispyware, browser protection, facebook protection, identity theft protection, parental controls, PC optimization, automatic backup and 50 Gb secured online storage. It has very little impact on the system performance against the wonderful features it provides.
3
Norton 360 Deluxe Features
Anti-Spyware, Antivirus, Malware & Ransomware Protection
Online Threat Protection
Cloud Backup (50 Gb free cloud storage)
Smart Firewall
Password Manager
Virus Protection Promise
Parental Control
Secure VPN
PC SafeCam
Dark Web Monitoring Powered by LifeLock
For the regular price of $49.95 I found some exclusive Norton 360 Deluxe features which you won't find in competitive software, like Kaspersky Total Security or Heimdal Thor Premium. Namely "Virus Protection Promise" when the company refunds your money for the software in case it can't delete/detect a virus on your system and/or support team can't solve this issue. The second exclusive feature is "Dark Web Monitoring Powered by LifeLock". You can read more info regarding Dark Web here, in short the great part of this feature is that it helps you protect all your personal data including emails and credit cards shared in Dark Web by cybercriminals.
More great features support like LifeLock Identity Alert System, stolen wallet protection and million dollar protection package you can find in Norton 360 with LifeLock Select. Identity theft protection software is gaining more and more popularity among users nowadays so Norton 360 with LifeLock Select would be a perfect solution to keep safe not only your digital but also a real world.
4
Norton 360 Deluxe Feedback, Ratings and Popularity
Great sources for checking the software popularity are social media, Facebook and Twitter mainly, forum posts and review sites like TrustPilot and SiteJabber. First of all Norton has its own Forum with Norton 360 threads here. I found some tech issues and solutions but there are no many posts and even less replies. Checking dozens of threads I couldn't also find replies from Norton support stuff.
Users on tech forums are mostly satisfied with the competitive price, features and speed of the software. They don't experience any serious issues with Norton 360 Deluxe, eg. check RedFlagDeals forum and Malwarebytes forum. The last one also explains how Malwarebytes Premium works in combination with Norton 360 Deluxe (and the two work just great, no any incompatibility issues).
Regarding Facebook and Twitter users' feedback first of all I would like to mention that the company has managed to achieve great numbers in Facebook subscribers, about 1.3 million people and about 150 thousands of Twitter followers. Checking random tweets and posts I couldn't find any negative feedback.
I saw a completely different situation when viewing Norton ratings on TrustPilot. Norton feedback and users ratings are mostly negative, the company scores only 2 out 5 stars here. Only 15% of reviewers put an excellent mark and about 65% told that they had a bad experience using the software from Norton.
SiteJabber reviews are more or less positive with overall Norton rating 4 out 5 stars.


To understand how really popular is the software and the company itself I checked Google Trends for such search terms as "Norton 360 Deluxe", "Norton by Symantec", "Norton 360 Deluxe Review" and comparison with competitors. Starting from January 2019 you can see a steady growth in users search for "Norton 360 Deluxe" and "Norton 360 Deluxe Review"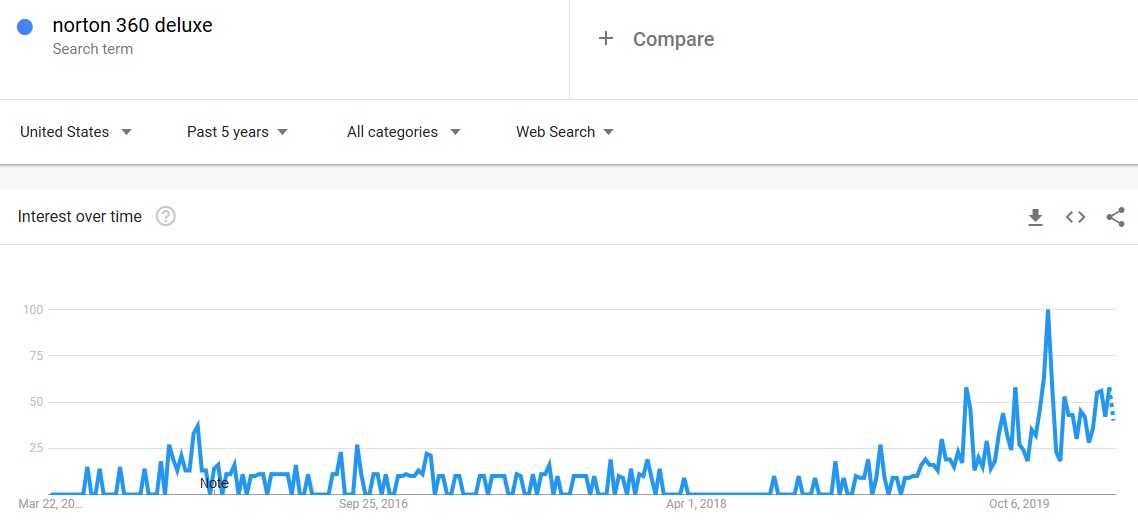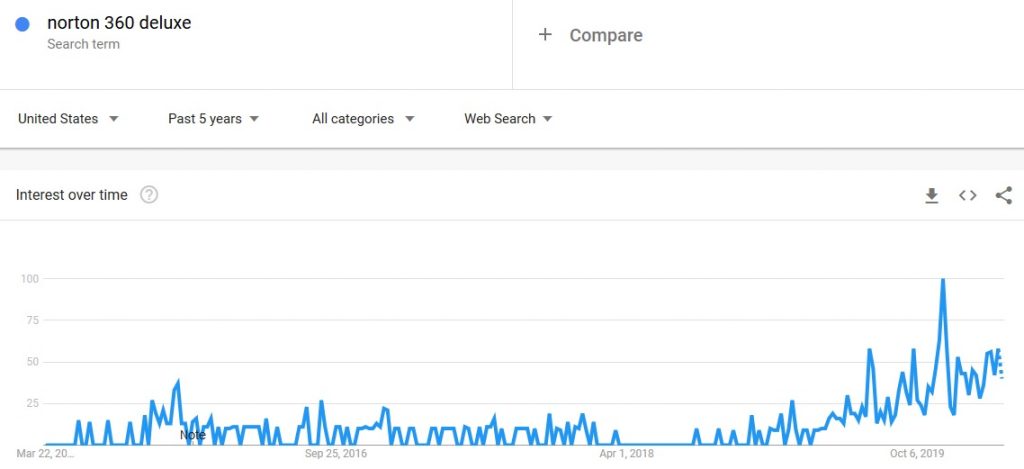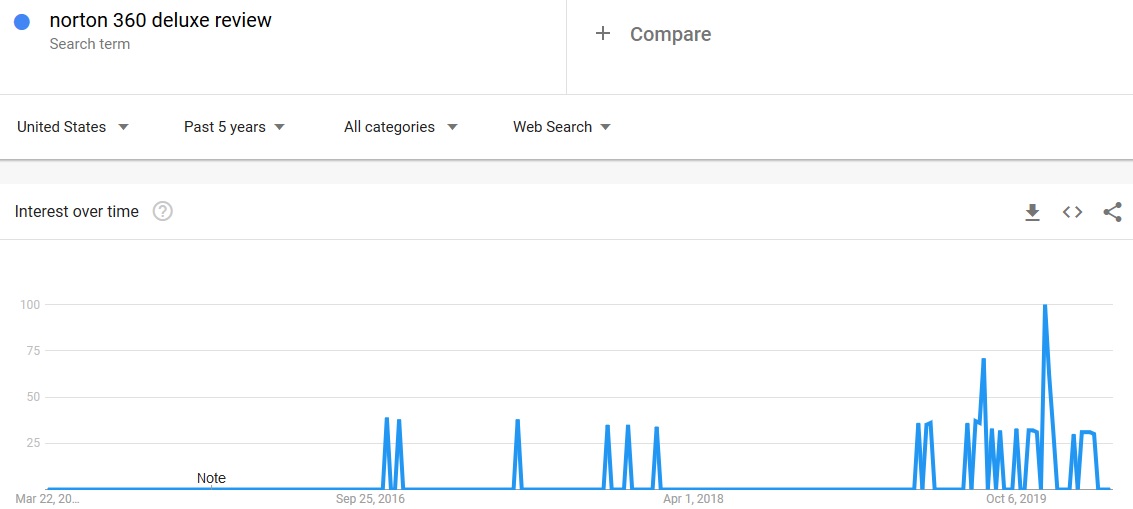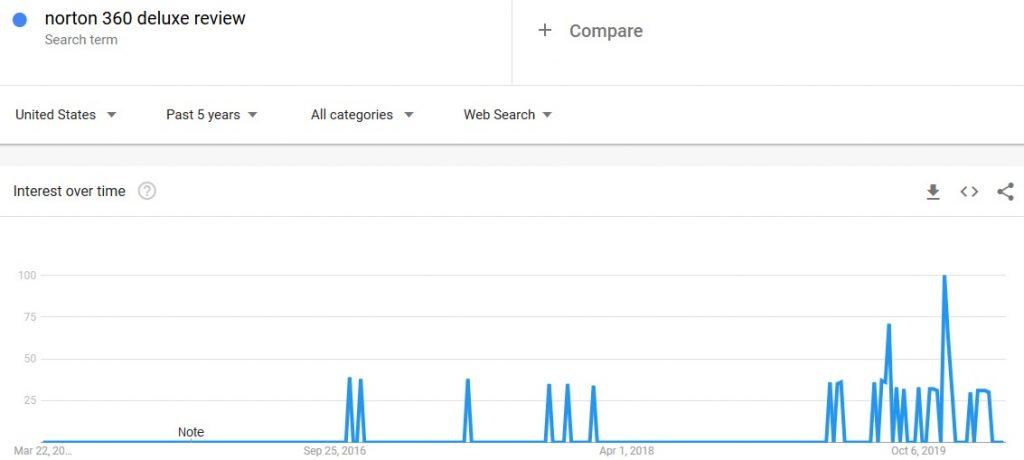 Comparison with competitive software such as Kaspersky Internet Security also showed an interesting result.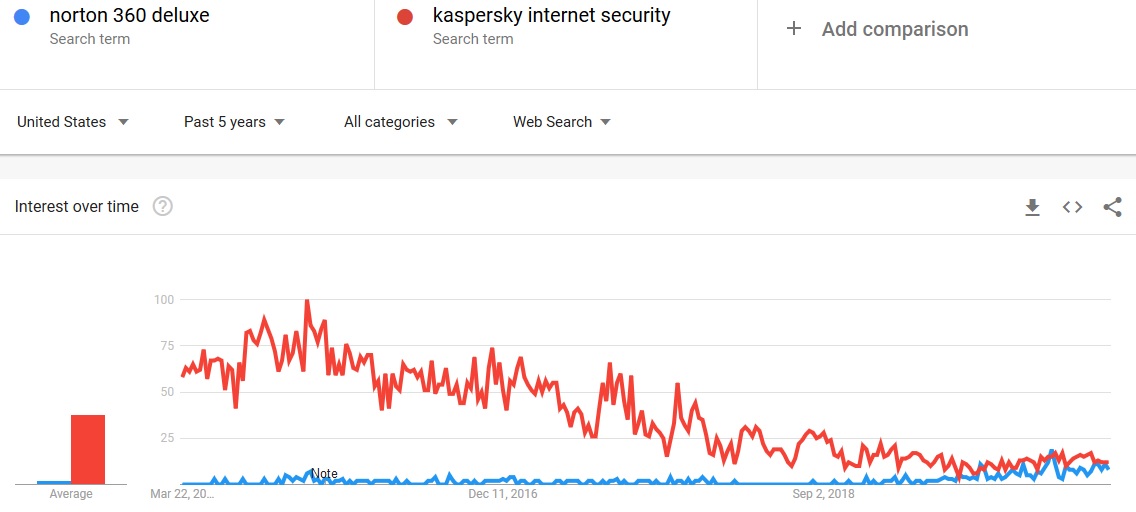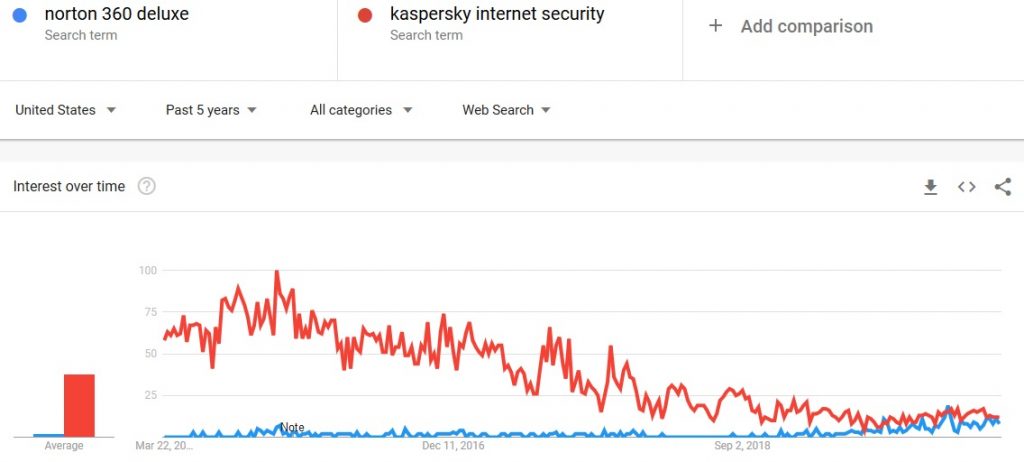 As you can see for the last 5 years Google users started to lose an interest for the search term "Kaspersky Internet Security", the same goes for search quires "Kaspersky Total Security" and "Kaspersky Antivirus". Comparison with "BitDefender Internet Security" showed a similar drop. It looks like that 2 dominant players, Kaspersky and Bitdefender used to be the top antivirus software about 5-10 years ago but with the rise of competition by other vendors have started to lose their positions.
Kaspersky and BitDefender are still premium class and top rated antivirus/internet security solutions with millions of users worldwide.
The search term "Norton by Symantec" hasn't shown any significant changes for the last 5 years, so I can assume that the company is of interest to the searchers.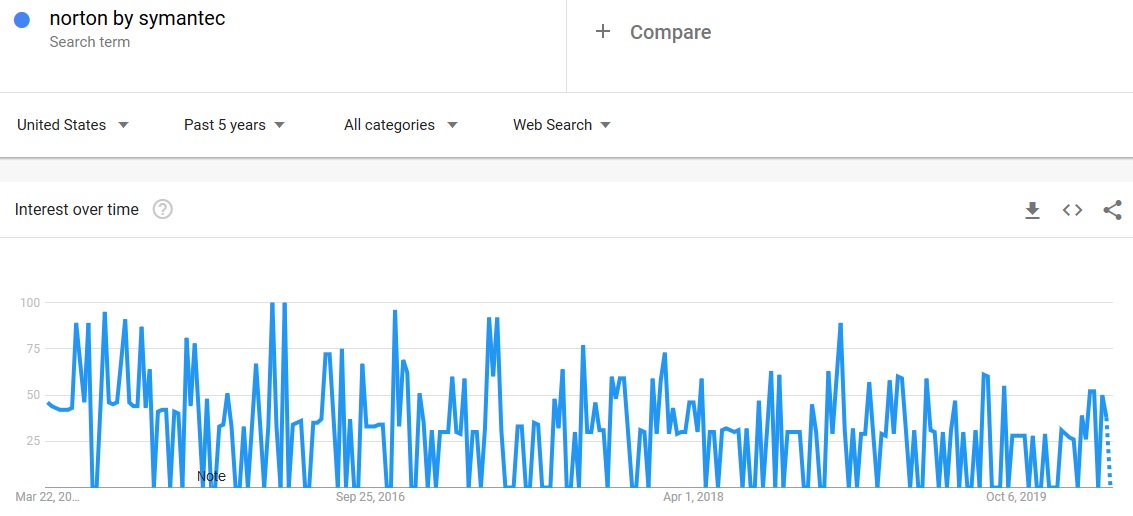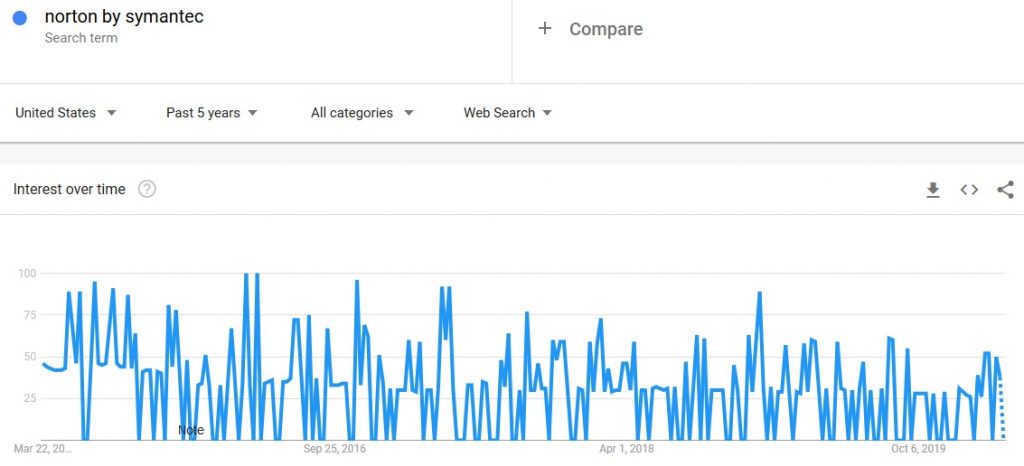 Norton 360 Deluxe delivers the customers industry best protection against all online threats. It is packed with solid privacy and excellent parental control tools. It features a comprehensive local/online backup and restores facility with 50 Gb free cloud storage. It have minimum impact on the PC performance and the tune-up functions in it can make your system work really faster, making one of the top rated Internet Security Suite.

September 2023 Deal! 55% Off Norton 360 Deluxe (5 Devices/1 Year)
55% Off Norton 360 Deluxe (5 Devices/1 Year)
PROS
Exclusive identity theft protection feature
Cleans up your system and ensures maximum performance
Excellent Malware protection
Free 50 Gb cloud storage
CONS
No file shredder or file encryption
Add your review
|
Read reviews and comments