BitDefender Total Security 2023 Review All-in-One Protection for Your PC
With all the ransomware attacks around the world and day to day malicious fishing, the security of your personal data is at a greater risk. As hackers get their hands on more advanced tools, you need to improve the security of your data too. Anti-virus software programs such as the Bitdefender Total Security 2023 are essential for anyone working on a computer or mobile device. Privacy and data theft protection is of the utmost important to the makers of the PC security software program.
Bitdefender has come up with an innovative four-in-one security product to beef up your cyber security. The Bitdefender Total Security is the latest and most impressive in a long line of cyber protection products. Today we are going to discuss just why the Bitdefender Total Security is taking the cyber world by storm.
---
PROS:
High marks by independent laboratories

Feature-rich
High performance and s

light influence on computer speed
---

September Deals! 95% Off BitDefender Total Security 2023 Multi-Device (5 Devices / 1 Year)
95% Off BitDefender Total Security 2023 Multi-Device (5 Devices / 1 year) Coupon Code
BitDefender Total Security 2023: Features At A Glance 
Minimum number of devices with one license

Social network protection

Phone support (Monday-Friday)

Protection: 5.5/6

Performance: 5.5/6
Usability: 5.5/6
Performance: 3/3
Malware Removal: 3/3

Malware Protection: 3/3
$39.98 (5 Devices / 1 Year)

$104.99 (5 Devices / 2 Years)
$139.98 (5 Devices / 3 Years)
BitDefender Total Security 2023 Overview
If you ask me why BitDefender is so popular the answer is simple – this tool just works as it should. I personally use it for more than 10 years and can say that from version to version this antivirus improves for the better with new options, features, speed and so on. If I'm not mistaken starting from version 2018 or 2017 an autopilot function appeared in BitDefender Total Security. So you just set the initial options eg. how to treat with infected files, schedule antivirus check and the program just do everything itself without annoying popups. Great isn't it?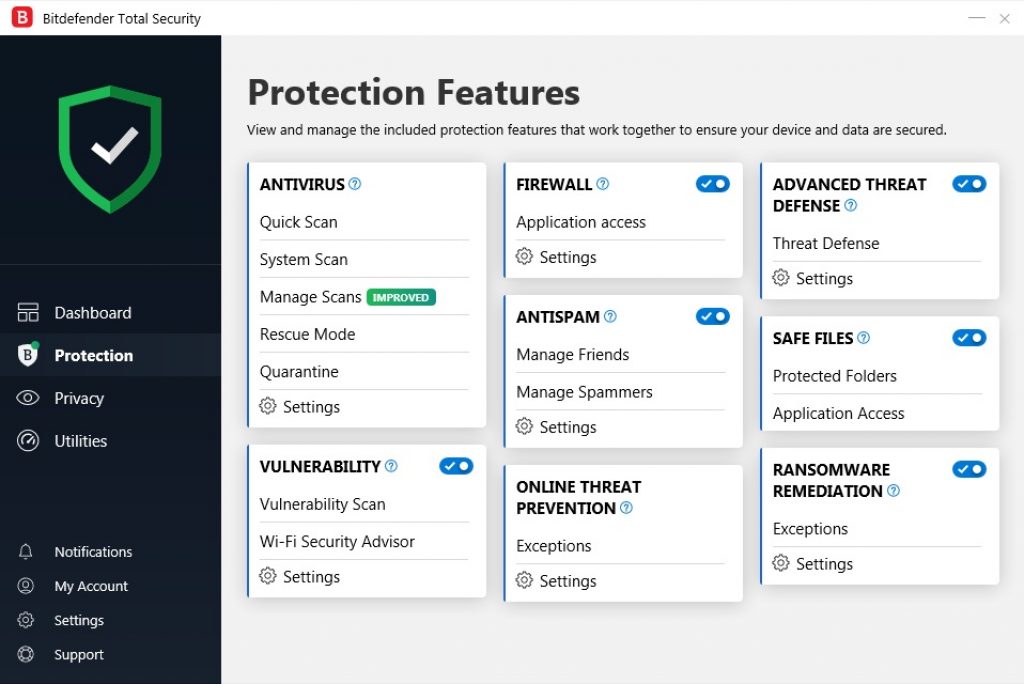 Bitdefender Total Security 2023 provides protection for all the four popular operating systems. It includes protection for Windows, Mac OS, Android and iOs. Not only does it cover all your devices whatever platform you may be working on but also covers the basics of cyber security. Although it provides maximum features like cloud integration, social media protection and secure browsing, it also takes care of the security of your other devices.
The anti-theft feature along with the app lock works great for your android devices. Anti-phishing quality of the software allows it to sniff out potentially harmful websites masquerading as trustworthy sites. Their improved filtering system checks fraudulent offers on various websites and detects infected links and with its bulky firewall blocks the malicious site from loading.
1
Having Just One Account is Enough
Yes, only one account will handle all your privacy needs. Privacy on the internet is hard to come by these days and with unwanted adware and malware constantly popping up on social media and e-commerce sites, it is an increasingly uphill battle for cyber security experts. However, the Bitdefender security suite answers all your cyber security prayers and that too with only one product for various platforms. Manage your browser, android or iOS mobile device on the go and get 24/7 security updates. Also with this single account, you get direct access to the support team. You will get all of this with just one license – one product, one account, four times the security.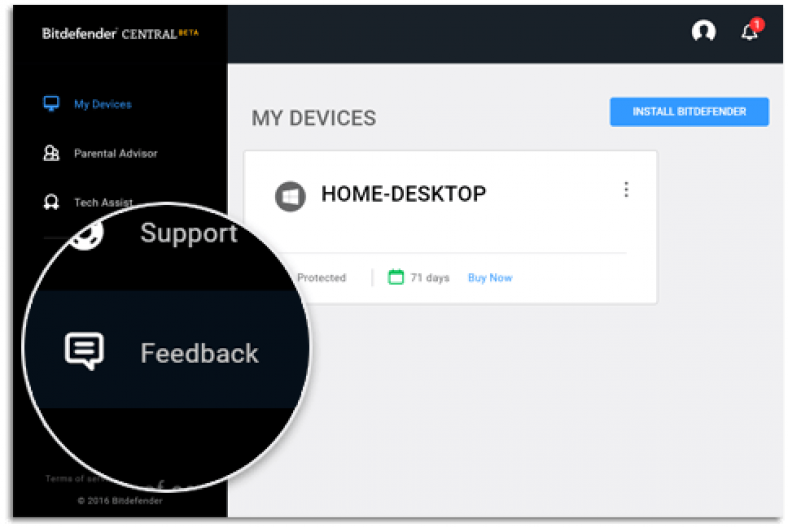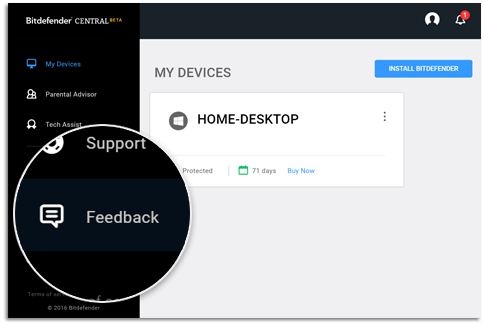 When the Beta version of BitDefender Total Security 2023, was subjected to clinical tests, it was discovered that the software is relatively faster than most of its main rivals, therefore, it is recommended for the powerful devices, especially those used in accessing the internet and those exposed to public Wi-Fi networks more frequently.
Starting from version 2017 BitDefender Total Security also comes with the BitDefender Photon which is the most innovative and creative technology that makes the software adapt quickly to the configuration of your device' hardware and software, in order to improve its speed and save all resources on the device. It comes with a privacy firewall that provides an extra cover of protection and ensures that your personal information remains safe from hackers. Aside the fact that it is compatible with Windows, Android and Mac OS, this software will require a hard disk space of at least 1GB for its download and installation, considering the size of its numerous features.
Bet you think that is a thing of the past. Well, not quite. The Bitdefender Total Security 2023 puts the user's privacy above everything else. Keeping that in mind they have covered one of the most vulnerable spots that hackers often target- the webcam. With the total security package, you will also get improved webcam protection that lets you carry on with your life in the privacy of your own home without having to lose a good night's sleep worrying over prying eyes.
With the Webcam protection you are in complete control of your webcam as you will be notified instantly if any application or program running on your computer tries to access your webcam. If you feel suspicious you can deny access to your webcam. No more peeping!
BitDefender comes with a Ransomware protection feature. Ransomware can destroy key files and even result in loss of money. Ransomware can enter your device and then encrypt key documents or files before rendering them unusable. When you files are maliciously encrypted, criminals will ask for money to de-crypt such files, but BitDefender Total Security will help create special folders for the most sensitive files, it then notifies you about any malicious attempts to access such files.
5
What is Wi-Fi Security Advisor?
The Wi-Fi security advisor feature, you are 100% safe and secured even when using financial apps on your device. With this feature, you can connect to the internet at Hotels, cafes, airports, and parks, and you are protected against data dredging or snooping, hackers, and vulnerabilities on the Wi-Fi networks. Regardless of which Wi-Fi you are connected unto, the software will automatically re-configure your anti-virus to provide maximum security.
6
Cloud Protection and Vulnerability Scan
The Cloud protection feature ensures that data encrypted and saved on your device, are remotely and securely saved in cloud computing, which means they can be accessed at any time. The compatibility of the software with features such as Windows Troubleshooting also ensures that all Window issues are dealt with, while the software is busy protecting your device.
The software comes with a secured connection protection when you are using a Privacy-oriented VPN, thus it shows up especially when you are connected to unsecure Wi-Fi hotspots, ecommerce websites and other sensitive websites. However while testing BitDefender VPN I found overall features on average level. To be short here are pros and cons which will clear up the whole situation:
---
PROS:
Maximum number of devices 10
Free trial is available
CONS:
No split tunneling support
No Netflix support
Servers locations is 27 worldwide
Logging policy
No kill-switch support
Can't be installed on routers
---
Of course BitDefender VPN is just a good addition to Total Security but by no means it can be called a fully-functional VPN service. If you are looking for a good VPNs I would recommend to read some ExpressVPN, NordVPN or CyberGhost reviews on VPN review sites like VPNHint or some others.
BitDefender Total Security 2023 Multi-Device (5 devices / 2 years)

70% Discount
5 Devices / 2 Years
Billed $104.99 every year

BitDefender Total Security 2023 Multi-Device (5 devices / 1 year)

90% Discount
5 Devices / 1 Year
Billed $35.99 every year

BitDefender Total Security 2023 Multi-Device (5 devices / 3 years)

80% Discount
5 Devices / 3 Years
Billed $139.99 every year
Conclusion
BitDefender Total Security 2023 provides an excellent protection against all sorts of Malware, and it has been re-designed to protect your private life from across several platforms, and without slowing down your system. The software deploys the most advance security technology however, it remains intuitive and simple enough for anyone to download and deploy. You need a single account to install this software on as much as 10 different devices. BitDefender Total Security provides a cross-platform protection without compromising its performance.
Excellent!
According to my own experience BitDefender Total Security 2023 wins all nearest competitors when it comes to performance, speed and security. All high marks for this antivirus are confirmed by such independent labs as av-tests.org and av-comparatives.org
PROS
Feature-rich
Excellent performance and speed
Easy to use
Cheap price
CONS
Almost none except paid VPN service