GoDaddy Review 2023: The Largest Domain Registrar With Reliable Uptime And A Host Of Advanced Features
With an option to start a website for free, GoDaddy has long been the go-to hosting company for beginners who benefit not only from its affordable prices but also from its exceptional web design services. Its recently revamped interface takes user-friendliness to new heights without compromising efficiency. The company's award-winning customer support comprises an extensive knowledge base, video tutorials and a team of experts who are available 24/7 via phone, email and chat. The support staff not only addresses issues round the clock but also monitors servers 24/7 to prevent malicious attacks. While its guarantee of 99.9% uptime isn't remarkable in an industry where almost every hosting provider guarantees 99.9% uptime, GoDaddy has carved out a niche for itself in the hosting industry through its impeccable service, reliable customer support and affordable Shared hosting packages.

June 2023 Deal! 90% Off GoDaddy Managed WordPress Hosting
90% Off GoDaddy Managed WordPress Hosting. (Basic, Deluxe, Ultimate (includes FREE SSL), Ecommerce) - Host your website with Managed WordPress for $1.00/mo with GoDaddy!
---
PROS:
Unlimited bandwidth and SSD storage
Free one-click install for 125+ applications including WordPress
24/7 security monitoring and DDoS protection
CloudLinux integration
Password protected directories
CONS:
No Content Delivery Network (CDN)
Costly add-on services
One-click install for WordPress
Drag and drop website builder
Yes, only with the Ultimate and Maximum plans
100 GB for Economy plan and unlimited for all other plans
30-days for annual plans and 48 hours for monthly plans
24/7/365 expert support viaphone, live chat, Twitter, tickets and email plus an extensive online help center
Shared hosting plans (promotional prices)
Economy – $5.49/month
Deluxe – $7.99/month
Ultimate – $12.99/month
Maximum – $19.99/month
Step-by-Step Instructions How to Create a Website With GoDaddy
This step-by-step tutorial will guide you on how to create and edit a website or a blog with the help of either a CMS like WordPress or a drag-and-drop website builder. While building a website without any prior knowledge is no big deal, you must at least have an idea of the purpose of your website so that you can choose the right plan and website building tool to build it. Ask yourself some basic questions to determine what type of website will serve your purpose the best and then follow the steps provided below.
The first step involves picking a domain name for your website. To find a domain name, go to "Domains" on the company's website and type the domain name you want in the search box. If the domain name you want has already been taken then you will be shown a list of alternate names that are available along with their respective prices.
To select the perfect domain name, make sure it is easy to remember, easy to type, does not contain numbers or special characters and not lengthy. Your domain name should reflect your brand or your website and contain keywords if possible. While .com is the most popular and widely available extension, you can explore other extensions and choose one that suits the product or service you will be promoting.
Once you have registered an appropriate domain name for your site, it is time to choose a hosting plan. Select a hosting plan that best caters to the type and purpose of your website and click "Add to Cart".
After choosing a hosting plan, you will land on the "Configurations" page where you will have to choose the term length from 3 months, 12 months, 24 months and 36 months.
Scroll down to find the website backup service automatically added to your cart for $2.99/month. While it is advisable to add a backup service to protect your data, you can choose to cancel the subscription by clicking "No Thanks".
Scroll further down and you will find two add-on services, namely essential website security for $5.59/month and SSL certificate $6.67/month. SSL certificate is free with the Ultimate and Maximum Shared hosting plans. Check the services you need and click "Continue" to move to the cart.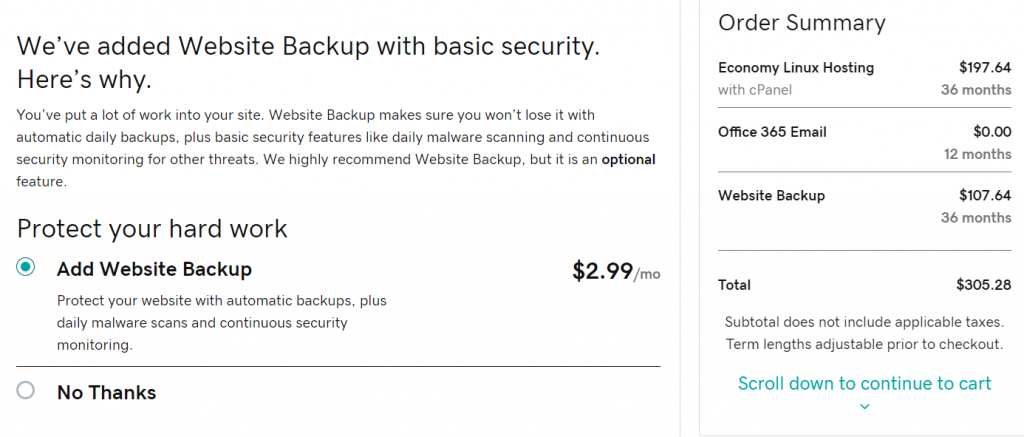 June 2023 Deal! 90% Off GoDaddy Managed WordPress Hosting
90% Off GoDaddy Managed WordPress Hosting. (Basic, Deluxe, Ultimate (includes FREE SSL), Ecommerce) - Host your website with Managed WordPress for $1.00/mo with GoDaddy!
The first step in the cart requires you to sign in via Facebook or Google or create an account with GoDaddy by entering your email, username, and password.
Scroll down to add SEO tools for $4.99/month or cPanel hosting for $7.99/month depending on the plan you have selected. You can add a domain if you hadn't done it already as mentioned in step 1. Click "Create Account" to continue.
Next, you will have to enter your billing information and proceed to the payments page. Click on the PayPal logo to pay via PayPal and check out faster.
On the right side, you will see your items and the prices of the services you have added. Locate the "Have a promo code?" option and click on it and a window will pop up. Enter the valid promo code or coupon that you have and click "Apply" to enjoy the benefits of the code.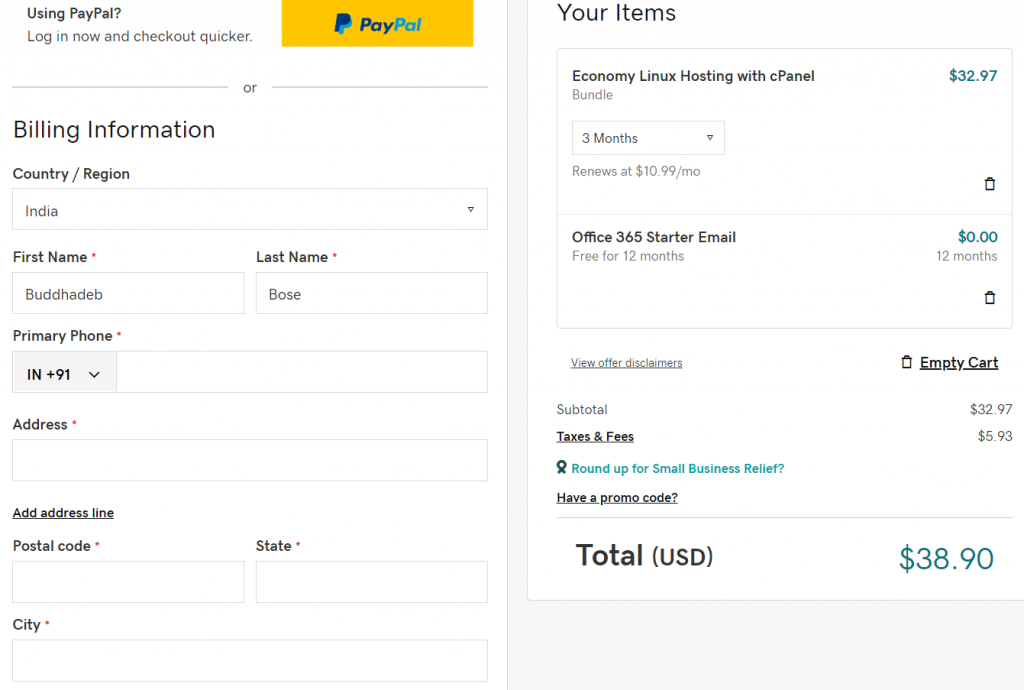 Now the final steps involve making the payment and completing necessary formalities to purchase the service. Once completed, you can proceed to sign in to your account with GoDaddy.
To sign in, click "Sign in" at the top of the company's website. From the drop-down menu, click on "Sign in" under registered users. Use the login credentials you entered while creating your account or sign in with Amazon, Facebook or Google. If you used your social media accounts to sign in during step 4 then you will already be signed in and can skip this step.
Now comes the actual website building process. In this step, I will show you how to use WordPress to build a website.
WordPress is automatically installed if you are using a managed WordPress account. Otherwise, you will have to install WordPress via the one-click installer. When signed in to your account, navigate to "My Account>Managed WordPress" and click "+ Create Site" or select WordPress hosting under "My Products" if you have purchased WordPress hosting. Enter http://example.com/wp-admin, where example.com is your domain name, to go the admin login screen.
The WordPress dashboard will be your control center from where you can control every aspect of your website from adding pages and media to editing the design layout.
Navigate to "Appearance -> Themes -> Customize" to choose or change themes. The WordPress library contains numerous designer themes. Hover over a theme and click "Install". Once installed, click "Activate" to upload the theme. You can also click on "Add New" at the top of the Themes page in the dashboard to add new themes.
Click on "Plugins" to add new plug-ins that will increase the functionality of your site and give you more control over it. Go to "Pages -> Add New" to add pages. To insert images, go to "Media -> Add Media".
GoCentral is GoDaddy's proprietary drag-and-drop website builder and is an easier alternative to CMS like WordPress when it comes to building or editing websites.
As soon as you sign in. the intuitive website builder asks you to enter the name of your site and the industry to which your site belongs. Enter the details, click "Continue", and GoCentral automatically creates a basic layout for your site from the information you just entered.
With the basic layout out of the way, you can now start to edit your website as per your preference by changing themes, adding pages, or adjusting site settings. The most noticeable difference between WordPress and GoCentral is that the control panel of the latter is on the right side, unlike the left-side panel in the former.
The extensive media library offers abundant choices. You can upload an image or use keywords in the search bar to images related to your site from the "Stock Media".
You can customize your themes and the layout of your site by changing the colors and fonts. Click "Preview" to view the changes on the left side and click "Publish" if you are happy with the changes.

June 2023 Deal! 90% Off GoDaddy Managed WordPress Hosting
90% Off GoDaddy Managed WordPress Hosting. (Basic, Deluxe, Ultimate (includes FREE SSL), Ecommerce) - Host your website with Managed WordPress for $1.00/mo with GoDaddy!
GoDaddy guarantees 99.9% uptime as all decent web hosting companies do. I tested the uptime several times over five months and was not let down by the company barring a couple of times when I got 99.8% uptime which was inconsequential considering the size of my website. DreamHost hosting service is the only company that guarantees 100% uptime.
The load times that I got from numerous tests on Pingdom were higher than I expected from a top company like GoDaddy. While the average load time was 824 ms, I got load times over 1000 ms on a few occasions. SiteGround and DreamHost offer load times of 327 ms and 421 ms respectively.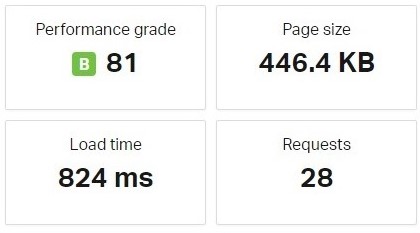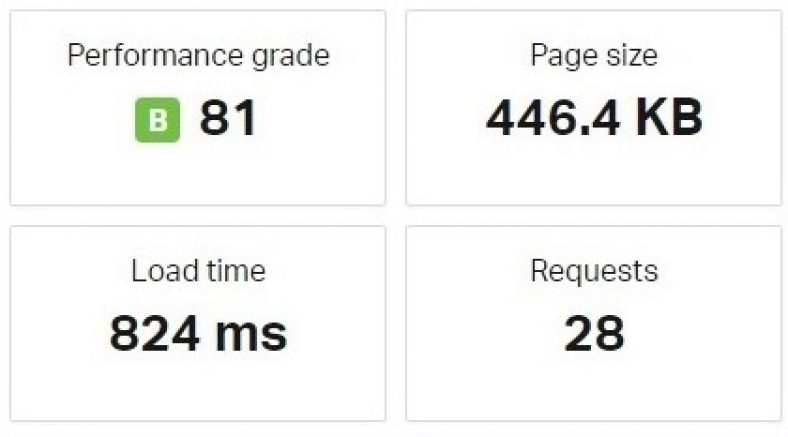 GoDaddy offers unmetered bandwidth and does not limit the bandwidth use of your site as long as you comply with the company's hosting agreement. You will be notified by an email if the amount of bandwidth used by your site possesses a risk to the stability of the company's server, its performance or uptime. In such a case, you will be either required to upgrade to a higher plan or the resources used by your site will be restricted.
Users will get unlimited disk storage with all Shared hosting plans except for the basic Economy plan which limits disk space to 100 GB. While HostGator hosting offers unlimited disk space with all Shared hosting plans, SiteGround limits disk space to a maximum of 40 GB even with their highest Shared hosting plan.
GoDaddy offers dedicated WordPress hosting in addition to Shared and VPS hosting. The WordPress hosting packages include a 30-day money-back guarantee, free domain and free business email for one year among other things. GoDaddy's WordPress hosting is also one of the cheapest in the market. Shared hosting services are also optimized to make full utilization of WordPress.
The one-click installer lets you install more than 125 free applications including WordPress, Joomla, Drupal to name a few.
With GoDaddy, it is easy to create an online store in a matter of minutes. The company not only offers several e-commerce scripts but also Content Management Systems such as Joomla, Drupal, and Magento. You can also use the free WooCommerce plug-in to expand the WordPress application into a highly customizable online store.
GoDaddy lets you create a website for free without any credit card details. You can use either a CMS like WordPress or the feature-packed GoCentral website builder to create your website. The company's website design services are second to none and its smart InSight tech system makes optimizing your site seem like a dream.
Free domain name registration for one year is provided with all annual or higher term plans. Although the domain itself is free, an ICANN fee of just $0.18/year needs to be paid for each domain. To avail of the free domain name offer, one must add the domain name to the cart before purchase as well as choose a domain term length either equal to or less than the term length of the hosting plan.
GoDaddy SSL certificate uses robust 2048-bit encryption to secure transactions and protect your website. However, a free SSL certificate is offered only with the Ultimate and the Maximum plans. While the Ultimate plan offers an SSL certificate for one year after which it renews at its original price unless canceled, the Maximum plan offers a free SSL certificate for the full term of the hosting plan.
GoDaddy offers a free Office 365 Email with dedicated 5 GB storage for one year with all Shared hosting plans.
The company automatically backs up your data every day and backups can be restored with one click. However, the backup and restore service available with all annual plans is not free and costs $2.99/month.
While there is a 30-days money-back guarantee on all annual Shared hosting plans, the monthly plans are covered by a 48-hours refund policy.
With 24/7 security monitoring and DDoS protection, GoDaddy keeps websites safe from malicious attacks. It has a security team dedicated to keeping an eye on customers' sites and servers to prevent untoward incidents from occurring.
GoDaddy is renowned for its 24/7 award-winning customer support service that is available via phone, email, ticket and chat. GoDaddy's support service is one of the best among the hosting companies I have tried thus far, as numerous user reviews on various sites will affirm.
Shared hosting plans are divided into four categories, namely Economy, Deluxe, Ultimate and Maximum. The monthly prices of these plans are $5.49, $7.99, $12.99 and $19.99 respectively. All the prices mentioned here include promotional discounts of 20% to 38% and the plans renew at the rates of $8.99/month, $11.99/month, $16.99/month and $24.99/month for the Economy, Deluxe, Ultimate and Maximum plans respectively.
I visited the Google Trends, the data analysis engine by Google, to check the popularity of specific search terms related to the company. I used the graphs provided by Google Trends to study the interest in "GoDaddy" over the past 12 months in the USA.
Interest in the company "GoDaddy" was much higher than the average value throughout the last 12 months with the graph consistently hovering close to the highest point and even touching it on several occasions since the start of 2020. The interest dippedonly twice during December 2019 but did not even drop below the average value. While the popularity of GoDaddy is the highest and most consistent among all the hosting companies I have studied on Google Trends, it comes as no surprise considering the company's reputation in the hosting industry.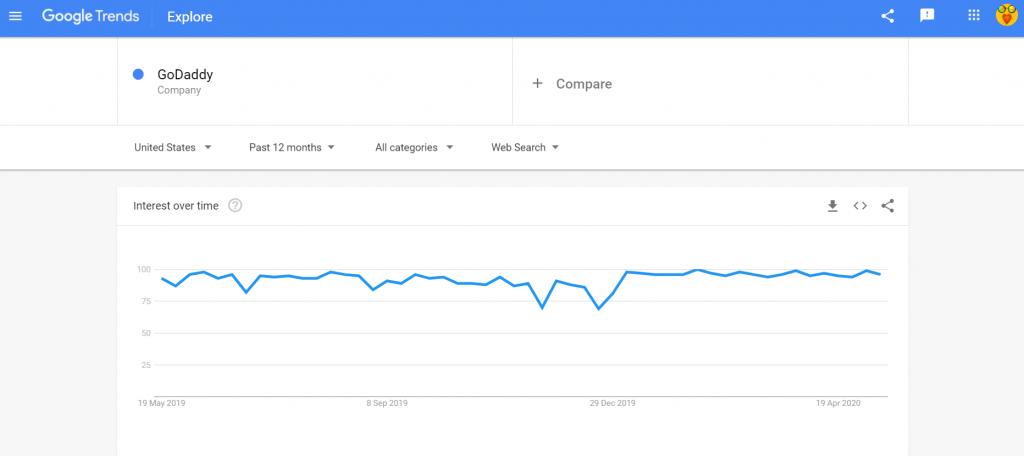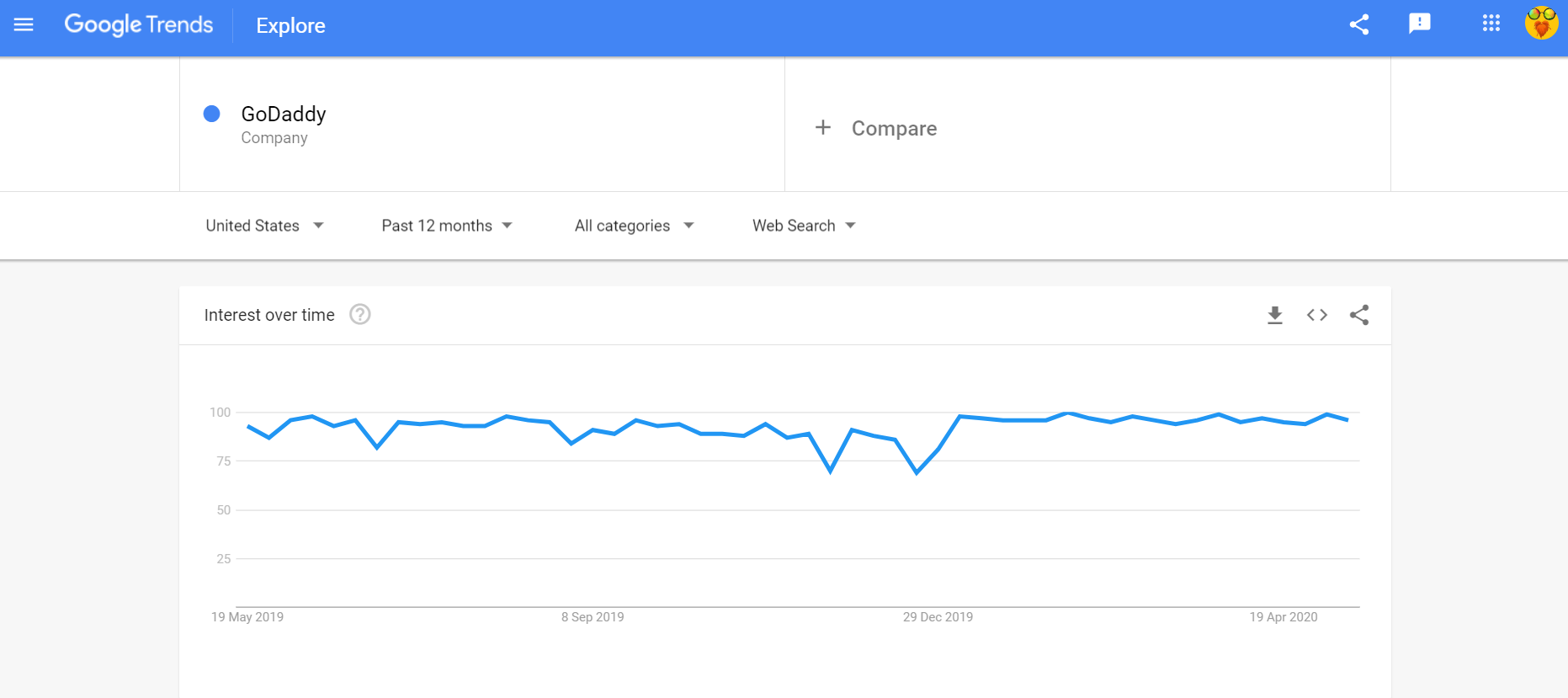 While interest in "GoDaddy review" was above average during May 2019, since then it has witnessed numerous ups and downs leading up to May 2020 and is currently projected to decline in the coming months. The interest reached the highest point twice sometime during January and April 2020 but it has mostly been inconsistent and resembles a scribbling by a toddler.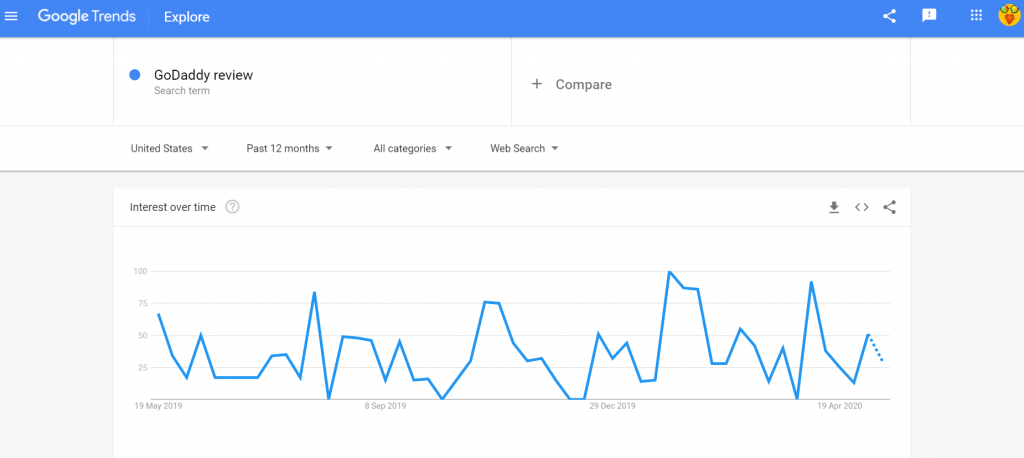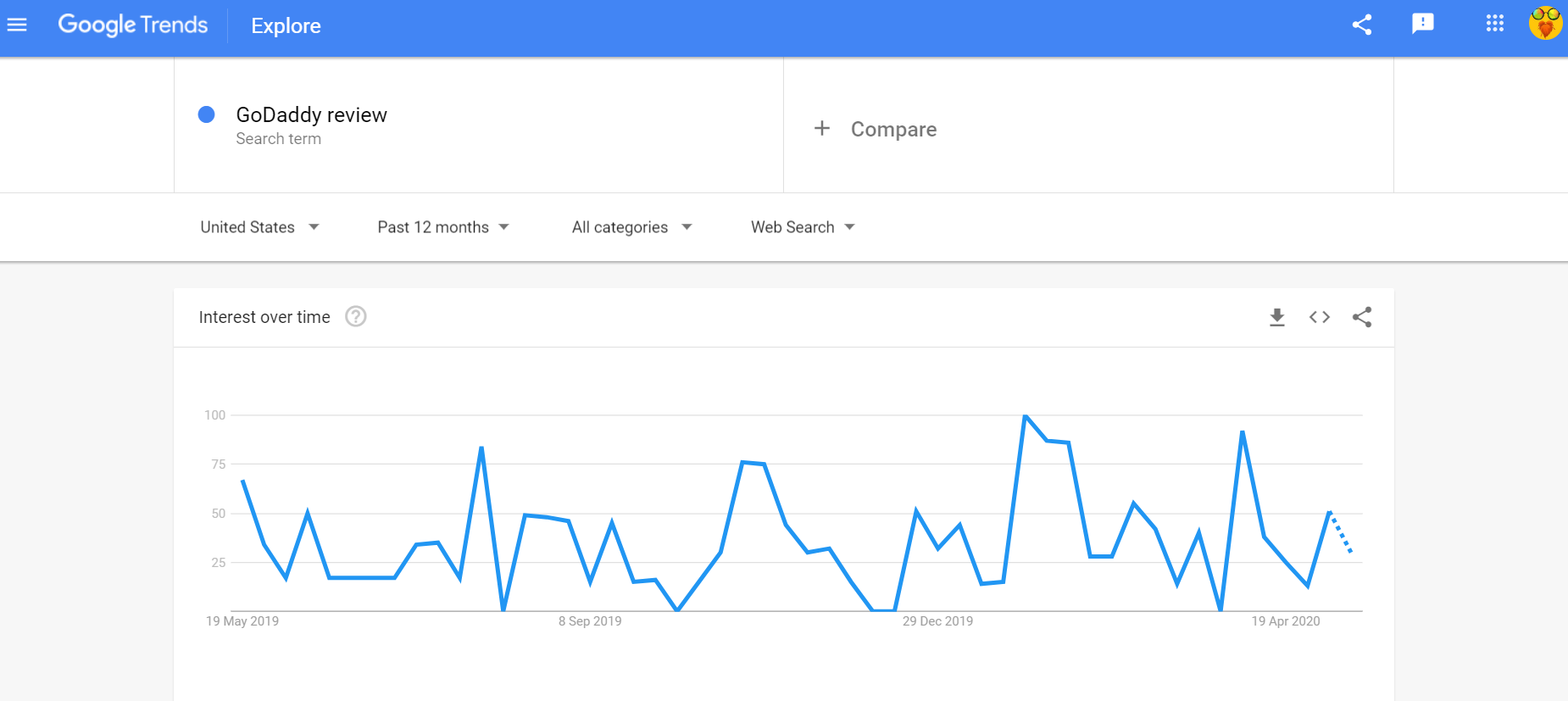 I wanted to see how GoDaddy fared against one of its nearest competitors in terms of popularity of Google search terms and so I compared "GoDaddy" with "Wix". While average interest in "GoDaddy" was considerably higher than that in "Wix" as evident from the bar graph, the line graphs of the two companies were as identical as twins with little to differentiate between the two other than GoDaddy's higher average interest.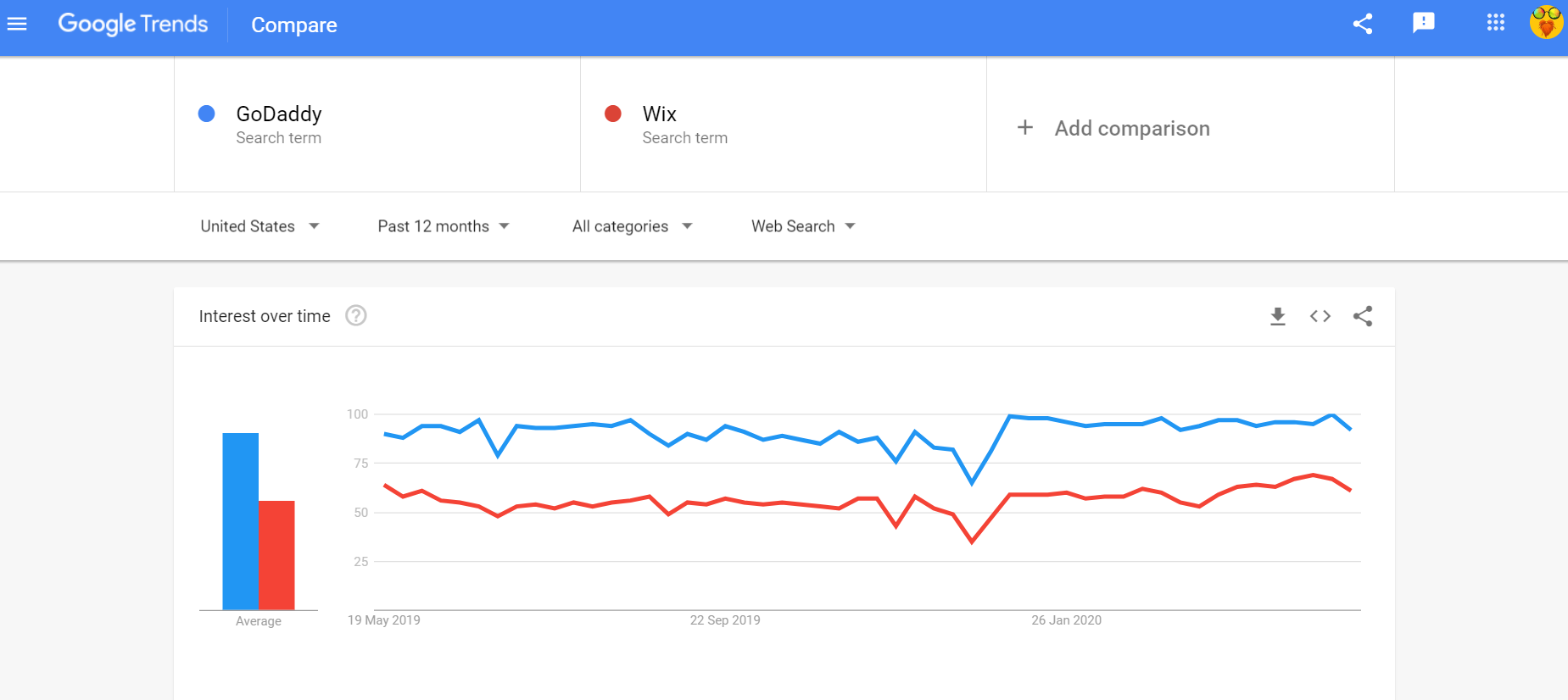 June 2023 Deal! 90% Off GoDaddy Managed WordPress Hosting
90% Off GoDaddy Managed WordPress Hosting. (Basic, Deluxe, Ultimate (includes FREE SSL), Ecommerce) - Host your website with Managed WordPress for $1.00/mo with GoDaddy!
18
GoDaddy: Users' Feedback, Ratings and News
GoDaddy has social media profiles on Facebook, Instagram, Twitter and YouTube where it regularly posts articles on web hosting, tips, and updates about the company. With over 300k followers on Twitter, GoDaddy has a sizeable following on social media and a favorable impression among its users. However, I had to visit several user review sites to get a better idea about users' perception of the company since user feedback on its social media profiles was limited.
The company achieved a TrustScore of 4.1 out of 5 from more than 13000 users' reviews on Trustpilot where it earned praise for its ease of use, exceptional customer service and affordability of hosting plans. Many users cited GoDaddy's smooth service and simple yet effective interface as the reasons behind choosing it over other hosting platforms. There were only a handful of negative reviews regarding slow customer service and technical issues but the limited amount of information provided by the users failed to justify their low ratings for the company.
On SiteJabber, the company scored 4.5 out of 5 from 367 reviews and the positive highlights from the reviews were its smooth service, cheap domain registration, free website builder and award-winning customer support. Long time users pointed out that they did not face any issues while hosting over 100 domains with GoDaddy. Among the negative comments, the most prevalent issues were GoDaddy's high renewal rates and arguable predisposition to profit rather than customer satisfaction. However, in a market as competitive as web hosting, a company cannot be blamed for trying to make a profit.
To find out more details about the company and its recent developments, I visited several news sites and gathered as much information as I felt was relevant. The first such good news that I came across was from April 6, 2020, when GoDaddy announced its decision to go vertical by acquiring Neustar's domain name registry services. The company will implement a governance model to avoid conflict of interest and it will be the first time that GoDaddy will own a registry. Read more about it here.
Later the same month, GoDaddy decided to implement an integrated video chat tool by either building a video chat feature of its own or by using an API plug-in for its website building platforms to help small and medium businesses to reach a larger audience through GoDaddy's platform. Though in an early stage of development, if this idea is realized then it would be a highly productive move at a time the business landscape is evolving and adapting to the new norm of social distancing. For details check this article.
The most relevant news that I came across was this article on Forbes regarding the recent GoDaddy data breach that has affected numerous accounts, the number of which is yet to be declared by the company. The confirmation of the breach that supposedly took place back in October 2019 came via a signed email from Demetrius Comes, GoDaddy's CISO and VP of engineering. To know more about the breach, go to this review.
GoDaddy is one of the most widely used web hosting platforms for many reasons, some of which are its affordability, top-quality service and fast customer service. While there may not be much to write about the load times and uptime offered by the company, GoDaddy offers a lot of services free of charge for which other companies charge monthly or annual fees. The company even lets you start a website for free and its free website builder coupled with its intuitive control panel makes hosting simple as well as profitable for small and medium website owners. Not to leave out advanced users or large business owners, GoDaddy offers a vast range of services and hosting features at competitive rates.

June 2023 Deal! 90% Off GoDaddy Managed WordPress Hosting
90% Off GoDaddy Managed WordPress Hosting. (Basic, Deluxe, Ultimate (includes FREE SSL), Ecommerce) - Host your website with Managed WordPress for $1.00/mo with GoDaddy!