Namecheap Review 2023: Exceptional Web Hosting Services With Competitive Pricing
Apart from a wide selection of popular and professional domain names, Namecheap also offers affordable hosting packages, SSL certificates, built-in SEO tools, Supersonic CDN, VPN, G Suite, Weebly site builder, and personalized email service to name a few. Namecheap offers help via its extensive knowledge base and its 24/7 customer support service promptly addresses any issues faced by users. The company's team of experts is professionally trained to handle any issues regarding domain registration or web hosting promptly and efficiently. Namecheap believes in transparency and insists that its customers can rely on the company to protect their private information at all costs.
---
PROS:
Guaranteed 100% uptime
Free migration of domains, websites, and WordPress blogs
Very affordable pricing
Supersonic Content Delivery Network (CDN)
CONS:
Web application interface could be modernized
Customer support can improve
One-click install for WordPress
Drag and drop website builder
SEO tool built into the website builder
30 with the basic plan and unlimited with premium plans
20 GB to unlimited SSD storage
24/7 live support via live chat and ticket system, extensive knowledge base, how-to, and FAQs
Shared Hosting plans
Monthly
Stellar – $2.88/month
Stellar Plus – $4.88/month
Stellar Business – $8.88/month
Annual
Stellar – $1.44/month
Stellar Plus – $2.44/month
Stellar Business – $4.44/month
Step-by-Step Tutorial How to Create a Website/Blog With NameCheap
Websites or blogs can be built via either a Content Management System (CMS) like WordPress or a drag-and-drop website builder such as the free one that Namecheap offers. Now, before you start building a website, you must be aware of the purpose and type of your website so that you can choose the right domain name, appropriate hosting plan, and use the best site building tool.
First, you must register a domain name for your website. On the Namecheap website, navigate to "Domains>Domain Name Search" and enter your domain name in the search box provided. The "Beast Mode" allows you to check various alternate names and apply filters. A suitable domain must not be too long, should be memorable, and not contain numbers or symbols.
Once you have a domain name you like, register it by completing the payment process. Though the registration process is lengthy, it is simple. For further help, go to "Support>Knowledgebase>Domains>Registrations". If you already have a domain name then you can transfer it to Namecheap for a small fee.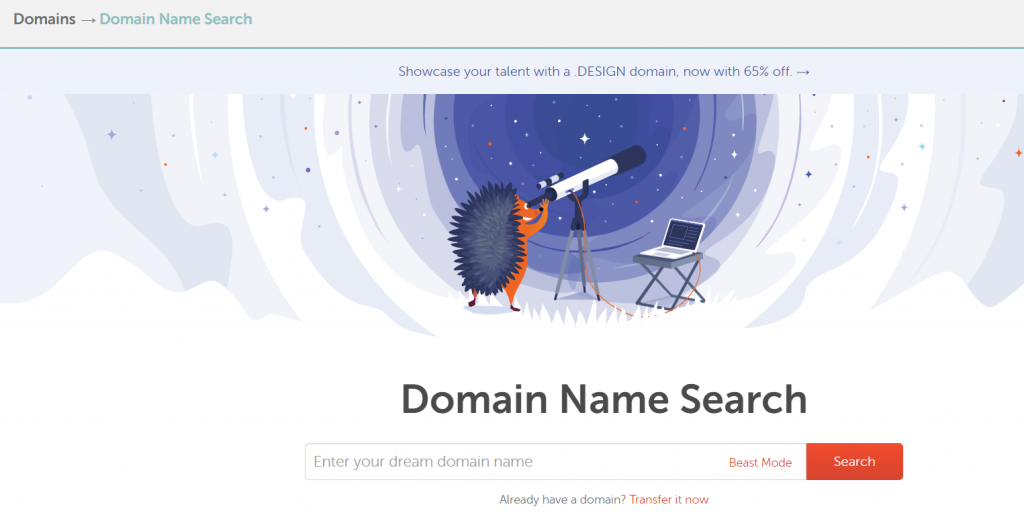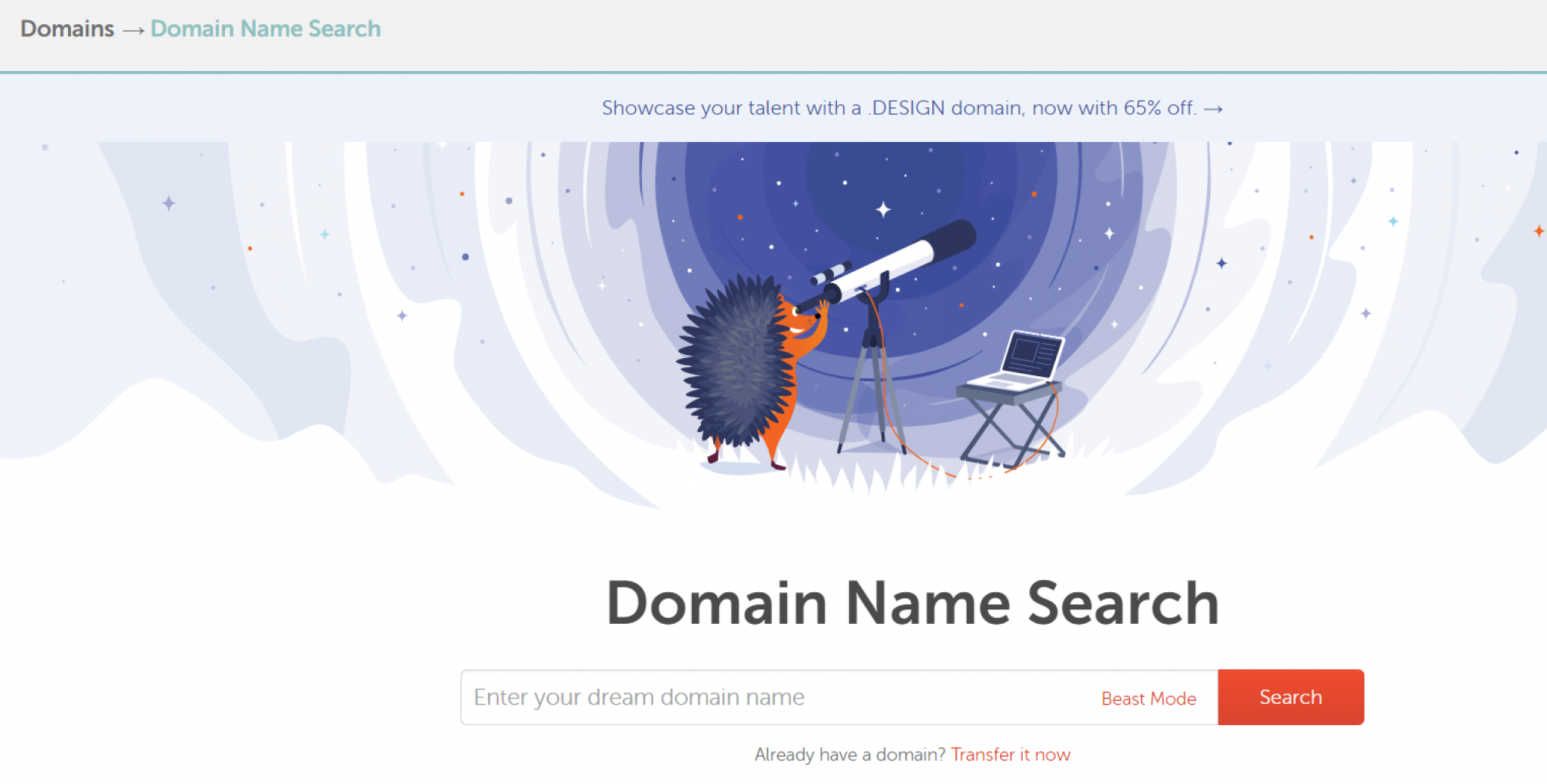 Now that you have a domain name, it is time to choose a Shared hosting plan. Namecheap's annual Shared hosting plans cost half that of the monthly plans. Go for the Stellar Plus plan for the best deal. Those with large businesses or online stores can opt for VPS hosting or dedicated servers. Refer to the guides in the knowledge base if you need help to complete the payment process.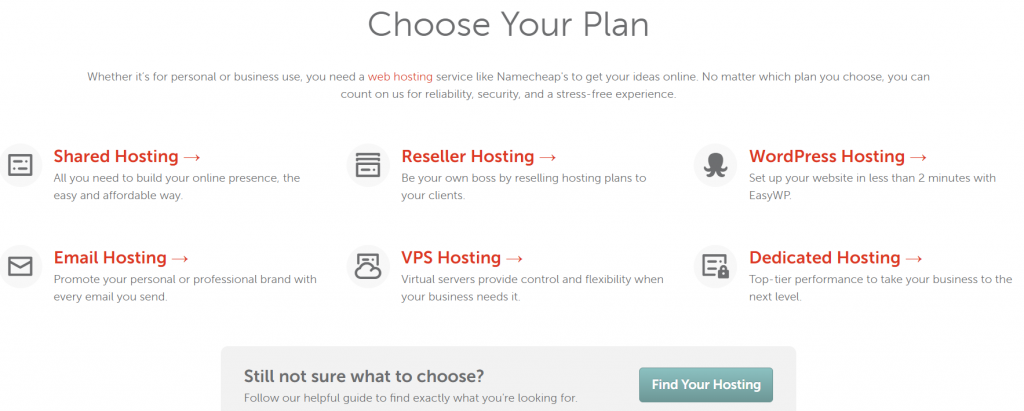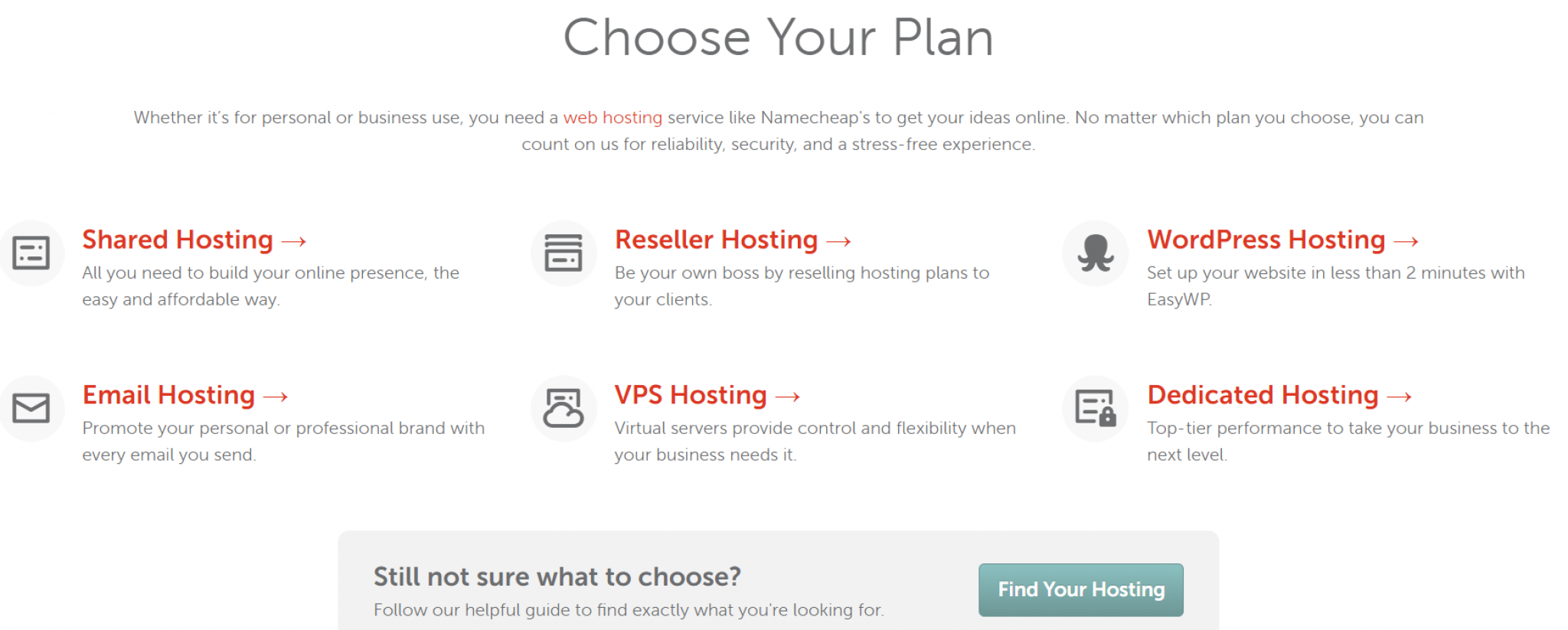 After the transaction is complete, you will receive a welcome email from the company containing the hosting plan details and cPanel details.
Access the cPanel using the link provided in the email and log in using your cPanel username and password given in the same email.
Once you log in to the cPanel, you will notice the dashboard with various options. Navigate to "Exclusive for Namecheap Customers -> Softaculous App Installer". Then click on WordPress in the Scripts section to install WordPress.
This will open the install tab where you will have to click the "Install Now" button.
On the next page, you will have to complete the software setup and edit the site settings. You can leave the "In Directory" field blank.
In the "Admin Account" section, enter your admin username, email, and a strong admin password. Scroll down and click "Install".


Now that WordPress has been installed, you can log in to the dashboard and start creating your website.
To start, you can either click on "Customize Your Site" or navigate to "Appearance -> Theme" to choose a design layout for your site from an extensive library of templates.
On the Themes page, click on "Add New" to view new themes.
Select a theme from the wide selection. You can use the filter or the search box to quickly find suitable themes for your site. Click a theme that you like and click "Upload Theme".
Go back to the Themes page and you will see recently installed themes. Click "Activate" to use the template as the basic layout for your site. Once the basic layout has been set, you can start to customize your site as per your preference.
Use the options on the left panel to edit your site. You can add pages, posts, media, and plug-ins. Once you think your site is ready, click "Publish" to make your site go live.
The drag-and-drop website builder is a simple cPanel tool to help those with no prior knowledge of coding to build a website in minutes.
You can find the Website Builder under the "Exclusive for Namecheap Customers" section in the cPanel. On the next page, click on any domain or sub-domain of your new website and you will be redirected to the site builder page to choose a template.
The template section has a comprehensive collection of themes categorized into various topics on the left side.
Simply hover over a theme you like and you will see three options, namely "Select", "Preview", and "Guide". The "Guide" shows you a video of helpful tips on creating a website. The "Preview" option lets you see how the theme will look before you apply it. To use a theme as your site's layout, click "Select".
Now that you have a basic layout for your site, it is time to customize. Now all the editing tools are self-explanatory and it is easy to understand the function of each tool.
At the top of the dashboard, you will find different options to help you edit your site. Use the "Preview" to view your site before publishing which can be done with the "Publish" button. Switch between desktop, mobile, and tablet devices using the respective icons. Backups are taken every ten minutes but only the two most recent backups are stored for restore.
Click on the gear icon on the top right corner and a menu drops down. You can control various aspects of your site from the drop-down menu such as background, styles, settings, landing, grid, and layout to name a few. SEO tools can also be found here which you can use to efficiently market your site. Click "Publish" once you are satisfied with the result.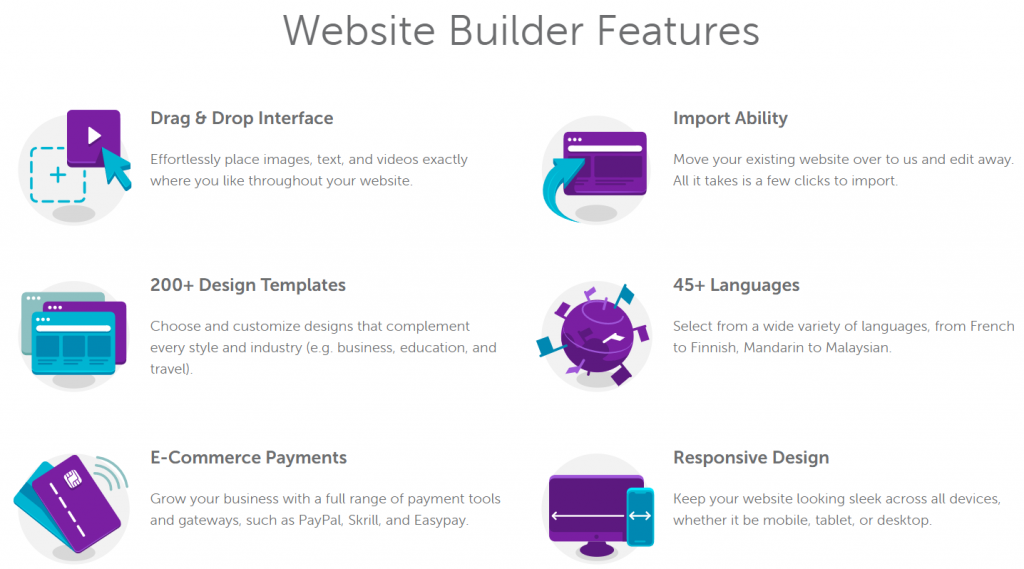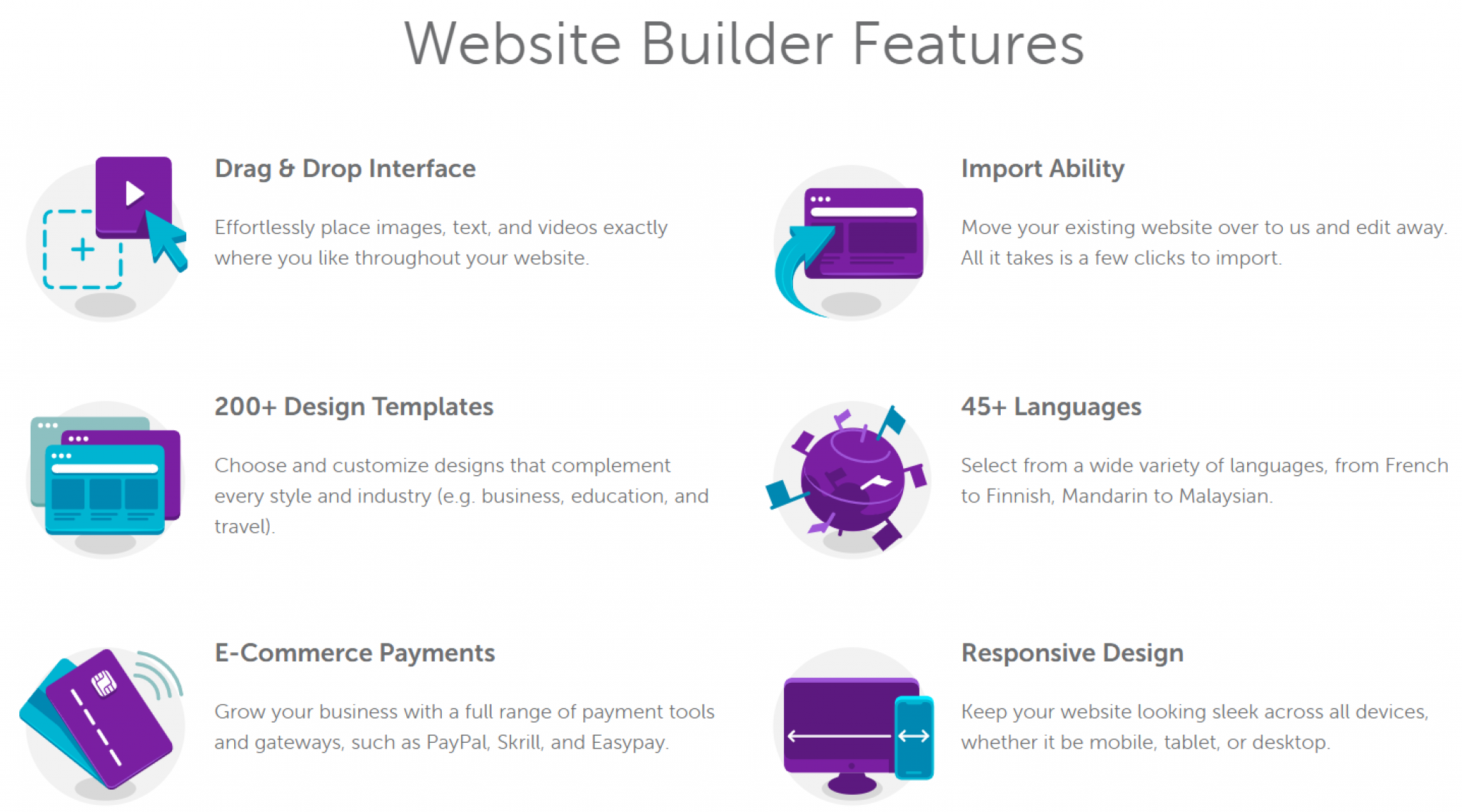 Namecheap guarantees 100% uptime which is quite impressive considering the company is primarily a domain registrar and DreamHost is the only web hosting company I have come across, till now, that guarantees 100% uptime. While I got 100% uptime fairly consistently, on several occasions the uptime dropped to 99.9% which is not a big deal unless you are hosting a large business website on the platform.
The load times from several Pingdom tests were highly appreciable and the average load time from the tests was 597 ms, which is faster than the load times that top-tier hosting companies like GoDaddy (824 ms) and Bluehost (649 ms) provide.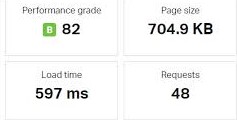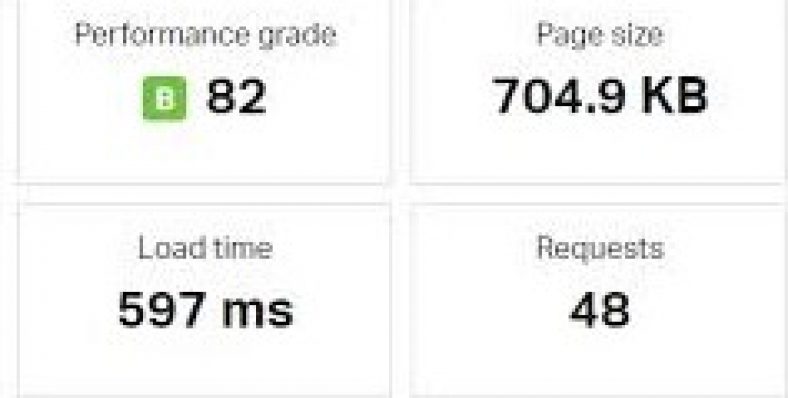 All Namecheap plans offer unmetered bandwidth which is the standard for any decent hosting service provider.
While the Stellar and Stellar Business plans offer 20 GB and 50 GB SSD storage, the Stellar Plus plan offers unlimited SSD storage. This is a bit odd since one can't be blamed for expecting unlimited storage with the Business plan, which is Namecheap's highest Shared hosting plan.
Namecheap is optimized for WordPress and even offers Managed WordPress hosting via its EasyWP plans starting at $3.88/month. WordPress sites are hosted on Namecheap Cloud and the company claims to offer one of the fastest WordPress hosting solutions.
The Softaculous lets you install more than 200 scripts and over 100 free apps including WordPress, Joomla, and Drupal among others with just one click.
Creating an online store and taking your business online is as easy as it gets with Namecheap. With the website builder, you can build an online store complete with a shopping cart, secured payment gateway, and booking facility.
The Namecheap drag-and-drop website builder comes free with all Shared hosting plans and lets you create as well edit websites with ease. With over 200 design templates, support for more than 45 languages, and advanced editing tools, it is one of the best site builders around. It even lets you import and customize your existing website with just a few clicks.
Annual Shared hosting plans come with a free domain name registration offer for the first year after which it renews at standard rates provided on the company's website. However, premium domains are ineligible for the promotion, and ICANN charges a compulsory annual fee of $0.18 for each domain name registration, renewal, or transfer. Namecheap offers hundreds of domain extensions at competitive prices and includes WhoisGuard protection for free.
The latest version of the cPanel makes it mandatory for new domains to install SSL certificates and Namecheap automatically installs 50 free PositiveSSL certificates for one year on the primary domain, sub-domains, and parked domains for all Shared hosting clients. The company further offers a 50% discount on the second year renewal. Visit the Namecheap website to find out who is eligible for the offer and the restrictions of the offer.
While there was no mention of SEO services, free or paid, on the company's website, the website builder comes with built-in SEO tools that not only help your website to rank higher on Google searches but also enable you to market your site better.
You get 30 email accounts and 10 mailing lists with the basic Stellar plan and unlimited accounts as well as mailing lists with the Plus and Business plans. SpamAssassin is a spam protection tool installed on all Namecheap servers and can be enabled or configured via the cPanel.
A backup manager, provided with all Shared hosting plans, takes internal backups of all site data twice a week. Stellar Plus and Business customers get automatic daily, weekly, or monthly backups via the free AutoBackup tool in the cPanel. The AutoBackup tool, unavailable with the Stellar plan, allows access to backup history and supports automatic restores.
Namecheap offers a 30-days money-back guarantee with its Shared hosting plans but the refund policy applies only to first-time customers. Users with a second Namecheap account or those who have signed up again after canceling a previous account are not eligible for the refund.
Namecheap takes security and privacy very seriously. As a result, not only do you get robust DDoS protection but also spam protection via SpamAssassin, ClamAV virus scanner, an IP deny manager, and directory privacy among other advanced security features.
Customer support services are provided via 24/7 live chat and help desk to all Shared hosting customers. Transfer assistance and instant setup are also offered to all customers. Stellar Business clients receive priority support and faster request processing. You can submit tickets at the 24/7 help desk and browse the extensive knowledge base for assistance.
There are monthly and annual Shared hosting plans divided into categories, namely Stellar, Stellar Plus, and Stellar Business. The monthly plans cost $2.88/month for Stellar, $4.88/month for Stellar Plus, and $8.88/month for Stellar Business. The annual plans cost $1.44/month for Stellar, $2.44/month for Stellar Plus, and $4.44/month for Stellar Business. While US datacenter locations are free, European customers can opt for datacenter location in the UK for an extra $1/month.

September 2023 Deal! 80% Off Namecheap Shared Hosting
80% Off Namecheap Shared Hosting (all hosting plans include FREE website builder, FREE automatic SSL installation and FREE Supersonic CDN)
19
Namecheap: Google Trends
Google Trends is an engine that studies the popularity of Google search terms and plots a graph showing interest in specific search terms over a specified period in a specific region. I used Google Trends to study interest in such terms as "Namecheap" and "Namecheap review" over the last 12 months in the USA.
Interest in the company "Namecheap" was fairly consistent and mostly higher than average over the last 12 months. The graph shows a decline in interest a few times but the only considerable decline was during the last few weeks of 2019 when the coronavirus pandemic started getting global attention. However, the interest rose again since 5th January 2020 and even peaked exactly one month back on 26th April 2020. Though interest has fallen a bit recently, it is still higher than the average value and seems to be on the rise.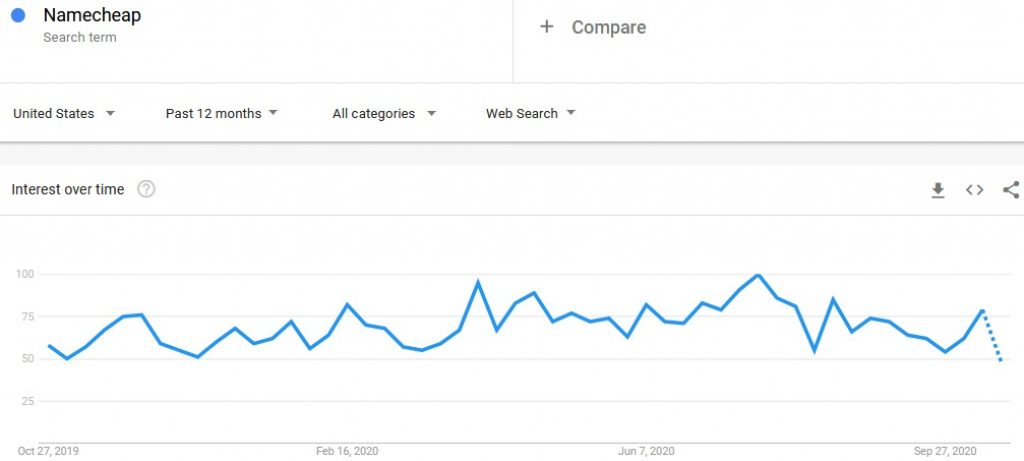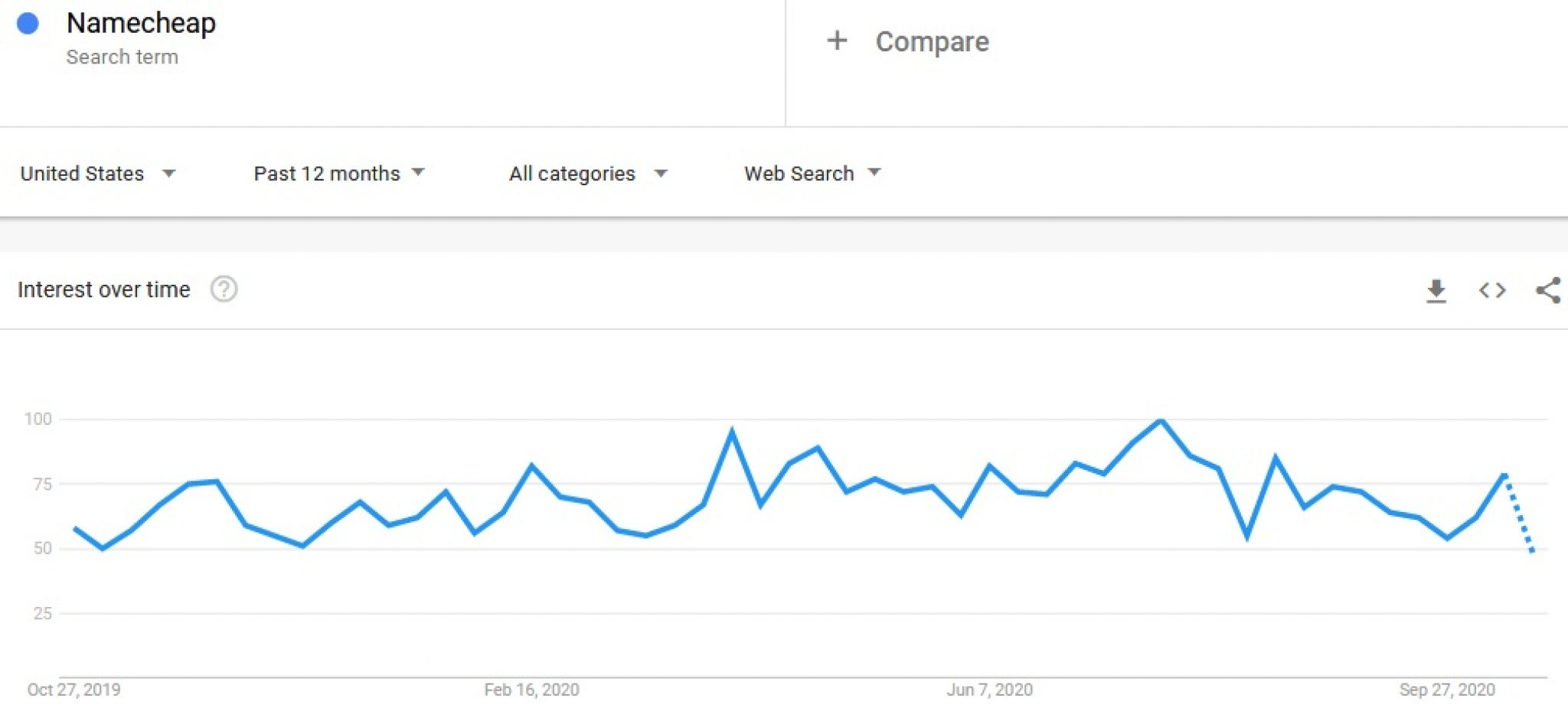 The graph depicting the interest in "Namecheap review" looks like a jagged mountain range throughout 2019 but has a more consistent slope since the start of 2020. This year, interest is predominantly average but does not display the random fluctuations that it did last year. While interest has recently declined, it is picking up again and is likely to further rise in the coming months.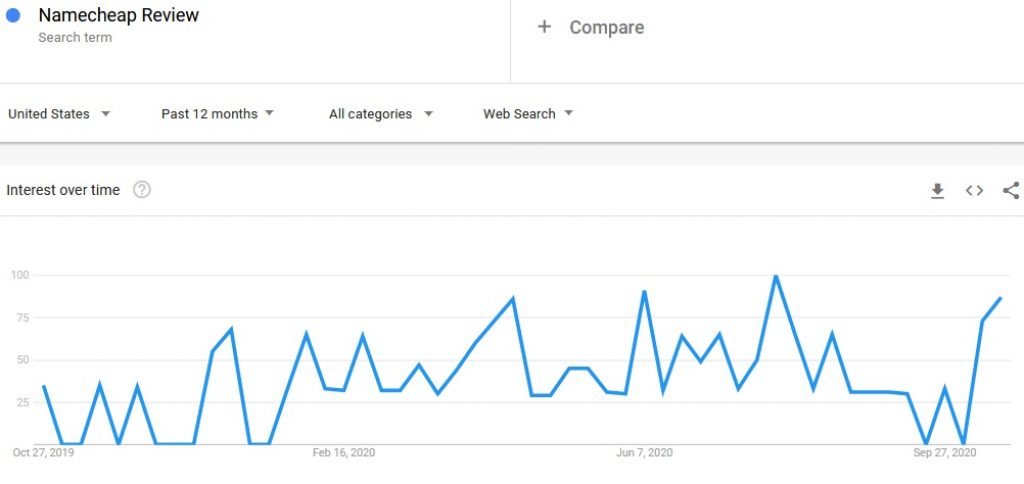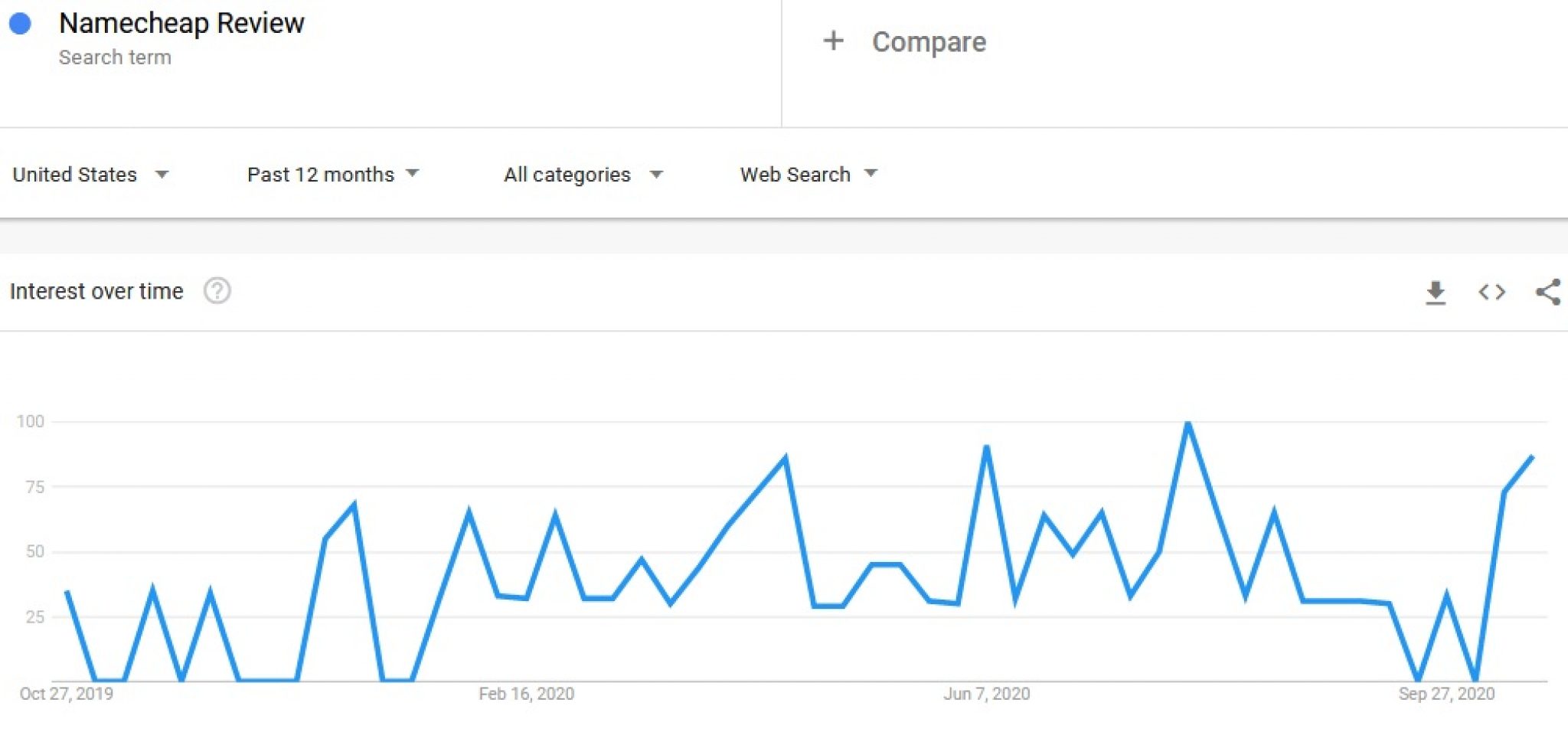 I wanted to see how Namecheap fared against two of its nearest competitors. So I compared "Namecheap" with "DreamHost" and "HostGator". The average interest in "Namecheap" was greater than both the other companies and it looks like to be rising in comparison with competitors. While "Namecheap" beat "DreamHost" by a comfortable margin, the competition between "Namecheap" and "HostGator" was neck and neck with a little broke away from the pursuer.
20
Namecheap: Users' Reviews, Feedback and Ratings
Namecheap has social media profiles on Facebook, Instagram, Pinterest, and Twitter where it posts useful tips, new developments, and software updates. While the company has a considerable following on social media with 122k followers on Twitter, there was almost no user feedback on its social profile. Thus, I had to check consumer review sites such as TrustRadius, Trustpilot, and SiteJabber for feedback from genuine users.
Namecheap got a TrustScore of 2.4 out of 5 from 739 reviews (October 2020) on Trustpilot. While some users rated the company highly for its affordable pricing and overall service, other users complained of slow customer support and unreliable service. In short, the reviews on the site were mixed with praises and criticisms in almost equal quantity.
The scenario on SiteJabber was much better with the company earning an impressive 4.7 stars out of 5 from as many as 1,758,438 reviews. The positive highlights from the user reviews on SiteJabber were a secure shopping experience, transparency about features, affordable domain registration, and ease of use. Many users claimed to have turned to Namecheap because they found the prices on other popular hosting platforms to be twice as much. While the positive reviews far outnumbered the negative ones, there were a few pressing issues raised by some users. The most highlighted issues among these reviews were the poor customer service, long response times, and its knowledge base that is difficult to navigate or understand.
There were only 20+ reviews on TrustRadius and Namecheap got a score of 8.8 out of 10 on this site. The positive points include affordability, convenience, friendly UI, cheap renewal costs, and Whois privacy. While negative points were very hard to come by, a few cons listed by users include costly premium domains, average hosting service, and a dated dashboard.
For news on the latest developments and significant information about the company, I visited several news sites and found a few reports worth mentioning.
On March 25, 2020, Namecheap, in an attempt to prevent potential fraud and the spread of misinformation, announced its decision to not allow registration of domain names that include such phrases as "coronavirus", "COVID", "vaccine", and other terms alluding or related to the coronavirus pandemic. You can read more about the announcement in this article.
Last month, the company revealed, via a press release, to have earned revenue worth more than $45 million in the first quarter of 2020. In comparison, Namecheap's gross revenue in 2019 was $149 million. To find out how Namecheap managed to rake in such sizeable revenue amidst a raging pandemic, visit this research.
A couple of months back, Facebook filed a lawsuit in Arizona against Namecheap charging the domain registrar for domain name fraud. The social media giant claimed that several domains hosted on Namecheap's platform infringed trademarks by using such domain names as "instagrambusinesshelp.com, facebo0k-login.com, and whatsappdownload.site" to impersonate Facebook or other services it owns.
In a nutshell, Namecheap is one of the most affordable domain registrars I have used to date. It further offers cheap Shared hosting plans with a 30-days money-back guarantee and 100% uptime. When it comes to privacy and security, it is hard to top Namecheap which provides one of the most reliable security solutions. While the interface may look a bit dated and could do with some modernization, it is easy to navigate and use.

September 2023 Deal! 80% Off Namecheap Shared Hosting
80% Off Namecheap Shared Hosting (all hosting plans include FREE website builder, FREE automatic SSL installation and FREE Supersonic CDN)