IObit Advanced SystemCare 17 Review: An All-Round PC Cleanup and Optimization Software
Advanced SystemCare is an all-in-one solution that can optimize, boost speed, clean, and protect your PC The efficient 1-click interface allows you to clean junk files, scan for malicious threats, defragment disks, clean registry, boost internet speed, address security loopholes, and deal with security threats easily and effectively. The software improves PC performance by checking startup processes, temporary files, caches, cookies, and registry entries. It detects optimization opportunities by scanning the PC for programs, files, and viruses that may be hindering the optimal performance of the system.
---
PROS:
Fast installation and easy configuration
Modern and friendly UI
Premium PC optimization and cleanup
Face ID and email protection
CONS:
Upsells and ad-banners even with the paid version

November 2023 Deal! 90% Off Iobit Advanced SystemCare 17 Pro (1 Year / 3 PCs)
90% Off Iobit Advanced SystemCare 17 Pro (1 Year / 3 PCs)
Untrusted programs blocking
San Francisco, California, USA
Windows XP up to Windows 10
24/7 free phone support, advanced support on-demand, online feedback, social media profiles, and FAQs
$19.99 annually for 3 PCs
 IObit Advanced SystemCare 17: Features Overview
The free version includes basic PC cleaning and optimization capabilities that cleans junk files, caches, and cookies, among others to enhance the overall performance of your PC. The Pro version comes with a full-fledged cleanup module that speeds up the OS and the browser by cleaning 120% more junk files than earlier versions.
This feature controls the programs that launch at startup to give you a faster and cleaner startup experience. Startup Optimization can disable unnecessary apps and services that launch at startup to speed up the startup process by 200%. With a considerable improvement of the Startup Manage Database, version 17 increases the startup base by 45% more than the last version.
3
Untrusted Programs Blocking
Advanced SystemCare Pro proactively identifies and plugs security loopholes in real-time. It also detects and blocks untrusted programs to keep your data and privacy safe from personal malicious programs.
The Internet Booster, as the name suggests, boosts your internet speed to make it up to 300% faster. It not only improves the speed but also the stability of your internet connection.
This is a new feature introduced in the previous version of Advanced SystemCare and is available with the free version as well as Pro. This security feature blocks malicious links and protects webmails from suspicious senders.
Prevent system crashes and improves performance by deep cleaning invalid or useless registriesas well as fixing broken registry entries. Advanced SystemCare also offers registry defragmentation that helps to reduce boot time.
You can schedule auto care for your PC and let the software clean your system regularly and on time. Auto RAM clean is employed to halt unused or high-impact programs and processes.
The upgraded Performance Monitor monitorsRAM/CPU/Disk usage and CPU/GPU/Mainboard temperature in real-time and takes prompt action to speed up your system by controlling or terminating processes that take up too much RAM, CPU, or Disk usage.
You can now defragment both hard drives and SSDs to optimize PC performance. This is not available with the free version.
Advanced SystemCare offers a strong backup and restore feature that lets you recover data and files via Undelete.
The new version includes a useful updater that searches for driver, system, and program updates and automatically updates whenever an update is available.
Free support is offered via a 24/7 helpline number. Paid customers are entitled to advance technical support on demand. There is also email support that I found to be much more useful than phone support. You can leave a comment on their social media profiles or the online feedback page. If you have doubts, you can consult the FAQ page which is quite helpful.
An annual subscription of IObit Advanced SystemCare currently costs $19.99. With one license you can use the software on 3 PCs. IObit also offers a free version of the software. Payment methods include Visa, MasterCard, American Express, Discover, PayPal, Wire Transfers, Qiwi Wallet, WebMoney, UnionPay, and Skrill Wallet. The company also offers a 60-day money-back guarantee.

November 2023 Deal! 90% Off Iobit Advanced SystemCare 17 Pro (1 Year / 3 PCs)
90% Off Iobit Advanced SystemCare 17 Pro (1 Year / 3 PCs)
 IObit Advanced SystemCare 17: User Review Sites Ratings
To find out more about the general public reception of Advanced SystemCare, I visited user review websites such as Trustpilot and SiteJabber, among others.
IObit received 4 out of 5 stars from 384 user reviews on Trustpilot. Numerous users praised the company for its useful and affordable software. The usability and efficiency of the Advanced SystemCare was a major talking point among users with several claiming that the software was the best PC optimization solution in the market. The only bone of contention among the users was the ineffective telephone customer service. However, users who had an unsatisfactory experience with the phone service praised the company's email customer service via email.
Contrary to the mostly positive reactions on Trustpilot, user reception on SiteJabber was mixed with the company receiving a meagre 2.23 stars out of 5 from only 13 reviews. The positive highlights from the few reviews were the company's excellent technical service, the affordability of the software, the modern yet simple UI, and the overall performance. Here too several users complained about the mediocre customer service and an apparent lack of transparency on the company's part.
On both these sites, representatives of the company were quick to respond to user complaints and offered helpful suggestions and help if needed.
Google Trends is a search term analysis engine that uses graphs to compare the interest volume of various search terms over time and in a particular region. To compare the popularity of such keywords as "IObit" and "IObit review" with competitors in the USA in the last year, I visited Google Trends, and here is what I found.
From December 2019 to February 2020, the interest in "IObit" was quite high most likely due to the release of the latest version during December. It was at the time of the release of the previous version that interest in the company was at its highest. Since then interest has been average but steady. As of October 2020, there has been a slight dip in the interest which is unlikely to stay that way for too long.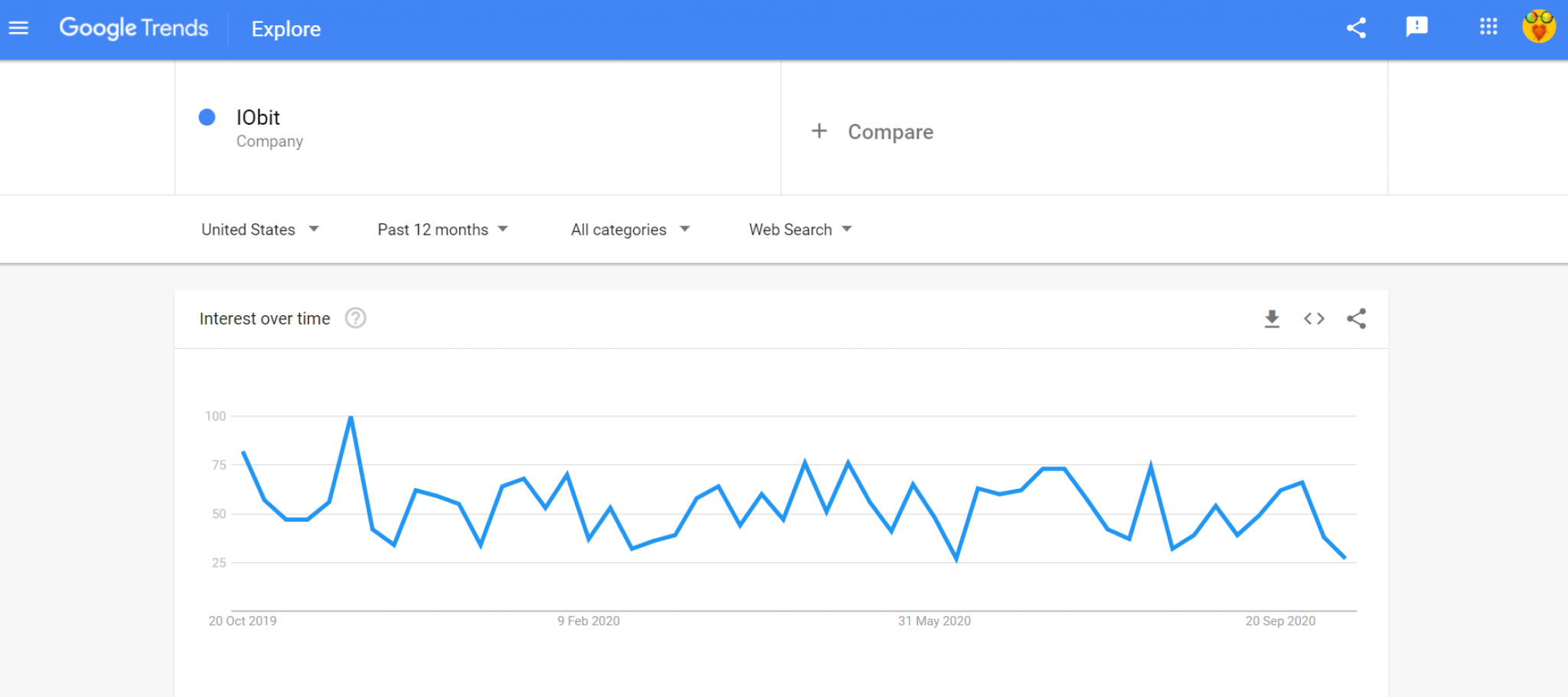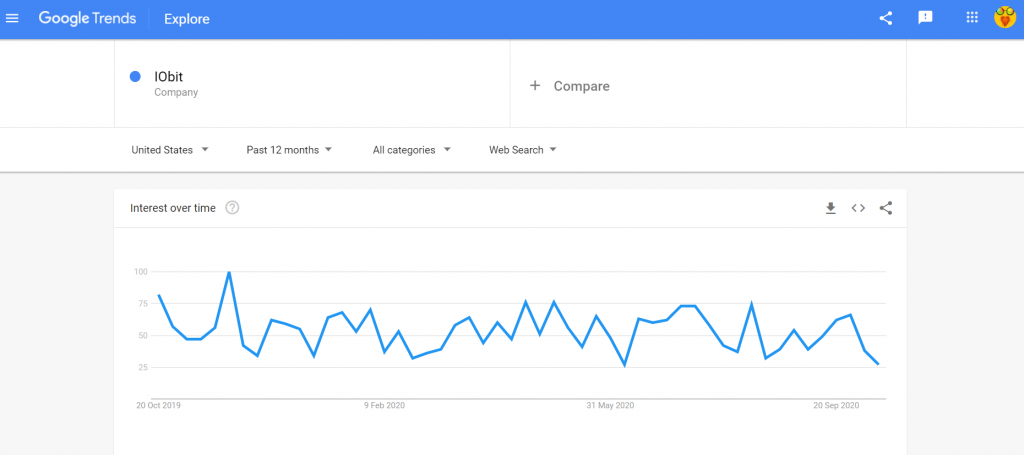 Throughout the first half of 2020, interest in "Advanced SystemCare" has been consistently higher than average with minor ups and downs. In the second half of the year, the interest dipped below the average mark but is currently showing signs of resurgence.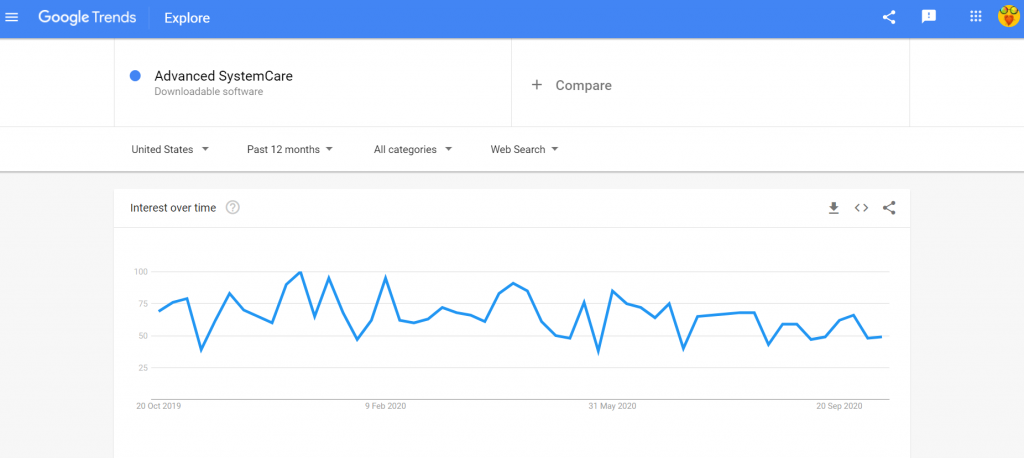 I compared "Advanced SystemCare" with competitors like "Glary Utilities" and "Auslogics BoostSpeed". While the latter was certainly no match for "Advanced SystemCare" when it came to interest, the former proved to be competitive. Though interest in "Glary Utilities" lagged behind that in "Advanced SystemCare" throughout most of the past 12 months, it started to catch up recently. As of October 2020, interest in "Glary Utilities" is poised to surpass "Advanced SystemCare" in a few weeks.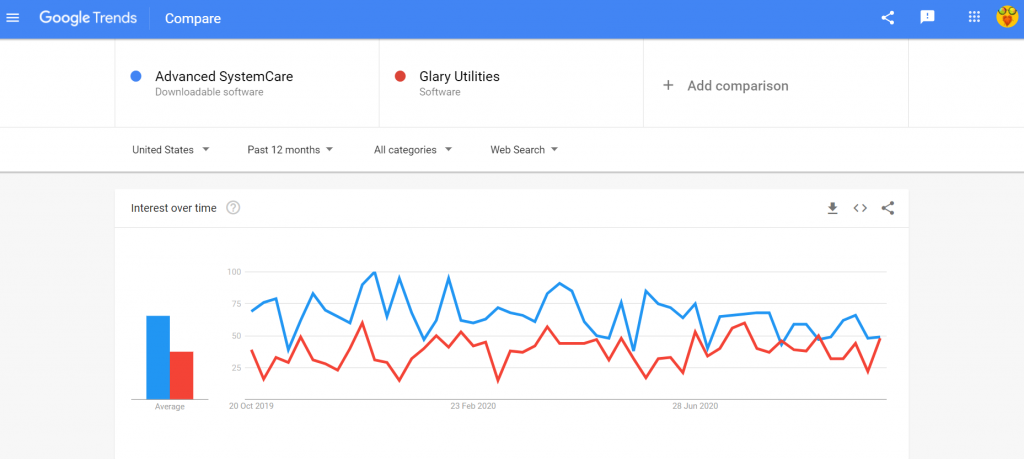 And here is a screenshot for Advanced SystemCare vs Auslogics BoostSpeed, feel the difference.
 IObit Advanced SystemCare 17: Users' Feedback
IObit is fairly active on social media with profiles on Facebook and Twitter. I decided to check out the company's social media pages to get learn more about its relationship with customers and what social media users think about the company as well as its products, especially the Advanced SystemCare.
User feedback on various social media platforms and forums has been mostly positive. The company has done a decent job in designing the user interface of Advanced SystemCare which was reflected in the praise it received from numerous users worldwide for easy-to-use yet efficient software.
IObit's profiles on Facebook and Twitter have more than 424K and 10K followers respectively. The company has received mostly favorable reviews from users on its social media profiles. Users are satisfied with features and functionality that the software provides at the price range.
 IObit Advanced SystemCare 17: In the News
I decided to check popular news sites to gather more information on the company and its product. I came across a few interesting news articles that I am sharing with you below.
IObit gave away Pro licenses of its Advanced SystemCare software to users during March to help them safely and efficiently work from home. The decision came amidst the raging pandemic that forced millions to work or study from home thereby increasing manifold the risk of security attacks and privacy threats. Read more about it in this article.
Earlier this year, IObit made 50,000 licenses of its paid products, including Malware Fighter and Advanced SystemCare Ultimate, available for free in response to the coronavirus crisis that has raised the risk of online attacks. To help users suffering from slow internet speed due to the increase in the number of people using the internet daily to work from home, the company also made its Internet Booster Pro free for a limited time.
IObit hogged the limelight through the better part of this year because of the release of its latest version of Advanced SystemCare. The Advanced SystemCare 17 brought much-awaited new features to the table, including Antivirus Protection and Software Health, among others.
The overall performance of the Advanced SystemCare is outstanding and as always reliable. While using it, I found it to be intuitive, efficient, and worth my hard-earned money. The software ran smoothly with no major issues other than the unavailability of external scans and the unnecessary ad-banners. The performance of my PC and internet speed improved noticeably after using Advanced SystemCare. It provides far more tools than CCleaner Plus, one of its nearest competitors. Both CCleaner and Advanced SystemCare have easy-to-use interfaces but the latter has a much better overall look and feel. If you want to boost the performance of your PC and protect it at the same time, then the IObit Advanced SystemCare is the ideal solution.

November 2023 Deal! 90% Off Iobit Advanced SystemCare 17 Pro (1 Year / 3 PCs)
90% Off Iobit Advanced SystemCare 17 Pro (1 Year / 3 PCs)
PROS
Automatic update to the latest version
24/7 free support and on-demand technical support for Pro users
Decent free version available
CONS
Some extra features need to be downloaded separately
External file scans not available
Add your review
|
Read reviews and comments