Wix Review 2023: A Cloud-Based Website Building Platform With A Plethora Of Advanced Features
Wix reached 200 million customers in 2023 and launched Corvid, its proprietary open development platform, the same year. Wix's global customer base, software development kit, and innovative design capabilities together form a unique ecosystem wherein developers, web designers, and online professionals can efficiently market their apps and services to millions worldwide through Wix's platform. Since its inception in 2006, Wix has developed into an indisputable pioneer in website building and continues to lead the way in technological innovation advanced features development.
---
PROS:
Free web hosting available
Intuitive and sophisticated website builder
Built-in SEO features are very efficient
Smart assistance via the Wix Artificial Design Intelligence (ADI)
CONS:
Free plans include ads and the cheapest ad-free plan (Combo) starts at $13/month
Can't export digital products and blog content
One-click install for WordPress
Drag and drop website builder
Built-in SEO wizard plus paid SEO services
Cloud storage of 500 MB for free hosting to 50 GB Premium hosting
Excellent support center with FAQs and tutorials, support via email and phone
Premium Plans (annual)
Website Plans
Combo – $13/month
Unlimited – $17/month
Pro – $22/month
VIP – $39/month
Business & eCommerce Plans
Basic – $23/month
Unlimited – $27/month
VIP - $49/month

June 2023 Deal! 50% Off Wix Premium Plans
50% Off Wix Premium Plans (Combo, Unlimited, Ecommerce and VIP)
Step-by-Step Tutorial How to Create a Website/Blog With Wix
You can create a website on Wix for free with minimal effort via two methods: Wix Artificial Design Intelligence or Wix Editor. I will first show you how to use the ADI to create a website then I will guide you to use the Editor.
First you need a domain name for your website. If you don't have a domain name already then register a new domain by visiting the Wix website and navigating to "Subscriptions>Domains". Enter the domain name you want in the search box and click "Search" to check its availability. Wix lets you register a domain name for free for the first year but thereafter you will have to pay the renewal fees.
Once you have a valid domain name, click on "Get Started" on the homepage of the Wix website or on "Sign In" at the top right corner and you will be redirected to the login page. You can either create a new account with Wix using your email address and a password or use your Facebook or Google to sign in.
After you sign in, you will be directed to the My Sites page. Click "Create New Site" to build a new site.
On the next page, you will be prompted to choose the type of site you want to build. Select a type and if you are not satisfied with any of the options provided then choose "Other" and continue.
You can use either the Wix ADI or the Wix Editor. Beginners will find it easier to use the Wix ADI. The AI asks you a few questions and automatically chooses the best layout for your website based on your answers. You can edit it as per your preference once the ADI has created a basic website design for you. Click "Start Now" to use the ADI.
If you have built a website before then you can simply use the Editor to build and customize your site. Click "Choose a Template" and skip to step 5 to start building your website with Wix Editor.
The Wix ADI makes building websites seem like child's play. You can edit your site once the basic layout has been selected by the AI. Click "Next" to continue to the next step. All steps are optional and you can click "Skip" if you are unsure.
Choose the type of site you want to build from the suggestions provided or enter the type of your site in the search box.
Choose the features you need on your website from the recommendations provided. Scroll down for more features.
Add the name of your business or website. Choose a short and memorable name.
You can import an existing website or content by copying and pasting the links in the spaces provided.
In this step you will have to review and edit some basic information such as business/website name, email, address, phone, fax, and social media accounts. You can also add a logo for your business or site.
Now it is time to pick a theme. The ADI offers two styles of themes, namely luxury and minimal. There are four recommendations in each category to get you set up. You can always change themes later by choosing from a vast library.
Pick a favorite homepage design from three samples or click "Skip" to continue.
You will finally see a basic version of your website. Edit your site by adding images, text, pages, and more. Use the "Add" and "Design" buttons at the top of the page to make changes. You can switch between desktop and mobile views by clicking the desktop icon. The "Preview" and "Publish" buttons are self-explanatory.
If you want to use the Editor for editing then go to "Site>Editor" and the site will open in the Editor app.
If you chose to use the Wix Editor in step 3 then follow the steps given below.
After clicking "Choose a Template", you will see this page with several design templates. Choose an appropriate template for your site. Use the search box or the categories to quickly find a suitable theme. Hover over the theme and click "Edit" to apply and edit the layout for your site.
Once you have chosen a theme and clicked "Edit", you will see the Editor dashboard from where you can make any changes to your site. Use the options on the left to add menus, pages, images, texts, media, blogs, and change background. There are numerous tools on the right side for finer adjustments.

June 2023 Deal! 50% Off Wix Premium Plans
50% Off Wix Premium Plans (Combo, Unlimited, Ecommerce and VIP)
Websites hosted on Wix's platform can expect guaranteed 99.9% uptime. I consistently got uptimes of 99.9% barring a couple of occasions when I got 99.8% uptimes, which hardly makes a difference.
Websites hosted on Wix can also be assured of fast load times as proved by the several tests I conducted on Pingdom. The average load time from numerous tests came out to be 254 ms which is much faster than the load speeds provided by some of the largest web hosting companies like GoDaddy and SiteGround.
Wix limits bandwidth use to 500 MB with its free plan but offers unmetered bandwidth with all Premium plans except the Combo plan which limits bandwidth to 2 GB.
Creating online stores is as easy as it gets with Wix e-commerce website builder that lets users accept secure online payments, sell on multiple online channels, manage end-to-end fulfillment, and target customers with sophisticated marketing tools.
Wix not only allows you to create a professional website in minutes but also customize your site and optimize it for mobile view via its mobile editor. Advanced features let you start a blog, create an online store, accept bookings, and even add resources as your business grows. You can even obtain a personalized SEO plan by answering a few relevant questions regarding your website and business. The Wix Editor is an intuitive drag-and-drop website builder that brings your site to life with the least effort and the highest efficiency.
You can register a domain name with Wix free of charge for the first year only after which you will have to pay for the domain renewal charges. Wix not only secures your private information but also enables you to avoid third-party scams by practicing private domain registration.
Wix offers its website building services for free and if you create your website with Wix then you can automatically host your website on its cloud servers for free.
SSL certificates are a standard offering in today's market and Wix also secures your site with HTTPS via free SSL certificates.
The Wix SEO wizard provides one of the best SEO solutions ensuring that your site can be easily and quickly found on Google and other search engines. There is a basic SEO solution for beginners as well as advanced SEO for professionals and the Wix SEO Wiz even provides a personalized SEO plan if you answer a few questions. While the SEO tools come free with Wix's website building tools, you can even employ paid SEO services for professional results.
Wix provides you with a personalized business email address using your domain name. However, you can purchase one or more mailboxes only with Premium plans. Every G Suite mailbox includes a custom email address, 30 GB inbox, drive storage, security, admin controls, and convenient mobile access among other useful features.
Corvid by Wix is an open-source development platform that allows you to build professional web applications with hassle-free coding, server-less computing, and complete design freedom. As an open platform, Corvid lets you connect to 100+ third-party APIs and external data sources to integrate telemetry into your sites. Its unified database management lets you present your content anywhere on your application. Other advanced features include rapid visual front-end design, production-grade runtime, sophisticated marketing tools, online IDE, and DevOps.
The Artificial Design Intelligence (ADI) will design a stunning website for you in an instant, complete with custom text, attractive images, and unique AI-generated design. You can edit the layout, choose the style of your site, make changes, add an online store or booking facility, and even customize the color palette. You even get a mobile-friendly version of your site, smart tips, and built-in SEO that increase the chances of finding your site on Google.
Free Wix sites get cloud storage up to 500 MB and upto 50 GB storage with Premium Plans.  The cheapest Premium plan is the Combo which offers up to 3 GB storage and the most expensive is the Business VIP plan which offers 50 GB storage.
Wix has a Site History feature that automatically backs up your site every time you publish it or make any changes to it. You can easily restore previous versions of your site using this feature. Wix even lets you duplicate your site to manually create a backup in your account but the duplicate site is not automatically updated when the original site is updated.
Wix offers a 14-days money-back guarantee with its Premium plans.
Online security and the privacy of its users are of the utmost importance to Wix and hence the company employs security experts 24/7. It also uses advanced security tools to identify and eliminate security issues before any major harm is caused.
Customer support is provided via phone and email. The support page is extremely detailed but perhaps a tad difficult to navigate. However, the search bar, which returns live results as you type, makes it easier to find help quickly. Call back service is available in eight languages including English, French, German, Italian, Russian, Spanish, Portuguese, and Japanese.
While Wix is a free platform that offers its services as well as web-hosting facilities without any charge, users with growing businesses and websites can upgrade to its Premium plans for more computing resources. The term lengths of Wix subscriptions are monthly, annual, two-years, and three-years. Premium plans are divided into two categories: Website Plans for small and medium websites and Business & eCommerce Plans for large websites. The Website Plans are further divided into the Combo, Unlimited, Pro, and VIP plans, while the Business Plans are sub-divided into Basic, Unlimited, and VIP plans. Visit the Wix website for more details.

June 2023 Deal! 50% Off Wix Premium Plans
50% Off Wix Premium Plans (Combo, Unlimited, Ecommerce and VIP)
Google's data analysis engine Google Trends shows interest in search terms over a specific period and in a specific region. I used Google Trends to check the interest in "Wix" and "Wix review" in the USA over the past 12 months.
Interest in "Wix" was above average for the better part of the past 12 months and declined considerably only twice around the end of 2019 and the beginning of 2020. Since declining around 5th January 2020, the interest has steadily picked up and has been consistently higher than average. As of May 2020, interest is at its highest and has been so for around one month with no signs of change.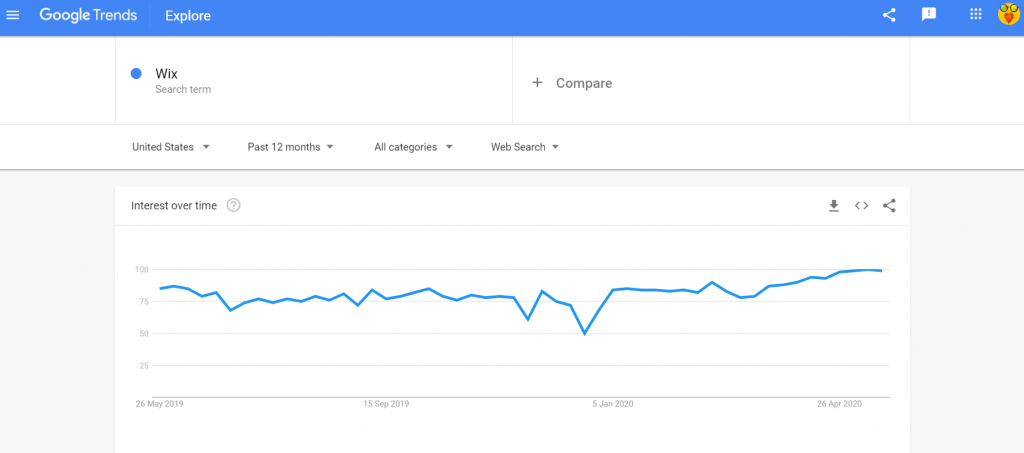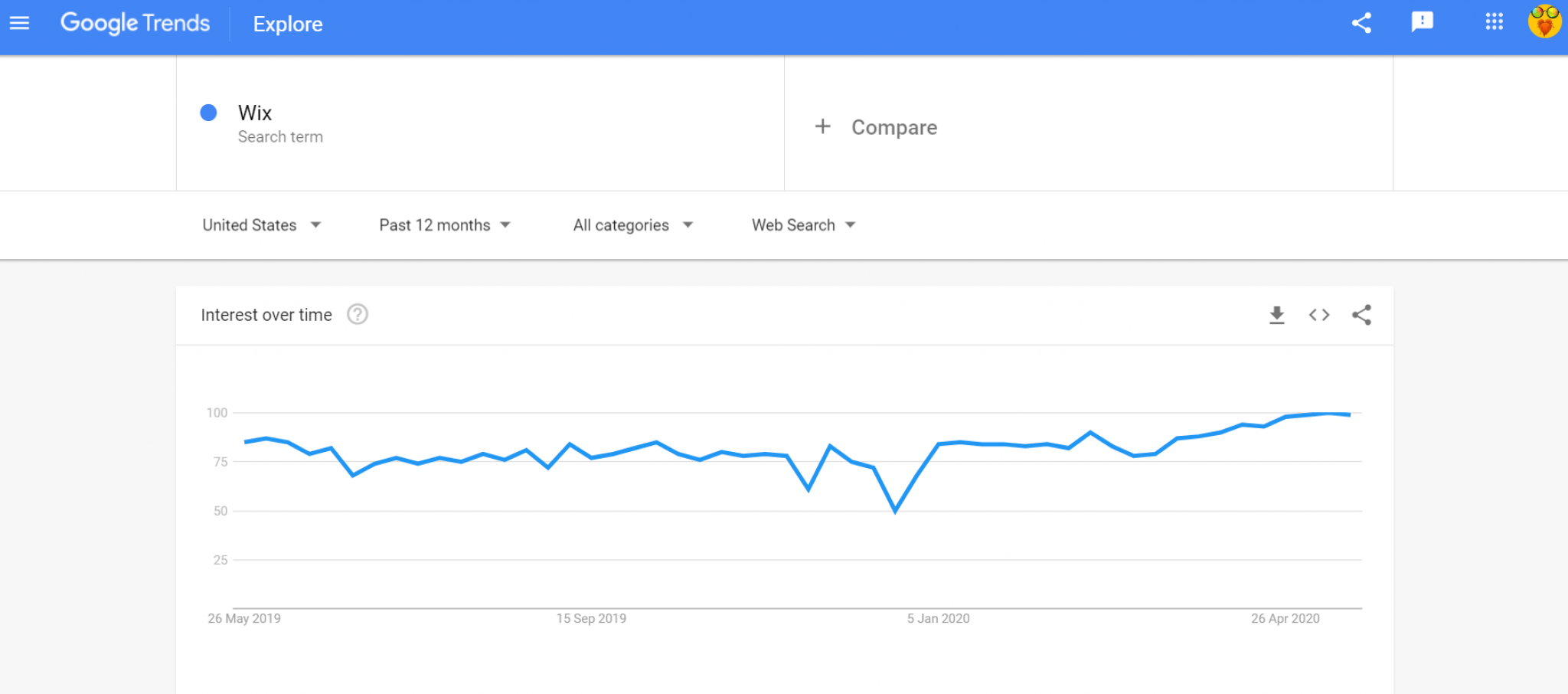 Interest in "Wix review" was much higher during the second quarter of 2019 than it is currently in May 2020. Interest in the search term even touched the highest points on two separate occasions in 2019 during May-June and late August. After that, interest declined drastically as the end of 2019 neared and reached its lowest point sometime during December 2019. Though the interest recovered since then, it never managed to reach the heights it had reached previous to the sudden drop and it is currently on its way down again.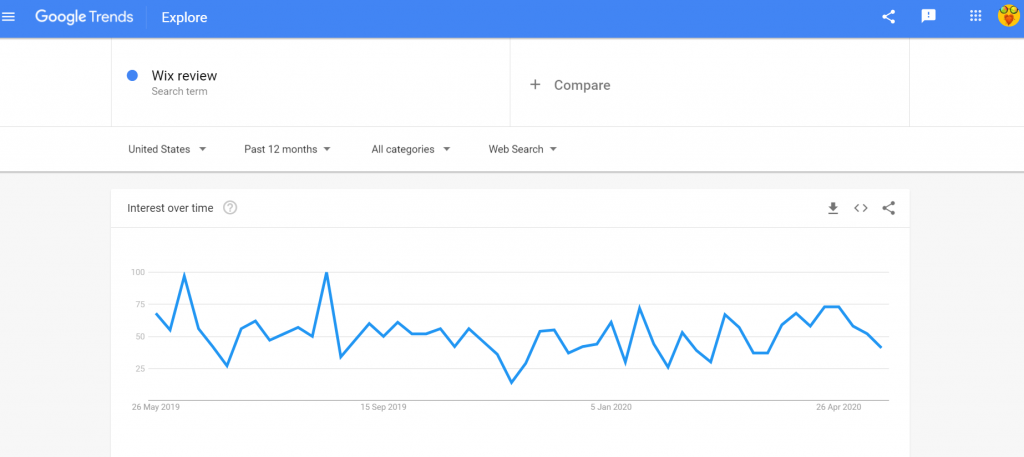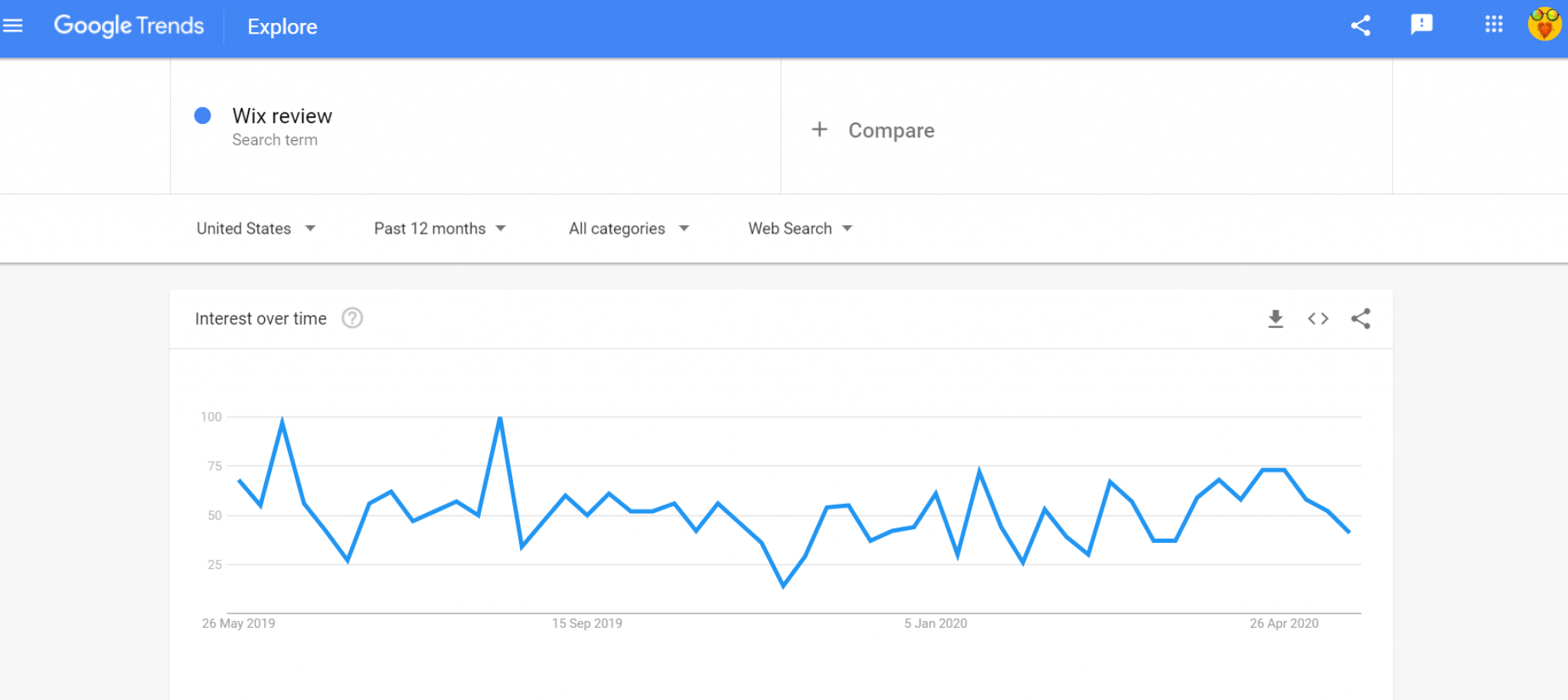 Weebly is a competing website builder and quite popular among users. To understand how Wix fared against its nearest competitors, I compared "Wix" and "Weebly" on Google Trends and the results came out in favor of the former. Average interest in "Wix" was not only higher but was also much more consistent than that in "Weebly". Interest in "Weebly" suffered similar declines almost exactly during the same period that interest in "Wix" dropped. While current interest in "Wix" is on the rise, that in "Weebly" is declining.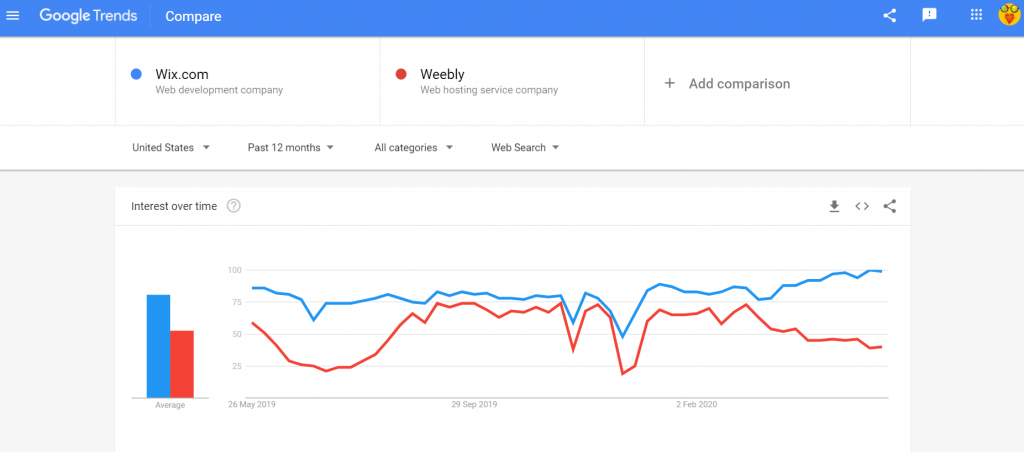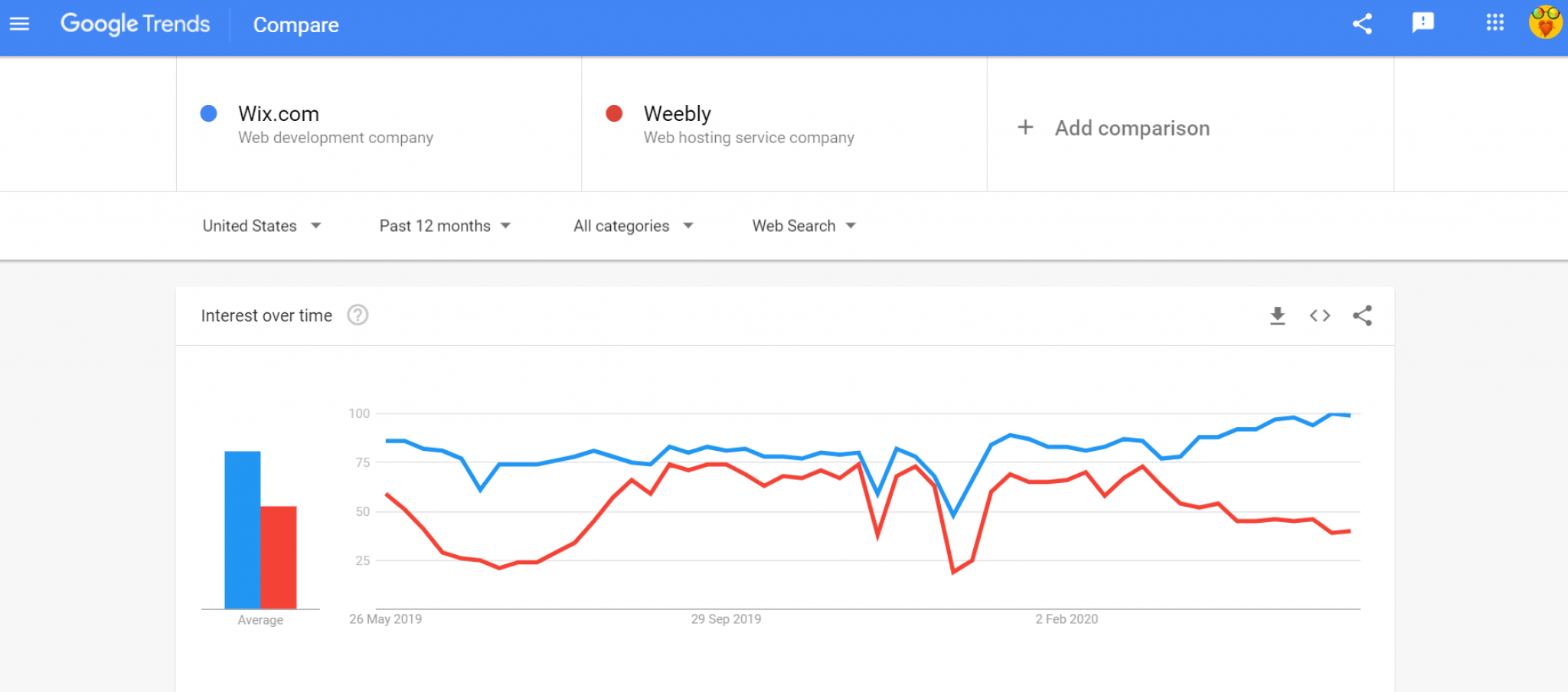 20
Wix: Users' Reviews, Feedback and Ratings
With profiles on such social media sites as Facebook, Instagram, LinkedIn, Pinterest, Twitter, and YouTube, Wix has one of the largest social media presence among the hosting companies and website builders I have reviewed thus far. Wix has 415k followers on Twitter and receives a fair amount of user feedback on its posts on social media. While there is an overall appreciation of Wix's website building features and its ease of use, many users also raised a few potent issues including inconsistent customer service and billing issues. The issue that was most widely raised by users on Facebook and Twitter was regarding the new Eclipse design that seemed to have peeved dedicated DeviantArt users who unanimously want the old design back. However, Wix representatives were prompt to respond to most of the issues and even offered help via direct message on Twitter or its live chat facility.
Reviews of Wix on consumer review sites such as Trustpilot and SiteJabber were unflattering. While many users opined that Wix was the best website building platform currently available, numerous other users also raised pertinent questions regarding its customer service, billing policy, and overall reliability. Though the basic website building service offered by Wix is one of the best, the company does need to improve on a few fronts including customer service and reliability when it comes to payment and refund policies.
I visited several news sites to gather more information about the company as well as news on the latest developments and came across quite a few news stories worth mentioning. The first such news is regarding an online COVID-19 volunteer call system launched by Wix on the request of the Israeli Ministry of Finance & Welfare. The call system developed by Corvid, Wix's open web development platform, will connect volunteers with citizens in need of critical assistance for procuring medical supplies, groceries, or other essential services. Read more about this thoughtful step by Wix here.
In coronavirus related news, Wix recorded an unexpected boom in its stock price in the first quarter of 2020 owing to an increase in demand for its services amidst the raging pandemic. The company has projected its revenue in the second quarter of 2020 to be somewhere between $231 million to $233 million, much higher than Wall Street's prediction of $227.5 million. To know more, check this research.
A more detailed article on Globes on the same subject reports that Wix is now worth approximately $10.5 billion after share price jumped by as much as 21% overnight. For more information, check this news.
In other news, Wix expanded its global reach by partnering with Türk Telekom to bring its platform to small and medium businesses in Turkey. As a result of this deal, Wix will get over 48 million subscribers out of which at least 1.5 million are active Turkish SMBs.
Barring a few hiccups regarding customer service and billing issues, Wix is a stand out performer when it comes to website building. Replete with several such sophisticated features such as ADI, Corvid, Editor, SEO Wiz, and DevOps among others, Wix is one of the best website building platforms I have used and it's free. If you can tolerate the annoying ads that are a part and parcel of its free version, then it is one of the best website building platforms out there. Of course one can always upgrade to the Premium plans to get an ad-free experience.

June 2023 Deal! 50% Off Wix Premium Plans
50% Off Wix Premium Plans (Combo, Unlimited, Ecommerce and VIP)
PROS
Exceptional design templates
Extremely flexible editing mechanism
Automatic site backup and one-click restore
CONS
Templates can't be changed once the website is published
Add your review
|
Read reviews and comments