CCleaner Professional Plus Review 2023: A Windows PC Optimization Software Designed For 360-Degree Performance Boosting
CCleaner Professional Plus is a PC cleaning and optimization software designed specifically for Windows PCs but has introduced apps for Android and macOS devices as well. The software boosts performance and reduces boot time in heavily used systems. CCleaner improves boot time and system performance considerably with the help of a slew of features like PC Health Check, complete cleaning, and scheduled cleaning. Just like its free version, CCleaner Professional Plus scans for cached files, cookies, and unused shortcuts to free up ample space in your PC.
---
PROS:
Straightforward user interface
New PC health check
Real-time system monitoring
Privacy protection with both free and paid versions
CONS:
A basic software uninstaller that lacks batch deletion
Untrusted programs blocking
32-bit and 64-bit Windows XP up to Windows 10
FAQs, troubleshooting, how to's, help articles, request submission, and forum discussions. Premium support is available for Pro users.
1 year – $24.95 for 3 PCs
2 years – $54.95 for 3 PCs

September 2023 Deal! 80% Off CCleaner Professional Plus (1 year / 3 devices)
80% Off CCleaner Professional Plus (1 year / 3 devices)
CCleaner Professional Plus: Features Overview
The free CCleaner offers basic system cleaning and optimization functions that can clean junk files, cookies, and caches, among others to speed up a PC. The Professional Plus version includes far more capabilities, including a robust cleanup module that not only speeds up your system but also checks its health to give you an idea of how to improve PC performance.
CCleaner provides an effective Startup Optimization feature that can disable unnecessary programs that launch at startup. This is particularly useful for the maintenance and optimal functioning of Windows as startup programs tend to increase boot time and impact PC performance. The Startup Manager can also disable third-party apps and services that launch when Windows starts.
CCleaner protects your online privacy by removing browsing data such as history, cookies, cache, and tracking files every time you close a browser. You can choose which browser data you want to delete and which ones you don't to protect your privacy as well as not to reduce the loading speed of your frequently used or visited websites.
The Registry Cleaner is a simple feature that finds and deletes damaged registry entries, including ActiveX controls, corrupt files, fonts, help files, shared file paths, shortcut messages, and more.
CCleaner auto cleans your system regularly at a preset time and date. Schedule auto clean for your PC and let CCleaner work its wonders. Auto RAM clean unused or high-impact programs and processes that decrease the speed of your system.
CCleaner runs in the background when real-time monitoring is enabled. This feature lets you know when it is possible to free space and also the amount of space that can be freed. Keeping the program running in the background can be detrimental to the very purpose you are using the program for in the first pace because background apps tend to slow down the system and increase boot time.
Defragmentation is not embedded into the CCleaner program but is available as a separate program in the form of Defraggler with the Professional Plus version. The Defraggler frees up hard disk space to keep it healthy and working smoothly. Besides hard drives, you can also defragment SSDs with this feature.
Recuva file recovery is available with CCleaner Professional Plus and it recovers deleted files on your PC.
This feature updates your apps and browsers promptly to reduce security vulnerabilities. While the CCleaner Professional Plus updates itself automatically to the latest version, it notifies you when other apps in your system need to be updated.
With the CCleaner Professional Plus you can receive premium customer support that moves you ahead of the queue that users of the free version have to wait for. There is also a useful help center and FAQ page that provides answers to the most commonly asked questions.
CCleaner Professional Plus offers an annual and a two-year package for 3 PCs. The one-year license costs $24.95, while a two-year license comes for $79.95 (without discount). Accepted payment methods include, among others, Visa, Mastercard, American Express, and PayPal.

September 2023 Deal! 80% Off CCleaner Professional Plus (1 year / 3 devices)
80% Off CCleaner Professional Plus (1 year / 3 devices)
CCleaner Professional Plus: User Review Sites Ratings
I checked out several user review sites like Trustpilot and SiteJabber to find more about CCleaner and how it has fared when used by real users. Reviews by real users are important as they indicate whether the software performs as its developer promises or there are limitations that other users need to be aware of before buying or upgrading to the paid version.
CCleaner earned an admirable rating of 4.1 out of 5 on Trustpilot from more than 6000 user reviews. Numerous users complimented the company on developing a simple yet efficient program that gets the job done quickly and easily. Users praised the optimization features that come with the CCleaner Professional Plus and claimed that the product did improve the performance of their Windows PCs. However, there were a few complaints from some users regarding the updates. While some claimed that the software automatically upgraded to the Pro version despite the users choosing not to upgrade, others pointed out that the software often refuses to update and loads the free version instead.
On SiteJabber, there were only 17 reviews of CCleaner and it earned a user rating of 3 out of 5 stars. While many users praised the speed and effectiveness of the program, there were several complaints regarding the reliability of the software and its updates. Similar to reviews on Trustpilot, reviews on SiteJabber also pointed out the apparent update issues with the CCleaner Professional. Other users claimed that CCleaner does not provide any additional benefits that Windows Defender does not already provide.
Overall, user reviews of the product have been mixed. I would suggest you use the free version of the product first before deciding whether you want or need to upgrade to the Professional Plus.
 CCleaner Professional Plus: User Feedback
With profiles on such social media sites as Facebook, LinkedIn, Twitter, and YouTube, CCleaner has an extensive social media presence. To find out the general public reception of CCleaner and its various utility tools, I visited its social media pages. I also wanted to learn more about the company's relationship with its followers and also its other products.
CCleaner has over 500k followers on Facebook and is quite active on the platform with regular posts. CCleaner also announced the release of its latest version on Facebook and the announcement was met with positive enthusiasm and numerous questions from users. There are also several helpful articles and guides that the company posts regularly. On Twitter, CCleaner has 23.5k followers and posts regularly. There were not many user reviews of the software on Twitter but user comments on the social media site were mostly favourable.
Google Trends is a keyword analysis site that compares the interest in various search terms in the form of graphs. To understand how CCleaner fared with its nearest competitors in terms of interest in keywords, I used Google Trends to check the interest of search terms such as "CCleaner" and "CCleaner review" over the past 12 months in the US.
Interest in the search term "CCleaner" was considerably high throughout the last 12 months and it rarely dropped below the average mark. The graph shows a minor slump in interest recently but it recovered quickly and is on its way upwards again. The consistently high interest through the past 12 months can be attributed to the numerous version updates and bug fixes that the company released during this period.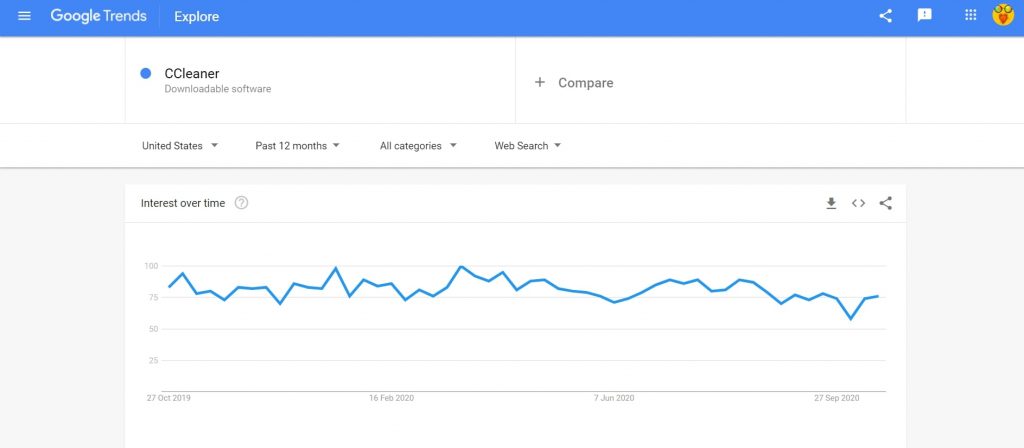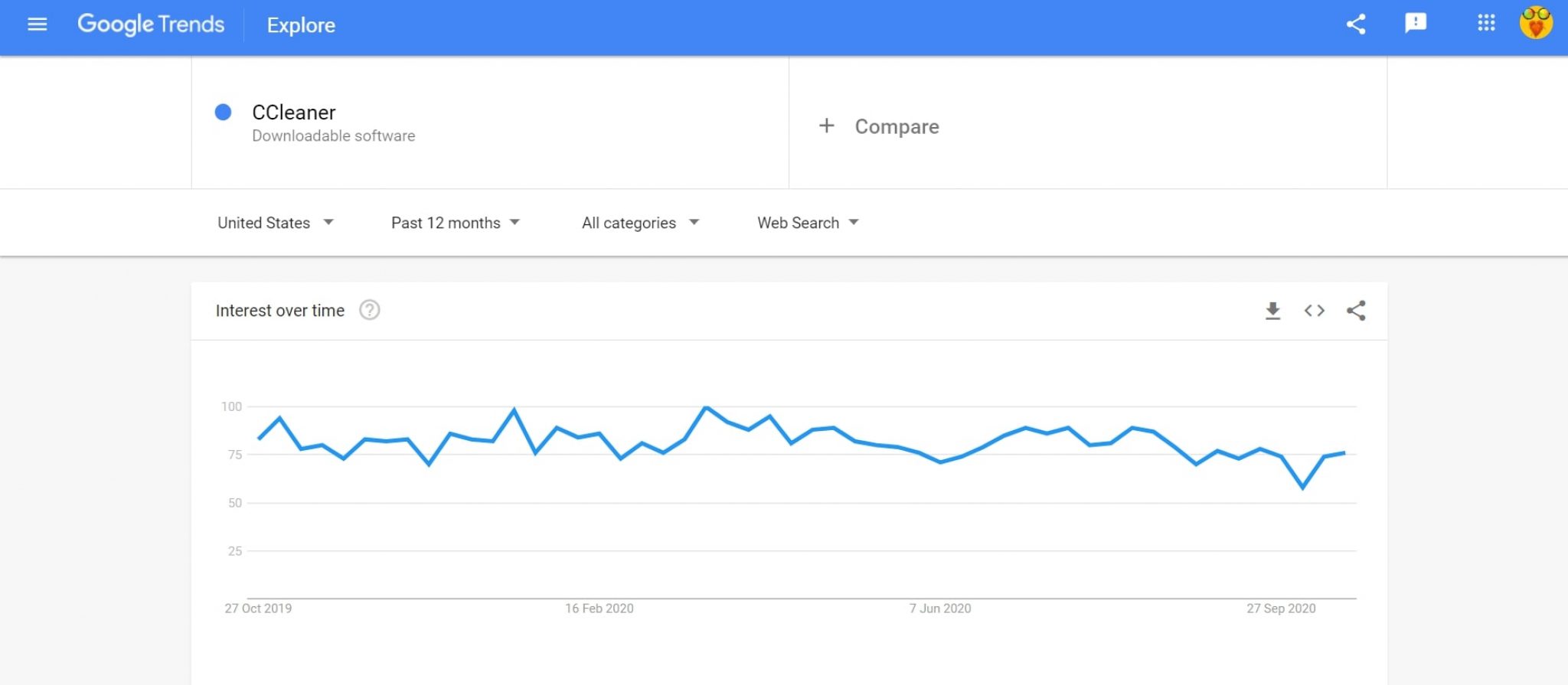 Unlike "CCleaner", the interest over time in "CCleaner review" lacks consistency and the graph managed to touch both its peak and nadir in the past 12 months. Interest was at its highest during this time last year but gradually fell below the average mark. Regular peaks and troughs define the interest in the search term making it harder to form a composite idea about it that will be consistent with the graph.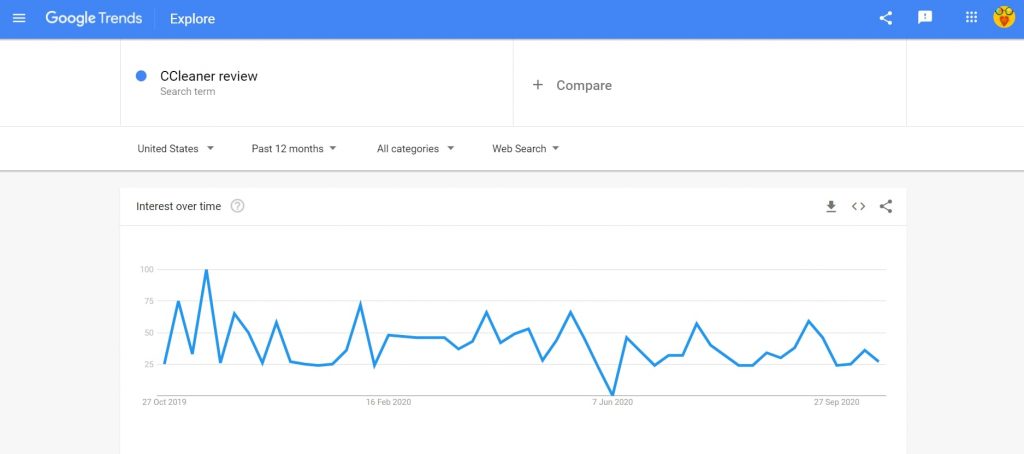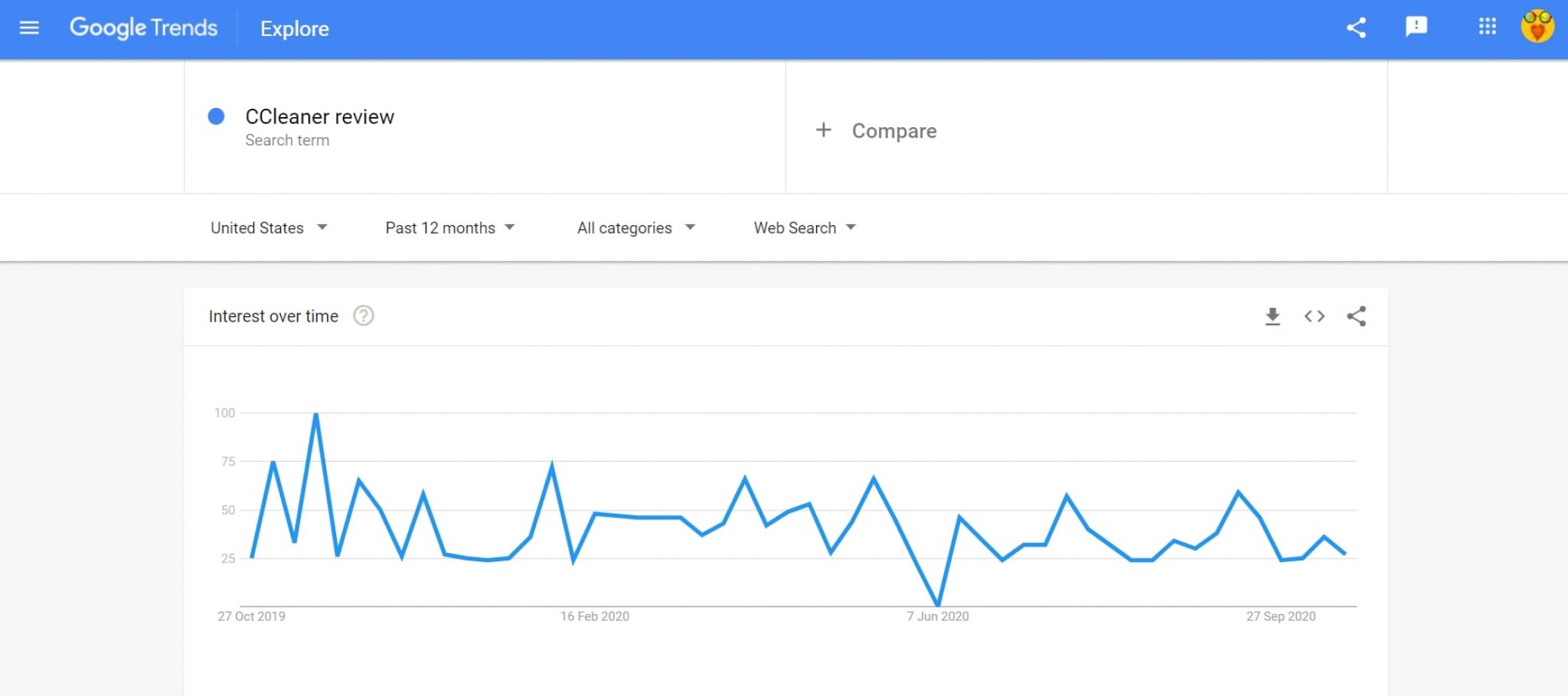 I compared "CCleaner" with competing search terms like "Advanced SystemCare" and "Wise Care 365". Unsurprisingly, CCleaner is head and shoulders above its competitors when it comes to interest in search terms. The average interest in CCleaner over the past 12 months was much more than in either Advanced SystemCare or Wise Care 365. However, Advanced SystemCare fared much better than Wise Care 365, though it was no match for CCleaner.
CCleaner Professional Plus: In the News
News about a software company and its products are relevant factors that help you to make an informed decision. Thus, I searched current and important news about Piriform and CCleaner to gain a broader perspective of both the company and the product. I am sharing some of the interesting news surrounding CCleaner and its developer that I came across on news sites.
It is now common knowledge that CCleaner had faced some security and privacy issues back in 2017 that had momentarily tarnished its reputation as one of the most reliable PC optimization tools. However, its parent company has taken several steps since then to address the issue and CCleaner has managed to recover from the problems to once again become a top choice among PC users.
CCleaner introduced the PC Health Check in March 2020 with its 5.64 version. This version is also purportedly the last major version that will be compatible with Windows XP and Vista. The Health Check not only gives you a report of your PC's health and how it can be improved but also frees up space with only a couple of clicks. To know more check this Ccleaner Professional review.
Piriform released a new version, namely v5.70, just to address a bug that was causing the program to wipe away Firefox extension settings. CCleaner apparently released the bug-fix on the same day it was notified of the seemingly disruptive bug. To read more about v5.70 and how it can be installed, check this research.
The CCleaner Professional Plus is a fast, effective, and unobtrusive software that makes PC cleaning and optimization look easy. While CCleaner is not as rich with features as Advanced SystemCare, it gets the job done and is capable of providing a noticeable improvement in PC performance. Functions like defragmentation and file recovery are not built into CCleaner and need to be separately installed, which may not be an issue for most users. Overall, the CCleaner Professional Plus is a decent tune-up tool and is ideal for beginners and casual users.

September 2023 Deal! 80% Off CCleaner Professional Plus (1 year / 3 devices)
80% Off CCleaner Professional Plus (1 year / 3 devices)
PROS
Automatic updates available
Premium technical support for Pro users
A trial version of CCleaner Pro is available
CONS
Some features need to be separately downloaded
Add your review
|
Read reviews and comments