Systweak Advanced System Optimizer Review 2023: A Sophisticated Windows PC Optimizer Packed With All The Essentials
Advanced System Optimizer, launched in 2002, is a PC optimization and cleanup application developed by Systweak with the mission of making Windows PC faster and more secure with the help of cost-effective solutions that couple usability and quality. Systweak'shigh-quality and user-friendly software has been designed with Windows PC users in mind. The software offers practical and efficient tools that even beginners will have no trouble using. The company's range of software products covers such niches as PC optimization, music, photography, device security, PC care, and cloud services, among others.
---
PROS:
Fast and easy installation
Uses negligible system resources
Effortless backup and recovery features
Spyware and malware protection
CONS:
The free version scans for issues but does not fix them
No live chat support

January 2023 Deal! 60% Off Systweak Advanced System Optimizer
60% Off Systweak Advanced System Optimizer
Untrusted programs blocking
Windows XP up to Windows 10 (32 bit and 64 bit)
FAQs, email support, newsletters, and premium support
$67.07 for 1 device / 1 year

Systweak Advanced System Optimizer: Features Overview
The System Cleaner scans the computer and provides a list of the issues that can slow down your PC. The issues are sorted by category and the software offers solutions to solve these issues. Advanced System Optimizer is capable of increasing application launch speed, freeing up space, and improving overall system performance by cleaning junk files, temporary data, caches, cookies, and other unnecessary data that take up system space.
The startup optimizer shows a list of all the applications that automatically launch at startup and informs you how the launch of the listed applications slows down the boot speed of your PC. You can speed up boot time and decrease startup time by removing certain applications that are not necessary to launch at startup.
The Privacy Protector keeps your online activity private by deleting browsing history, internet cookies, and cached files, among others. This not only keeps your browsing data private but also ensures a smoother and faster browsing experience.
Advanced System Optimizer not only keeps your registry clean by removing unwanted data but also fixes broken entries and other registry problems to prevent unwanted crashes and registry errors.
You can either run the scan and repair process manually or set a schedule and let the software run it automatically even while you are busy working on your PC. The scheduled scan will automatically detect and fix issues at the scheduled time and keep your PC healthy.
Real-time monitoring is a double-edged sword that some users think are detrimental to the very purpose of using a PC optimization tool in the first place. Real-time monitoring always runs in the background and utilizes system resources. However, Advanced System Optimizer is known for using negligible system resources.
Disk defrag can be used to free up valuable disk space to considerably improve PC performance. While the defragmentation process may take some time, it is a useful process that not only improves PC performance but also speeds up program launch time significantly.
The Undelete feature lets you recover accidentally deleted files. Advanced System Optimizer also offers effortless backup and restore features that lets you backup and restore valuable data as well as system files with minimal manual intervention.
The Game Optimizer is an excellent feature that lets you enjoy smooth and error-free gaming without distractions from messages, notifications, or emails. The feature creates a virtual desktop for gaming and reallocates system resources to allow a fast and smooth gaming experience.
This tool identifies outdated drivers in your PC and looks for the latest versions from the original manufacturer on the internet. The Driver Updater then downloads and installs the latest versions of the drivers to reduce instances of crashes and ensure that your PC performs optimally. Updating drivers to their latest versions can also lead to an improvement in the audio and visual performance of the PC.
The System Protector constantly runs in the background and sweeps your PC for malware, spyware, adware, viruses, trojans, and other security threats. The feature recognizes and removes any security threat before it can cause any damage to your data or system.
Systweak offers reliable and quality customer support via extensive FAQs, email, and newsletters. You can sign up for the company's newsletters to get the latest news on software updates and new releases. The company also offers premium support via email. Systweak's support staff is knowledgeable and responds quickly to inquiries as well as complaints, unlike some other prominent software companies.
The current cost of an annual subscription of Systweak Advanced System Optimizeris $67.06, including a free lifetime subscription to PhotoStudio. Payment method includes credit cards, PayPal, and wire transfers. Systweak also offers a 60-day money-back guarantee.

January 2023 Deal! 60% Off Systweak Advanced System Optimizer
60% Off Systweak Advanced System Optimizer
 Systweak Advanced System Optimizer: Google Trends
Google Trends is an analytical site that studies the popularity of search terms on Google and plots graphs to indicate interest in particular search terms over a specified period in a specific region. I used Google Trends to study the interest in such search terms as 'Advanced System Optimizer', 'Auslogics BoostSpeed', and 'Ashampoo WinOptimizer' over the past 12 months in the USA.
The interest in 'Advanced System Optimizer' over the past 12 months has been inconsistent with several peaks in interest and occasional drops. Interest in the search term was at its highest during December 2019 but has fallen and risen several times since then. Currently, the interest is higher than average but is predicted to drop sharply in the coming weeks.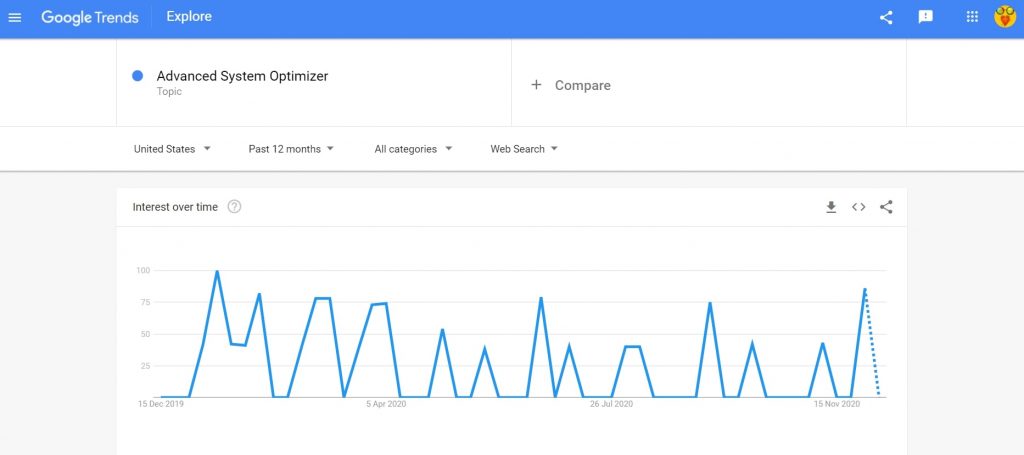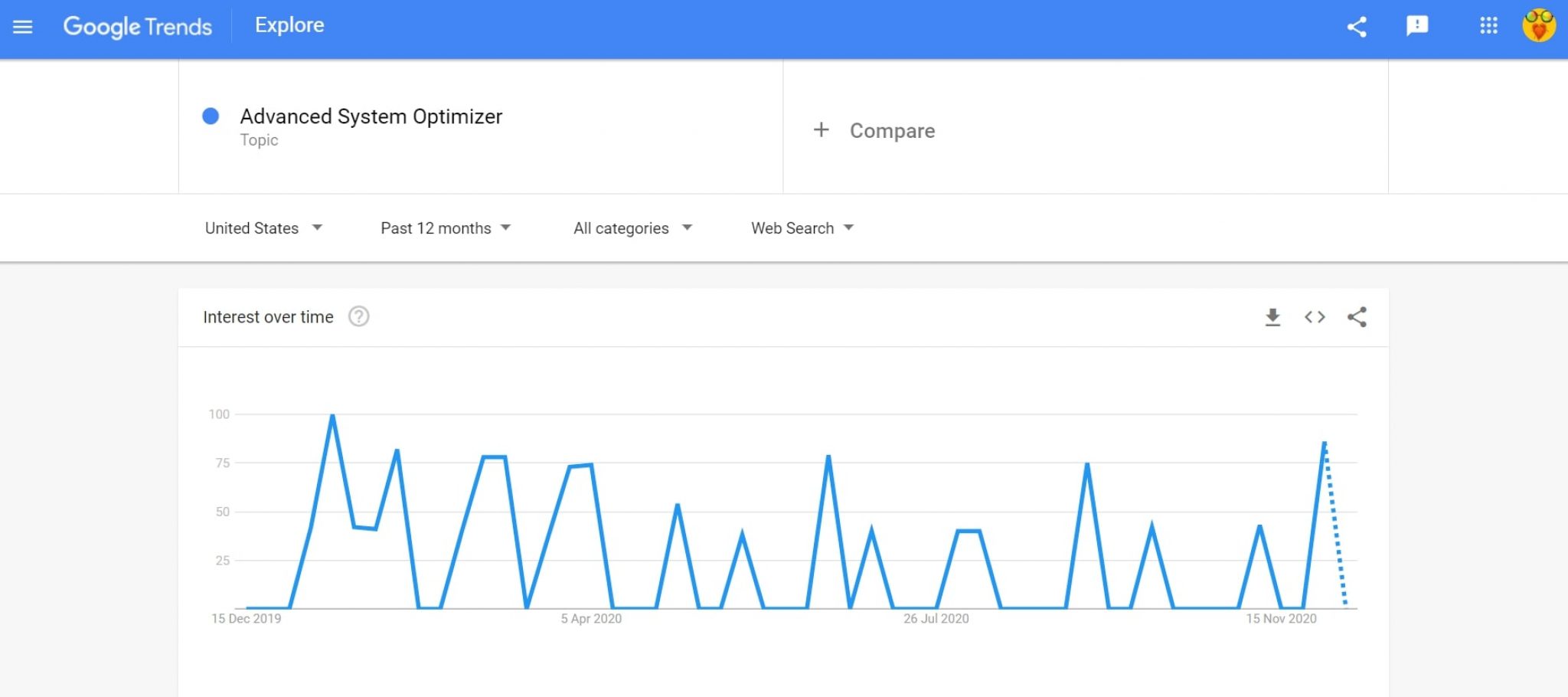 I wanted to compare the average interests in 'Advanced System Optimizer' and its competitors like 'Auslogics BoostSpeed', and 'Ashampoo WinOptimizer' during the same period in the same region. In both cases, the average interest in 'Advanced System Optimizer' was marginally less than that of the other two search terms, though Advanced System Optimizer offers more or less the same features and tool as the other programs.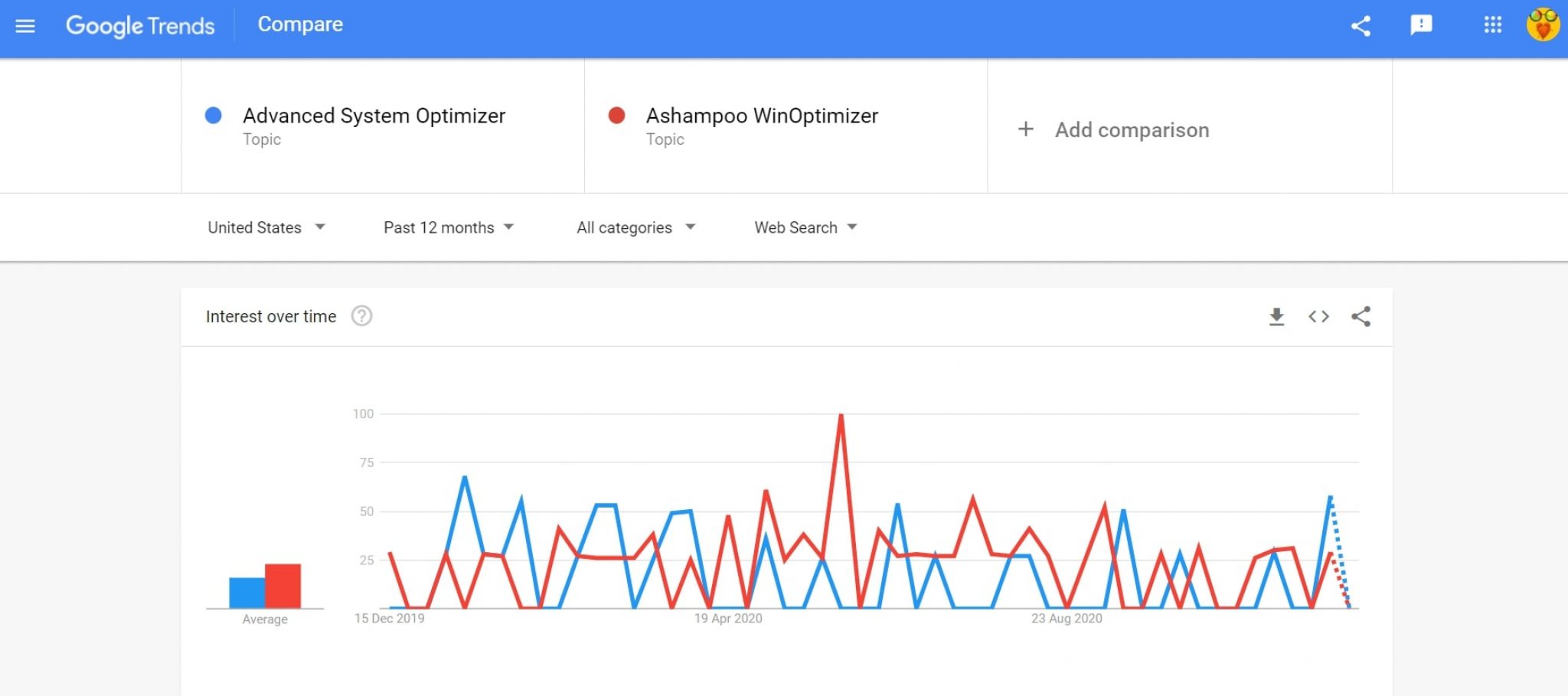 Systweak Advanced System Optimizer: User Feedback
Systweak has profiles on various social media platforms, including Facebook, Flipboard, LinkedIn, and Twitter, where you can follow the company to keep a tab on the latest posts and updates by the company. I visited the Facebook and Twitter pages of the company to see how to activate it is and understand the public feedback of the company.
Unfortunately, the company does not have a substantial following on either of these social media platforms with just over 5K followers on Facebook and only 1.19K Twitter followers. However, the company posts regularly on its social media pages but there are negligible user comments on the company's post to make a conclusive judgment regarding public feedback. The company's posts include guides, reviews, help articles, software updates, and more. The articles are quite informative and many of them offer solutions and fixes that can be very useful to beginners as well as advanced users.
 Systweak Advanced System Optimizer: User Review Sites Ratings
Real user reviews on user review sites like Trustpilot and SiteJabber are informative and reliable sources of in-depth information about a company and its products. I went through these review sites to find what real users think about Systweak and its products, including Advanced System Optimizer.
On Trustpilot, there are 146 reviews of Systweak Software and the company has earned a commendable 4.1 out of 5 stars. With 73% of the user reviews rating Systweak as excellent, the company boasts of one of the best-reviewed software companies on Trustpilot. The Systweak Antivirus and the Advanced System Optimizer were the subjects of profuse praise from users who have used both these applications for a long time. Several users recommended the antivirus and the optimizer programs for Windows PC users and claimed that Systweak applications are cheaper and offer better productivity than some software giants like McAfee and CCleaner, among others. The negative reviews were limited to just a handful and there was nothing much in the negative reviews worth mentioning.
There were 18 reviews of Systweak on SiteJabber and the company earned 4.57 stars out of 5. Many users claimed that Systweak's applications were able to accomplish what they promised and they were satisfied with the efficiency of the company's products. The most effusive of praises was again reserved for the company's Antivirus and Advanced System Optimizer applications, which provided top-notch service comparable to the top companies providing similar services.
 Systweak Advanced System Optimizer: In the News
News sites, like user review sites, are also reliable sources of the latest information about a company and its products or services. I visited several new sites to gather more information about Systweak and the Advanced System Optimizer.
In this press release from July 2020, the launch of the Systweak Antivirus for PC was announced. The Antivirus scans PCs for viruses and all types of malicious software to keep the system safe from various security threats like spyware, malware, viruses, trojans, adware, and more. The software offers Quick, Deep, and Custom scan to detect and deal with security vulnerabilities in Windows PCs.
In December 2020, it was announced that Systweak earned its fifth consecutive VB100 certification for virus detection thanks to its Antivirus software. The Virus Bulletin Limited VB100 certification is one of the most consequential stamps of quality, reliability, and competence for antivirus and security software. To read more about this significant achievement, visit VirusBulletin.
Overall, Systweak Advanced System Optimizer is an efficient and reliable application that offers a good range of optimization tools and security features. Its security features are especially impressive as most of its competitors like AVG PC TuneUp, Wise Care 365 Pro, and Ashampoo WinOptimizer lack some of the sophisticated security features that Systweak offers. However, the software is steeply-priced, especially compared to IObit Advanced SystemCare, which offers more features and better results at a much cheaper price. Nonetheless, Systweak is a reliable company with glowing user reviews on most user review sites. Furthermore, its customer support service is among the best in the business, better by a fair margin than the likes of CCleaner or AVG.

January 2023 Deal! 60% Off Systweak Advanced System Optimizer
60% Off Systweak Advanced System Optimizer