Ashampoo WinOptimizer 25 Review 2023: All-Powerful PC Optimization Tool Designed For Deep Cleaning Of Windows Systems
The Ashampoo WinOptimizer 25 is a powerful PC optimization tool with a ton of tricks and tools up its sleeve. Ashampoo lets you take care of the major problem areas of Windows computers with a single click. You can rid your system of junk files, browser traces, cookies, cache files, broken registry entries, and more with the help of the WinOptimizer. The WinOptimizer 25 provides a one-stop solution to all the performance issues your PC might be facing. The software not only boosts PC performance but also enhances security and improves boot time to provide an optimal Windows experience.
---
PROS:
License for up to 10 devices
Intuitive and cleverly designed UI
Ready for future Windows updates
SSD Wizard for solid-state drives
CONS:
The free version lacks the best features

January 2023 Deal! 90% Off Ashampoo WinOptimizer 25
90% Off Ashampoo WinOptimizer 25
Untrusted programs blocking
Program manuals, tips & tricks, FAQs, live chat, and support form
Video Tutorial: Ashampoo WinOptimizer 25 – Maximum performace for your Windows
Ashampoo WinOptimizer 25: Features Overview
Ashampoo WinOptimizer is capable of deep cleaning your PC with the aid of several tools. The Registry Cleanercan find and remove broken registry entries, the Internet Cleaner locates and removes all traces of browsing activities from all your browsers, and the Drive Cleaner removes temporary files that are not needed anymore. The Auto Clean feature will automatically clear all session data from your browser as soon as you close it. The 'Clean' dashboard offers a view of the state of the system and the necessary cleaning required at a glance.
The StartUp Tuner provides an overview of all the background processes and services that automatically start every time you start your PC. You can spot and terminate any programs or services that may be slowing down the startup process and are not important to launch automatically. By stopping such programs from launching automatically, you can speed up the startup process and notice a visible boost in boot times.
The One-Click Optimizer can perform a full system clean and optimization with a single click. This highly effective and time-saving tool can be found in the 'All modules' section. One-Click Optimizer, when activated, automatically runs the Registry Cleaner, the Drive Cleaner, and the Internet Cleaner and can even delete necessary files.
A self-explanatory feature, the Internet Tuner optimizes your internet connection to improve the browsing experience and the performance of online games. This tool can be run manually as well as automatically by activating the auto-optimization wizard.
The ADS Scanner scans your PC for alternate or hidden data streams, which are information points that increase your risk of becoming a victim to browser hijackers. This tool is an excellent addition to any security package and Ashampoo beat its competitors like IObit Advanced SystemCare and Wise Care 365 Pro by including this simple yet efficient tool.
The SSD Tuner is a visionary and essential tool that is simply indispensable for most modern PCs as the popularity and affordability of SSDs continue to outpace that of HDDs. Because of the functional difference between SSDs and HDDs, that your PC is optimized to get optimal performance from your SSD. The SSD Tuner lets you view Windows services or applications that are preventing your SSD from performing at its best and turn them on or off accordingly.
Almost all PC optimization tool allows users to schedule cleaning and it is no different with WinOptimizer 25. You can use the built-in scheduler to schedule which tools to run and at what intervals. The scheduler will automatically run the selected tools at the selected schedule to always keep your PC in the pink of health.
Ashampoo has introduced a new Defrag tool with the WinOptimizer 25. The new Defrag feature lets you run extensive drive analysis, review hardware, and merge free disk space to optimize disk space and enhance system performance. Furthermore, the new tool reportedly will address TRIM issues and simultaneously act to maximize available space in SSDs.
The Undeleter lets you recover files that have been deleted accidentally. If you want to permanently remove any trace of deleted files so that they can never be recovered, Ashampoo provides the File Wiper.
Ashampoo offers customer support via support forms, live chat, program manuals, tips, and FAQs on its website. The program manuals and FAQs are quite extensive. Since WinOptimizer is quite easy to understand and use, it is highly unlikely that you will need any assistance. In case you do, the FAQs and guides are quite helpful. Premium support is available as an add-on service for two years. You can add premium support for $4.95 at checkout.
Ashampoo WinOptimizer 25 costs $15 and covers up to 10 devices simultaneously. The software is also free to download but lacks the impressive features and tools that the paid version offers. Ashampoo offers a 30-day money-back guarantee.

January 2023 Deal! 90% Off Ashampoo WinOptimizer 25
90% Off Ashampoo WinOptimizer 25
Ashampoo WinOptimizer 25: Google Trends
Google Trends is a search term analysis site that compares the most searched terms on Google search and charts graphs showing the average interest in a particular term over a particular period and in a specific region. I used Google Trends to compare the interest in terms such as 'Ashampoo', 'Ashampoo WinOptimizer', 'Auslogics BoostSpeed', and 'Comodo System Utilities' over the last 12 months in the USA.
Interest in Ashampoo was average throughout the past 12 months with intermittent ups and downs. The interest peaked around June 2020 most likely due to the launch of the WinOptimizer 25 earlier in 2020. Since then the interest has been below average rising occasionally but never too high. Currently, the graph forecasts that interest in the search term will further slide down.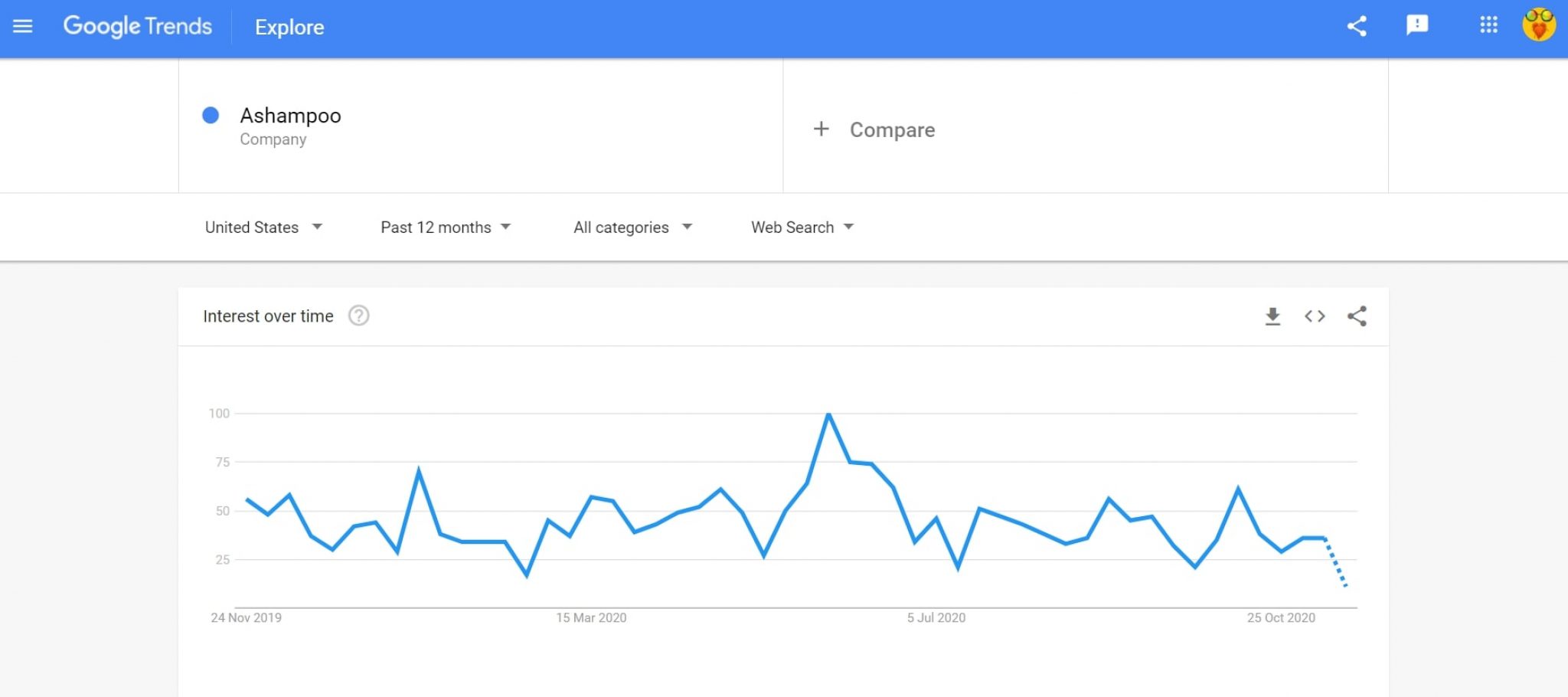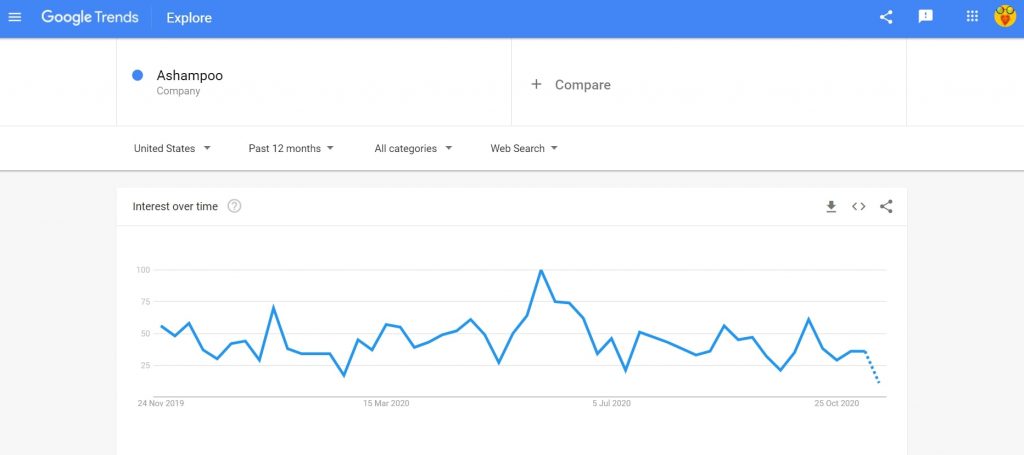 The graph plotting interest in the term 'Ashampoo WinOptimizer' resembles a mountain range with jagged peaks and contours. The inconsistent graph is most likely a result of wavering interest in the search term over time. The sudden increase in interest is contrasted by sharp dips betraying a lack of consistency in the search volume.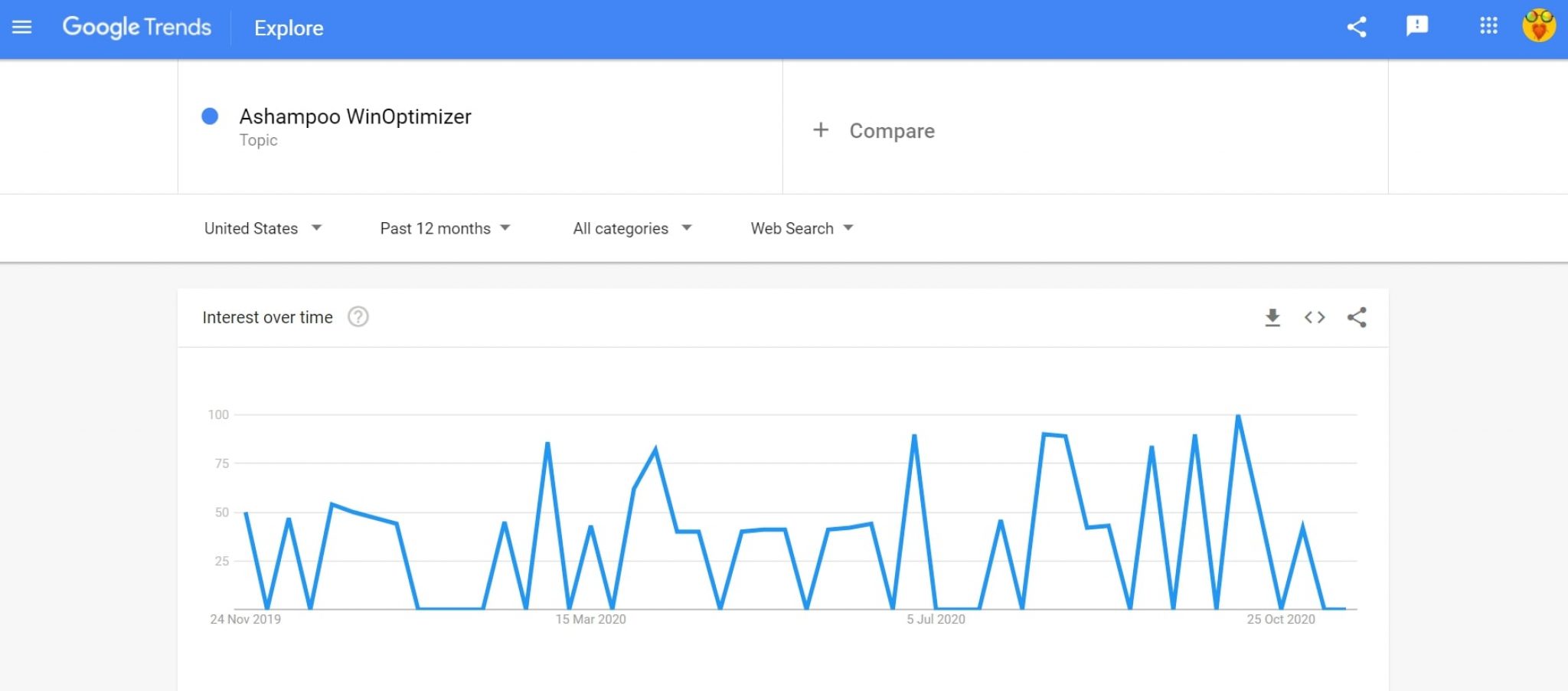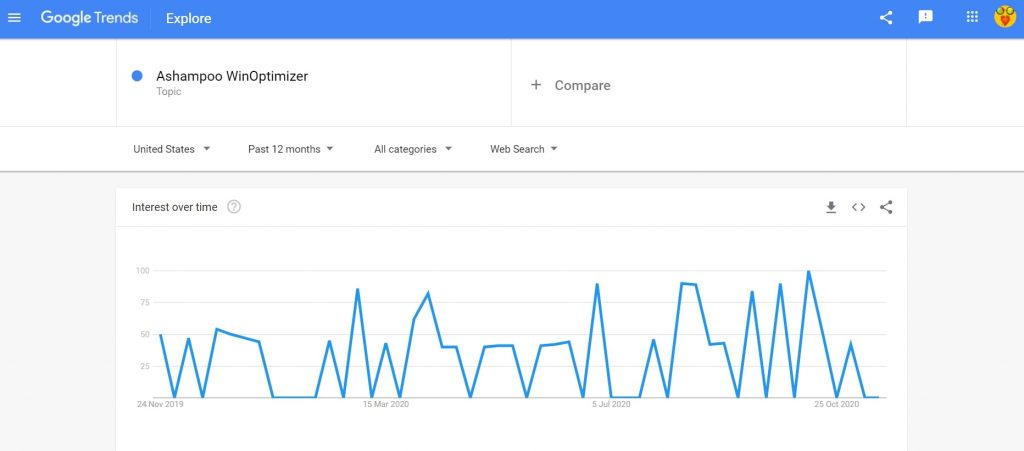 I compared the average interests in 'Ashampoo WinOptimizer', 'Auslogics BoostSpeed', and 'Comodo System Utilities'. The average interests in 'Ashampoo WinOptimizer' and 'Auslogics BoostSpeed' were nearly equal but the latter won the duel by dint of a higher interest at the start of the 12 months. However, the interest in both search terms is currently quite low and not expected to rise significantly anytime soon.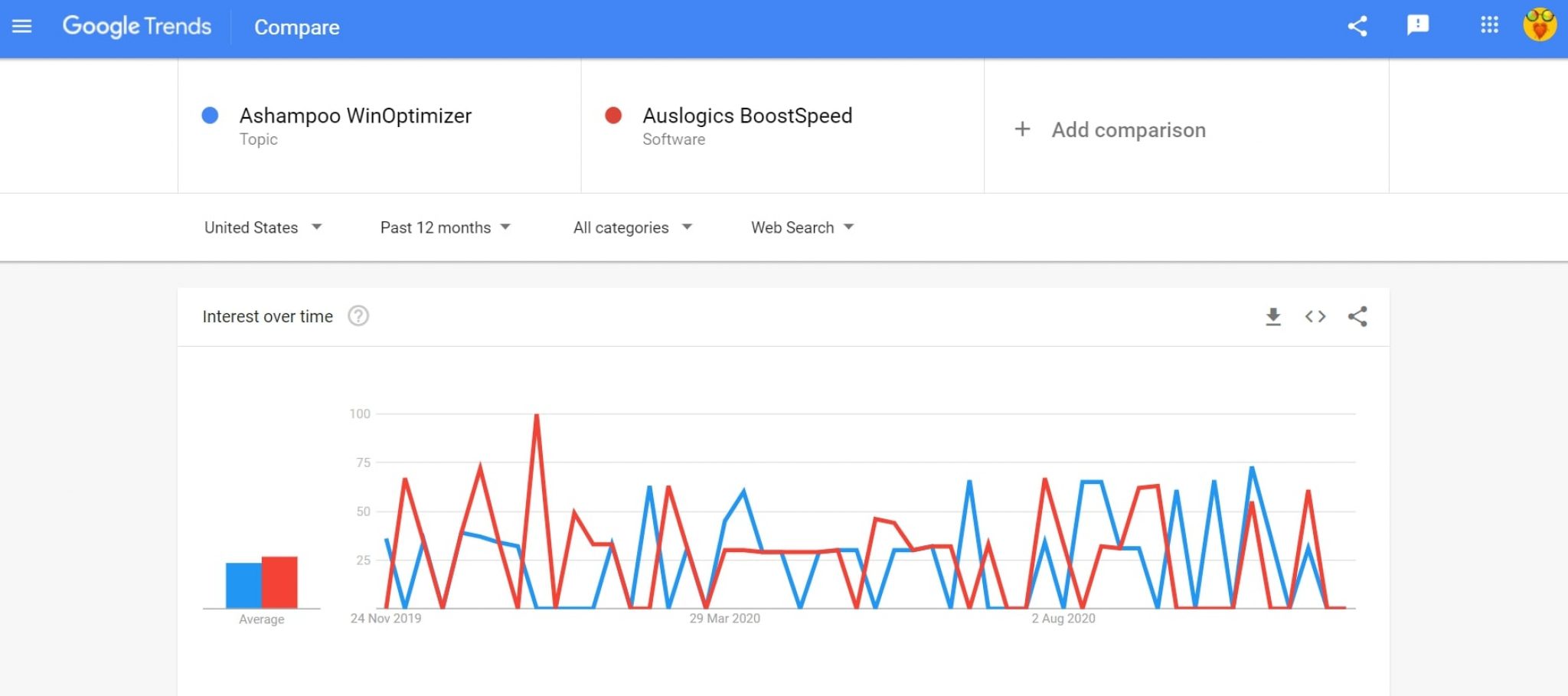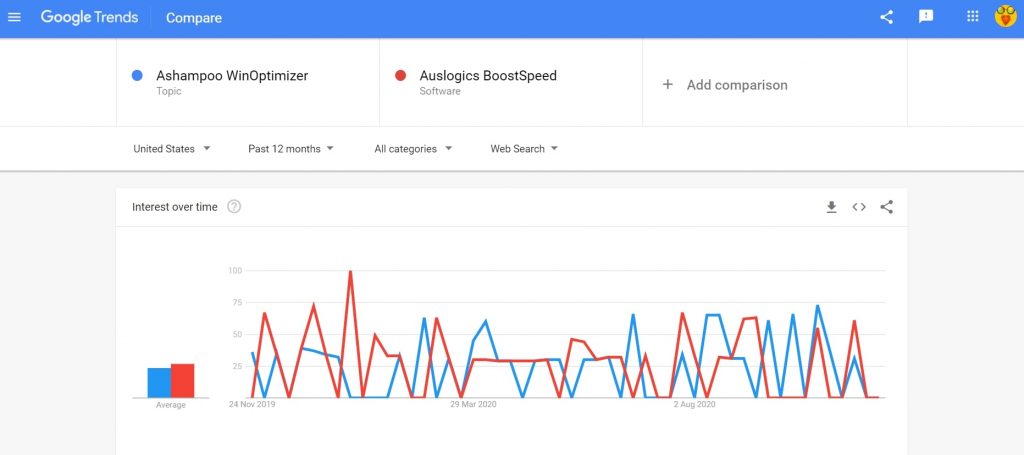 The average interest in 'Ashampoo WinOptimizer' was much higher than that in 'Comodo System Utilities'. While both these software suites have nearly similar features and tools, Ashampoo is a more popular company and the WinOptimizer has more active downloads than Comodo's product. The competition was not as closely fought as expected and the average interest in the former was considerably higher than that in the latter.
Ashampoo WinOptimizer 25: Users' Feedback
Ashampoo has profiles on social media sites like Facebook, Twitter, and YouTube. The company has 12K and 81K followers on Twitter and Facebook, respectively. However, user comments on both these sites as well as a few forums that I visited were limited to occasional grievances and compliments. Nonetheless, the company is fairly active on its social media channels and posts helpful articles, deals, and updates on its profiles. On some profiles, I came across a few customers who claimed to adore the One-Click Optimizer that WinOptimizer provides under the System Maintenance tab.
I could not find any public feedback of importance on either the company's social media profiles or the numerous forums that I visited. There is very little information or feedback in the public domain regarding the effectiveness of the WinOptimizer from which to draw a conclusive report.
Ashampoo WinOptimizer 25: User Review Sites Ratings
Review sites such as Trustpilot and SiteJabber host reviews from real users that provide an in-depth understanding of both a company as well as its products. Real user reviews not only offer a truer assessment of a company's products or services but also helps potential users to make an informed decision as to whether the product or service is worth purchasing and how one company compares to its closest competitors.
On Trustpilot, there were only 45 reviews of Ashampoo and the company earned just 2.6 out of 5 stars. Among the good reviews were many from long-time users who claimed to have been using the software for years. These users were highly satisfied with Ashampoo and its range of freeware. Users praised WinOptimizer for its reasonable pricing and range of efficient features. However, there were many bad reviews too with complaints about the company's limited activation policy, buggy UI in some free products, and slow customer service. It is worth noting that the positive reviews were much more detailed than the negative ones thereby raising questions about the credibility of the negative reviews.
On SiteJabber, there were even fewer reviews of Ashampoo, two to be precise, but the company scored better with 3.5 out of 5 stars. While one review was positive, the other one was critical. The positive review was the same as one on Trustpilot. The user had downloaded and used numerous free applications from Ashampoo and wanted to let other users know about the benefits of those products. The negative review, much like those on Trustpilot, did not provide sufficient justification or data to backup the review.
 Ashampoo WinOptimizer 25: In the News
I searched several news sites to find the latest development and interesting news about Ashampoo and the WinOptimizer but could only find a couple of news worth mentioning.
Ashampoo released the latest version of its much-loved software in the form of the WinOptimizer 25 in 2020 and this article lists the new additions and improved features in the new version. To read more about new features and the advantages of the new version has over its predecessor check this Ashampoo WinOptimizer review.
According to current market reports from several reliable sources, the PC system utility software market is predicted to grow rapidly in the coming years. I came across several articles talking about the potential of PC utility tools as well as the major players in this industry, including Ashampoo, and how they are going to affect and be affected by the forecasted growth.
Overall, the Ashampoo WinOptimizer 25 includes a wide array of features and tools to make PC optimization and cleanup look like child's play. The incredible quantity of features that WinOptimizer 25 offers is reminiscent of IObit's Advanced SystemCare. However, unlike Advanced SystemCare which only supports 3 devices, WinOptimizer lets you use the suite on up to 10 devices. On using the WinOptimizer on my Windows 10 PC, I noticed a visible boost in boot time as well as an improvement in the launch time of apps and games on my PC. Moreover, the software managed to clear around 1.5GB of junk data from the system. Considering the price at which the WinOptimizer 25 is available and the functionalities it brings to the table, I am of the opinion that it is worth buying.

January 2023 Deal! 90% Off Ashampoo WinOptimizer 25
90% Off Ashampoo WinOptimizer 25
PROS
New Windows 10 customization tweaks
New and faster DiskSpace Explorer
Secure File Encrypter and Decrypter
CONS
Does not provide email protection
Lacks premium technical support
Add your review
|
Read reviews and comments