Auslogics BoostSpeed 13 Pro Review 2023: Effective System Optimization And Cleanup For Windows PCs
The Auslogics BoostSpeed is a visionary product from the company that has been purchased by several Fortune 500 companies, including Boeing, Dell, Hewlett-Packard, IBM, Intel, Motorola, and Walmart, among others. The company's Disk Defrag tool has even made it to PC Magazine's list of the 10 Best Free Software of the Year several years in a row. Over the years, Auslogics has also partnered with several leading names in the industry, including AVG, BitDefender, McAfee, and Asiasoft – one of Asia's most popular MMORG service providers.
---
PROS:
Easy to install and use
Numerous features and tools
Windows 10 tweaker feature
Free version available
CONS:
The free version lacks several advanced features

November 2023 Deal! 60% Off Auslogics BoostSpeed 13 Pro
60% Off Auslogics BoostSpeed 13 Pro
Untrusted programs blocking
New South Wales, Australia
Windows 7 up to Windows 10
FAQs, technical support, and ask a question
$50.96 for 1 year / 3 PCs
A Quick Guide How to Optimize System with Auslogics BoostSpeed Pro
Auslogics BoostSpeed 13 Pro: Features Overview
While the essential PC cleanup and optimization is available with the basic version, advanced PC cleanup and optimization are available only with the Pro version. The advanced PC cleanup and optimization feature lets you deep clean your system and optimize it to the granular level. The advanced feature may not be needed by beginners or on a new computer but it works wonders for old computers and are an ideal tool for advanced users
The Startup Manager lets you select which application and services to launch at startup to improve boot speed. Numerous applications launch automatically during startup and BoostSpeed detects the applications that slow down the startup process. The software weeds out unnecessary programs that take up essential system resources at and after startup to terminate these programs. The Startup Manager is an excellent tool to increase boot speed and reduce startup time.
The Tweak Manager, an impressive addition to the BoostSpeed 13, provides several tweaks that improve the performance of your Windows PC drastically. This feature is great at offering users several system tweaks that are usually scattered or hidden in Windows settings and control panel. Tweak Manager makes it easy for you to choose which tweak to apply and which to ignore.
BoostSpeed lets you optimize your internet and browser speed manually as well as automatically. However, the automatic internet optimization is available with the Pro version only. This feature examines the internet connection settings of a PC and optimizes them to best suit the hardware configuration of that system. With the click of a button, BoostSpeed can automatically adjust your internet settings for an optimal browsing speed.
The Pro version provides advanced privacy protection for all your data stored on your PC. BoostSpeed not only protects your privacy offline but also online. The browser anti-tracker protects your online privacy by making sure that third-party applications and dubious programs cannot track your web activity.
With the BoostSpeed Pro, you will get a full registry cleanup feature that can quickly scan several types of registry keys, corrupt files, and broken entries. The cleaner promptly cleans unnecessary files and data to make space in the registry for new entries.
The Pro version includes a scheduler that lets you schedule regular scans and maintenance. When the scheduled cleaning is activated, the application will automatically scan the system regularly at a fixed time and make the necessary changes for optimal performance without the need for you to waste your precious time by manually doing so.
BoostSpeed 13 can monitor your PC's health and performance in real-time and offer inputs to the user as well as suggest any action that may need to be taken. While real-time monitoring may drain system resources, advanced users and gamers may find this tool to be quite useful.
Disk defragmentation speeds up data access by freeing up loads of space in your hard disk. The Intelligent Defrag, available only with the Pro version, provides an even greater speed boost by optimizing file placement on drives. Registry defragmentation is also available but is redundant with newer versions of Windows, especially Windows 10. If you still want to defrag your registry then BoostSpeed does so quickly and with aplomb.
Customer support is quite good but can also improve in certain areas. While I could not find a live chat on the company's website, the FAQs were quite helpful and provided answers to all common queries any customer may have. Auslogics also provides technical support via forms and an 'Ask a Question' feature. The technical support can be slow at times but overall the support is better than most of its nearest competitors.
You can purchase the BoostSpeed 13 Pro for $50.96 per year for three PCs. There is also a free version that offers basic features but lacks the intelligent and advanced tools that come with the Pro version.

November 2023 Deal! 60% Off Auslogics BoostSpeed 13 Pro
60% Off Auslogics BoostSpeed 13 Pro
 Auslogics BoostSpeed Pro: Google Trends
Google Trends analyses the popularity of search terms on Google search and plots graphs to display the interest over time in specific search terms. I used Google Trends to compare the popularity between such search terms as 'Auslogics', 'Auslogics BoostSpeed', 'Ashampoo WinOptimizer', and 'Advanced System Optimizer'.
The interest over time in 'Auslogics' was a series of ups and downs with more ups than downs. The interest peaked thrice between May and August 2020. Overall Auslogics had a fairly high interest in the past 12 months but the graph is currently showing a gradual dip in interest.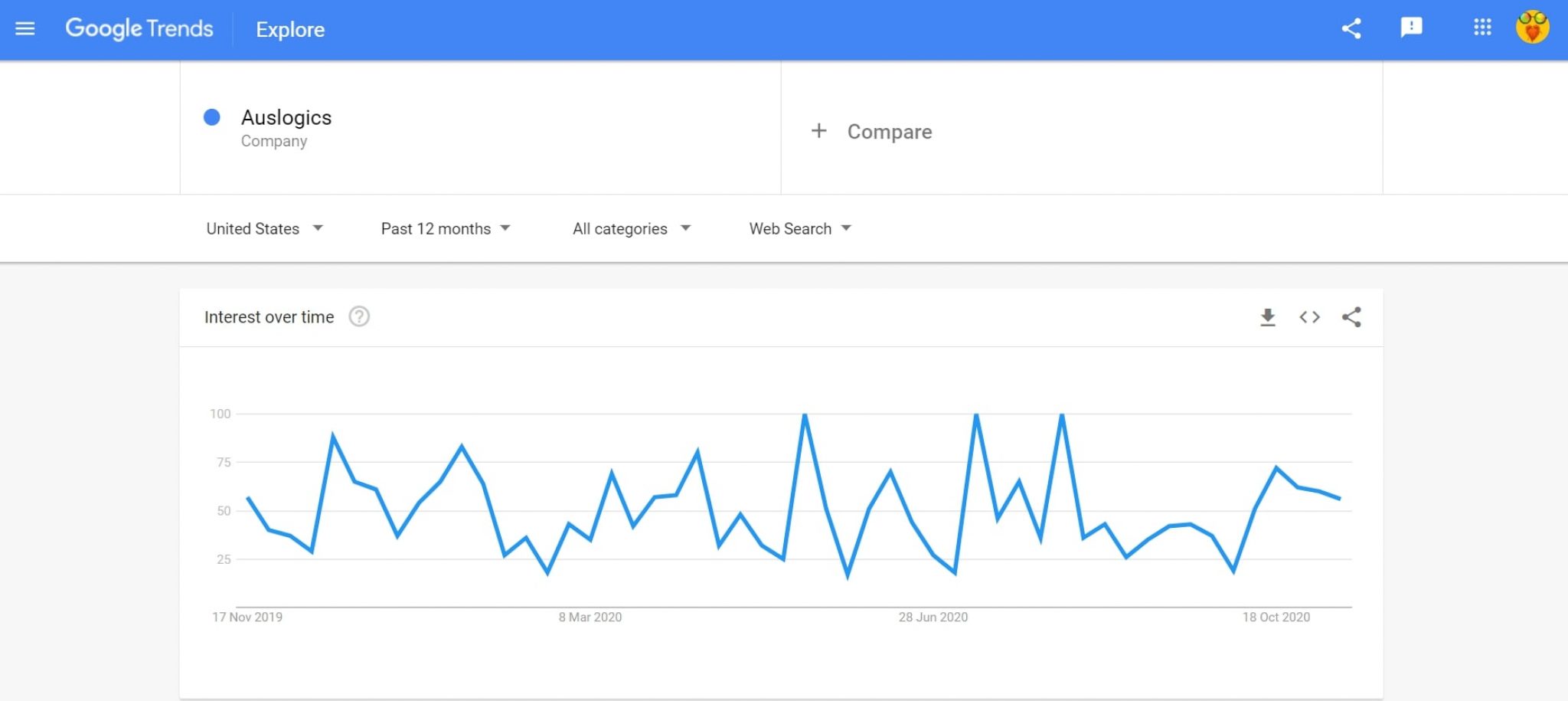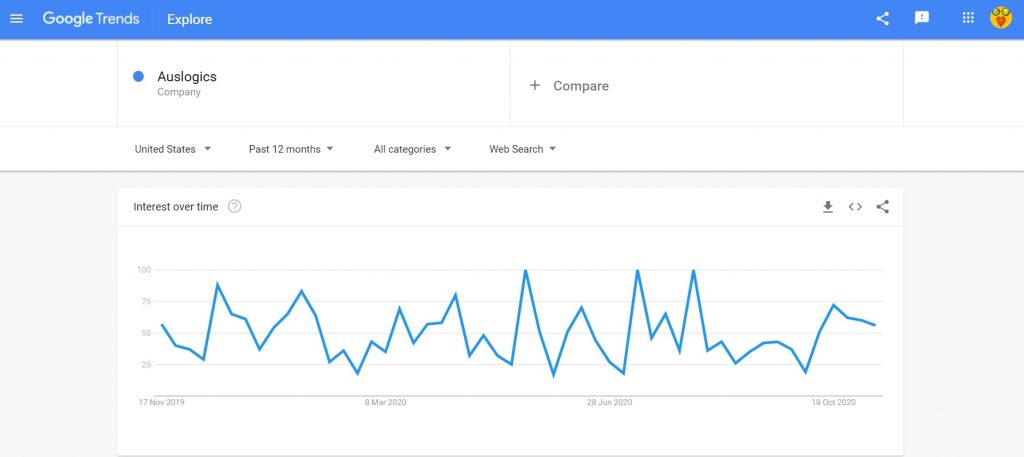 The graph showing the interest in 'Auslogics BoostSpeed' in the past 12 months is quite similar to that of 'Auslogics'. The interest peaked early this year but fell considerably several times throughout the 12 months too. However, recently there was again a surge in interest in the software only to decrease again soon after. Currently, the graph predicts that the interest will fall sharply in the coming weeks.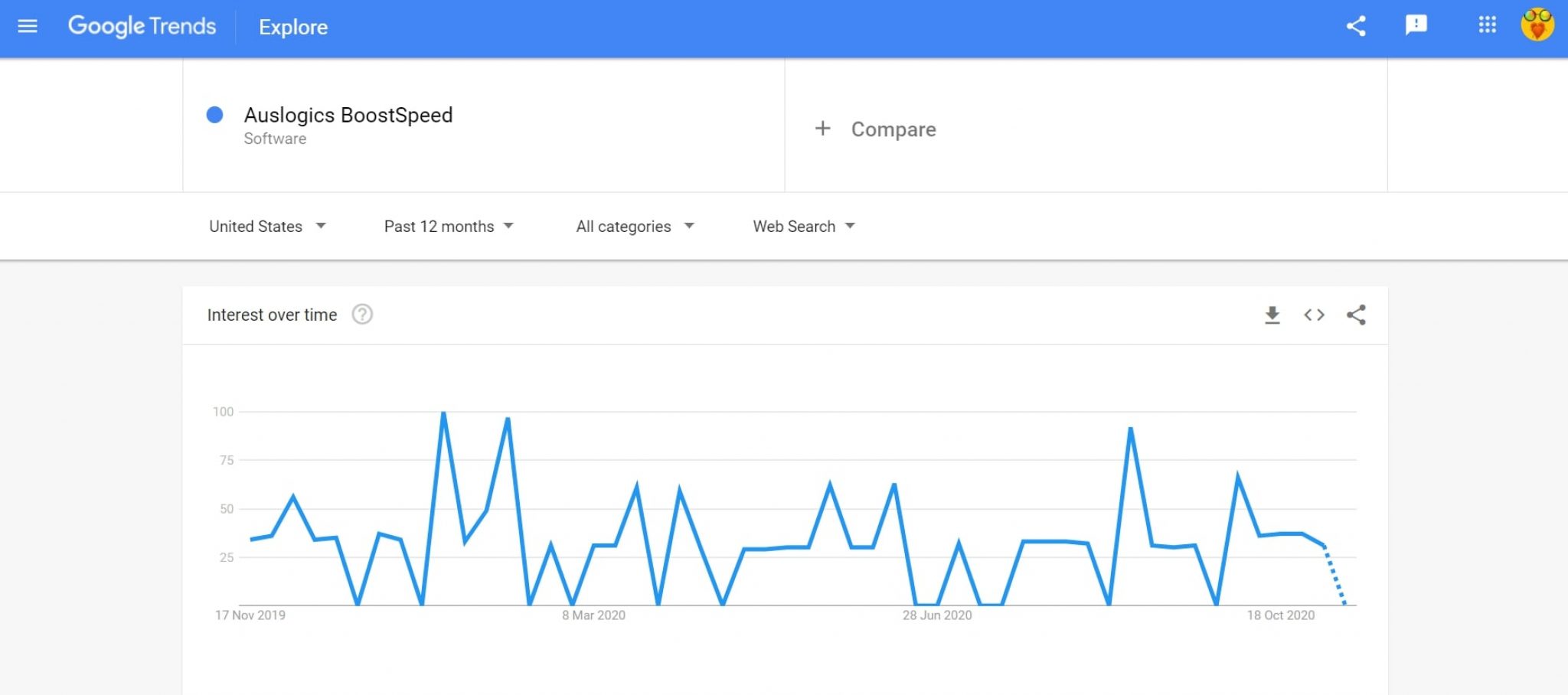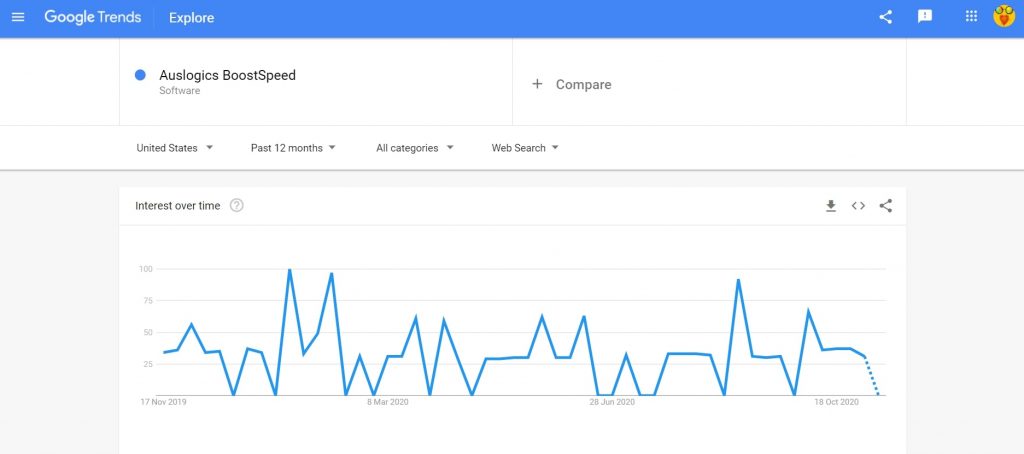 When I compared 'Auslogics BoostSpeed' to 'Ashampoo WinOptimizer' and 'Advanced System Optimizer', the verdict was split but the competition was intriguing. In both cases, the margin by which one search term edged out the other was quite narrow. In the first comparison, the average interest in BoostSpeed turned out to be less than that in WinOptimizer. The latter edged past the former by dint of a more consistent high interest in the past 12 months.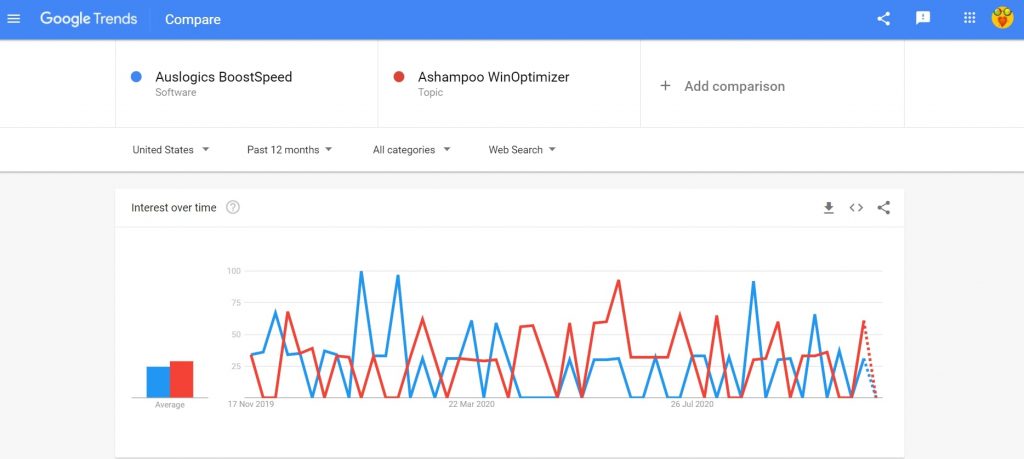 However, the average interest in BoostSpeed was greater than that in System Optimizer showing that the search volume of the former was more than that of the latter in the past 12 months.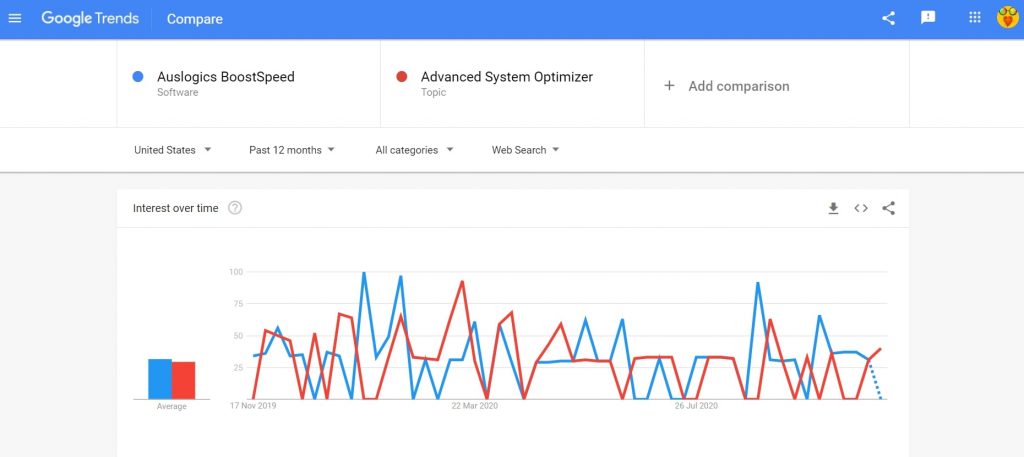 Auslogics BoostSpeed 13 Pro: Users' Feedback
User feedback of Auslogics on social media sites was very few to come to a conclusion. However, the company posts fairly regularly on both Twitter and Facebook. It is followed by more than 14K people on Facebook and though user feedback is limited on both these sites, I did not come across any major complaints or grievances while browsing through the company's social media profiles.
Auslogics is a trusted company according to discussions on some software forums. The BoostSpeed also has favorable feedback from users on such forums. Several users claimed to have greatly benefitted from the efficiency and reliability of the application as well as other applications from Auslogics. The only issue that I came across on these forums was one regarding the occasionally faulty license renewal system.
 Auslogics BoostSpeed 13 Pro: Users' Review Sites Ratings
Review sites provide a truer and more in-depth understanding of a company and its products. Real user reviews on such sites make no effort to mask the ineffectiveness of a product or the company, if any, and are thus ideal guides that help to make informed decisions about a company or its products. I visited Trustpilot and SiteJabberto know how real users rate Auslogics and its products.
Auslogics earned an impressive 4.5 stars out of 5 from 1688 user reviews on Trustpilot and was rated as excellent by more than 80% of users. Among the positive highlights were the efficiency of the freeware apps, the performance of the BoostSpeed, and the overall reliability of the company and its numerous user-friendly products. The most generous of compliments was however reserved for the company's impeccable customer support.
There were very few negative reviews worth considering. One user complained about the auto-renewal feature and claimed that canceling it or getting a refund proved to be nigh impossible. I also came across a couple of issues regarding the driver updater, which the company's representatives claimed to have taken care of. Overall the positives far outnumber the negatives and the company's customer service representatives were quite prompt in replying to user reviews, positive and negative alike.
On SiteJabber there were only 3 user reviews of Auslogics and the company received 2.33 stars out of 5. While one user claimed to have been unsatisfied with the company's customer service, another positively gushed about one of the freeware products of the company and was surprised that such a quality product is available for free.
 Auslogics BoostSpeed 13 Pro: In the News
I checked several news sites to gather relevant information and interesting details about the company and its product. Here are some news articles I came across that may be of some relevance.
Auslogics released its newest version of the BoostSpeed back in July 2019. The BoostSpeed 13 introduced quite a few innovative ideas and functional features that improve the efficiency of the popular PC optimization program. To know more about the new additions check this Auslogics BoostSpeed review.
Auslogics BoostSpeed 13 revolutionized Windows optimization and maintenance by completely overhauling the product and expanding the functionality of the program. The latest version aims to make PC optimization more intuitive and less user-reliant. The new version also boasts of a redesigned user interface that makes navigation easier and faster. To read more about the BoostSpeed 13 read this article.
One of the primary reasons behind the popularity of Auslogics and the company's freeware is reliability. Auslogics introduced the Green Seal Guarantee that indicates that its freeware products for Microsoft Windows are free of spyware, adware, and toolbars. Check the following review for further reading on the Auslogics Green Seal.
Auslogics BoostSpeed 13 is an efficient and comprehensive utility tool for PC optimization and cleanup that manages to visibly improve PC performance as well as boot speed. While using it on my PC, I managed to free nearly 2GB of disk space and speed up the internet by at least 20%. Considering I use a relatively new computer, the results are impressive, to say the least. However, an annual license of BoostSpeed is quite expensive considering the fact that IObit Advanced SystemCare costs less than half of what Auslogics charges yet offers far more advanced features. In terms of capabilities, the BoostSpeed 13 is a reliable performer with the ability to challenge the likes of CCleaner Professional and Glary Utilities for the mantle of the best PC optimization software.

November 2023 Deal! 60% Off Auslogics BoostSpeed 13 Pro
60% Off Auslogics BoostSpeed 13 Pro
PROS
Well-designed and clean UI
No spyware or adware
Decent customer support
CONS
Lack of security features
The annual subscription fee is costlier than some competitors
Add your review
|
Read reviews and comments