Razer Cortex Game Booster Review 2023: A Free System Optimization Application Designed To Enhance Your Gaming Experience
Razer Cortex is a free system optimization application from renowned gaming hardware manufacturer Razer. Though projected as a system optimization tool, the application focuses on enhancing your gaming experience by fine-tuning your system to run even the most resource-intensive games smoothly. Nonetheless, it also includes quite a few system utilities that clean your PC, defragment your disks, and free up space in your system. The user interface is modern and as good to use as it is to look at.
---
PROS:
Free to download
Machine learning technology
Allows expert control for fine-tuning of boost settings
Faster game loading
CONS:
Lack of security tools
No scheduled cleaning option

January 2023 Deal! 50% Off Razer Coupon Code (Sitewide)
50% Off Razer Coupon Code (Sitewide)
Razer Cortex Game Booster Features at a Glance
Game files defragmentation
Untrusted programs blocking
FAQs, master guide, community forum, and webform to submit a support case
Razer Cortex Game Booster: Features Overview
I have included Razer Cortex Game Booster into the main list of the
top rated PC/MAC tuneup software
as I thought it would be interesting to see how it compares to the best of the best. Razer lacks of the some important features such as "untrusted programs blocking" and "internet booster" but it's mainly focus on games boost and don't forget that it's free to download.
The System Clean keeps your PC fast and clean by clearing junk, cached files, temporary files, and unnecessary browsing data, among others. It cleans your PC by freeing up space in your hard disk. By releasing disk space, Razer Cortex not only improves gaming performance but also overall PC performance.
Razer Cortex Game Booster improves the boot time and launch-time of apps, including games. The software recognizes resource-draining apps and processes that run in the background but are not always required by the user and turns them off to release memory and RAM. This in turn reduces startup time and launches your games faster than before.
The Game Booster automatically activates the moment you launch a game, whether it is on Steam, Origin, or desktop. Once your gaming session is over, Game Booster automatically restores your PC to its state before the gaming session. Furthermore, Booster Prime automatically optimizes game settings based on your preferred gaming mode. Razer's sophisticated AI technology even recommends similar settings to you for future gaming sessions.
The Game Booster improves the performance of your PC by detecting and managing resource-draining processes and applications running in the background. The feature can also stop such apps and processes while you are gaming to free up valuable RAM and resources required for a smooth gaming experience. This results in higher frame rates and visibly better gaming performance.
The machine-learning algorithm of Razer's Booster Prime runs a frame rate check to provide you with an accurate FPS prediction as per your setup. Even as you are gaming, Booster Prime discreetly runs an FPS counter that tracks the exact frame rates of your system. You can gain important insights by reviewing the stats provided by the FPS chart. You can then adjust the boost settings to achieve the desired FPS and apply them to the game.
The System Booster provides a one-stop solution to sweep out all your junk files to free up precious disk space that in turn allows your games to run smoothly. There is no need to open game platforms to manually clean junk files. The System Booster cleans junk files and browser caches to release disk space for your games to run optimally.
The System Booster offers recommendations from Razer's optimization specialists to speed up PC systems. You can look deeper and fine-tune your boost settings at a granular level through expert tweak controls.
Razer organizes fragmented files of your games on an HDD and cuts down loading times by increasing the reading and writing speed. The Defrag Games feature is only useful for games that are stored on an HDD. As an SSD should never be defragmented, defragmenting games on an SSD will make them grey out.
Razer lets you fine-tune the color settings to improve the visuals. The attention to minute details makes a substantial impact on your gaming experience. You can control the brightness, hue, contrast, and even digital vibrancy to see a considerable difference from every angle.
Support is available in the form of FAQs, master guides, and discussions on community forums. You can submit support cases in the form of webforms provided on the company's website. However, Razer does not offer live support or technical support.
Razer Cortex can be downloaded for free from the Razer website. It's available for Windows 7, 8, and 10, Xbox game bar on PC, and mobile. Razer does not request users to update to a premium version and the free version does not have ad pop-ups.

January 2023 Deal! 50% Off Razer Coupon Code (Sitewide)
50% Off Razer Coupon Code (Sitewide)
Razer Cortex Game Booster: User Review Sites Ratings
User review websites are the best place to start when you are unsure about purchasing a product or trusting a company. Review sites like Trustpilot and SiteJabber, among others, host informative reviews from real users who have used the products or services of a company. To know more about Razer and its software, I visited Trustpilot and SiteJabber.
Trustpilot had over 1000 reviews of Razer but the company scored a disappointing 1.5 stars out of 5. Given the popularity of the company on social media and among gamers, I was surprised by the low score. Most of the bad reviews were focused on Razer products and customer service. While it is true that Razer needs to improve its customer service drastically, I have not used any Razer products to be able to comment on the complaints by several users. However, I noticed that Razer's customer support team responded to every complaint and the responses did not look bot-generated.
There was only one review of the company on SiteJabber and the user claimed to be happy with the refurbished laptop they purchased.
On browsing thoroughly through the numerous reviews on Trustpilot, I could not find a bad review on Razer Cortex, the subject of this review. There is not much to complain about Razer Cortex seeing as it is free to download.
Razer Cortex Game Booster: Users' Feedback
User feedback is quite important to judge a company and its products. Social media is a good place to start and Razer has profiles on Facebook, Instagram, and Twitter. The company has a considerably large following on these social media platforms with 10 million and 3.3 million followers on Facebook and Twitter respectively.
Razer is active on all its social media profiles and routinely posts updates and articles regarding Razer products and applications. The company regularly uploads great content that is most relevant. User comments on Razer's post are a mix of compliments and complaints. The complaints were mostly concerning Razer peripheral products and had nothing to do with Razer Cortex. Users who complimented or praised the company for its efficient applications and durable products claimed to have been using Razer products for a long time and seemed reliable based on the details in their comments.
Overall, user feedbackwas positive on social media sites and a few forums that I visited. I did come across a few grievances here and there but nothing too major.
Razer Cortex Game Booster: Google Trends
Google Trends is a data analysis website that uses graphs to plot the interest in specific search terms over a specified period in a particular region. It gives us an idea of the public interest in a company and its products over a certain period. I used Google Trends to check the search interest in terms like 'Razer Inc' and 'Razer Cortex' in the USA over the past 12 months.
Interest in 'Razer Inc' over the past 12 months has been quite high. Though interest in the first half of the graph is below average, it recovers in the second half to consistently stay well above average. Interest in the company even reached its peak during October 2020. The high interest in the company likely stems from the increase in interest and demand for games as people are around the world are confined to their homes because of the coronavirus.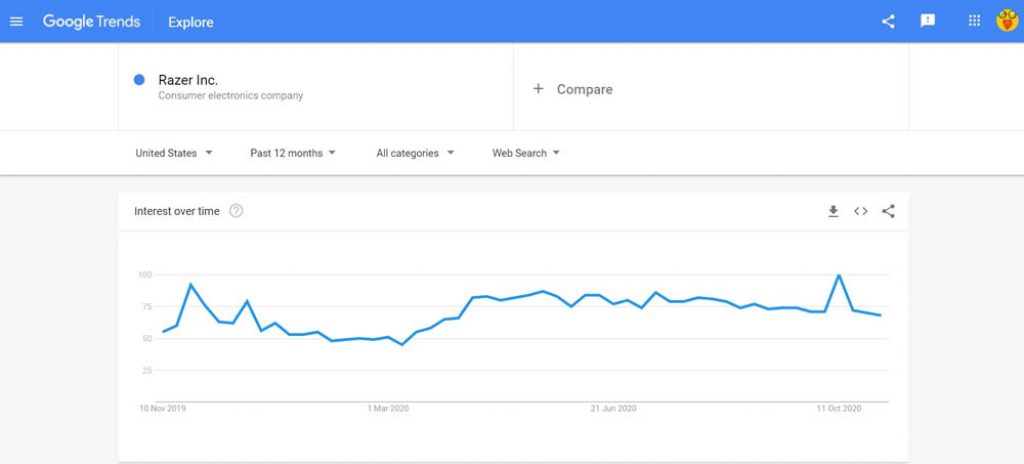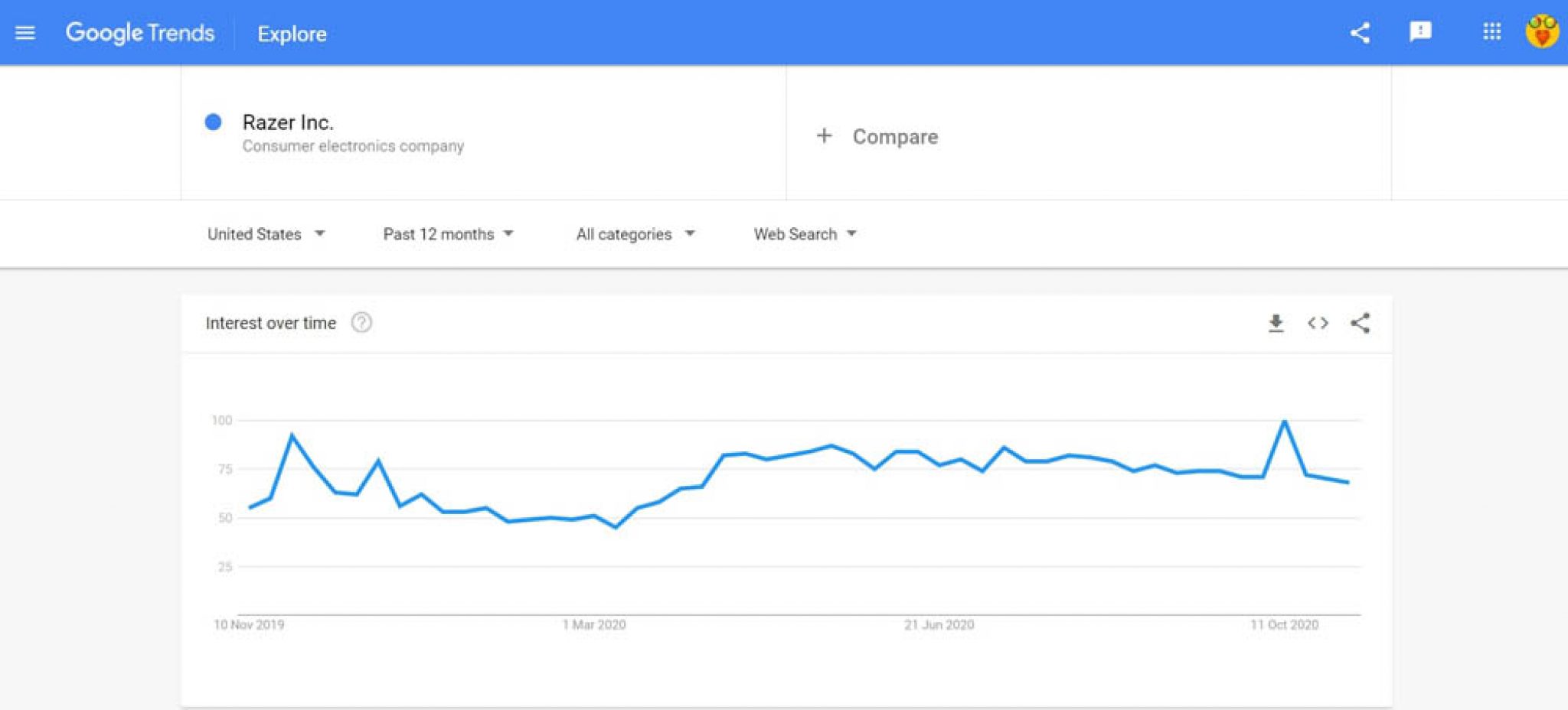 Until recently, interest in 'Razer Cortex' has been below average and fairly low considering the high interest in the company. However, interest in the product spiked sometime around September and even reached its highest value only to slump soon. Currently, the graph shows an average interest in the search term.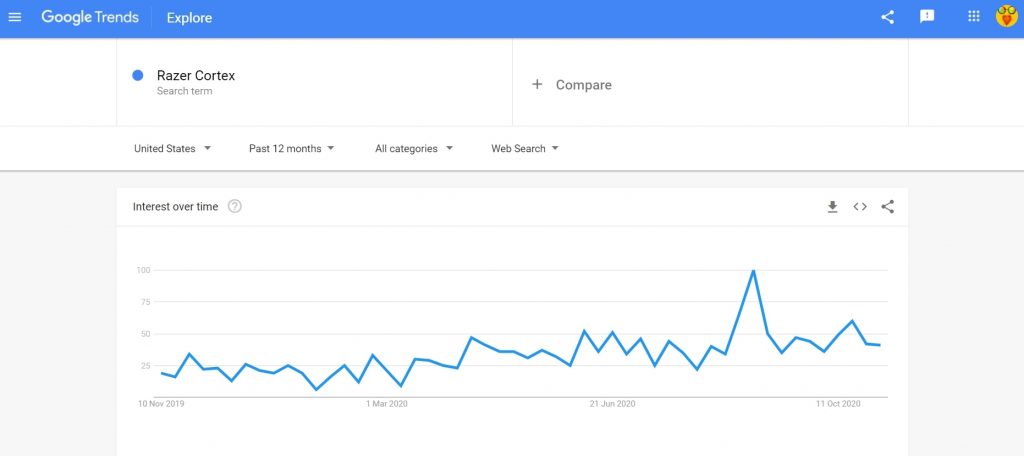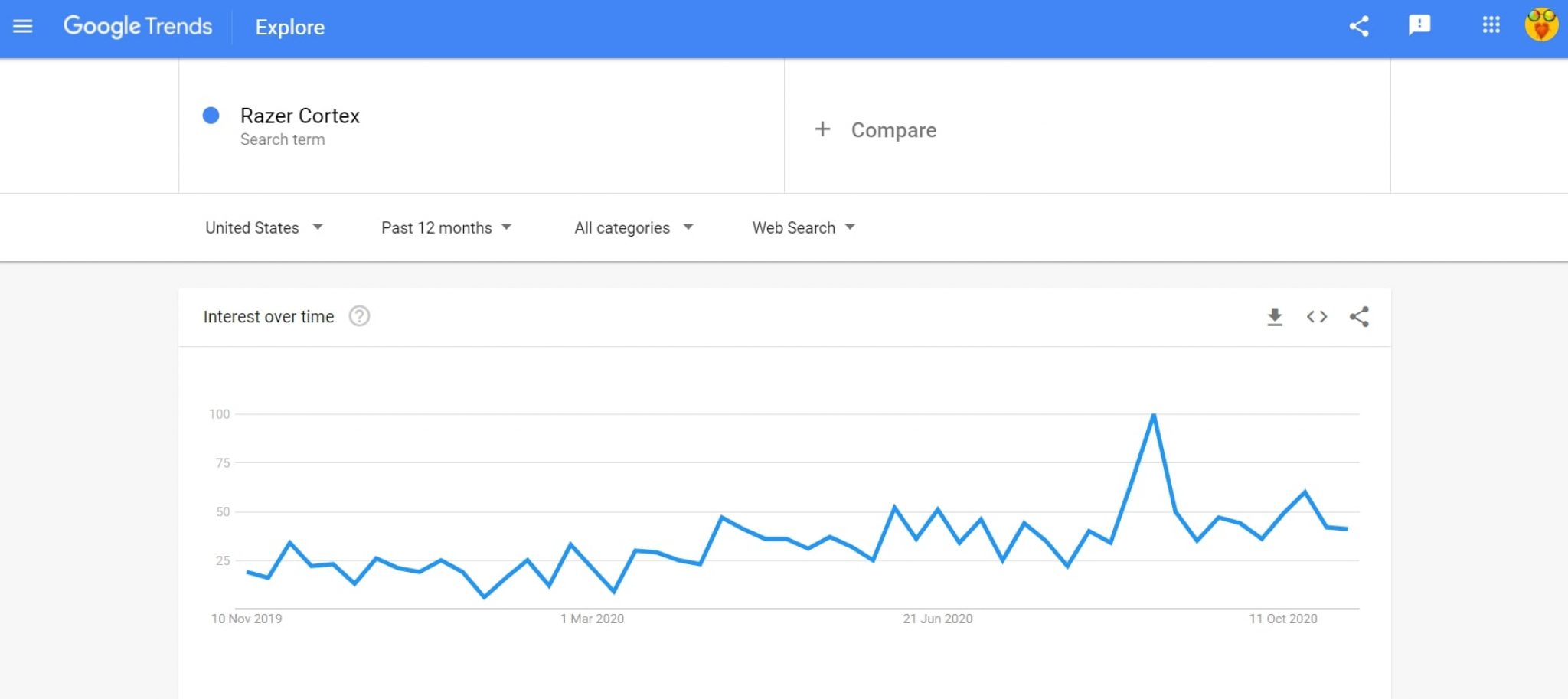 I decided to compare 'Razer Cortex' with its competitors such as 'Iobit Advanced SystemCare Pro' and 'Wise Care 365' to find out how interest in the different search terms compared against one another. The competition between 'Razer Cortex' and 'Advanced SystemCare' was quite close but the latter won the race by a slight margin and unsurprisingly so. While Razer Cortex is an excellent app, Advanced SystemCare offers much more and does not appeal to a specific niche of users, gamers in the case of Razer Cortex.
However, in the other competition, the average interest in 'Razer Cortex' was much higher than that in 'Wise Care 365'. This outcome is most likely due to the more frequent updates and better performance of Razer Cortex when compared to Wise Care 365.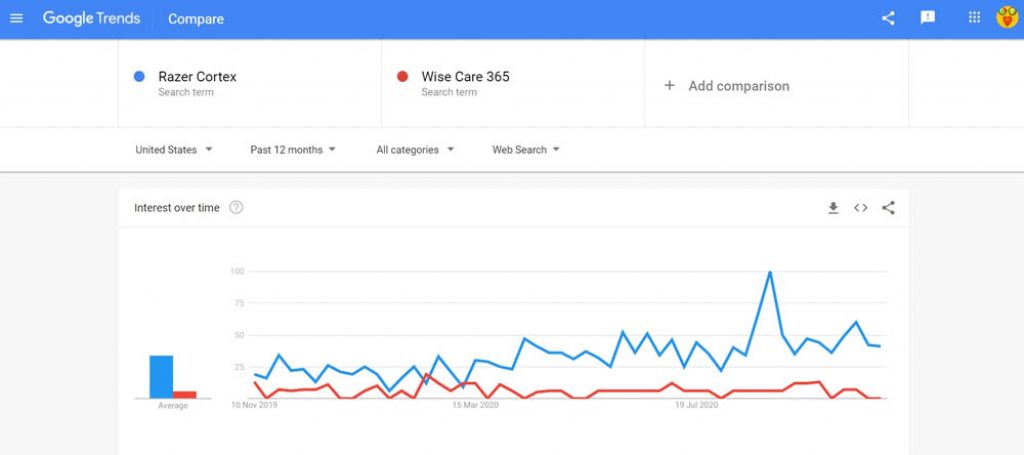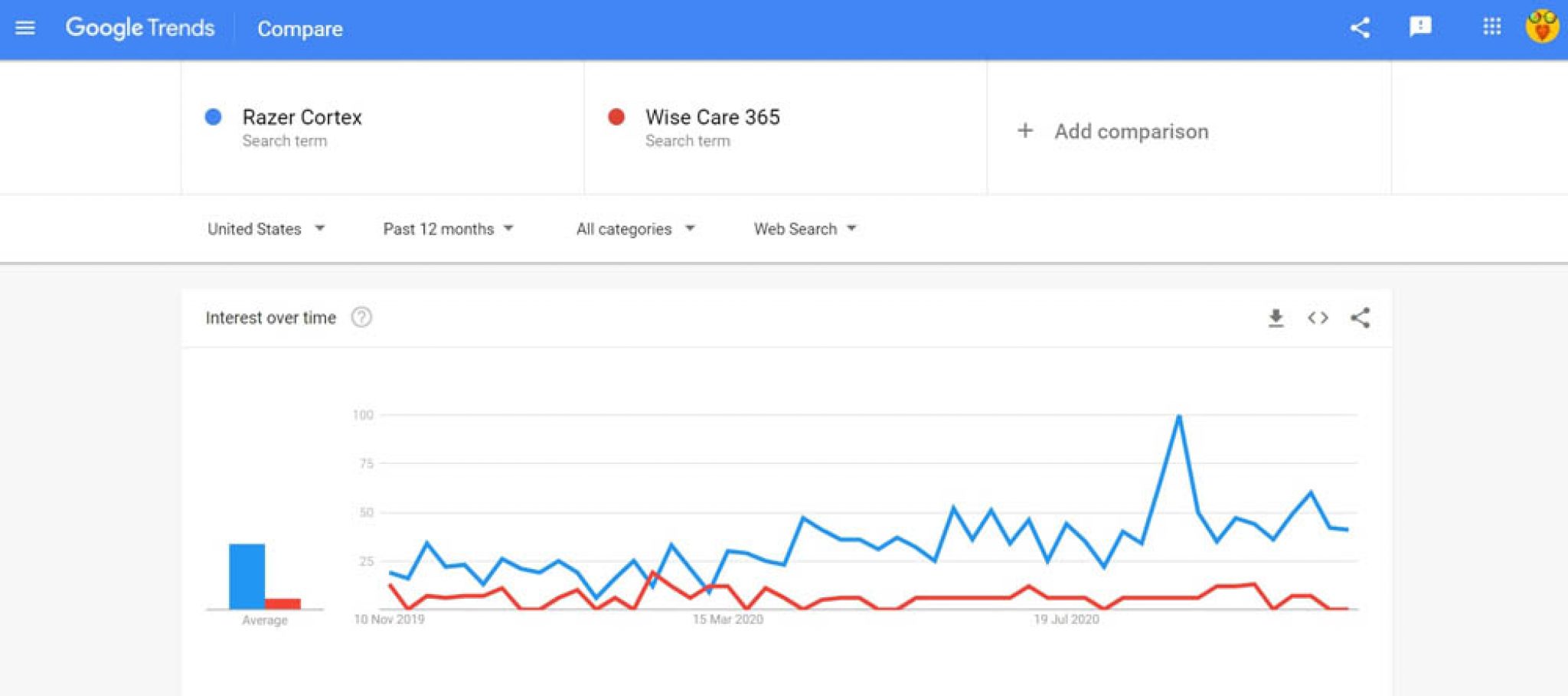 Razer Cortex: In the News
I checked several news sites to find out interesting information and any recent developments about Razer and its product, Razer Cortex. After browsing through several news sites, I found a few worth mentioning.
In April 2020, Razer launched a limited edition Pikachu-themed TWS earphones with the popularity of Pokémon and the growth of the TWS earphone market in mind. The charging case is a poke ball and the Razer logo behind the earbuds has been replaced with a Pikachu logo.
In other news, Razer is reportedly looking for banking license applications in the USA and Europe. The company-led consortium called Razer Youth Bank applied for a virtual bank license in Singapore at the start of 2020. In an interview with CNBC, Razer co-founder and CEO, Min-Liang Tan confirmed the speculation by saying, "Singapore is not the only jurisdiction we're looking at. We're also exploring in Europe; exploring in the U.S.". To know more check this review.
A surge in gaming demand, likely brought about by the sheer number of people confined to their homes due to the pandemic, has pushed Razer's revenue up by 25% in the first half of 2020. This sudden boost in revenue is also the likely reason behind the company's decision to set up a digital banking business. For further details on this, go to this research.
 Should You Use Razer Cortex Game Booster?
While the Razer Cortex is a capable app in and of itself, it still lacks many advanced features and some basic ones that tune-up apps tend to offer. Unless you are using a gaming computer or want to improve your gaming experience, then Razer Cortex may not be ideal for you. IObit Advanced SystemCare is a more comprehensive PC optimization program and it also has a free version. With a modern and easy-to-use UI similar to Razer Cortex, CCleaner Professional offers a better collection of features, both basic and advanced. AVG TuneUp with a smart and modern UI is also a capable PC tune-up tool akin to Razer Cortex but offers greater manual control and is ideal for beginners.

January 2023 Deal! 50% Off Razer Coupon Code (Sitewide)
50% Off Razer Coupon Code (Sitewide)