WinZip System Utilities Suite Review 2023: PC Optimization Program Ideal For Routine Maintenance
---
PROS:
Decent free version available
Smart and organized UI
Offers all-in-one maintenance and optimization
Includes useful features like Crash Helper and Driver Backup
CONS:
Disk Cleaner feature absent from the free version
Registered version costs more than some competitors

January 2023 Deal! 20% Off WinZip System Utilities Suite
20% Off WinZip System Utilities Suite
Untrusted programs blocking
Mansfield, Connecticut, USA
Windows Vista, 7, 8, and 10
FAQs, product-specific help, and support request form submission
$47.97 for 1 device / 1 year

WinZip System Utilities Suite: Features Overview
WinZip System Utilities does a comprehensive job of finding and removing temporary files, caches, cookies, broken data entries, and other unnecessary data taking up precious space in your computer. The software is capable of effectively cleaning the registry as well as the hard disks of your system to free up disk space and RAM.
The Startup Manager improves boot time and speeds up app launch by removing unnecessary or suspicious applications and programs that launch automatically at startup. By stopping unwanted programs from launching automatically at startup, the feature ensures that your computer boots faster so that you don't lose precious time at work.
System Utilities offers an Add-ons Manager that lets you manage browser add-ons as well remove them to improve your browsing experience. The software also cleans the junk files in your hard disks as well as browsers to free up space that leads to increased internet speeds and consecutively a smoother browsing experience.
WinZip's popular utility software not only cleans your registry but also defrags it to make it more efficient. The Registry Defrag removes gaps and broken entries as well as reorganizes scattered data to effectively optimize the registry. The Registry Cleaner precisely identifies and securely repairs hidden registry items to enhance speed and stability.
Just like any decent PC optimization tool, System Utilities also allows you to schedule scans, repairs, and maintenance tasks so that the software performs necessary actions as and when needed. WinZip's smart notifications are an added benefit that makes scheduling tasks easier and smoother.
With the WinZip System Utilities, you can explore, clean, and defrag your hard disks easily and quickly. The Disk Explorer analyzes and manages data stored on your hard disks to identify ways to improve PC performance and health. The Disk Cleaner, as the name suggests, cleans your hard disks by removing temporary files, junk data, or any other unnecessary data from your hard disks to free up disk space. The Disk Defrag tool is self-explanatory as it defrags your hard disk to free even more space for important files and necessary data.
This useful feature finds and replaces outdated or non-functional drivers in your PC with new and updated versions from the original manufacturer. This not only enhances PC performance but also provides improved security.
The Uninstall Manager locates and completely removes expired, unwanted, and suspicious programs and applications from your computer to ensure that your computer is not exposed to security threats. Removing outdated and unwanted applications also helps to free up disk space and improve overall PC health.
This unique feature is capable of decoding error messages and informing you of the reasons your system crashed or is crashing. It also finds solutions to system crashes and resolves them.
This tool locates and removes duplicate files to free up valuable space on your computer.
Customer support is limited when compared to some of its competitors, including Ashampoo, AVG, and IObit. WinZip offers FAQs and product-specific support on the support page. You can also reach out to the company's friendly support team by submitting a support request on the support page.
The WinZip System Utilities Suite costs $47.97 per year and includes a 30-day money-back guarantee

January 2023 Deal! 20% Off WinZip System Utilities Suite
20% Off WinZip System Utilities Suite
WinZip System Utilities Suite: Google Trends
Google Trends, a service by Google, analyzes the popularity of common search queries in Google across different regions and over various periods. The site displays the interest in entered keywords in the form of graphs that allow us to compare the interest in related search terms over the past 12 months and across the USA. I used Google Trends to compare the interests in such search terms as "WinZip", "Advanced SystemCare", and "Glary Utilities".
The interest in the term "WinZip" in the last 12 months has been below average yet consistent. Though the interest has been consistently below average it peaked only once sometime around May 2020 most likely due to the release of new versions of some of the company's products, including the WinZip Mac Pro, around the same time.
I also compared the interest in "WinZip" with that in "Advanced SystemCare" and "Glary Utilities" to find out the relative popularity of these search terms.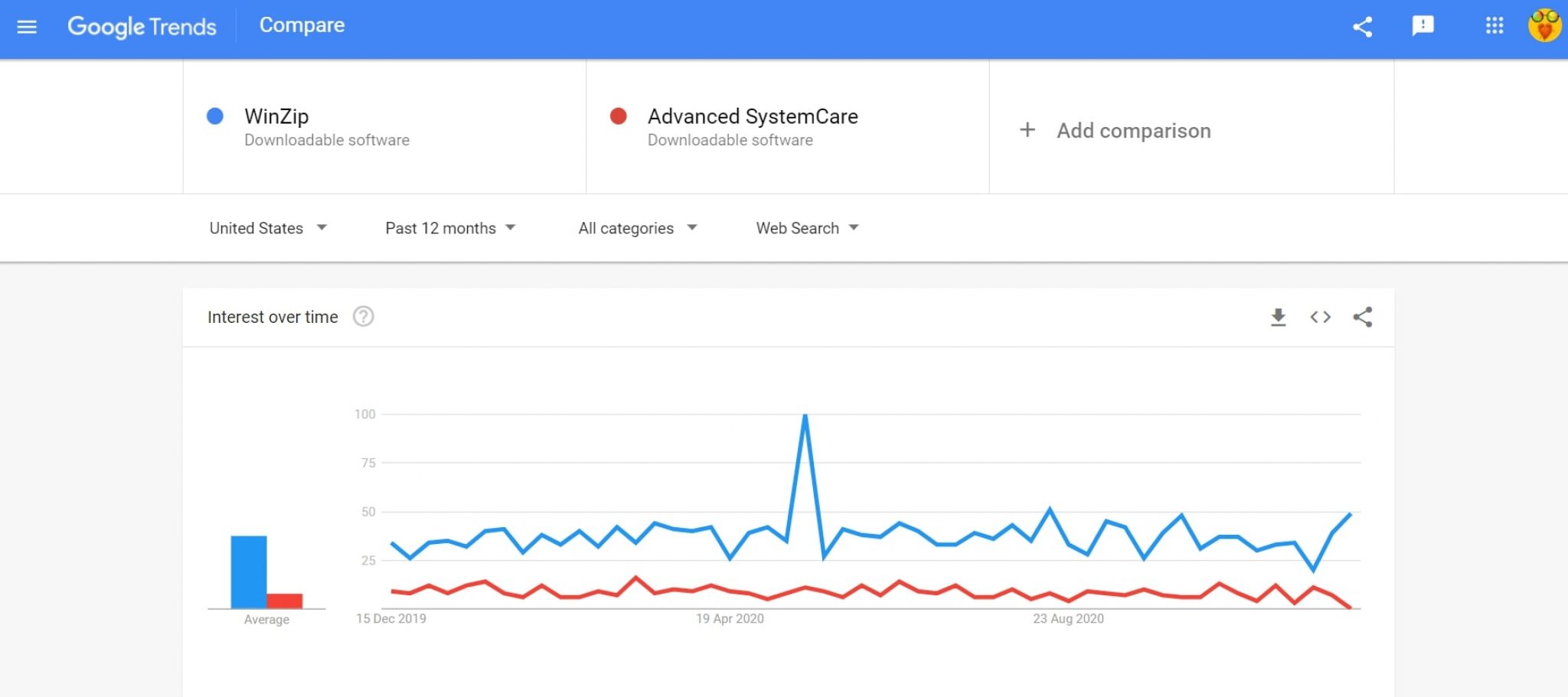 In both comparisons WinZip is the absolute winner, it beats Advanced SystemCare and Glary Utilities.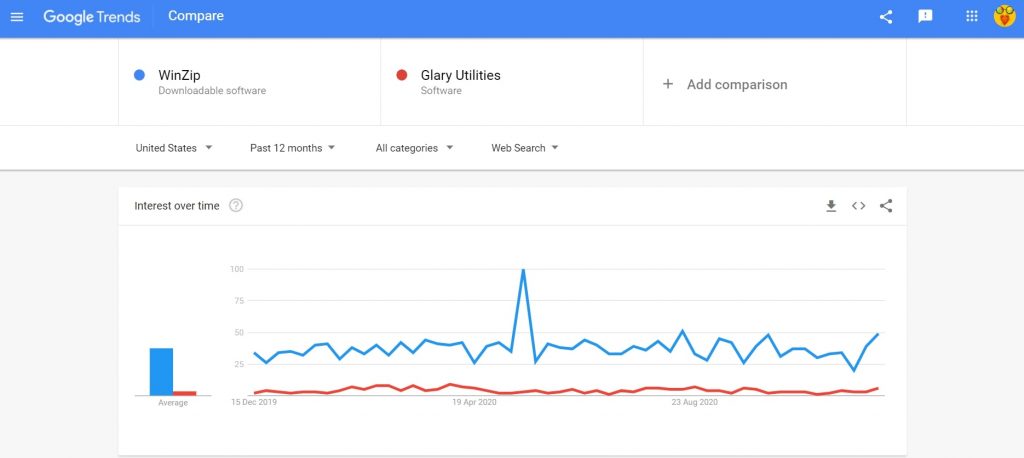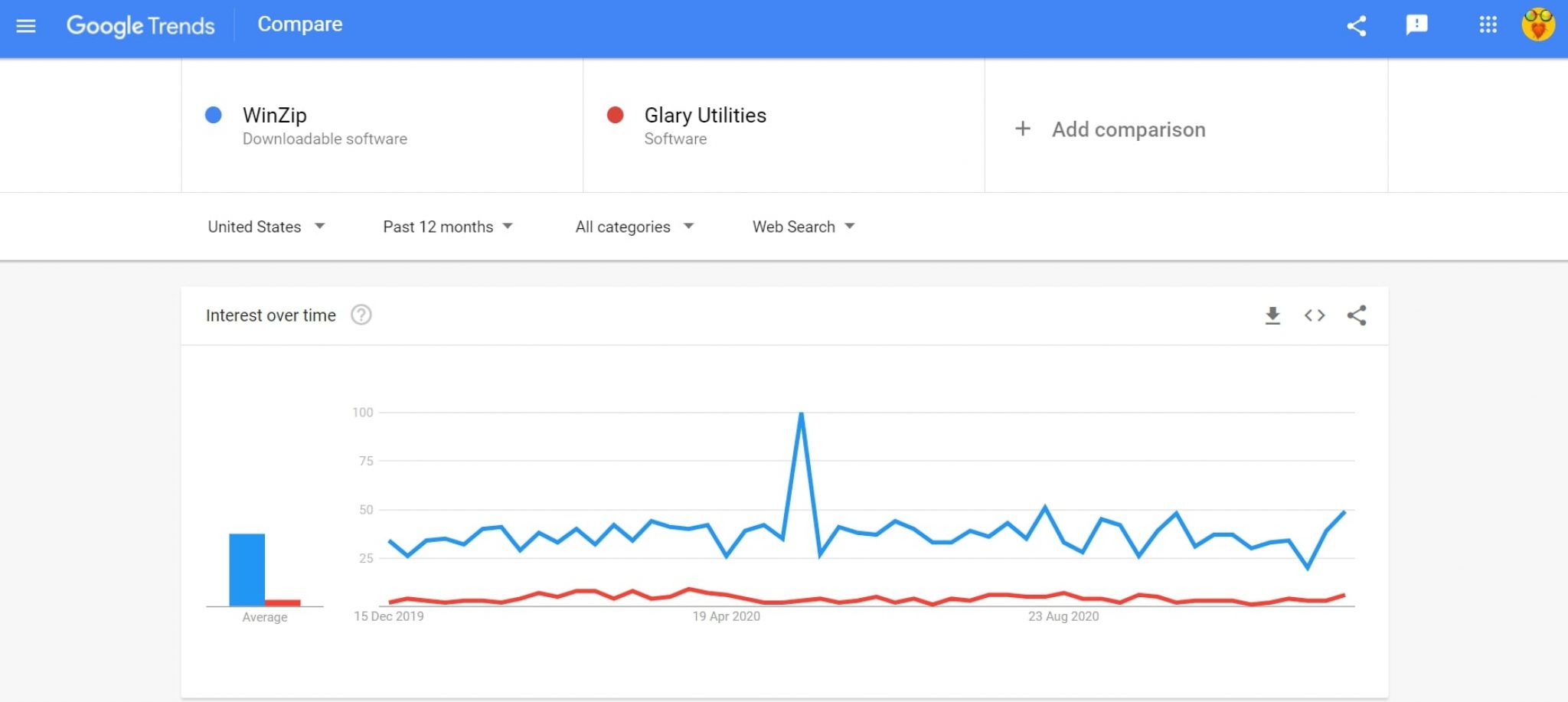 WinZip System Utilities Suite: User Feedback
General public feedback from users on social media and various community forums provide us an idea of the company and its products. WinZip has profiles on social media sites like Facebook and Twitter, among others. However, WinZip does not have as many followers as some of its competitors like IObit or Ashampoo. The company does posts regularly on its social media pages about new versions of its applications, helpful articles, and the latest updates about the company, among others, but there are limited user comments on its posts.
WinZip System Utilities Suite: User Review Sites Ratings
The scene on user review sites was not too encouraging either with only 20 reviews of the company on Trustpilot and none at all on SiteJabber. Trustpilot and SiteJabber are two prominent user review sites that host company or product reviews from verified real users. Reviews from verified users of a product help us to know the company and its products better and you to make an informed decision before settling for a particular company or product.
WinZip earned 1.6 out of 5 stars from the 20 user reviews on Trustpilot. The prominent issue that many users brought up was regarding the company's customer service, which according to most users was less than satisfactory. Several users complained about the lack of transparency and opined that the company was not as reliable as they expected such a popular and established company to be.
WinZip System Utilities Suite: In the News
News sites are great sources for credible information about a company and its products. Thus, I checked several news sites for recent news, latest updates, and interesting information about WinZip, and here is what I found and deemed as relevant.
In this article dated 1 September 2020, WinZip is reported to have introduced new productivity-improving techniques in the form of Microsoft teams integration, file comprehension, and PDF capabilities enhancement, among others, to offer secure solutions to individuals and businesses for the organization, management, and sharing of files. You can read more on this review.
The next article is about the WinZip Mac 10 Pro and its ability to boost productivity, simplify file sharing, and ease backup. The latest version reportedly adds WinZip Backups, improves. Zipx compression, supports macOS Dark Mode, and more. To find out more about the latest release and the new additions as well as improved tools that you can expect from it, go to this article.
Overall, WinZip System Utilities is a capable tool with several useful features built into a smart and easy-to-use user interface. The software efficiently cleans your PC, repairs system issues, and regularly maintains the system to keep your PC running at optimal levels. Furthermore, the System Utilities software includes several unique tools such as a Crash Helper, Process Library, System Information, and Driver Updater, among others. At first glance, the software may look daunting for new users but WinZip offers helpful suggestions and the software lets users know about the benefits and effects of certain features. However, the WinZip System Utilities Suite does lack some privacy and security features like untrusted programs blocking and email protection that IObit Advanced SystemCare offers at a much lower annual price.

January 2023 Deal! 20% Off WinZip System Utilities Suite
20% Off WinZip System Utilities Suite