Glary Utilities PRO 5 Review 2023: A Simple PC Care Solution With Deep Scanning Capabilities
Glarysoft is popular for its reliable, powerful, and easy-to-use programs that enhance the performance of PC and keeps them running smoothly for a long time. In addition to improving performance, the company's various products are also capable of ensuring personal and professional security, providing tools to maintain optimal performance, and updating installed software in PCs. Glarysoft's Glary Utilities PRO 5 is a popular system utility applicationthat has been widely used and recommended by countless users globally.
---
PROS:
Attractive and clean UI
Easy to understand and use
One-click optimization
Integrated driver updater
Untrusted programs blocking
Windows XP up to Windows 10
Help tutorials and FAQs. Agent support via live chat, phone, or email. 24/7 technical support
$39.95 for 3 devices / 1 year

Glary Utilities PRO 5: Features Overview
Glary Utilities PRO 5 does a convincing job cleaning your PC thoroughly by removing unwanted junk, temporary files, caches, and more but does not provide detailed descriptions regarding why you should remove certain data and how you might benefit from it. The program can find duplicate files and folders as well as empty folders and remove them to free up space on your PC.
The Startup Manager manages programs that automatically launch during startup and lets you turn off unnecessary programs to improve boot speed and reduce startup time.
This is an all-in-one option that optimizes your PC by engaging all the tools at the software's disposal. This is a quick and easy way to perform all optimization and cleaning functions at once.
The software monitors your PC and optimizes it in the background to free up valuable disk space and RAM in your system. This feature speeds up app and game launch times considerably.
As the name suggests, this feature effectively cleans your registry by getting rid of broken entries and other irrelevant data. Not only does Glary Utilities PRO 5 cleans your registry but also defrags it if required and creates a backup so that you can restore any necessary data that you or the software may have deleted accidentally.
As with most standard PC utility programs Glary Utilities PRO 5 also lets you schedule cleaning and maintenance tasks. The software automatically runs cleaning and optimization tasks in the background at the scheduled time.
Glary Utilities PRO 5 backs up, restores, and updates drivers in your PC for you.
This software not only defrags your hard disks to speed up your PC but also the Windows registry. While Windows 10 makes registry defrag redundant, it is still a useful tool that some users may find worth having in a utility program.
The File Undelete feature lets you recover files that you have accidentally deleted. Glary Utilities PRO 5 also offers a File Shredder that permanently erases all traces of files so that deleted files cannot be recovered from your system. Furthermore, there is a File Encrypter and Decrypter that protects your files by preventing unauthorized access to them.
This feature scans your system for new versions of the installed software on your PC and lets you know as soon as a new version is available so that you can update your installed software.
Glarysoft provides customer support via comprehensive FAQs, help tutorials, and 24/7 technical support. There are also options for online support via email and online feedback via webforms.
An annual subscription of Glary Utilities PRO currently costs $39.95 and one license can be used on 3 PCs. The renewal price is also $39.95 as of now and is subject to change at the behest of the company. Glarysoft also offers a 90-day money-back guarantee.
 Glary Utilities Pro 5: Google Trends
Google Trends is an analytical website that studies the popularity of search terms and displays the interest in specific search terms in the form of line graphs. The graphs provide a general idea of the popularity of search terms over a specific period and in a specific region. In this case, I used Google Trends to study the interest in search terms like "Glarysoft", "Glary Utilities", "Wise Care 365", and "AVG PC TuneUp".
The first graph shows the interest in "Glarysoft" in the USA over the past 12 months. While the interest at the start of 2020 was quite high and even peaked twice within just three months, it dipped sharply thereafter. For a period of about 5 months from March to July 2020, the interest was consistently average. Currently, the graph is predicting a sharp increase in interest in the coming weeks.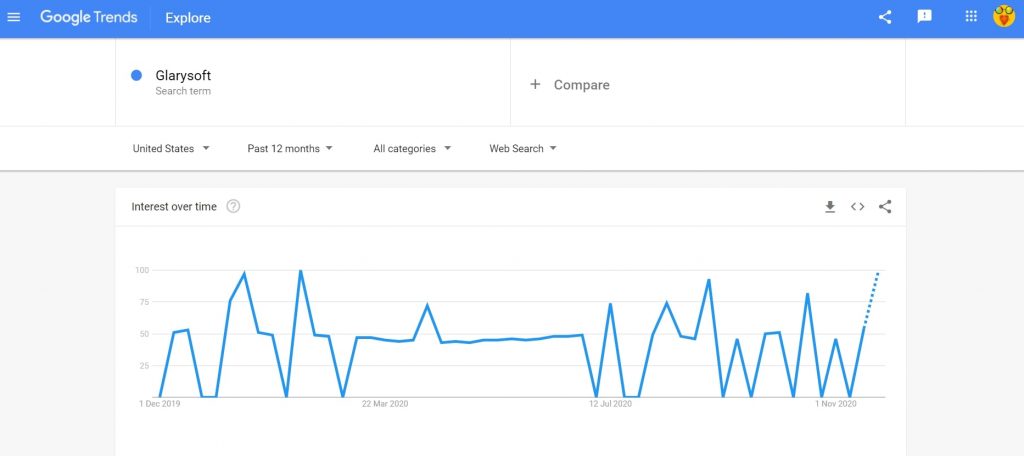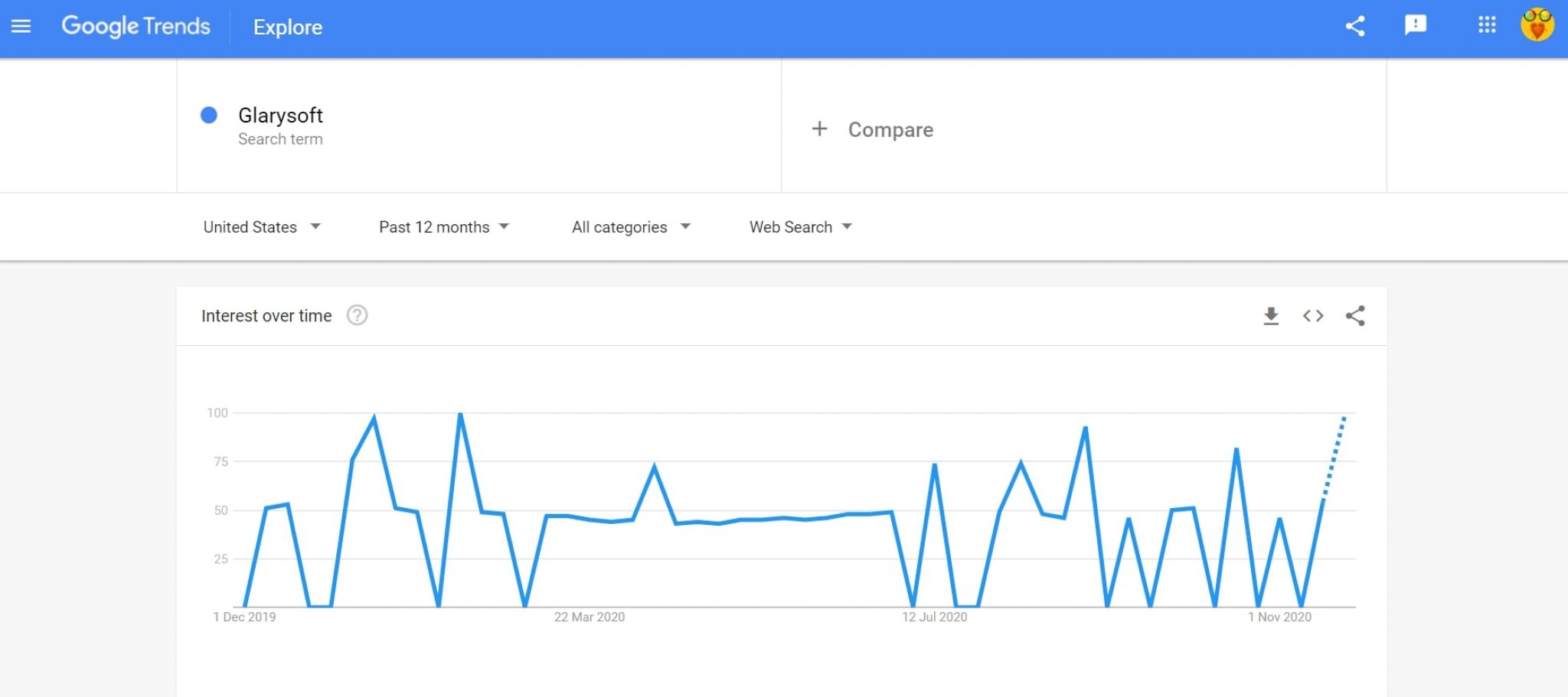 The interest in "Glary Utilities" was consistent throughout the past 12 months and remained mostly higher than average. The graph peaked twice, once in early 2020 and then again about a month back. However, the interest dipped slightly during October and November 2020 but is on the verge of recovery with the graph predicting a sharp rise in interest in the next few weeks.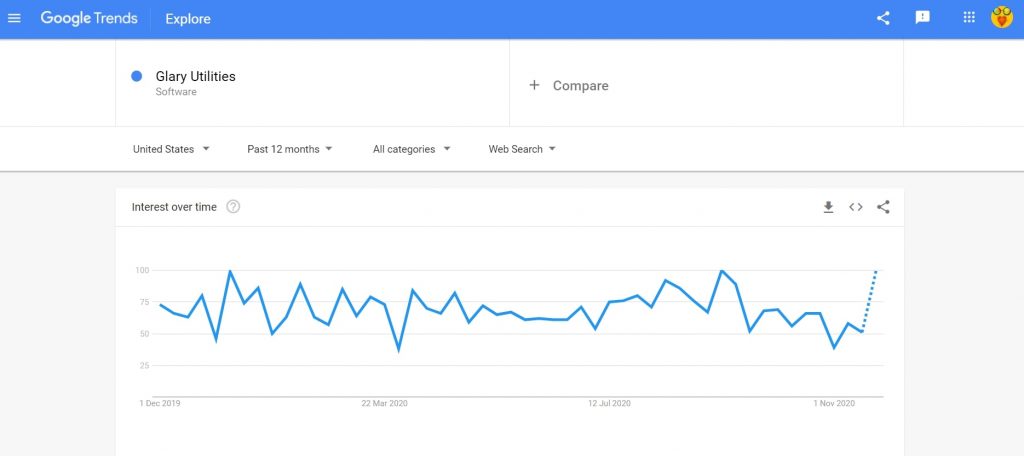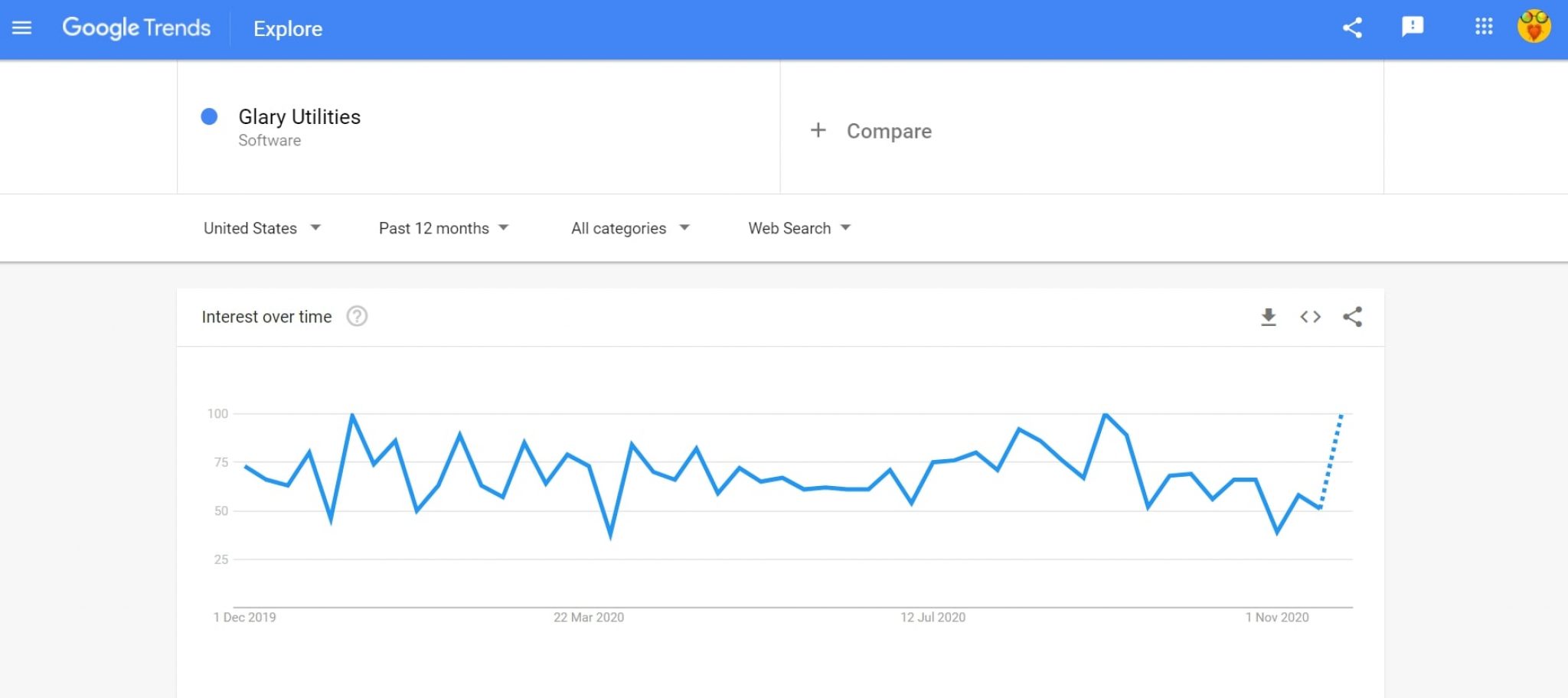 I compared "Glary Utilities" with two of its closest competitors, namely "Wise Care 365" and "AVG PC TuneUp". The comparison between "Glary Utilities" and "Wise Care 365" was a no-contest as the former comfortably secured the win with a much higher average interest courtesy a more consistent interest than the latter through the past 12 months in the USA.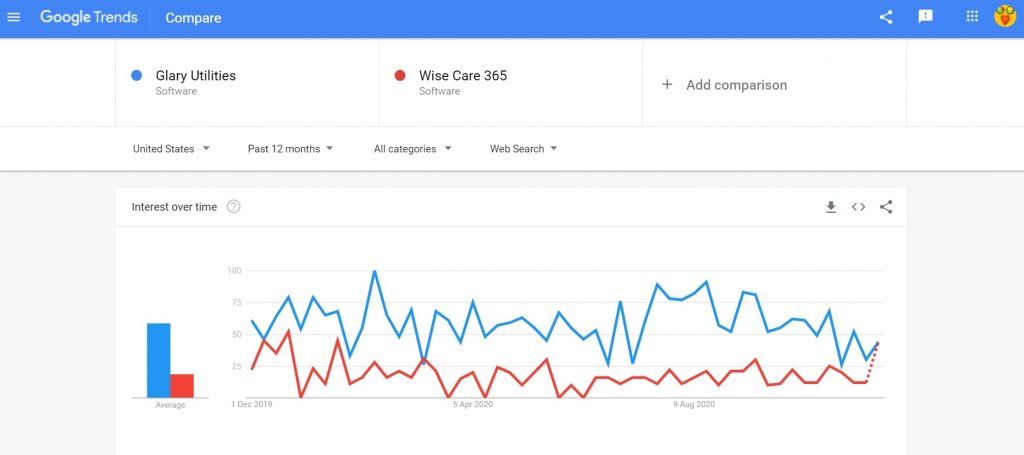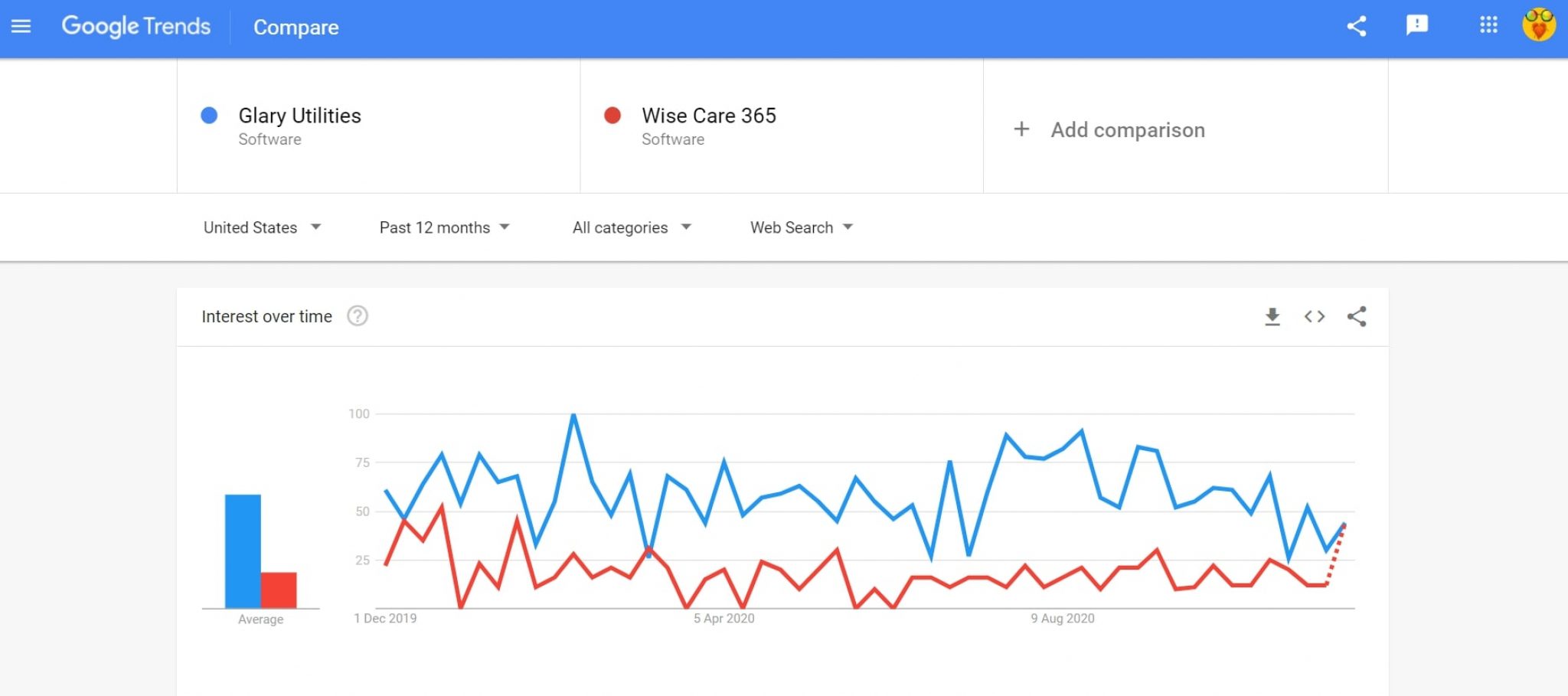 The contest between "Glary Utilities" and "AVG PC TuneUp" was much closer with the latter having a higher average interest than the former.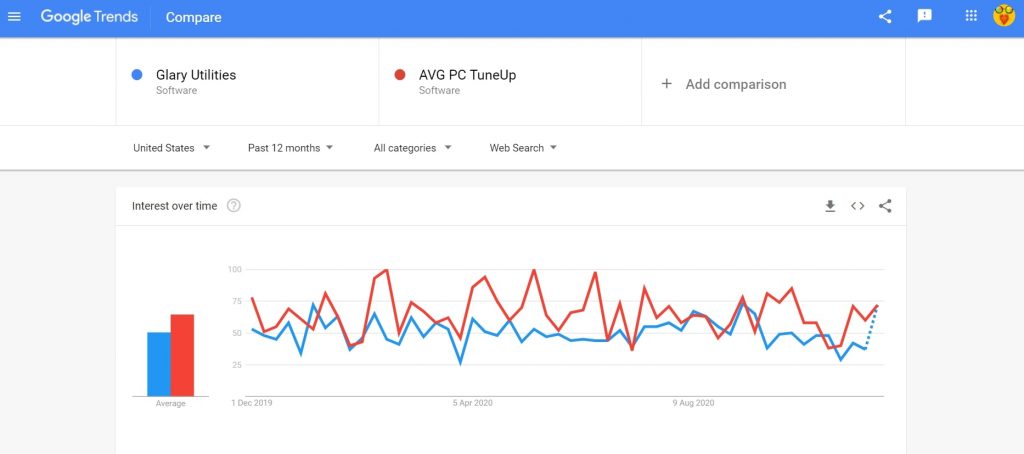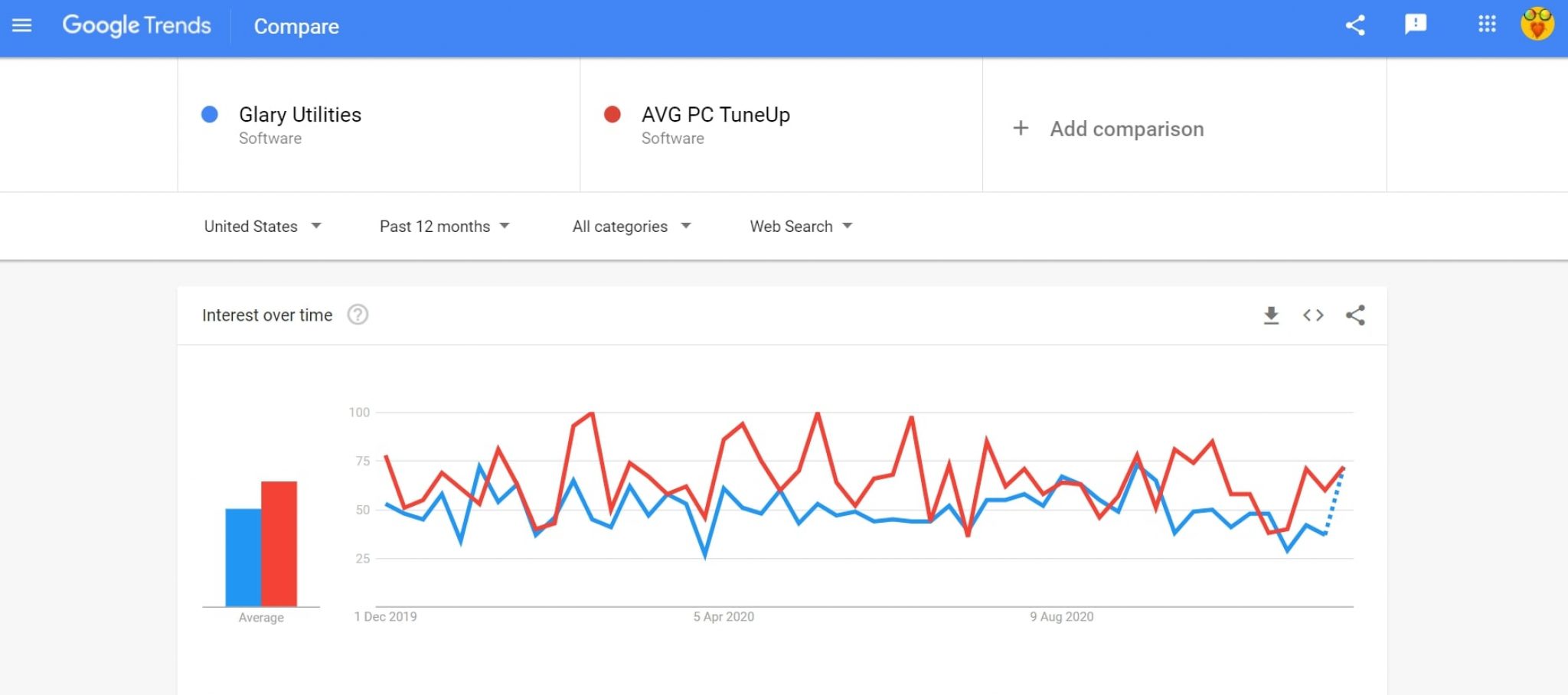 Glary Utilities Pro 5: User Feedback
Public feedback on social media gives us a fair idea about the popularity of a company and its products. Feedback from the general public is important to make informed decisions before deciding which product to purchase or from which company to purchase a particular product.
In this case, Glarysoft has social media profiles on Facebook and Twitter but lacks the sheer volume of followers that more popular companies like IObit and Auslogics boast of. The company's social media pages on Facebook and Twitter has over 122K and 1K followers, respectively. Glarysoft posts quite often on its social media pages about new updates and the latest releases. However, there is a lack of sufficient user feedback through comments to make a conclusive statement.
I also checked several forums related to PC utility and optimization but did not come across any relevant user feedback either for or against the Glarysoft or Glary Utilities PRO.
 Glary Utilities Pro 5: User Review Sites Ratings
If you cannot make up your mind from general public feedback on social media or there is a lack of the same, as in the case of Glarysoft, then real user reviews on review websites such as Trustpilot and SiteJabber provide unbiased opinions about a company and its products. To better understand how Glarysoft and Glary Utilities PRO fared in the eyes of real users who have used either this product or other products from GlarySoft, I checked Trustpilot and SiteJabber.
On the popular review site Trustpilot, there was only 1 review of Glarysoft and the company earned 3.7 out of 5 stars from the sole review. The sole review rated the Glary Utilities PRO as excellent and claimed that it was an all in one utility application.
On SiteJabber there were just 4 user reviews of the company and it scored 2 out of 5 stars. The positive review dubbed the program above average and slightly better than general utility programs. Another reviewer claimed that Glary Utilities is quite useful in finding and deleting duplicate folders that Windows 10 is quite fond of creating. However, the negative reviewers believed that using such a utility program was not worth the price and risks it entails.
 Glary Utilities Pro 5: In the News
News sites are full of news articles that offer a lot of interesting trivia and insights into a company and its products. Checking the news regarding the latest developments, positive or negative, of a company is especially useful when purchasing utility programs like Glary Utility PRO. Thus, I checked several news sites to find out more about Glarysoft and its popular utility program. Unfortunately, there was not much to find, and here is the only relevant article that I found and deemed worth mentioning.
In this article in The Guardian, the author answers a common public query on whether Windows 10 users still need PC tuning software and lists the best tune-up programs to use on Windows PCs. While the author opines that the advancement brought on by Windows 10 makes using tune-up programs redundant, he also mentions that these programs can still be useful and goes on to list a few tune-up and optimization programs, including Glarysoft's Glary Utilities PRO review.
Overall, Glary Utilities PRO 5 is a capable PC utility and optimization program that efficiently repairs, cleans, and optimizes your Windows PC but lacks some advanced features, including some security and privacy features, that some of its competitors, such as IObit Advanced SystemCare and AVG PC TuneUp, offers. It is an all-in-one program that lets you optimize, clean, and maintain your PC with just one click. However, the interface may feel cluttered at times, especially for beginners and the software does lack detailed descriptions of its features and tools. Nonetheless, the Glary Utilities PRO 5 is quite a capable program that effectively accomplishes what it was designed to accomplish.
PROS
Considerably improves system performance
Quality customer support via FAQs, agents, and 24/7 technical support
Free version available
CONS
Scans are sometimes slow
Lacks in-depth feature descriptions
Add your review
|
Read reviews and comments