Wise Care 365 Pro 2023: An All-In-One Solution For Windows PC Cleaning, Optimization and Privacy
Arguably the most popular among WiseCleaner's collection of products is the Wise Care 365, an all-in-one product that offers performance enhancement, data security, privacy, and utility at the same time. The company's software supports over twenty languages, including Dutch, English, French, Germany, Italian, Japanese, Spanish, and more. Currently, the company is working towards becoming the foremost PC utility software provider and is setting up a retail system complete with a support network so that it can provide the best possible service to its countless customers worldwide.
---
PROS:
Auto system clean in silent mode
Sleek UI that is easy to navigate
Fast scan and defragmentation speed
Comes with a portable app version
CONS:
The free version has limited capabilities
No email protection
Untrusted programs blocking
Windows XP up to Windows 10
FAQs, online help document, video tutorials, forum, user guide, 24/7 email support, and premium technical support
$29.95 for 1 year for 3 PCs

November 2023 Deal! 80% Off Wise Care 365 Pro (1 year subscription / 3 PCs)
80% Off Wise Care 365 Pro (1 year subscription / 3 PCs)
 How to Make Your Windows Computer Run Faster For Free With Wise Care 365?
Wise Care 365 Pro: Features Overview
The Wise Care 365 Pro includes a comprehensive PC cleaner feature that enables your PC to provide peak performance by freeing up valuable space in the registry and hard drive. It can clean temporary files, cached files, cookies, broken registry entries, invalid shortcuts in your system. The PC cleanup can also scan the whole system and clean files with specific extensions as well as clean browsers such as Chrome, Edge, Explorer, Firefox, Opera, and Safari, among others.
This tool manages the programs that run in the background during startup and remove any unnecessary programs that may consume system resources or reduce boot speed. This not only reduces boot time to make your computer start faster but also improves launch times of other programs on your computer.
3
 System Monitoring Utility
The system monitor keeps an eye on all important information, including the list of all the processes running at any time and hardware components. You can shut down any process to make your PC run faster and smoother.
Wise Care 365 Pro protects your privacy and sensitive data in your PC from prying eyes. This feature includes a privacy eraser, disk eraser, and disk shredder. While privacy eraser deletes browsing history and accessed files to keep your computer operation private, the disk eraser third-party applications from retrieving deleted data. Disk shredder removes files from your hard disks so that they cannot be recovered.
This feature not only cleans your registry comprehensively but also automatically backs up your registry before cleaning so that you don't lose important registry data during cleaning and can restore the registry if needed. The software also prevents any unwanted changes to the registry.
Schedule cleaning as per your convenience and Wise Care 365 takes care of the rest. The software auto cleans at scheduled times in silent mode in the background so that you can carry on with your work even as your PC is cleaned.
With real-time system monitoring and protection you can prevent unpermitted changes to the start-up, system, and browser settings. It monitors the health and performance of your PC in real-time and keeps you informed so that you can take prompt actions if and when required.
Wise Care 365 Pro can defrag both your PC's registry and hard drive to prevent them from becoming cluttered over time. Defragmentation keeps the registry and hard drive organized so that your computer gains speed and stability.
Among the numerous utilities is the data recovery tool that allows you to recover files that you may have permanently deleted from your system by mistake.
The Wise Care not only automatically updates to the latest version but also includes a software updater that informs you and updates, if you choose to do so, other programs and applications in your PC that need to be updated.
The customer support page of WiseCleaner is quite helpful and contains useful FAQs that contain answers to the most common issues you might face. There are video tutorials and a user guide that may be helpful for beginners. However, if you find yourself in need of technical assistance then Wise Care 365 Pro includes 24/7 premium technical support that is prompt and efficient.
A one year license of Wise Care 365 Pro costs $29.95 and you will be able to use it on up to 3 PCs. There is a free version available but it lacks many features that you get with the paid version. Accepted payment methods include PayPal and major credit cards like Visa, American Express, Discover, Mastercard, and more. The company also offers a 60-day money-back guarantee.

November 2023 Deal! 80% Off Wise Care 365 Pro (1 year subscription / 3 PCs)
80% Off Wise Care 365 Pro (1 year subscription / 3 PCs)
Wise Care 365 Pro: User Review Sites Ratings
Ratings on user review websites are crucial to understanding the effectiveness of any product, even more so for such utility programs as Wise Care 365. I visited review sites like Trustpilot and SiteJabber to find out whether and how the software impacted the PC performance of real users.
On Trustpilot, there were just 6 reviews of WiseCleaner and the company scored 3.7 out of 5. The reviews were mostly positive with only a couple of exceptions. The positive reviews complimented the company on designing a clean and capable program that effectively does what it was built to do. One user praised the cleaning capability of the software and its system maintenance feature in particular. Among the couple of complaints, one seemed unfounded and written out of spite while the other was more in the lines of a confused query than a complaint.
SiteJabber had one less review of WiseCleaner than Trustpilot. The company earned 2.6 stars out of a maximum of 5 on this review site. Users on this site found the software easy to use and install with results ranging from average to excellent. Some users claimed that the program itself did not take up much space on their PC and consumed negligible system resources.
Wise Care 365 Pro: Users' Feedback
WiseCleaner has profiles on Facebook, Twitter, and YouTube with a fairly substantial following on these social media platforms. I checked out the company's social media activity and interactions with its followers to gauge its impact on the public and how social media users rate the company's products, especially the Wise Care 365 Pro.
With 26K and 2K followers on Facebook and Twitter respectively, WiseCleaner has a decent social media following, though not as much as IObit or CCleaner. User interaction on its social media channels was limited to mostly general comments and occasional grievances or compliments. There was not much resource to draw a conclusive idea about the company but I noticed that the company posted on its social media profiles regularly.
 Wise Care 365 Pro: Google Trends
Google Trends is ananalytical program that charts the interest over time on specific search terms in the form of line graphs. I used Google Trends to compare keywords like "Wise Care 365", "Auslogics BoostSpeed", and "Ashampoo WinOptimizer". All results are over the past 12 months in the USA.
Interest in "Wise Care 365" started quite low during this time last year and even dipped to its lowest point during December 2019. However, it recovered drastically to touch its peak during February 2020. Since then the interest in the search term has been inconsistent with the graph moving back and forth about the average mark. As of October 2020, interest in the software is dipping possibly due to the ongoing pandemic.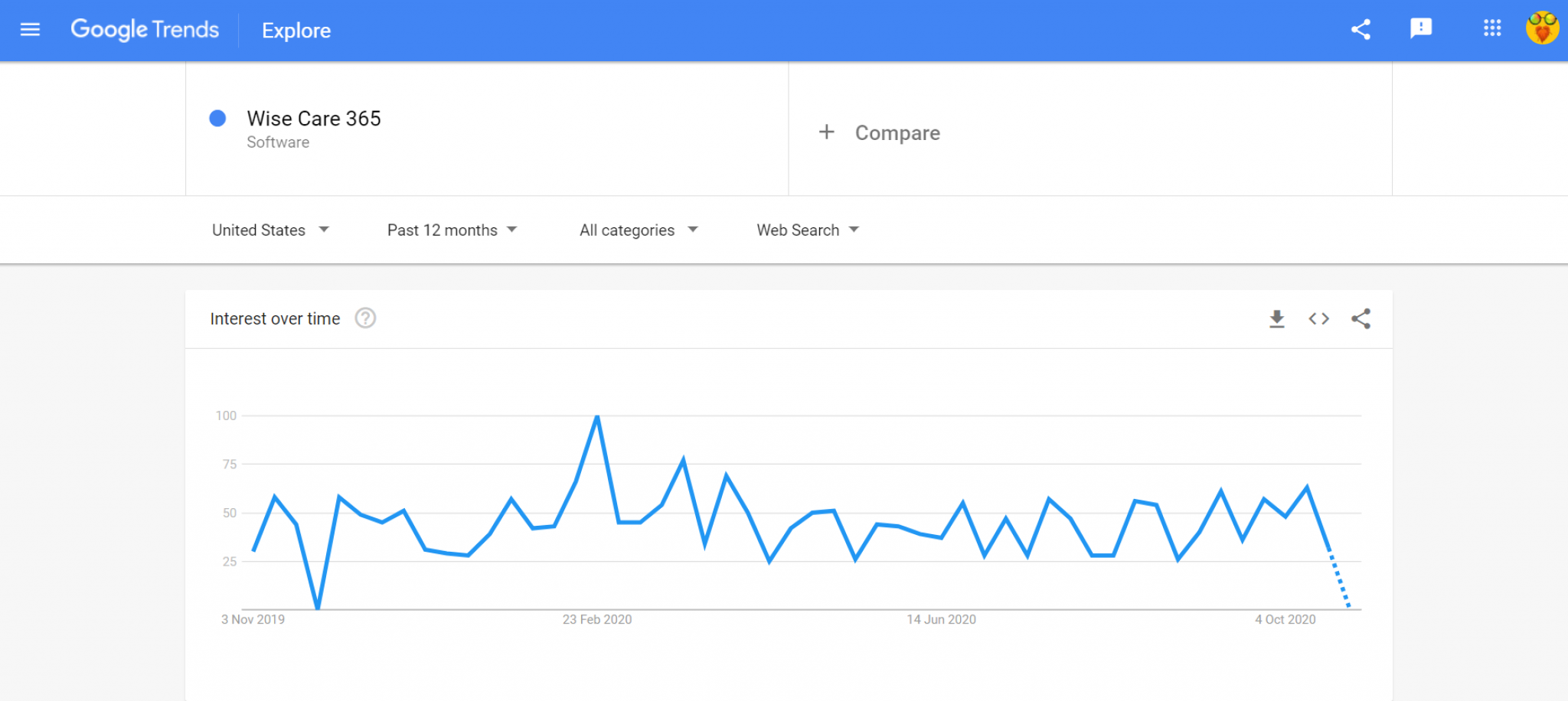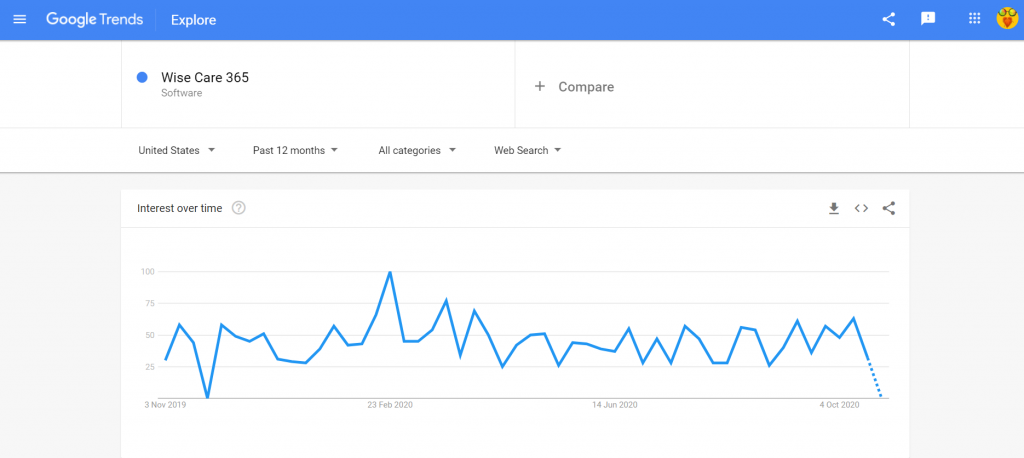 The search term "Wise Care 365 review" yielded a result that can be best described as spikes on a tabletop. Interest in this particular keyword was either high, reaching its peak sometime around May 2020, or nil. There is not much to write here as the graph itself is self-explanatory.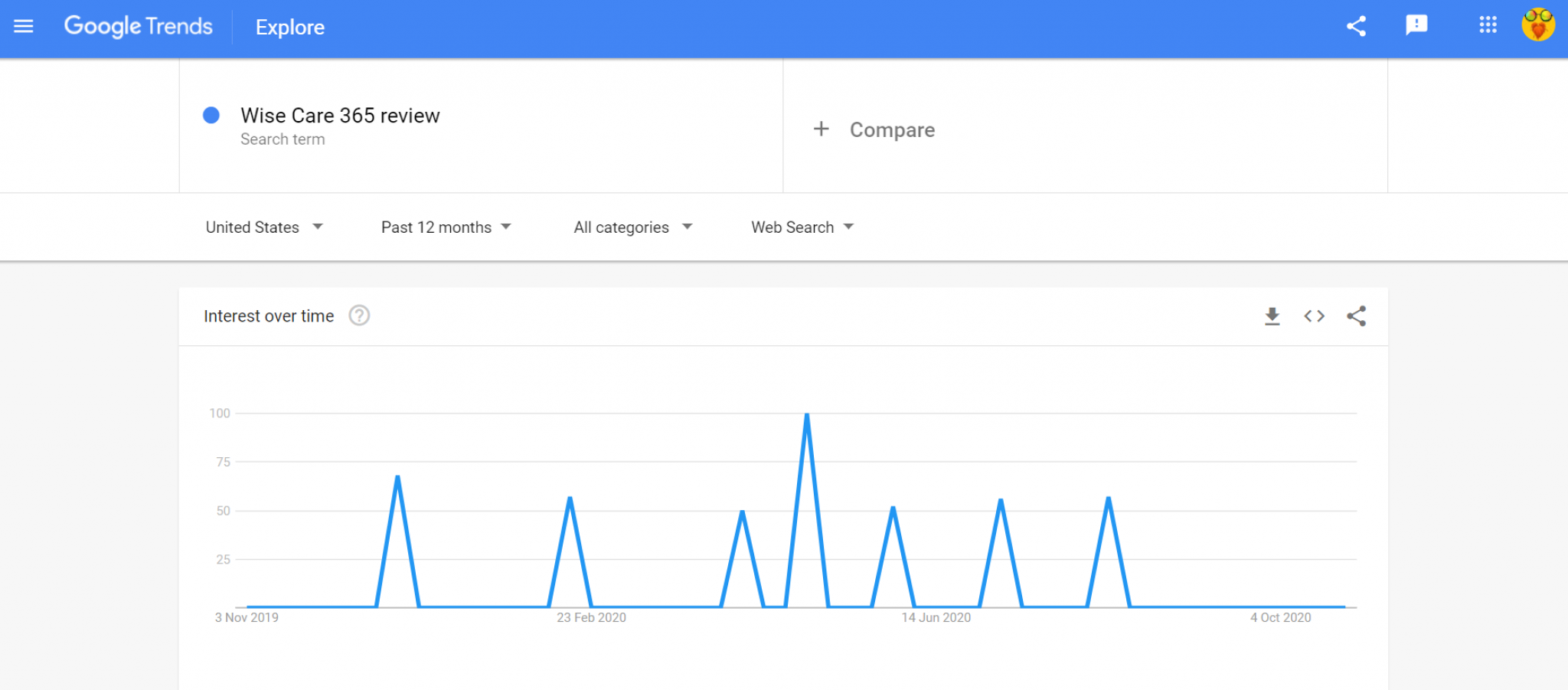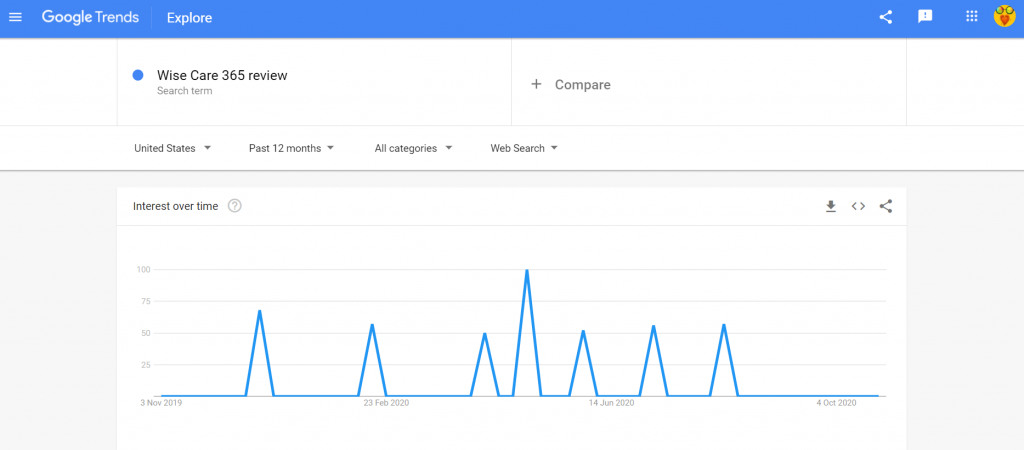 When I compared "Wise Care 365" with its competitors, namely "Auslogics BoostSpeed" and "Ashampoo WinOptimizer", Wise Care came out on top in both cases. While competition between Wise Care and Auslogics was neck and neck, that between Wise Care and Ashampoo was a no-contest. The average interest in Wise Care was higher than both its competitors.
However, it is worth noting that current interest in all three search terms is on the wane.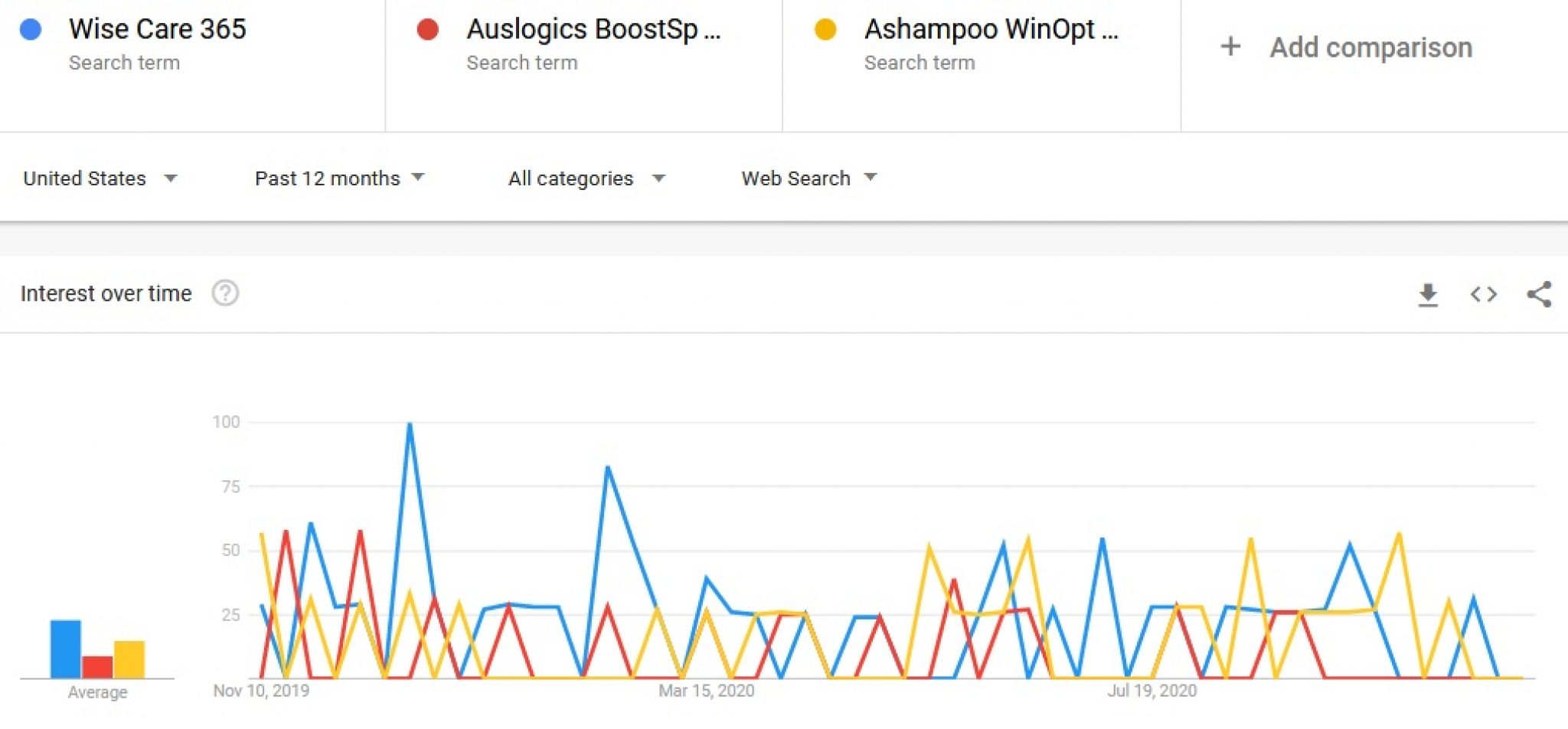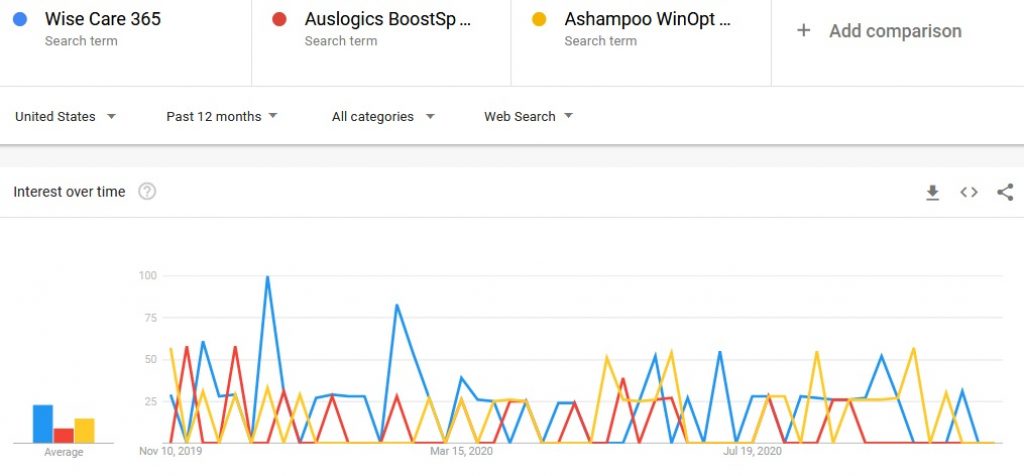 Wise Care 365 Pro: In the News
Recent news of a company and its products give us an in-depth view of the company and how it is faring. News sites are a great place to find out about the launch of the latest versions and updates. Thus, I visited news sites to gather interesting information about WiseCleaner and Wise Care 365, and here is what I found.
In the midst of the raging pandemic, miscreants on the internet created a phony website that looked similar to the WiseCleaner website to catch unsuspecting users off guard. It infected your system and held your files ransom for a certain amount in bitcoin. WiseCleaner took note of this incident and released a press release to warn and notify users of the debacle. The Wise Care 365 Pro is a good addition to your privacy protection armory to prevent you from falling prey to such cases. Read more in this review.
While CCleaner Professional Plsu has become a household name it comes with its fair share of apprehensions, the most vital among them being the ghost of security and privacy issues of the past that still looms large over the reputation of the program. Wise Care is quite similar to CCleaner in more ways than one but with none of the security concerns that the latter brings. To know why the subject of this review trumps over CCleaner go to this article.
Wise Care 365 Pro is an efficient and trustworthy app with plenty of useful features that are enough to improve your computer's overall performance. outstanding and as always reliable. I found it to be light on my system and it did improve my browsing experience. The premium technical support was excellent and the scheduled cleaning worked like clockwork. However, it does lack some of the numerous features that Advanced SystemCare offers at a much lesser price but is much more capable than the popular CCleaner with none of its security issues. I would suggest you try the free version first before upgrading to or going for the Pro version of Wise Care Pro to understand whether it improves your PC's performance.

November 2023 Deal! 80% Off Wise Care 365 Pro (1 year subscription / 3 PCs)
80% Off Wise Care 365 Pro (1 year subscription / 3 PCs)