Drmare Spotify Music Converter Review 2023: Designed Perfectly For Downloading And Converting Media From Spotify
The DRmare Spotify Music Converter is a digital audio conversion tool that allows users to remove DRM encryptions from media files on Spotify, download songs from the app, and convert them to six popular output formats without loss in audio quality. The software also lets users enjoy millions of songs offline without subscribing to Spotify Premium. Furthermore, the program converts at 5X speed, is easy to use, and offers batch downloads. DRmare also offers lifetime free 24/7 support and upgrade on purchasing the DRmare Spotify Music Converter.
---
PROS:
Supports a wide range of popular audio formats
Offers 14 bit rate options from 8 kbps up to 320 kbps
100% lossless conversion and 5X conversion speed
Batch download available
Free lifetime updates and 24/7 support
CONS:
No built-in music player
Batch conversion is limited to 100 files at a time

September 2023 Deal! 20% Off DRmare Spotify Music Converter
September 2023 Deal! 20% Off DRmare Spotify Music Converter
A Video Guide How to Download Music from Spotify to Computer?
Drmare Spotify Music Converter Features Overview
Spotify uses a special technology known as DRM Protection to prevent users from downloading the tracks on its servers for free. DRmare Spotify Music Converter is capable of removing this DRM Protection and allows you to download Spotify tracks without hassle.
The software works as an OGG music converter and lets you download all OGG Vorbis music tracks, albums, artists, playlists, audiobooks, and podcasts for free from Spotify. Spotify stores media files in the OGG Vorbis format which is not supported by the most commonly used music players. DRmare Spotify Music Converter converts Spotify media to high-quality MP3 and other popular audio formats.
3
 Supports Multiple Output Formats
DRmare Spotify Music Converter is capable of converting Spotify music files from the OGG Vorbis format to MP3, AAC, M4A, M4B, WAV, and FLAC. In addition to these 6 output formats, the software offers 6 sample rate options from 8000 Hz to 48000 Hz and 14 bit rate options from 8kbps to 320kbps. The 6 output formats supported by the software are widely popular and supported by almost all music players.
4
 100% Lossless Conversion
DRmare Spotify Music Converter uses an advanced accelerating processor and decrypting core to download audio files from Spotify while maintaining 100% audio quality. Thus, you will get high-quality audio that is as good as Spotify's original audio. Furthermore, DRmare claims that its software can download 5X speed. When I tested DRmare's claim of lossless conversion I did not notice any audible loss in quality. However, the speed of download will depend on the speed of your internet connection. Nonetheless, the software is surprisingly fast.
The software is also capable of preserving ID3 tags and all metadata of the original tracks in the converted files, including artist, album data, genre, title, year, and more.
DRmare Spotify Music Converter allows you to download music in batches with the help of the batch automatic downloading technology. Batch downloading music tracks, playlists, albums, and audiobooks saves time and effort. If any track cannot be downloaded or converted, the software automatically skips those tracks and continues with the download. However, when I added music tracks for batch download, I noticed that batch download is limited to 100 files at a time.
Since the software can convert Spotify audio files to the most commonly used audio formats, you can download Spotify media on to almost all devices, including MP3 players, PCs, smartphones, home theaters, car stereo, and more, to listen offline.
8
 Audio Parameters and Music Library Management
DRmare Spotify Music Converter allows you to customize the output audio quality by modifying the various audio parameters such as bit rate, sample rate, audio channel, and codec, among others. The software also lets you categorize your playlist by artist, album, genre, or more.
9
 Lifetime Support and Upgrade
DRmare offers free lifetime upgrade and 24/7 support with the Single and Family license packs.
Google Trends is a search term analysis website by Google that analyzes popular search terms on Google and plots graphs of the interest in such terms in a specific region over a specific period. I used Google Trends to study the interest in search terms related to DRmare and DRmare Spotify Music Converter in the USA and over the past 12 months.
On searching with "DRmare", the graph showed a fluctuating interest over time with several highs and lows. The interest in the search term peaked towards the end of December 2019 but since then has barely crossed the average mark. Sudden spurts in interest now and then signify an inconsistent interest in the search term over time.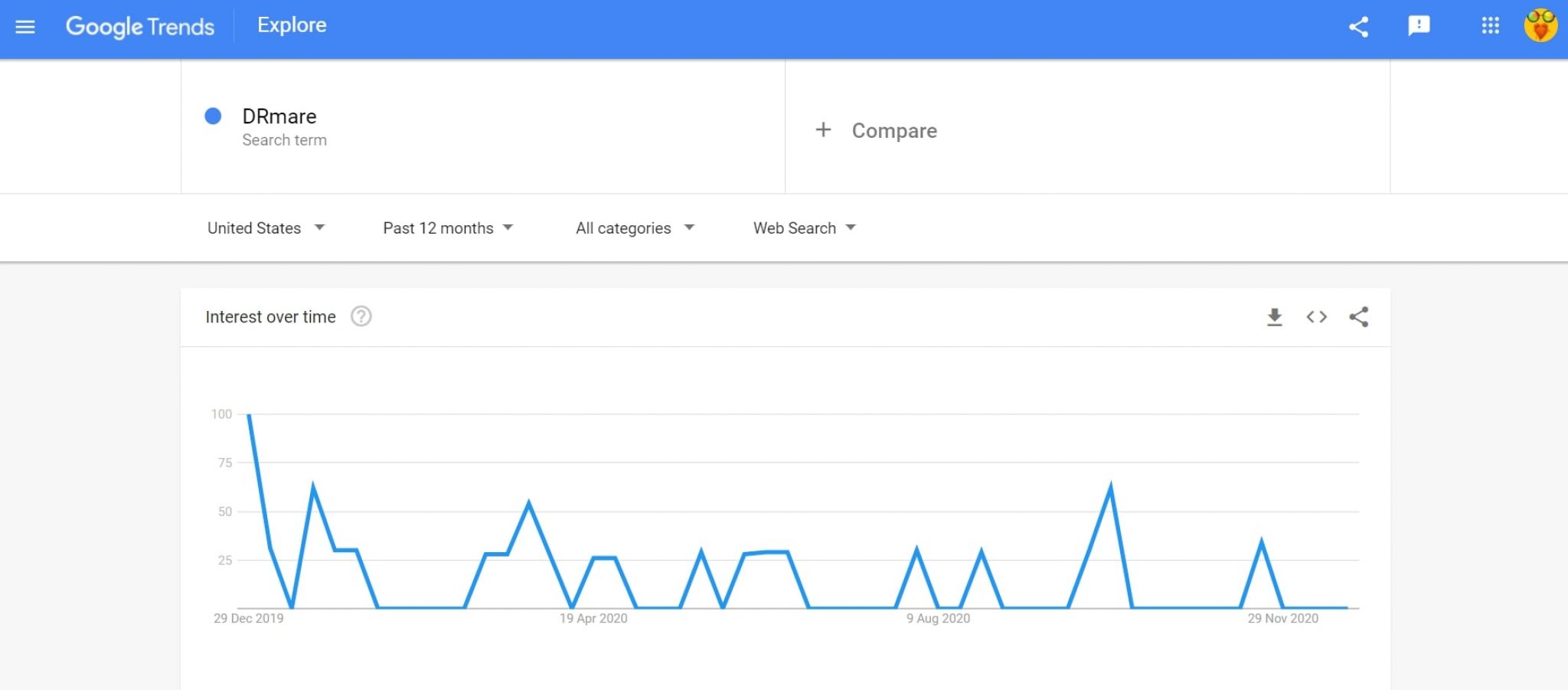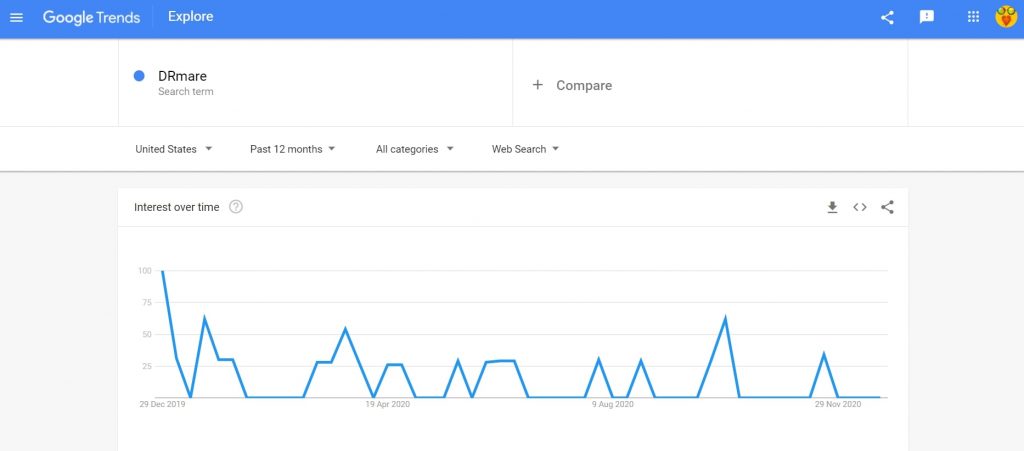 The search for "DRmare Spotify Music Converter" returned no result possibly because the product is quite young and hasn't reached the number of users necessary to be recognized as a popular search term by Google Trends.
The impact of social media on online purchases is quite high as social media abound with reviews of various companies and their products. Thus, social media is a good place to start when looking for user feedback on a particular company and its products. DRmare has pages on social media platforms like Facebook, Pinterest, Twitter, and YouTube. I checked the company's Facebook and Twitter to know how the public opinion of DRmare and DRmare Music Converter.
The company is relatively new to social media and has very few followers. It has just over 500 followers on Facebook and only 23 followers on Twitter. With such a limited following, the public feedback was expectedly low. While DRmare posts regularly on its social media pages, there were no public comments on its posts. The posts vary from version updates, product announcements, product advertisements, guides, and other helpful articles.
With social media drawing a blank, I turned my attention to user review sites like Trustpilot and SiteJabber. These two sites are known and trusted for the reviews of companies by real users. I went through both these sites to find out how real users rated and what they thought of DRmare.
On Trustpilot, DRmare earned a decent score of 3.5 out of 5 stars from 8 reviews. Several users praised the speed and effectiveness of the Spotify Music Converter and claimed it was the best music converter they had used. The ease of use of the software was also praised by more than one user. While one user complained about the quality of the converted audio files, another warned about the company's refund policy and advised other users to read the fine print carefully.
On SiteJabber, there were only 6 reviews of the company but it earned 4.33 stars out of 5. Approximately 75% of the reviews were positive with DRmare Spotify Music Converter again earning praise for the speed of conversion and lossless audio quality.
It is evident from the handful of user reviews on Trustpilot and SiteJabber that the DRmare Music Converter is a great tool for Spotify users who do not want to switch to Premium membership. According to users on both these sites, the software is fast and does a quality job of converting audio files from Spotify.
News sites are ideal places to find out about the latest developments of a company and its products. I visited several news sites and searched Google News to find out more about DRmare and its Spotify Music Converter. However, there was a lack of worthwhile news of the company and its software most likely because the DRmare Spotify Music Converter is relatively new to the market as compared to some of its more popular competitors.
Overall, DRmare Spotify Music Converter is an excellent application for downloading and converting media from Spotify without loss in audio quality. The numerous features offered by DRmare, including 100% lossless audio, ID3 tags, batch conversion, 5X speed, music library customization, and audio parameter management. With such impressive features and efficient performance, DRmare Spotify Music Converter, in my opinion, is among the top three music converters currently available. The only other music converter that can offer strong competition to DRmare is the TunesKit Music Converter.

September 2023 Deal! 20% Off DRmare Spotify Music Converter
September 2023 Deal! 20% Off DRmare Spotify Music Converter