Hola VPN Review 2023: Remastered VPN You Can Trust
PROS:
Free version available
No ads in the free version
Unblocks Netflix, Amazon Prime Video, HBO, Hulu, YouTube, and more
Connects up to 10 devices with 1 license
CONS:
Torrenting is not allowed
Windows, macOS, Android, iOS, Chrome, Firefox, Opera, Smart TVs, gaming consoles, and routers
 Hola VPN Features Overview
Hola VPN's parent company Hola Networks Limited is based out of Israel, a country that is not part of the 5/9/14 Eyes alliance. However, the country is known to cooperate with the alliance. CyberGhost is headquartered in Romania, which is not part of the 14 Eyes countries, and is therefore not obligated to share any user information.
According to Hola VPN privacy policy the company doesn't collect and store any personal information. I have found the following info regarding their logging policy.
We have a no logs policy for Hola Premium and Ultra Subscribers. We do not track nor store logs of your activity, including no logging of browsing history, traffic destination, data content, or DNS queries.
Yes. Hola VPN supports "Kill Switch" in Premium and Ultra subscriptions.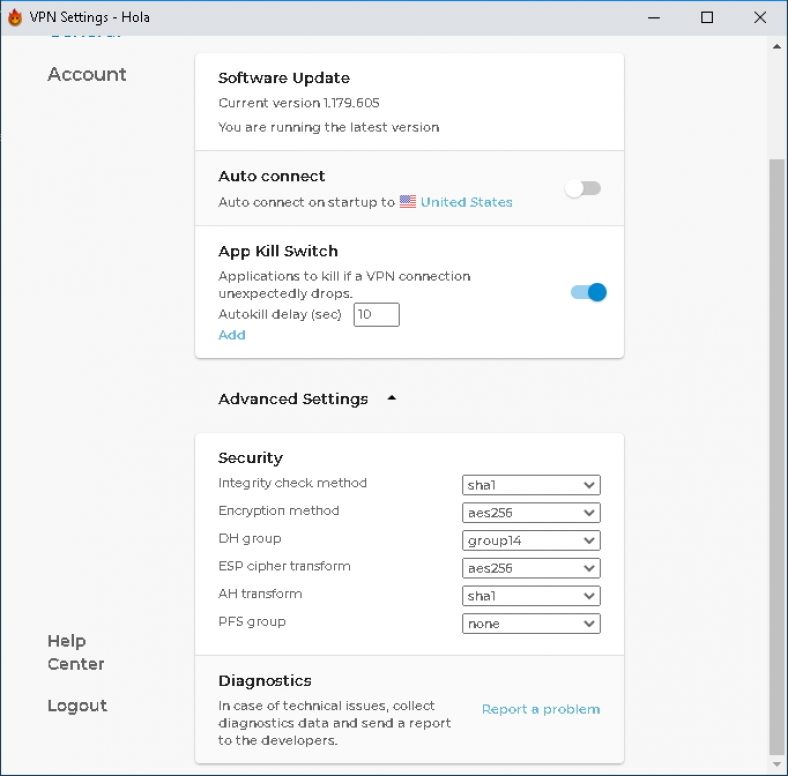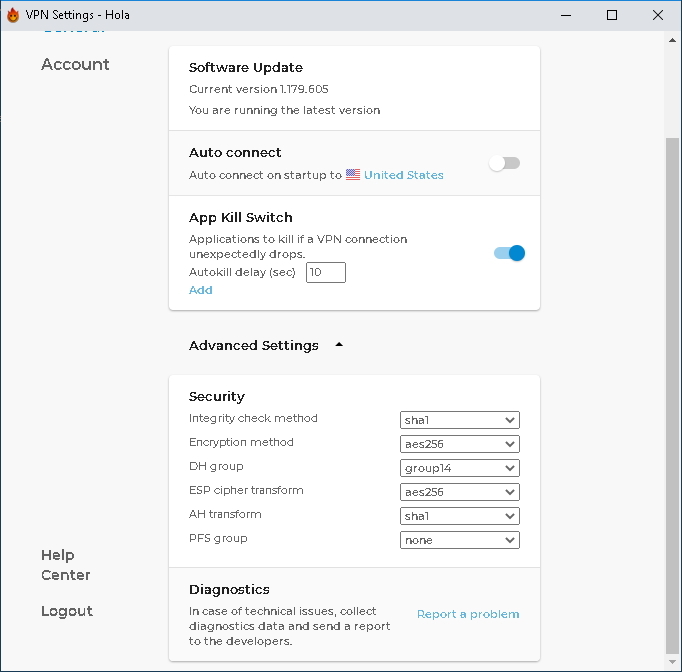 The free version of the Hola VPN sacrifices encryption to offer great speed. However, the lack of encryption makes your internet traffic vulnerable to prying and possibly hackers. The Hola VPN Premium, however, offers AES-128/192/256 encryption. While the default encryption is AES-256, you can change it to AES-128 or AES-192 encryption according to your needs. Hola offers IKEv2/IPSec, PPTP, and L2TP connection protocols, which is the standard. If you are looking for a VPN with robust encryption then ExpressVPN is a good choice as it offers military-grade AES-256 encryption.
Connectivity is where the Hola VPN shines. With a single Hola VPN Premium license, users can connect up to 10 devices simultaneously. The Hola Ultra allows up to 20 simultaneous connections with a single license. Furthermore, Hola VPN supports the most commonly used operating systems, including Windows, macOS, iOS, and Android. Hola also supports browser extensions such as Chrome, Firefox, and Edge. However, support for smart TVs, gaming consoles, and routers come with the Hola Premium VPN.
Hola VPN covers close to 200 countries but the actual number of servers worldwide is undisclosed. According to the Pricing page of the Hola VPN's website, customers can access about 500 servers with the Free version, about 1000 servers with the premium version, and close to 1500 servers with the ultra version. In comparison, CyberGhost VPN has an extensive network of nearly 7000 servers worldwide, while HMA VPN offers over 1100 server locations and NordVPN offers 5500 global servers.
Hola does not allow the use of BitTorrent on its network and blocks all Torrent traffic. This is not good news for Torrent users. Most other popular VPN apps are Torrent friendly and some even offer dedicated servers for P2P file-sharing.
Hola VPN Premium claims to unblock content on several geo-restricted streaming platforms, including Netflix, BBC iPlayer, Hulu, HBO, Prime Video, and YouTube, among others. In our tests, the Hola Premium was able to unblock geo-restricted content on BBC iPlayer and YouTube quite well. When it came to Netflix, Hola was able to stream Netflix US once during the tests but failed to do so again afterward. Streaming giants like Netflix and HBO use advanced detection tools to keep out VPNs, proxies, and other unblocking applications. The speed while streaming was consistent and the experience was pleasant.
Downloading and installing the Hola VPN is as easy as it gets. Simply, go to Hola's website and click on 'Get Hola' to download it for free. Once downloaded, install and run it to use the Hola VPN to mask your internet connection.
If you have purchased the Hola Premium or Ultra then install the application on your device and enter the user id and key or password sent to you via email to use the paid versions. The Windows version of the Hola VPN lacks an actual app and runs through a browser window instead. Hola launches straight away and requires no additional configuration. It connects to the most suitable server based on your location and lets you change the server location as well.
If you want to unlock geo-blocked content on Netflix or BBC iPlayer, then connect to the servers of the particular country you want to access the contents of.
There are next to no settings or customizability on the Hola VPN apps making it an ideal VPN app for beginners and novices. Amateur users will find the simplicity of the product enticing but advanced users will not like the limited capabilities of the Hola VPN.
 Hola VPN Servers Speed Test
Hola unsurprisingly offers excellent speed as is evident from the screenshots below of the speed tests I conducted on speedtest.net with and without a VPN. The download and upload speed of my connection without a VPN were 24.89 Mbps and 14.23 Mbps, respectively. The latency was 33 ms.

On connecting to Hola VPN, I first connected to a server in the UK. The download and upload speeds on this server were impressive at 20.11 Mbps and 12 Mbps, respectively. The download speed dropped by just 19%, while the upload speed dropped by 18.5% only. Browsing was smooth and I did not notice any substantial difference in speed of browsing or video loading as compared to my internet connection without the VPN.


Next, I connected to an Amsterdam server and got a download speed of 18.52 Mbps. The upload speed dropped substantially to 8.36 Mbps and the latency rose sharply to 192 ms. While both the download and upload speeds decreased significantly, activities like browsing and playing videos were still enjoyable without lags.


The latency on the USA server dropped dramatically to 23 ms but that could not save the download and upload speeds as they fell to 16.09 Mbps and 5.34 Mbps, respectively. Browsing on this server was not as fast or smooth as that on the Amsterdam or UK server. Playing videos on YouTube suffered slightly with videos taking some time to load at the start.


Finally, I connected to the Hong Kong server to find out how fast Hola VPN is when connected halfway across the world. Expectedly, the download speed dropped to just 9.69 Mbps, about 60% less than the speed of my connection without VPN, while the upload speed decreased to 8.70 Mbps. Latency was a mere 8 ms and the upload speed on this server was higher than that on the USA server.

Overall, Hola offeres great speeds on most of the servers, especially the ones nearest to me. It is common knowledge that the speeds drop on connecting to servers far away. The farther the server, the greater will be the drop in download and upload speeds. However, Hola, by dint of its peer-to-peer tunneling nature, offered consistently fast speeds and a smooth browsing experience while connected to one of its servers.
 Trying to Find How Reputable Is Hola VPN
The reputation of a company and its products can be judged by the public chatter on social media sites and forums. To find out the general public feedback of Hola and the Hola VPN apps, I visited the company's social media profiles on Facebook and Twitter as well as some community forums.
Hola has over 26K Facebook followers and just over 4K followers on Twitter. Though it is fairly active on its social media pages and posts regularly, its posts comprise mostly images, videos, and occasional reward announcement with a visible lack of helpful articles or guides related to VPNs. User comments on its posts and pages were limited to mostly troubleshooting and the occasional comment regarding a slow server or impressive speed.
Overall, it was hard to judge the company's or its product's reputation based on the limited public feedback I came across on its social media pages and public forums.
Review sites such as Trustpilot, SiteJabber, and The VPN Lab host real user reviews of companies and their products. Real user reviews provide an unbiased look at a company and its products, which helps us to make well-informed decisions while purchasing a VPN.
On Trustpilot, Hola earned an impressive 4.6 out of 5 stars from 589 reviews and was rated as excellent by 87% of users. Numerous users praised Hola VPN for the speed of its servers and the unrestricted access it offers to international websites, including access to geo-restricted content on OTT platforms such as Netflix, HBO, and Prime Video, among others. Several users also pointed out that Hola has servers in a wide variety of locations and offers considerable coverage via its widespread network.
Among the criticisms, was the lack of support for Torrent, its pitiful customer service, and the fact that the Hola Free VPN is hindered by its glaring limitations that include, among others, the absence of encryption and a kill switch in the free version.
The VPN Lab rated Hola VPN 7 out of 10 and 3 out of 5 stars based on 10 customer reviews. While several users were content with the features and efficiency they got from purchasing the Hola Premium, a fair few users complained about the company's dubious logging policy and the fact that Hola VPN does not support TOR browser or Torrent.
Google Trends is an analytical website that measures the relative popularity of search terms by plotting a graph of the interest in a search term over a specific period. The graphs show us the rise and fall in interest over a selected period, which helps us to understand how a company or its product fared in a certain region within a specific period based on its search volume.
I used Google Trends to study the interest over the past 12 months in the USA in such search terms as 'Hola', 'Hola VPN', 'TunnelBear VPN', and 'CyberGhost VPN'. On searching with the search term 'Hola', Google Trends generated a graph of interest over time that showed the interest to be considerably varying with time. While the interest was above average for the better part of the past 12 months, it fell slightly below the average mark on a few occasions but managed to quickly rise again. Currently, the graph shows the interest in 'Hola' to be rising.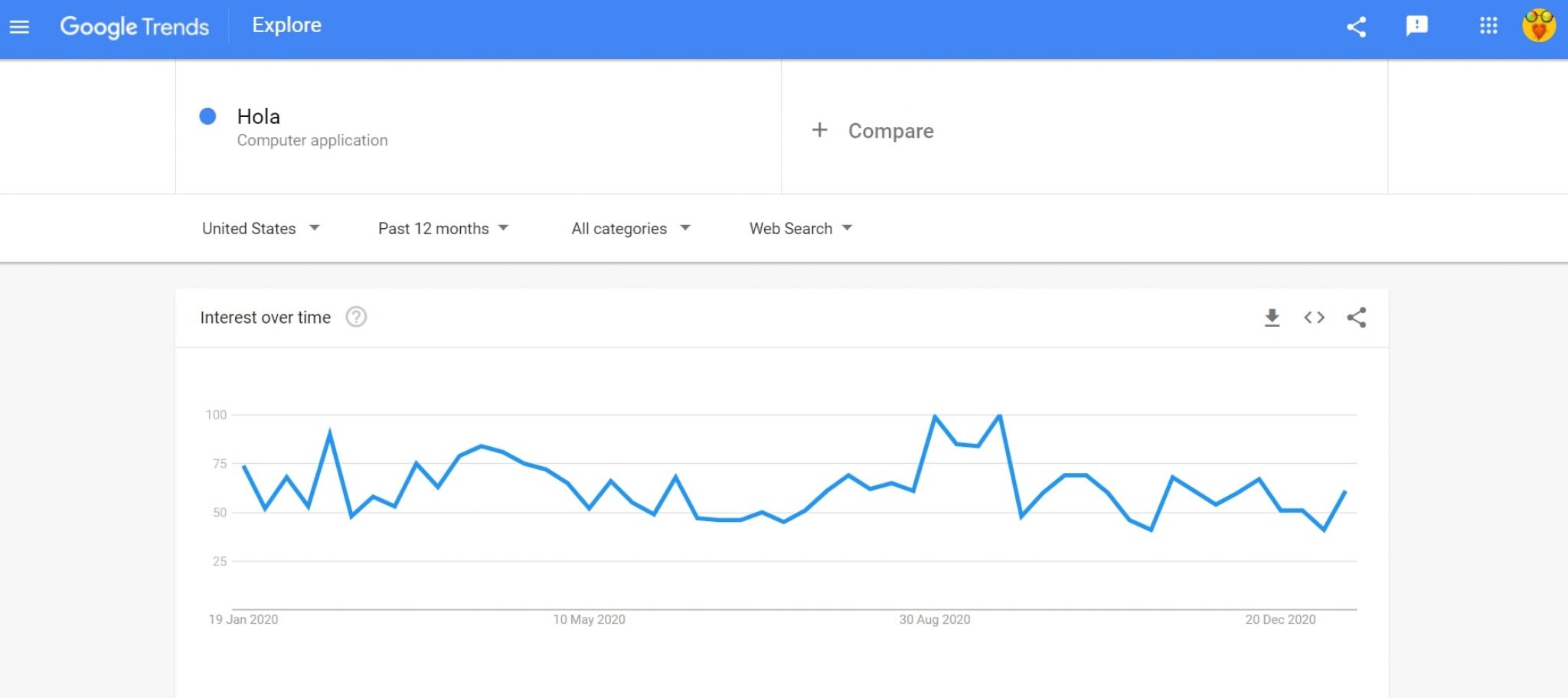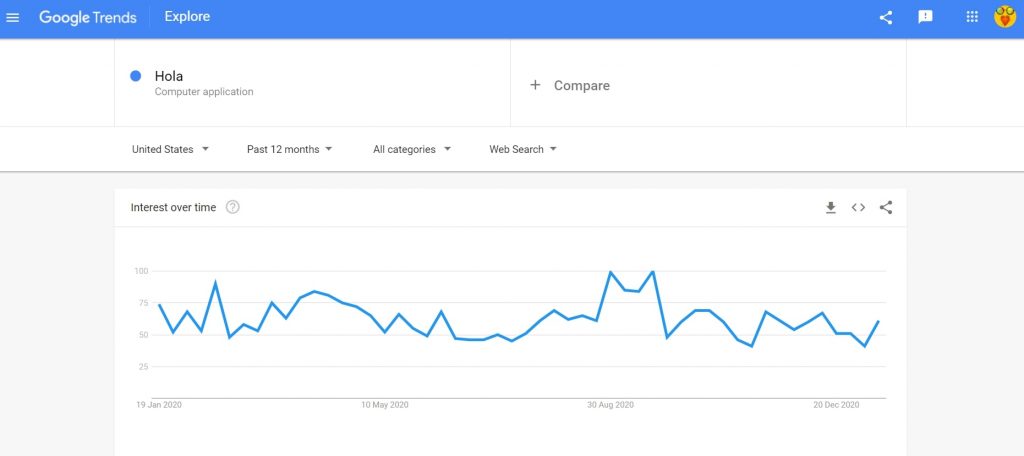 Interest over time in 'Hola VPN' was much less than that in the company itself. The interest in the search term was consistently below average. However, interest in the term started to rise gradually since August 2020 and even peaked in mid-December 2020. Current interest in 'Hola VPN' is quite high and steadily rising as is evident from the graph.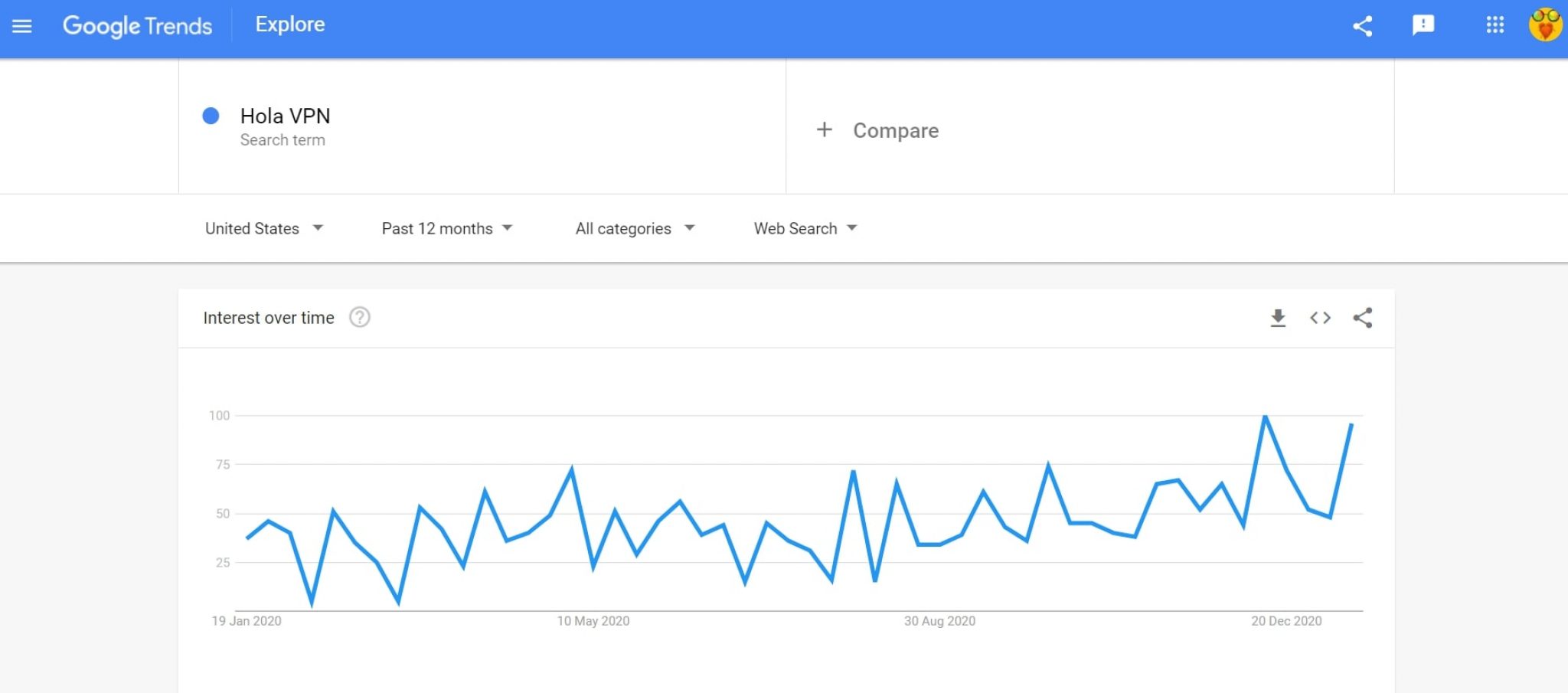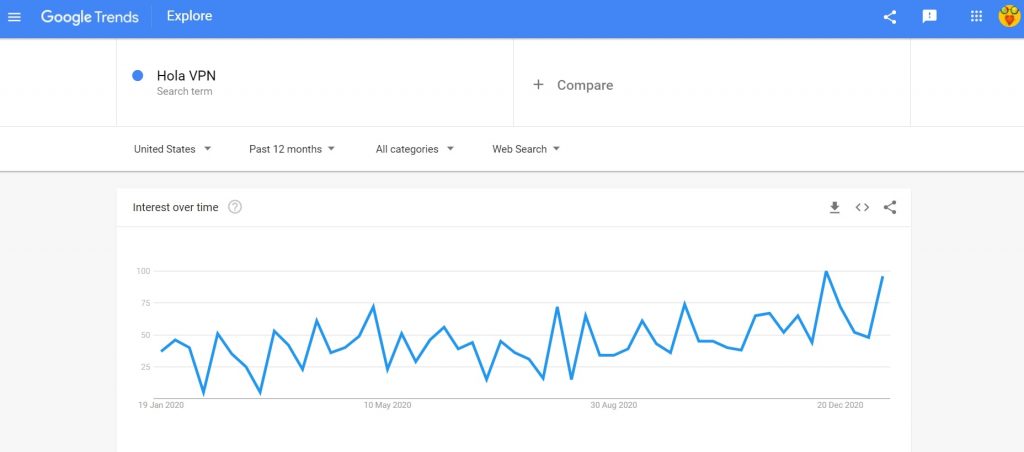 On comparing 'Hola VPN' to 'TunnelBear VPN' and 'CyberGhost VPN', the results surprisingly came in favor of Hola. The average interest in 'Hola VPN' was higher than that in both 'TunnelBear VPN' and 'CyberGhost VPN'.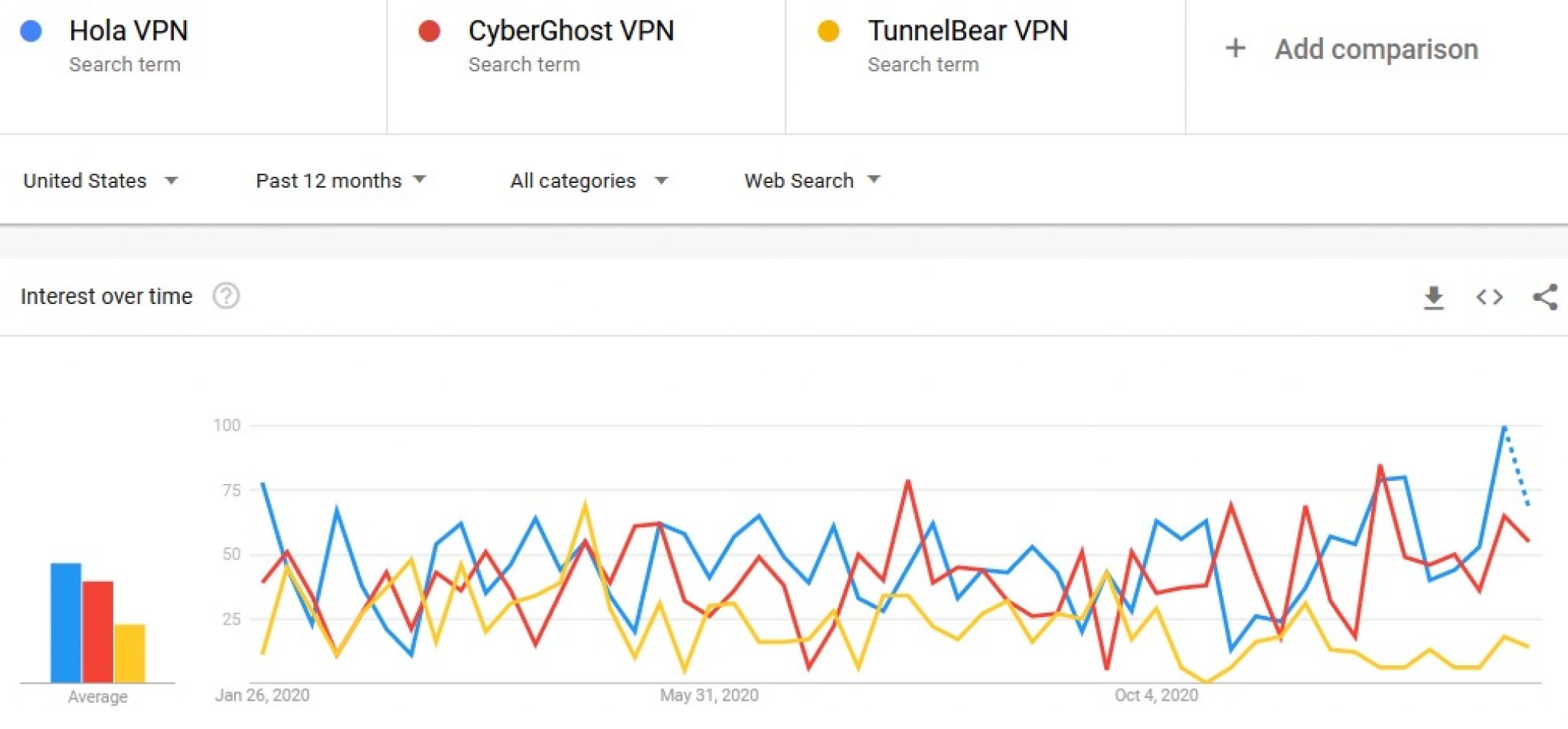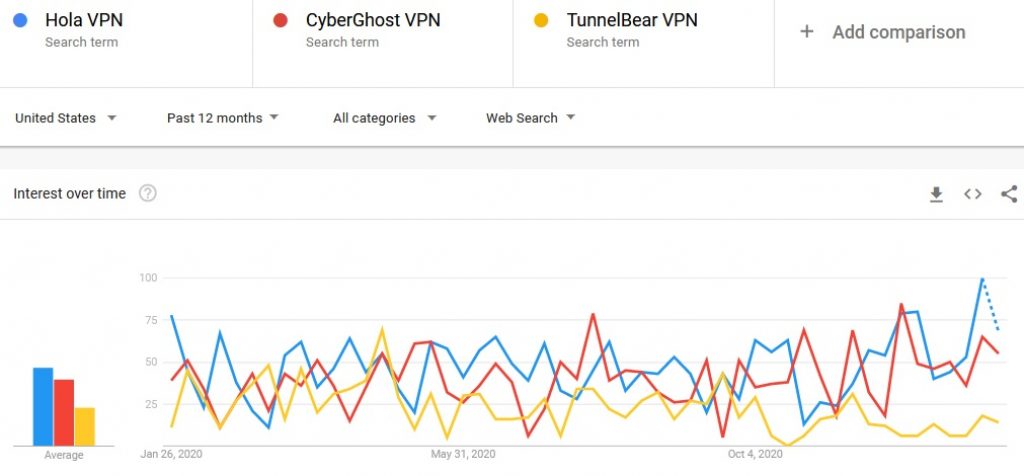 While the competition between Hola and TunnelBear was a no-contest, the one between Hola and CyberGhost was neck and neck but Hola took the win because of a higher average in the second half of the 12 months period.
I was pleasantly surprised by the company's support. All questions of interest were quickly received by e-mail and the rest I found in FAQ section. Overall I was satisfied with the Hola VPN customer support.