RUSVPN Review 2023: A Secure No-Log VPN With A User-Friendly Interface
PROS:
User-friendly interface
Efficiently unblocks Netflix, BBC iPlayer, HBO, and more
Headquartered outside the 5/9/14 Eyes Alliance
Works in China
The Commonwealth of Dominica
Email support, web form, blog posts, and live chat
Windows, macOS/OS X, Linux, Android, iOS, Chrome, Firefox, routers, and OpenVPN
No. 7-day free trial with Android and iOS clients

January Deal! 70% Off RusVPN (3 years subscription)
70% Off RusVPN (3 years subscription)
Why Should You Use RusVPN? 
My Personal Experience with Installing and Using RusVPN
While RusVPN is incredibly easy to use, the installation process can be bothersome at times depending on the client you are installing. I downloaded and installed the windows client, albeit with a few hiccups along the way.
On my first attempt to install the RusVPN app for Windows, the application was prevented from running by Windows Defender. This is nothing to worry about because Windows Defender flags unrecognized apps and you can give permission to run the program anyway. The app was installed successfully on my second attempt. However, the installation was not as sleek and smooth as I would have liked.
Downloading and installing the browser extensions on Chrome or Mozilla was quick and easy. The Android app installs faster than the Windows app.
Once installed, using RusVPN is child's play. It has a straightforward interface with minimal control and settings. You will see the connection status at the top, your IP address and servers list below it, and a button to connect to the VPN. You can connect to either a recommended server based on your IP address and location or choose a server from the servers list. Once you are connected, you will see 'Connected' written in green at the top.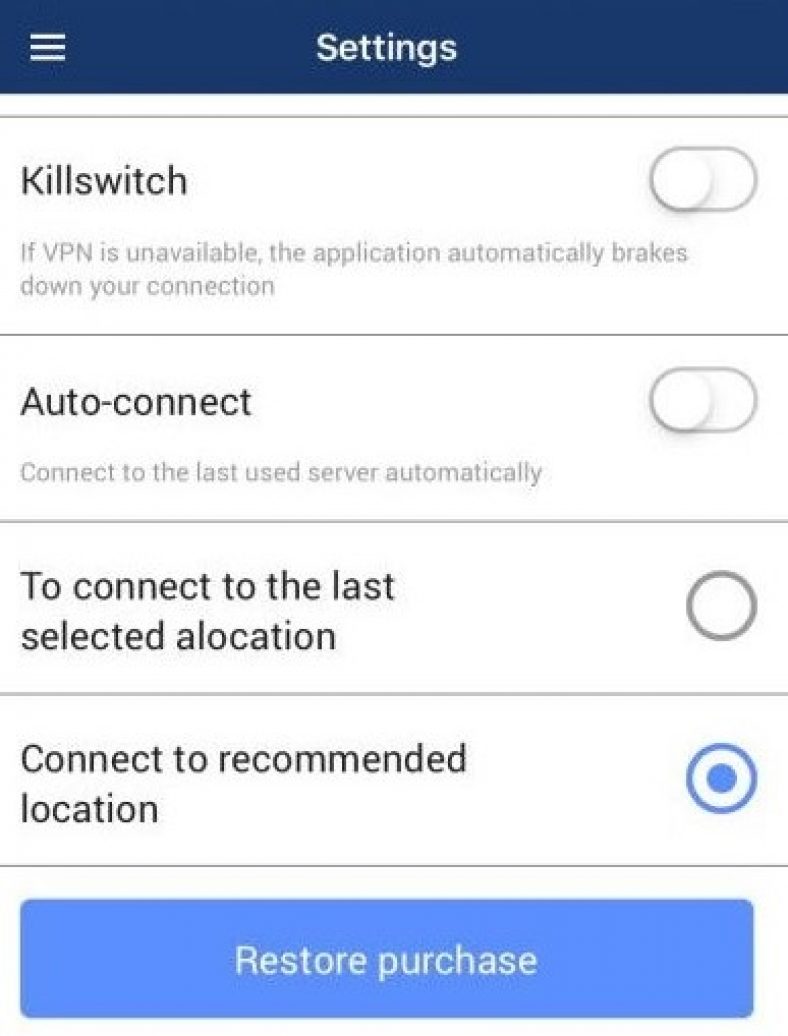 The clean and simple user interface of the RusVPN is ideal for beginners. With minimal settings and clearly-labeled controls, using the app involves no learning curve. You can toggle the kill switch and auto-connect features on or off from the settings. However, advanced users will not be pleased with the limited features and customizability that RusVPN has to offer.
RusVPN does not offer dedicated servers for Netflix or Torrent. You can connect to any server you want as long as the server is in the country whose Netflix or other streaming libraries you want to access. Furthermore, the closer the server to your actual location, the higher will be the speed.
While torrenting is allowed by RusVPN, the app does not provide dedicated P2P servers, and speed on farther servers suffers significantly while torrenting. Unblocking geo-restricted content on Netflix and BBC iPlayer, among others, is very easy with RusVPN. Connect to a server in the USA if you wish to access Netflix's US library or connect to a server in the UK to access BBC iPlayer.
Headquartered in the Commonwealth of Dominica, RusVPNsits outside the 5/9/14 Eyes Alliance and thus is not obligated to share user data, activity logs, connection timestamps, or any other private connection data.
RusVPN claims it has a strict no-logs policy, which prevents it from logging users' private data and internet activities. The logging policy is quite detailed and RusVPN does not monitor or record any online activity or data. Furthermore, RusVPN has no obligation to share private information with the 5/9/14 Eyes Alliance making it an ideal choice for privacy-minded users.
RusVPN offers a kill switch. While a kill switch is indispensable, several competiting VPN applications do not have it at all.
RusVPN uses AES-256 bit encryption to encrypt users' internet traffic. Supported protocols include OpenVPN, L2TP, and PPTP protocols. However, RusVPN does not let you choose your preferred protocol and instead mostly runs L2TP. In my opinion, the default encryption should be OpenVPN since it is available. RusVPN would, occasionally, switch to PPTP, an insecure and outdated option that leading VPN providers have dropped in favor of OpenVPN.
With a single RusVPN license you can connect up to 5 devices simultaneously. RusVPN supports a wide range of platforms, including the most commonly used operating systems. RusVPN can be used on Windows, macOS, Linux, iOS, and Android devices. It can be used on routers as well as browsers as Chrome and Firefox extensions. You can also download RusVPN configurations for OpenVPN.
RusVPN boasts a global server network of more than 390 servers in over 50 countries covering 5 continents, including servers in Amsterdam, Bangkok, Berlin, Dubai, London, Moscow, New York, Rio de Janeiro, and Tokyo, among others. All RusVPN DNS servers run at high speed and DNS traffic is protected with end-to-end encryption.
Though RusVPN does not offer dedicated servers for Torrent, it supports P2P file-sharing making it possible to download files from Torrent with RusVPN on. While RusVPN offers decent server speed and solid privacy, its lack of dedicated torrenting servers and inconsistent download speeds on some servers is holding it back substantially.
RusVPN claims that it can effectively unblock geo-restricted content on streaming platforms such as BBC iPlayer, Amazon Prime Video, Netflix, HBO, and YouTube, to name a few. I was able to access Netflix US, BBC iPlayer, HBO, and Disney+, among others and had sufficient quality. Speed wasn't an issue, though I encountered buffering several times when streaming on servers that were quite far away from my location.
Using speedtest.net, I tested the download and upload speed on several RusVPN servers worldwide. While the speed on nearby servers was good enough, speeds dropped significantly when connected to distant servers. Before I began testing the speed of RusVPN's servers, I tested the speed of my internet connection without a VPN. Without a VPN the download and upload speeds of my internet connection were 82.48 Mbps and 14.46 Mbps, respectively. The latency was 59 ms.


The first server I connected was in the UK and one that the RusVPN app recommended based on my location. The download speed was impressive but the upload speed decreased by almost half. Download and upload speeds on the UK server were 68.67 Mbps and 7.75 Mbps, respectively. The latency spiked to 228 ms but browsing and watching videos on the UK server went as smoothly as possible.


From London, I went to the Czech Republic. The next server I connected to was in Prague and I recorded a download speed of 53.39 Mbps, an upload speed of 5.78 Mbps, and a latency of 126 ms. While the upload speed again fell drastically, the download speed was still high. Browsing was fast and I watched videos on YouTube without any lag.


Next, I jumped continent to the USA and connected to a server in New York. The download speed was reduced to half of the download speed without a VPN. Considering the fact that any USA server was quite far from me, a download speed of 41.35 Mbps was acceptable. The upload speed was an unexpected 12.77 Mbps and latency was 124 ms.


Overall, RusVPN performed well in the speed tests but the lack of consistency in server speed and the significant drops in speed on switching to farther servers could not be ignored.
Google Trends analyses the popularity of search terms and provides a graphical analysis of the interest over time on particular search terms. It helps us to understand the public interest in the term and how it rose or waned over time within a specific region. I used Google Trends to check the interest in 'RusVPN' over the past 12 months in the USA.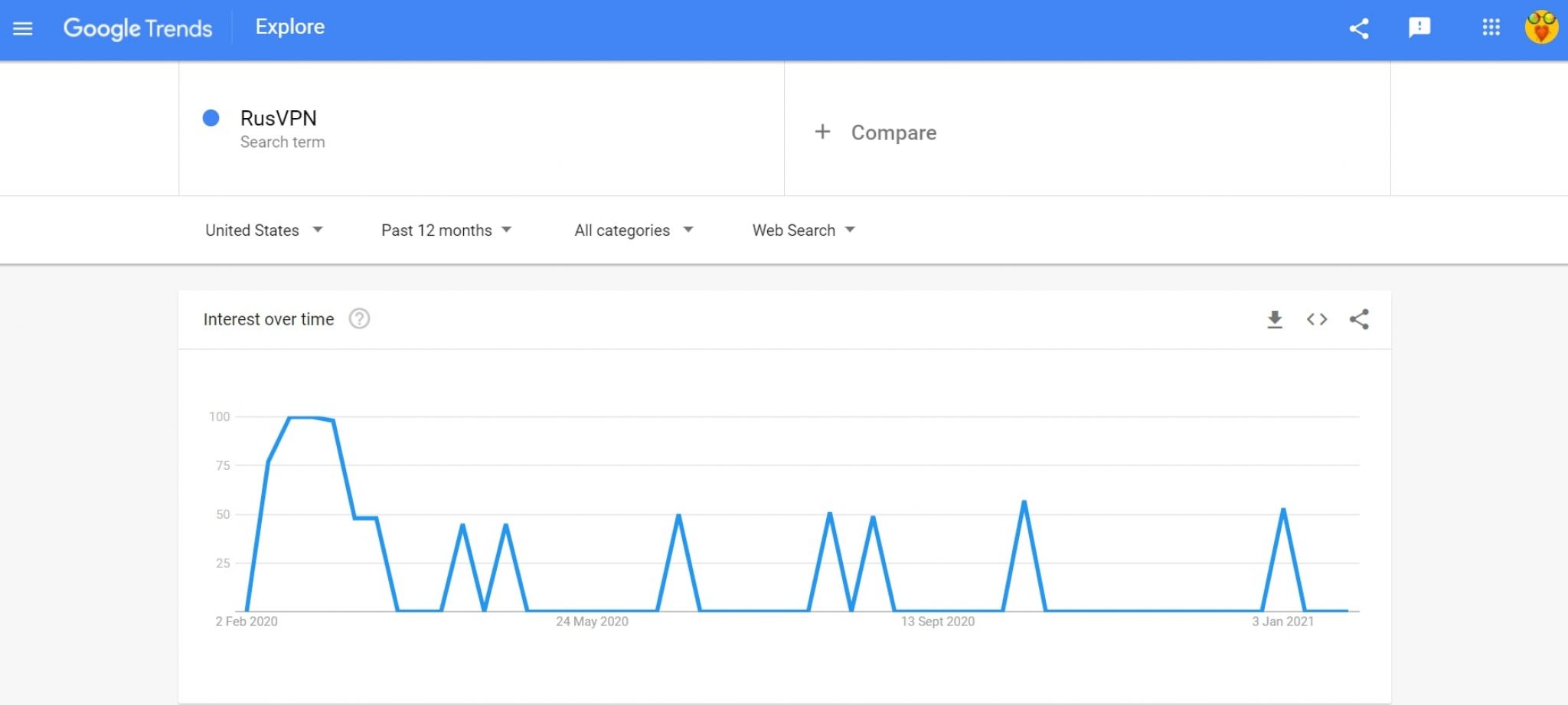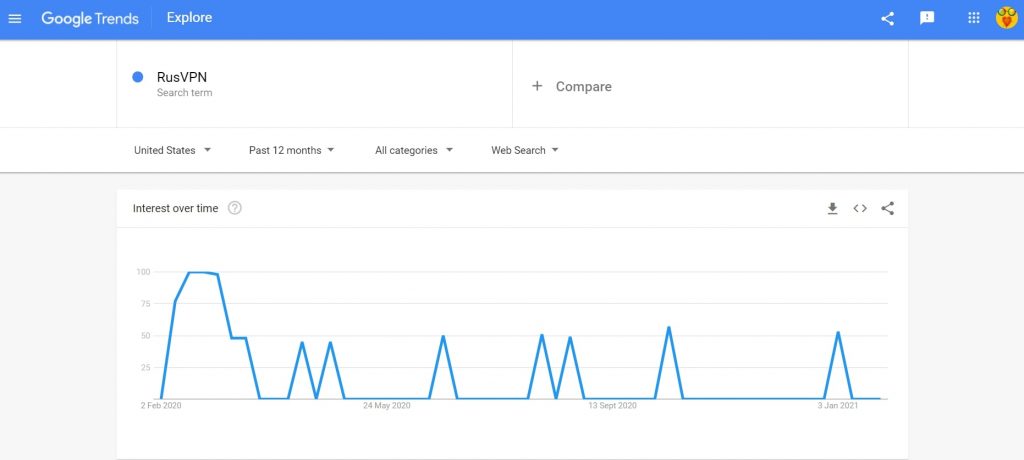 The interest in the search term 'RusVPN' was at its highest 12 months back but has significantly waned since then. Since the spurt in interest in February 2020, the interest has been ebbing and flowing with occasional spikes in interest followed by long periods of low interest. RusVPN is only three years old and has very limited public exposure compared to its competitors. Therefore, the graphs are understandable and self-explanatory.
Social media platforms and forums often offer public feedback on a company or its product. To understand the popularity and reputation of RusVPN, I visited its social media pages and a few forums. However, there is negligible public feedback on RusVPN's social media pages and the forums I visited because RusVPN is fairly new to the VPN market.
With only 29 followers on Twitter, RusVPN does not have a strong presence on Twitter just as yet. While RusVPN has more followers on Facebook, more than 500, there still wasn't much public feedback by which I could have judged the VPN's reputation. The scenario on the few forums that I visited was similar to that on the social media sites.
User review sites like Trustpilot, SiteJabber, and The VPN Lab are ideal sites to look for real user reviews of companies and their products. Honest reviews from real users of a product help us to better judge the performance and efficiency of the product in question. I searched Trustpilot and SiteJabber for user reviews of RUSVPN, and here is what I had found.
On Trustpilot, there were 111 reviews of RusVPN and it earned an impressive Trust Score of 4.3 out of 5. Numerous users claimed to have liked the VPN for its ease of use, reliable service, and the stability of the connection, among others. The positives of RusVPN far outnumbered its negatives and the majority of reviews concurred that RusVPN is worth its reasonable price.
RusVPN scored full marks from just 3 reviews on SiteJabber. All three reviews praised RusVPN for its reliability and efficiency. RusVPN's customer service and its ability to bypass censorship or geo-restrictions were the positive highlights from these reviews. However, one user pointed out that RusVPN's speeds dropped on a few occasions but according to the user the issue could be blamed on external factors.
RusVPN is yet to feature prominently in the news as it is still in its nascent years. The lack of news about RusVPN can be attributed to its recent launch in 2017. However, it has been reviewed by several VPN reviewers and on software review sites.
RusVPN's customer service is limited to a web form and email support. There is an option for a live chat but you will have to provide your name and email address. There are no FAQs or guides on the website but there is a blog with several helpful articles on important topics. I used both the web form and email id provided on the support page to ask a few questions and solutions to minor issues. I received all the answers in a timely manner.
RusVPN has several ingredients that make a decent VPN, including numerous apps, excellent connectivity, ease of use, content unblocking capability, and a no-logs policy, to name a few. The VPN service is a beginner's app with minimal settings and a simple UI. Nonetheless, it is a capable performer that does all that it promises to do.

January Deal! 70% Off RusVPN (3 years subscription)
70% Off RusVPN (3 years subscription)