Cloudways Review 2023 – Is It The Best Managed Hosting Solution?
Cloudways is currently one of the foremost hosting service providers in the market with millions of customers worldwide. The company offers flexible cloud hosting plans,top-qualityonline customer support, easy setup, and consistently fast uptimes. Despite the abundance of hosting services in the market, Cloudways has managed to stand apart and be noticed owing to its managed WordPress hosting solutions that won't burn a hole in customers' pockets. From free migration and free SSL certificates to pay-as-you-go plans and unlimited application installation, Cloudways offers great value for money.
---
PROS:
Easy installation and set-up
Up to 99.9% uptime
Pay-as-you-go plans
Free migration and free SSL certificates
Automatic backups and auto-healing
Cloudways Features Overview
One-Click WordPress installation

Drag-and-drop website builder

Yes, via live chat, online tickets, and phone
Standard plans – from $12 to $160 per month
Premium plans – from $10 to $1035 per month

June 2023 Deal! 40% Off Cloudways Managed Hosting Plans
40% Off Cloudways Managed Hosting Plans (Premium & Standard)
Step-by-Step Tutorial How to Create a Website/Blog With Cloudways
While the Cloudways platform is well-designed and has an intuitive UI, it still may seem daunting for some users to find their way around the numerous Cloudways features.Thus, this next part is a step-by-step tutorial on how to create a website or start a blog by using Cloudways.
To start using Cloudways, you must first sign up for a paid subscription by creating an account with a username and a password. You can also log in to the platform via Github, Google, or LinkedIn.Cloudways has Standard and Premium plans starting from $10 and $12 per month, respectively. You can also start for free with your name, email address, and password.
Once you have signed up, you will land on the control panel homepage of your account from where you can deploy your managed application. You can also manage your servers, applications, teams, and projects from this homepage. However, you will need to verify your account.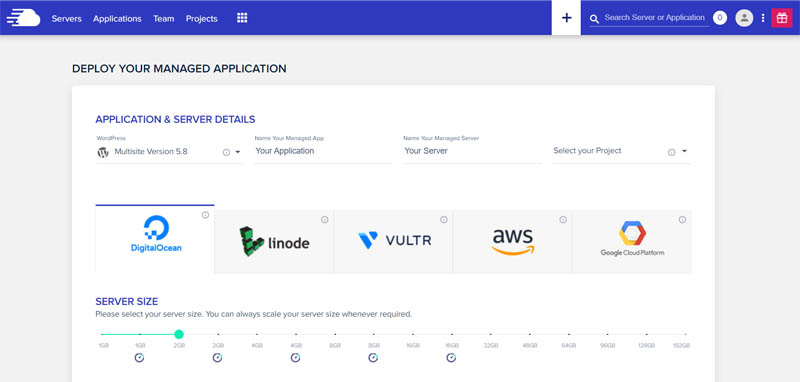 To launch your website, you will first need a domain name. Cloudways does not offer domain name registration. Thus, you will have to visit another registrar to register your unique domain name (eg. DreamHost, Namecheap, SiteGround, etc.). If you already have one, proceed to the next step.
You can launch an application on an existing server or a new one by navigating to the "Server" page from the top of the homepage. You can choose from top-notch cloud infrastructure providers. Choose from several infrastructure-as-a-service solutions, including Amazon Web Services, DigitalOcean, Google Compute Engine, Linode, Stackpath, and Vultr.
You can also refer to the various
guides and resources
on the Cloudways website to learn how to select the best cloud provider for your application.
Use the slider on the control panel to select the number of page views you anticipate your site will receive each month. Cloudways will use this data to recommend a server size ideal for your specific hosting requirements. Alternatively, you can choose the server specifications manually by specifying the amount of RAM, bandwidth, storage, and core processors you need. Finally, select a server location from several options.
After you have set up your domain and application, you can take a look around the platform's UI to figure the functionality of each feature or tool. Once you are ready to take your website or blog live, continue to the next step. I used WordPress as my CMS of choice to create a website within minutes.
To take your site to live, you will need to add your domain name on the Cloudways platform, if you have not already done so, and point your domain to Cloudways by using DNS records. If you do not want to manage your DNS records personally, you can choose the Cloudways DNS Made Easy add-on and allow Cloudways to manage your DNS records. There are helpful video tutorials on the website to help you with this step.
One of the most important steps in this tutorial involves securing your live site with HTTPS. Cloudways offers free SSL certificates, dedicated firewalls, two-factor authentication, and bot protection, among several other advanced security features to keep your website safe and secure. You can find video tutorials on the Cloudways website on how to enable HTTPS on single and multiple domains. Once you have configured the SSL certificate, Cloudways will prompt you to put HTTPS redirection in place. If you miss this step, you can manually force HTTPS redirection through the application settings afterward.
Next, you will have to configure your emails so that you do not have to send transactional emails triggered by your application from your server. You can either choose to send emails from your server or use inexpensive email add-ons. Check this guide for more info regarding e-mail addons. Refer to the guides and video tutorials on the Cloudways website for any help with setting up your emails.
The final step involves setting up Cloudways CDN, which is optional but advisable. Cloudways is a useful and affordable CDN solution starting from as low as just $1. Cloudways CDN will help reduce load times, minimize bandwidth costs, and improve the overall performance of your website. This, in turn, will help your site to reach a wider audience through superior performance.
Once your website is up and running, check whether your website has all the functional pieces in place. Tinker around the Cloudways control panel to change or configure any settings. To make any changes such as tweak appearances, set a theme, or add media, log in with your Cloudways credentials for a smooth experience.
Since Cloudways offers managed WordPress hosting, your application will receive white-glove treatment from Cloudways. From auto-updating the CMS and providing real-time site monitoring to automatic daily backups and WordPress-targeted security, Cloudways takes care of much of the backstage shenanigans of managing a website.
Cloudways Features in Details
Cloudways claims to offer up to 99.9% uptimes and fast load times. In our tests, the load times were fairly fast and ranged between 400 ms to 600 ms. We recorded consistent uptimes of 99%. WordPress sites hosted on Cloudways had around 40% better load times than similar sites on other platforms. Cloudways uses its proprietary VMAN technology to deploy Apache, Memcached, Nginx, and Varnish, which optimizes the site speed.
While Cloudways does not offer unlimited bandwidth like most hosting service providers now do, it does offer 1 TB bandwidth at $10 per month for the standard plan and $12 per month for the premium plan. For premium plans, the maximum bandwidth you can get is 6 TB for $160 per month. For standard plans, you can get a maximum bandwidth of 12 TB for $1035 per month.
Cloudways is optimized for WordPress, including advanced and WordPress-specific security features. The platform offers managed WordPress hosting with SSD support, CloudwaysCDN, automatic healing, and two-factor authentication, among other features. You will also enjoy one-click installations for apps, including WordPress.
The application library of Cloudways features numerous e-commerce tools, including, among others, Magento and Prestashop.The platform has an array of e-commerce-friendly features that have been designed to make running online businesses easier. Cloudways' e-commerce options also featureunlimited storage, backups, managed security, and a user-friendly console.
Unfortunately, Cloudways does not offer domain registration. Therefore, you will have to register a domain name on another hosting platform or domain registrar. If you already have a domain, then it is easy to add that to the Cloudways platform. Cloudways also does not offer any free email account.
Cloudways offers free SSL certificates and one-click SSL installation. The platform's built-in Let's Encrypt SSL enhances the security of your website through a trusted certificate that fulfills all your HTTPS needs. SSL certificates are indispensable tools for any website as they not only keep a website secure but also boost its Google ranking.
The platform does not offer unlimited disk storage. Cloudways offers from 25 GB to 320 GB for premium plans, whereas the maximum disk storage limit jumps up to 3840 GB for standard plans. Cloudways is SSD-optimized to provide a faster and more reliable performance with minimal resources. The median plans usually offer the best combination of storage and RAM at affordable prices.
Cloudways allows users to set up automated or on-demand backups of their cloud server images. Users can select the backup frequency with the maximum limit being one week and even manually back up their servers with just one click. The backups are created at an offsite location and users can restore their backups with one click only. I had automatic backups set up and had no issue with either backing up or restoring my server images.
Cloudways offers 24/7/365 customer support via live chat or online tickets. The company's customer support is exceptional as has been evident from personal use and the plaudits it earned from users on social media. However, if you want to talk to a person, you will have to fill up a request form for a phone or Skype call. The customer support of Cloudways was much better than some of the top companies in this market. I only needed customer support a couple of times and did not have to wait even an hour to receive a response from the company.
Cloudways offers standard and premium plans starting from $10 and $12 per month, respectively. The company also offers many pay-as-you-go plans, hourly cloud hosting packages that only charge users for the amount of time they have used.

June 2023 Deal! 40% Off Cloudways Managed Hosting Plans
40% Off Cloudways Managed Hosting Plans (Premium & Standard)
11
Cloudways: Google Trends
Google Trends is an analytical engine that plots the relative interest in popular keywords in graphical forms to help us understand the public perception of a product or company. In this case, I searched with the keyword "Cloudways" on Google Trends.
The interest in "Cloudways" in the USA over the past 12 months has been quite high with occasional peaks and dips. Interest was highest during November 2020 and peaked again around April 2021. Barring a few sudden dips, the interest in the keyword has been consistently higher than average with the graph showing a recent spike in interest towards the end of 2021.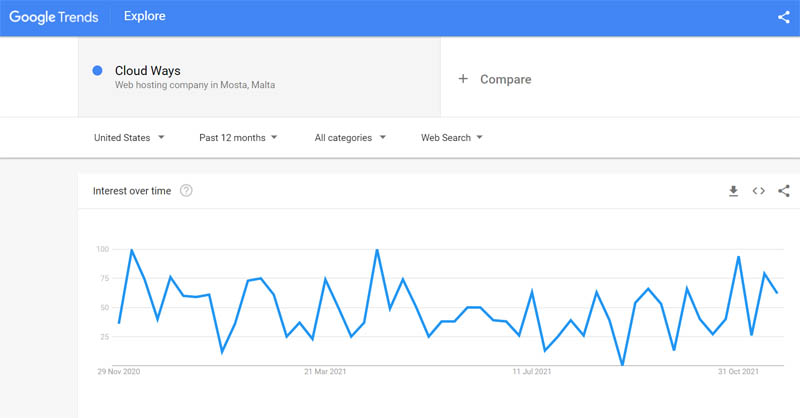 The consistently high interest in the keyword can be attributed to the pandemic that has forced millions to stay at and work from home. With the increase in demand for digital platforms and support, the interest in cloud-based hosting platforms such as "Cloudways" has also increased manifold. From the Google Trends results, it can be concluded that Cloudways has not only become one of the foremost hosting service companies but also is aiming to take the pole position with it consistent performance.
12
Cloudways: Users' Reviews, Feedback and Ratings
Users around the world share their opinions about companies and services on social media platforms and review sites all the time. To understand the impact of Cloudways, I have monitored tweets, social media posts, and user reviews about the company. This helps apprehensive users to decide whether or not to go for Cloudways.
Cloudways received mostly positive reviews and mentions on Twitter owing hugely to the affordability, reliability, consistency, and overall quality of the services the company offers. Website uptime is one of the most vital aspects of leading hosting services, and Cloudways does not make any compromises there according to the numerous social media users. Users on Twitter were especially happy with the 99% uptimes and the higher than average load times that they enjoyed while using Cloudways.
Trustpilot and SiteJabber are user review sites where you can find reviews from real users of companies, products, and services. These user reviews help us to understand the positives and negatives, if there are any, of using the Cloudways hosting platform. On Trustpilot Cloudways earned an excellent TrustScore of 4.7 from over 1200 user reviews. Most users waxed eloquent about the outstanding customer support service, advanced features, and overall performance of Cloudways.
On SiteJabber, there were only a meager 8 reviews of Cloudways but it scored a respectable 3.6 out of 5 stars from those reviews. Most of the reviews were positive and in favor of Cloudways barring a few complaints here and there. It is worth noting that Cloudways representatives engaged with the users and even offered help, failing which an apology, to those users who faced or are facing issues with its services.
Cloudways has been in the news recently for appointing veteran product lead and developer Paul Haverstock as its Vice President of Engineering. The company made this appointment to expand its executive suite as well as its portfolio of sophisticated cloud solutions for small and medium businesses. Check out this article from Business Wire to know more about this story.
Earlier in 2021, Cloudways released the performance-based test results of the best WordPress page builders after painstakingly testing and reviewing them. The test results will help users to get a complete picture of the builders' efficiency and suitability. You can read this September 2021 article from Business Wire for further details about the test and its results.
Conclusion
Having used Cloudways for quite a while now, I can vouch for the reliability and exceptional consistency of the hosting platform. Cloudways not only takes care of background issues without fuss but also offers several foreground features that keep your application running optimally. Although the lack of a domain registration feature and email accounts may hamper its full functionality, Cloudways excels in areas most hosting service providers dare not venture. From the performance of the sites hosted on Cloudways, it is evident that the company has become one of the top contenders for the spot of the best hosting service and is going toe-to-toe with the giants of the industry.


June 2023 Deal! 40% Off Cloudways Managed Hosting Plans
40% Off Cloudways Managed Hosting Plans (Premium & Standard)