SiteGround Review 2023: Unlimited Bandwidth Coupled With Fast Load Time And Prompt Customer Service
Founded in 2004, SiteGround is one of the premier web hosting companies that merges simplicity with innovation making it ideal for both beginners as well as professionals. SiteGroundhas four offices across the USA, the UK, Bulgaria and Spain and manages numerous highly equipped datacenters worldwide. The company is passionate about offering exceptional hosting services and is committed to providing the best customer service to its clients via its 24/7 technical support. The team of dedicated professionals at SiteGround works round the clock to deliver the best experience possible to its customers.

September 2023 Deal! 80% Off SiteGround Web Hosting
80% Off SiteGround Web Hosting (StartUp, GrowBig, GoGeek)
---
PROS:
Optimized for speed with guaranteed 99.9% uptime and fast load times
Smart WordPress staging tool makes editing websites much easier
Excellent security protection
Feature-packed yet easy to use
Free services such as site migration, SSL certificate and CDN
CONS:
High renewal rates
Costly domain name registration
One-click install for WordPress
Drag and drop website builder
10 GB to 40 GB for Shared hosting and WordPress hosting, while 40 GB to 120 GB for Cloud hosting
Automatic daily backups as well as on-demand backup
30-days on Shared hosting, WordPress hosting, and WooCommerce hosting plans, while 14-days on Cloud hosting plans.
24/7 expert support via phone, chat, and ticket.
Shared hosting
StartUp – $3.95/month
GrowBig – $5.95/month
GoGeek – $11.95/month
Cloud Hosting
Entry – $80/month
Business – $120/month
Business Plus – $160/month
Super Power – $240/month
Step-by-Step Instructions How to Create a Website With SiteGround
In this tutorial, I will show you how to create and edit a website with a few simple steps using either a Content Management System (CMS) like WordPress or a drag-and-drop website builder like Weebly. However, you need to have a clear idea of the type of website you want to create and the purpose of your website before beginning.
First, you need a domain name for your website. SiteGround does not offer free domain name registration and you will have to purchase one for an annual fee. The minimum price is $15.95/year for the .com extension. If you have a domain name already registered then SiteGround migrates it for free.
An ideal domain name should be short so that it can be easily remembered by users and there should not be any numbers or symbols in the domain name. Try to choose a domain name that is memorable and gives an idea about the website.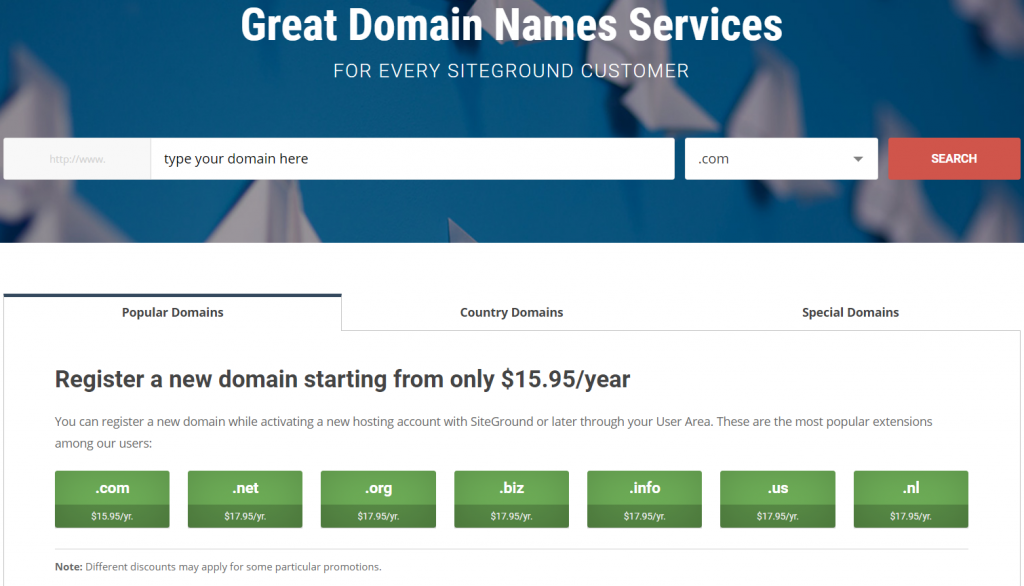 After you have chosen the domain name, you will have to select a suitable hosting service based on the purpose of your website. SiteGround offers Shared hosting and Cloud hosting among others. While Shared hosting is best for individual blogs, small websites and medium businesses, Cloud hosting is ideal for large businesses, news sites and online sites.

Once you have chosen the hosting service, you will have to choose a hosting plan. SiteGround offers three Shared hosting and four Cloud hosting plans. Choose the most suitable one and click "Order Now".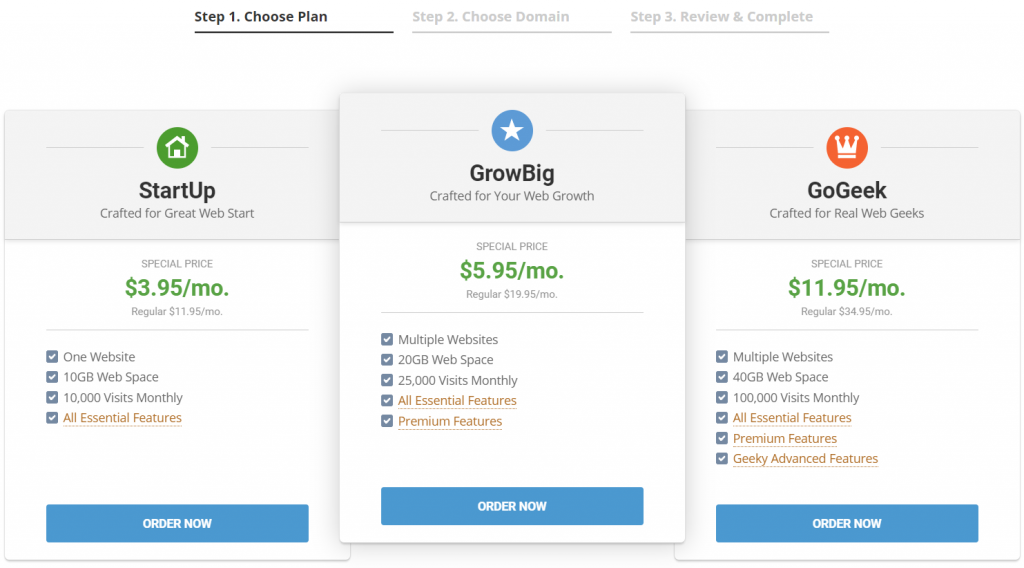 If you did not register a domain name in the first step then you can do so in this step. If you have created one in the first step or already had a domain name registered then click "I already have a Domain" and enter your domain name. Click "Proceed" to continue.
The final step involves creating your SiteGround account, entering the client information and then filling in the payment details.
Review your plan and period for a final time, choose the SG Site Scanner add-on service if you want, agree to the company's terms of service and privacy policy and click "Pay Now" to finish the process.
You will receive a confirmation that your account has been successfully created. An email will be sent to you with your username, password and management guidelines within an hour.
Click "Proceed to customer area" and log in using your username and password.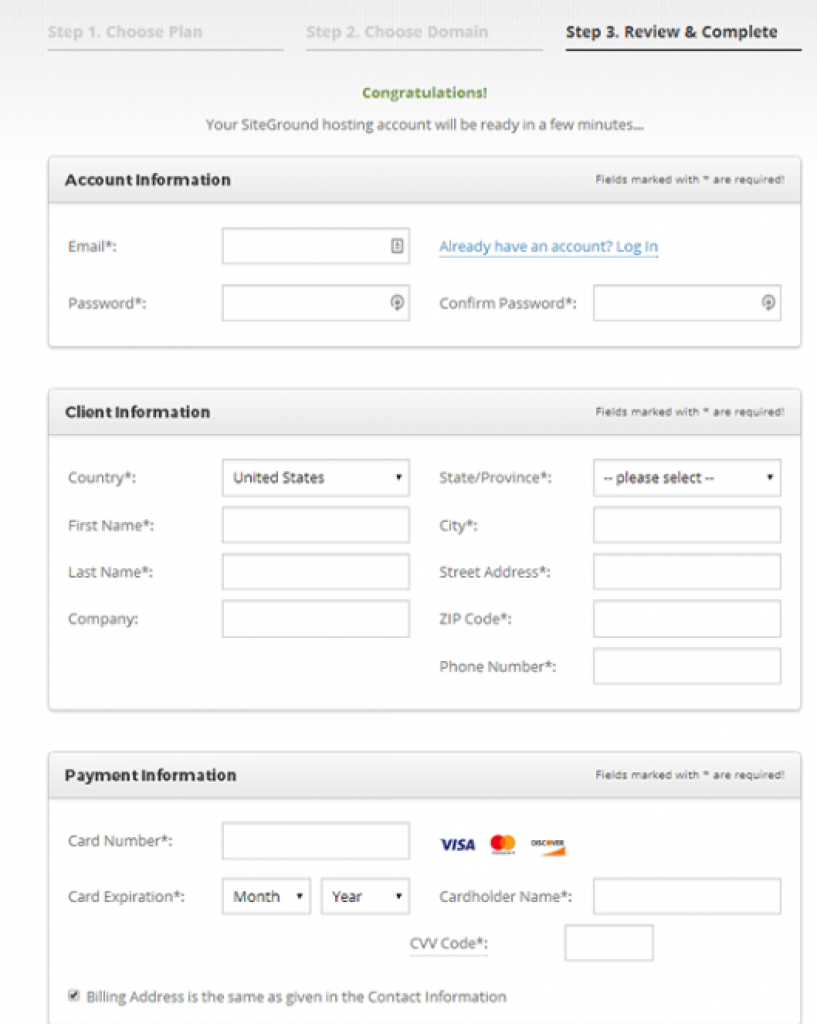 Now that you have logged in, you can start building your website. In this step, I will show you how to use WordPress to build and edit your website.
First, install WordPress via the one-click installer. After you log in to the customer area, you will see a pop-up asking whether you want to start a new website. Select "Start a new website" and then choose the software you want to install, WordPress in this case. Choose your WordPress login details and click "Confirm" to continue.
In the next window, choose any enhancement you want to add and click "Complete Setup".
Once WordPress is installed, log in with the details that you had entered earlier to access the dashboard from where you can customize your site. To choose themes, navigate to "Appearance -> Themes" and you will see a collection of themes.
Choose a theme from the WordPress library. You can use the search box to locate a specific theme or use the filter option to quickly find themes ideal for your site. Hover over a theme you like and click the "Install" button. Once installed, hover over it again and click on the "Activate" button.
Click "Upload Theme" to upload your theme. Once the basic design of your site is set up, you can proceed to add posts, pages, and media or edit it with the help of the options provided on the left navigation panel.
Now, I will guide you on how to use the free website builder Weebly to build your website.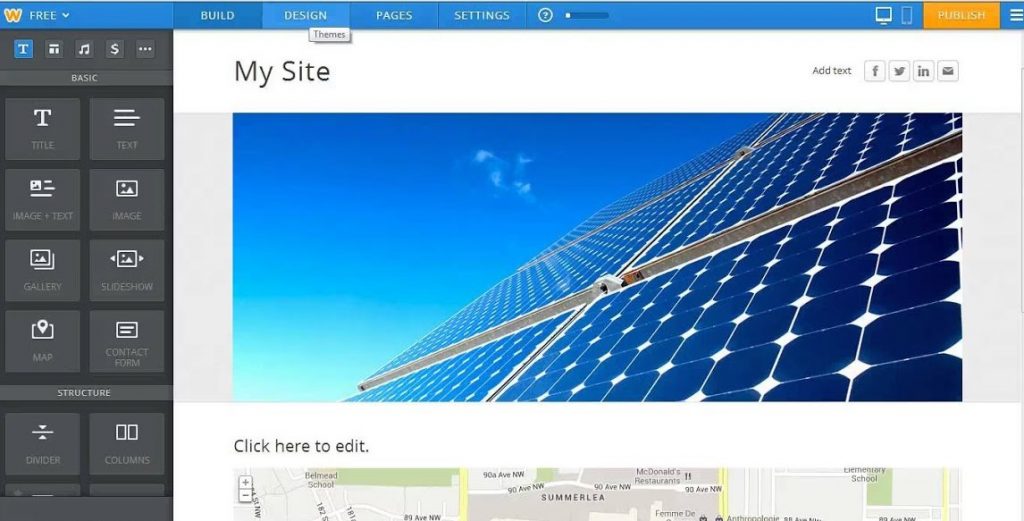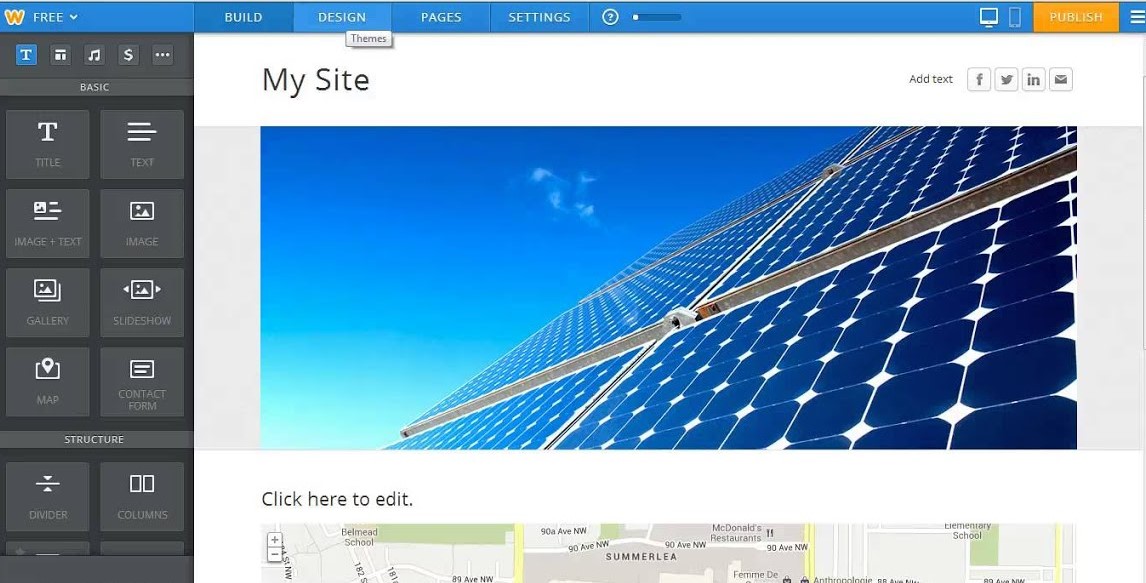 When logged in to your account, navigate to the "Manage Account -> Sitebuilder tab" and click on Weebly to activate it.
The first window will ask you to choose an appropriate theme for your site. Choose one from the options provided and click "Next" to continue. You can change your choices later so choose any theme and continue.
Now, you must choose the primary color for your website. Click "Next" to continue.
Choose a font and a font pairing for the text on your website and click "Next".
Finally, upload a logo for your site if you have one and click "Finish" to complete the setup.
Once the wizard is set up and you have a basic design for your site, you can add new design elements or edit it as you wish with the tools on the left panel and the top of the Weebly homepage.

September 2023 Deal! 80% Off SiteGround Web Hosting
80% Off SiteGround Web Hosting (StartUp, GrowBig, GoGeek)
SiteGround doesn't just promise an uptime of 99.9% but also kept its promise in all of the tests I ran in an attempt to prove them wrong. While I recorded an uptime of 99.7% twice, I also recorded 100% uptime on a couple of occasions.
The average load time from several Pingdom tests that I conducted came out to be 327 ms which is impressive, to say the least. The highest load time my website recorded, 672 ms, was still much lower than the dreaded 1-second mark.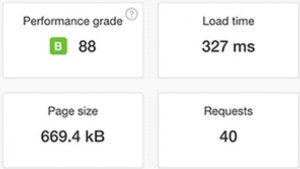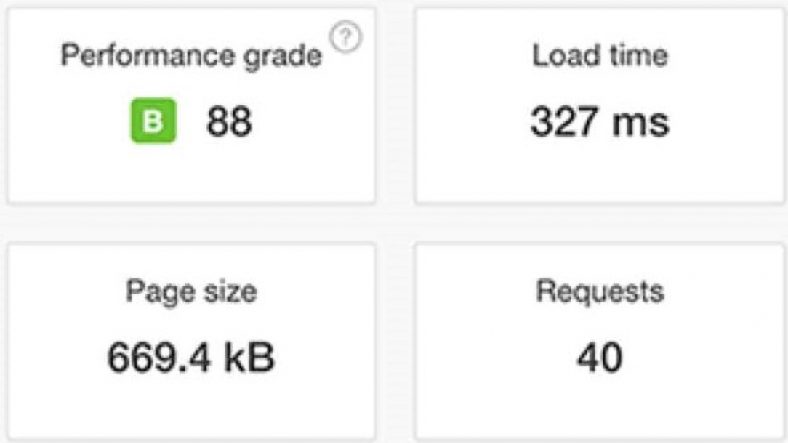 SiteGround offers unmetered data transfer with its Shared hosting plan so that users do not have to worry about the amount of bandwidth being used. Any type of personal, small, medium and community website can easily benefit from this offer. However, bandwidth is limited to 5 TB for all Cloud hosting which is much more than the maximum of 3 TB that HostGator and Bluehost offer with their premium VPS hosting plans.
SSD storage is used by the company for fast and reliable performance but it does not offer unlimited disk space, unlike HostGator or DreamHost. For Shared hosting plans, disk space is limited to 10 GB, 20 GB and 40 GB for the StartUp, GrowBig and GoGeek plans respectively. For Cloud hosting the disk space ranges from 40 GB for the basic plan to 120 GB for the highest plan.
As a hosting provider that is endorsed by WordPress, SiteGround not only has plans optimized for WordPress but also offers automatic WordPress updates with all Shared hosting plans. Each SiteGround plan includes free WordPress Starter and Migrator plug-ins, while higher plans include advanced development tools and special WordPress solutions. The company even offers managed WordPress solutions starting at $3.95/month for advanced users who swear by WordPress.
Several users are known to host dynamic sites that not only require regular updates but also change as the dynamics of businesses change. However, considerable changes are risky and testing major changes within a safe environment is a must for such users. With SiteGround's WordPress staging tool available with its GrowBig, GoGeek and Cloud plans, users can create a copy of their site, make changes on the testing site and apply the changes to theiractual site with a single click without any tension. Furthermore, SiteGround automatically creates backups each time a staging version of a site is uploaded to production.
SiteGround saves clients' time by providing an auto-install tool that lets them install several applications such as WordPress, Joomla, Magento, PrestaShop and many more with one click.
With SiteGround hosting plans, users can easily create and manage e-commerce stores with the aid of WordPress, WooCommerce or the numerous other e-commerce scripts provided by the company. SiteGround even installs a shopping cart of the user's choice for free. Choices include Magento, osCommerce, PrestaShop and much more.
Weebly is widely regarded as one of the simplest yet most efficient website builders currently available and SiteGround recommends beginners or first-time users to use this easy drag-and-drop site builder to build or edit their websites. Weebly not only offers a large selection of themes but also features like contact forms, shop, pages, posts and media among others. Users get a free version of Weebly with all SiteGround hosting plans.
Automatic daily backups for up to 30 days are offered by SiteGround and data can be restored in minutes with a few clicks using the free restore tool. The Premium plans, GrowBig and GoGeek, offers free advanced backup that lets users instantly create up to 5 on-demand backups of any changes to their website and restore it later in case anything goes wrong.
SiteGround does not offer free domain name registration like most other hosting providers and if you don't have a domain name already then you will have to purchase one for a starting price of $15.95/year for the .com extension.
Free SSL certificates are offered with every hosting plan and are automatically enabled. SiteGround has integrated the most widely used Let's Encrypt SSL certificate but also allows users to switch to the free Wildcard SSL from the Site Tools any time they want. Users can even manually add SSL certificates from the control panel.
Users can create an unlimited number of email accounts with any SiteGround hosting plan and also use the user-friendly webmail client to check their email anytime from anywhere. Furthermore, spam protection is provided by the company with the help of SpamExperts.
14
 Content Delivery Network
SiteGround offers a free Cloudflare CDN that allows users to store large files on numerous servers in different locations across the world so that the files are stored as close as possible to website visitors making them quickly accessible.
The company offers a generous 30-days money-back guarantee with its Shared hosting plans and a shorter 14-days money-back guarantee with its Cloud hosting plans. As usual, domain name fees, setup fees and other extra charges are not refundable. Additionally, the refund policy only applies to new customers and hence does not cover renewal plans.
While the SiteGround knowledge base is quite extensive and allows users to find solutions or answers to issues quite quickly, it is neither as well organized or fast as that of DreamHost which generates results even as you type on the search bar. However, SiteGround has several guides and tutorials on its website and blogs to cover almost every common issue. For further support, there is 24/7 support via phone, live chat and ticket. SiteGround is renowned for its fast and professional customer support service and even offers advanced priority support to GoGeek subscribers.
SiteGround offers three shared hosting plans, namely StartUp for $3.95/month, GrowBig for $5.95/month and GoGeek for $11.95/month. The prices stated here are special promotional prices and regular monthly prices for the Shared hosting plans are $11.95, $19.95 and $34.95 respectively. The four Cloud hosting plans are Entry for $80/month, Business for $120/month, Business Plus for $160/month and Super Power for $240/month.

September 2023 Deal! 80% Off SiteGround Web Hosting
80% Off SiteGround Web Hosting (StartUp, GrowBig, GoGeek)
18
SiteGround: Google Trends
Google Trends is an analytical website that plots graphs of the interest in popular search terms with respect to a specific period. I used the site to check the popularity of terms like "SiteGround" and "SiteGround review" in the USA over the last 12 months.
Interest in the web hosting company "SiteGround" has been average over the past 12 months with a lower than average interest being the norm through much of last year. While interest was lower than expected considering the features and quality of service offered by the company, there has been a marked rise in its fortune since 2020 began. Currently, interest is at the highest point and is going steadily with no such decline in sight.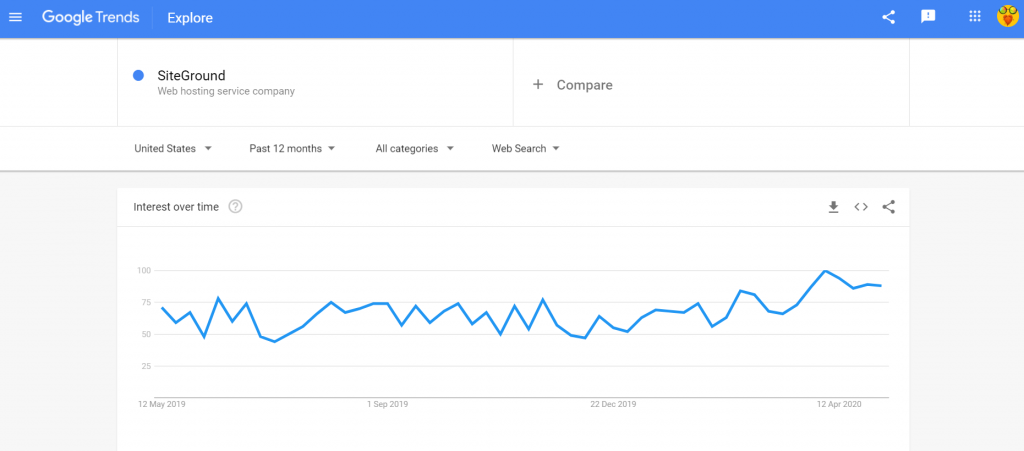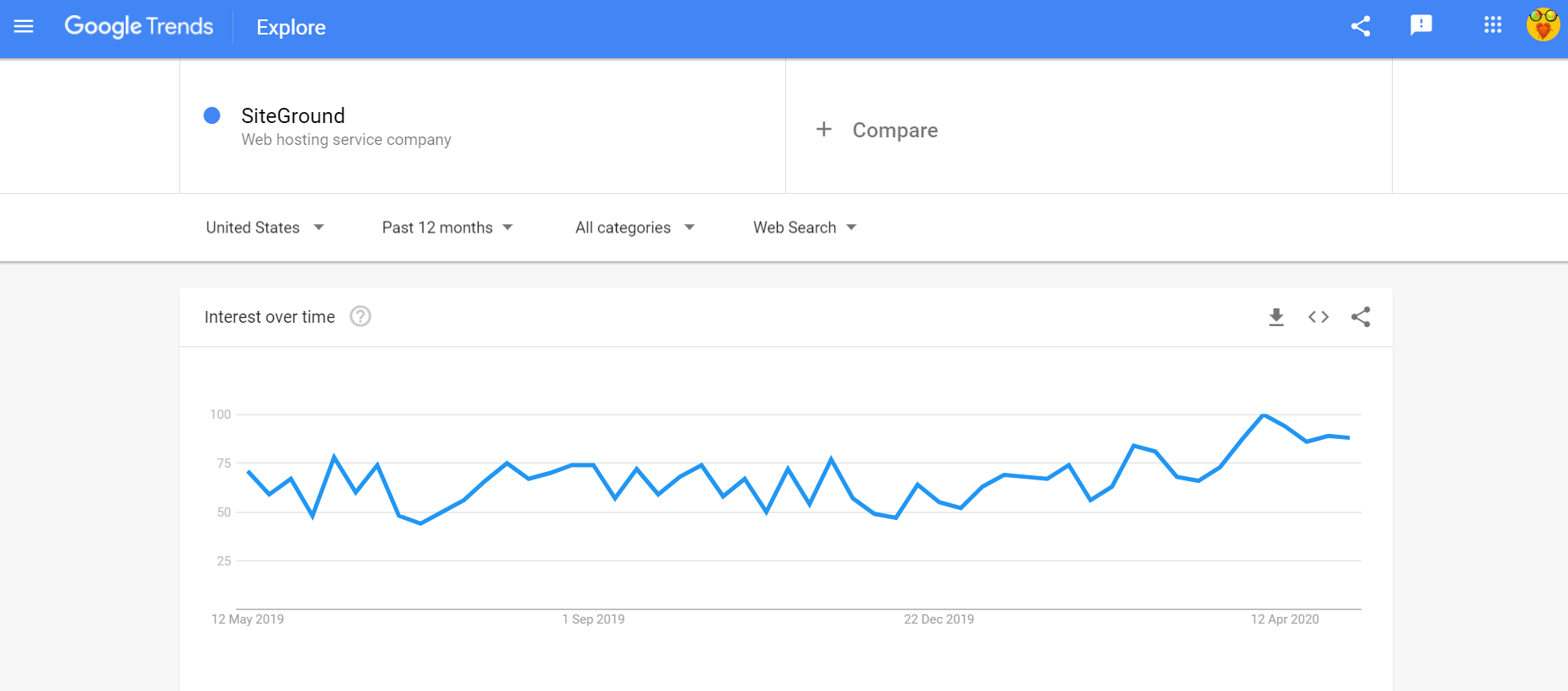 The graph generated by Google Trends when I searched with "SiteGround review" resembles a heart rate monitor as seen in a hospital with random peaks and declines in interest through the past one year. Interest in the search term was highest sometime around 12th April 2020 after which it dropped below the average value. The interest is projected to increase again in the coming weeks.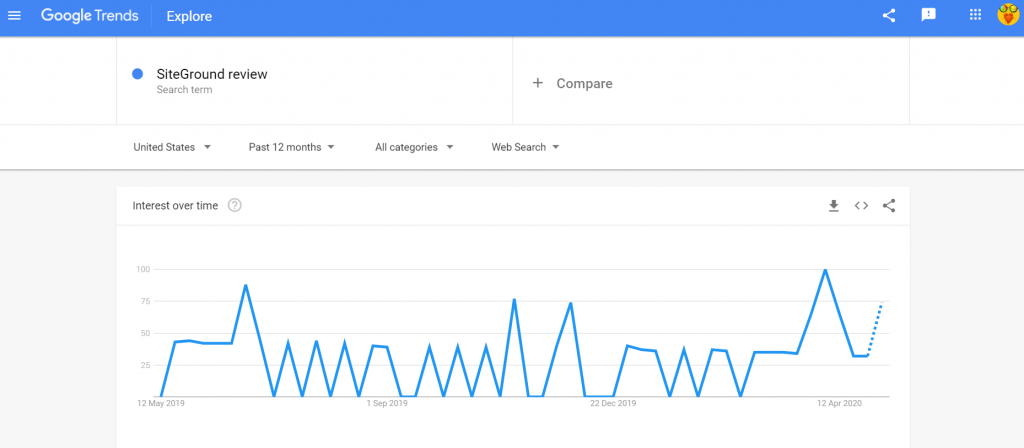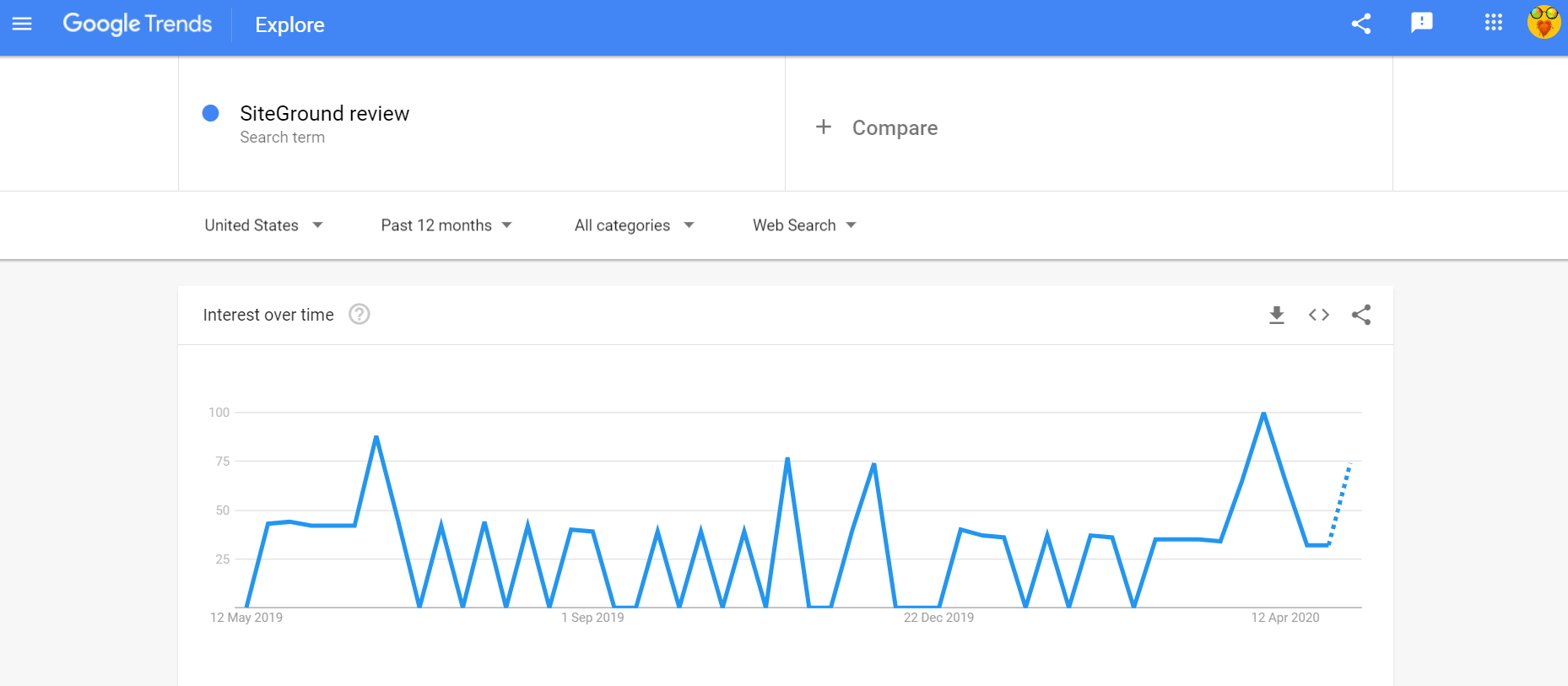 I wanted to compare the interest in "SiteGround" with that in "DreamHost", one of its nearest competitors. While the competition was quite close throughout most of 2019, SiteGround took the win comfortably. Since the start of 2020, interest in SiteGround has been considerably higher than that in DreamHost and is steadily rising while that in the latter is on the decline.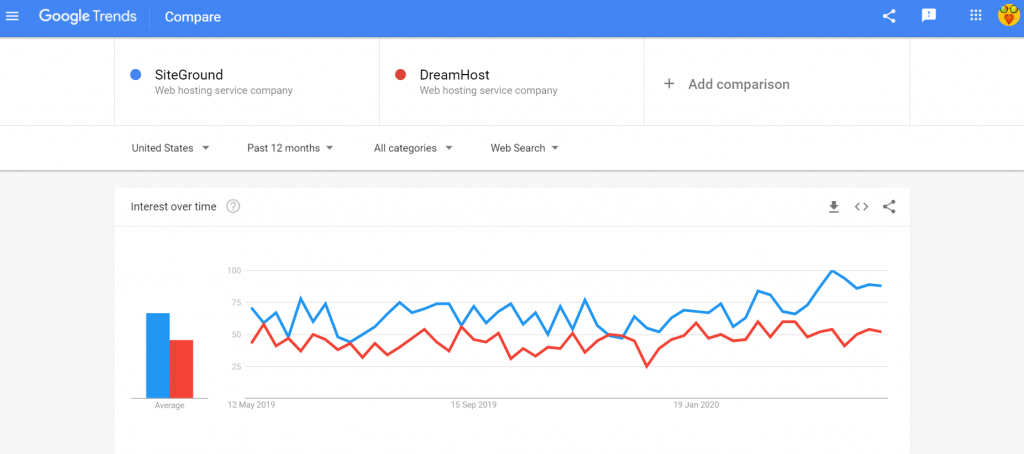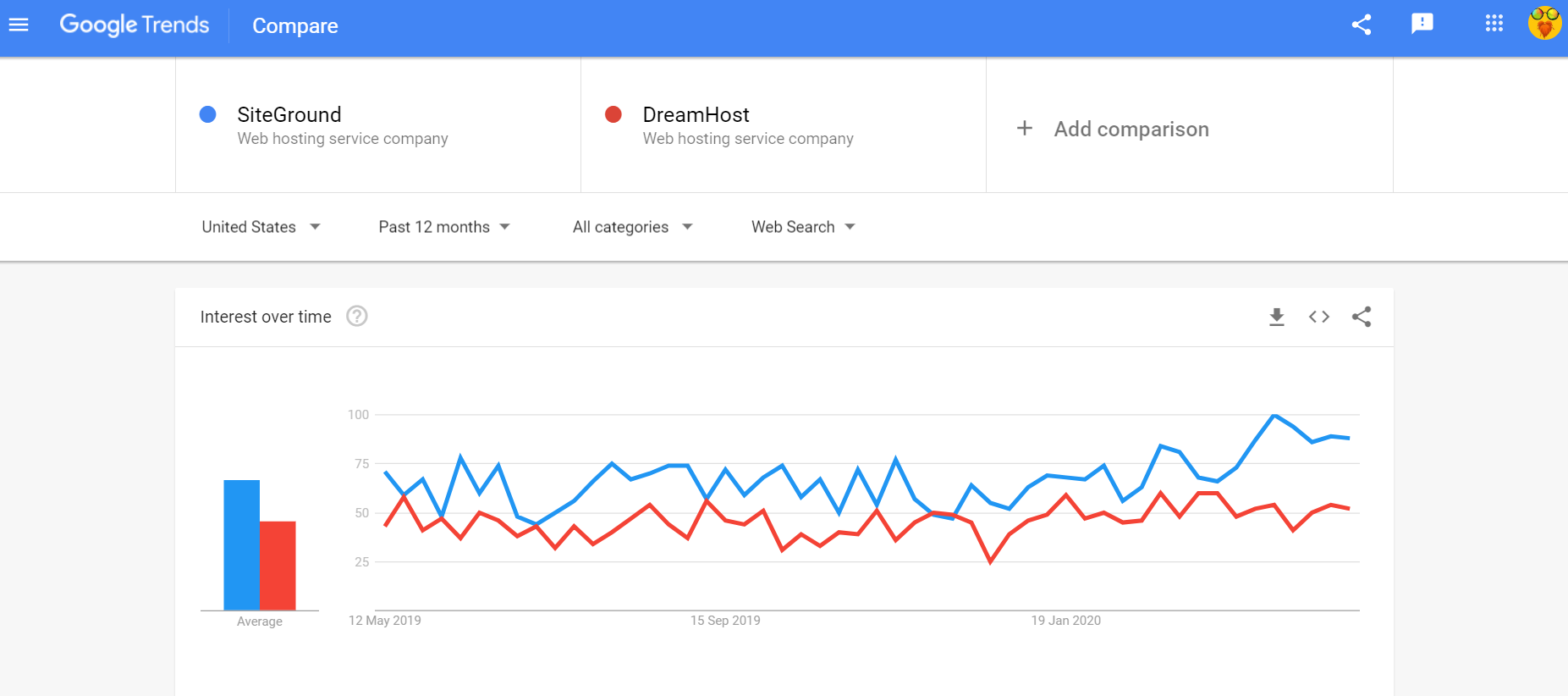 19
SiteGround: Users' Feedback, Ratings and News
SiteGround has profiles on such social media sites as Facebook, Twitter and Instagram and uses these profiles to announce discounts, post articles related to web hosting and keep its followers up to date with the latest developments. While there weren't many user comments on either Facebook or Twitter to draw a conclusive judgment from, whatever user comments I came across on these sites were mostly positive with praise for its excellent customer service and the range of features offered by the company.
To get a more conclusive picture, I visited three consumer review websites and here is what I found about user feedback. Trustpilot, the first site I visited, had over 4400 user reviews of SiteGround from which the company earned an impressive TrustScore of 4.7 out of 5. Over 90% of the user reviews rated its hosting service as excellent and claimed to be satisfied with SiteGround. Countless users praised the fast technical support offered by the customer support team and voted it as one of the best.
On SiteJabber, there were about 200 reviews of the company and it earned a consumer rating of 4.84 out of 5. The company's prompt, professional, and accurate customer service received ample praise yet again with some users also mentioning the amazing load speed and the ease of site migration that SiteGround offers.
Web Hosting Geeks had 1179 user reviews and an overall rating of nearly 4.7 stars out of 5. SiteGround was most appreciated for its tech support, user-friendliness, reliability and uptime. However, a few reviews did complain about the company's service as well as its hitherto untouchable customer support but SiteGround representatives were quick to respond to all of these reviews and not only apologized for any lapse on the company's part but also offered to assist the customers.
Moving on from user reviews, I searched several news sites to find relevant information, news on the latest developments, and any other interesting data on SiteGround. The first news that piqued my interest was an article on Business Wire that announced SiteGround's decision to move a large chunk of its infrastructure to Google Cloud. The company aims to improve its speed as well as the efficiency of its hosting service by utilizing Google's fast and state-of-the-art networks. You can read more about it in this review.
Though this next bit of news is from two years back, it is still relevant today as it talks about the three important aspects of the Service Recovery Paradox. The writer Joe Sejean was inspired to write this article after facing an issue while publishing his blog with SiteGround and subsequently turned to the company's customer support. It was SiteGround's support that opened his eyes to the power of Service Recovery Paradox about which he writes in-depth in this article.
The final bit of news that I found worth mentioning is rather a market study of the global web hosting industry that predicts growth of $55.9 billion in the next five years.
To sum it up, I would like to say that SiteGround is one of the few web hosting companies which provides an all-round service that is suitable for beginners as well as professionals and small websites as well as large businesses. Its affordable Shared hosting plans offer great customizability and control through numerous free advanced features. I would recommend SiteGround to anyone looking for a dependable web hosting service with unparalleled tech support.

September 2023 Deal! 80% Off SiteGround Web Hosting
80% Off SiteGround Web Hosting (StartUp, GrowBig, GoGeek)