HostGator Review 2023: Affordable Shared, Reseller, VPS & Dedicated Hosting Solutions
HostGator is a renowned web hosting service known for offering 99.9% uptime, free SSL certificates, free email accounts, unlimited bandwidth, and unlimited disk space with its Shared Hosting plans. The company's cloud-based WordPress Hosting makes it ideal for starting a blog or creating a website. While HostGator's Shared Hosting is best suited for individual websites and small businesses, its VPS hosting plans and Dedicated Hosting plans offer advanced resources that big businesses need to run their websites smoothly.
---
PROS:
99.9% uptime
Affordable price plans
45-day money-back guarantee
Unlimited bandwidth and disk storage
FreeSSL certificate and email accounts
CONS:
Backup/restore and security services for extra monthly charges

September 2023 Deal! 80% Off HostGator Shared Web Hosting + FREE Domain
80% Off HostGator Shared Web Hosting + FREE Domain (12 Months)
One-click install for WordPress
Drag and drop website builder
Yes as add-on service for $2/month
24/7/365 phone, email, and live chat support with a detailed knowledge base
Hatchling plan – $2.75/month
Baby plan – $3.95/month
Business plan – $5.95/month
 How to Start a Blog or Website With HostGator: A Step by Step Tutorial
Building a website or a blog isn't complicated and even beginners can build a website in no time. There are multiple ways to start a website or blog but the easiest way is to use a Content Management System (CMS), like WordPress or a website builder, like the one offered by HostGator.
Start by identifying the type of website you are looking to build. Do you want to create a business website, a personal website or a portfolio website? Once you know the type of site you want to build, it becomes much easier and faster to choose the right template.
Once you have that sorted, it is time to visualize the structure of your website. In general, all websites have a common set of pages such as home page, about page, contact page and services or the product page. This tutorial will help you choose the appropriate website building tools and build a website or a blog.
60% Off HostGator WordPress Web Hosting
Go to the HostGator website and click "Get Started!" to view the three different price plans. Select the Shared hosting planyou can afford. I recommend starting with the most basic plan for $2.75 per month as you can always upgrade later.
Once you have selected a plan, it is time to register a new domain name. Your domain name is the URL that visitors will type in their browsers to access your website or blog, while the host is where all your website files are going to be stored.
I would recommend you to pick a .com address that will be easy to spell as well as remember. Type in a domain name to see if it is available. Once you have one, complete the ensuing formalities. You can even search and select a domain name from HostGator's domain page.
Next up, simply confirm the selected plan, choose the billing cycle, and create your username and security pin.

Anyone who has ever purchased anything online will know the next step that involves entering your credentials and billing information.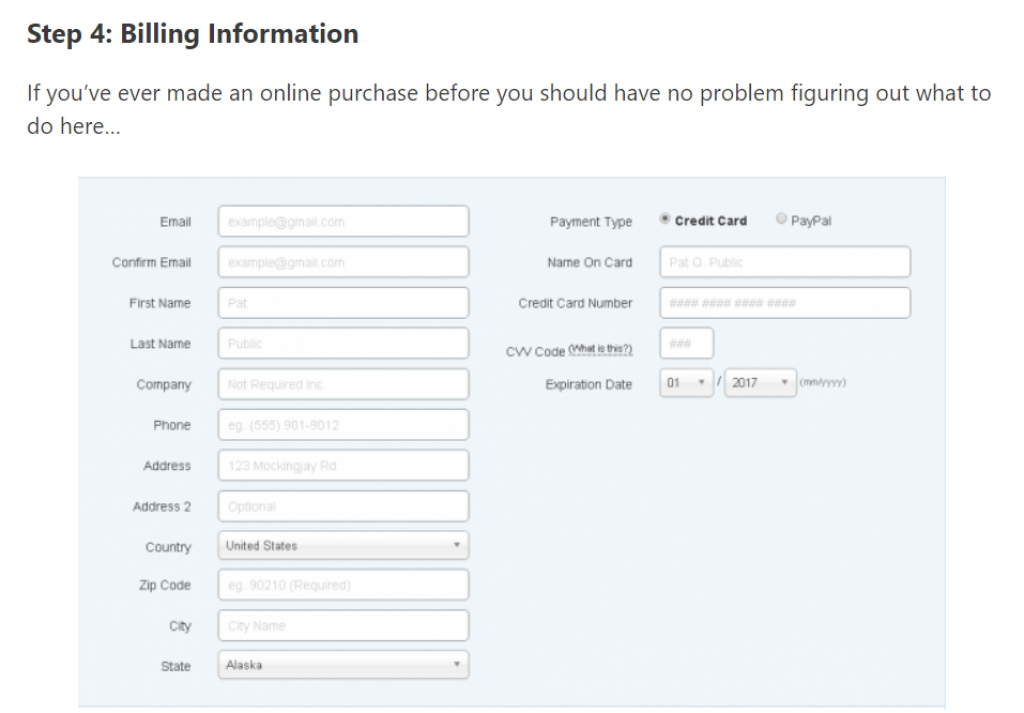 This step is optional and you can skip it if you don't want additional paid services. If you do, the five add-on services offered are hacker protection by SiteLocker, a professional email from Google, site backup courtesy CodeGuard, SEO tools and SSL certificates.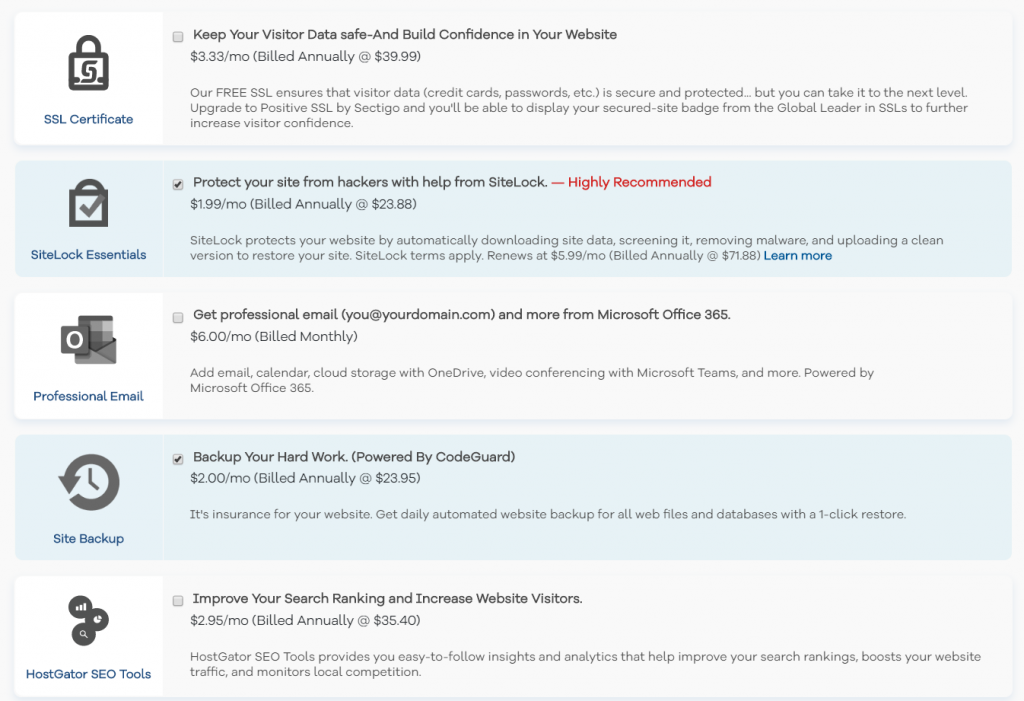 It is recommended to get all the available add-on services for optimal performance but if you are unwilling to spend too much at once then I suggest that you at least get the data backup and restore service so that you don't lose all your data.
After you have filled in every field, it is time to check that you have correctly entered all the information. If you have a valid coupon code then you can enter it in the box provided for coupons. Once the coupon code is validated and you have checked the "terms and condition" box, proceed to submit by clicking the "Checkout Now" button.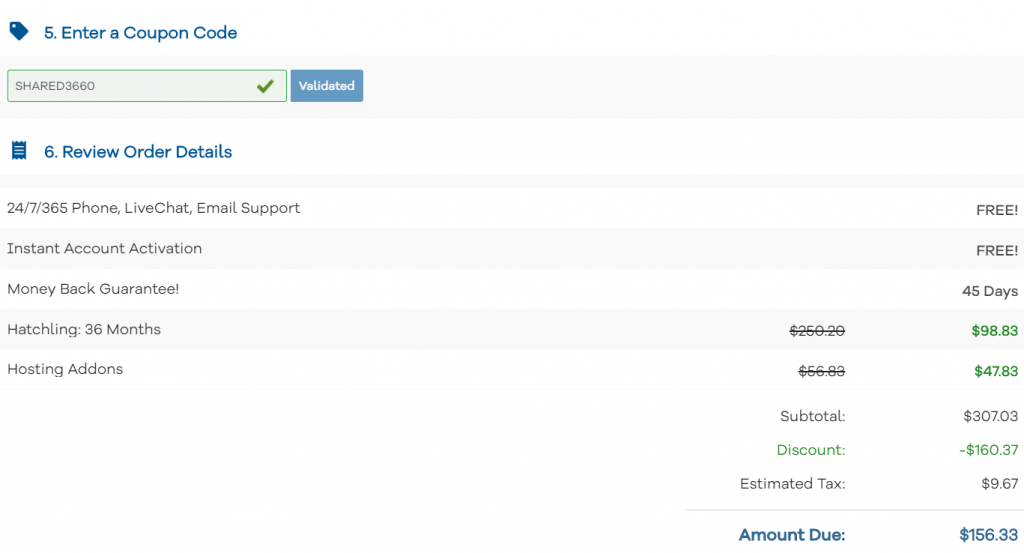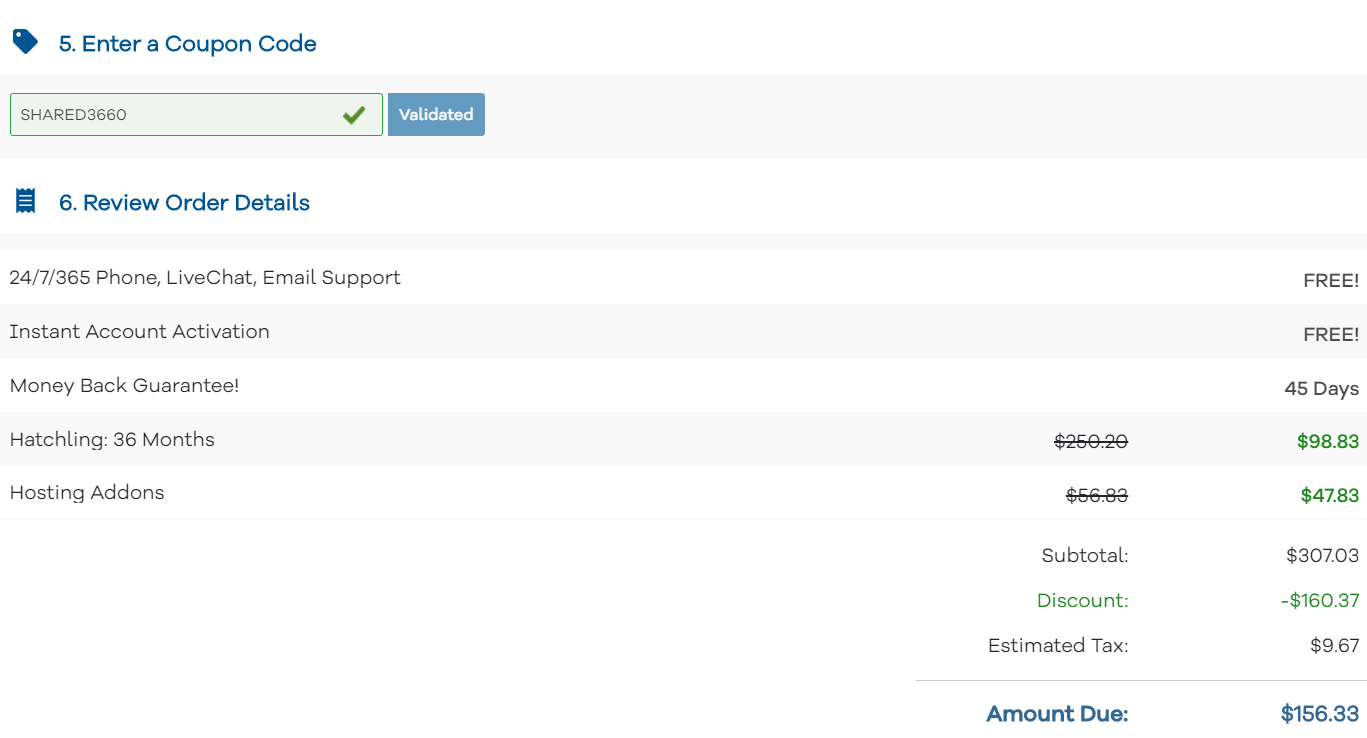 Once you have bought HostGator's hosting service, the first thing you do is login to your hosting account control panel. Use the login credentials that you have received along with a link to your cPanel after registering your hosting account with HostGator.
Now that you have logged in, it is time to start building the website and to do so you must first choose how you want to build it. You can either use WordPress or HostGator's website builder called Gator.
While WordPress helps you build a highly flexible and professional site, some users don't need all that customizability and may prefer an easier way in the form of website builders. When it comes to ease of use, website builders are better than WordPress and can help beginners get a website up and running in little time.
After you have logged into your cPanel, go to "QuickInstall", select "WordPress" and choose the domain you want to install WordPress on. Leave the "directory" field blank. Next, enter your website's name and fill in the admin credentials, and simplyhit the "Install" button.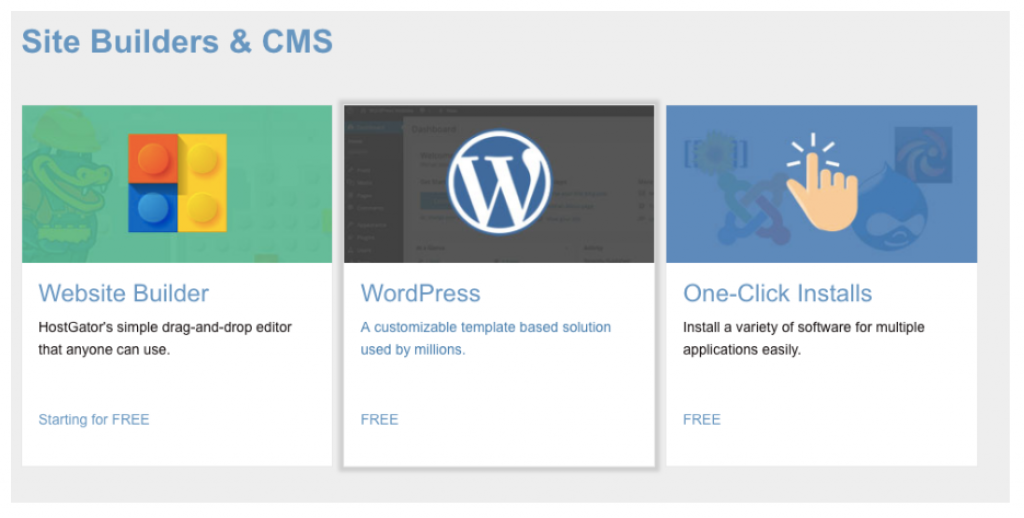 Once WordPress has finished installing, you will receive a confirmation message with all the information necessary to access the WordPress app. Navigate to "Appearance -> Themes" in your WordPress dashboard and then click "Add New" to select a theme for your website or blog.
You can choose from numerous free themes or install paid themes as well. Use keywords to search for specific themes. Find a theme you like and hover over it to see the "install" button. Install the theme and "activate" it.You can then customize the themes either via the settings page within the theme or with the built-in customizer that can be accessed by navigating to "Appearance -> Customize".
Go to "Pages -> Add New" to add new pages to your website. Type in the name of the page that you want to add and insert the body text, images and additional features. To further customize the site and add more features, you can use WordPress plug-ins. While some plug-ins run in the background, like SEO and security plug-ins, other plug-ins, like social media sharing, run in the foreground.
HostGator is the company's proprietary website builder that comes with several themes covering a wide range of various niches. Open the builder and the first thing you will notice is the design template selection.
The template you select will be the foundation of your website, so spend some time choosing the ideal template that best serves the purpose of your site or blog. Hover over a template that you like and click on the "select" option when it appears.
Use the drag-and-drop builder to customize your template as per your preference. There are ample customization options that include adding new content blocks, changing fonts, text and even adding new design elements to your template.
To add new pages, simply click "Add New" and you can start to write content on your website or blog. The HostGator website builder is very easy to use as it lets you rearrange all the selected design elements by the drag-and-drop feature.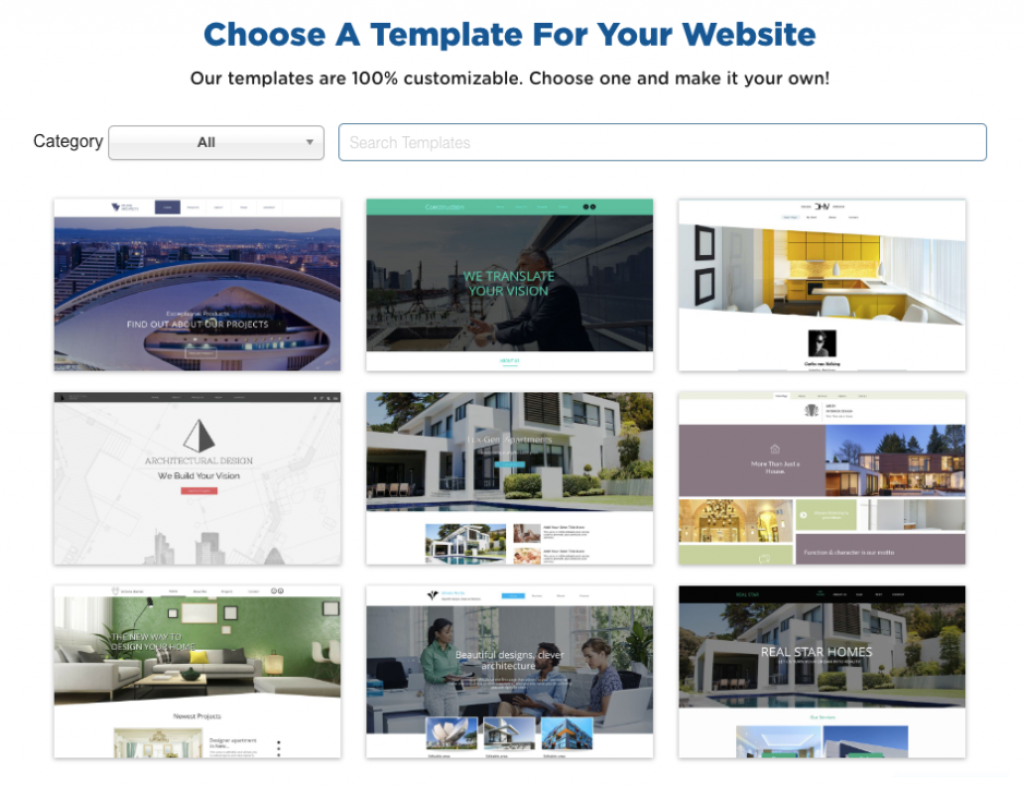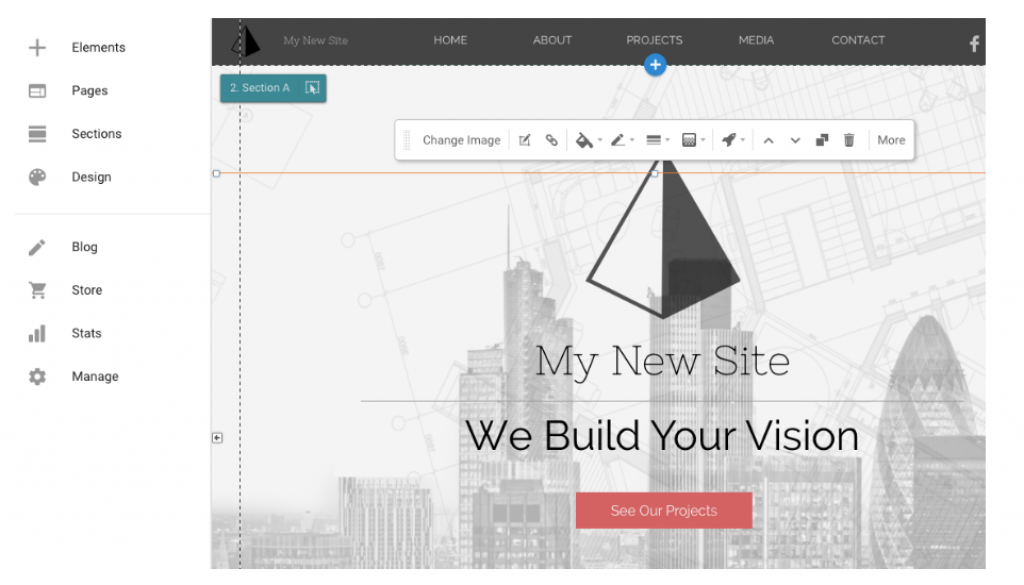 September 2023 Deal! 80% Off HostGator Shared Web Hosting + FREE Domain
80% Off HostGator Shared Web Hosting + FREE Domain (12 Months)
HostGator guarantees 99.9% uptime, failing which one month of hosting credit will be transferred to the user's account. I tested the company's lofty claim several times and the average uptime from the tests came out to be 99.8% which was a fraction shy of the company's claim but given the consistent uptimes I got every time I put the service to test I am not complaining.
I tested the load time for my website using Pingdom and achieved an average load time of less than one second from the numerous tests that I conducted. The best load time I got was 691 ms when I tested from New York and the site gave grade A for performance. I even tested my site's response times across eight locations and the average response time was an impressive 202.8 ms.
3
 Unmetered bandwidth and disk storage
HostGator does not charge users for the amount of bandwidth and disk storage used but the company requires customers to comply with its terms and conditions that dictate that an individual or a small business website do not use more than 25% of system resources for more than 90 seconds. While it is rare for individuals and small businesses to exceed HostGator's usage policy, in case you violate the policy an email requesting you to reduce usage will be sent to you.
4
 WordPress and WooCommerce
HostGator is optimized for WordPress hosting and offers one-click installation via the QuickInstall tool. Installing WordPress is as easy as it gets and you can start building your website using its comprehensive building tools. You can even host your very own WordPress blog. Furthermore, you can sell anything on your website via WooCommerce, a free WordPress plug-in.
HostGator provides support for online stores including the WordPress Plug-in called WooCommerce that lets you transform your website into a fully functional eCommerce store. Magneto hosting has been designed with eCommerce in mind and it offers simple tools for building online stores. The modern control panel is excellent to create instant shopping carts, portals, and counters.
6
 Web design services and website builder
HostGatoroffers web design services via WordPress and its drag-and-drop website builder called Gator. While Gator does not limit the amount of space that you can use, you might need to upgrade your hosting plan if your website is resource-intensive. HostGator's intuitive website builder is easy to navigate and lets you quickly set up a professional-looking website or blog without any prior knowledge in coding or web designing. It has more than 100 mobile-friendly templates and an extensive image library.
Users who enroll for 12, 24, or 36 months Shared, WordPress or Cloud hosting plan are eligible for free domain name registration of only .com, .net and .org domains. After one year of free use, the domain will renew at the regular rate.
HostGator ensures that your website is securely flagged through free SSL certification that protects your website domains and sub-domains by using strong 2048 bit signatures and encryption up to 256-bit along with 99.9% browser recognition. The Business plan even offers a free upgrade to Positive SSL that is backed by a $10K warranty and displays a TrustLogo Site Seal on your website.
SEO tools are necessary to not only increase online visibility and site traffic but also to boost search rankings. HostGator offers free SEO tools with a personalized step-wise SEO plan only with its Business package but you can add SEO services as an add-on service for $2.95 per month, billed annually.
You get unlimited email accounts for free with every HostGator Shared hosting plan but if you want a professional email and more functionality from Microsoft Office 365 then you can get it as an add-on service for $6 per month.
11
 Database backup and restore
Data backup and restore are unfortunately not provided by HostGator for free but you can buy backup and restore services as an add-on for $2 per month. Powered by CodeGuard, it offers daily automatic backup of all web files and databases along with one-click restore.
If any customer is unsatisfied within the first 45 calendar days since purchasing the service then the full hosting fees are refunded by HostGator without any questions. However, HostGator's refund policy applies only to basic hosting services and additional fees such as domain registration fees, set up fees and charges for add-on services are not covered by the refund policy. Refund requests after the 45 calendar days are not entertained.
HostGator employs custom firewall and large mod security rules to protect its servers from DDoS and UDP flood attacks. The company's datacenters are highly secured with restricted access and network-level flood protection in case of heavy flooding.
All HostGator plans come with 24/7/365 hosting server monitoring and premium support via phone, and live chat. The online support portal contains over 500 video tutorials and help- articles.
Shared Hosting plans start at $2.64 per month and goes up to $3.95 per month and $5.95 per month for the Business plan. The company further offers WordPress Hosting starting at $5.95 per month and Dedicated Hosting packages that start at $89.98 per month. VPS Hosting starts at $19.95 per month and you can get HostGator's website builder, Gator starting at $3.84 per month. Payment methods include credit cards and PayPal.

September 2023 Deal! 80% Off HostGator Shared Web Hosting + FREE Domain
80% Off HostGator Shared Web Hosting + FREE Domain (12 Months)
16
HostGator Google Trends
Google Trends is a data analysis engine that examines the popularity of the most searched terms on Google search and relates the data in the form of graphs. To check the interest in HostGator in the USA over the last 12 months, I used Google Trends to check search terms such as "HostGator" and "HostGator review", and here is what I found.
Interest in the topic "HostGator" has been consistently above average since last year with just a negligible dip in interest during December 2019 that quickly recovered at the beginning of 2020. Since January 2020, interest in HostGator has been fairly high and reached its zenith last month. However, there has been a recent drop in interest which is acceptable considering the consistently high interest since April 2019.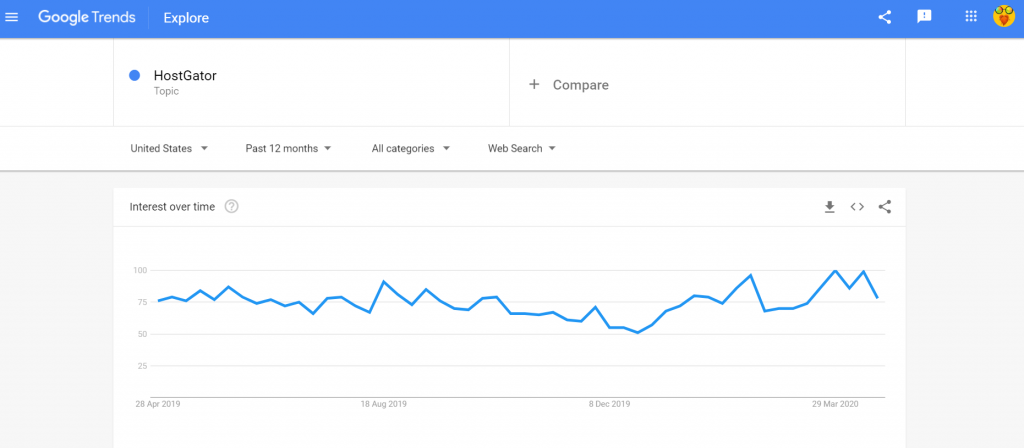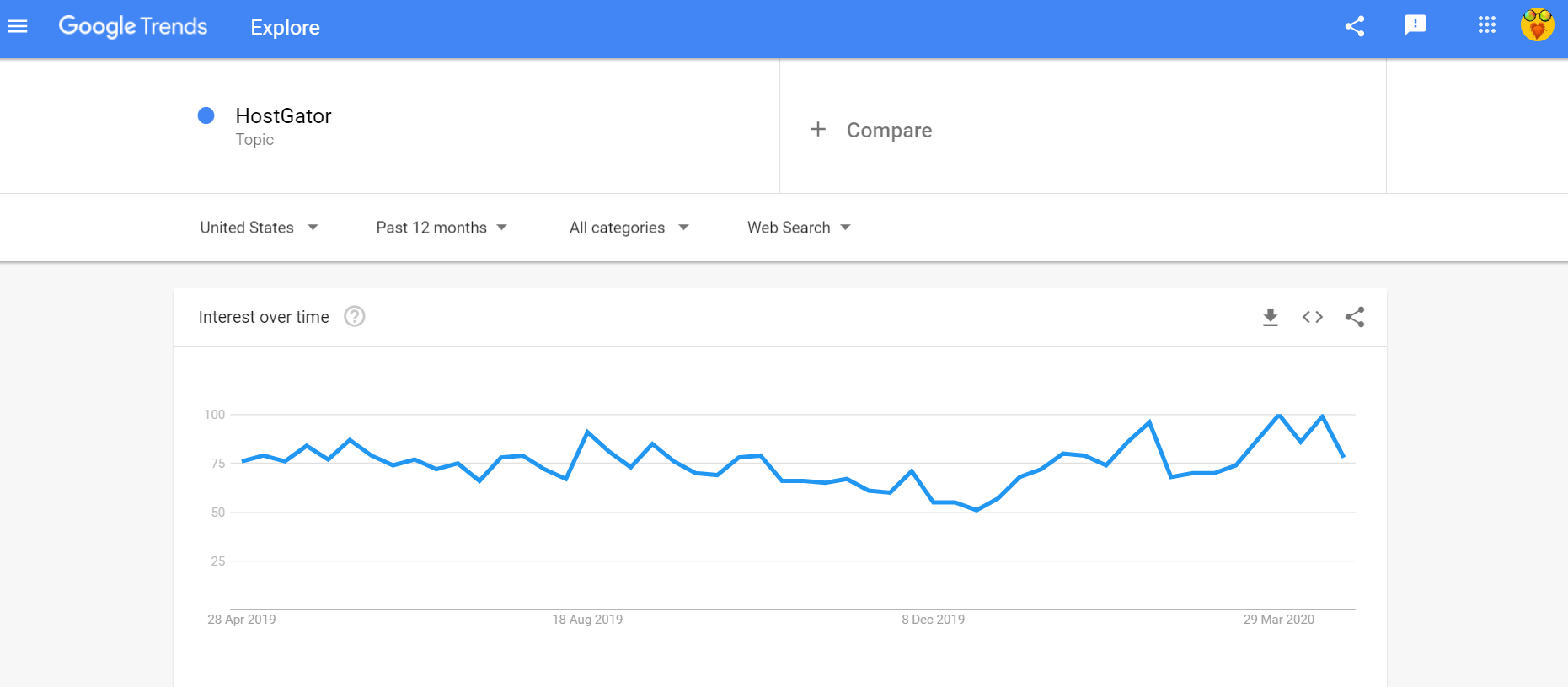 The next keyword I checked was "HostGator review" and this time the results fluctuated with a greater degree of uncertainty with interest rising and falling at equal intervals. Interest was at its highest from April 2019 to August 2019 after which it fell sharply. During most of April 2020, interest was quite high but has been projected to fall again.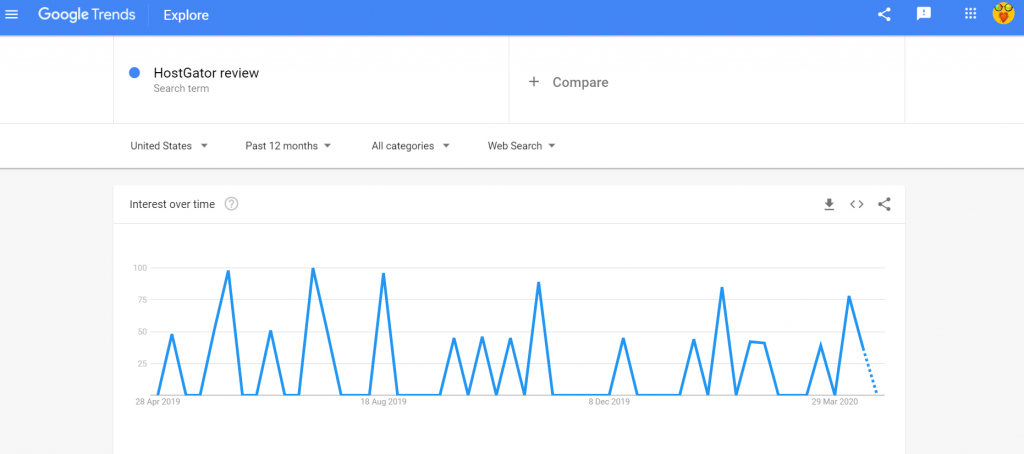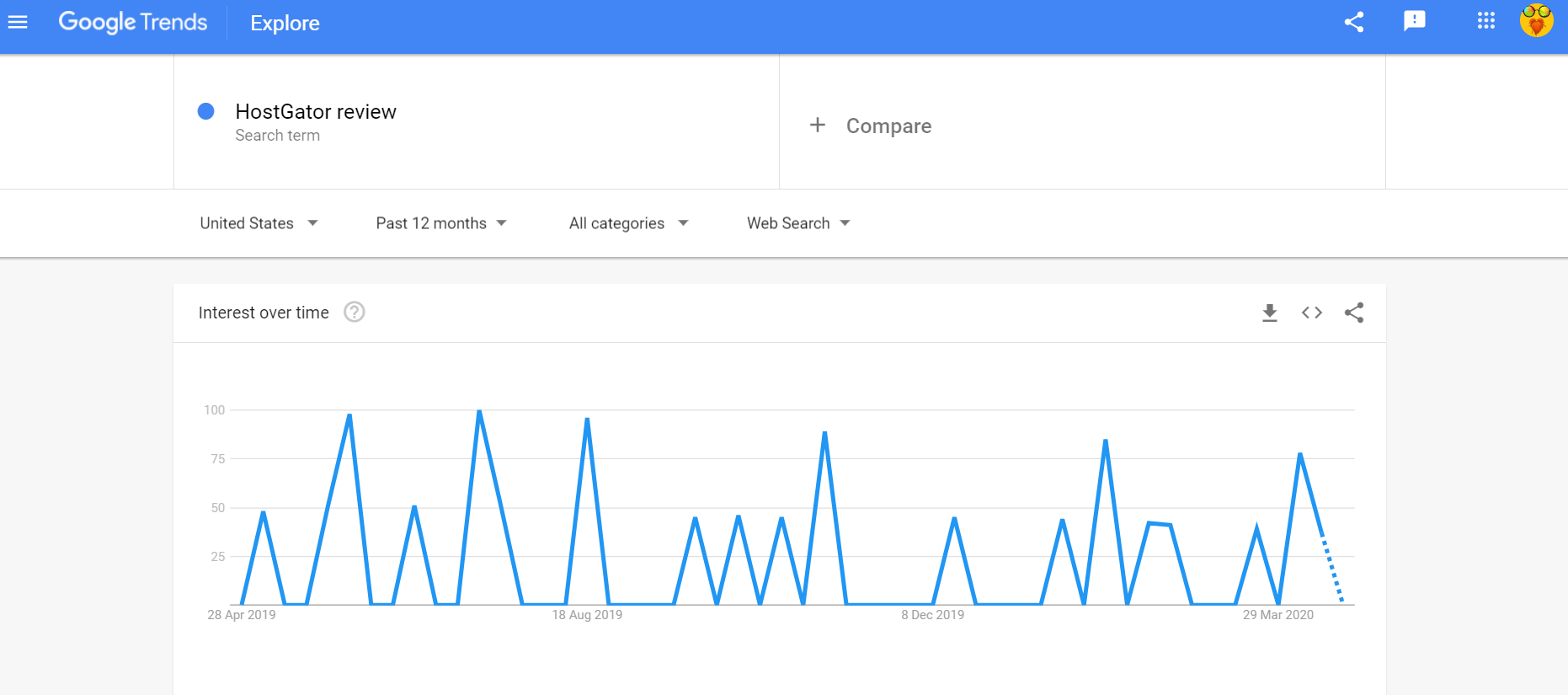 I also wanted to check how competing services fared when pitted against one another and compared "HostGator" with "SiteGround". The results were neck and neck but HostGator edged ahead of SiteGround due to higher interest for the better part of 2019. Interest in SiteGround was briefly higher than HostGator at the start of April 2020 and is projected to rise in the next weeks, while interest in HostGator is on the decline.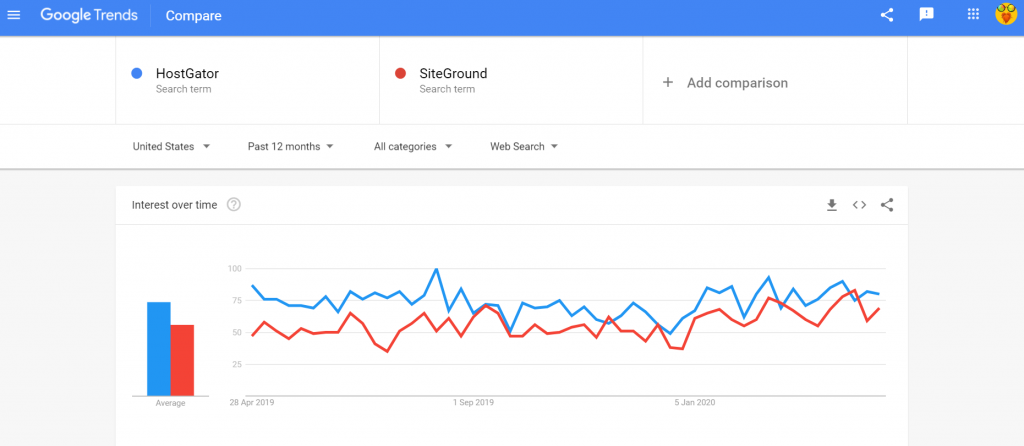 16
HostGator Users' Feedback, Ratings and Social Media Reviews
User feedbacks from social media sites and web hosting forums provide honest opinionson the usability of hosting services and help potential customers to make an informed decision before buying a web hosting service. I scoured through Facebook and Twitter among other social media profiles as well as related forums to find out about the general public impression of HostGator.
HostGator's Twitter timeline is fairly active with regular posts and has a following of over 70 thousand. While there were not many comments to make an informed judgment, the few that were there gave a general impression of positive appreciation for the features offered by HostGator. The scene on Facebook and some of the forums I visited were similar with mostly positive reviews from the few users who commented on the company's posts.
Apart from social media sites, verified user reviews on consumer review websites such as Trustpilot and SiteJabber among others offer a deep and honest understanding of how good a web hosting service is and whether the service lives up to the claims it makes on its website.
The first such site I visited was SiteJabber where HostGator achieved an impressive consumer rating of 4.1 out of 5 from 85 reviews. The positive highlights from the user reviews on this site include efficient hosting services, useful features, and affordable pricing. There was generous praise for its exceptional control panel from the majority of the users who had used or are still using the service for over a year.
However, HostGator had its fair share of negative reviews with the most common issue being its average customer support service that some users felt were not up to the mark due to long waiting times. I should mention that HostGator representatives actively participated in conversations and even apologized to a couple of users who claimed to be on the receiving end of bad behavior from the company's support agent.
Moving on, I went through a fair number of news websites to find out if and why HostGator has been in the news recently. The first news of importance that I came across was regarding growth in the market worth of internet hosting services including HostGator, Bluehost, InMotion and Hostwinds. The study provides global estimates for internet hosting services until 2025 based on revenue, current growth factors, expert opinions, and industry-validated market development data. To read the full analysis, check this website.
The next piece of news is somewhat similar and predicts that domain registration providers like Namecheap, HostGator, Hostinger and GoDaddy among others will witness rapid growth by 2026. The global report covers both cloud-based and on-premise service and applies to large enterprises as well as SMEs.
The final news worth mentioning is a list of the five best website builders in 2020 for SMB, SME and Gig operators published by TechRadar.
To sum it up, HostGator is an excellent choice for individuals and small businesses as it provides the bare necessities of hosting services without the embellishments that some of its competitors load their products with. While HostGator's VPS and dedicated hosting services are short on customizability, its shared hosting packages offer several free features at extremely affordable prices and come with a generous 45-day money-back guarantee.

September 2023 Deal! 80% Off HostGator Shared Web Hosting + FREE Domain
80% Off HostGator Shared Web Hosting + FREE Domain (12 Months)
PROS
Free site migration
User-friendly modern cPanel
Free one-year domain registration with 12, 24, or 36 months of Shared, WordPress and Cloud hosting plans
CONS
The online knowledge base is difficult to navigate
Add your review
|
Read reviews and comments