Hostinger Review 2023: Affordable Shared Hosting Plans For Individuals And Small Businesses
Hostinger is a popular web hosting provider that offers up to 90% off on web hosting plans that come with free SSL certificates, 99.9% guaranteed uptime, DNS management, LiteSpeed cache and one-click WordPress installation among other advanced features. Users get weekly backups with all annual plans and 24/7/365 support via live chat alongside a detailed knowledge base and simple tutorials.
---
PROS:
Unlimited bandwidth and number of websites
99.9% guaranteed uptime with all plans
Github integration and WordPress acceleration
Free SSL certificate
Cloudflare protected name servers
CONS:
Limited disk space up to 100 GB
Limited sub-domains up to 100

March 2023 Deal! 95% Off Hostinger Shared Hosting
95% Off Hostinger Shared Hosting (Single, Premium, Business)
One-click install for WordPress
Drag and drop website builder
Yes, weekly. Daily backup for Business plan
Pricing Plans

Single Shared Hosting – $0.99/month
Premium Shared Hosting – $2.89/month
Business Shared Hosting – $3.99/month
95% Off Hostinger Premium Shared Hosting
 How to Create a Website With Hostinger Tutorial
Building a website or a blog is a simple task that requires no prior knowledge of coding and can be accomplished in a few simple steps. In this step-by-step tutorial, I will guide you through the process of registering a domain name, choosing a hosting plan and finally creating your website using different platforms.
The first step is to decide the primary goal of your website and what type of website you want to build. Whether you want to build an e-commerce site or a blog or a simple website is entirely up to you but having a clear idea in mind will make it easier for you to choose the right hosting plan and the right website building platform. Start by deciding the purpose of your site.
Once you have settled on the type of website, it is time to choose a name for it. You do so by picking a domain name and you can use Hostinger's domain checker to find an available domain name. Run the domain name you have in mind in the search box and choose the best available option.


To find the ideal domain name, keep the name short, easy to remember, avoid hyphens and numbers, and use the .com extension. The simpler and shorter the name, the easier it will be for users to find your website.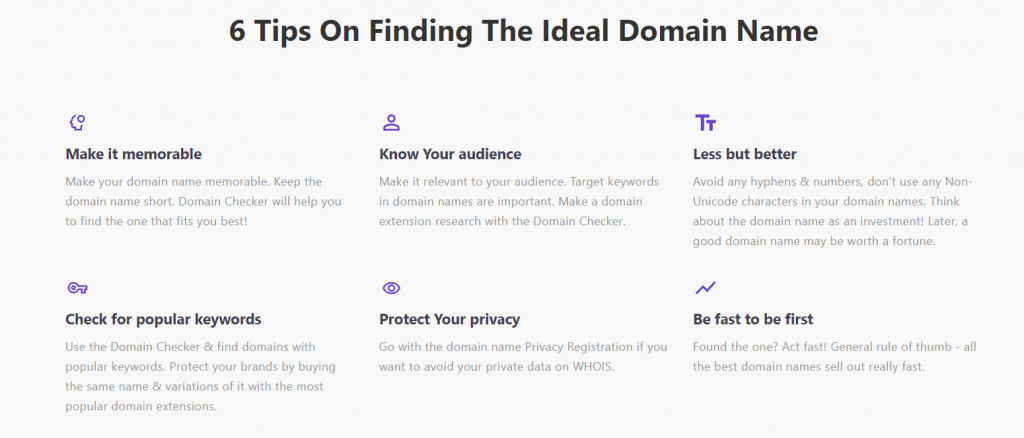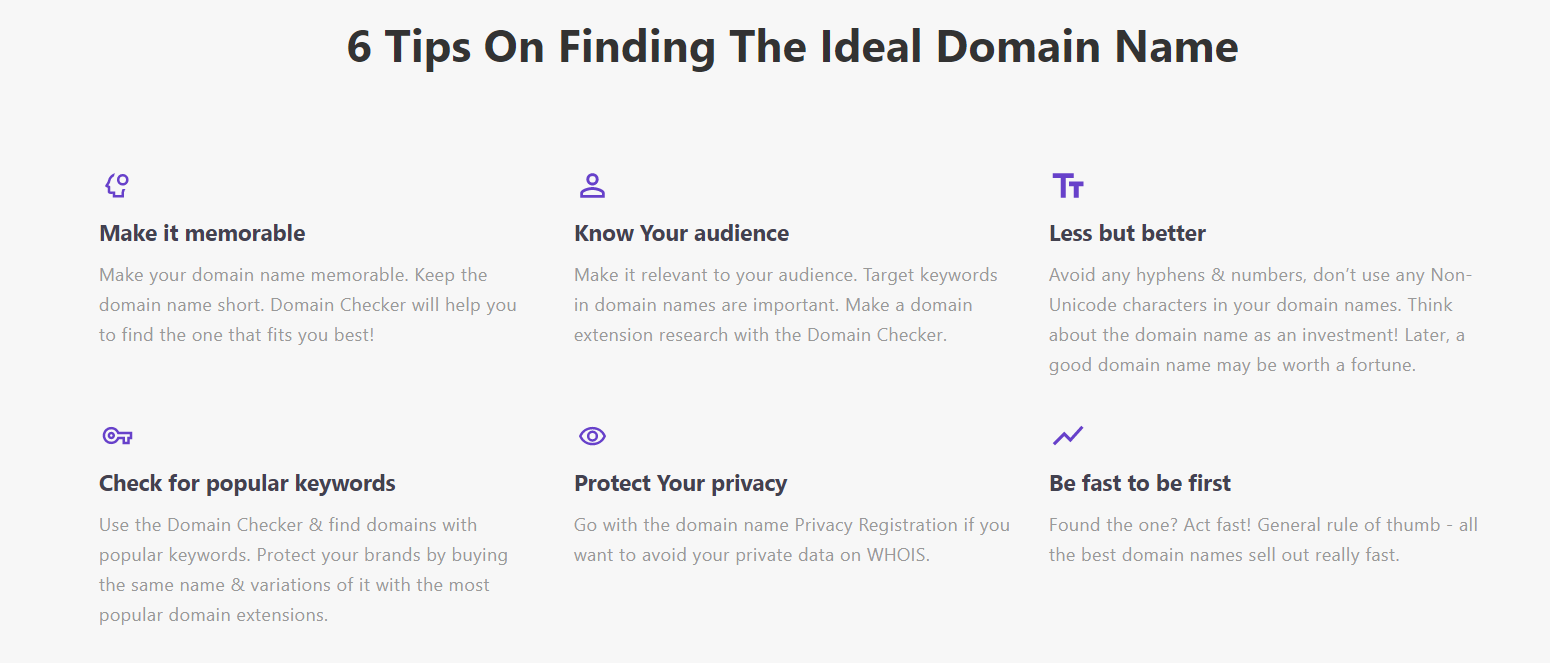 After selecting a memorable domain name, it is time to choose a suitable hosting plan for your website. Here's where having a clear idea about the type of website you want to build comes handy. Hostinger offers various hosting services such as Shared hosting, VPS hosting and Cloud hosting.
Shared hosting is best for individuals and small or medium websites. VPS stands for virtual private server and offers you greater control as well as root access to customize your site to the fullest. VPS hosting is perfect for large businesses with heavy web traffic.
Cloud hosting offers the best of both worlds by marrying the simplicity of Shared hosting with the power of VPS hosting. E-commerce sites, news sites and large-scale project sites with regular visitors benefit from Cloud hosting.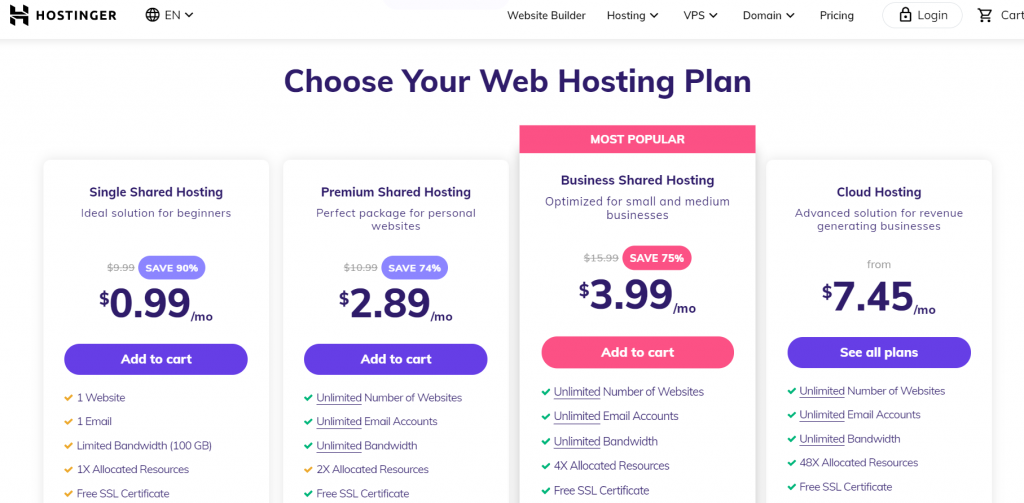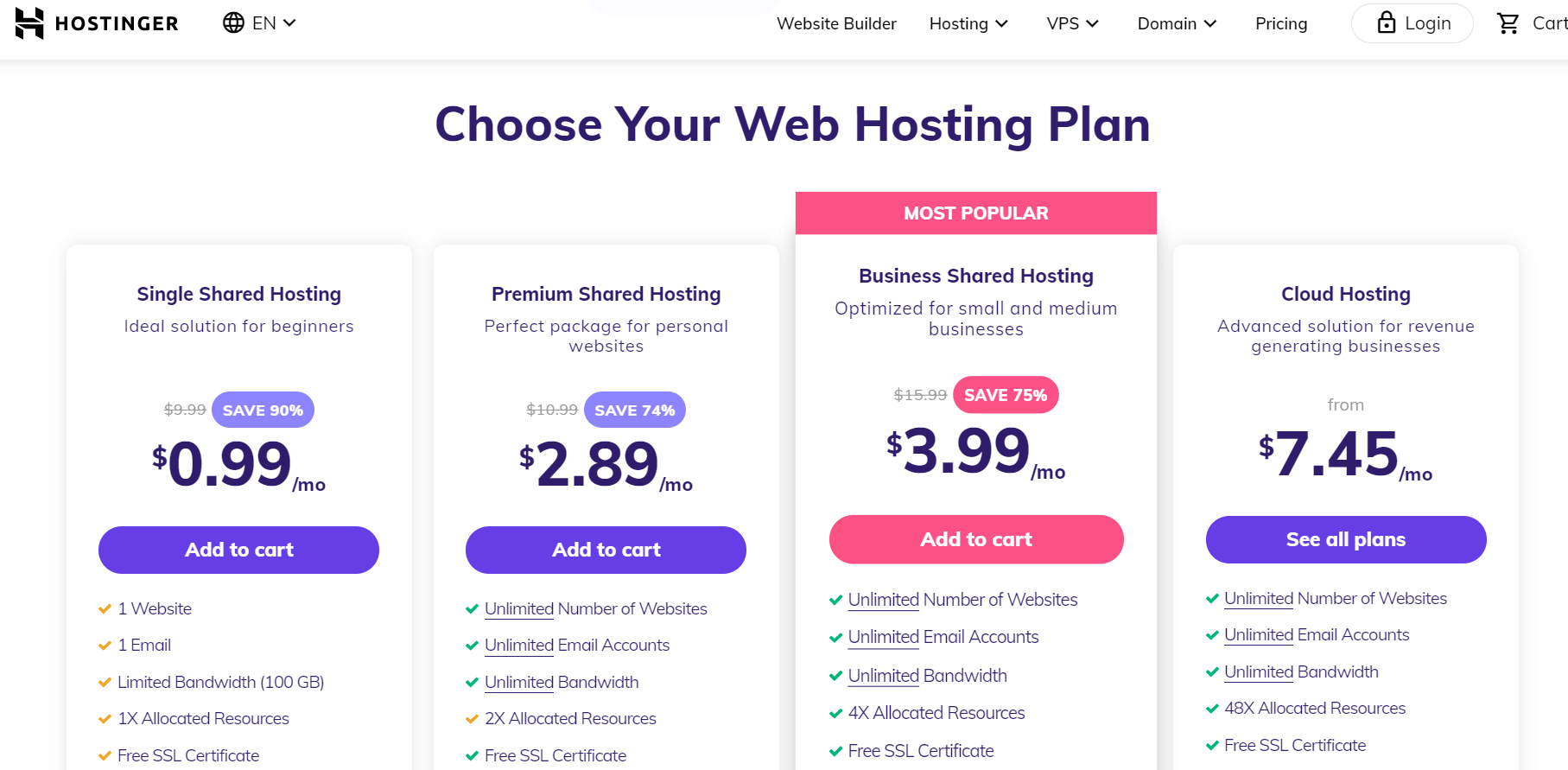 Next, go to the shopping cart to enter your credentials and choose any add-on services if you want. Add-on services include daily backups for $0.95/month, lifetime Cloudflare protection for $9.95, SEO toolkit for $9.99/month, and priority support for $1.99/month.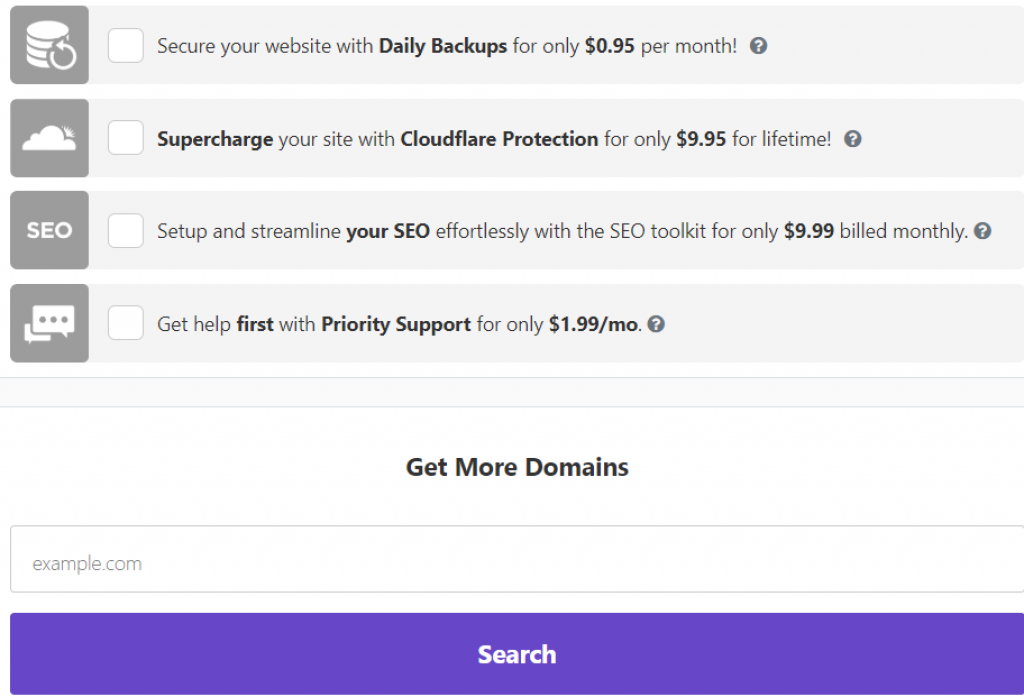 While it is advisable to get all the add-on services for the best experience, if you can't afford it at once then I suggest you at least get the lifetime protection and data backup services to protect your valuable data from unforeseen loss or theft.


If you have a coupon code then enter it in the box provided below your order summary on the right to avail of discounts on your final price.
This step is a continuation of the previous one and involves creating your account with Hostinger. You can create a new account with your name, email and password or sign up with your Facebook, Google or GitHub account. Click the "Create Account & Checkout" button and all that remains is to choose a preferred payment method and fill out the payment information on the next page.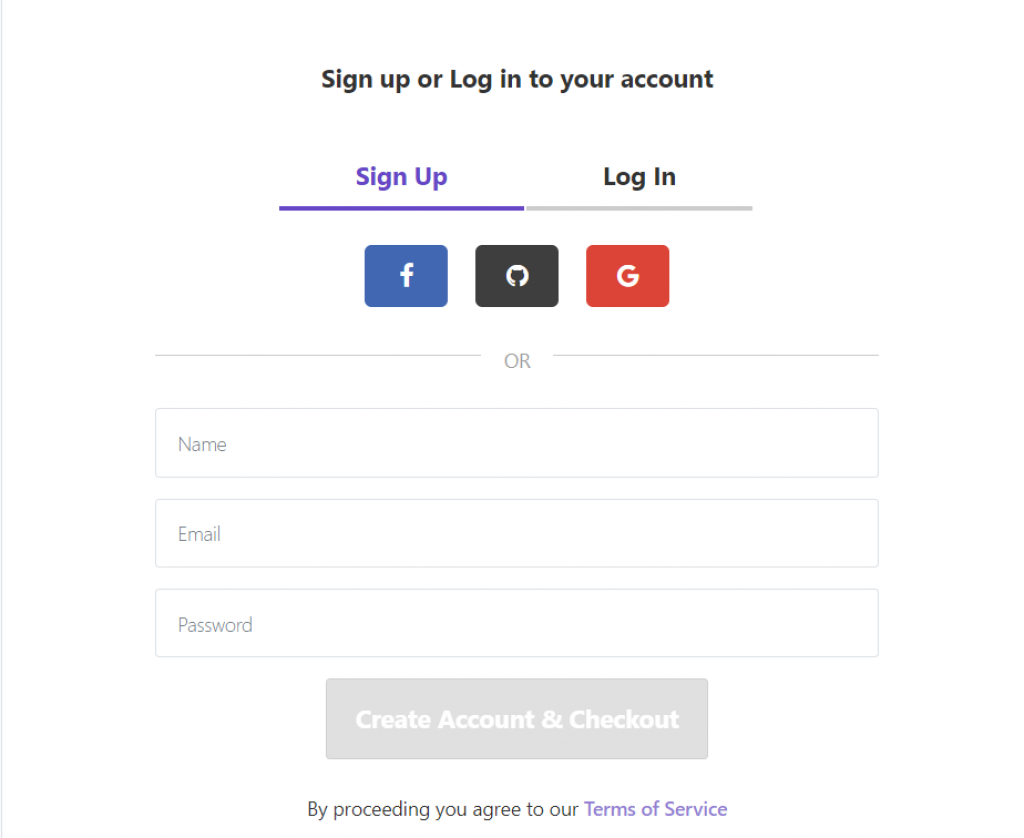 Select a platform to build your website based on the type of website you want to build. In the following steps, I will discuss how to use a content management system (CMS), a website builder and e-commerce scripts to build your website.
Building a website using CMS such as WordPress, Joomla and Drupal. Here, I am going to show you how to use WordPress, the most popular CMS, to build a website. If you want to use Joomla or Drupal then refer to the tutorials on Hostinger's website.
While WordPress is best when building a blog or a website that is heavy on content, its extensive customization options allow it to be used to build other types of websites likee-commerce sites.
a) Navigate to the "Website" section on the Hostinger cPanel and click on WordPress under the "Auto Installer".
b) Enter the required details such as domain name, admin username, admin password, and admin email among others, and click on "Install".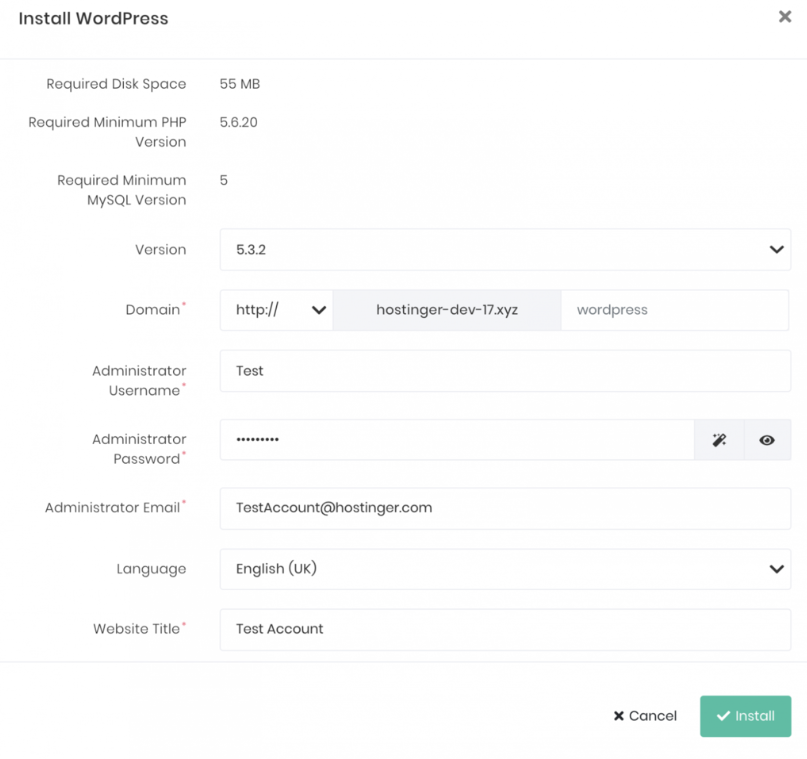 c) After it installs, go to "yourdomain.com/wp-admin" and access the WordPress dashboard by entering the credentials that you supplied in the previous step.
You can control and edit every aspect of your website from this back-end panel.
d) Next up, choose from WordPress extensive collection of over 7000 themes from "Appearance -> Themes". Click on "Add New" to preview and install a theme. To customize the theme, go to "Appearance -> Customize".
e) Upload or create new content via the Posts, Pages and Media sections.
f) Use the ample WordPress plug-ins to add new features and customize your site. You can even add new Plug-ins of your choice.
g) The built-in WooCommerce plug-in can be used to create an e-commerce site using WordPress.

Building a website with a drag-and-drop website builder is the easiest of all website building methods. Hostinger's website builder Zyro offers beautiful designer-made templates, sophisticated AI tools, and more than a million free high-quality images for you to build your website.
a) Unlike WordPress, you do not need to install Zyro as you can access the website builder under the "Website" section in your control panel. Just make sure to backup or remove all other scripts before publishing a website built with a website builder as it may override existing files.
b) Next, choose from the ample selection of Zyro templates to create the layout of your site or import a website via the built-in migration tool. Use the categories to select a suitable theme for your site.
c) In the upper part of Zyro, you will see a range of basic tools that you can use to customize your website.
d) There are also numerous advanced tools to help you structure your website according to its purpose.
e) In the upper-right corner, you will find controls for technical aspects such as creating pages, setting language, SEO factors, and site identity to name a few.

March 2023 Deal! 95% Off Hostinger Shared Hosting
95% Off Hostinger Shared Hosting (Single, Premium, Business)
As any decent hosting provider would, Hostinger too promises 99.9% guaranteed uptime with all its hosting plans. Its servers are monitored round the clock by an expert team of engineers and Hostinger employs customizable server-level caching solutions along with a completely automated bootstrap process to provide lightning-fast speeds.
Powerful Smart Purge technology along with LiteSpeed Cache plug-ins are used to turbo-charge popular web apps with almost zero effort. Hostinger offers one of the best load times I have tested so far using Pingdom. The highest and the lowest load times that I got were 532 ms and 263 ms respectively. The average load time came out to be 321ms from several tests. The average response time was an impressive 46 ms and performance rated A+.

Hostinger provides unlimited bandwidth with its Premium and Business hosting plans but limits it to 100 GB for the Single hosting plan.
Disk storage is the amount of SSD space that is dedicated to a user and Hositnger does not offer unlimited disk storage, unlike HostGator. Disk storage is limited to 10 GB for Single hosting, 20 GB for Premium hosting and 100 GB for Business hosting.
Hostinger provides a one-click installation tool to install the latest version of WordPress complete with customization options that let you utilize WordPress to its full capacity at exceptional speeds. For enhanced performance, WordPress has HTTP/2, HTTP/3, IPv6, and PHP7 enabled along with GZIP compression, caching with LiteSpeed plug-in and threat detection.
6
 Online Store and WooCommerce
To start an online store, navigate to the Auto Installer section in the Website category of your control panel, and find the section labeled "E-Commerce and Business". Here you will find a wide range of popular scripts to start an e-commerce store such as Magneto, Zen Cart, PrestaShop, and much more. You can even set up an online store using the WooCommerce plug-in that comes with WordPress. There is a WooCommerce tutorial on Hostinger's website in case you need it.
7
 Website builder and web design services
With Hostinger's drag-and-drop website builder Zyro, you can build a website in minutes using designer templates and endless customization options. Zyro lets you customize just about any feature of your website and its innovative grid tool ensures your website looks professional. There are more than a million high-quality images to choose from and free AI tools such as AI Writer and AI Heatmap among others. Hostinger's web design services are the best I have used so far.
Hostinger offers a free domain name with extensions such as .com, .xyz, .net, .info, .online, .tech, .store, .site, .website and .space. While the domain name is completely free, you have to pay a small ICANN fee. Hostinger has been an ICANN accredited registrar for several years and can offer free domain registration thanks to its partnerships with renowned registrars and its extensive client base. However, you will have to renew your domain name after a year of free use and renewal fees vary, according to domain extensions, from $11 for .com to $41 for .tech.
While Hostinger's Single shared hosting costs next to nothing at $0.99/month, it even offers a free web hosting service via 000webhost. All you need to do is enter your email, password and website name to get started.
10
 Email accounts and SSL certificates
Hostinger offers free SSL certificates with all its annual plans. SSL certificates protect your website or online store by encrypting data to prevent it from being forged, eavesdropped or compromised. You also get unlimited email accounts and websites with the Premium and Business plans but only one account and one website with the Single plan.
Hostinger's website builder is SEO optimized by default and takes the burden of search engine optimization off your shoulders. Zyro website builder is SEO friendly and automatically customizes your website for the optimal results. However, you can customize your website manually by changing page titles and descriptions to further boost your search engine rankings.
12
 Database backup and restore
You get weekly backups with all Hostinger annual plans but daily backups are available with only the Business plan. Hostinger stores backups for up to a month away from the website storage and lets you restore to a previous point in case of sudden data loss.
Hostinger hosting plans come with a 30-day money-back guarantee but redemption fees, domain name renewal fees, SEO toolkit, G Suite and privacy protection fees are non-refundable. Services purchased via cryptocurrencies, tokens, or digital assets are also non-refundable.
95% Off Hostinger Cloud Hosting
Hostinger protects your website from DDoS attacks and other forms of attacks with the help of the Wanguard anti-DDoS traffic analyzer, switch-level intuitive firewall rules, and custom web server rules. It further offers Web Application Firewall like Bitninja or Imunify360 on each server and optional Cloudflare support for each account.
All Hostinger plans include 24/7/365 customer support via live chat. Its extensive knowledge base is well organized with an efficient search bar. Numerous helpful tutorials are also available on the company's website.
Hostinger shared hosting plans start at $0.99/month for single hosting and increases to $2.89/month and $3.99/month for Premium and Business hosting respectively. The basic Cloud hosting plan costs $7.45/month, the Professional plan costs $14.95/month, and the Global plan costs $37/month. There are several VPS hosting plans with prices starting at $3.95/month and ending at $29.95/month.
17
Hostinger Google Trends
Google Trends, Google's data analysis website uses graphs to compare the popularity in top search terms across various regions and over a specific period. I used Google Trends to check out the worldwide interest in search terms such as "Hostinger" and "Hostinger review" over the last 12 months. I also compared Hostinger with a couple of its nearest competitors, namely SiteGround and Dreamhost, and here is what came up.
Interest in "Hostinger" started fairly low 12 months back but since then it has been consistently high with a slight dip in form in the middle of December. Interest was highest during August 2019 but dipped thereafter as a possible result of the data breach suffered by the company during that time. However, interest in the search term has not only recovered well since then but has also been on the rise recently.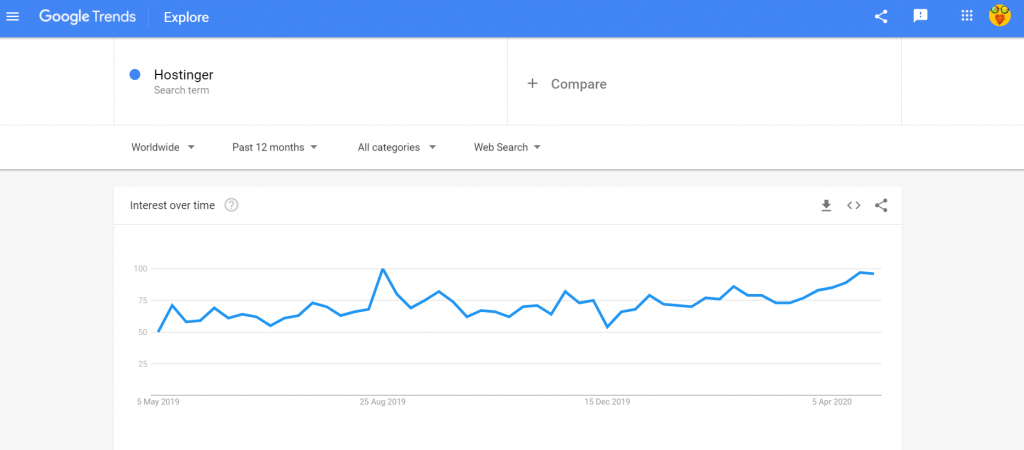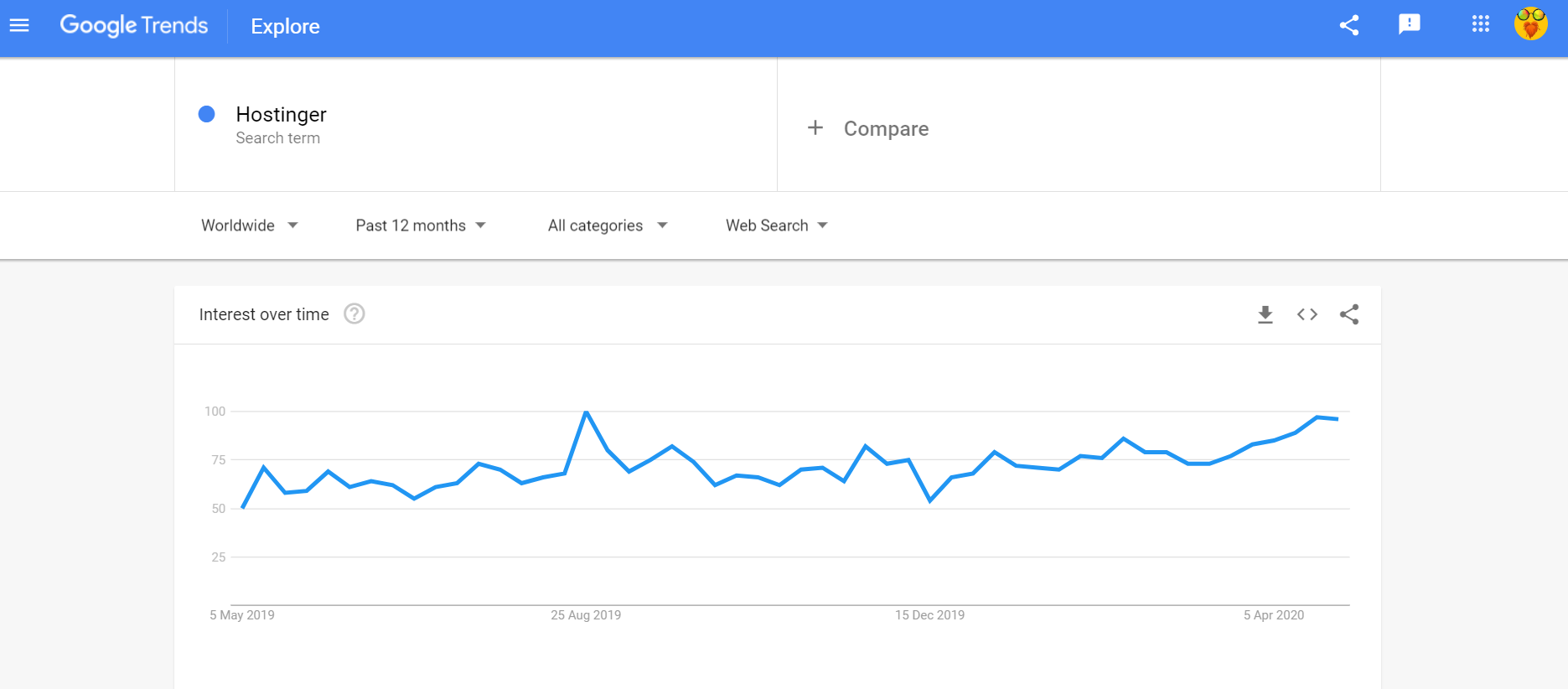 Interest in "Hostinger review" greatly varied throughout last year with regular peaks and troughs being the mainstay of the graph generated by Google Trends. As of April 2020, interest in "Hostinger review" was higher than it was at the start of the year and is projected to sharply rise in the coming weeks.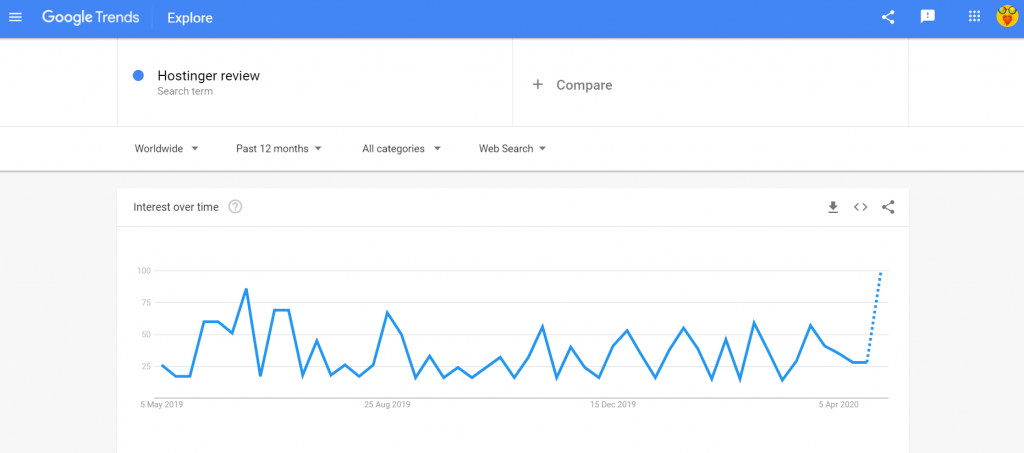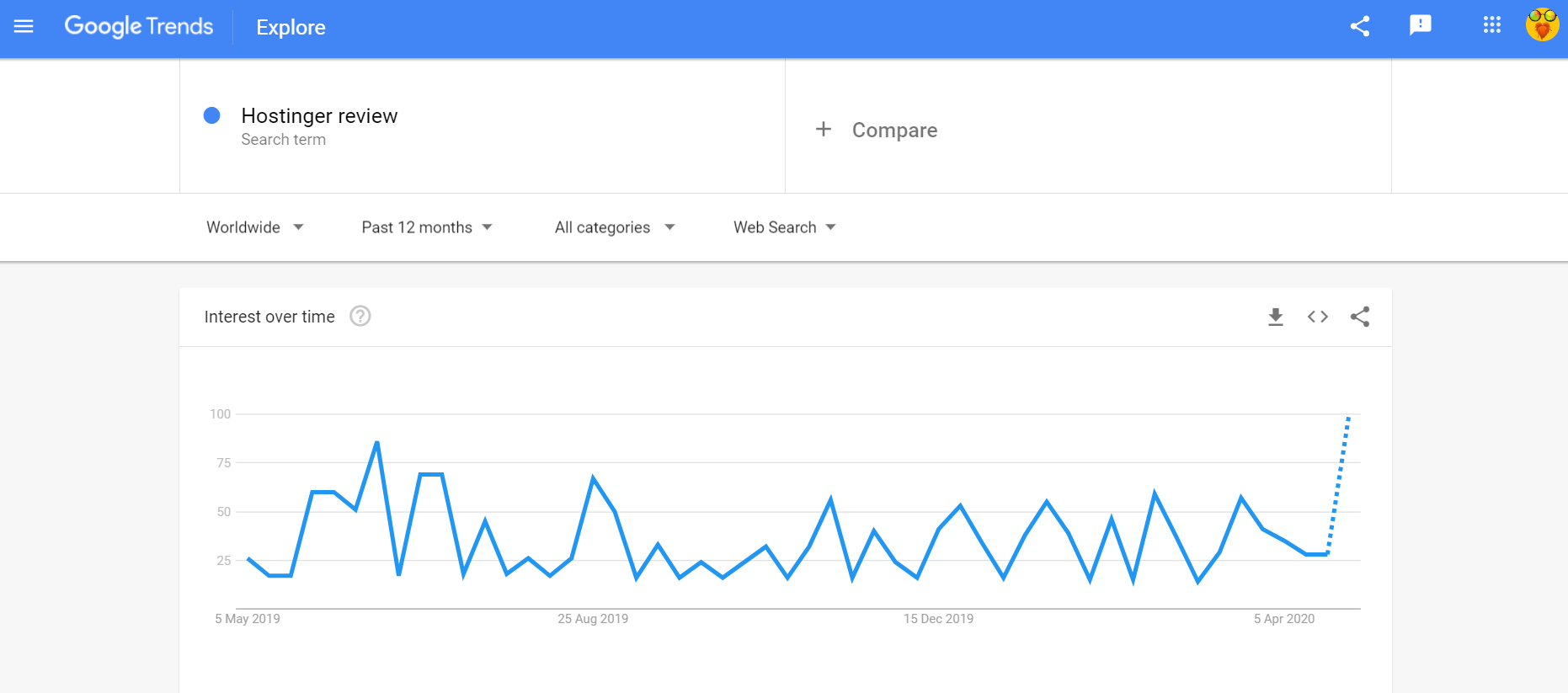 I compared the interest in "Hostinger" to that in "SiteGround" and the latter came out on top by a small margin. Though competition was neck and neck for the better part of last year, SiteGround edged ahead with the start of 2020 but interest in it is projected to decrease while that in Hostinger is on the rise.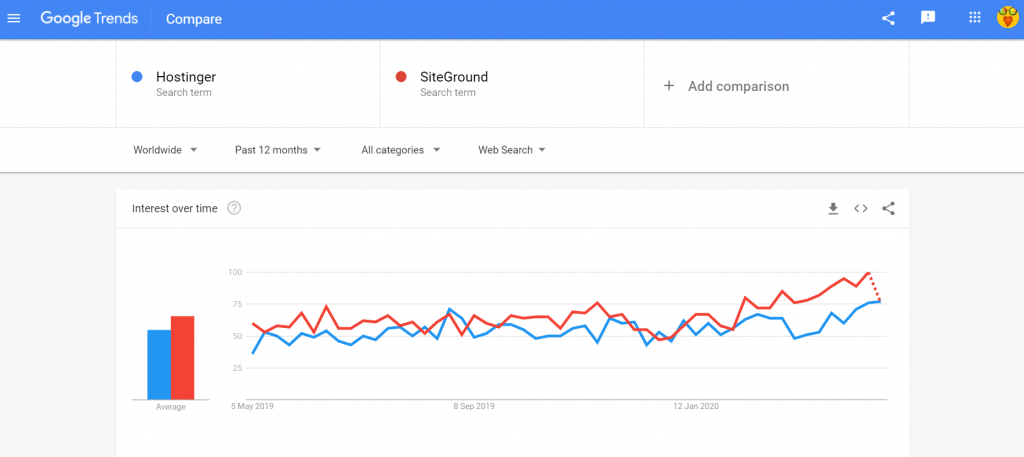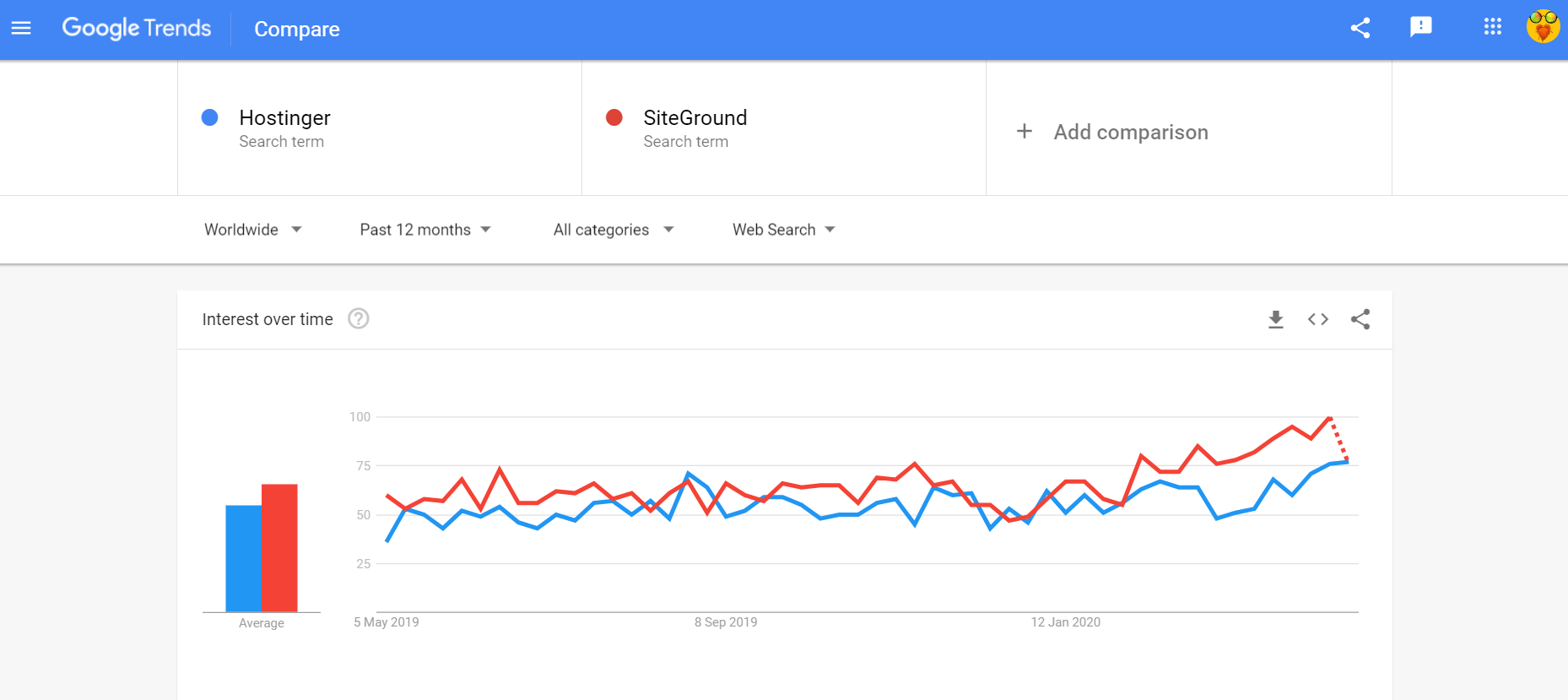 The comparison between "Hostinger" and "Dreamhost" was a one-sided affair with Hostinger comfortably edging past Dreamhost by a fair margin and going by recent trends, the scenario is unlikely to change any time soon.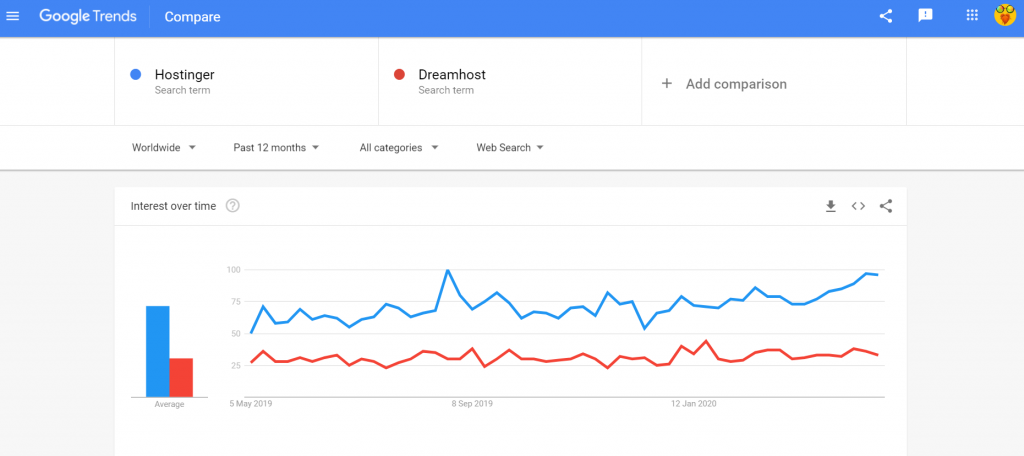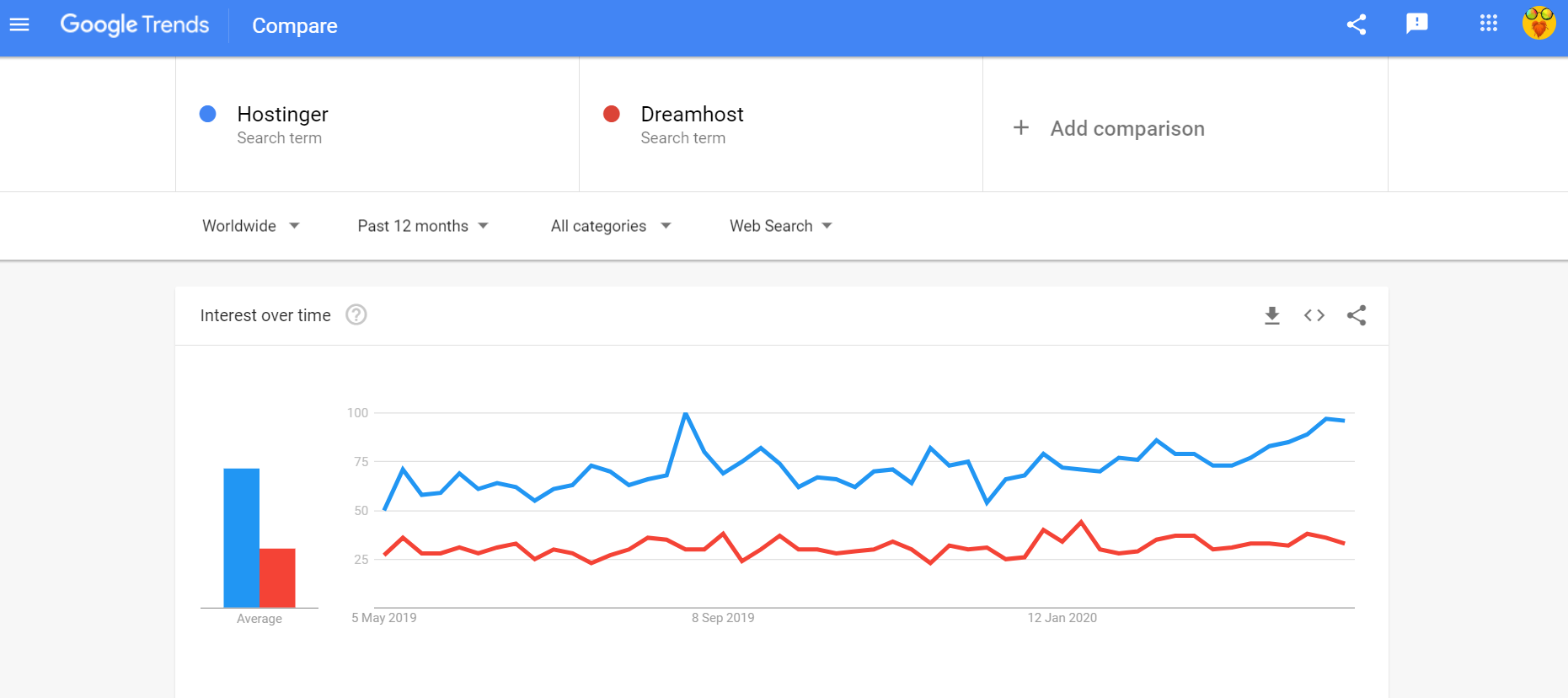 18
Users' Feedback, Ratings and Hostinger Latest News
Hostinger has profiles on social media sites such as Facebook, Twitter, Instagram and LinkedIn. To find out the general public attitude towards Hostinger, I went through its social media profiles. Though Hostinger was quite active on Twitter, it had much fewer followers than HostGator. However, the company not only posts news on the latest updates in its services but also announces discounts on its Twitter feed which is helpful.
Hostinger's Facebook page was similar to its Twitter feed, with regular updates and articles related to hosting services but there were a few users on Facebook who commented on the performance of Hostinger. While many users claimed to have been satisfied with Hostinger's shared hosting services after using it for over a year, a couple of them said they recommend Hostinger to anyone else looking for a reliable hosting service provider.
I looked through consumer review websites such as SiteJabber, Trustpilot and Web Hosting Geeks to get an in-depth understanding of how Hostinger's services had affected the public.
Hostinger achieved an impressive TrustScore of 4.6 out of 5 from 1488 user reviews on Trustpilot. Nearly 90% of the reviews on Trustpilot rated Hostinger as an excellent hosting service provider. Several users praised the fast and intelligent interface of Hostinger's cPanel as well as its affordability. The customer support also earned praise for its professionalism and prompt service. Several users even claimed to have migrated their domains from another hosting service to Hostinger because of its exceptional performance and efficient support.
On SiteJabber, there were only 9 reviews of Hostinger and only a couple of reviews out of those nine were negative. One of the two negative reviews seemed more like a rant rather than a justified criticism and the other one had complained regarding the company's payment module and its renewal policy. Hostinger representatives responded politely to both the negative reviews. Other than that, the majority of the reviews praised the company's excellent hosting plans and the features that come with them.
There were over 60 reviews on Web Hosting Geeks and most of them were positive as usual. From these review sites that I visited, I gathered that the public consensus on Hostinger was one of satisfaction. Users seemed to rely on Hostinger's hosting services a lot more than other companies and Hostinger's fast customer support played a major role in boosting its public image.
I visited several news websites to check out the latest on Hostinger and to gather interesting information on the company if any. The first news that caught my attention was a data breach in mid-August 2019 that affected 14 million Hostinger customers and forced the company to reset user passwords as a precautionary measure. To know more about the breach and what the rise in API threats mean for hosting services, I recommend to check this research.
In September 2019, Hostinger announced its partnership with Flock, the business productivity app maker. With the new tie-up, Hostinger customers will be able to use Flockmail as an email service along with their hosting plans for better efficiency and faster productivity.
Finally, there is great news for web hosting companies and users of hosting services alike as recent market research published on Latest Herald predicts that the hosting market will witness growth between 2020 and 2025. The report also analyses how the market dynamics will likely be affected by the ensuing coronavirus pandemic.
With a 30-day money-back guarantee on affordable plans and professional multi-lingual customer support, Hostinger is one of the most trustworthy hosting service providers in the market. While unlimited features come with the Premium and Business plans, all plans include WordPress and Zyro website builder making it a must-have for not only small businesses and individuals but also for large companies.

March 2023 Deal! 95% Off Hostinger Shared Hosting
95% Off Hostinger Shared Hosting (Single, Premium, Business)