DreamHost Review 2023: Guaranteed 100% Uptime With A Sophisticated Control Panel
DreamHost is a premier web hosting service provider well known for a guaranteed 100% uptime, unlimited bandwidth, unlimited SSD storage, free domain registration, free SSL security, free privacy protection and Instant WordPress setup among others. Advanced features include, but not limited to, unlimited MySQL databases, full UNIX shell, Crontab access, full CGI access, IPv6 support, unlimited SFTP users, and access to raw log files to name a few.
---
PROS:
Guaranteed 100% uptime
97-day money-back guarantee for shared web hosting
Unlimited bandwidth and disk storage
Free privacy protection
CONS:
Free hosting limited to only US-based non-profit and charitable organizations

June 2023 Deal! 80% Off DreamHost Shared Website Hosting + FREE Domain
80% Off DreamHost Shared Website Hosting + FREE Domain
One-click install for WordPress
Drag and drop website builder
Yes, with annual plans only
Yes but only for US-based non-profit and charitable organizations
Yes, unlimited with VPS hosting and one with Unlimited Shared hosting plans
97-days for Shared hosting and 30-days for VPS and Cloud hosting
24/7 expert support via email and chat
Starter Shared hosting:

Monthly: $4.95/month
Annual: $3.95/month
Three-year: $2.59/month
Unlimited Shared hosting:

Monthly: $10.95/month
Annual and three-year: $4.95/month
Get 70% Off DreamHost WordPress Hosting Plans
 How to Create a Website With DreamHost Tutorial
Creating a website or blog is so easy that even beginners can build one in minutes with the help of WordPress or with a drag-and-drop website builder. In this step-by-step tutorial, I will guide you through the simple process of starting your website.
First, you should have a clear idea about the purpose of the website you want to build. The design of a website depends heavily on its purpose and should be curated accordingly. Ask yourself the following questions:
– Do I want to sell products or services online?
– Do I want to share my art, photographs or writings?
– Do I want to promote a new business or start-up?
– Will I host reviews on my site?
– Will I share news through my website?
Once you have a clear idea of the site you want to build, it is time to choose a domain name for your website. If you already have an existing domain name then you can easily migrate it to DreamHost's platform. If not, you can find an appropriate domain name using the domain name search box on DreamHost's website.

Keep your domain name short, memorable and avoid complicated terms or numbers as the best domain names should be easy to find on the internet. Go for the .com extension as it is the most widely recognized and easily available. DreamHost offers a free domain name registration for one year with its annual hosting plans.
After finding a domain name, you need to choose a hosting plan. DreamHost offers such services as Shared Hosting, VPS Hosting, Cloud Hosting, Dedicated Hosting and more.
Shared hosting is the best for individuals and small businesses with limited web traffic. VPS hosting is ideal for large businesses with a large volume of web traffic and offers greater control and customizability. Cloud hosting couples the simplicity of Shared hosting with the power of VPS hosting and is perfect for news sites, online stores and sites for large scale projects.
Choose the hosting plan according to the purpose of your website that we talked about in the first step.

June 2023 Deal! 80% Off DreamHost Shared Website Hosting + FREE Domain
80% Off DreamHost Shared Website Hosting + FREE Domain
Once you have selected a suitable plan, you will be directed to the secure checkout page where you have to register your domain or you may do so later. Click "I already have a domain" if you have registered your domain as mentioned in the second step.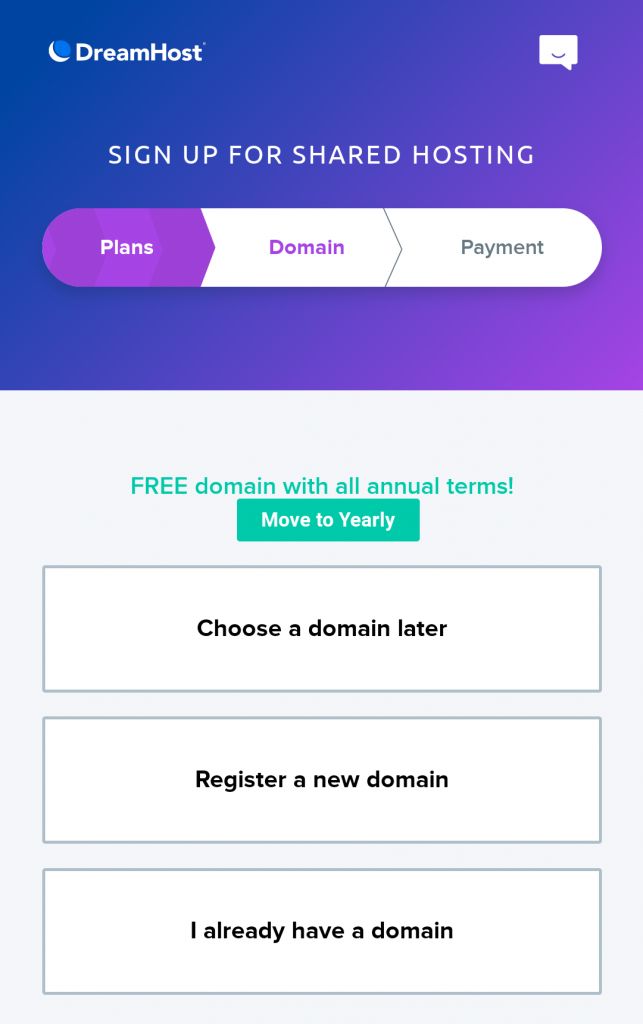 This step is a continuation of the fourth one and requires you to choose a payment method, enter your payment details, billing information, and setup your account with DreamHost via Google or by creating a new one.
Scroll down to find three add-on services, namely DreamShield Protection for $3/month, DreamHost Email for $1.99/month per mailbox, and G Suite for $6/month per user. A free 30-day trial for G Suite is offered if you choose to add it. WordPress is pre-installed for free.
While all three add-ons are useful, I recommend that you at least get the DreamShield if you can't afford all three at the moment. Click the "Submit Order" button to complete the process.
Now you have to select your preferred building platform before starting. CMS like WordPress is very popular among many users because of the advanced features and customizability it offers. Website builders are a great alternative to WordPress and DreamHost's drag-and-drop WP website builder is easy to use. In the next steps, you will learn how to use both WordPress and a website builder to build your website.
WordPress is pre-installed for free. However, DreamHost's one-click installer lets you install WordPress, Joomla, Drupal and the Website Builder in no time. In this step, I will discuss how to use WordPress to build a website. If you want to use Drupal or Joomla then refer to the guides and tutorials on DreamHost's website.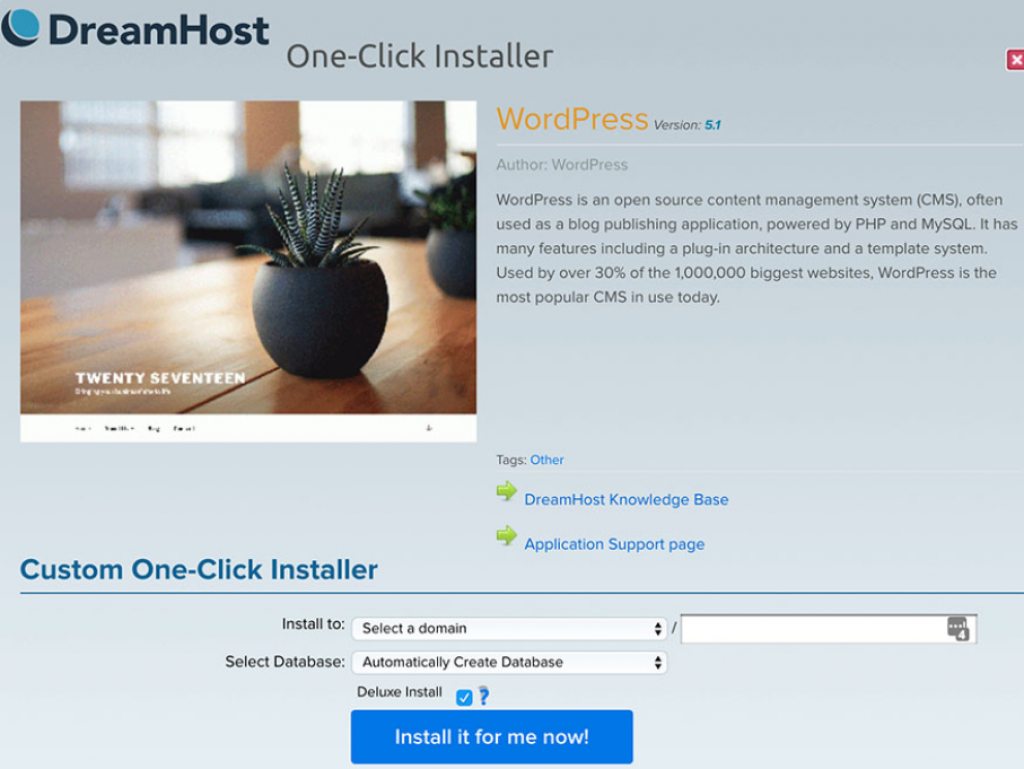 Go to the WordPress backend by visiting, "[yourdomain name].com/wp-login.php". Log in with the credentials that you entered during installation.
After logging in, you will see the WordPress dashboard from where you can control everything. Add new themes from thousands of free and mobile-friendly themes available in the WordPress theme directory.
To add new themes, go to "Appearance -> Themes -> Add New". Use the theme category to quickly find the right theme for your website. Click on "Install" to apply a theme.
Edit using the drag-and-drop editor with multiple features such asthe 100+ design blocks, post editor, and page builder. The editor is not only easy-to-use for beginners but also offers advanced features for professionals.
Use multiple WordPress plug-ins to make your website more efficient and professional. Use the WooCommerce plug-in to turn your site into an online store with minimum effort.
DreamHost's WP website builder is essentially some WordPress plug-ins and design tools created by BoldGrid. If you have an existing WordPress site then you need to enable BoldGrid from the "Inspirations" section and follow the next steps to activate and use it to customize your site.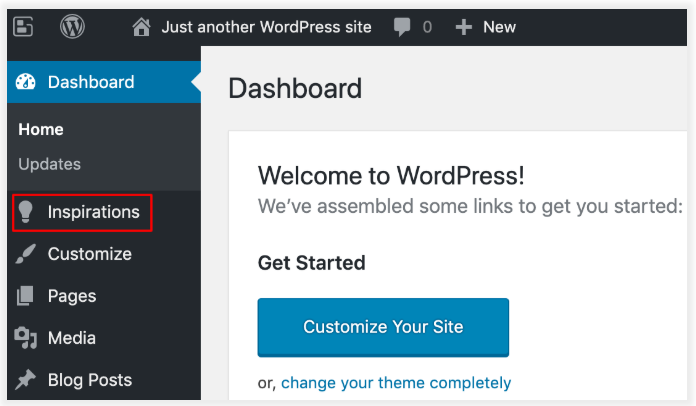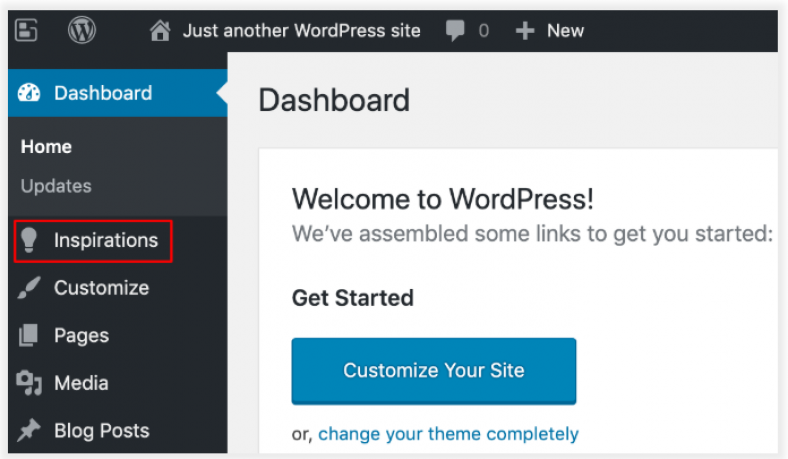 – Go to "com/wp-admin", log in with your credentials, and click the "Let's Get Started" button.
– Then, choose a theme to start your design. Browse through the various options in the left panel and click on one to preview it on the right side. Hover over a theme you like and click "Select" to apply it.
– Customize your layout and content by clicking "Change Content" on the next page. Toggle "Add Functionality" to enable a blog. To preview how your site would look like on different devices, click the icons at the bottom of the page. Once satisfied, click "Next" to continue.
– On this page, you will have to enter your essential information such as site title, email, address, phone, and social media links. If you don't want any information displayed on your site, click on the "do not display" box beside each field. Click "Finish and Install" to complete the process.
– Once BoldGrid has been installed, you will be directed to the Inspirations tab on your WordPress dashboard from where you can continue customizing your website with the website builder.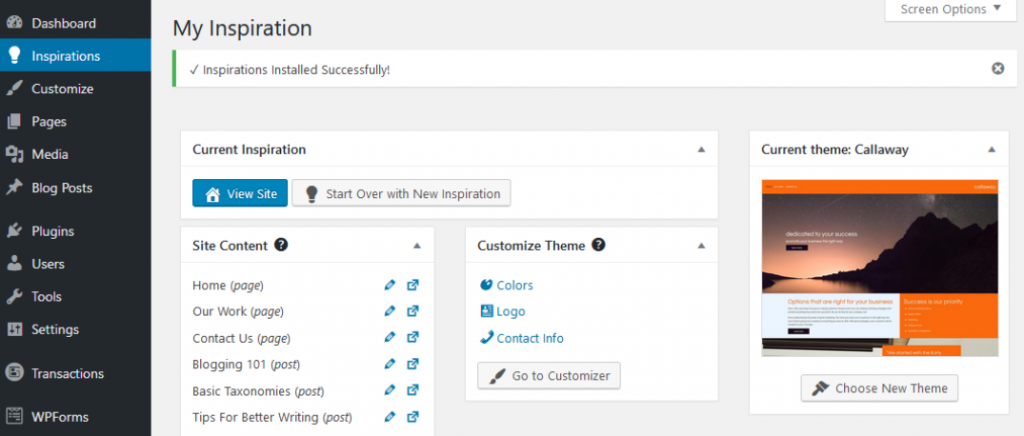 – "Post and Page Builder" can be used to add and edit new posts or pages. To add more blocks, click "Add Block" at the top of the page. Use the various editing tools and customizability options to edit your website according to your preference and needs.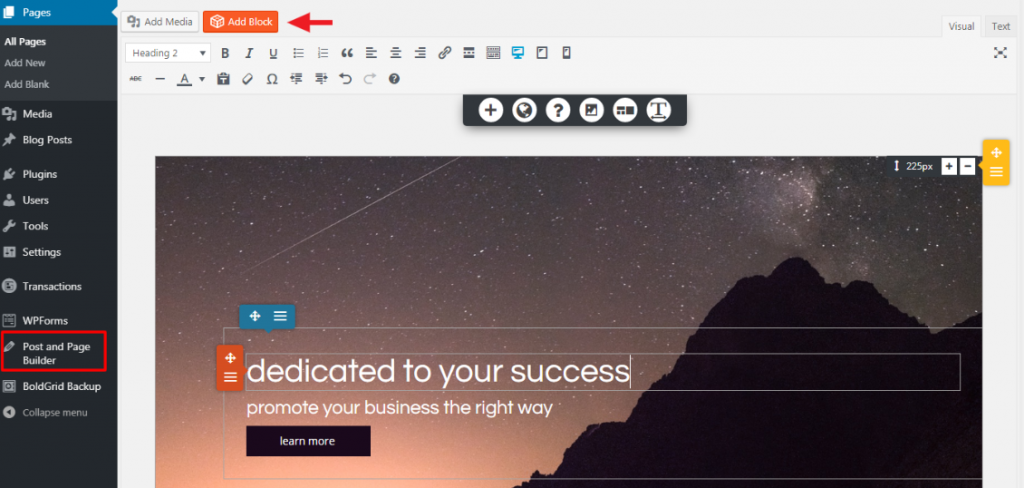 June 2023 Deal! 80% Off DreamHost Shared Website Hosting + FREE Domain
80% Off DreamHost Shared Website Hosting + FREE Domain
DreamHost guarantees 100% uptime which no other hosting provider guarantees as of yet. I tested DreamHost's uptime several times and got 100% uptime on almost every occasion and 99.9% on the other occasions.
DreamHost was also able to provide consistent load times below one second and the average load time from several Pingdom tests came out to be 471ms which is appreciable. Coupled with an uptime of 100%, DreamHost's server speed is one of the fastest and most reliable among the hosting services I have used thus far.


3
 Bandwidth and Disk storage
DreamHost offers unlimited bandwidth and disk storage on all its shared hosting plans with no hidden charges. Unlimited bandwidth is provided across other services such as VPS hosting and Cloud hosting but disk space for VPS hosting is limited. With the Basic VPS hosting, you get 30 GB of SSD storage, and the space doubles as you go for higher plans with the highest disk space of 240 GB offered with the VPS Enterprise plan.
WordPress is pre-installed with the Shared hosting plans so users don't have to. You can instantly install WordPress with the one-click installer. DreamHost servers and its technology are optimized to fully utilize the various functionalities of WordPress and run it as smoothly as possible. The company further offersfree automated WordPress migration.
With DreamHost you can set up websites for online stores with the help of either WordPress or the many e-commerce scripts that can be installed using the one-click installer. DreamHost is optimized for WooCommerce, Joomla, and Drupal among others. You can use the tutorials on its website to create your online store using WooCommerce or other e-commerce scripts.
6
 Drag-and-drop Website Builder
DreamHost has introduced its new WP website builder that offers free professional templates and an easy-to-use drag-and-drop editor. The fast and simple site-building wizard is easy to navigate and is the perfect tool for beginners to use while creating their first websites or blogs.
Web design services start at $299 for Microsite and go up to $3899 for Platinum e-commerce. DreamHost offers various web design services. Navigate to "Websites -> Website Design Service", to get more information on the various services and their prices.
DreamHost offers free domain registration with its shared hosting (both Starter and Unlimited packs), VPS hosting and DreamPress hosting services. However, the free domain is offered only with the annual plans of each hosting service and not with the monthly plans. If you opt for the monthly plan, you can buy a .com domain name for $7.99. The free registration offer must be availed of within the first month of your annual Shared or VPS hosting plan. Furthermore, this offer is only available for the following domain extensions: .blog, .club, .com, .info, .net, .online, .org, .shop, .tech, .xyz, .wedding, .vip, .store and .link.
Free hosting is offered by DreamHost but the free service is limited to US-based charitable and non-profitable organizations.
Free 'Let's Encrypt' SSL certificates are offered with both monthly and annual Shared hosting plans as well with any VPS hosting plans to encrypt your traffic with HTTPS and boost SEO with Google. The company even offers protection from DDoS attacks for no extra charges.
DreamHost offers free SEO services as well as free privacy protection with its Shared hosting plans. Additionally, G Suite integration brings you the best of Google's SEO tools that make your work faster and smarter.
A personalized email account comes free with all Unlimited shared hosting plans, monthly or annual. The Starter Shared plans do not offer a free email but one can be added for $1.67/month. All VPS hosting plans, both monthly and annual or more, offer unlimited email accounts for your domain.
13
 Database Backup/Restore
While most web hosting providers will have you pay for backup and restore as add-on services, but not DreamHost. DreamHost automatically creates daily backups of your data to keep it safe and you do not have to pay for the backup services.
DreamHost offers one of the most generous refund policies among all hosting providers with a 97-day money-back guarantee for Shared hosting plans and a 30-day money-back guarantee for VPS and Cloud hosting. However, the refund policy is only applicable for payments via debit and credit card.
With DreamHost, you get 24/7 in-house customer support via email and live chat. Sales chat timing is 8AM-4PM PT from Monday to Friday through the chat widget. For customer support, you can chat through the panel every day from 5:30 AM to 9:30PM PT. A comprehensive knowledge base, helpful guides and tutorials complete DreamHost's support page.
DreamHost has two distinct packages in the form of Shared Starter and Shared Unlimited with three price plans, namely monthly, annual and three-year. The Starter package costs $4.95/month for a month, $3.95/month for a year and $2.95/month for three years. The Unlimited plan starts at $10.95/month for a month and costs $4.95/month for one year as well as three years.

June 2023 Deal! 80% Off DreamHost Shared Website Hosting + FREE Domain
80% Off DreamHost Shared Website Hosting + FREE Domain
17
 DreamHost: Google Trends
Google Trends is an analytical engine that studies the popularity of common search terms over a specific period and within a region to provide graphical representations of the interest in those terms. I used Google Trends to check the interest in such search terms as "DreamHost" and "DreamHost review" over the past 12 months in the USA.
Interest in "DreamHost" seemed to be consistently higher than average for the better part of 2019, though it started quite low. Interest was highest during August 2019 but dipped thereafter with its lowest point coming during mid-December, around the same time the Coronavirus surfaced. Since the start of 2020 interest in the company was fairly high and is currently increasing steadily.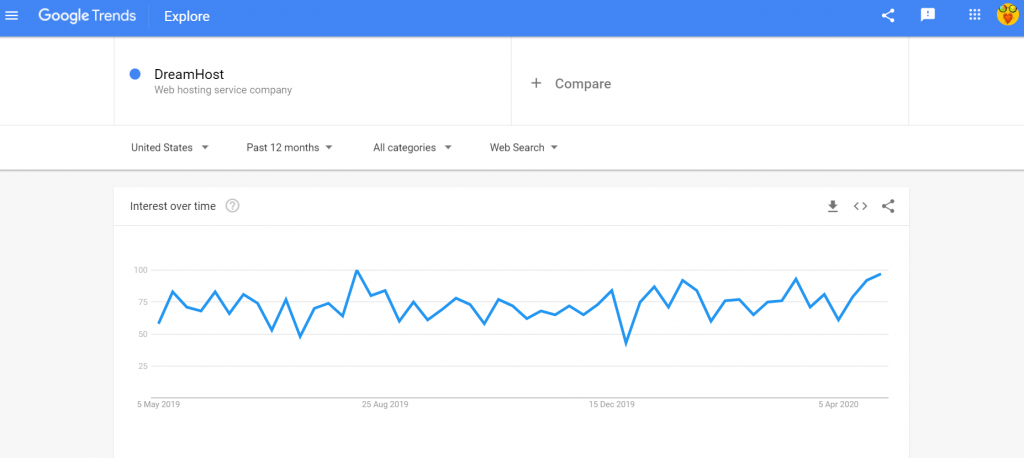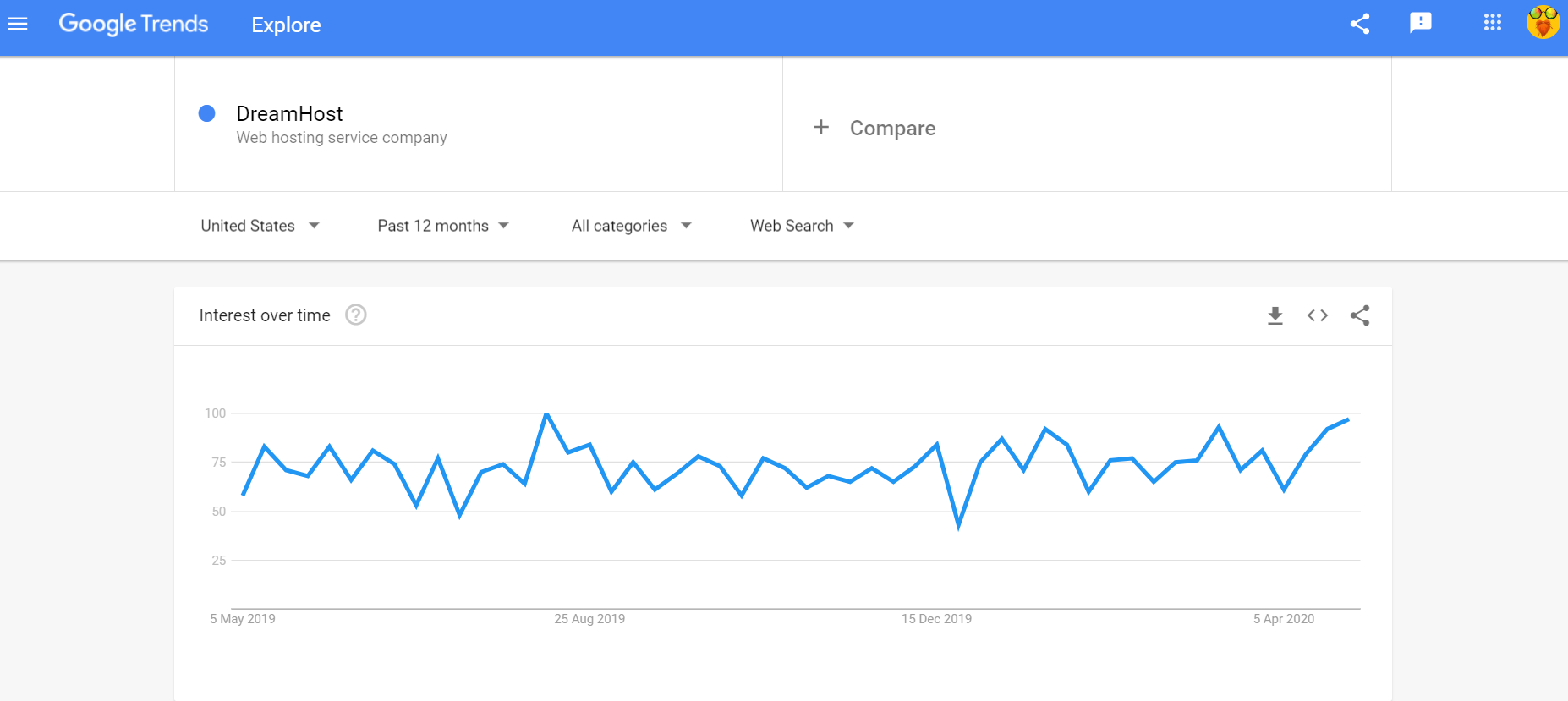 The graph showing the interest in "DreamHost review" resembles a pulse in a hospital monitor with its sharp peaks and flat lines. Interest in the search term was highest at the end of 2019 and is currently projected to decline after a familiar sharp rise a few weeks back.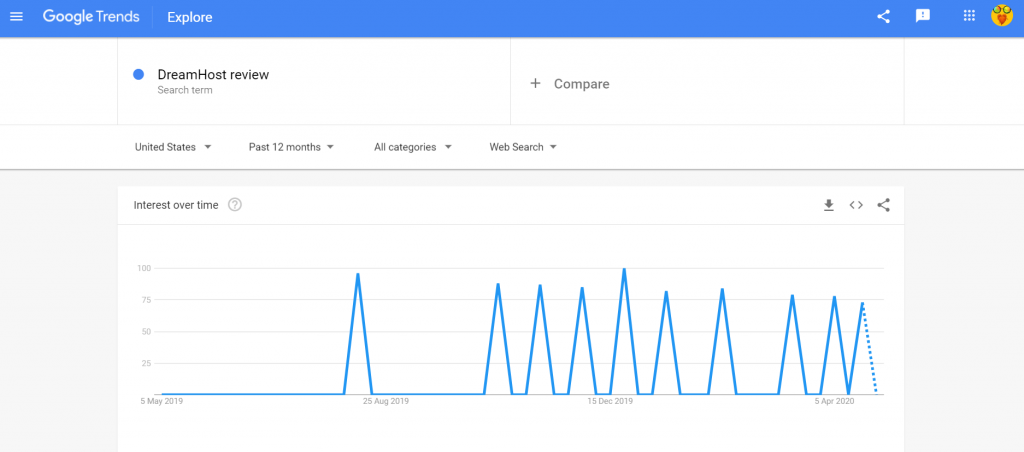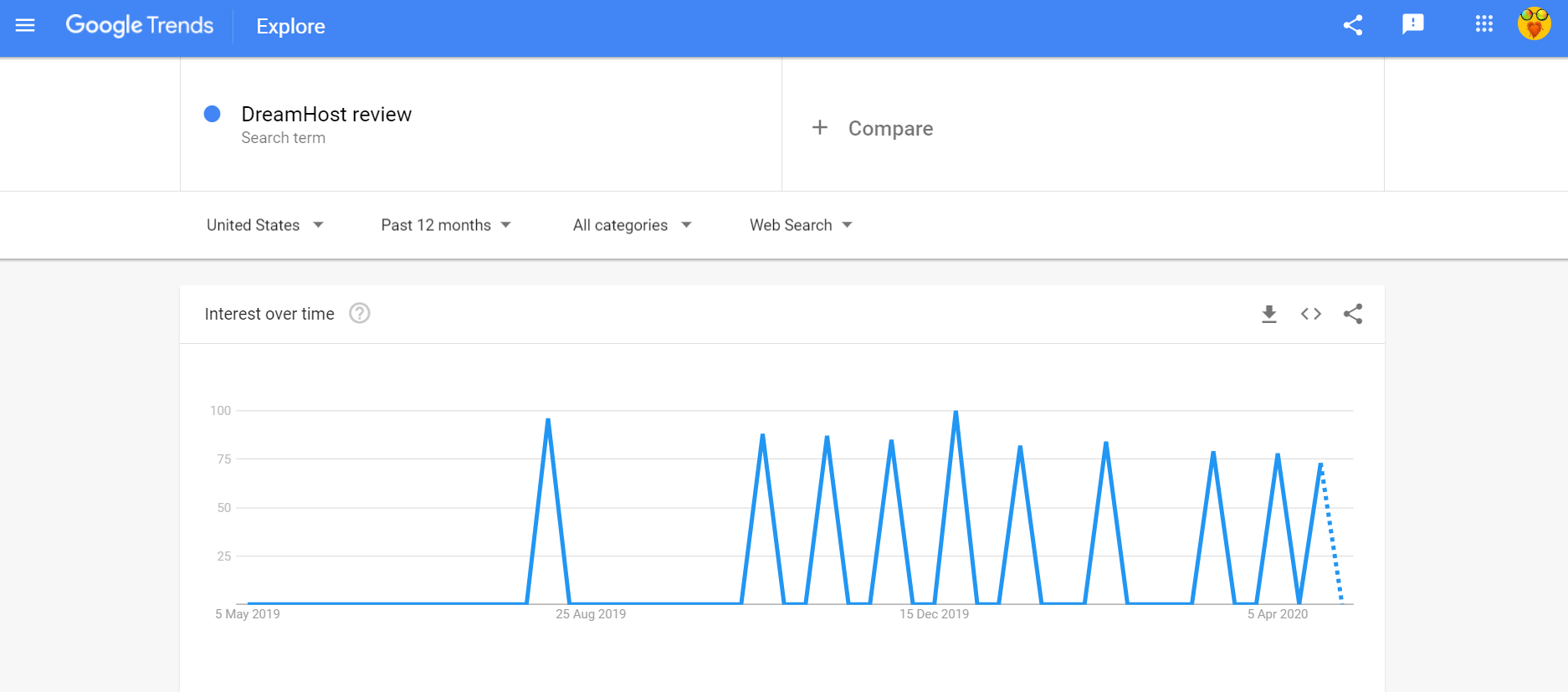 To see how two competing hosting companies fared against each other in terms of search popularity, I compared "DreamHost" with "SiteGround" and the results surprisingly favored SiteGround despite DreamHost guaranteeing uptimes of 100% as opposed to SiteGround's guarantee of 99.9% uptime. Throughout 2019, interest in SiteGround was higher than that in DreamHost. As of May 2020, interest in both the companies is above average and on the rise but SiteGround is still considerably ahead of DreamHost.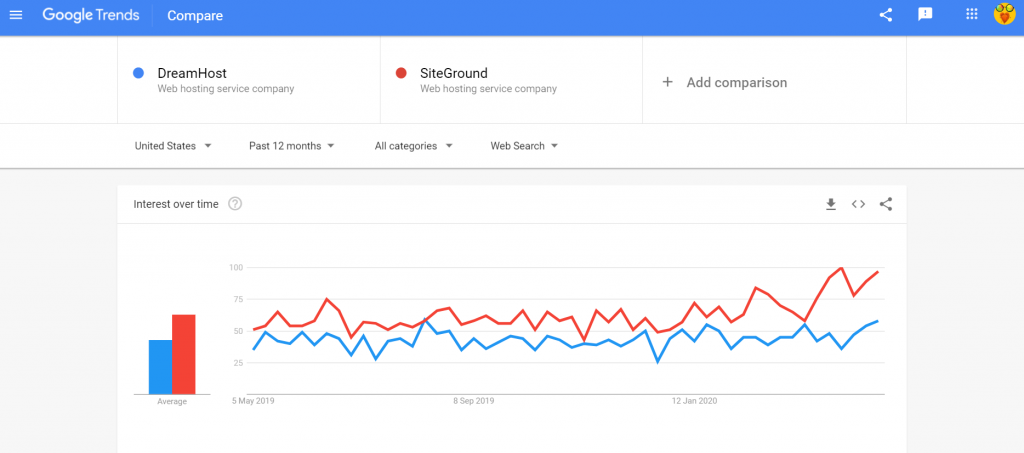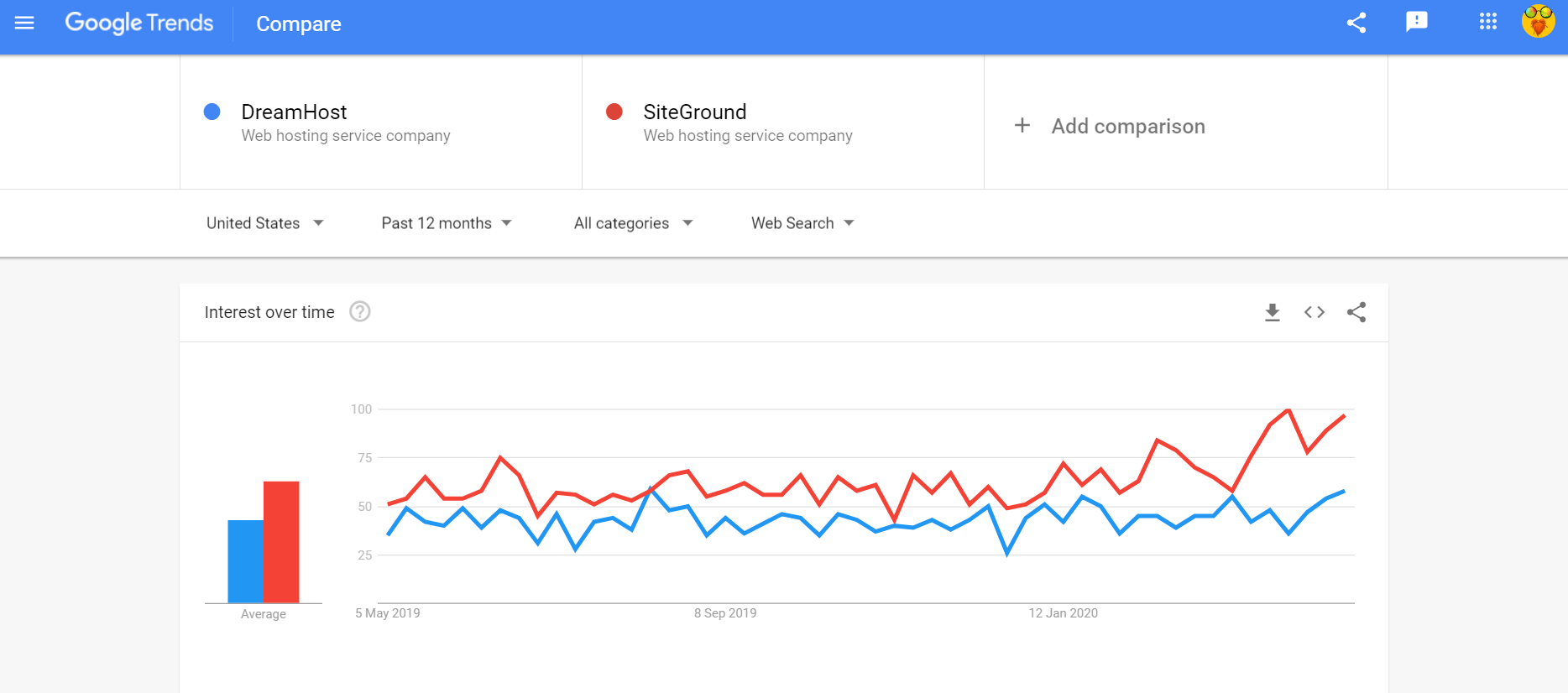 18
DreamHost: Users' Feedback, Ratings and News
DreamHost has social media profiles on Twitter, Facebook, Instagram, YouTube and LinkedIn. I checked out their profiles on Twitter and Facebook to find how users felt about its hosting services. While the company actively posts updates, announcements and related articles on its social media pages, there wasn't much user activity to draw any conclusive judgment. A few users feedback I came across on Facebook and Twitter were mostly positive with praise for the company's policy and customer service.
Thus, I visited some consumer review websites to get a more conclusive idea about user feedback. The first such site I visited was Trustpilot where DreamHost achieved an impressive TrustScore of 4.6 out of 5 from more than 1000 user reviews. Nearly 75% of all the reviews termed DreamHost as excellent based on its complete hosting package and friendly customer support. There were several long-term users of DreamHost who claimed to be satisfied with the company's efficient hosting services and almost everyone enthusiastically appreciated its in-house customer support team.
On SiteJabber, there were only eight reviews with four of those praising the company for its affordable plans and feature-packed services. Praise for DreamHost's customer service seems to be a constant on every review site I visited and it was no different here. Of the three negative reviews on this site, a couple of them complained about the customer service but seemed to lack genuineness.
Web Hosting Geeks had 162 user reviews of DreamHost and an overall rating of approximately 4 stars out of 5. Uptime, reliability of service, and the price were the biggest plus points among the users who favored DreamHost over other hosting providers. Some users had genuine issues with the software and a few even claimed that tech support was not up to the mark. Other than that, praise for the company far outnumbered the criticisms.
Next, I scoured through numerous news sites to find the latest information on DreamHost and the first news that caught my attention was from three years ago when a Washington Supreme Court judge ordered DreamHost to turn over data concerning a Trump protest website to federal prosecutors. To know how it panned out, read the 2017 New York Times report on the matter.
Cut to October 2019, DreamHost launched G Suite integration in collaboration with Google Cloud to bring Google's set of sophisticated apps to domain owners to make web hosting smarter and faster. You can read moreabout it in this Business Wire review.
In April 2020 DreamHost unveiled its automated WordPress website migration tool to make it simpler for customers to migrate WordPress data between different providers. However, the good news came with a catch, as any good news does, and if you want to know more about it then check this research.
Finally, as the coronavirus pandemic continues to change our daily habits and the global economy for better or for worse, there has been a concerning rise in COVID-19 scams and domain registrars globally are facing a tough battle against this rapid rise in cybercrime. To read more about these threats, how it can affect you and what is being done to combat them, go to this article.
Affordable annual prices, excellent in-house support, and generous 97-days refund policy for Shared hosting plans are some of the many reasons to choose DreamHost. Furthermore, DreamHost is the only hosting service provider that guarantees 100% uptime and its modern control panel is one of the best that I have used to date. While a few advanced features like GitHub integration and LiteSpeed cache are missing, DreamHost more than makes up for it by providing free security protection and data backup that other providers offer as add-on services. However, DreamHost lacks the server coverage of its nearest competitors as it has servers only in the USA.

June 2023 Deal! 80% Off DreamHost Shared Website Hosting + FREE Domain
80% Off DreamHost Shared Website Hosting + FREE Domain
PROS
Fast and reliable SSD storage
Excellent knowledge base
100% in-house 24/7 customer support
CONS
No server locations outside the US
No free email account with the Shared Starter plan
Add your review
|
Read reviews and comments