InterServer Review 2023: Affordable Hosting Services With Price-Lock Guarantee And Top-Tier Date Protection Facilities
As a top webhosting company, InterServer provides its extensive client base with innovative tools, modern products, and all-round services that not only complement their existing businesses but also extend reliable support to growing businesses. InterServer's vast clientele range from freelancers and small blog owners to large online retailers and Fortune 500 companies. The company takes the privacy and security of its customers seriously and hence prides itself on its dedication to ensure privacy, security, reliability and technical expertise to each client. InterServer is one of the very few, if not the only, company to offer a price-lock guarantee on Shared and VPS hosting plans.
---
PROS:
Affordable hosting plans with no hidden fees or upselling
Price lock guarantee for Shared and VPS hosting plans
Easy and efficient scalability of resources
Cloudflare CDN and LiteSpeed caching
CONS:
Server location limited to the USA only
No free domains

January 2023 Deal! 99% Off InterServer Standard Web Hosting
99% Off InterServer Standard Web Hosting for just $0.01
One-click install for WordPress
Drag and drop website builder
No, but SEO friendly site builder
24/7 technical support via live chat, phone, and email ticket
Standard Shared hosting plans
$5/month – monthly
$4.75/month – 6 months
$4.50/month – 12 months
$4.25/month – 24 months
$4/month – 36 months
Step-by-Step Tutorial How to Create a Website With InterServer
There are two ways to create a website or a blog – via a Content Management System (CMS) like WordPress or with a website builder such as SitePad. Either way, building a website is no rocket science since it can be done within minutes and without any knowledge of coding or website designing.
However, before we get into the 'how' of building a website, let's first address the 'why'. The type of website and its purpose will dictate the type of hosting plan you should choose and the site building tool that will be appropriate to build such a site. So, form a clear idea of the purpose of your site and follow the following steps to build your website.
As the first step you need to register a domain name if you don't already have one since a domain name is a must for any site. Visit InterServer's website and go to "Web Hosting -> Other Servers -> Domains" for a new domain name. On the new page, enter the domain name of your choice in the search box and hit "Search" to check its availability.
There is a list of domain names with their registration fees, renewal rates, and transfer charges below the search box that you can consult. Use the filter to narrow down your search by choosing the price range and the TLD types.
Once you have successfully registered your domain name, it is time to choose a suitable hosting plan. For small and medium businesses, the Standard Shared hosting plan is the ideal choice. For large businesses, you can choose VPS hosting and for online stores, go for e-commerce hosting. Click "Buy Now" to go to the order page.

January 2023 Deal! 99% Off InterServer Standard Web Hosting
99% Off InterServer Standard Web Hosting for just $0.01
On this page, you will have to complete the formalities that start with entering your domain name. InterServer gives you the option to register a domain name here in case you did not in the first step. Click "Continue" to proceed. In the next steps, you will have to sign up for an account with InterServer or log in with Google, then enter your contact info, and finally enter the payment details.
Once you have completed all formalities, you will receive a welcome email with your login credentials, plan details, and a link. Follow either the link or the next step in the tutorial to access the cPanel.
On the homepage of the company's website, click "Login" and it will redirect you to the login page. Enter your email and the password mailed to you and hit "Login". Now that you are logged in to the cPanel, you can either install WordPress or launch the SitePad website builder using the Softaculous app installer.
To use WordPress, you need to first installit via the Softaculous app installer.
Use the search bar in the cPanel to look for Softaculous or scroll down to the "Software" section and click "Softaculous App Installer".
Look for WordPress in the Softaculous main page. Hover over the WordPress icon and click "Install".
Next, you can choose the version of WordPress you want to install. The latest version is selected by default. You can also choose the installation URL and set the directory. To install WordPress directly on your domain name, remove "wp" from the directory field and click "Install".
In the next section, you will have to select your site settings, admin username, admin password, and email.
Scroll down to the next section where you can select plug-ins to be installed. Plug-ins can be installed after WordPress installation. There are a few other parameters in the "Advanced Options" that you can adjust. Click "Install" to start the installation.
Once installed, you will see a window with a congratulatory message and an admin URL. Click the URL, log in with the admin username and password to access the WordPress dashboard and start building.

Building a website with WordPress.
Once in the WordPress dashboard, you will see a welcome email with links for you to get started. You can click "Customize Your Site" to start building your site. Or you can look around by clicking "Learn more about getting started".
Navigate to "Appearance>Themes" and click "Add New" to select new themes.
WordPress has an extensive array of themes in its library. Use the search box or the categories to find a theme quickly. Once you have found a theme suitable for your site, hover over it and click the "Install" button.
Once the theme is installed, hover over it again and you will see the "Activate" button instead of "Install". Click "Activate" to set the theme as the basic layout for your site.
Go to "Pages>Add New" to add new pages such as "Contact Us", "About Us", or "Support Center" among others. Start by adding simple images, texts, and colors to make your site stand out. You can edit the site to suit its purpose once you have a basic design layout to work with.
You can add useful plug-ins by going to "Plugins>Add New". The "One Click Demo Import" is an ideal plug-in for beginners as it lets users import the demo content and customize it. Use the other options in the left navigation panel like "Media", "Posts", and "Tools" to customize your site.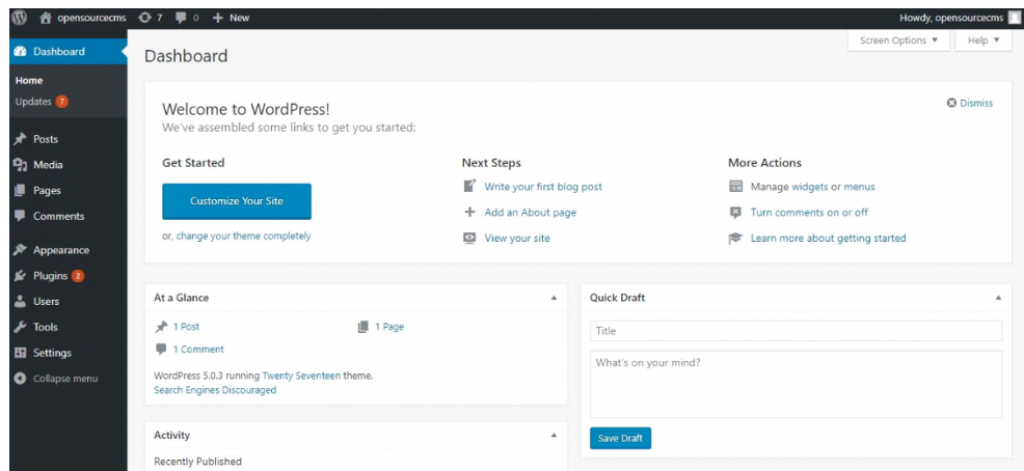 Using SitePad to build your website.
In the cPanel, scroll down to the "Software" section and click "SitePad Website Builder" to install the drag-and-drop site builder.
On the SitePad dashboard, click "Themes" and you will be redirected to the comprehensive library of themes. Select a suitable theme and click "Activate" to set the theme for your site.
Once the theme is set, you can use the left navigation panel to drag and drop features such as pages, blogs, media, and menus among others. You can even view the media usage, active sites, pages, and posts on one page as shown in the image. Click "View Site" on the top panel to preview your site. Once you are happy with the result, click "Publish". Click "Reset" to start a new.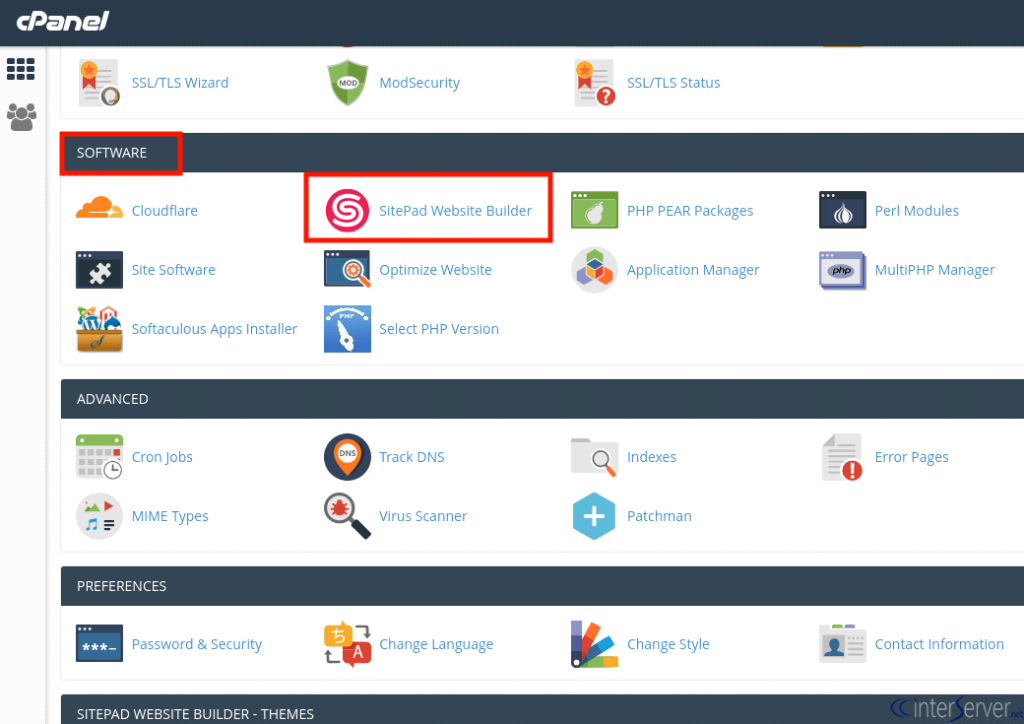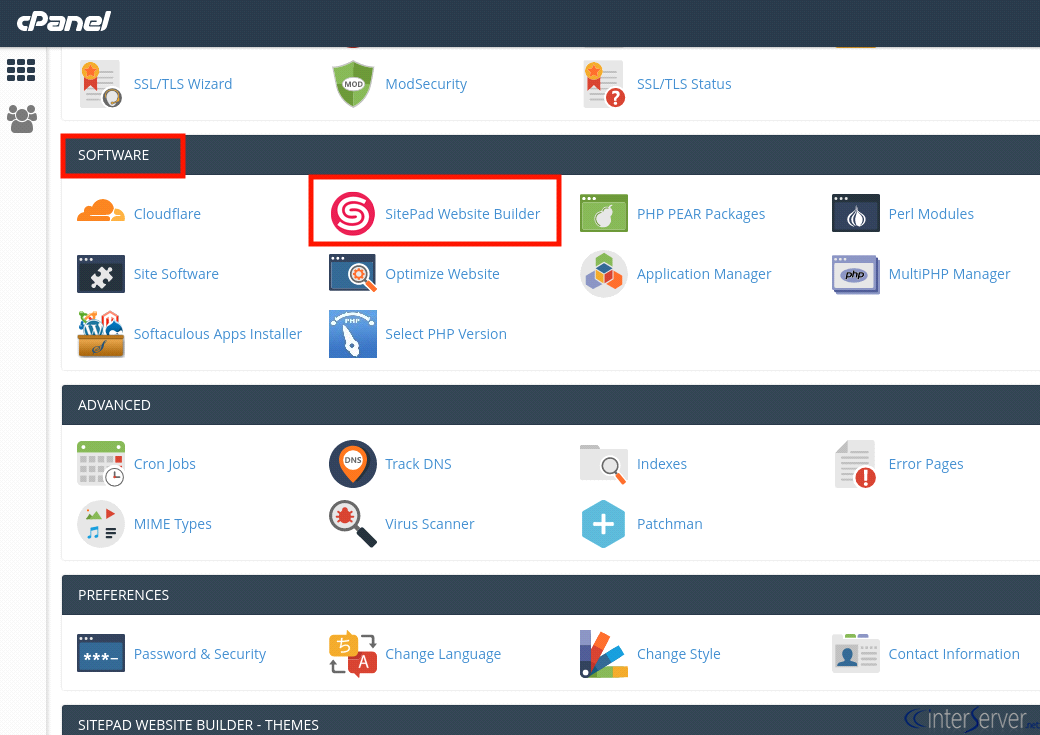 InterServer guarantees 99.9% uptime as is the norm with any decent web hosting company. I got 99.9% uptimes consistently and even got 100% uptime on a few occasions.
As for the load times, InterServer was pretty fast according to the numerous tests I ran on Pingdom. The average load time from the tests came out to be 541 ms which is faster than what GoDaddy (824 ms) and HostGator (691 ms) but slower than SiteGround (327 ms).
The company does not limit data usage and offers unlimited bandwidth with all hosting plans.
InterServer offers unlimited ULTRA SSD storage and sector level hot spot caching as well as LSI MegaRAID SSD caching is utilized to provide the ultimate performance.
WordPress is arguably the most popular CMS and as such most web hosting companies optimize their hosting services for WordPress. InterServer not only provides WordPress optimized hosting but also offers weekly backups, automatic updates, and free website migration. It even offers a dedicated WordPress VPS solution starting at $6/month that is supercharged and preconfigured with FastCGI and Nginx.
InterServer offers affordable e-commerce hosting solutions so that users can build online stores on their choice of platform. Users will have access to WooCommerce, OpenCart, PrestaShop, Magento and many more e-commerce scripts to build their online stores complete with secure payment gateway and shopping carts.
With a single click, users can install as many as 492 cloud apps including scripts such as WordPress, Joomla, Drupal, Magento, PrestaShop to name a few using the Softaculous app installer.
SitePad is the drag-and-drop website builder that the company offers for free with all standard web hosting plans. SitePad comes with more than 300 themes divided into a wide range of categories, over 40 widgets for editing, and a one-click publisher.
Unlike GreenGeeks or Wix, both of which offer a free domain for the first year, InterServer does not offer free domains. Instead, it charges a small fee of $1.99/year for domain name registrations.
SSL certificates are a standard deal with any hosting service and InterServer too offers free Let's Encrypt SSL certificates with all Shared hosting plans. Emails are also SSL encrypted to keep users' accounts secure.
Though InterServer does not offer SEO services, free or paid, the website builder is SEO friendly and offers SEO tips and tools to help users market their business well and rank high on Google searches.
Unlimited email accounts, unlimited forwards, Webmail access, spam filtering, SSL encryption, and guaranteed mail delivery are offered with the standard web hosting plans and that is just the tip of the iceberg. InterServer further extends email support for iPhone, BlackBerry, Android, and Windows mobile.
Free weekly backups of user databases and website data are offered by InterServer with all hosting plans. One-click restore makes it easy to restore backups at a moment's notice.
InterServer offers a standard 30-days money-back guarantee just like other web hosting service providers. HostGator offers a 45-days refund policy, while Wix offers a 14-days money-back guarantee. However, when it comes to money-back guarantees, DreamHost takes the podium with a massive 97-days guarantee.
15
 Security and protection
InterServer includes its in-house InterShield security solution for free and apart from blocking DDoS attacks, it includes an automatic virus scanner, a machine learning firewall, and the company's in-house malware database. As far as security is concerned, InterServer has got you covered and there is nothing to worry about.
InterServer is renowned for its in-house customer support team that offers fast and professional service. Customer service is available 24/7 via phone, email, and live chat. However, the live chat may not be available round-the-clock but the email and ticket system is one of the best I have tried to date.
The Standard Shared hosting plan costs $5/month if you opt for the monthly plan. The 6-months plan costs $4.75/month, the annual plan costs $4.50/month, the 2-years plan costs $4.25/month, and the 3-years plan costs $4/month. InterServer is currently offering its Standard hosting plan for $1/month for three months in light of the coronavirus pandemic.
One of the many reasons InterServer manages to stand out in the competitive web hosting industry is its price-lock guarantee which does not lock the user into a contract. In simpler words,the price of the hosting services at sign-up remains constant throughout the term-length of the plan. All services can be canceled at any time as there are no contracts.

January 2023 Deal! 99% Off InterServer Standard Web Hosting
99% Off InterServer Standard Web Hosting for just $0.01
19
 InterServer: Google Trends
Google Trends is a data analysis engine that displays the popularity of the most searched terms on Google in the form of line graphs. I used Google Trends to check the interest in such search terms as "InterServer" and "InterServer review" over the past 12 months in the USA.
The interest in "InterServer" is higher in the first five months of 2020 than it was in the last seven months of 2019. For the better part of last year, the interest was below average and managed to just breach the average mark only twice. However, interest in the company improved considerably since 2020 began and even touched the highest point sometime around 3rd May 2020 but dropped drastically thereafter. Currently, the interest is on the rise again and is projected to touch its peak in the coming weeks if the trend continues.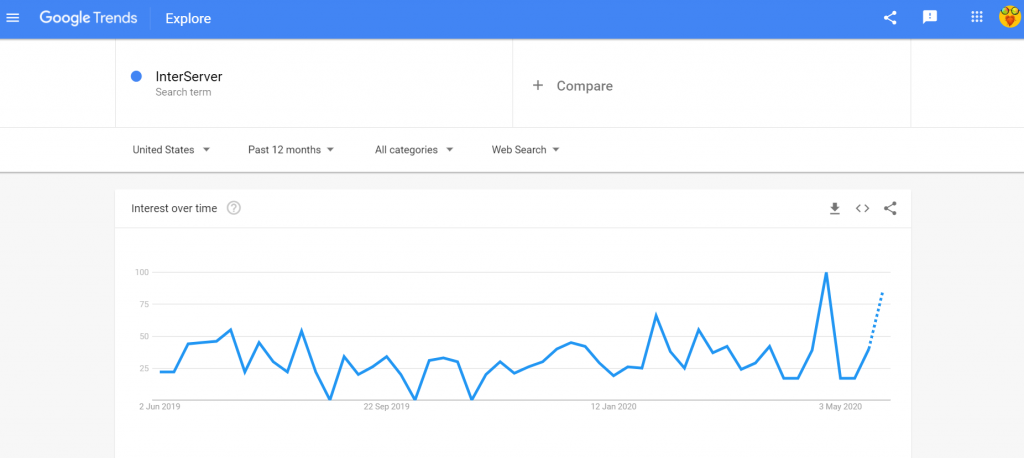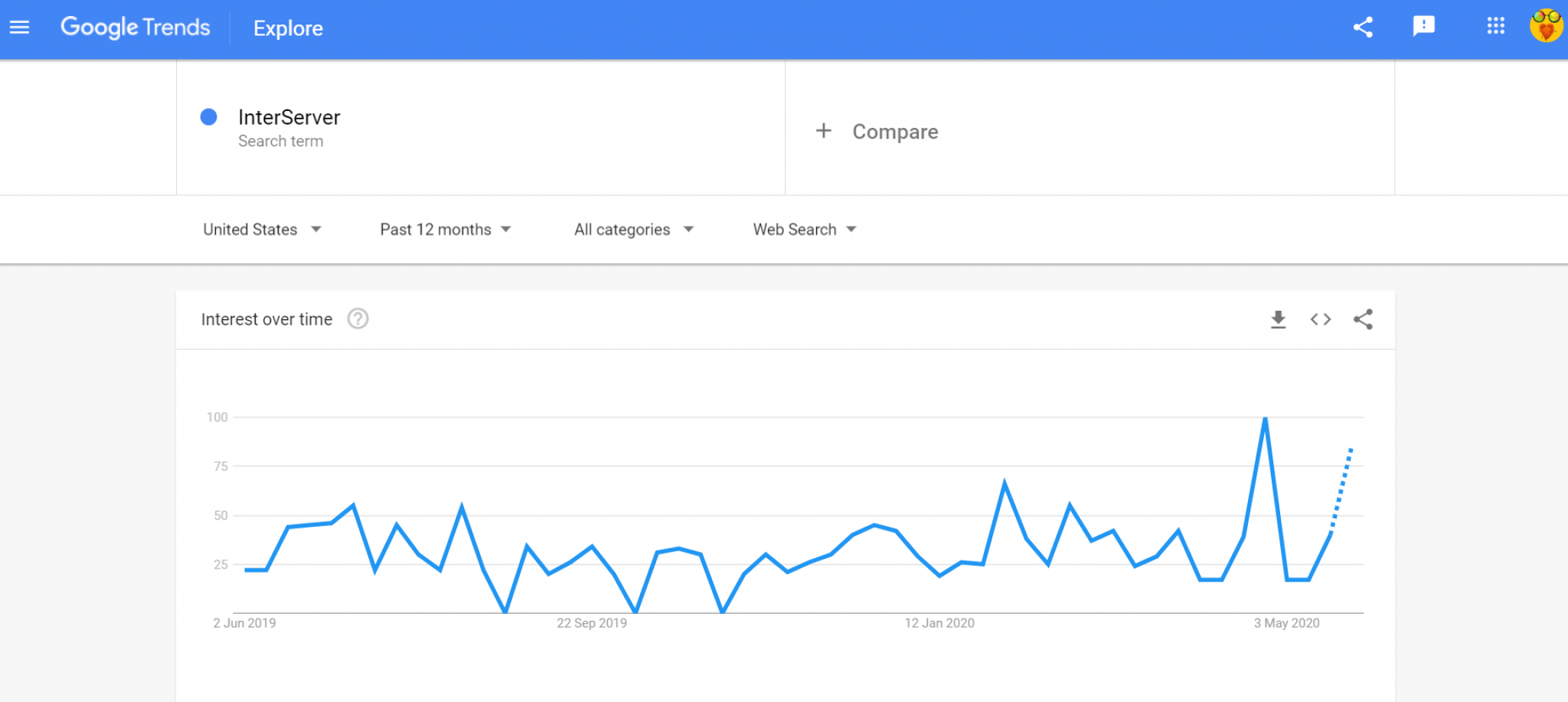 The graph representing the interest in "InterServer review" can be best described as a valley with five pointy hills of almost equal heights but not higher than the average mark. Other than the occasional rise in interest once every two months or so, there is not much to write about it. Nonetheless, current predictions have the interest rising sharply towards the highest point.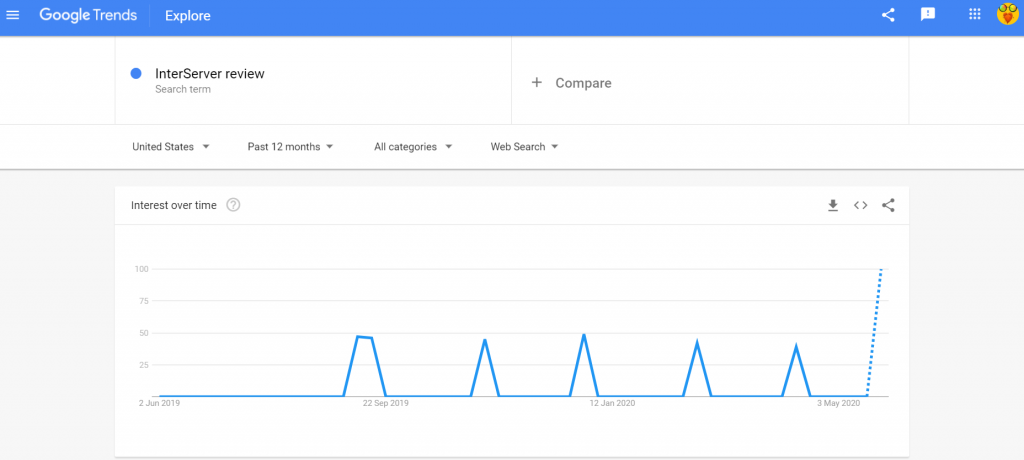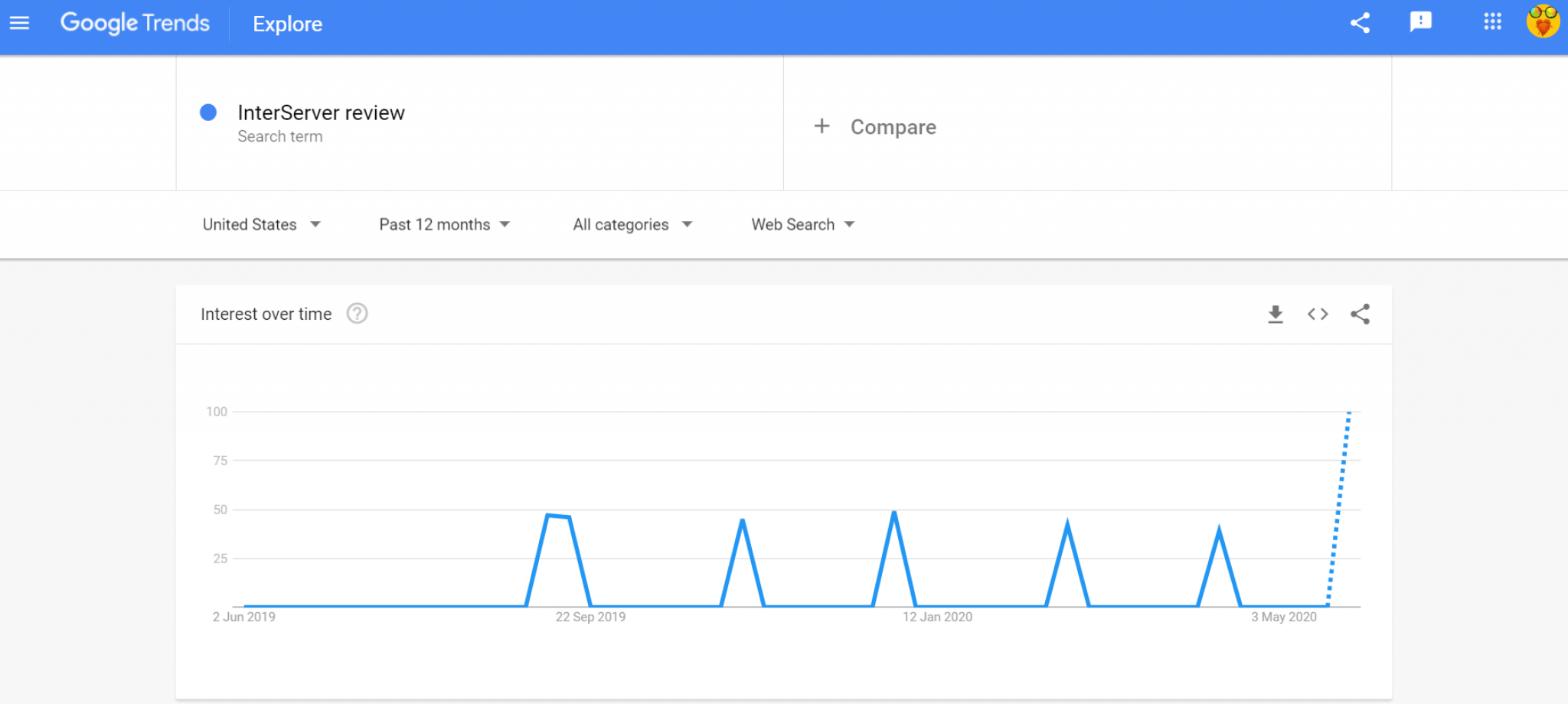 To judge how InterServer would fares against its closest competitors in terms of interest, I compared "InterServer" with "GreenGeeks" and "WebHostingHub". While the average interest in "GreenGeeks" is higher than that in "InterServer", the competition between the two was quite intense with the latter giving the former a run for its money. However, the current interest in "InterServer" is considerably higher than that in "GreenGeeks". Competition between "InterServer" and "WebHostingHub" was one-sided and average interest in the former is much higher than that in the former.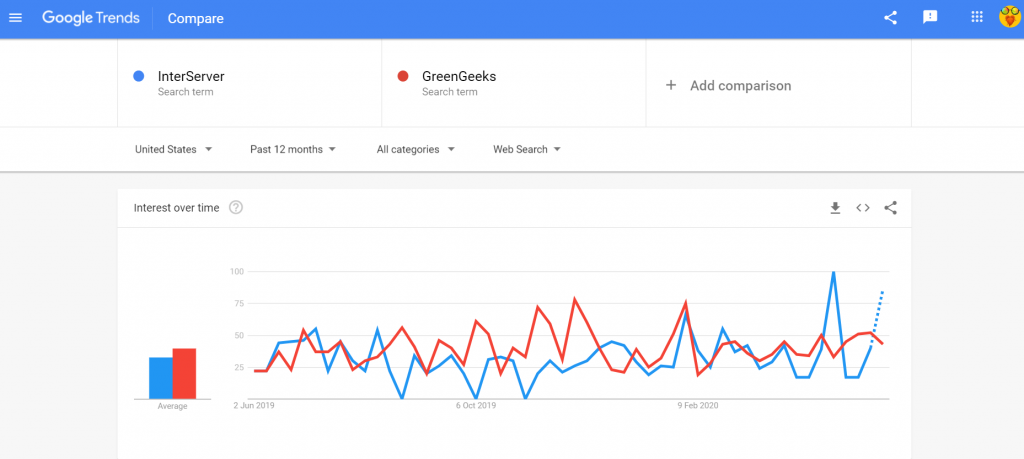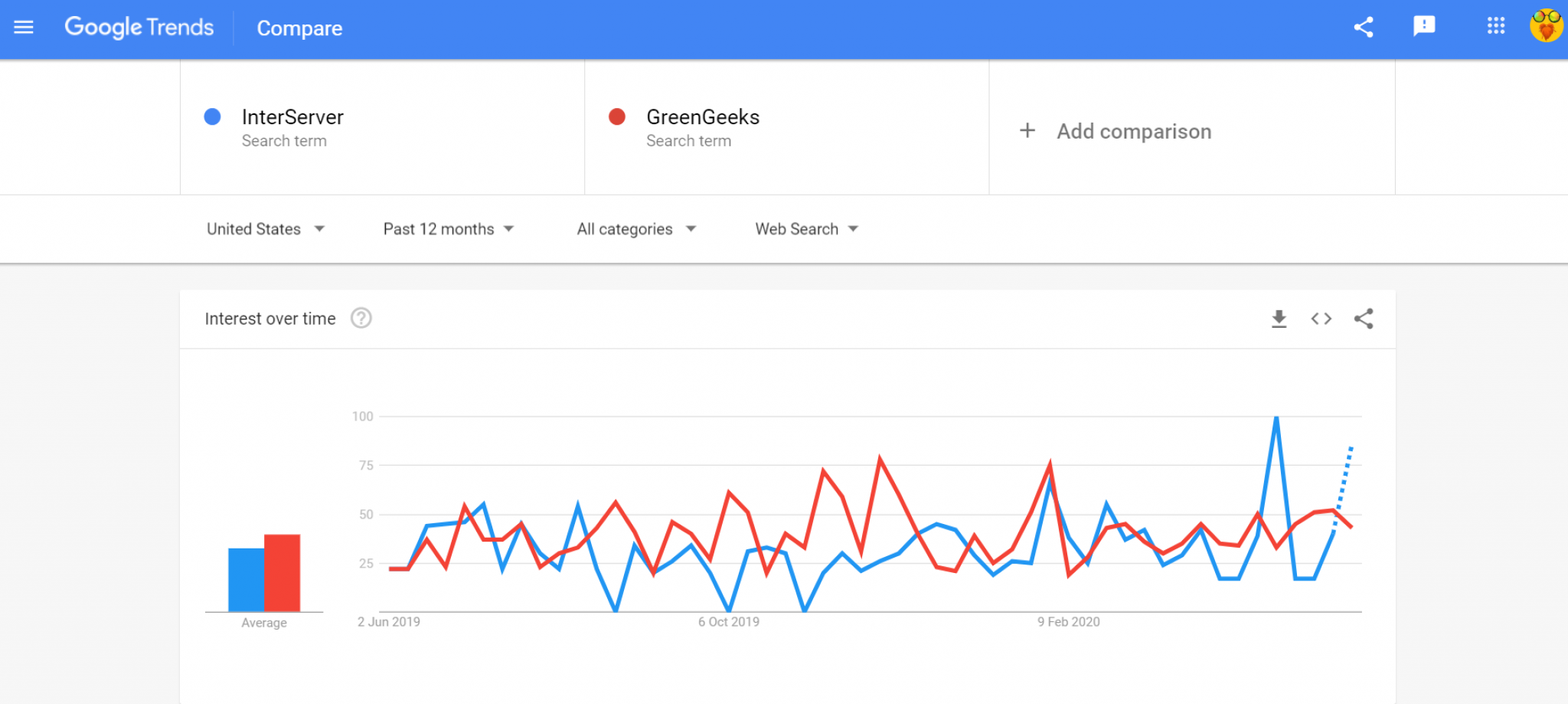 20
InterServer: Users Reviews and Ratings
InterServer has a sizeable following on social media with more than 35k followers on Twitter and more than 25k people following its Facebook page. It regularly posts updates, announcements, company promotions, and blogs. While there were negligible user reviews on Twitter, on Facebook many users wrote that they were satisfied with the features and services offered by InterServer.
User feedback from social media does not always provide an accurate picture of how a hosting company has affected the general populace. For a more comprehensive of public feedback, I combed through a couple of consumer review websites, namely Trustpilot and Web Hosting Geeks.
There were about 100 user reviews of InterServer on Trustpilot and the company earned a TrustScore of 4.5 out of 5. Several users claimed InterServer to be one of the best hosting services they had used and numerous others praised the customer service profusely. Long-term users opined that InterServer offers an all-round hosting service at an affordable price and is perfect for small and medium websites. There were a few complaints, especially regarding the live chat and connection issues. However, InterServer responded to all complaints I came across and either offered to resolve the issue or offered an apology.
There were far fewer reviews on Web Hosting Geeks, 11 to be precise, but InterServer got an overall rating of 4 out of 5. While there were a couple of credible negative reviews, there were far more positive reviews with effusive praise for the company's top-notch hosting deals and its professional customer service. The negatives were limited to the live chat not being available at all hours, an issue raised by several users on various sites, and a few billing issues which can be attributed to the disinclination of customers to read the fine prints of a company's policy.
Moving on, I visited several news sites to gather interesting details and significant information about the company.
In April 2020, Mashable posted a handy list of 12 affordable hosting services and categorized them according to their best attributes. InterServer found a place on this list, rightfully so, and Mashable identified it as ideal for users averse to commitment. The company locks in a user's server price for life and does not make them pay advance fees or commit to contracts. Find the full list in this article.
Earlier this year in February, InterServer announced its partnership with Radix, the world's second-largest domain registry. This new partnership will enable InterServer to offer premium domains at reasonable prices that offer great value for money. Read more about the partnership in InterServer blog.
InterServer employs LiteSpeed caching, SSD caching servers and Cloudflare CDN for speed optimization that ensures fast load and response times consistently. The free migration process will move your website to its Shared or VPS servers without any complications. Furthermore, the company runs on 50% server capacity and allows easy scalability of computing resources. Though InterServer has servers only in the USA, its affordable plans and security features are too good to ignore. If you need one reason to choose InterServer over other companies then let it be the price-lock guarantee that locks the price you pay at sign up for the full term length of your plan.

January 2023 Deal! 99% Off InterServer Standard Web Hosting
99% Off InterServer Standard Web Hosting for just $0.01
PROS
Private datacenter with SSD enhanced servers
In-house 24/7 customer support is one of the best
Free weekly backups and 30-days refund policy
CONS
Live Chat is not available 24/7
Add your review
|
Read reviews and comments