GreenGeeks Review 2023: Eco-Friendly Web Hosting Solution With Industry-Grade Advanced Features
All GreenGeeks servers are housed in state-of-the-art datacenters that are furnished with 24/7 security, fire suppression systems, UPS, generators, humidity sensors, temperature sensors, and automaticclimate control system. For network switching and routing, the company uses Juniper and Cisco and energy-efficient Xeon processors from Intel. Real-time security monitoring and kernel-level file-tracking are used to identify unauthorized changes and malware signatures. Such changes or malware attacks can be instantly isolated via its Secure vFS feature to prevent further spreading.
---
PROS:
Latest generation energy-efficient Intel Xeon processors
Real-time security scanning and server monitoring
Linux Secure vFS
Free CDN powered by Cloudflare
Data centers are powered by 300% clean renewable energy
CONS:
Cheap monthly plans only come with a longer term of 3 years
High renewal rates
No data centers in Asia and the UK
One-click install for WordPress
Drag and drop website builder
SEO tools as WordPress plug-ins
24/7 technical support via live chat, phone, and email ticket
Shared hosting plans:
Lite – $2.95/month
Pro – $5.95/month
Premium – $11.95/month
Step-by-Step Instructions How to Create a Website With GreenGeeks
Creating a new website or blog requires no prior knowledge in coding and takes hardly half an hour. Through this tutorial you will learn to create a website but before we begin you need to have a clear idea about the type of website you want to build and its purpose which will dictate your choice of hosting service and the website building tool needed to build it. Consider whether your site will have limited or numerous visitors, whether it will host an online store or news site and if you are looking to publish articles on your blog or showcase your skills like photography, painting or cooking among others. Once you have settled on the type and purpose of your site follow the steps given below.
First of all, you need to select a hosting service. While Shared hosting is the most popular, you can choose VPS hosting if you want to build an online store or Dedicated hosting for large businesses. However, GreenGeeks scalable computing resources which allow you to upgrade computing resources to accommodate your growing business while staying with the Shared hosting plan.
The Lite plan is great for small and medium businesses but if your business and website are likely to grow then go for the Pro plan. The Premium plan is best busy websites like online stores. Choose a plan and click "Get Started" to navigate to the order page.
After selecting a hosting plan, you need to choose a domain name for your site and get it registered. If you already have a domain name then you can migrate it to GreenGeeks for free. If you don't have one then you can register one free for the first year with GreenGeeks.
Once your domain name has been registered, it is time to sign up with GreenGeeks. Enter your account information and scroll down to continue to the next step.
In this step, you will have to select your package information such as the account plan and server location. You can also add domain WHOIS privacy for $0.83/month and enter a coupon code.
GreenGeeks coupon code was automatically applied when I purchased the service but you can edit it and enter a different code if you want to.
Fill out the payment information and click "Create Account & Get Started". You can choose a different payment option by clicking "more payment options".
Once the payment process is successful, you will receive a welcome email with your login details. You can log in to the account manager by following the link provided in the email or by clicking "Login" on the company's website. Enter your email id and password to log in.
After you have logged in, you will see your billing information and account details. You can build a website using a CMS like WordPress or a website builder. In this step, I will show you how to build a website using WordPress.
To do so, access the cPanel by clicking the blue button that says "cPanel Login".
You will see a lot of options in the cPanel. Scroll down to the "Software" tab and "Softaculous Apps Installer".
Hover over the WordPress icon and click "install" to install WordPress.
This section may look daunting but isn't since most of the fields are already filled in. Scroll down to the "Admin Account" section and you will see the "Admin Username" is set as Admin. You can change it if you want but there is no need. Enter an "Admin Password" and email. Click "Install".
To navigate to the WordPress backend, simply go to your domain, add "/wp-admin" at the end of your domain name in the address bar of your browser, and click enter. The WordPress login screen will pop up. Enter your credentials and hit "Log In".
You will see the WordPress dashboard from where you can start building your site by choosing a layout, adding pages, and posts. Use the left control panel to create and edit your site.
Navigate to "Appearance>Themes" and click "Add Theme" to install new themes. There are numerous themes in the WordPress library. Hover over one that you like and click "Install". Click "Upload Theme" to apply installed themes. To add new posts, go to "Posts>Add New". Similarly add new pages and media to your site.
GreenGeeks has replaced RV Site Builder with the more modern SitePad as its resident website builder.
First, navigate to the "Software" section in the cPanel and click "SitePad Website Builder" to install SitePad.
Once installed, you will see the SitePad dashboard from where you can create and edit your site. To build a website, you need to select a layout first. Go to themes and you will see countless themes in the SitePad library. Use the search bar to find a particular theme or choose one from the categories. Hover over a theme and click "Activate" to use the theme as your website's layout.
Use the options on the left panel to add new pages, posts, blogs, and media. If you are satisfied then click "Publish" to make your site go live. As shown in this image, you can see the media usage, active sites, pages, posts, and recently installed themes in one place. Click on any of the tabs to view or make changes.
Like any decent web hosting platform, GreenGeeks too guarantees 99.9% uptime. However, the company not only upholds its promise consistently but also provided 100% uptimes on several occasions during the tests I ran over the seven months that I have been using its service. DreamHost is the only hosting company that guarantees 100% uptime.
GreenGeeks provides one of the fastest load times and it certainly features on mylist of three fastest hosting providers among the several companies that I have used and reviewed to date. The average load time was 445 ms from numerous tests on Pingdom, which is much faster than bigger hosting providers like GoDaddy (824 ms) and Bluehost (649 ms).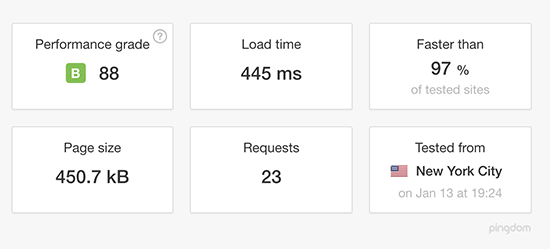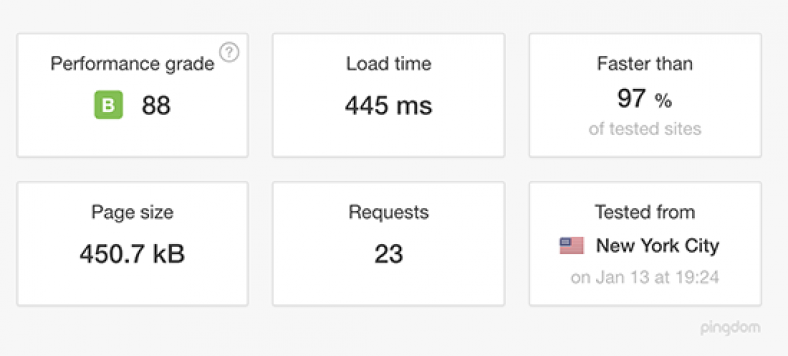 The company does not limit your bandwidth use and offers unmetered bandwidth with all Shared hosting plans. However, certain conditions define unlimited usage. Small or medium websites and individuals are expected to not take undue advantage of the unlimited policy by exceeding the amount of bandwidth necessary. Users are notified via email and told to reduce bandwidth use or upgrade if they are found using more bandwidth than required for their sites and affecting other users.
Users get unlimited SSD storage with all Shared hosting plans and RAID-10 storage arrays are used to prevent data loss because of drive failure and ensure optimum redundancy.
As an official sponsor of WordCamp, GreenGeeks offers hosting services that are optimized to offer top-tier WordPress performance with the help of the latest technologies like PHP 7, SSD and CDN among others. Fast page loads, automatic updates, expert 24/7 support and free WordPress migration are offered by GreenGeeks for the best WordPress experience.
The one-click app installer, Softaculous lets you install over 250 applications like WordPress, Drupal, Joomla and Magento among others. Furthermore, installed apps are automatically updated to save you time and hassle.
GreenGeeks lets you create an online store in no time with the help of either WordPress or WooCommerce plug-in and even installs a shopping cart with one-click for free. Several other e-commerce scripts like Magento are also available.
You can create and edit a website without any technical knowledge using SitePad website builder- the company's free drag-and-drop website builder.
GreenGeeks is an eco-friendly hosting company that matches 3 times the total amount of energy drawn from its grid with renewable energy credits by partnering with the Bonneville Environmental Foundation. Websites hosted on its platform are 300% green and leaves no carbon footprints.
10
 Scalable computing resources
Users are allowed to add computing resources like memory, I/O or RAM to their Shared hosting account through its new scalable computing resources. This eliminates the need to upgrade to VPS hosting and lets users enjoy the benefits of Shared hosting while upgrading their resources to accommodate their growing businesses.
Users can transfer their existing domain names or register a new one with GreenGeeks for free. New domain names are free for the first year after which original renewal rates will apply. Pro and Premium users are eligible to host unlimited domains on one account. The company also allows users to create unlimited sub-domains or park an unlimited number of domains to their main domain.
GreenGeeks secures websites with HTTPS with free Let's Encrypt Wildcard SSL certificates. Users can even purchase premium SSL certificates for added protection of their sites.
While there was no mention of SEO services on the company's website, SEO tools are available as WordPress plug-ins.
An unlimited number of free email accounts can be created with GreenGeeks Shared hosting.
Automatic nightly backups of all user data ensures protection against hardware failures or accidental data loss. Backups can be instantly restored with just a few clicks.
GreenGeeks offers a 30-days money-back guarantee on its hosting services. However, setup fees, domain registration charges, and add-on service costs are non-refundable.
24/7 security monitoring, SPAM protection, advanced malware detection and DDoS protection are some of the advanced security measures employed by the company to protect users.
GreenGeeks offers 24/7 expert customer support to all clients via phone, email, and live chat. Its support page contains detailed tutorials and an extensive knowledge base with a search bar that returns live results even as you type.
Shared hosting plans are divided into three groups, namely Lite, Pro and Premium that cost $2.95/month, $5.95/month and $11.95/month respectively. These are promotional prices and applicable for a term length of three years. Monthly plans cost more and original prices are $9.95/month for the Lite plan, $14.95/month for the Pro plan and $24.95/month for the Premium plan.
20
GreenGeeks Google Trends
Google Trends is a data analysis website that shows you what is trending on Google and quantifies the popularity of specific search terms in the form of graphs. I used Google Trends to check the interest in "GreenGeeks" and one of its closest competitors, "HostGator". All results are based on Google searches over the past 12 months in the USA.
Interest in the company "GreenGeeks" hovered around the average mark throughout the last 12 months with occasional peaks and dips. Since the start of 2020, interest in the company seemed to have gathered momentum and it breached the average mark at the start of April 2020 only to fall suddenly within a couple of weeks. However, it has been on the rise since then and current interest in the company has touched the highest point of the graph. The interest is unlikely to decline anytime soon considering the spurt in the number of internet users due to the coronavirus induced lockdown.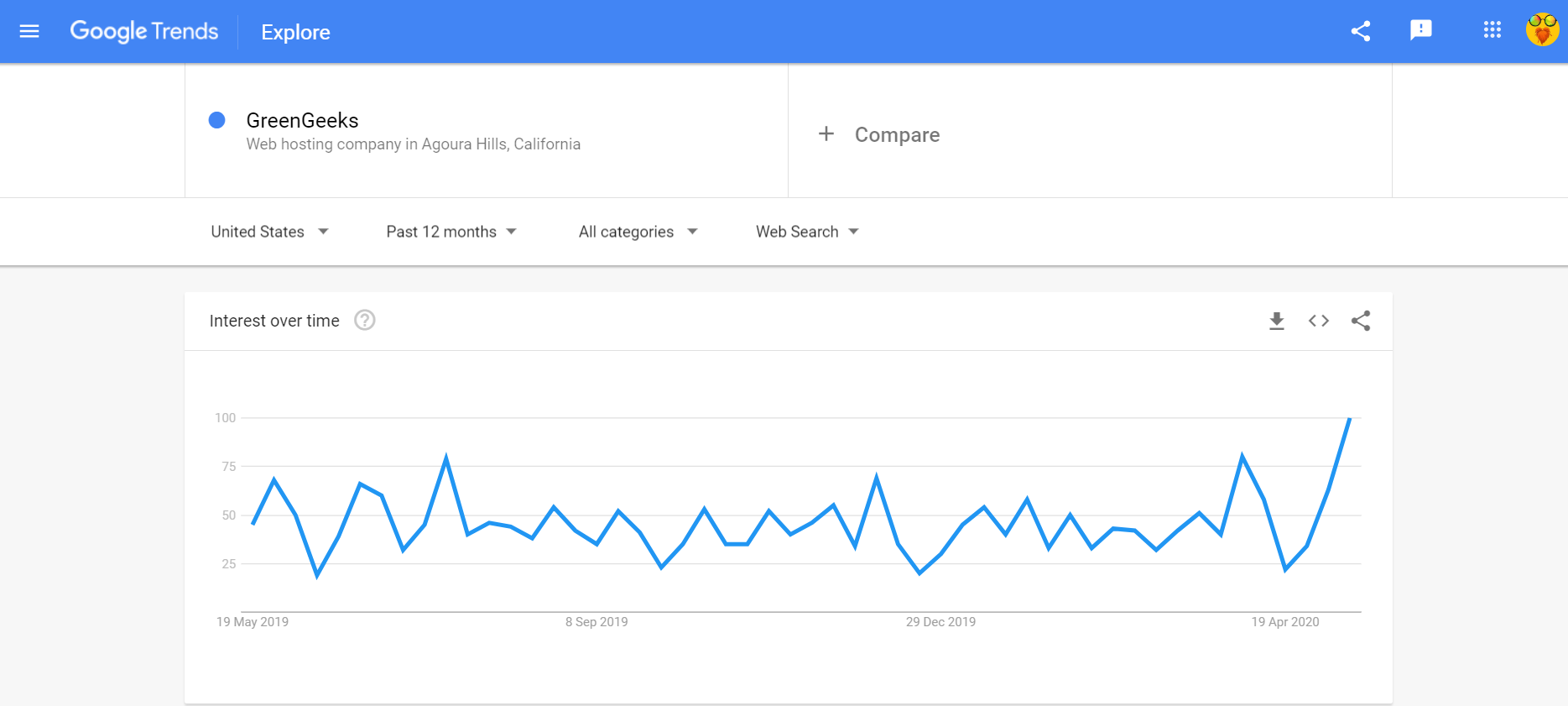 Interest in "GreenGeeks review" was at its highest in May 2019 but since then it has dropped to a minimum. Apart from sharp occasional peaks in interest, the graph has mostly been a flat line which is most likely due to the lack of user feedback on the company's social media profiles and the limited user reviews on review websites.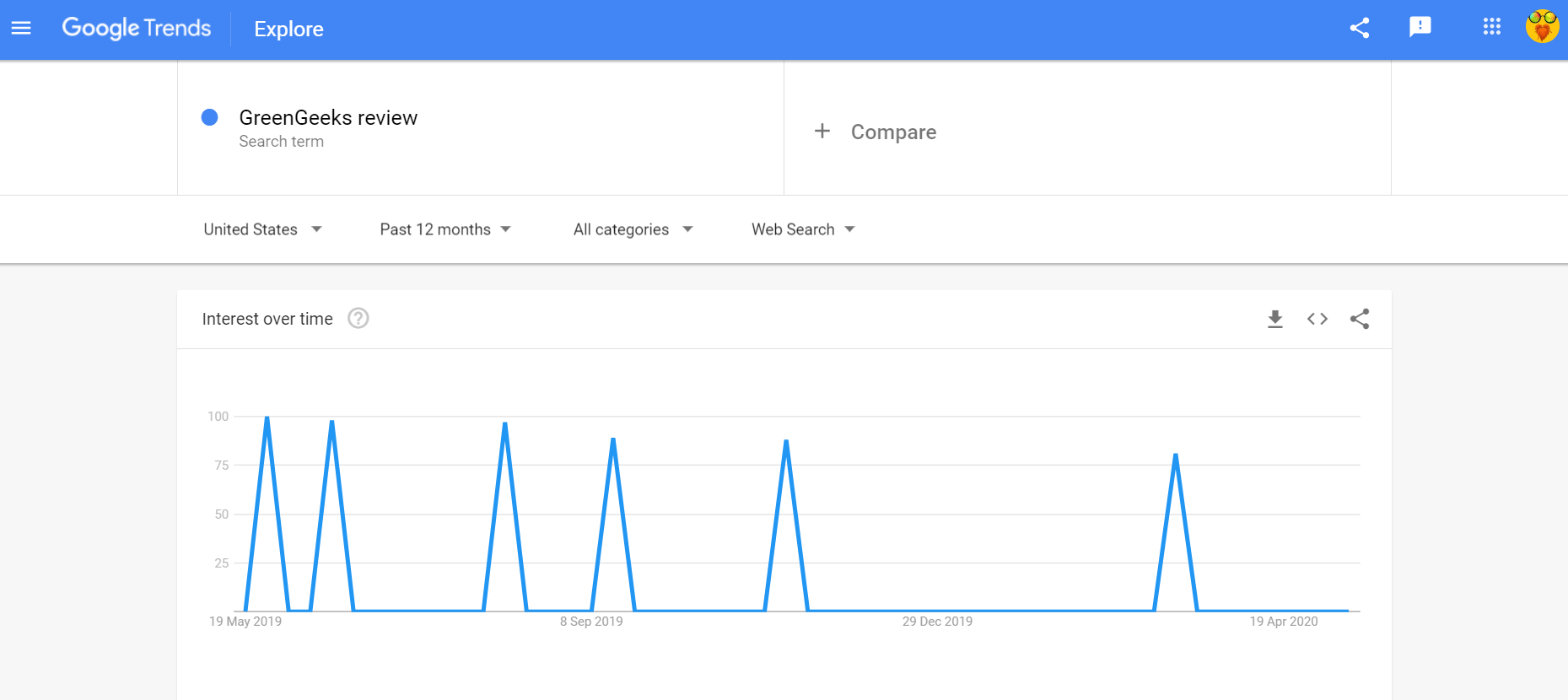 To check how GreenGeeks fared against its competitors, I compared "GreenGeeks" with "HostGator" and the former comfortably won the competition. The average interest in GreenGeeks was far greater than that in HostGator, though the latter offers similar hosting services at similar prices as GreenGeeks. The greater interest in GreenGeeks is likely due to its commitment to renewable energy and zero carbon footprints, the demand for which is high among users nowadays.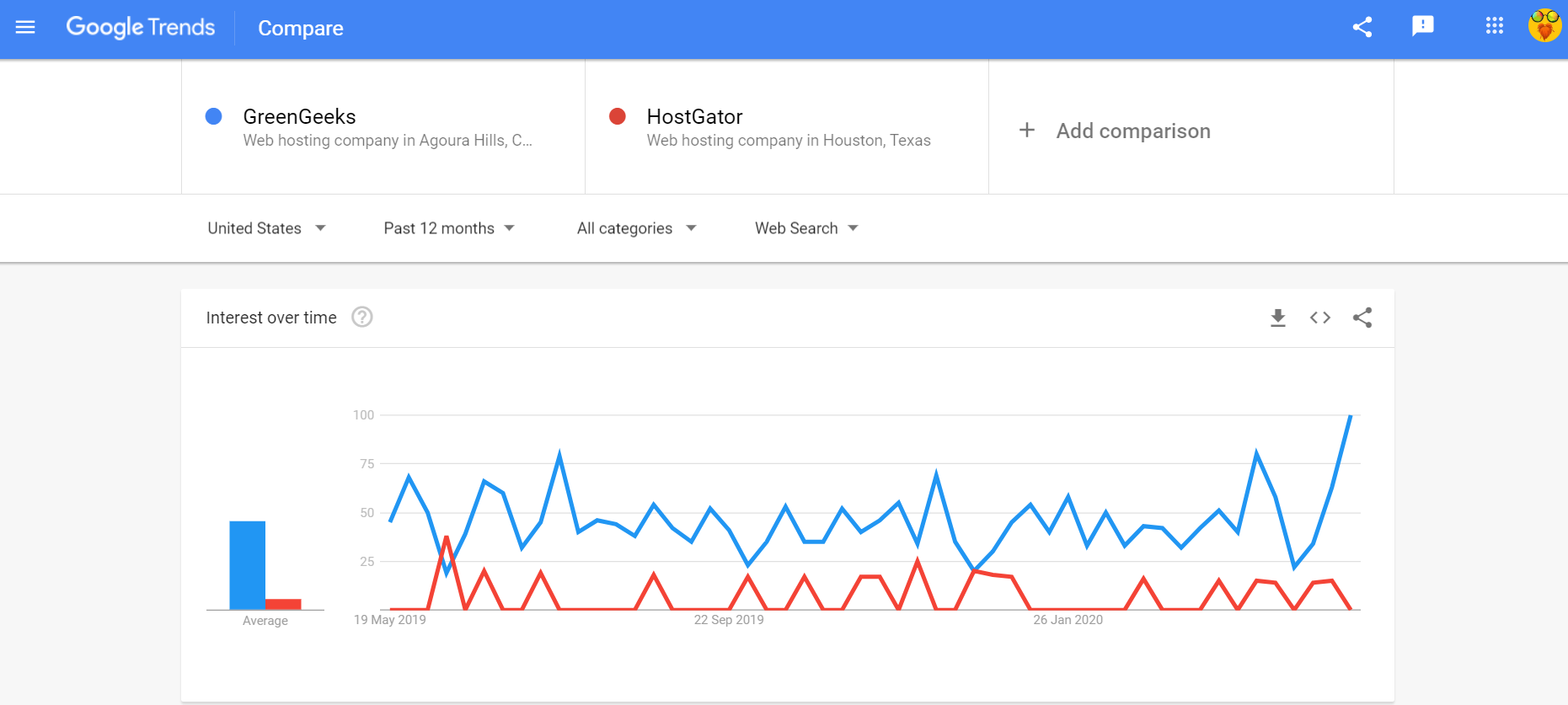 21
GreenGeeks: Users' Feedback and Ratings
GreenGeeks is fairly active on social media with profiles on Facebook, Twitter and LinkedIn but does not enjoy the magnitude of following that GoDaddy or DreamHost does. User feedback about the company on its social media profiles was negligible, to say the least, and I had to look elsewhere to find out if users were satisfied with GreenGeeks.
Consumer review websites are the ideal place to start if you want to know what real users think of a company's service and how, if at all, they benefitted from said service. The first such site I visited was Trustpilot where I found 330 reviews of GreenGeeks and 90% of those reviews were favorable. The company earned a TrustScore of 4.6 out of 5 and was highly praised by countless users, most of whom had used the service for at least three years. While the customer service was deemed excellent by many users, the highest praises were reserved for the company's exceptional web hosting service and its dedication to the environment.
GreenGeeks achieved an overall rating of 4 out of 5 from 644 reviews on Web Hosting Geeks. Almost every user review on this site was positive and users appreciated not only the company's excellent hosting service but also its professional tech support, affordability, reliability and its ease of use. Overall, users seemed to be greatly satisfied with GreenGeeks and I would not think twice before recommending it to anyone looking for a web hosting service.
Moving on to the news about GreenGeeks, there is not much recent news of consequence that I can write about in this review. However, I came across some interesting news after going through numerous news sites and though a couple of them are from a few years ago, they are still relevant and may be useful to potential customers.
The first such news is from 2013 when Cloudflare announced its partnership with the world's leading web hosting companies among which was GreenGeeks. To this day, GreenGeeks implements Cloudflare's Railgun web optimization protocol and offers free CDN via Cloudflare to decrease load times and guarantee consistent uptime. To learn more about how users benefit from this partnership and how Railgun works, check this article.
In May 2017, GreenGeeks launched its scalability feature that enabled customers to add or remove such computing resources as CPU, RAM and I/O to name a few. The "pay-as-you-go" feature lets users scale their websites and grow their online business smoothly while using the Shared hosting platform. Users no longer have to deal with the complexities of VPS hosting and can continue to enjoy the same service even as their business and websites grew.
The final piece of news is from 2018 and is available on the GreenGeeks blog. Written by the COO of the company, Kaumil Patel, the news article deals with the European Union's updated data privacy laws: The General Data Protection Regulation (GDPR) that came into effect from May 25, 2018. Kaumil writes in detail about GDPR, personal data, the rights offered by GDPR, the company's compliance with the laws, and its effect on businesses. To know more about this pertinent issue, go to this article.
To sum it up, I would say that GreenGeeks is one of the most efficient and reliable web hosting platforms I have used thus far. In addition to its incredible features that make hosting multiple domains hassle-free, the company ensures complete protection via 24/7 security monitoring, account isolation and Linux Secure vFS. Furthermore, it is the only company that matches 300% renewable energy which matches the total energy consumed by not only GreenGeeks but also two other companies of similar size. All this, and more at incredibly affordable rates and without compromising on performance.