Movavi Video Suite 2023 Review: Pros & Cons, Features, How-to Guides
As the name suggests, you can cut a movie from the clips in the gallery through this video editor. The Movavi Video Suite is available for $79.95. However, you can download a 7-day trial version. There are a lot of features to explore. You can decide whether they can serve the purpose. For anyone who aims to create videos that will have a more engaging and professional appearance, the Movavi video suite is a good medium.
PROS:
User friendly interface
Lightweight
Fast editing
Premium features (like timeline markers, animation options, etc.)
Transitions with sound
Chroma key
CONS:
Watermark with a free version
Lack of the ability to change saturation and contrast
How to Edit Videos in Movavi Video Editor 2023?
Note: The video editing tool in Movavi Video Suite 2023 have no difference with a standalone product – Movavi Video Editor Plus 2023. The "Suite" edition includes: video editor, video converter, screen recorder, video capture and media player. 
Now let's have a look at the features of Movavi video suite. I will briefly explain the functionalities so that you can get a clear picture.
Movavi Video Suite 2023 Features
1
How to Start a New Project?
Tap the Add Files button to start a new project. You can also drag the media you want to use from the File Explorer straight to the app. After this, you will come across a tutorial overlay that will show you the function of different parts of the interface. Double-click on a clip to add it to the timeline. Almost all the common formats are supported by Movavi. I didn't have any difficulty when I imported the H.265 content that can be shot on iPhones.
2
How to Correct and Enhance Videos?
With Movavi's Filters, you can apply adjustments, blur, add color filters, vignettes, and several other effects to a clip. In this program, you will find a nice collection of audio and video samples that you can download after clicking on them. To find any effect or transition, just type in the search box. After you move to the More Tools section, it will change to All Tools.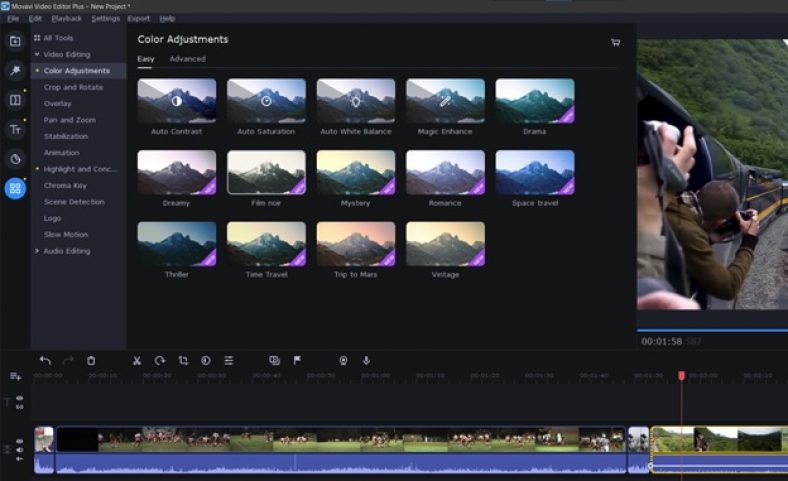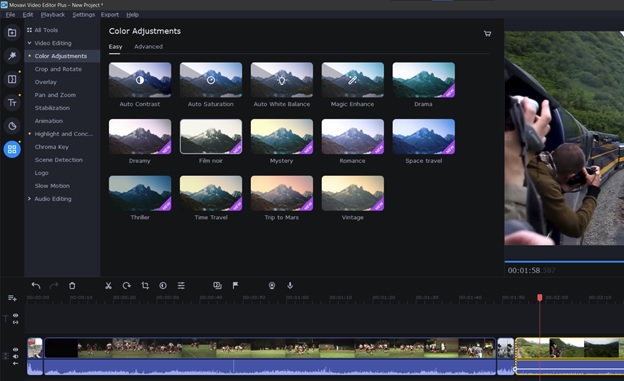 3
Why Should I Use the "Overlay" Option?
In the Overlay section, you can use picture-in-picture effects with the video clips. That overlap in separate tracks on the timeline. I didn't find all the collage templates that are available in other software applications, but yes, I found a few that helped me resize and position the pictures the way I wanted. One more plus point I detected is the guide that appears when I place the inner picture at the center either in the vertical or horizontal position.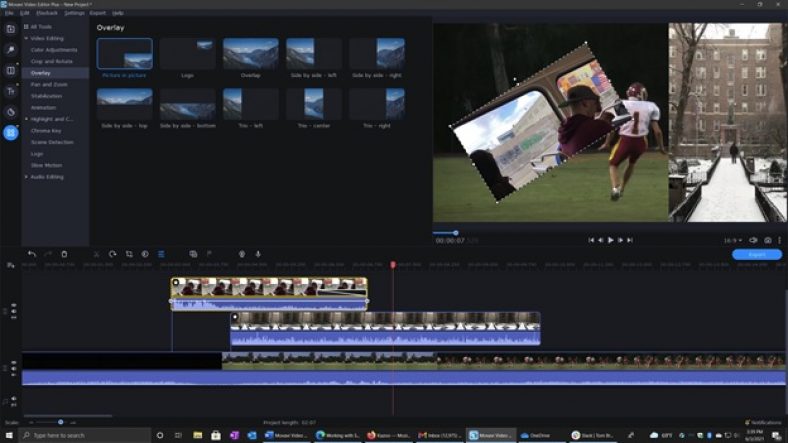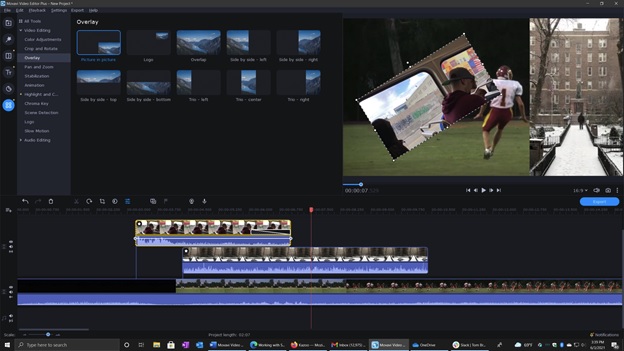 4
How to Control the Speed of the Video?
There is a Speed slider in the Clip Properties panel. Using that, you can adjust the speed of the video clip. From 10%, you can go up to 1000%. With the option of Slow Motion, you can reduce the speed of your video clip. I didn't find the Freeze-Frame effect on any of these panels. I had to right click on a clip in the timeline and select Insert Freeze Frame to bring the effect.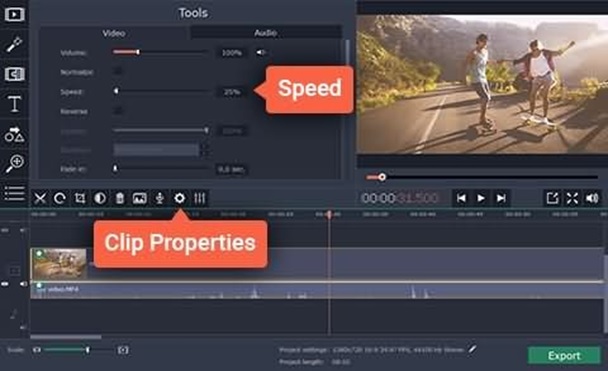 5
What About Motion Tracking?
Though you will find the Motion Tracking tool in the Highlight and Conceal section under the All Tools category, you can use it to add text and stickers too. You have the option of choosing a mask, either a blurred or a black shape. The options of feathering, opacity, and shaping are also available. The tracking can be either Precise or Quick. In my testing, the former wasn't that slow.


6
How Good Are Instant Movies?
You can add some media to the program with the help of the Montage Wizard and allow it to build a movie for you, with a soundtrack playing in the background. I started by selecting Create Quick Video and adding to my media. You will then be asked to choose from templates such as Family, Travel, Memories, etc. Before you decide which template to use, you will get to check the preview of the look and feel of each template. To round off things, you can select the music mood you think is suitable for your video and add it before you preview the video.
7
What Is Inside the Audio Tab?
The Audio tab features Convert, Record, as well as Burn audio to CD. After you press the Start Capture button, it will start recording the audio. You will find a line on the timeline track that helps you raise or lower the volume of the clip. This is something you won't generally find in even Adobe Premiere Rush.
Movavi Video Suite 2023 Performance Tests
I found Movavi pausing at certain points. However, it responded at the time of normal editing. Movavi didn't crash overall when it came to normal editing. Stability is also a big advantage that Movavi offers. There were no crashes as such on the whole. Generally, this characteristic is rare in any video-editing software available in the market. Even apps from Apple lack this. In fact, those who have used the Final Cut software from Apple, will know how frequently it used to crash.
When it comes to the major GPUs like Intel, AMD, and Nvidia, Movavi video suite uses graphics hardware acceleration. For faster editing, Movavi creates proxies to add high-resolution to the content. The program was quite decent when I was rendering text on my video project. To examine that, I created a four-clip movie of different resolutions. Some were 4K, some SD, and some 1080p. I added standard transitions to the clips and rendered the video to 1080p30 MPEG-4 at 15Mbps, H.264 High Profile. I tested the video three times and considered the geometric mean. This cuts down the effect of outliers.
Without a doubt Movavi Video Suite 2023 is a worthy candidate for both professionals and beginners. If you want to create tutorial videos, gaming videos, and so on and so forth, the video editor contains everything you require while recording and editing your videos to give them a professional look. You can also use the Movavi application for video ads. It's the most effective and convenient medium to create unique video ads. If you are a travel vlogger, and want to share attractive video clips on YouTube, you can easily do it through the Movavi video suite.