Nero Platinum Suite 2023 Review – A Multimedia Software Suite Packing In All The Essentials
The Nero Platinum Suite 2023 is the latest version of Nero's popular multimedia software suite and boasts of improved features in addition to a new look and feel. The new version has undergone numerous changes and now offers more features as well as better performance than the Nero Platinum Suite 2023. So without further adieu, let's check out what's new in the Nero Platinum Suite 2023 version and why it is better than its predecessor.
PROS:
Clean and intuitive UI
AI photo tagger
Exceptional disc burning features
Media Home supports HDR video playback
Advanced video editing tools
CONS:
No social media integration

September Deal! 60% Off Nero Platinum Suite 2023 (1 Year / 1 PC)
60% Off Nero Platinum Suite 2023 (1 Year / 1 PC)
What's New in the Nero Platinum Suite 2023? 
The first improvement that I noticed was the new user interface that sported a modern look but packed quite a punch under the pretty face. The new interface looks modern but is not at all difficult to navigate. In fact, the intuitive interface makes the Nero Media Home even more user-friendly than it already was and an ideal application for beginners or users with limited knowledge of multimedia applications. Media Home now supports HDR video playback which offers a high contrast range and more vibrant colors. Furthermore, you can now directly start editing photos, tagging people, and adding locations while viewing photos in Quick View.
To take things up a notch, Nero Video now lets you edit and export 4K videos at bitrates of up to 240 Mbps. Nero TuneItUp's interface has been completely redesigned and its new interface looks fresh and includes quite a few new features that will make system optimization faster and more intuitive.
The AI Photo Tagger has also seen substantial improvements key among which is its ability to recognize more than 90 scenes and subjects. The AI Tagger now supports over 90 keywords, including birthday and desert. The AI has become more intuitive and tag management has greatly improved resulting in precise tagging, less memory consumption, and faster results.
Nero Platinum Suite 2023 vs 2022
The Nero Platinum Suite 2023 is a better-looking and better performing software suite than its predecessor. While the changes in its design and UI improvements may look subtle to untrained eyes, their impact on the overall performance and efficiency of the suite is anything but subtle. The small changes incorporated cleverly by Nero have greatly enhanced the productivity of the software suite all the while retaining the original charm that had made it popular with users worldwide.

What's Inside Nero Platinum Suite 2023?
The Nero Start is the interactive launcher of the Nero suite that lets you centrally manage your personal information, account settings, updates, and individual product settings, among others. It also includes the VIP store that users can use to gain exclusive access to partner offers. The Nero Start offers central management features that further enhance user experience with the help of a sleek and intuitive user interface.
The Nero Media Home is an advanced yet easy-to-use media organizer that lets you sort, edit, convert, and manage all your media files in one place. It is the leading media manager for archiving, creating, organizing, and playing music, videos, photos, movies, CDs, DVDs, and even TV series. The new AI Photo Tagger automatically tags your photo to make archiving, organizing, and sharing easier. With the Nero Stream, you can access your favorite media files remotely with the help of the Nero Streaming Player app.
Nero Video is one of the most advanced and useful applications in this suite. It lets you create, import, edit, and export a wide range of video files quickly and easily. It even supports specialized video formats such as H.265 and AVCHD. The unique features of the Nero Video include an advanced timeline editor and an automatic montage creator. The Nero Video Timeline is one of the easiest and most well-designed timeline features that I have used. The timeline lets you keep a track of your video footage while editing by opening in the 'Express Editing' view by default and displaying the different segments of your video as thumbnails.
Nero AI Photo Tagger is an intelligent image recognition program that has become a standalone product in addition to being a part of the Nero Media Home family. The new AI tagger supports about a hundred keywords which allow your image library to be sorted and indexed more accurately. The Photo Tagger also helps you quickly find and share your images or organize your library according to tags to make it more easily and quickly accessible.
The Duplicate Finder, as the name suggests, helps you find duplicate media files such as images, videos, and audio files. The feature locates and displays all duplicate files. You can delete all the duplicate files located by the Duplicate Finder from within the software. This feature clears your archive and disk space as well as makes archiving and organizing much easier.
Nero BackItUp enables you to back up your valuable media files on an external hard drive, CDs, DVDs, or even the cloud. A backup application becomes essential when you have an extensive media library and do not want to lose your carefully curated library to a power outage or a sudden computer crash.
Nero Recode is a very important feature of the Nero Platinum Suite that is often overlooked by users and reviewers in favor of its more popular fellow features. The Recode feature rips and converts music as well as video files to all standard audio or video formats so that you can enjoy them on your mobile devices.
The Nero TuneItUp is another useful feature that lets users tune up their system and optimize for better performance. With one click, you can command the Smart Check feature to identify and all possibilities for system optimization. You can view a list of all installed programs along with their memory requirements and completely remove them if you wish to do so with the help of the Uninstall Wizard.
The Nero Burning ROM needs no introduction seeing as it is still the leading software for copying and burning data to CDs, DVDs, and Blu-ray Discs. With the Burning ROM, you can burn your favorite music, videos, and photos onto CDs and DVDs without any assistance or trouble.

September Deal! 60% Off Nero Platinum Suite 2023 (1 Year / 1 PC)
60% Off Nero Platinum Suite 2023 (1 Year / 1 PC)
 Nero Platinum Suite 2023: Google Trends
Google Trends is an analytical program that displays the popularity of search terms in the form of graphs. I used Google Trends to check the interest in 'Nero' and the 'Nero Platinum Suite' over the past 12 months in the USA.
The interest in the search term 'Nero' has been consistently above average over the past 12 months. The interest rose substantially a couple of times and even peaked at the start of March 2020. Overall, there has been considerable interest in the company over the past 12 months and the graph predicts it to rise in the coming weeks.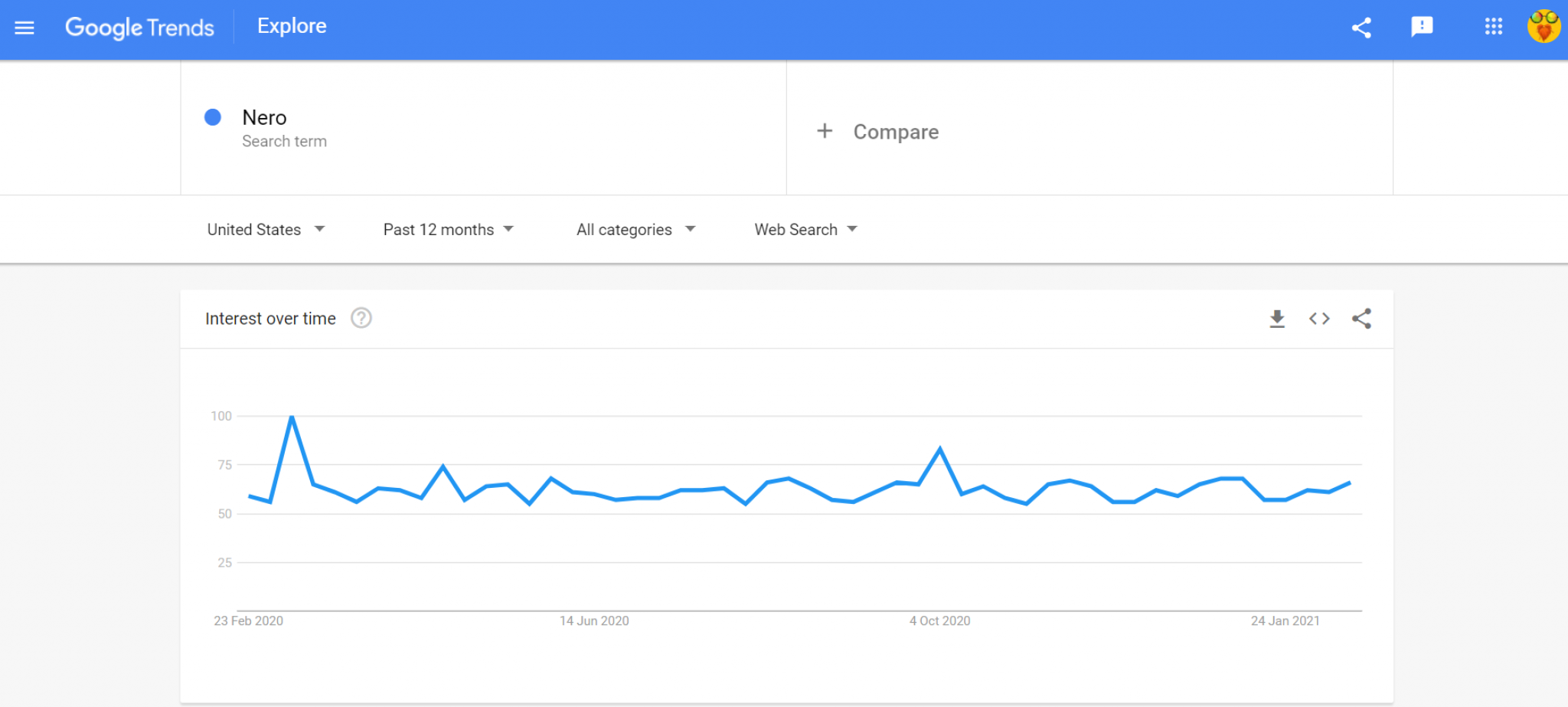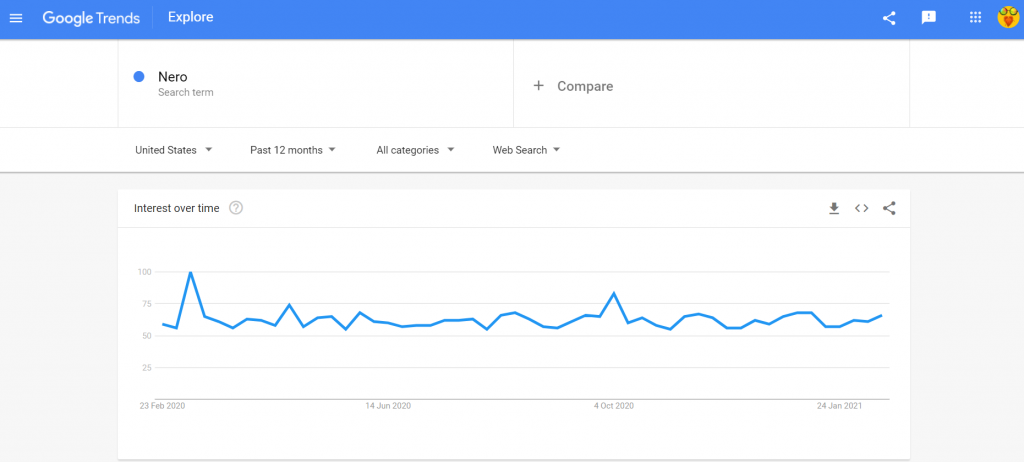 The graph of interest in 'Nero Platinum Suite' over 12 months in the USA can be best described random spikes on a flat surface. Interest rose occasionally only to fall soon enough. Nonetheless, the interest did peak approximately around September 2020. The subdued interest can be attributed to the fact that the Nero Platinum Suite 2023 has recently been released and has not reached a substantial consumer base yet.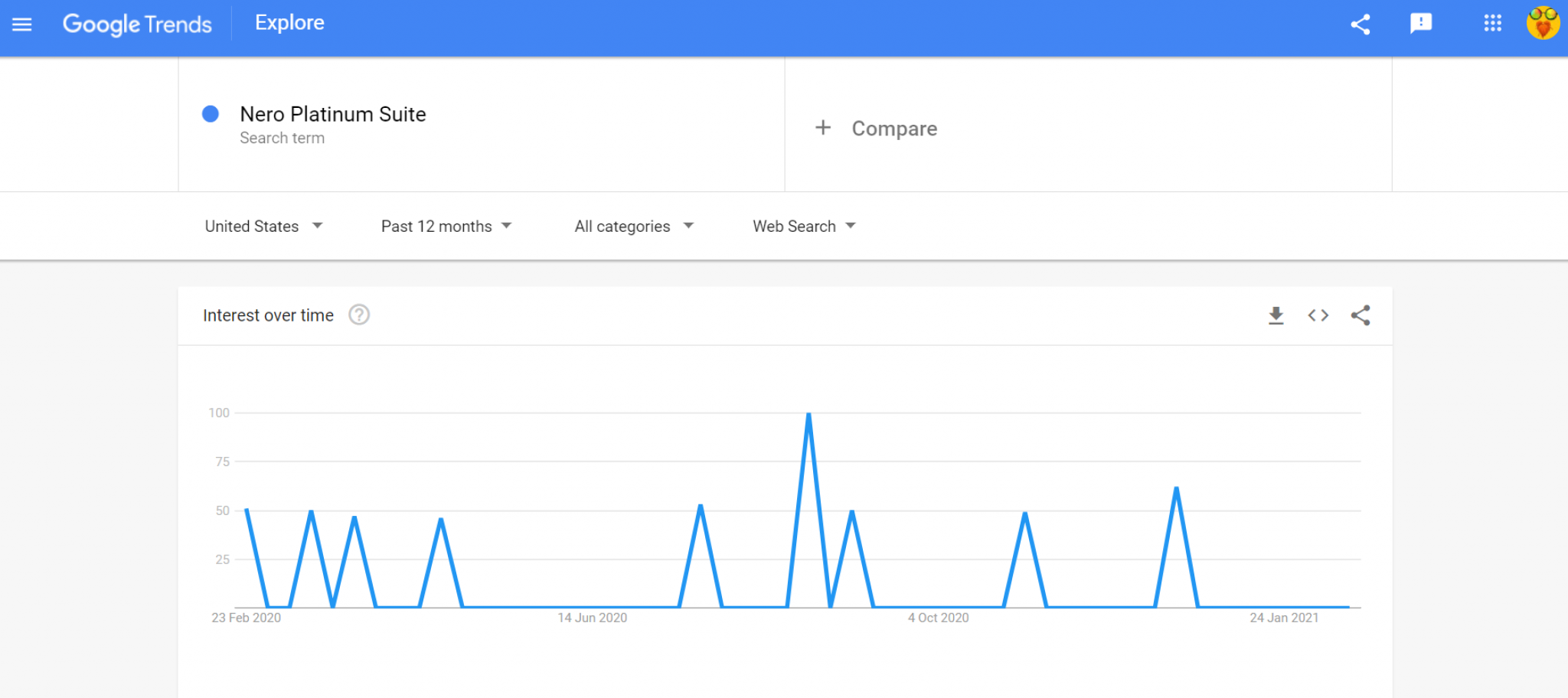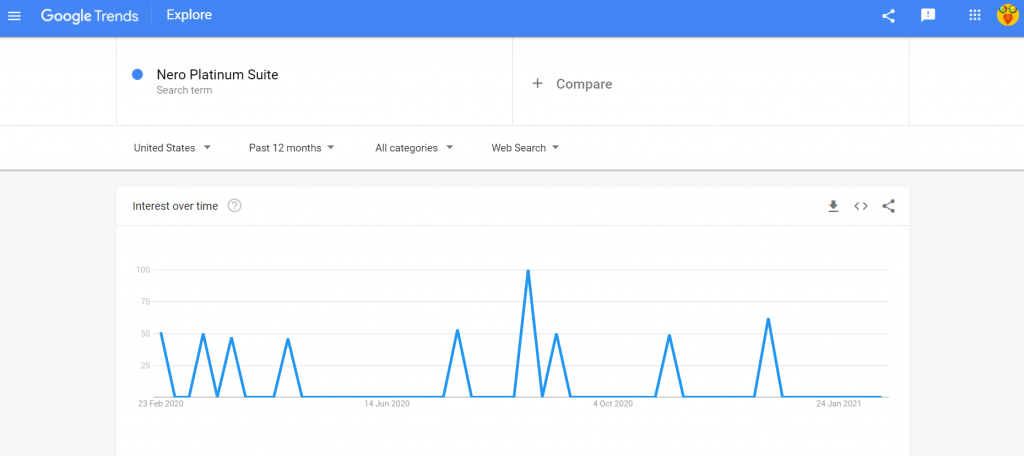 Nero Platinum Suite 2023: User Reviews
User reviews are one of the main parameters on which the worth and consequently the popularity of consumer products are determined. I read several reviews from real users on user review sites such as Trustpilot and SiteJabber to find out what real users make of the product and whether they think it is worth their hard-earned money.
On Trustpilot, there were only 179 reviews of Nero and the software company earned a measly score of just 1.9 out of 5. The score cannot be blamed on the Nero Platinum Suite as it was mostly Nero's other products and its customer service that received the most negative reviews. The Nero Platinum Suite received a few favourable reviews from users who used the software and claimed to have recommended it to friends and family. However, the main point of concern among the reviewers on this site was the apparently appalling customer service offered by Nero.
I noticed that Nero's customer service representatives individually responded, apologized, and offered solutions wherever possible to each of the complaints about poor customer service.
Nero scored a perfect five on SiteJabber courtesy of a singular review from a satisfied user of Nero and its wide range of products. The sole reviewer claimed that Nero is their go-to company for software needs and that the money they spent on the lifetime license of the product was worth it.
 Nero Platinum Suite 2023: Social Media Feedback
The public opinion of the Nero Platinum Suite 2023 has been quite favourable as of yet. Though it is still early days, it seems that the new version of Nero's multimedia suite has been well received by the public. As is evident from the public reaction on the several social media platforms and forums that I visited to understand the product's popularity or its lack thereof, the Nero Platinum Suite 2023 makes an excellent case for software suites that bundle several applications in one package.
Social media users and users on community forums praised the features of the suite and the efficiency of each feature. The Nero Video and Nero Media Home were the major talking points for social media users. While the majority of users were unanimous with their opinion of the Nero Platinum Suite, some users found a few areas of improvement with the most pertinent being the lack of photo and editing features.
Overall, the public perception of the Nero Platinum Suite 2023 has been mostly positive till now. While there are issues, as is common with all consumer software products and services, the numerous benefits of the suite seemed to far outweigh its limited drawbacks. If we go by the initial reaction of social media users then Nero's latest version of its Platinum Suite will likely become one of the top performers of this year.
The Nero Platinum Suite 2023 has been designed to offer several functionalities in one package. From creating and editing to organizing and burning, the Platinum Suite was designed to be the best friend of users with an appetite for all forms of media. The software suite does a commendable job with its Media Home and Video apps responsible for the bulk of the praise that it receives from users and reviewers.
While the complete package is better than the sum of its parts, its parts, when taken individually, are not as feature-rich as their respective competitors. If you are looking for the best video editing or media organizing app then you may look elsewhere. However, if you want both these features and more all in one place then there is no better option than the Nero Platinum Suite 2023.

September Deal! 60% Off Nero Platinum Suite 2023 (1 Year / 1 PC)
60% Off Nero Platinum Suite 2023 (1 Year / 1 PC)
PROS
Extensive collection of artistic templates
Rip and convert feature for discs, mobile devices, and online videos
CONS
A lifetime license may seem a bit expensive
Add your review
|
Read reviews and comments